| | |
| --- | --- |
| May 15 | |
---
| | | |
| --- | --- | --- |
| | Senate score will go here | |
---
---




Primaries/caucuses
McCain won
Romney won
Huckabee won
April
May
June
---
---
News from the Votemaster
Updates may be a bit erratic for a couple of days.
John Edwards endorsed Barack Obama yesterday. While endorsements usually don't mean much, Edwards was seen as a key figure in the party since he still has a loyal following. It seems odd that he dropped out. Had he continued in the race, he would surely have collected something like 300 delegates and could have been the kingmaker.
By now, people have digested the Democrats' victories in the three contested special elections for open Republican seats. What's going to happen there in November? Let's take a look. IL-14 is an R+5 district in the Chicago suburbs. Democrats are making steady inroads in suburbs nationwide. If Jim Oberweis is the Republican candidate again, the power of incumbency and the only slight lean of the district should allow Bill Foster (D) to win it again.
LA-06 is R+7. Here the NRCC and Freedom's watch threw the book at Don Cazayoux (D) and it didn't work. Also Woody Jenkins has some ties to Ku Klux Klan supporter David Duke. The district has many black voters who are going to turn out in great numbers if Barack Obama is the nominee. It will be a severe uphill climb for Jenkins to win the second time, even with Republican turnout being heavier, too.
The Republicans best shot is MS-01. The number of blacks in the district is smaller than in LA-06 and the district has the greatest Republican lean of the three (R+10). George Bush got 62% of the vote here in 2004 and John McCain is expected to win the district. On the other hand, the incumbent, Travis Childers (D), has already beaten Greg Davis (R) twice and will no doubt Nancy Pelosi will be giving him goodies to hand out to impress his constituents that having a congressman in the majority is a lot better than being represented by a powerless freshman in the minority.
A reader pointed out that perhaps some of the people who voted for Mike Huckabee or Mitt Romney in West Virginia were trying to send McCain a message that they would like Huckabee or Romney for Veep. Another one pointed out that the Democrats' win in MS-01 means that Mississippi voters are prepared to vote for Democrats when they are offered one they like. This may have implications for the Senate race between incumbent Sen. Roger Wicker (R-MS) and former governor Ronnie Musgrove (D). Musgrove is a conservative Democrat like Travis Childers and has shown the ability to win statewide election in Mississippi. He may give Wickers a run for his money. In the oher Senate race, Thad Cochran is a shoo-in.
Let's take a quick look at the Kentucky Democratic primary that will be held on Tuesday, when Kentucky Democrats will allocate 34 district-level delegates, 11 at-large delegates, and 6 PLEOs. Here is a map of Kentucky's six congressional districts,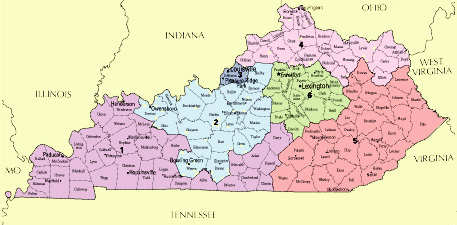 Here is the breakdown of district delegates by CD. The columns Clinton and Obama assume that Clinton will sweep every district with 65% of the vote, which is likely.
1
3
2
5
R+10
GOP
Edward Whitfield
3
2
2
2
3
5
R+13
GOP
Ron Lewis
3
2
3
4
4
8
D+2
Dem
John Yarmouth
5
3
4
2
3
5
R+12
GOP
Geoff Davis
3
2
5
3
2
5
R+8
GOP
Harold Rogers
3
2
6
3
3
6
R+7
Dem
Ben Chandler
4
2
Total
34
21
13
So with 65% of the vote, Clinton nets 8 district-level delegates. She will also net 4 at-large delegates and 2 pledged PLEO delegates for a total net win of 14 delegates. And remember, Oregon, which favors Obama, finishes voting on the same day as the Kentucky primary, and will wipe out most of Clinton's net gain in Kentucky.
No polls today.
The polling results for all primaries and caucuses are available as a Web page and in .csv format.
Delegates
Needed to win: 2026

Here is another source for delegate totals.



-- The Votemaster
---
---