Senate page Nov. 04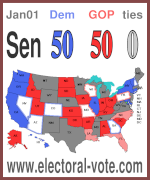 Previous
|
Next
New polls:
Dem pickups: (None)
GOP pickups: (None)
---
The Democrats got poked in the eye in Virginia on Tuesday night (and Democrat Terry McAuliffe conceded the governor's race to Republican Glenn Youngkin on Wednesday, as expected). However, the blue team avoided a double-poke, as late returns in New Jersey broke strongly Democratic. Consequently, Gov. Phil Murphy (D-NJ) was elected to a second term.
The current count in the Garden State is 1,224,953 votes (50.2%) for Murphy and 1,195,570 votes (49.0%) for Republican challenger Jack Ciattarelli. Approximately 10% of the votes are uncounted, and they are mostly mail-in, so they figure to be very pro-Murphy. However, though the Governor has apparently won, there are still some questions left to be answered.
The first of those questions is whether there will be a recount. Ciattarelli, thus far, has not conceded and is vowing to fight on until the end. If he wants a recount, he is required to have a good-faith belief that an error has been made. Of course, it would be nearly impossible to prove if his faith is good or is phony, so the real constraints are these: (1) Ciattarelli has 17 days from Election Day to file a suit in the state's superior court, and (2) his campaign has to pay for the costs of a recount (unless the recount changes the result of the election). It is legal to ask for a targeted recount, say of a particular county or precinct, so that opens up some tactical possibilities for getting maximum bang for the buck. All of this said, the gap between the two candidates is already more than 1% of the vote. And, as noted, it's expected to grow. There is no chance a recount will shift that many votes, so Ciattarelli might just throw in the towel here.
The second question, meanwhile, is whether the pollsters blew it. Back in September, several polls had the race neck-and-neck, though the polls taken in October gave the Governor a lead of 4-9 points. If the remaining votes break Democratic by a margin of 2 to 1, which is very plausible, then Murphy would end up winning 52% to 48%. That would mean the Republican-leaning Trafalgar Group hit the bullseye, and that nearly all the other pollsters would be within the margin of error. (Monmouth University, which put Murphy at +11 on Oct. 27, would still have egg on its face, though.) By contrast, if the race stays as close as it currently is, or gets tighter, then nearly all the pollsters would be in "we screwed up" territory.
The third question is: "What the heck happened?" New Jersey is a very blue state, and Murphy was incumbent, and so his election was taken as a given. Clearly it was not. Writing for The Washington Post, Aaron Blake argues that this was not all that unexpected, and that New Jersey gubernatorial elections usually include a backlash against the party in power in Washington. Brent Johnson and Susan Livio, writing for NJ.com, essentially agree, characterizing all of the state's gubernatorial elections as "crazy," and pointing specifically to low Democratic enthusiasm and to Republican voters who were energized by debates about school boards and by their anger over Murphy's handling of COVID-19. And Bob Hennelly, writing for InsiderNJ, also thinks that Murphy failed to get voters excited. Hennelly focuses, in particular, on Black voters, who stayed home in droves. He believes that if the Democrats had gotten something done on Build Back Better, it might have given the Governor a boost with these folks.
We don't have any particular expertise in New Jersey politics, but we have readers who live there and who do, so we thought we'd share a couple of reports from them. First up, J.K. in Freehold, NJ, who had just a brief thought to share:
As a resident of New Jersey, I was bombarded by the constant repeat of the Ciattarelli TV commercial that features Murphy saying: "If you're a one-issue voter, and tax rate is your issue, we're probably not your state." This would sometimes play twice in a row, especially on election eve. I was sure this would be effective and feel that it certainly was. No mention, of course, of the quality of services and education these taxes provide.
And a lengthier assessment from a different J.K., who lives in Short Hills, NJ:
As a New Jersey resident, I will offer my thoughts on why Phil Murphy struggled in his reelection bid...

Consider Mr. Smith, who lives in Suburban Town, NJ. Upon climbing out of bed, he must decide how to get to the office. Mr. Smith must choose either NJ Transit or driving. He decides against the train, for he must wear a mask despite everyone being vaccinated and no one sitting within 15 feet of each other because of low ridership. Moreover, he has an important meeting that morning, and the near-fifty-year-old engines frequently break down, thereby making being on time no better than a 50/50 proposition. While Mr. Smith is relieved that he does not get a flat tire during his commute, given the state is ranked among the ten worst for infrastructure, the traffic—which, in part, is due to multiple toll collections on his route—causes him to be late. Nevertheless, he has a productive day but is dismayed by the amount of his paycheck that New Jersey withholds for taxes. Murphy, whose net worth is approaching $100 million thanks to his being a former partner at Goldman Sachs, says Mr. Smith needs to pay his fair share. Mr. Smith encounters more traffic on the drive home and subsequently fills up the gas tank. Recently having one of the lowest taxes on gasoline, New Jersey presently assesses the fourth highest in the nation. He needs to buy groceries, but his usual market has closed in the wake of Hurricane Ida—the third catastrophic storm in the past twenty-five years. The government never addressed the town's propensity to flood, which has worsened with climate change. At the new store, Mr. Smith faints over the surging price of food. Walking back to his car, he has one of his bags break, sending his fruit to the pavement. The grocer overstuffed the items to minimize the baggage fee.

Home, sweet home! Mr. Smith hops out of his car and greets his new neighbor, though he is saddened by the departure of his good friend, Mr. Jones, who left for Florida to save on his income tax bill. Mr. Smith enters his house, which he loves. Paying the mortgage is painful, but it is the highest property tax in the nation that really hurts. Mr. Smith greets his family. The schools are the "best in the nation," but his kids had all virtual instruction last year because the local teachers union refused to return to in-person learning without zero COVID. He hugs his seventeen year old daughter, who stays up later than the rest of the family every night given her workload. She is disheartened that she will be attending her 11th choice college next year—USC—despite a near perfect GPA, board scores in the stratosphere, and extracurricular activities, which included a genuine commitment to public service, as a consequence of the other ten universities diminishing her accomplishments because of "white privilege." She wanted to be recruited for her running, but the Governor effectively canceled the winter track season in 2021 despite nearly every high school in the state training outdoors and athletes in most other states enjoying a full competitive season. Ice hockey and basketball, on the other hand, had nearly a full slate of games in the Garden State. Gov. Murphy is apparently a fan. Before going to bed, Mr. Smith calls his mother. She's been despondent since losing her husband to COVID-19 last year, for New Jersey has the worst per capita mortality rates in the country thanks to the Governor inexplicably sending patients into the nursing homes.

To be fair, I recognize that some of Mr. Smith's gripes are completely out of Murphy's control or that they were caused and/or exacerbated by predecessors from both political parties. His intentions for a greater society are undoubtedly good ones. I went to an extremely diverse high school and college and am a better person for it. But, the moral of this story is that people, debatably acting out of self-interest, tend to vote for the short term micro than the long term macro.
Hopefully this gives readers something to chew on as they consider the Jersey surprise (which sounds like the name of a casserole that you would never, ever want to eat). (Z)
There was lots of other news yesterday, as the dust settled. Some of it involved races that were up in the air when counting stopped for the night on Tuesday. Some of it involved races that weren't as prominent on the radar. Anyhow, here are a dozen bits of interesting news from Wednesday:
We will see what else pops up as the dust settles a little more. (Z)
As is always the case the day after an election, there were lots of "takeaways" pieces yesterday. Here is a selection:
Democrats see worst fears in Virginia
Youngkin shows the GOP the way
Targeting education on race
Liberal voting laws aren't bad for GOP
New Jersey also scares Democrats
Don't overinterpret
Philip Klein, National Review:
Revenge of the Parents
Biden Is a Millstone around Democrats' Necks
Youngkin Showed How to Successfully Walk the Trump Tightrope
Turns Out Virginia Isn't as Blue without Trump
2022 Could Be a Bloodbath for Democrats
Shane Goldmacher, The New York Times:
Youngkin's success across the state offers a GOP pathway
All politics are presidential. But Biden loomed larger than Trump
The GOP margins make it even more worrisome for Democrats in 2022
The political middle still matters
Democratic ideological factions face off in cities
Eric Bradner, Gregory Krieg and Dan Merica, CNN:
Virginia had trended blue—and then Tuesday happened
Republicans can focus on economy and education
Making it all about Trump didn't work
Voters may have moved on from COVID-19
New Jersey's tight race is a bad omen for Democrats
Elections still work
Voters rejected ambitious police reform in Minneapolis
Mixed messages for Democrats in mayoral races
Donald Trump isn't the bogeyman he once was
The suburbs are back in play
"Wokeness" is a major problem
People know who's in charge—and they don't like what they see
The Republican base is on fire
Aaron Blake, The Washington Post:
Bad news—and omens—for Democrats
A road map for the GOP after(?) Trump
The pivotal school issue
Setbacks for the far-left
It's a bad omen for Democrats' hopes in 2022
The suburbs are still swing areas
Republicans may have figured out a way to run in the post-Trump era
Democrats need an answer on education and race
Demographics aren't necessarily destiny
A sharp rebuke for Biden
Democrats have a lot of work to do
A new template for Republican victories
Culture wars keep getting hotter
Trump claims credit
Steven Shepard and David Siders, Politico:
The suburbs swing back
Rural America roars again
Democrats' missing message
High turnout won't save Democrats
Progressives have a problem
So, the recurring themes are: (1) the Democrats in general, and Joe Biden and the progressives in particular, got smacked upside the head; (2) the Democrats need to work a lot on their pitch, which needs to have something beyond wokeness and "Trump bad"; and (3) Republicans got a lot of good news in the form of a potential post-Trump playbook furnished by Glenn Youngkin, issues that seem to be working for them like education, and success in the suburbs. (Z)
Quite a few prominent politicians and pundits spent some time thinking about what happened on Tuesday, and have shared their ideas as to the "lesson(s)" of the evening. Here is a selection of those:
A lot of strong opinions, and we present them for your consideration. However, do keep this in mind: There is not a single thing on this list, with the possible exception of Van Jones' assessment, and that of the anonymous Biden advisor, that these people were not saying before Tuesday's election. So, one could reasonably argue that these folks aren't really assessing the election at all, they are just using it as fodder to advance their already-held positions. (Z)
You've had the takeaways, and you've heard what some prominent folks think (or claim to think), now that they've had a day to digest. Let's conclude with what we think, having examined Tuesday's results.
To start, when it comes to predicting the national climate, there are really two data points getting all the attention: The Virginia and New Jersey gubernatorial elections. That's not very many data points, though they probably are the two most instructive ones. Here is a comparison of how the states voted for president last year, and how they voted for governor this year:
Virginia
54.1%
44.0%
D+10.1
48.4%
50.9%
R+2.5
12.6 points
New Jersey
57.3%
41.4%
D+15.9
50.2%
49.0%
D+1.2
14.7 points
Those are pretty similar shifts, particularly if the late votes in New Jersey add a couple of points to Phil Murphy's total. That suggests, at least as much as a small sample size can, that it wasn't just Terry McAuliffe, and that there was a national shift in the direction of the Republicans.
Where did those flipped votes come from? Well, both Republican gubernatorial candidates outperformed Donald Trump across pretty much all demographics. However, the one that most clearly sticks out is the shift among noncollege white women in Virginia:
44%
56%
R+12
25%
74%
R+49
37 points
No public entity seems to have collected this particular bit of data for New Jersey, but we bet the Democratic Party has it, and that the trend there was similar to the one in Virginia.
The most consequential potential implication of this is that the Democrats' success in the suburbs was somewhat illusory, only existing as long as the pu**y grabbing Donald Trump was on the ballot. If the blue team ends up as the party only of cities, and Republicans resume their dominance of both suburbs and rural areas, then Congress isn't going to be in Democratic control again for a very long time.
If Democrats do conclude that their problems are with white noncollege women, many of whom live in the suburbs, then that suggests a pretty clear plan of action. They need to come up with an alternative to defund the police, pronto, since if it's not playing in liberal cities like Seattle and Minneapolis, it's definitely not playing in suburbia. They also need to figure out a response to the Republicans' new "education" platform, which is built almost entirely on boogeymen. What that response might be, we do not know, but they might start with a congressional resolution that says: "We oppose the teaching of critical race theory to any student who is not of college age, as it is clearly not appropriate for those who are younger." Republicans in Congress would pretty much have to vote for it, and it wouldn't be a policy change (since CRT is already not taught to non-college students), nor would it be a falsehood (since CRT really isn't apropos for younger students, inasmuch as it's a very advanced level of analysis).
Perhaps most obviously, however, the blue team may need to recalibrate the reconciliation bill. In particular, paid maternity leave is currently on the cutting-room floor. Tuesday's results suggest that it needs to be put back immediately, even if some other priority has to go by the wayside.
We continue to caution against reading too much into a small number of elections that attracted the votes of a smaller, possibly not representative subset of the electorate. Recall that 2,438,797 people voted in New Jersey this year, as compared to 4,491,609 in 2020, while in Virginia it was 3,279,642 this year versus 4,375,998 last year. It could be as simple as "Republicans are enthusiastic right now and Democrats aren't."
That said, if Democrats are looking to take something specific from Tuesday, beyond the obvious (work on messaging, get something done in Washington), then doing whatever it takes to keep suburban women voters in the blue column would appear to us to be the lesson. (Z)
Previous
|
Next
Back to the main page