Senate page Nov. 23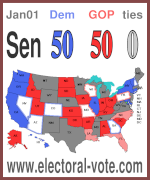 Previous
|
Next
New polls:
Dem pickups: (None)
GOP pickups: (None)
---
This weekend, we were asked what our advice to Joe Biden would be if we had 3 minutes to talk to him. And part of our answer was that he has to get some messaging on the economy out there, because right now his opponents are telling that story on his behalf. Clearly, Biden is a reader, because on Monday the White House took (or started to take) several moves in this direction. We concede that it's possible he figured it out all on his own without our help, but really, how likely is that?
To start, Biden made his pick to lead the Federal Reserve, and it's...current Fed Chair Jerome Powell. The President thus went with a moderate Republican over a liberal Democrat in Lael Brainard, who will be nominated for vice-chair instead.
Progressives are not happy with the decision, and Sen. Elizabeth Warren (D-MA) has already announced that she will vote against Powell. However, Biden concluded that this is not the best time to be changing horses, and that he wants a steady and experienced hand on the rudder. Though Powell won't get Warren's vote, he was approved to his current term as chair, back in 2018, by an 84-13 vote, so he will surely get plenty of Republican votes this time, too. Even if we assume that senators like Ted Cruz (R-TX) and Josh Hawley (R-MO) are willing to vote for "Trump nominee Powell" but not for "Biden nominee Powell," there are plenty of Republican members of the upper chamber who realize this is as good as it gets for them, and that if they torpedo the nomination, that makes it a near certainty that Brainard or some other lefty will be appointed.
Moving along, the White House might not be able to do much about inflation itself. However, they might have power to control the narrative on inflation. Last week, The Wall Street Journal—which is not exactly a bastion of left-wing anti-big-business activism—ran a story pointing out that supply-chain issues and pent-up demand are certainly contributing to the current high inflation rate. Also contributing, however, is that businesses are using all of this chaos to dramatically increase prices and to fatten their bottom lines after years of cutthroat competition. About two-thirds of the country's largest publicly traded corporations are reporting larger profit margins now than before the pandemic.
In response to this behavior, the administration is reportedly considering the possibility of publicly sparring with corporate America, so as to pass the buck on inflation (at least partly). Already, the White House has urged the Federal Trade Commission to launch an investigation of anti-competitive behavior in the oil and gas industry, and it might also mount a general "the corporations are screwing you, America" PR campaign.
And speaking of petroleum, gas prices are a big problem for Biden. In fact, they may be the problem. Data for Progress has put together an interesting analysis comparing gas prices to the President's disapproval numbers (adjusted to reflect the hit he took immediately after Afghanistan):
Correlation does not necessarily equal causation but, as you can see, high gas prices/low Biden approval track very closely with each other. And it's certainly plausible that correlation does equal causation in this case.
Anyhow, inasmuch as the Biden administration has seen the enemy, and decided it's gas prices, the White House is very focused on this particular problem. There's the FTC investigation, as noted. Further, Biden is working with several non-OPEC countries, including China and Japan, to acquire more petroleum from them. He's also considering the release of 30-35 million barrels of oil from the United States' strategic reserve, on top of releases that are already going to take place in 2022 as a result of legislation passed by Congress back in 2015 and 2018.
In short, Team Biden knows where its Achilles' heel is, and is working on the problem. Maybe their plans will work out, and maybe they won't, but the administration is not going to let the Republican Party dominate the 2022 midterms without a fight. (Z)
Another day, another round of subpoenas from the 1/6 Committee. While the Committee members wait to see what the courts say about Donald Trump's dubious executive privilege claims, they are apparently leaving no Stone unturned when it comes to the key players in the former president's orbit. The latest folks to get an engraved invitation to the Hill:
Roger Stone

: Dirty trickster

Alex Jones

: Radio host, conspiracy theorist

Dustin Stockton

: Trump rally promoter

Jennifer Lawrence

: Trump rally promoter; not the Jennifer Lawrence who starred in The Hunger Games

Taylor Budowich

: Trump spokesperson
The clear focus of this wave of subpoenas is the Trump rallies held in Washington, DC, on Jan. 5 and Jan. 6. Stone and Jones both spoke at the former, and they both helped raise funds for the latter. The other three helped organize and promote both rallies.
Of the two big names on the list, Stone is the more likely to defy the 1/6 Committee, regardless of the cost. He's a true believer, like Steve Bannon, and so is the type to embrace martyrdom. He also fancies himself a latter-day G. Gordon Liddy, and Liddy went to prison to protect his crooked president (Richard Nixon), so Stone can hardly do otherwise. If he does show up, hopefully the committee realizes it's him, and doesn't think it's The Penguin, Judge Doom, or Rich Uncle Pennybags:
The other big name on the list, Jones, is also a scofflaw and a wannabe martyr. However, while he tends to talk a big game, he rarely backs it up with action, as he places a very high value on his own behind. He also lost his Sandy Hook defamation case last week, so he might not be in a great position for another high-profile (translation: expensive) legal fight. In any event, the newest quintet to join Washington's least-desirable club has until Dec. 6 to decide whether to cooperate or not. (Z)
Sean Parnell (R), propelled by Donald Trump's endorsement, was in excellent position to claim his party's nomination for next year's U.S. Senate contest in Pennsylvania. Democrats were secretly rooting for him, not only because of the somewhat toxic Trump connection, but also because he and his ex-wife were enmeshed in a nasty custody battle that involved serious allegations of abuse. In other words, he was a badly flawed candidate, and not one likely to impress those all-important suburban swing voters.
Yesterday, the judge's decision in the custody case was announced, and Parnell's ex-wife carried the day. She will receive full custody of the couple's three kids while Parnell will be limited to visitation three weekends a month. Just hours later, the Parnell campaign announced that the candidate was "suspending" operations. That's a polite way of saying "we're done." The official explanation is that weekends are prime campaigning time, and Parnell cannot exercise his visitation rights while also mounting a U.S. Senate campaign. So, he chose his kids. The less charitable explanation is that the judge's ruling effectively confirmed that Parnell is an abusive jerk, and so made him unelectable. Readers can choose for themselves which explanation they believe; it is possible they are both true.
Parnell's demise is pretty good news for the Republican Party, as he looked unelectable even before the judge's ruling. Even Trump is relieved to be rid of him, as the former president did not want to rescind his endorsement (uncertainty projects weakness!), but he had also soured on Parnell, and had been irritated with Donald Trump Jr. for recommending the endorsement. Now the race is wide open; possibly the more moderate David McCormick (R) will jump in, or maybe the party will go with a politically inexperienced and sleazy television star in Mehmet Oz. After all, that model has worked for them before. It's likely to be bloody, and the process might produce another fanatical Trumper, but whoever triumphs, it would be hard for them to be a worse candidate than Parnell.
Meanwhile, the Democrats have seven declared candidates, but it's really a two-man show between Lt. Gov. John Fetterman (D), the charismatic progressive who looks like the bartender at a biker bar, and Rep. Conor Lamb (D), the charismatic moderate Marine Corps veteran who looks like the bartender at a country club. That contest will certainly be vigorous, but it is very unlikely to be as ugly as the one on the Republican side. Furthermore, both of them are strong general-election candidates, albeit with different coalitions. Fetterman will pull in lefties who are marginal voters but who are excited by him. Lamb will get suburban Republicans who generally don't like Democrats but see him as acceptable. (Z)
It is onward and upward (?) for two members of the House who, on Monday, announced their plans to run for some other political office.
First up is Rep. Peter Welch (D-VT), who will do what everyone expected he would and will run for the seat that Sen. Pat Leahy (D-VT) decided last week to retire from. At 74, Welch is no spring chicken, nor even a summer chicken. In many states, that would all but guarantee him a younger challenger. But age is just a number, it would seem, for residents of the Green Mountain State, whose current senators are 81 (Leahy) and 80 (Bernie Sanders). So, Welch has already secured the endorsement of both of those men, and does not appear to be likely to face any serious competition in the Democratic primary. And unless the Republicans persuade Gov. Phil Scott (R) to change his mind and run, then Welch can get to work ordering curtains and furniture for his new workspace in the Russell Senate Office Building.
As to the House seat that Welch is leaving behind, the state—and thus his at-large district—is D+15 and the Democratic bench is well stocked in Vermont. Lt. Gov. Molly Gray (D) appears to be the favorite to replace Welch, if she takes the plunge. In any case, the seat is nearly certain to remain in Democratic hands. And that Democrat will promptly become a senator-in-waiting for the day when Sanders retires, or when Welch does. Of the last six people to represent this district, four (including Sanders) ended up in the Senate, and a fifth nearly did. That informal line of succession may be why the young(er) whippersnappers are willing to wait instead of taking Welch on.
Meanwhile, on the other side of the aisle, Rep. Louie Gohmert (R-TX) announced a couple of weeks ago that if he could raise $1 million in 10 days to fund the bid, he would run to be Texas' attorney general. Well, he raised the $1 million (though he's being coy about where exactly the money came from). And so, Gohmert made it official yesterday and said he would indeed run. It is a curious choice for an incumbent with an ultra-safe seat, especially since current AG Ken Paxton (R) is running for reelection and has Donald Trump's endorsement, and there is also a Bush in the race (current Texas land commissioner George P.). Gohmert plans to attack Paxton head on, focusing on the AG's significant corruption issues. One imagines that if the Representative can pull this particular rabbit out of this particular hat, he expects to run for governor in 4 years.
Gohmert does not seem to have officially announced his retirement from the House, but Texas has a resign-to-run law that will require him to do so if he runs for AG. So, unless he gets cold feet, Gohmert's House career is over. One of his former staffers, Aditya Atholi (R) had announced a run regardless of what his former boss did, and there are other Republicans eyeing the seat. The district, TX-01, is deep red and will remain so under the new Texas maps. So, like the seat in Vermont, and something like 80% of the seats in the House in total, this one is in no danger of changing hands. (Z)
As far as we can tell, New York AG Letitia James' investigation of the Trump Organization (which began with Manhattan DA Cyrus Vance Jr.) has yet to exact much of a cost from the company. But apparently it has exacted enough, as the Trumps' legal bills have run into the six figures. And stepping up to cover many of those legal bills is the Republican National Committee, which has already written checks to the tune of $121,670.
This news raises two questions. The first question is: "Why?" Donald Trump is allegedly a successful businessman with a net worth in the billions. He's also been collecting money for his super PACs hand-over-fist. Is he really unable to pay his own legal fees? Especially when those fees are still in the low six figures? What happens if this thing gets really expensive and the costs run into the seven figures or even eight figures? The RNC might have to hold a bake sale or something.
The second question, meanwhile, is also "Why?" Trump is a private citizen right now, and not an officeholder. Further, this is an issue with his private business holdings and not his political career. If the RNC was paying to defend him against, say, the election tampering charges in Georgia, then maybe it would make sense. But paying to defend the Trump Organization? An RNC spokeswoman explained: "As a leader of our party, defending President Trump and his record of achievement is critical to the GOP. It is entirely appropriate for the RNC to continue assisting in fighting back against the Democrats' never ending witch hunt and attacks on him."
There is much in that explanation that is dubious, but the first part certainly rings true: He's still the leader of the Party. Indeed, it would be hard to imagine something that would go further toward demonstrating that the RNC is a wholly owned subsidiary of the Trump Organization. Certainly, the Democrats—who want to make 2022 a referendum on the unpopular former president—have taken note. The DNC put out a statement on Monday observing that "the RNC said it best: Donald Trump leads the Republican Party." The Democrats might just mention this a few more times in the next year, particularly if the RNC-paid legal bills reach into the millions. (Z)
Speaking of wholly owned subsidiaries of the Trump Organization, there was some speculation, including from us, that Fox might try to assert its independence from the former president once he was out of office. The thought was that Fox can't afford to out-crazy Newsmax and OAN, and that the cable channel's new leadership (Rupert Murdoch's son Lachlan), along with the desire to attract at least a few viewers who are not celebrating the silver anniversary of their AARP membership, might lead to more moderate coverage.
Not so much, as it turns out. Sean Hannity and Tucker Carlson are the tentpoles that hold Fox up, and they are both inclined to go toe-to-toe with OAN/Newsmax in the nuttiness department. Carlson, in particular, is all-in on pandering to the Trumpers, which certainly is at odds with his claims that he's "politically independent." Late last month, Carlson released a "documentary" called Patriot Purge, which has been described, with good reason, as "fascist propaganda." It aggressively advances the claim that the 1/6 insurrection was a peaceful demonstration from a group of diverse, America-loving patriots, that it was overtaken by Antifa and deep state operatives, and that the resulting violence is now being used by the Biden administration to persecute Republicans nationwide.
The film was a bridge too far for two of Fox's best-known contributors, Jonah Goldberg and Stephen Hayes. Those two were among the few remaining voices at Fox not in the thrall of Trumpism. Consequently, despite drawing a regular paycheck from the channel, they've rarely been on air in the last year or two. And now, they won't be on the air at all, as they resigned from their positions on Monday. In the blog posting announcing the decision, they pointed to Patriot Purge in particular, and said that in general at Fox these days, "the voices of the responsible are being drowned out by the irresponsible."
In short, it was clearly incorrect to suspect that the defeat of Donald Trump, the threat of lawsuits from companies like Dominion Voting Systems, and questions about the viability of Fox's business model would lead to change in the short term. If anything, the channel is in a race to the far-right fringe, with Hannity and Carlson leading the pack. Fox may pivot eventually, if and when the ratings go down, but right now the channel consistently beats CNN and MSNBC. And you know what they say about "if it ain't broke..." (Z)
The movies will be back tomorrow!
Previous
|
Next
Back to the main page