Senate page Apr. 07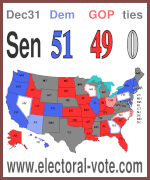 Previous
|
Next
New polls:
Dem pickups: (None)
GOP pickups: (None)
---
The brutal killings in Bucha have driven Joe Biden and the European Union to place even more sanctions on Russia and Russians. One might think they would have run out of sanctions already, but no, they found some new ones. The new round will ban new investment in Russia, sanction the largest Russian bank, Sberbank (and also the somewhat smaller Alfa Bank), and place sanctions on Putin's two adult daughters, Katerina Vladimirovna Tikhonova and Maria Vladimirovna Vorontsova. Oil and gas exports will not be sanctioned due to European dependence on them.
A U.S. official said that the new sanctions are not permanent. They could be lifted if Russian President Vladimir Putin heels, like a good doggy. No one is counting on that any time soon, though. As a result of all the sanctions, Russia's economy will drop from the 11th largest in the world to somewhere below the top 20.
Will this make the Russian people rise up and demand that Putin go? To the extent they can be believed, Russian polls suggest that the more the West punishes Russia, the more the Russian people support him, since they see him as a victim, not an aggressor. After all, what he is trying to do is reassemble the Soviet Union (or maybe the Russian Empire), which is rightfully theirs.
On the other hand, in Russia, as in America, it's the economy, stupid. Brian Deese, Director of the National Economic Council, recently said that as a result of the sanctions, inflation in Russia is running at 200% per year. That is clearly unsustainable and if it keeps up, Russians will be hopping mad.
The E.U. is working on its own sanctions. It plans to ban the import of Russian coal, worth $4.4 billion a year, and to ban Russian trucks from entering the E.U. to deliver loads or pick them up. As to the coal, reducing coal use would be good for the planet, but alas, not importing Russian coal won't help as China is already planning to buy it. However, Chinese officials know they are in the driver's seat here, so they are demanding a huge discount and will no doubt get it. The result will be just as much pollution, but less money for Russia. (V)
Some members of the Trump White House, including his daughter and son-in-law, have honored the subpoenas they got from the 1/6 Committee. Others have not. Among those in the latter group are Trump White House deputy chief of staff Dan Scavino and Trump trade adviser Peter Navarro. And yesterday, the House voted to refer both men to the Department of Justice for criminal contempt charges.
The vote was 220-203, with all the Democrats, and two of the Republicans voting in favor. You can probably guess which two Republicans. (Hint: Their names are Liz Cheney and Adam Kinzinger). Steve Bannon was the first Trumper to be referred to the DoJ and he now faces criminal charges. Mark Meadows was the second, and in his case, the DoJ is still reviewing the matter. Jeffrey Clark would have been the third, but after the 1/6 Committee voted to refer him to the whole House for a contempt vote, he decided to play ball.
Given this, it would appear there are four possibilities for Scavino and/or Navarro: (1) they get charged by the DoJ, (2) the DoJ takes a look at the matter and decides it's not worth pursuing, (3) the DoJ takes a look at the matter and drags its feet long enough that the point becomes somewhat moot due to the 1/6 Committee finishing its work and/or Republicans retaking the House and withdrawing the subpoenas, or (4) they decide to back down and play nice. We don't have much of an idea as to which it will be, though we'll say that both men are the type to take their chances it will be #3, and that Scavino has made a particular mockery of this process, including a bunch of subpoena dodging. So, he's probably a bit more likely to get popped than Navarro. (Z)
Arizona Republicans filed a lawsuit with the Arizona Supreme Court that seeks to ban all early voting and all absentee voting on the grounds that such voting violates the Arizona Constitution. The vast majority of Arizonans vote either early or by mail, so a victory here would have a huge impact. On Tuesday, the Court threw the lawsuit out. However, the reason was that it didn't have original jurisdiction. This means the Republicans have to sue in the lower courts and then, if they don't like the results, appeal it up the state Supreme Court. This could take a couple of years and certainly won't be completed by this November.
Voting-rights advocates hailed the victory, however temporary it may be, as 80% of Arizona voters use those voting methods. Pinny Sheoran, president-elect of the League of Women Voters in Arizona, noted that absentee and early voting are especially important for the elderly and voters with disabilities, as well as people in rural areas and Native reservations who lack transportation to the polls. Secretary of State Katie Hobbs (D), who is running for governor, also praised the decision. (V)
While the Republicans didn't get the result they wanted in Arizona, they did much better in Texas during the March 1 primary. Texas recently passed a new law requiring absentee voters to provide their driver's license number (or alternatively, part of their Social Security number) along with their ballot. The number they provide has to match the number on file on their voter registration record. If the number isn't provided or the numbers don't match, the ballot is rejected. This happened to 24,636 voters in the Texas primary, a rejection rate of 12.4%. This is vastly higher than in previous primary elections.
Is this a bug or a feature? Texas Republicans will say that if voters failed to comply with the new law, well, tough luck. Of course, they all know the law was passed expecting many voters, especially low-information voters who don't follow what the legislature does every day, to mess up and have their votes thrown out. The legislators were counting on more Democratic ballots to be thrown out than Republican ballots, and that happened. 14,281 Democratic ballots were tossed compared to 10,355 Republican ballots. In Harris County (Houston), the rejection rate was an enormous 19%.
For primary elections, the tendency of Democrats to not understand the new law more than Republicans doesn't produce any partisan advantage, but in a general election having more Democrats be disenfranchised than Republicans clearly is valuable to the Republicans.
If Democrats want to counter this, they are going to have to start a massive voter education campaign explaining the new law to voters and how to obey it. Their problem will be trying to get to marginal and uninterested voters who don't pay a lot of attention to politics. That will be a challenge. (V)
Gov. Kristi Noem (R-SD) just signed an executive order banning the teaching of Critical Race Theory in South Dakota public schools. Upon signing, Noem said: "Political indoctrination has no place in our classrooms."
Since CRT isn't taught in South Dakota public schools, except maybe in a couple of courses in the University of South Dakota Law School as a framework for understanding race in America, and isn't indoctrination in any conceivable sense, what is Noem up to? After all, this was an executive order that she dreamed up, not some bill the state legislature dumped on her desk and forced her to sign or veto.
Maybe this is about her 2022 reelection campaign, but we doubt it. She is a popular conservative incumbent in a conservative state and there is no reason to think she is in much danger even though she has a Republican primary challenger, Steve Haugaard, who is trying to out-Trump her, which won't be easy. To us, this XO suggests two things. First, she is playing to a bigger audience than South Dakotans, namely national Republicans. She probably (and correctly) senses that there is a good chance the Republicans will want a woman on the ticket in 2024, especially if the Democrats have one again, and she wants to demonstrate her right-wing bona fides. Actions like hers get lots of attention, and she doesn't want a potential Trump/Noem or DeSantis/Noem ticket to be greeted with "Kristi Who?", analogous to the "Sarah who?" reaction when John McCain picked Sarah Palin as his running mate in 2008.
Second, it is already clear that if the Republicans have a platform in 2024, education is going to play a big role in it. They will have points like:
Ban the teaching of CRT.
Prohibit anyone who has now, or has ever had, a tallywhacker from competing in girls' sports.
Make sure no (white) child is made to feel guilty about any part of American history.
Books that might make children feel uncomfortable should be banned from the classroom and library.
Teaching the Bible as a key part of Western civilization is fine.
Present creationism as an equally valid alternative theory to evolution.
Parents should control the school curriculum.
Promote school choice and home schooling.
Children should be given vouchers to fund public, private, charter, or religious schools.
Voluntary school prayer (with students allowed to opt out) should be encouraged.
National standards, like Common Core, should be banned.
Of course, Noem isn't dishing all of this up right now. There is plenty of time in the coming years for the rest. She is just planting a stake to make it clear that education is on her agenda and as the mother of three, she can be trusted to defend the conservative view of education in a national campaign. (V)
Whether the Democrats like it or not, to keep control of the House, they have to win in swing districts. Currently, six House Democrats are in districts with a PVI of EVEN and 30 are in districts that range from R+1 to R+9. If the Democrats lose all 36 districts, they will be deep in the hole and may not recover for years. The district boundaries will be different in 2022, but in 14 cases, the Republicans controlled the redistricting process and probably didn't make it any easier for the incumbent. Here are the 36 endangered Democrats (and this list doesn't count Democrats in D+1, D+2, etc. districts, which are also swingy). In reality an incumbent in a D+1 district is only marginally safer than one in an R+1 district:
CA-10
EVEN
Josh Harder (D)
55.16%
44.84%
10.33%
FL-07
EVEN
Stephanie Murphy (D)
55.34%
43.24%
12.10%
OR-04
EVEN
Peter DeFazio (D)
51.52%
46.20%
5.32%
OR-05
EVEN
Kurt Schrader (D)
51.89%
45.15%
6.74%
WA-08
EVEN
Kim Schrier (D)
51.71%
48.15%
3.57%
WI-03
EVEN
Ron Kind (D)
51.30%
48.64%
2.66%
AZ-02
R+1
Ann Kirkpatrick (D)
55.10%
44.87%
10.23%
CA-49
R+1
Mike Levin (D)
53.13%
46.87%
6.26%
IA-03
R+1
Cindy Axne (D)
48.94%
47.55%
1.39%
NY-18
R+1
Sean Patrick Maloney (D)
55.78%
43.24%
12.54%
PA-08
R+1
Matt Cartwright (D)
51.77%
48.23%
3.54%
AZ-01
R+2
Tom O'Halleran (D)
51.61%
48.39%
3.22%
IL-06
R+2
Sean Casten (D)
52.82%
45.43%
7.38%
ME-02
R+2
Jared Golden (D)
53.04%
46.95%
6.09%
MN-02
R+2
Angie Craig (D)
48.18%
45.92%
2.26%
NH-01
R+2
Chris Pappas (D)
51.32%
46.21%
5.10%
NJ-03
R+2
Andy Kim (D)
53.23%
45.47%
7.76%
NV-03
R+2
Susie Lee (D)
48.75%
45.77%
2.98%
NY-19
R+2
Antonio Delgado (D)
54.45%
42.94%
11.52%
CA-45
R+3
Katie Porter (D)
53.46%
46.54%
6.93%
NJ-05
R+3
Josh Gottheimer (D)
53.15%
45.64%
7.52%
NJ-07
R+3
Tom Malinowski (D)
50.61%
49.39%
1.22%
NJ-11
R+3
Mikie Sherrill (D)
53.30%
46.70%
6.61%
PA-17
R+3
Conor Lamb (D)
51.15%
48.85%
2.29%
VA-02
R+3
Elaine Luria (D)
51.55%
45.81%
5.75%
KS-03
R+4
Sharice Davids (D)
53.62%
43.56%
10.06%
MI-08
R+4
Elissa Slotkin (D)
50.88%
47.28%
3.59%
MI-11
R+4
Haley Stevens (D)
50.20%
47.82%
2.38%
IL-14
R+5
Lauren Underwood (D)
50.67%
49.33%
1.34%
TX-32
R+5
Colin Allred (D)
51.95%
45.93%
6.02%
VA-07
R+6
Abigail Spanberger (D)
50.82%
49.00%
1.82%
NC-02
R+7
Deborah Ross (D)
62.96%
34.83%
28.13%
TX-07
R+7
Lizzie Fletcher (D)
50.79%
47.45%
3.33%
GA-06
R+8
Lucy McBath (D)
54.59%
45.41%
9.18%
GA-07
R+9
Carolyn Bourdeaux (D)
51.39%
48.61%
2.78%
NC-06
R+9
Kathy Manning (D)
62.27%
37.73%
24.55%
The moderate House Democrats, also known as the Blue Dogs, are very worried that their ranks could be decimated and the Republicans could get a large majority. Talk about defunding the police and forgiving student debt doesn't play well in many of their districts, so they are making a concerted push to help their members in what is expected to be a tough environment.
In particular, some of the Blue Dogs are retiring and the NewDem Action Fund is working to recruit and support moderates to win the primaries to replace them. They are scared to death that progressives will win the primaries and then be crushed in November, so recruiting moderates in swing districts is top priority.
Rep. Kurt Schrader (D-OR) is leading the Blue Dogs' political arm this cycle. He is definitely playing defense, trying to help his incumbents, unlike the 2020 cycle, when the Democrats played offense (unsuccessfully) trying to pick up seats in Arkansas, Montana, and Texas. This time seats in California's Central Valley will be their focus, along with seats in South Texas, and scattered other places like Michigan and even New York. One such race is NY-11, the only House seat in New York City occupied by a Republican. The Blue Dogs are supporting Max Rose (D) against Rep. Nicole Malliotakis (R-NY) there.
The 2020 election was a disaster for the Democrats, who lost 12 House seats, and especially the Blue Dogs, who elected zero out of the nine challengers they supported, while eight of their members lost reelection. They are trying to avoid a repeat. One thing they have gotten DCCC Chairman Sean Patrick Maloney (D-NY) to agree to is one size does not fit all. No litmus tests, thank you. This means that if a district is largely pro-life, then it is not only acceptable, but desirable, to run a pro-life candidate who can win rather than a pro-choice candidate who will lose. Of course, even with good candidates, the Democrats face substantial headwinds due to history and other factors. (V)
A new Politico/Morning Consult poll shows that 53% of registered voters think Clarence Thomas should recuse himself from any Supreme Court cases involving the 2020 election due to his wife's political activism. Only 28% think he should participate in the cases. The results were large along partisan lines, with 76% of Democrats and 31% of Republicans in favor of recusal.
One interesting takeaway from the poll is the question about whether the respondent has a favorable or unfavorable opinion of Thomas. Only 28% have a favorable opinion of him while 36% have an unfavorable opinion. Another 36% have no opinion of him or have never heard of him. We're not going to hold a poll, but it is our guess that 100% of our readers have heard of Thomas and that almost as many have an opinion of him. But despite his having been on the Supreme Court for over 30 years, a third of the country doesn't know who he is or anything about him. As Donald Rumsfeld might have said, you have to go with the electorate you have, not the electorate you might want.
No federal ethics law requires Thomas to recuse himself. And even if there were a law that applied to the justices, it would be up to the justice to determine if he or she had a conflict. Thomas has made it very clear that he sees no conflict and will not recuse himself.
Democratic lawmakers are not happy with that situation. Yesterday, they unveiled a bill that would force the Supreme Court to adopt ethical standards, including recusal requirements for justices with personal or financial ties to parties before the Court. The problem with the bill, which is unlikely to get many Republican votes, is that sometimes the ties aren't very clear. If a justice owns stock in a company that is being sued, he or she should not get to vote on the case. But what if, say, General Motors is being sued and the justice owns stock in Toyota? In a broad sense, a loss for GM might help Toyota a bit, even if it is not a party to the case. What if the justice's brother-in-law works for Toyota? Can he or she still vote on a case involving GM? Does it matter if the brother-in-law is a vice president or an assembly line worker?
Or, what if a justice's wife or husband sent an e-mail or text message to a public official urging some policy? Does that require recusal? What if the spouse wrote a letter to the editor of some local newspaper? Is that enough to trigger a recusal? It is very hard to draw a bright line on what is a conflict of interest and what is not
One bit of good news for Democrats from the poll is that the generic House poll is now tied at 43% for each party, with 15% undecided. Earlier this year the Republicans held a lead in the generic House poll of close to 10 points, so a tie is a big improvement for the Democrats.
In other polling news, a The Hill/Emerson College poll has Herschel Walker ahead of Sen. Raphael Warnock (D-GA) 49% to 45%. This is actually very good news for the Democrats. A horse race poll about November in April is meaningless, but this is likely to strengthen Walker's determination to stay in the race. The argument for him dropping out is that he will lose. If he now believes he will win, he won't drop out. After the $100 million in negative ads hits him, he won't be in quite the same shape he is in now, but he may not realize that and stick it out. (V)
Rep. Bob Gibbs (R-OH) has announced that he is retiring from Congress after this term due to what he calls "the circus redistricting has become in Ohio."
It is true that Ohio redistricting is a real mess, as Republican state legislators have drawn highly partisan map after highly partisan map only to have the courts slap them down. Gibbs noted: "These long, drawn-out processes, in which the Ohio Supreme Court can take weeks and months to deliberate while demanding responses and filings from litigants within days, is detrimental to the state and does not serve the people of Ohio." What a true public servant, who cares about the people of Ohio! Would there were more of them!
Now do you want to know the real reasons he is quitting? There are two. First, he has a nasty primary ahead of him. Donald Trump has endorsed a right-wing former aide, Max Miller, to run against Gibbs. Second, if Gibbs makes it through the primary, he still has the general election to worry about in a new district that includes many people from the Cleveland suburbs. It is still Republican, but much less so than his old district. So although he says he is sorry for the people of Ohio, he is much more sorry for Bob Gibbs, who will have to zig sharply to the right to be able to win the primary and then zag sharply to the left to win the general election. He is clearly afraid of whiplash, so he is calling it quits.
An unintended consequence of his retirement is that Miller is probably the favorite to win the GOP primary and is a much weaker candidate than Gibbs in the new district in November. In other words, Gibbs' retirement may help the Democrats flip the seat. But it is still a red district, so that is not a sure thing. (V)
Rep. Ami Bera (D-CA), an immigrant from India and now a Democratic congressman from the Sacramento suburbs, is used to Fox attacks. It comes with the territory. But he is not used to fox attacks. However earlier this week he was bitten by an actual fox (vulpes capitolus) on the Capitol grounds. Everyone in D.C. is used to congressmen who behave like wild animals, but the reverse, an actual wild animal attacking congressmen, is new:
Bera is a physician and knew that while Tucker Carlson is often rabid, he doesn't bite anyone (as far as we know). The same can't be said for wild foxes, so Bera went to Walter Reed hospital and got a rabies shot, a tetanus shot, and five shots of immunoglobulin. He will need three additional rabies shots in the coming days.
So, we can add to the dangers Democratic members of Congress already face—Fox attacks and mob attacks—one more problem: fox attacks. Animal lovers urged the Capitol police to trap the fox and relocate it to a more fox-friendly territory, probably in some Fox-friendly rural area. The police caught a fox—probably but not definitely not the only one on Capitol Hill—and had it put down in order to test it for rabies. Unfortunately for animal lovers (and for the fox) the only foolproof way to test for rabies involves putting tissue from the brain stem under a microscope, and that is not compatible with staying alive. (V)
This is certainly turning out to be an intriguing quadrant:
#1 Senate Minority Leader Mitch McConnell (R-KY, 72%) defeats #8 Rep. Marjorie Taylor Greene (R-GA, 28%)



Our Take

: Being obnoxious can only take you so far, apparently, if you have no real power.



A.B. in Wendell, NC

: As detestable as McConnell has been—and I can say that since the man was once my senator (and, by the way, Kentuckians have a different name for him than "turtle"—hint, it rhymes with Mitch)—the Majority Leader is a has-been. His damage potential is thus somewhat limited, whereas MTG is not so limited. Additionally, as a trans woman, I absolutely have to give MTG the nod on this one, as she has been definitely more harmful to my community than Mitch the... well, you get the picture.



S.G. in Newark, NJ

: A no-brainer. Greene is odious, uncouth, provocative-for-its-own-sake, nasty. And powerless. McConnell is spineless, Machiavellian, cautious. And the guy who skewed the Supreme Court, and quite possibly wrecked the country, for a generation. He wins in a cakewalk.



D.E. in Lancaster, PA

: I was going to vote for the Grim Reaper but then Madge had to open her big stupid mouth again and again this week. First there was her convoluted and disgusting homophobic rant in which she seemed very confused in thinking that gay men hang out in little girls' bathrooms for some nefarious purposes that I can't fathom. Then she compared Disney to a sexual predator grooming their victims—yes, I know Disney will probably one day own the world, but in the meantime I gladly buy into their vision of imagination and childhood, and to hear someone to try to paint them as the next Chester the Molester is simply beyond the pale. I can't even wrap my mind around how warped and deranged your perspective of the world has to be to equate the two. There is apparently no depths of depravity or levels of vileness that Greene will not joyfully dive into. She's been deprived of her committee seats, may I suggest she be deprived of her citizenry next.


#4 Sen. Ted Cruz (R-TX; 86%) defeats 5 Rep. Jim Jordan (R-OH; 14%)



Our Take

: McConnell vs. Cruz—what a matchup!



R.E.M. in Brooklyn, NY

: As loathsome as Ted Cruz is, I have to vote for "Gym" Jordan, a fascist and bully who turned a blind eye to the sexual abuse of the college wrestlers he coached. (I do concede that I am predisposed to loathe wrestling coaches—we had a mandatory phys. ed. unit on wrestling in middle school, and I can still hear the lunatic gym teacher screaming at us to "dig the crotch!")



M.W. in St. Paul, MN

: I had to think about this one. Ted "Cancun" Cruz is despicable and despised but he's likely peaked politically. Meanwhile Jim "Locker Room" Jordan may yet have heights to climb... or gutters to fall in.



P.B. in Sherman, CT

: Jim Jordan has at least one fan, but even Ted Cruz hates Ted Cruz. You think he's bad from sound bites? Imagine having to live with the guy. Imagine having to breathe the same air, 24-7.


#3 Rep. Matt Gaetz (R-FL; 94.9%) defeats #11 Rep. Liz Cheney (R-WY; 5.1%)



Our Take

: The other Cheney also exits the competition. Clearly, the current generation of conservatives leaves the previous generation in the dust when it comes to badness.



T.H. in Edmonton, AB, Canada

: Liz Cheney vs. Matt Gaetz was a vote between "agree-to-disagree" and "disagreeable," respectively. Cheney has more political clout (for me to disagree with) going forward. Gaetz' disagreeable 15 minutes are nearly up.



G.K. in Blue Island, IL

: I find, as the brackets are winnowed down, I weight more heavily the criterion regarding the potential to do damage in the future. This is why, though I currently like Liz Cheney for having some backbone when few others in her party do, I have her winning out over the more despicable Matt Gaetz. I just feel Gaetz will be neutered by Johnny Law before too long.



S.K. in Fort Collins, CO

: A no brainer. This one goes to Matt. Matt is nothing more than a sleazy opportunist. I am not fond of Liz Cheney or her politics (and I have serious problems with her father), but I respect her courage and her willingness to stand for democracy despite the political cost.


#10 House Minority Leader Kevin McCarthy (R-CA; 76.5%) defeats #15 Sen. Kyrsten Sinema (D-AZ; 23.5%)



Our Take

: Sinema was the last Democratic officeholder still standing.



B.L. in Arcata, CA

: This was really hard, but in the end, McCarthy is at least doing what his base likes (sorta), while Sinema has no clue what her base wants. It's all about her.



S.W. in Colorado Springs, CO

: The match-up between McCarthy and Sinema had me biting my nails in indecision: Who's done the most harm, who will continue to do harm? In the end, I had to go with McCarthy for his utter spinelessness and greater time in office, as well as likelihood of reelection.



P.C. in Austin, TX

: Interestingly, all of these match-ups are "establishment" versus "upstart." Only today's Republican Party could make Ted Cruz "establishment," but what other choice when in juxtaposition with Jim Jordan (or MTG, or Gaetz)? Ugh. How do we climb out of this hole? It seems to be in a self-reinforcing "race to the bottom." I think the Overton window is going to be torn by overstretching. Fortunately, for now at least, the upstarts are noise-makers without substantive power (other than, perhaps, Sinema), so the establishment gets my votes. Except Matt Gaetz, because Liz is fighting a good fight now, and Gaetz really needs to go to jail, soon.
The Legislative Branch bracket now looks like this: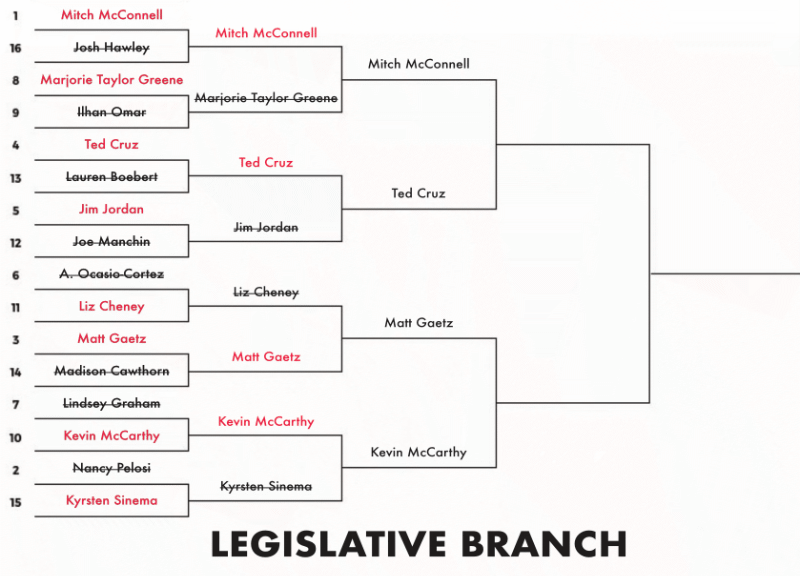 Here are the ballots for this round of voting:
You've got until Monday, April 11, at noon. Send your comments here! (Z & V).
Previous
|
Next
Back to the main page