Senate page Apr. 21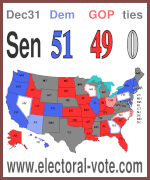 Previous
|
Next
New polls:
Dem pickups: (None)
GOP pickups: (None)
---
At a meeting of the G-20 yesterday, Treasury Secretary Janet Yellen and Fed Chairman Jerome Powell walked out of the room, in dramatic fashion, when Russian Minister of Finance Anton Siluanov, who has been sanctioned by the U.S., started speaking. While Joe Biden wasn't specifically involved here, it is inconceivable that Yellen and Powell would have done this without his permission. They were accompanied on the way out by Ukraine's finance minister Serhiy Marchenko, European Central Bank President Christine Lagarde, and Canada's finance minister Chrystia Freeland. However, officials from Italy, France, Spain, and Germany didn't take part in the parade. The other problem with this show is that since Siluanov is persona non grata in the U.S. he spoke by video and probably didn't even notice the walkout. Maybe he read about it later, though.
Shortly after the walkout, Biden authorized yet another batch of sanctions against Russia. It targets yet another large bank that escaped the previous sanctions (Transkapitalbank), another oligarch (Konstantin Malofeyev), and Russian companies engaged in cryptomining. In addition, a group of 635 Russians who have been involved in human rights offenses and related things have been banned from entering the U.S.
In yet another symbolic move to make Russia feel even more isolated, the organizers of the Wimbledon tennis tournament yesterday announced that players from Russia and Belarus would not be allowed to compete this year. Russia responded by saying that a ban on Russian players was unacceptable. But Russia is going to have to accept it, unacceptable or not.
This step matters more than you might expect, since number two in the world and U.S. Open Champion Daniil Medvedev will be blocked from competing. He had a decent shot at winning. Three other Russian men are in the top 30. In addition, five Russian women are in the top 40 of the women's rankings. None of them will be allowed to compete either. This is the first time Russian players have been banned from competing.
How the Wimbledon story plays out in Russia is anyone's guess. The average Russian may well feel that banning tennis players who might have won the tournament on account of actions they had nothing to do with is unfair. It is certainly possible that this move will increase support for Russian President Vladimir Putin, who can be counted on trying his best to play the victim here. In any event, the screws keep tightening on Russia, but it is unlikely that they will end the war in Ukraine. (V)
On Monday we had an item about how the Democrats might be in trouble with Latinos and one on how young voters are getting disillusioned with the Democrats because they can't seem to get anything done. Now, Thomas Edsall at The New York Times has an essay that raises the question of whether Asian Americans may be the next key Democratic demographic to start moving away from the Party.
Decades ago, Asian Americans were Republicans because many of them came from communist countries like China, Vietnam, and Cambodia and they identified with the party that hated communism—the Republicans. But now the Cold War is over and their children don't care about communism. They do see themselves as minorities, however, and identify with the party that likes minorities—the Democrats—not the party that hates and demonizes them—the Republicans. For the most part Asian Americans support higher taxes on the rich, free college, and strong laws protecting the environment. So they are generally strongly Democratic. Or were.
See, there is a key issue on which Asian Americans are very much against what the Democrats want: affirmative action. Some selective colleges and high schools currently have programs in place that give Black and Latino students an edge in getting in over a color- and race-blind system that sorts them in order of their test scores and then admits them starting at the top until the class is full. Many Asian-American students have tiger moms who make them study, study, and then study some more so they do really well on tests. Affirmative action programs take into account factors other than academic achievement, and give bonus points to candidates from bad schools who nevertheless did reasonably well on the tests. In effect, affirmative action results in the admission of candidates with less academic achievement over some candidates with more academic achievement. The net result is that some coveted places go to Black students at the expense of Asian-American students. The Democrats think this is fine. The Republicans think it is unfair and would abolish the whole program. What the Supreme Court thinks of it will be known in about 2 months, as a key case is currently pending.
In 1996, California voters approved Proposition 209, which banned all affirmative action in the state. In 2020, a ballot proposition asked voters to repeal 209. Among Chinese American voters, 38% opposed reinstating affirmative action, 30% supported reinstating it, and the rest were undecided. Among all Asian Americans, 22% opposed reinstatement and 36% supported it, exposing a rift among Asian Americans from different countries.
In 2018, the student newspaper at Harvard, The Harvard Crimson, did a study of SAT scores of Harvard students admitted from 1995 to 2013. Asian Americans averaged 767 on each segment of the test, whites averaged 745, Latinos averaged 718, Native Americans averaged 712, and Black students averaged 704. Clearly if a purely merit-based system were used, more Asian Americans would be admitted, offset by fewer Black, Latino, and Native American students.
Interestingly enough, anti-affirmative action sentiment is stronger among Chinese Americans than among other Asian Americans. One study turned up several reasons. First, changes to the U.S. Immigration Act in 1990 tripled the number of visas for highly skilled immigrants. Many of these visas went to highly educated Chinese people. Second, growing up in China, recent immigrants were conditioned to believe that a single test score was a valid measure of merit on which admission should be based. Third, recent skilled immigrants from China didn't mix much with people outside their group and didn't see any reason to favor anyone else. Finally, the prevailing view on WeChat, a social media platform that is very popular with Chinese immigrants, is that affirmative action hurts Chinese Americans.
In addition, a 2019 report from the Dept. of Justice showed that in 2018 there were 182,230 violent crimes committed against Asian Americans. Of these, 29% were committed by Black perpetrators, a hugely disproportionate number. Another 24% were committed each by whites and Asian Americans and only 7% by Latinos. A 2021 report from the New York City police shows that of the 56 people charged with hate crimes against Asian Americans, 30 of the crimes were committed by Black people. Numbers like these help feed into an animosity between some Black Americans and some Asian Americans that has been a feature of American society for several generations, and was most notably on display in the lead-up to the Los Angeles Riots of 1992 (the killing of Latasha Harlins, who was Black, by Korean store owner Soon Ja Du, was a major precipitating factor in the riots).
In short, affirmative action pits two very Democratic groups against each other. And Republicans are exploiting it for all it is worth. Republicans know that the Party of Lincoln, in its current form, is never going to get many Black votes. But by opposing affirmative action, it has a chance to peel off some Asian American votes and there is no easy way for the Democrats to fight back. If they drop their support for the program, Black voters will be angry and if they continue to support it, some Asian Americans will be angry. If the Supreme Court settles the issue one way or another in June, the Democrats' new slogan could be: "It's not our fault," but that doesn't sound like a way to drive voters to the polls. (V)
Two of the more respected election handicappers are Charlie Cook and Larry Sabato. Both have just changed their ratings on a bunch of House races to make them more favorable to the Republicans. November is months away, of course, and that is a long time in politics, but having two veteran observers of politics move a number of seats toward the Republicans based on both local and national factors is certainly not a good omen for the Democrats.
Cook moved IN-01 (Frank Mrvan, D), NY-19 (Antonio Delgado, D), and NC-01 (George Butterfield's open seat, D) from likely Democratic to lean Democratic, which implies a closer election. In addition, NV-03 (Susie Lee, D), NV-04 (Steven Horsford, D), and VA-07 (Abigail Spanberger, D) moved from lean Democratic to toss-up, which means it's 50-50 which party wins. Finally, Cook moved NJ-03 (Andy Kim, D) and NY-04 (Kathleen Rice's open seat, D) from solid Democratic to likely Democratic. All eight moves favor the Republicans.
Sabato's Crystal Ball moved 11 districts toward the Republicans. Six are currently held by Democrats. Five that are held by Republicans have been made even more Republican. Here are the changes in the form of a table:
All of the changes favor the Republicans. "Likely Republican" to "Safe Republican" probably doesn't mean much, but "Likely Democratic" to "Leans Democratic" could mean a seat might flip.
Three of the races on Sabato's list (Mrvan, Lee, and Delgado) are also on Cook's list, but eight of them aren't. Thus, in total, sixteen races are possibly more Republican than they were. On the positive side for the Democrats, five of the races that Cook moved toward the Republicans Sabato didn't move. And eight of the races that Sabato moved, Cook didn't.
There are only three races that both gurus agree have become more Republican and only one of those (Susie Lee) is rated as a toss-up by either of them. Still, this fits the narrative that the Republicans are likely to pick up the five seats needed to flip the House.
The maps for Florida, Missouri, and New Hampshire are still not complete. However, if Gov. Ron DeSantis (R-FL) gets his way, Missouri doesn't change the current 6R/2D map, and New Hampshire has one Democratic seat in the south and a toss-up in the north, the new House is likely to have 210 safe, likely, or lean Republican seats and 198 safe, likely, or lean Democratic seats. Then, 27 would be toss-ups. To maintain control, the Democrats would have to win 20 of the 27 toss-ups. But given the current political environment and Joe Biden's seeming inability to do anything to shake things up, a 50-50 split is probably the best the Democrats could hope for. Then the Republicans would have 223 or 224 seats. If the Republicans win, say, two-thirds of the toss-ups (18 seats), they will have 228 seats in the House.
The size of the margin matters. The Democrats have been extremely good about party discipline during this session of Congress. The Republicans won't be as good if they get the majority. The Freedom Caucus will be a thorn in the speaker's side. With only 224 seats, if 10 members defect on a bill or motion, it will fail. With 228 seats, 10 members could defect and the bill or motion would still pass. So the thing to watch in November is not only which party has the majority, but by how much. (V)
Or maybe we should say: "Democrats will run against Scott's platform." Sen. Rick Scott (R-FL) is chairman of the NRSC. His official job is electing as many Republicans to the Senate as he can. His unofficial job is positioning himself to run for president in 2024, possibly against two other Floridians (Donald Trump and Marco Rubio). As it turns out, the latter may interfere with the former and Democrats are going to exploit that to the max.
For reasons best (or only) known to himself, Scott released his 2024 platform already. That was a huge error. Normally, nobody would have remembered it in two years. But this time they might because the Democrats are going to use it to make it sound like the Republicans' official 2022 platform. It really isn't, but most voters don't know that. The Democrats can say: "This is the official NRSC Republican platform," knowing that probably 99% of the voters have no idea of what the NRSC is, but it sounds official.
In fact, the attack has already started. The DSCC has started running a six-figure digital ad targeted at seniors in Arizona, Florida, Georgia, Nevada, New Hampshire, North Carolina, Pennsylvania, and Wisconsin. Scott's plan has plenty of red meat—for the Democrats. One item in it is that all Americans should pay federal income tax. Currently many seniors living only on Social Security pay no federal tax because their Social Security payment is less than the standard deduction of $12,000 for a single person and $24,000 for a couple. The 20% of retirees whose only income is Social Security are already struggling to survive and having to pay federal income tax on their meager income is not going to go over well with them. And another large batch of seniors is mostly dependent on Social Security, even if they have a small pension or income from savings. If the message sinks in, this could flip quite a few votes, even among conservative seniors.
A second item in Scott's plan is even more toxic. He wants all federal laws to automatically end after 5 years unless Congress specifically votes to renew them. Among other laws that would sunset without a congressional vote are those that create Social Security and Medicare. So, the Democrats are going to be screaming that the Republicans want to end Social Security and Medicare in 5 years. A recent poll conducted by Blue Rose Research and sponsored by the DSCC showed that in the battleground states, 65% of voters would be less likely to support Republicans if they plan to end Social Security and Medicare. The firm said that this was one of the most effective messages they have polled, so no doubt Democrats will hammer the Republicans on it constantly. Senate Minority Leader Mitch McConnell (R-KY) has already blasted Scott—not because he disagrees with Scott's platform, but because Scott let the cat out of the bag too early. Republicans might want to do all the things Scott wants, they just don't want the voters to know about them before the midterms (and maybe not after, either). Will this line of attack be a game changer? Probably not, but in close races, getting a few percent of senior Republicans to switch teams could matter. (V)
If at first you don't succeed, try, try again. That could be the motto of Sen. Bernie Sanders (I-VT), who has not ruled out a third run for president in the event that Joe Biden decides not to run. A memo from Sanders' close associate Faiz Shakir leaked out yesterday and caused quite a stir when The Washington Post published a story about it.
Sanders' spokesman Mike Casca complained about the leak but didn't deny it. He also claimed that Sanders is the most popular politician in the country. We suspect that the 74 million people who voted for Donald Trump might not agree with that assertion.
Sanders is 80 now and would be 87 at the end of his term if elected president in 2024. Or 91, if reelected to a second term. That alone might discourage many Democrats from voting for him in the primary. Also problematic is his embrace of democratic socialism. Republicans would call him a socialist and he would say: "Yes, that is correct." Then cue Republican videos about Hugo Chavez, Mao Zedong, and Joseph Stalin. Hell, why not throw in Hitler as well? After all, he was a National Socialist.
There was no suggestion in the memo that Sanders is planning to challenge Biden if the president runs for another term though. His interest in trying again is contingent on Biden not running in 2024. In short, anyone who wants to vote for an octogenarian is likely going to have a candidate. (V)
The Florida state legislature approved a gerrymandered congressional map but the governor, Ron DeSantis, vetoed it as not gerrymandered enough. So he drew his own map that includes features such as racial gerrymanders—which the Supreme Court has said are not allowed. The legislature then capitulated to DeSantis. Yesterday the state Senate passed DeSantis' map along a straight party-line vote. And given Florida's new laws, we do mean "straight party." The state House is expected to pass it today, and then DeSantis will sign it.
The current Florida delegation is 11D, 16R. The new map would probably result in an 8D, 20R delegation, including Florida's new seat. If the map holds and Republicans capture the House by a few seats, DeSantis will claim all the credit.
The big question is whether the map will hold. It clearly violates both state law and federal law. Needless to say, the Democrats are going to sue, so it will be up to the courts, especially the Florida Supreme Court, to rule on its validity. Most likely the case will end up in the U.S. Supreme Court as well. Since the Court has already ruled that racial gerrymanders run afoul of the Voting Rights Act, logically it should reject the map. But the current conservative majority might be so tempted to establish a Republican majority in the House for 10 years that it might say to hell with stare decisis, the map is good to go. This is what DeSantis is banking on. (V)
Dan O'Dowd, the founder and CEO of Green Hills Software, which makes and sells a real-time operating system and some programming toolsm announced that he is running for the Senate this year against Sen. Alex Padilla (D-CA). California has a jungle primary, with the top two finishers meeting in November.
O'Dowd also launched a national advertising campaign attacking Tesla's self-driving cars. Here is the ad's video. It is noteworthy that the ad is on his campaign website, not on YouTube. It ends with the line "Unsafe at any speed," which refers back to Ralph Nader's famous book of that title, which was about the Chevy Corvair. Why O'Dowd is taking on Tesla is unclear. The only thing we can think of is that perhaps O'Dowd tried to sell Tesla the Green Hills real-time operating system and Tesla said no, so now O'Dowd is trying to punish Elon Musk by loudly urging Congress to ban Teslas from operating in self-driving mode.
If this is a PR stunt, it might work and it will certainly provide some PR for his company. On the other hand, if O'Dowd spends a hundred million dollars on ads, he could conceivably come in second and make it to the runoff since no high-profile Republican has entered the race. That would allow him to diss Tesla all the way to November. Musk could sue him, but generally speaking, winning a libel lawsuit because you didn't like a campaign ad is pretty tough. Even if O'Dowd spends half a billion dollars, Padilla is still going to win, but this is an interesting sidelight to the race. (V)
Connecticut resident David McCormick, who is running for the Senate in Pennsylvania is miffed that Donald Trump endorsed New Jersey resident Mehmet Oz for the seat being vacated by Sen. Pat Toomey (R-PA), who actually lives in Pennsylvania. McCormick tried hard to get Trump's endorsement himself, but failed. This is possibly because Mitch McConnell supports McCormick, which might well be sufficient reason for Trump to oppose him.
Be that as it may, McCormick's new strategy is to try to paint Oz as the anti-Trump. Here is his new TV ad. It depicts Oz as pro-Clinton, pro-Fauci, pro-China, pro-transgender, anti-gun and anti-obesity.
Then it ends with Oz saying he has had no interaction with Trump at all. Oz did say that, but in a different context. He was once on a panel involving fitness and nutrition and a reporter asked him if had interacted with Trump. He said he hadn't. That was a simple statement of fact and now McCormick is trying to make it look like Oz is anti-Trump. To us, this reeks of desperation. McCormick is apparently convinced that Trump's endorsement will give Oz the nomination, so he is trying to take advantage of the fact that many Trumpers don't really like or trust Oz, and to tell them they should trust their gut, and not necessarily what the Dear Leader says. It's kind of like the story The Onion once ran about how Christians were responding to Jesus' conversion to Islam.
Currently, Lt. Gov. John Fetterman (D-PA) is leading in the polls of the Democratic primary. He is at 34% while Rep. Conor Lamb (D-PA) is at 10% and state Rep. Malcolm Kenyatta (D) is at 8%. If Fetterman is nominated and then goes on to beat Oz in the general election, which seems likely, and he wants to stick it to Trump (also likely) after the race is called by the AP on Election Night, he could begin his victory speech by saying: "First, I would like to thank Donald Trump for endorsing in Pennsylvania. Without his help I'm not sure I could have won it. So thank you, Donald." (V)
On Sunday (!), French voters will decide if they want to keep Emmanuel Macron in the Élysée Palace or turn the keys over to populist Marine Le Pen. This question is coming up in more and more places, almost assuredly in the U.S. in 2024. Maybe the Republican candidate will be Donald Trump, maybe Ron DeSantis, maybe some other populist, but it is definitely not going to be Jeb!
Populism is mostly about (white) grievance and resentment. It is broad rejection of the status quo. People aren't sure what they want, but they know what they don't want and that is conventional politicians who make a lot of promises and rarely keep them. So they are willing to gamble on something completely different.
The French runoff on Sunday is a rerun of the 2017 runoff, except with some differences. Macron is no longer the exciting young maverick he was in 2017. He has had to govern and how he handled the "yellow vest" protests and various strikes have removed some of his innocent charm and angered some voters. Also, Le Pen has tried to appear more mainstream. In 2017, 80% of the voters thought she was a menace to democracy; now only 50% do. Maybe this is because she has a new and softer haircut and emphasizes how much she loves animals and deemphasizes how much she hates immigrants (whom, in truth, she regards as lower than animals). In contrast, Donald Trump has not changed hairstyles or adopted six cats, so Biden vs. Trump in 2024 would be pretty much the same as Biden vs. Trump in 2020, whereas Macron vs. Le Pen this time is different from last time because he has lost some of his glow and she has softened her image (but not her politics).
Also like Trump, she sees Russian President Vladimir Putin as a friend, not an enemy to be beaten. There is a good chance that if she wins, she will pull France out of NATO, just as Donald Trump will probably do if he wins.
French politics are different from U.S. politics in an important way, though. There are multiple viable parties. In the first round of voting, Macron got 28%, Le Pen got 23%, leftist candidate Jean-Luc Mélenchon got 22%, and extreme right-wing Éric Zemmour got 7%. Various fringe candidates got the rest. But looking at it a different way, the establishment (Macron) got a bit over a quarter of the vote and anti-establishment candidates of various stripes got three-quarters. The French are lucky that the populists are badly fragmented and so have a hard time winning. In the U.S. the establishment party (the Democrats) and the populist party (the Republicans) are very close to even and either side can (barely) win. In France, Macron is expected to get a slight victory on Sunday, but the populists get another chance in the legislative elections in June. If a combination of populist parties get a majority, it could lead to the kind of gridlock the U.S. will experience if the Republicans capture the House and/or Senate in November. The Trump phenomenon isn't really unique to America. Other countries have their own variants of it as well. Whether liberal democracy can survive when half or maybe even three-quarters of the people don't want it is a clear challenge going forward, and not just in the U.S. (V)
Previous
|
Next
Back to the main page