Senate page Aug. 04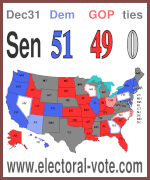 Previous
|
Next
New polls:
Dem pickups: (None)
GOP pickups: (None)
---
After a day with so many important elections, we would have expected more "takeaway" pieces, but there were only a couple we could find—in part, because many media outlets just used the AP's list. Here is what we found from major media outlets.
Associated Press
Red-state Kansas rejects anti-abortion amendment
Trump's revenge
Trump's choices (mostly) did well in Arizona
Greitens' comeback collapses
Messy race in Michigan
The Washington Post
Kansas voters want to keep abortion legal
Election deniers have a good night
Another pro-impeachment Republican loses his job
GOP breathes a sigh of relief in Missouri
Select Committee witness Rusty Bowers loses his primary
Politico
The Roe earthquake is real
Republicans make it easier on themselves in Missouri and Michigan
The Meijer name wasn't enough in West Michigan
Election denialism is still flourishing
And yet ... Trump takes a hit in Washington
CNN
Kansas maintains constitutional right to abortion
A member of the "impeachment 10" is defeated
Trump mostly won in Arizona
Greitens' attempted comeback falls flat
Dixon victory in Michigan sets up referendum on COVID-19 policies
Progressives suffer a defeat in Michigan House race with Levin's defeat
The Hill
Kansas gives new momentum to abortion rights
Republicans successfully shut out Greitens
A mixed night for Trump
Pro-impeachment Republicans dealt differing fates
Progressives fall short in Michigan and Missouri
Kansas, Trump's influence, and Greitens' defeat seem to be the big items here, and we agree. (V)
People who believe (or say they believe) that Donald Trump won the 2020 election have been nominated as Republican candidates for secretary of state in three swing states and one could be appointed in a fourth state. Joanna Lydgate, the C.E.O. of the States United Democracy Center, a bipartisan watchdog, said: "If any one of these election deniers wins statewide office, that's a five-alarm fire for our elections. It could throw our elections into chaos. It could put our democracy at risk."
While the candidates have somewhat different plans, most of the them oppose absentee ballots, drop boxes, and electronic voting machines. On that last item (voting machines), many election experts actually agree with them. But the problem with them all is not entirely procedural. It is whether they would resist any pressure to "find" more votes for losing Republican candidates.
In Arizona, Mark Finchem is the GOP nominee. Finchem not only believes Trump won, he took part in the coup attempt at the Capitol on Jan. 6. The Democratic nominee is likely to be Maricopa County Recorder Adrian Fontes. Arizona Republicans also picked Abraham Hamadeh as their candidate for attorney general. He called state officials "weak-kneed" for certifying Joe Biden's 2020 win in the state.
In Michigan, Kristina Karamo is the Republican candidate for secretary of state. She has said the 2020 election was "fixed" and that Dominion voting machines flipped votes from Trump to Biden. She should be careful about blaming Dominion. Their lawyers tend not to like that very much. She will face incumbent Jocelyn Benson (D) in November. The GOP nominee for AG is Matthew DePerno, who was a central player challenging Biden's win in Michigan in 2020.
In Nevada, Jim Marchant is the Republican nominee for secretary of state. He has said he would not have certified the 2020 election. He also said he wants more sheriffs at the polls. The Democratic candidate is Cisco Aguilar. He won the nomination by default when his only opponent withdrew.
In Pennsylvania, the secretary of state is appointed by the governor. Since Republican gubernatorial candidate Doug Mastriano is an election denier, presumably he would appoint another one if he wins.
Thus, in the worst case, people who don't believe the results of the 2020 election, would be in charge of the 2024 election in Arizona, Michigan, Nevada, and Pennsylvania. In some cases they could supported by an attorney general who also doesn't believe the 2020 results. (V)
The Democrats' Inflation Reduction Act of 2022 is hanging by a thread. Forty-nine members of the Democratic Senate caucus are on board, but Sen. Kyrsten Sinema (D-AZ) still hasn't stated her position on it. Sen. Joe Manchin (D-WV) has lobbied her in public. Senate Majority Leader Chuck Schumer (D-NY) has lobbied her in private. Manchin was caught on camera recently talking to Sinema on the floor of the Senate. When reporters asked what she said, he replied: "We had a nice time." Yet she hasn't said a word about where she stands yet. All she said is that she wants to read the 700-page bill and wait for Senate Parliamentarian Elizabeth MacDonough to give it a Byrd bath.
Several Republicans, including Sen. Kevin Cramer (R-SD), have said they think she will derail it, but they are just making this up since she hasn't spoken up yet, and when she does, Cramer and his GOP colleagues are not going to be the first to know.
Of course, it is not necessarily a straight up or down. Sinema might demand some changes to the bill. Then if would be up to the other Democratic senators to accept or reject them. One provision that she is known not to like is the one that closes a major loophole in the tax law. Currently, managers of hedge funds can get paid by "carried interest." Essentially, because their income is tied to the success of the investments they manage, then it is treated as capital gains (lower tax rate) than as normal income (higher tax rate). The bill closes that loophole. Deleting that provision will anger all the other Democrats, especially Manchin, who specifically wants it in there. What is Sinema's argument for a huge tax break for hedge fund managers? She won't say, so we'll make a guess: Some hedge fund managers donated some money to her campaign and want a return on their investment.
Maybe Sinema is an "honest politician" and when she's bought, she stays bought. However, surely she is smart enough to realize that standing up for tax loopholes that benefit only wealthy hedge fund managers and threatening to kill Joe Biden's agenda is not going to work for her in the long run, specifically 2024. The more she pulls this stuff, the more ammo her primary opponents are going to have. Maybe her strategy is to get Democrats so angry with her that six of them oppose her in the primary and they split the anti-Sinema vote so she manages to eke out a narrow victory in 2024 with 20% of the vote.
Public opinion—even in Arizona—probably won't affect Sinema's vote at all, but if she checks, the bill and its various components are quite popular. A new Yahoo News/YouGov poll shows that 47% of Americans like the climate portions of the bill while 30% don't like them. The prescription drug part is even more popular, with 61% in favor and only 14% opposed.
The Blue Dog Caucus in the House consists of moderate to conservative Democrats. The members are fiscally conservative and usually pro-business. After the 2008 elections, there were 54 Blue Dogs. Now there are 19. Two are not seeking reelection due to Republican gerrymanders of their districts. One is running for governor. Two lost their primaries. Six could lose to a Republican in November. In the worst case, unless some newly elected members of the House join, the Blue Dogs could drop to eight.
Before progressives start cheering this development, it is worth noting that most of the Blue Dogs are in swing districts and if they disappear, so will the Democrats' majority in the House. They are the canaries in the coal mine.
The six Blue Dogs in difficult general election fights are as follows. Sanford Bishop (D-GA) is in his toughest race ever. Henry Cuellar (D-TX) barely won his primary and is being investigated by the feds. Jared Golden (D-ME) has a rematch with Bruce Poliquin. Vicente Gonzalez (D-TX) faces Mayra Flores (R), who just won a special election in Texas. Tom O'Halleran (D-AZ) is probably the most vulnerable representative in the country. Abigail Spanberger (D-VA) has a serious challenger in a district Glenn Youngkin won in 2021.
The Blue Dogs say that the progressive wing doesn't know how to win elections in moderate to conservative districts and doesn't understand that the Democrats' majority depends on winning them. There are simply not 218 progressive districts in the country, certainly after the latest round of gerrymandering. Rather than being seen a "majority makers," the Blue Dogs tend to be viewed as disloyal. That's how majorities are lost.
It is also possible that the Republicans win a very narrow majority in the House and the Freedom Caucus throws a monkey wrench in the gears of government, including blocking the budget. In that case, the Blue Dogs might play a role in getting crucial bills through the House. (V)
The Dept. of Justice's investigation of the coup attempt is moving up from the small fish to the biggest fish of them all. It has now issued a subpoena to former White House Counsel Pat Cipollone to testify. He previously testified in camera before the Select Committee, but he didn't answer all of its questions, citing executive privilege. The Committee could have fought that, but it didn't. The DoJ is not going to accept that. One possibility is that the DoJ goes to a judge to get a ruling on whether Cipollone can get away with that. Executive privilege has no basis in the Constitution or the law, so Cipollone is likely to lose that, in which case he will have to talk. He is not going risk prison to protect Trump and he is certainly not going to lie under oath.
DoJ prosecutors have no doubt watched the hearing where clips of his testimony were used, probably multiple times. They want to get him on their record saying what he told the Committee, as well as learn more about his specific conversations with Donald Trump on Jan. 6. In particular, they want him to talk about Trump's mood and intentions. Some of the crimes he might be charged with depend on the target's corrupt intent. And Trump's intent is something that Cipollone can testify to first hand. Cipollone's testimony could lead to Trump being charged with seditious conspiracy and other crimes. In any event, Cipollone was an eyewitness to what Trump was doing on Jan. 6 and might have many interesting stories to tell. He repeatedly opposed Trump's plans and repeatedly asked him to call the mob off. This information is important because it is clear that Cipollone and Trump were definitely not on the same page Jan. 6, so it is unlikely that Cipollone will help cover up any crimes Trump may have committed then.
Cipollone is the highest-ranking official in the Trump White House who has been subpoenaed by the DoJ in this investigation. He is also the closest to Trump, even closer than Marc Short, Mike Pence's chief of staff, and Greg Jacob, Pence's chief counsel, both of whom have been subpoenaed. (V)
There is already a huge scandal with the Secret Service for wiping the phones of agents in Jan. 2021, thus destroying evidence that might be needed in future trials of people accused of wrongdoing in that month. But there is now more. The phones of top Defense Dept. officials were also wiped clean around the transition to a new administration. Destroying government records is a felony, but what's a felony or two when there are people to protect?
The two situations aren't entirely identical, though. The Secret Service claims it was a "mistake" and happened because they were transitioning to new phones. Of course, they should have backed up all text messages and sent them to the National Archives for safekeeping, which they are required to do by law, before wiping the phones. The DoD has a different alibi. It says that when DoD officials leave (which many of them did on Jan. 20, 2021, when Donald Trump's term ended), everyone with a government-issued phone has to turn it in and DoD policy is to wipe it so it can be reused. But again, the contents should have been given to the National Archives before the phones were wiped clean.
The fact that the DoD intentionally destroyed government records they were required to keep came to light when a watchdog group called American Oversight filed a Freedom of Information Act request and were told there were no records. The group has now written a letter urging AG Merrick Garland to investigate to see if any laws were broken, and if so, to prosecute the lawbreakers. However, Garland has said that his department is already stretched to the limit on account of all the investigations related to the attempted coup, so this may get a low priority unless something changes his priorities. (V)
The next Conservative Political Action Conference is in Dallas starting today. Speakers include Gov. Greg Abbott (R-TX), Sens. Ted Cruz (R-TX) and Rick Scott (R-FL), Reps. Jim Jordan (R-OH), Andy Biggs (R-AZ), Lauren Boebert (R-CO), Matt Gaetz (R-FL), and Marjorie Taylor Greene (R-GA), Steve Bannon, Sean Hannity, Glenn Beck, Tudor Dixon, Kimberly Guilfoyle, Kari Lake, and well over 100 other right-wing stars from Congress, state government, the media, and other organizations. A number of candidates for public office (in addition to Dixon and Lake) will also speak. A few non-Americans will speak, including Brexiteer Nigel Farage and Hungarian Prime Minister Viktor Orbán. But the biggest star of all is Donald Trump, who will address the conference on Saturday.
Trump will likely be cheered by the attendees, most of whom are political activists who have forked over $295 for admission and possibly another $375 for a ticket to the cattleman's ball dinner. Probably none of them will bring up the fact that Trump's grip on the Republican Party is loosening, especially if his pick for Arizona governor, Lake, ends up losing her primary (she's currently up 12,000 votes with about 130,000 left to count).
Also noteworthy is who is not showing up. The no-shows include Govs. Ron DeSantis (R-FL) and Kristi Noem (R-SD), the Mikes Pence and Pompeo, and Nikki Haley. Why they are not showing up is not clear. Possibly they expected a less-than-friendly reception.
Another interesting subject is how the Select Committee hearings will be addressed. Or will they be addressed at all? Maybe everyone will just pretend they never happened. Also of interest is how the Kansas referendum on abortion will be addressed. It will be hard to blame the Democrats for that, given how many votes were cast to keep the state Constitution permitting abortion. Considerably more votes that there were Democrats who voted in the Democratic primaries. Maybe Dominion was behind it. (To Dominion's lawyers if you are reading this, that was just satire, which is allowed. Ha ha.)
It will be interesting to see what themes the various candidates and officials will bring up. Will it be abortion, despite Kansas? Will it be mostly about inflation, which is not exactly red meat for the activists? How will they treat Speaker Nancy Pelosi going to Taiwan to stick it to China? Will they side with China? Or will they simply hammer the Democrats for being pinko Socialist Commies? That always works when there is nothing else to talk about. (V)
After leaving Taiwan, Speaker Nancy Pelosi suggested that the real reason China is hopping mad at her visit to Taiwan is not that she is a high-ranking politiician, but that she is a woman. She noted that high-ranking men have visited Taiwan before and China never said "boo." For example, Sen. Bob Menendez (D-NJ), chairman of the Senate Foreign Relations Committee, visited the island earlier this year and there was no protest from China. Other male senators have also visited with no response from China.
On arrival, Pelosi met with Taiwan's president, Tsai Ing-wen, who is also a woman. In her view, having two powerful women meet and show that women can achieve power is not something that pleases Chinese President Xi Jinping. She might have a point there, especially combined with the fact that when powerful male members of Congress show up, it is not a big deal. Few women have any political power in China. The all-powerful Standing Committee of the Chinese Communist Party consists of seven men. The 25-member Politburo consists of 24 men and one woman, and that one woman is scheduled to retire this year.
Tsai is clearly aware of the gender issue and how woman can rise up to the top in Taiwan but not in China. She balks when people refer to her as a "female" politician. Nevertheless, she pushes constantly for empowering women, something that probably rubs the Chinese leaders the wrong way as much as anything else. (V)
All that hair you see on the ground all over Georgia came from Republican strategists in Georgia who tore it out when they heard that Herschel Walker has agreed to debate Sen. Raphael Warnock (D-GA) on Oct, 14 in Savannah. Polls are showing Warnock 10 points ahead and more, so this is definitely a Hail Mary play.
The reasons Georgia Republicans are scared witless are many. First, Warnock was a preacher for many years. He is a gifted public speaker with long experience doing it. Walker has no experience speaking in public and is an awful speaker. He could easily stumble and say something that is provably not true.
Second, there have been a large number of allegations about Walker that are floating around. Like, did you threaten to kill your ex-wife? Did you abandon three children you fathered? Did you lie about your business dealings? These things could come up unless Walker somehow makes a deal with the organizers not to ask about them. But even if he does, Warnock could bring it up spontaneously, for example, when asked about the peach industry, he could say: "Peaches are my favorite fruit. Herschel, do you even know what the favorite fruit is of the three children you fathered and abandoned?"
Third, the moderator could ask each candidate who won the 2020 presidential election. Warnock will answer in two words: Joe Biden. That will put Walker on the spot. If he says "Donald Trump," there goes the independent vote. If he says: "Nobody really knows," that is going to lead to follow-up questions and force Walker to say what he thinks of all the conspiracy theories Republicans dearly believe.
Fourth, the candidates are surely going to be asked whether Donald Trump is at least partly to blame for the coup attempt. Warnock will say: "absolutely, beyond any doubt." For Walker, there is no good answer. Saying "yes" will infuriate the Republican base and saying "no" will hurt him badly with independents.
Fifth, Walker does not think fast on his feet. Probably too much football in his past. He could easily say some random thing that is so far out of the mainstream that it dominates the news cycle the next day. We don't even dare guess about what it could possibly be. That's not going to happen to the ever-careful Warnock.
In short, we are amazed that he agreed, but if his internal polls show him down by double digits and dropping, this could be his only chance. If he answers all the questions reasonably well and doesn't make any gaffes, it could help him. But those are big "ifs." (V)
Rep. Jackie Walorski (R-IN) and two of her staffers died in an automobile accident in Indiana yesterday. She is the third sitting member of the House to pass this year, following Don Young (R-AK) and Jim Hagedorn (R-MN).
Prior to her political career, Walorski worked as a television reporter and in various charitable capacities, including service as executive director of the St. Joseph County Humane Society. In 2000, she moved to Romania, living there for several years doing missionary work. While in Romania, she founded Impact International, which provides medical care to impoverished children. For this work, she was made a Commander of the Order of the Star of Romania.
First elected to the House in 2005, Walorski was in the midst of her ninth term. Her career is something of a microcosm of what has happened with her party in that time. In the early years of her career, her district was swingy, and she earned a reputation for often bucking the party line, for an emphasis on ethics, and for promoting opportunity for women. The latter remained a theme throughout her tenure but, as to the others, she became much less mavericky over time. She was also an outspoken voter ID advocate and was one of the 126 House Republicans who signed an amicus brief objecting to the 2020 election results.
Under the terms of Indiana law, a special election will be held to fill the seat; that election will surely be held on the same day as the general election, and will feature candidates selected by the Republican and Democratic committees in IN-02, Walorski's district. The winner will serve from November through January 3 of next year. The local Republican committee will also select someone to replace Walorski on the ballot for the general election, who will run for a full term. Presumably the Republicans will choose the same candidate for both elections. In any case, whomever they pick will win, as IN-02 is R+11. (Z)
In a new Monmouth University poll released yesterday, the Democrats are in the lead for the first time this year. Now 50% of American adults want the Democrats to control Congress and 43% want Republicans to control it. In June it was 47% to 47%, so Democrats are up and Republicans are down. Here are the results of Monmouth's generic polls this year: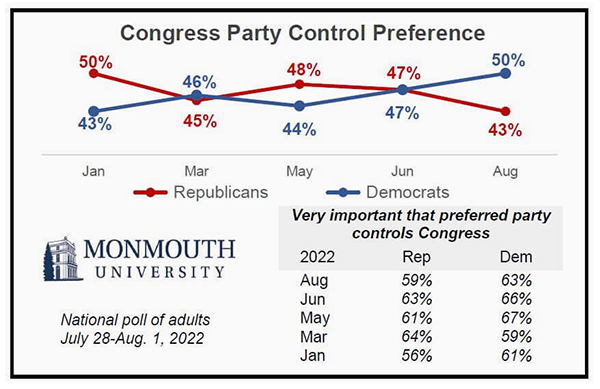 About 60% of respondents say it is very important that their party controls Congress. This has been fairly consistent all year. And that despite nobody liking Congress. Only 17% approve of Congress and a whopping 74% disapprove of it. But the vast majority of voters are convinced that things will get better if their preferred choice gets full control.
The poll also asked about Joe Biden's approval rating. He is deeply under water and has been there for a year, as shown here.
One other question that often affects elections is the right direction/wrong direction question. Right now 15% think the country is going in the right direction and 82% think it is going in the wrong direction. Numbers like these tend to precede a "throw the bums out election," except Democrats are leading in the generic poll. It's very inconsistent. People are frustrated and angry and lashing out in all directions. That is not likely to change before November, so we could be in for some volatile polling through out the fall. (V)
Previous
|
Next
Back to the main page