Senate page Aug. 24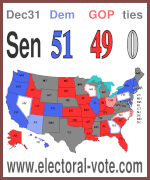 Previous
|
Next
New polls:
Dem pickups: (None)
GOP pickups: (None)
---
It was a pretty big primary night, as the picture for November's midterm elections got much closer to being complete. Here are the dozen biggest storylines from the balloting in Florida, New York and Oklahoma:
Fried Fried

: Polling for the Florida Democratic gubernatorial primary has been all over the place, sometimes showing a close race, sometimes showing Rep. Charlie Crist (D) with a commanding lead over Agriculture Commissioner Nikki Fried (D). The most recent poll of the race, released over the weekend by St. Pete Polls, had Crist up by a staggering 29 points. They weren't far off the mark, as it turns out, since he won by 24 (59.7% to 35.3%). Crist ran on electability, Fried ran on being a reliable supporter of abortion rights. While Democrats have shown this cycle that they value the latter, clearly they value the former even more—at least in Florida, when considering the prospect of Gov. Ron DeSantis (R-FL) remaining in office.

Crist enters the general election with a huge mountain to climb as he tries to get his old job back. Florida's economy is doing well, and DeSantis has been piling up cash thanks to having no primary opposition. The Governor has something like $150 million in the bank. Polls have DeSantis up on Crist by about 6 points, and most of them put the Republican above the magic 50% mark. Oh, and Florida hasn't elected a Democrat as governor since 1994 (Lawton Chiles), though of course one of the Republicans who was part of that nearly 30-year streak was Charlie Crist (2007-11) before he became a Democrat.

Despite having a tough row to hoe, Crist has some compelling options when it comes to his messaging. Because Democrats are clearly focused on electing anyone who is not DeSantis, Crist can pivot hard to the center and try to win some Republicans and independents over with the message that he represents traditional Republican values much more than the current, far-right iteration of the Party does. Further, voters eventually grew weary of the divisiveness of Trump, and some Florida voters are growing weary of the divisiveness of DeSantis. Finally, DeSantis is making no secret of the fact that he's eyeing a promotion and a change of address to 1600 Pennsylvania Avenue in Washington, DC. "My only goal is to be governor of Florida," Crist can say. Add it up, and it could be a very interesting campaign.



Demings Wrecks the Competition

: As expected, Rep. Val Demings (D-FL) won the right to challenge Sen. Marco Rubio (R-FL), who was unopposed. However, Demings demolished her three competitors, taking 84.2% of the vote. Clearly, the Party is unified behind her, which is essential if she's going to give Rubio a run for his money.


Republicans Avoid Some Embarrassing Candidates...: Thanks to its rightward lurch, the Republican Party has attracted a lot of candidates of the sort who give party leaders (well, some of them) headaches. Yesterday, the GOP managed to dodge a couple of particularly big bullets, as outspoken Islamophobe Laura Loomer (R) fell to Rep. Daniel Webster (R-FL) in FL-11, 44.2% to 51.1%, while establishment candidate Nick Langworthy (R) edged out borderline Nazi Carl Paladino (R) in NY-23, 52.1% to 47.9%. Paladino is a 2020 election denier, and this race was very, very close until the very end, so expect him to demand recounts and maybe file some lawsuits.



...But Not All of Them

: On the other hand, if you draw enough nutters as candidates, some of them are going to make the cut. Cory Mills is the Republican nominee in FL-07; he likes to brag about how his company sold some of the tear gas used against Black Lives Matter protesters. Shades of Bull Connor. Also advancing, in FL-13, is Anna Paulina Luna, who is not only very, very Trumpy, but who claimed last year that her opponents were scheming to have her killed. She will probably win this red district; she should fit right in with Reps. Lauren Boebert (R-CO) and Marjorie Taylor Greene (R-GA).



Trumpublicans Can Do No Wrong

: Speaking of embarrassments, Rep. Matt Gaetz (R-FL) has been implicated in some very serious crimes, and could be indicted for his (paid) sexual encounters with minors at any time. Doesn't matter to the Republican voters in FL-01; he won his primary by 45 points. Roy Moore would like to know what Gaetz' secret is.



Democrats Win One Special Election...

: The current iteration of NY-19 will cease to exist in less than 6 months. Under normal circumstances, then, nobody would be too concerned about who gets to replace Antonio Delgado (D-NY), who vacated the seat to become Lieutenant Governor of New York.

Yesterday's election was not "normal circumstances," however. Both parties took note of the fact that the district is R+3 and was won by Joe Biden by 2 points. So, both sides brought lots of money and attention to bear on the election, seeing it as a bellwether for November's midterms. Pat Ryan (D) ran on protecting abortion rights and pushing back against extremism. Marc Molinaro (R) ran on crime and inflation. Once the ballots were counted, Ryan won 51.9% to 48.1% (with 94% reporting).

We are not terribly comfortable generalizing about what the whole country will do based on the choices made by about 130,000 voters in one congressional district. However, other people are OK with doing so. Here's what Jon Reinish, former aide to Sen. Kirsten Gillibrand (D-NY), said on Monday: "If Pat Ryan out-and-out wins, or even comes within 5 points of beating Molinaro, all projections of a red wave are completely overblown." Do with that what you will.



...And Lose the Other

: There was also a special election in NY-23 last night, made necessary when Rep. Tom Reed (R) resigned following allegations of sexual misconduct. In that one, Joseph Sempolinski (R) knocked off Max Della Pia (D) 53.3% to 46.7%. Even this result might be good news for the Democrats, though. The district is R+9, Donald Trump won it by 11 points and Reed won reelection in 2020 by 16. So, it really shouldn't have been this close.



Maloney Wins

: Rep. Sean Patrick Maloney (D-NY), who is literally as establishment as it gets as the sitting chair of the Democratic Congressional Campaign Committee (DCCC), jumped to NY-17 as part of the game of musical chairs occasioned by the fiasco that was redistricting. He easily dispatched progressive challenger Alessandra Biaggi, 66.7% to 33.3%. That means he'll be in a position to stay in office for at least another 10 years, and so to potentially move up the ranks of House leadership. Nobody chairs the DCCC just for funsies.



Maloney Loses

: In the clash of the titans in the new NY-12, also a result of redistricting, Rep. Jerrold Nadler (D) leveled Rep. Carolyn Maloney (D), 55.4% to 24.4%. We don't exactly know why this race was so lopsided, since they're both very well known, and NY-12 contains portions of each of their current districts. Perhaps some reader from New York can enlighten us. What we do know is that Maloney started to hit below the belt in the final days of the campaign, suggesting that Nadler is becoming senile. Usually, when someone gets desperate like that, it's a sign they know they are about to lose.



Goldman Ekes Out a Victory

: In another closely-watched New York race, wealthy white guy and Trump impeachment prosecutor Daniel Goldman won the Democratic primary in NY-10. It was very close; he claimed 25.8% of the vote, while State Assemblywoman Yuh-Line Niou was close behind with 23.7%. Unfortunately for her, close only counts in horseshoes, dancing and hand grenades. Rep. Mondaire Jones (D) came in a somewhat distant third, with 18.2% of the vote, making him the second incumbent (along with Carolyn Maloney) to go down to defeat yesterday.



Youth Movement

: Maxwell Alejandro Frost (D) won his primary in FL-10. That's the very blue district that Val Demings is leaving behind to run for the U.S. Senate. If Frost wins in the general, and he should, he'll be the first member of Generation Z to be elected to Congress (he's 25, and was born in 1997). As an Afro-Cuban with charisma to spare, he's someone to keep an eye on.



Oklahomans Get Two First Names for the Price of One

: Oklahoma is a very red state, and was only holding runoffs yesterday, so there isn't that much of interest there. However, as expected, Markwayne Mullin won the Republican nomination to succeed Sen. Jim Inhofe (R), who is resigning. Mullin will win a 4-year partial term in November.



Oklahomans Get One Last Name for the Price of Two

: Far be it from us to make any terrible puns about Oklahoma Democrats being Horny. Suffice it to say that "Horn" is the 655th most common last name in the U.S., sandwiched in between Dalton (654) and Barron (656). For reasons best known to Oklahoma Democrats, they nominated cybersecurity professional Madison Horn (D) to face Sen. James Lankford (R-OK) for the regular Senate seat and former U.S. Rep. Kendra Horn (D) to face aforementioned dual-name Mullin (R) in the special election for the seat of departing Sen. Jim Inhofe (R-OK). Maybe they can go together to a printer and get a quantity discount on signs that say "HORN FOR SENATE." It won't do them any good though.
There are no primaries next Tuesday; we're assuming that the remaining states felt it would be disrespectful to hold elections on (Z)'s birthday. The fun thus resumes on Sep. 6, when Massachusetts takes its turn.
With yesterday's results, all the Senate candidates are known except two. New Hampshire's new slogan should be "Last in the Nation" instead of "First in the Nation," because its primary isn't until Sept. 13. But Don Bolduc (R) is the Trumpiest of them all and New Hampshire is a big of a strange state where the Democrats are fairly liberal and the Republicans are quite conservative. Our guess is that Bolduc will get the GOP nomination and probably Trump's endorsement.
The other unknown is Louisiana, which holds a jungle primary on Nov. 8. Almost certainly Sen. John Kennedy (R-LA) will win and probably get over 50%, eliminating the need for a runoff.
Our All Senate candidates page is now ready for the general election. Check it out from time to time since we will update it as more information comes in during the fall. It is on the menu to the left of the map on top of the page. (Z)
The first headline was a reference to the New Testament, and this one covers the Old Testament. Of course, you already knew that reading this site is a religious experience.
In any case, at the moment, Donald Trump is flopping around like a fish out of water, trying to change the narrative on the Mar-a-Lago search. To that end, he called up John Solomon, the onetime-award-winning investigative reporter who has been in the bag for Republicans for well over a decade, so much so that it got to be too embarrassing for even The Hill to keep him on staff. Solomon now runs "Just the News," an outlet that wishes it has OAN's ratings (but without its lawsuits).
In contacting Solomon, Trump knew he had a willing lackey who would publish any "scoop" the former president provided to him. And that is exactly what happened. Solomon received, and published, the letter that NARA sent to Trump back in May of this year. Solomon also wrote an "analysis" of the letter asserting that it's effectively a smoking gun that proves that Joe Biden has been pulling the strings all along.
There are two problems here, though. The first is that the letter doesn't reveal anything of the sort when it comes to Biden. It does make clear that the current president chose not to honor the former president's claims of executive privilege, something that was already publicly known, and has been for about a year. It also reveals that Biden allowed NARA to overrule his judgment on this point, if they so chose. In short, there is zero evidence here that the White House had anything to do with DoJ's search, and ample evidence that Biden deferred to the heads of the executive agencies rather than making decisions himself.
That brings us to the second problem. In addition to actually bolstering Biden's claim that he was not behind the search of Mar-a-Lago, the letter contains a number of revelations that are very bad for the former president. The main ones:
NARA bent over backwards to try to work with the former president, and only got the DoJ involved when it became clear Trump was intransigent


The 15 boxes of materials that NARA retrieved in June had more than 700 pages of classified information, including some that were Special Access Program (SAP) materials. SAP materials are even more sensitive than Sensitive Compartmented Information (which Trump also had on hand). Put it this way. Back when the Mar-a-Lago search story broke, Rep. Chris Stewart (R-UT), a member of the House Intelligence Committee, said: "I mean, if he had actual special access programs—do you know how extraordinarily sensitive that is? That's very, very sensitive. If that were actually at his residence, that would be a problem."


Trump's argument for keeping the documents was based entirely on executive privilege. That means his story that he declassified all the information is a post hoc invention, and is a bunch of malarkey.


Also, consistent with this, Trump clearly has no argument that a mistake was made, or that the materials ended up at Mar-a-Lago inadvertently. He knew full well he had classified documents, and he was trying very hard to keep them even after he was told that was not acceptable.


Finally, keeping in mind that the letter was never meant for public consumption, it makes clear that the foremost concern of the various federal officials involved here was not "getting" Trump, but instead their deep concern about damage being done to national security.
After this news broke, reporters and lawyers across the political spectrum reacted with shock that Trump and Solomon would make a mistake this foolish. The phrases "own goal," "shot themselves in the foot," and "self-inflicted wound" were utilized quite liberally (even by conservative analysts).
As we note frequently, we are not lawyers, much less people with prosecutorial experience. But it seems to us that AG Merrick Garland & Co. have some interesting thinking to do here. By all indications, they have Trump dead-to-rights on crimes related to these documents. And remember that each document is potentially its own crime, so he could be looking and hundreds of years of criminal liability here. This is a man for whom any prison sentence whatsoever would be humiliating, while a sentence of anything more than a couple of years would, in effect, be a life term.
Perhaps it is time for the feds to chat with Trump and make a deal where he agrees to do some amount of time (a year?), and to admit guilt for the various federal (and state?) crimes for which he is being investigated. From the DoJ's side of things, that would send a message, and would also make it much easier for them to go after the other participants in the various schemes. From Trump's side of things, that might be his best hope for not spending the rest of his life behind bars. Again, this is not our area of expertise, but maybe this makes sense for all involved.
But it will be a tough call for Garland. If he makes a deal and Trump agrees to a year at the Federal Corrections Institution in Miami, FL in return for all other charges being dropped and not running for public office ever again, Republicans will be furious that "Biden put Trump in Jail." Democrats will be furious because Trump wasn't charged with seditious conspiracy, which really gets to the heart of what he did. Independents can pick which reason makes them furious. Nobody will be happy. Well, maybe Joe Biden will be happy because then he won't have to run again in 2024. Against a young guy like Ron DeSantis, the Democrats might be better off with a young guy of their own, like Gov. Gavin Newsom, or one of many other wannabe POTUSES (POTII?). (Z)
One more item on the Trump crime beat. It's already been reported that lawyers working for Donald Trump's campaign managed to get their hands on files from election systems in Georgia, Michigan and other states. This is data that Team Trump should not have had, because it is illegal. And now, new reporting from The Washington Post reveals who got a copy of the information. The short version: pretty much everyone.
According to The Post, the data was acquired by SullivanStrickler, a big-time law firm that may now be in some very hot water. They did what they were paid to do, and handed off the data to Trump campaign attorneys, and to other lawyers who weren't really part of the Trump campaign, but who were highly supportive (e.g., Sidney Powell). From there, the data was passed to all sorts of Trump insiders. Not all of the names are known, but the sharing was wide enough that it's entirely plausible that folks like the MyPillow Guy and Roger Stone ended up with copies.
This is a story that is still developing, and where many details remain fuzzy. However, we will point out that when many different people work together to subvert the law, then we get into the realm of conspiracy and possibly even racketeering. Further, if dozens or hundreds of people are exposed, then it's a classic "Prisoner's Dilemma" situation where there's enormous pressure and motivation to be the first one to flip rather than the last. So, this is likely to get much uglier for those involved. (Z)
This should be concerning for all Americans, but it's particularly concerning if you don't share the politics of the Federalist Society. Marble Freedom Trust is a super PAC run by Leonard Leo, the co-chairman of the aforementioned Federalist Society. And earlier this week, it was revealed that the PAC received the single-largest donation in American political history, a staggering $1.6 billion.
In theory, the identity of super PAC donors can remain a mystery. But when that kind of money is involved, there's no way the secret isn't going to leak out. And so, we now know that the donor is Barre Seid, who transferred 100% of his shares in his company, Tripp Lite, to Marble Freedom Trust. They were then sold to a concern based in Ireland, so that the PAC would have cash to work with. This maneuvering, incidentally, allowed Seid to deprive the U.S. Treasury of about $400 million in taxes.
A Federalist Society True Believer, one who is absolutely awash in cash, is not great news for the democracy. Whether one is happy about the rulings that have come out of the courts in recent years and months, or is angry, it is impossible to argue that the judiciary is in a stronger place today than it was 10-20 years ago. Confidence in the Supreme Courts and the lower courts is at an all-time low (at least, in the polling era), and further politicizing things is not going to help. It's also not likely to have the result that Leo, Seid, et al. are hoping for, as left-leaning states and political leaders feel increasingly free to ignore court decisions.
From a corruption standpoint, the news is arguably even worse. The Marble Freedom Trust hid its existence for years before finally going (slightly) above-board. Seid, meanwhile, is even more mysterious and shadowy. There are few people who are known to have actually met him. And every story about this contribution has no picture of him because... there are no current (or even semi-recent) pictures known to exist. The folks at ProPublica did their best, and all they could come up with is a newspaper article where he's pictured. That article ran in September of 1946, when Seid was 14 years old.
With all this mystery, it's entirely possible that some portion of the $1.6 billion (or, some other large pool of money that is not yet publicly known) is coming from someone very problematic. The Saudis? Russian oligarchs? Kim Jong-Un? The USC athletic department? The possibilities are endless, and unknown.
There is zero chance, of course, that the current Supreme Court will go back and revise its ruling in Citizens United. And that leaves us back where so many of these threats to democracy do: with the Democrats. Either they get a working majority in both houses of Congress so that they can pass a law (which would probably also entail killing the filibuster), or they remake the Supreme Court in some way. (Z)
And now some more news on the judicial front, something that will make Democrats much happier than the previous item did. Senate Majority Leader Chuck Schumer (D-NY) and his caucus had a busy summer (at least, when they were actually in Washington), wangling over things like the CHIPS Act and the Inflation Reduction Act. And they are likely to have a busy October, as the budget will need approving, and there are going to be votes on insulin prices and LGBTQ+ marriage.
That, however, leaves September pretty open. And, at the urging of senior members of his caucus, it appears that the focus for the month will be approving judges. After all, if the blue team loses control of the Senate, then the pace will slow to a trickle, or perhaps even to zero. As you may have heard, Senate Minority Leader Mitch McConnell (R-KY) is very occasionally willing to bend the rules, ever so slightly, so as to keep Democratic presidents' appointments from being approved.
Joe Biden has actually seated more judges than any of his three predecessors at this point in his term. The current president's running total is 76, as compared to 52 for Donald Trump, 40 for Barack Obama and 72 for George W. Bush as of the end of August in year two. However, there are 77 more vacancies ready to be filled and another 40 spots that are expected to come open in the near future. Progressives, in particular, are eyeing those 117 benches eagerly.
If Biden is somehow able to fill many or most of those seats, he would have seated almost as many judges in 2 years (around 180) as Trump did in 4 (245). It is worth noting that the Democrats are looking less and less likely to lose the Senate, thanks to the poor quality of candidates the Republicans have fielded in key races. At the same time, being under the gun is a great way to get things done. If the Democrats do hold the upper chamber in November, then judges might end up on the back burner, since at that point the party would have two more years to tackle the problem. (Z)
Here's another good-news item—from the vantage point of Democrats for certain, and really for anyone who drives a gasoline-powered vehicle: Gas prices keep going down. People driving less, fears of a recession reduced competition for crude oil, and—to our surprise—Joe Biden's release of oil from strategic reserve have all conspired to drive prices down, at least for now.
On June 14, the nationwide average peaked at $5.02/gallon. Since then, the average price has fallen a little bit every single day. That's a 70-day streak of lower prices, with the result that the current average per gallon nationwide is now $3.89. That's 73 cents more than it was a year ago, but it's also way less than it was 70 days ago.
As we have noted many times, the actual price of gas is probably not quite as important to November's elections as is the perception that things are headed in the right direction. Right now, for the President and his party, they are. Of course, there's still plenty of time for OPEC to cut production or for Russia to take a hammer and sickle to its exports or for other unknown unknowns to reverse the current trend. But for now, it's down, down, down. (Z)
Previous
|
Next
Back to the main page