Senate page Jul. 10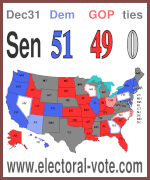 Previous
|
Next
New polls:
Dem pickups: (None)
GOP pickups: (None)
---
As we noted in the Q&A yesterday, there were many and varied big-time news stories this week. That means we got a lot of interesting letters. And that, in turn, means an XL mailbag.
Abortion: Pills
M.N. in Lake Ann, MI, writes: You have had several posts about how some women who need an abortion but live in an anti-abortion state could, theoretically, rely on mail-order pharmacies and tele-health visits to obtain a medication abortion. One rationale given is that tampering with the mail is a federal offense, and no one would know what was in a package unless they did in fact tamper with the mail. I am not so sure that rationale is correct, or at least it may not be complete.

For one thing, states can and already do prohibit the use of mail order or shipping for certain goods, usually things like wine and perishable items or biological materials that might transmit parasites or invasive species into a state. My home state of Michigan prohibits the shipping or mailing of wine into (and sometimes out of) the state, with extremely limited exceptions. It is up to the shippers to comply, but most commercial/retail businesses do comply because their livelihood could be at stake, not to mention penalties and other legal jeopardy. A private person doing the shipping can certainly do their own packing and then lie about what is in the package, but that still carries risk if anything goes wrong.

Likewise, it is actually already illegal to mail or ship pharmaceutical items, of any kind and in any quantity, unless you specifically have a federal license to do so or are in a very small number of exempt categories (which mainly cover law enforcement). Obviously, mail order pharmacies do have such licenses, but that is additional incentive to voluntarily comply with the various state laws that will undoubtedly pop up prohibiting the shipment of these specific agents into a given state. The risk of being found to have mailed a medication illegally may be small but is not zero, and a mail order pharmacy absolutely cannot risk losing their license, so may voluntarily comply. While the current administration may overlook non-compliance, other administrations may not be so friendly, and we do still have Louis DeJoy at the USPS.

The U.S. Post Office has already stated it will not proactively enforce such state laws, and will specifically put the burden back on the mailer. I suspect this means if you are discreet, you'll be fine, but woe be to you if any package happens to get shredded in the postal equipment and spills its contents. The linked story is much more optimistic, but I think the actual impact of laws banning these agents being mailed to certain states is not "nothing to see here" but rather "be prepared for these not to be available, and hope to be wrong." I have not specifically seen any statements from private shipping companies like FedEx or UPS, but probably they will be somewhat between a rock and a hard place, and are trying to keep their heads down.

For reference, I am a former federal government employee and current federal government contractor, both of those within the Department of Health and Human Services, and am a pharmacist. I have been part of six administrations so far, and have seen firsthand the changes in policy that happen, often with whiplash effect, when a new administration takes over. I am, however, writing as a private citizen, and the above commentary does not necessarily reflect the views or policies of the federal government or of my agency.

---




B.S. in Salem, OR, writes: I am curious as to how the Southern states hope to make mifepristone and misoprostol illegal when they are 100% as effective as ivermectin and hydroxychloroquine in preventing and curing COVID-19. Perhaps this fact should be brought up to the punditry so that those two drugs will become as in demand and easily available as the others?

We may need to encourage (with right-wing zeal) that pharma companies step up production and distribution to prevent any shortages or supply issues!

---




P.V. in Kailua, HI, writes: In case anyone needs another reason to hate Facebook: Instagram and Facebook begin removing posts offering abortion pills. The money quote:

On Monday, an AP reporter tested how the company would respond to a similar post on Facebook, writing: "If you send me your address, I will mail you abortion pills."

The post was removed within one minute.

The Facebook account was immediately put on a "warning" status for the post, which Facebook said violated its standards on "guns, animals and other regulated goods."

Yet, when the AP reporter made the same exact post but swapped out the words "abortion pills" for "a gun," the post remained untouched. A post with the same exact offer to mail "weed" was also left up and not considered a violation.
Abortion: Roe, Roe, Roe the Boat
E.B. in Seattle, WA, writes: You had an interesting question about abortion providers setting up shop on a boat past the 3-mile limit of state jurisdiction. This happens to be in my wheelhouse, since commercial boat regulation is my day job.

In theory, this would be quite straightforward. There are a variety of boats currently on the market that used to serve oil rigs in the Gulf of Mexico; they could be had for a few hundred thousand dollars to a few million dollars. Any of them could be bought and turned into a mini-hospital. The more expensive ones will already have a hospital with a treatment bed or two on board. Also, I think that your suggestion of being denied docking rights by state authorities is overblown. The U.S. Coast Guard takes a very dim view of vessels in legal trade being denied dock space, and of protests at port facilities.

The challenge is money. For the cost of buying, outfitting, and operating the boat, you could easily serve the same number of people by flying them to another state.

---




A.T. in Quincy, IL, writes: Regarding the question from E.F. in Baltimore, MD, about "abortion ships" (and your reply), it looks like we might be about to find out: Bay Area Doctor Plans to Offer Abortions Via Boat Off the Gulf of Mexico.

Talk about no sooner said...

---




L.E. in Putnam County, NY, writes: Note that Women on Waves is the leading operator of ships bringing abortion services to places they are illegal. They have had mixed success, but should have been mentioned in the answer to E.F. of Baltimore.
Abortion: Right-wing Hypocrisy?
J.P. in Lancaster, PA, writes: Recent events involving the Republican Party and its representatives on the "Supreme" Court have gotten me thinking about some seeming contradictions between their ethical and moral actions and supposed adherence to the Constitution on one hand and their tendency to wear their religion on their sleeve on the other. The same people who refuse to wear a mask—because it interferes with their personal freedom to do as they wish to or with their bodies, while refusing to protect others from infection with a potentially lethal virus—prevent women from having the same freedom with respect to their reproductive health.

They do this on the basis of their "belief" that life starts at conception, despite the fact that it is only their opinion and that the Bible does not mention abortion. In Judaism, life is thought to begin with the first breath; the fetus is considered to be part of the mother, not an individual. Some religions teach that life begins with the quickening, when the mother can first feel movement of the fetus (around 18 weeks). Some religions don't concern themselves as much with the question and place their concerns with the life that already exists, that of the mother. Many believe that they know when ensoulment occurs and base their position against abortion on that event despite the fact that there is no evidence whatsoever about when or whether that event occurs; it is their belief and nothing more. In essence, what people who are against abortion on the basis of their religious beliefs are doing is cramming their religious belief down the throats of those of other religions whose religions believe different things. It would seem to me that the people doing the cramming are in violation of the First Amendment.

Another concern is that despite their desire that these children be born given their "pro-life" position, once that child is born, often to people who cannot afford to care properly for said child, these same people will not spend government money to help care for these same children, many of whom were unwanted.

Furthermore, many of these same "pro-life" individuals do not support ready access to birth control. Perhaps they are unaware of the fact that birth control is a good way to avoid the need for abortions. This would not surprise me given that the ability to understand and make use of facts is not, as a group, one of their strengths.

I'm sorry for my tone, but I am really getting sick of people who try to force their religious beliefs on other people. If they believe that life begins at conception, they are free to act accordingly with respect to whether they choose to have an abortion. They should accord to people who hold a different belief about the question of when life begins and abortion the freedom to make their decision based upon their beliefs until someone can offer concrete evidence about when life begins and whether souls and ensoulment actually exist. I am not holding my breath waiting for that evidence to appear or for these people to exhibit the decency to allow others the freedom they so often demand for themselves, e.g., easy availability to firearms, which often kill the children about whom they claim to be so concerned.

---




D.T. in San Jose, CA, writes: In response to a question about using religion as a loophole to bypass abortion bans, you wrote: "The government's compelling interest in protecting the lives of its citizens outweighs any and all religious practice."

It would seem that the states which allow "religious exemptions" for vaccine requirements, have come to a different conclusion.

---




E.R. in Irving, TX, writes: You wrote: "...a person cannot violate laws with impunity and claim they are allowed to do so because of their religious views."

And yet that is exactly what the Republican Party wants with "Religious Freedom" laws: the ability to claim any laws passed by a Democratic-led government violate their religious view so they can then ignore those laws until they change the law to be what their theology commands.

---




A.B. in Wendell, NC, writes: A putative question on whether a woman could claim to be a Shaker and thus get an abortion led to your response: "In the hypothetical case you describe, it would be an easy call for the courts. The government's compelling interest in protecting the lives of its citizens outweighs any and all religious practice."

I would argue that same reasoning applies to get rid of all anti-trans and anti-LGBTQ legislation. Our lives and the government's responsibility to protect them outweighs any and all religious practice. And let's face it, every single anti-LGBTQ bill is justified by religion.

They can't have it both ways.
Abortion: Other Thoughts
L.R.H. in Oakland, CA, writes: B.B. in St. Louis writes in favor of mandatory vasectomies at age 18 for sperm-producing individuals.

This is a terrible idea. You can't argue for bodily autonomy for those who can become pregnant while advocating for forced surgery for the sperm-producing. All of this descends from eugenics, another horror. Within my lifetime, minority and poor women, and others deemed unfit, have been forcibly sterilized.

Better, much better, to advocate for comprehensive sex education, free and freely available birth control, safe and legal abortion, and a culture of consent.

---




K.H. in San Jose, CA, writes: I don't understand why people are saying that the Dobbs outcome was 6-3. By originalist reckoning, the number of persons deciding in favor of it was only 5⅗.

---




V.O.R. in Alamogordo, NM, writes: The dreadful Dobbs decision needs some special branding to make it easy for people that don't follow the Supreme Court to know what "Dobbs" is and also just how bad it is when it gets mentioned. The best idea I've had so far is to link it with another of the Court's worst decisions, Dred Scott. That yields the "Dred Dobbs" decision. Hopefully if this phrase catches on it will forever associate the awful current day Roberts Court with the baggage from an odious decision in the past.
Legal Matters
R.E.M. in Brooklyn, NY, writes: (V) wrote on Thursday about the Supreme Court and recommendations to change it. I have a few comments. First, as I wrote (and you kindly ran) in January, judicial review has a thorough grounding in the Constitution (see Articles III and VI) and was commonly understood to be a power of the new Supreme Court, so much so that the Anti-Federalists argued against the Constitution because the Court would have the power of judicial review.

Regarding the remedies, anything that allows different sets of judges to make final decisions is a cure worse than the disease because there would be no uniformity. Stripping the Court of appellate jurisdiction in certain categories would result in a hodge-podge of constitutional and statutory interpretations—for example, there could be a constitutional right to an abortion or a prohibition on aid to religious schools in California (the Ninth Circuit), but the opposite in Texas (the Fifth Circuit). One of the Supreme Court's most important roles is in resolving "circuit splits" so that the laws are applied uniformly across the United States. A similar problem arises with rotating sets of justices—can one set overrule another? Are the decisions reduced to being case-specific (Ms. A has a right to an abortion, but Ms. B, in front of a different panel, does not)?

Regarding resistance, it usually takes lower-level officials to implement (or refrain from implementing) policy. Anyone refusing to follow Supreme Court law can be held in contempt and jailed. That's what happened to Kim Davis, the Kentucky county clerk who refused to issue marriage licenses to same-sex couples. As for an expanded Congressional Review Act, to the extent it would allow overruling statutory interpretations, Congress already has that power to pass a new statute fixing the problem. To the extent it would allow overruling constitutional interpretations, it would itself be an unconstitutional infringement on the separation of powers and would almost certainly be struck down by the Court.

The remedy I'd like (and which may be doable by statute alone) would be to change Supreme Court terms to 18 years, with all Justices being judges on the courts of appeals, from whom the President would select for duty on the Supreme Court. At the end of the term, the Justice would revert to his or her court of appeals. As long as their compensation stayed the same, I don't see any Article III, Section 1, problem that would prohibit this approach.

---




G.A. in Berkeley, CA, writes: In the item entitled "Can Anything Be Done about the Supreme Court?", (V) described several potential approaches suggested by Vox. All of them would require either a constitutional amendment or a majority or supermajority in two houses of Congress and the concurrence of the president. A constitutional amendment is not feasible, and successful legislation would be difficult at best.

Nonetheless, as an alternative legislative approach, Congress could define an additional status for Supreme Court justices. Many lower court federal judges, upon attaining a defined combination of age and years of service, voluntarily assume "senior status," with a reduced workload. They keep their titles and their salaries. Legislation could similarly define a Supreme Court "senior justice status," albeit a mandatory one. Upon attaining a combination of age and time on the court, senior Supreme Court justices could continue to perform any function, including temporary assignment to the lower courts, as agreed by the active court justices, but excluding the selection of Supreme Court cases and hearing and decision in those cases. Since the senior justices would retain their lifetime positions and salaries, this approach should not raise a constitutional issue or require a constitutional amendment. The proposal is facially neutral, and so, in theory, could gain the support of one or more Republican legislators—though such support would be unlikely in that six of the nine current justices now act as an arm of the Republican Party.

---




M.M. in Atlanta, GA, writes: Why stop at 7-2? A jury has to be unanimous to convict someone of a crime, so why not a unanimous Supreme Court required to declare a law unconstitutional?

---




M.B. in Overland Park, KS, writes: A.J. in Baltimore raised the possibility of a muscular response from the Obama administration in his replay of the stolen Supreme Court seat. While (V) and (Z) dismissed this as a good idea, based upon what the Republican howl would be, I have to respectfully disagree and say it would have been worth the howl. The cheating by then-Senate Majority Leader Mitch McConnell (R-KY) was so blatant that the howling would look incredulous. The fact he didn't do this is nothing short of his Obama's wimp-out action as a president. Between his cowardice and Ginsberg's arrogance, we find ourselves here and now.

V & Z respond: You must have used speech-to-text to compose this. We spent a fair bit of time trying to figure out what a "coward's nest" is, before realizing what had happened.

---




C.L. in Boulder, CO, writes: You wrote, "there are 119 current or announced vacancies, and Biden has made no nomination for 80 of them." Making lists of judges would be an excellent job for Kamala Harris. She knows a few judges and she has been a California senator (where some of the roadblock seems to be). Let Biden deal with other national problems and give the VP a concrete, achievable task in her area of expertise!

---




S.G. in Newark, NJ, writes: In response to J.H. in Boston, there is a well-established law school teaching technique called "teaching against a case." Students first are expected to understand the holding and reasoning of a court opinion. Then the teacher challenges them to critique the opinion, or the teacher challenges them to defend the opinion against the teacher's critique.

As you wrote, it's important for law schools to teach students to know the current state of the law (and how to learn the current state of the law on any of the myriad topics they may encounter in practice that they never studied in law school). But it's even more important for law schools to teach students the analytical and communicative skills they will need to be effective lawyers. That includes training students to advocate for changes in the law when that's in their client's interest, or when it is simply the right thing to do with one's professional life. Not coincidentally, law schools also strive to teach students to become ethical attorneys.

Of course, given academic freedom, it's up to each law professor to decide which cases to "teach against." One suspects that Professor Eastman's choices were a little different from, say, Professor Breyer's.
Politics
R.M.S. in Lebanon, CT, writes: I read your item this week speculating about President Biden's administration failing before our eyes. You specifically cited the example of his inaction on the overturning of Roe v. Wade as something that is angering the Democratic Party and has the possibility of reducing voter turnout. You asserted that he needs to do something big on this issue to have a chance of reelection.

Biden is an extremely experienced politician with decades in Congress, and then the vice presidency, and I'm sure he is aware of how public opinions on Roe v. Wade favor Democrats. According to Pew Research, only about 40% of Americans support overturning Roe. I think he strongly suspects public opinion will turn quickly against the Republican Party as abortion bans become implemented throughout the country. The majority of the country supports Roe, and I think the Republicans are playing with fire by implementing unpopular restrictions.

I've long argued, since the George W. Bush administration, that abortion is the issue which will prove to be armageddon for the Republican Party. Democrats in Congress have made a mistake over the past 20 years by treating abortion rights as a fringe issue instead of something that the majority of the country supports. Between now and November, they should hold votes in Congress endorsing the Roe decision. Make the Republicans take a stand on something that is unpopular with the majority of country, but popular with their base. If they refuse to support overturning Roe on the record, the religious right will become disillusioned with them.

I don't think Biden needs to do anything at all right now on abortion because he knows the Republican Party, under pressure from fundamentalist Christians and the Vatican, is poised to enact radical policies that will enrage a huge swath of the country and brand them as far out-of-touch with current opinion.

Politics 101: When your opponent is doing something self-destructive, get out of the way.

---




R.D. in Austin, TX, writes: Joe Biden said that he decided he had to run for office in the wake of what happened in August 2017 at Charlottesville and the response that came from former President Trump.

As a Democratic voter who has always voted as such in federal elections, I was never a Bernie kind of guy, but Biden did not do it for me either, as I originally had been a supporter financially of Team Amy. When it was clear Biden would be the only alternative to Bernie and it was clear to me that Biden had a reasonable chance of beating Trump—something Bernie did not have since I view him as a left-wing mirror of Trump—I chose Biden by default. I, and others I know who were not Democrats but who were not a fan of what one friend called the "clown show," voted for Biden, not out of great interest in him but in more interest of getting Trump out of office. That mission worked but only because some on the right were still willing to follow the rule of law.

Since then, I have found Biden to be a very uninspiring President and his responses to things seem too muted, delayed or out-of-touch. His declaration about the pandemic I found to be especially problematic because any smart person knew that we would not be rid of COVID and its dominance over American life in the summer of 2021. His words only gave the right-leaning COVID disbelievers more reason to not follow guidance so they could then turn around and blame the President when COVID swept the nation again this past winter.

Biden ran for President and saved America by buying it more time when we removed the head from the snake in a legal election victory. Now he must pull an LBJ and make it clear after the midterms are over that he will not run again for president. If he insists on running in 2024, I fear he has no chance of winning unless he's opposed by Trump and I worry if that is so, the enthusiasm Trump people will have for putting him back in power will be higher than the desire of Democrats to keep Trump out of office, since the man they will be voting for if Biden, has proven to not use what power he has in a way that could have done more to keep voters engaged.

From where I sit, it seems the Democrats' best candidate for possibly catching the fire of enthusiasm will be the former Mayor Pete and if he resigns his post in the administration, that is in my view a clear sign he is running. If he does run, and if Biden bows out of the race, that might be the final nail in the coffin for Trump, as the GOP would then rally behind Trump 2.0, in the current governor of Florida, as they would need someone to offset Pete. From where I stand right now, I'll be a reluctant Biden voter in 2024 but what choice do we have? Not voting is a very dumb choice, my fellow Democrats and NeverTrump movement conservatives.

I would hope that all the angry Bernie voters who sat home in 2016 now understand that they played a major role in the gutting of rights by the current SCOTUS. Even if you hated Hillary Clinton, she would not have given us the SCOTUS that Trump gave us and unfortunately, too many of the left who want to be woke did not hear the warnings from me and others about what the right would do with the courts if we did not vote in high enough numbers to keep Trump out. I fear that many of the younger people though won't learn this lesson, because they know more about movie stars and pop culture than they do politics and the expression rings very true, those who don't learn from their history are bound to repeat it.

---




D.A. in Brooklyn, NY, writes: B.M. in Birmingham wrote that they observed: "In the Tampa airport, shirts worn by white, Latina and Black voters that say 'Make America Florida.'"

With the recent SCOTUS evisceration of the EPA, that is clearly what they are doing. Get your beachware ready, Duluth.

---




J.A. in Hell's Kitchen, NY, writes: First, in response to the comment from B.M. in Birmingham about the woman on the street, I am always confused by people like that. She lives in a state with a republican Trifecta, controlled totally by Republicans, and they are seeing cops drive by not doing their jobs. How is that the fault of the president or anyone else? People love to demand local control and then love to blame the far-off forces when things go wrong.

Secondly, shout out to fellow Hell's Kitchen resident B.K.!

Thirdly, I recently had become so fed up with the ineffectiveness and corruption of the local, state, and national Democratic parties, that I finally think its time to do something about it. We need real humans and real, imperfect people in control of our country. People who can really talk and tackle issues with new ideas. We need to destroy the power relationships and cliques of friends that have permeated and corrupted the Democratic Party for years. We need a true good governance party.

Starting in New York State, which is notoriously corrupt, we need to organize from the local and county level all the way up to the highest state level, to mobilize real and non-groomed people to really relate to the electorate, and really see what's going on out there. I'm currently working on a website and a statement of principles and have begun creating a way to get infrastructure for organizing various chapters of the as yet named reform organization. I'm pissed off as hell, obviously at the Republicans, but also at the Democrats. Enough is enough.

---




M.N. in Madison, WI, writes: After reading the question from P.L. in Lund about Scott Adams' comic about voting machines, I wanted to provide some insight into who Scott Adams really is.

Way back in the sunny days of 2016, I was a daily reader of the "Dilbert" comic strips, and an occasional reader of Adams' associated blog if the post's topic looked interesting. During the primary season, Adams spent some time on the question of "Why is Trump's campaign working?" that pretty much everyone was grappling with. Adams asserted that Trump was some sort of political savant at inspiring people to follow him, specifically comparing him to Obama in that regard. So far, so whatever.

However, as the general election heated up, it became apparent what Adams' real goals were. Initially, he "endorsed" Hillary Clinton, but his stated reason was the most anti-endorsement you can imagine, saying something to the effect that he lived in California and his life would be in danger from rabid, violent liberals if he endorsed anyone else (despite the lack of evidence that those rabid, violent liberals existed anywhere but in his head). Some time after that, he de-endorsed Clinton. I forget the reason he gave, but it basically amounted to Clinton couldn't be trusted to lead the country. But he didn't endorse Trump, instead transferring his endorsement to one of the third-party candidates. Probably the libertarian, but I don't want to hunt down his old blog entries to check. Finally, a while after that, Adams' "conversion" was complete, and he endorsed Trump as the only person who could possibly lead the country out of its troubles. (If only we'd known what troubles the country was signing up for." It was at this point that I permanently swore off Adams' blog and "Dilbert" as well. The comic posted in-line Saturday is the first "Dilbert" I've read in nearly six years.

Long story short, in 2016 Adams engaged in a months long effort to manipulate his blog's readers into Trump supporters, in a rather blatant and, to my mind, ham-fisted manner. Adams is a wholly owned subsidiary of the Trump Corporation, and every thing he writes and says is in pursuit of furthering the madness that is the Cult of Trump.

(V) and (Z) are undoubtedly correct with regards to Adams' legal exposure, but make no mistake he is trying to manipulate public opinion in favor of "voting machines can't be trusted, and neither can their manufacturers."

V & Z respond: We thought about including a few remarks about Adams' politics in that answer, including a note about his latest controversy.
Insurgency?
M.A.K. in London, England, UK, writes: In response to J.W. of Newton, who asks about an "IRA-style insurgency" by MAGA 3% militias.

I'd suggest that the better comparison would be to loyalist paramilitary groups, such as the Ulster Volunteer Force and Ulster Defence Association. They had the fundamentalist Christian rhetoric (insert clip of Ian Paisley Sr. yelling "never" and trying to save Ulster from sodomy). They had the view of themselves as an endangered minority about to be supplanted by a new and dangerous majority whom they felt completely alienated from. They had their quiet supporters in politics, policing, the military and the security services (although at the moment it seems that MAGAs are primarily being prosecuted and not colluded with). They had the same basic feeling of absurdly flag-wrapped patriotism, and framing themselves as brave defenders of their country. They and their political wings were also never afraid to appear strident or indecorous (compare Paisley to Rep. Lauren Boebert, R-CO, or Gov. Ron DeSantis, R-FL) and were firmly outside the mainstream of unionist politics. By contrast, the IRA and Sinn Fein set great store by presenting themselves as reasonable and respectable and calm and willing to negotiate and come to a political settlement. (This is, of course, completely distinct from any attempt to weigh their actions against those of loyalist paramilitaries and start counting bodies; my point is about their messaging, not their reality.)

---




H.M. in Berlin, Germany, writes: Concerning the question from J.W. of Newton about Barbara Walter's interview, I direct your attention to James Meek's perceptively critical review of her book in a recent London Review of Books issue. Money quote:

But what if [Trump], or a candidate like him, were to cheat, and he and his party threaded the needle to a victory endorsed by the key national institutions? Instead of today's situation, you would have a Trump base accepting their champion's fraudulent victory, and a liberal superfaction aware that the Republican head of state had stolen the presidency, that politicians, bureaucrats and lawyers had seized the apparatus of the American state, and that democracy had been killed.

One of the strange things about the reaction to the invasion of the Capitol was how few of those dismayed by it speculated that they might one day long for just such an assault to succeed. Might a different mob storm into Congress to save democracy, rather than attack it? If an autocrat who has stolen an election is about to have his trashing of American democracy hallowed by Congress, all other recourse having failed, shouldn't Democrats—or democrats, at least—take direct action?

I've been meaning to ask your opinion of this review, and of Walter's book, for some time, but the world kept intervening. Now, J.W. beat me to it.

---




R.I. in Hoboken, NJ, writes: B.J. in Boston writes about Joe Biden and the state of the nation:

His job is to protect the Constitution. We are at war with a domestic enemy that wants to destroy it. He should be using his bully pulpit to summon his troops to battle. His troops are citizens. Call out the enemy actions. Name the enemy. Explain clearly, and regularly, what is going on.

I should say I am as angry with you as B.J. is with Joe Biden. How demonizing each other to this extent is acceptable to you is beyond me. You are advising B.J. on what to do but don't remind him about the plague that is consuming the country: demonizing each other. Citizens on both sides are turning against each other and more and more places are becoming echo chambers and are condoning demonizations of the other side. I wish pundits like you who are not bought by lobbies, are not political hacks, and speak their mind could see beyond the headline news (as terrible as they are) and could focus a little bit on the bigger picture: division and demonization of the other party by both parties.
Guns
D.M. in Highland Park, IL, writes: On Monday, my wife and I walked from our house, a mile or so to downtown Highland Park, Illinois, to enjoy the Fourth of July parade. As your readers surely know by now, a gunman opened fire on this parade. This happened about three blocks from where my wife and I were standing. It sounded like firecrackers, and at first we didn't take the situation seriously. Then, a wave of people came running down the street. A woman shouted, "Active shooter! Run!" And we did, first into a local store, then, thinking better of it, out and around the street, past our beautiful public library, toward Lake Michigan. We passed lots of people going in all sorts of directions; nobody had any word. Cars passing quickly made us flinch. We made it home safely and have barricaded the doors. Only now do we fully understand what was happening. I am shaken that I was that close to a mass shooter.

I don't know why I'm writing this, except to say, I cannot believe this has struck so close to home. None of us is safe.

---




D.R. in Schaumburg, IL, writes: When I first read about the assassination of Former Japanese Prome Minister Shinzo Abe, I came to the same conclusion that (Z) did: that the right-wing gun nutters would try to use this to show the futility of gun control laws. But I believe that it actually shows the opposite is true: that Japan's strict gun laws are very effective, despite this tragedy. In Japan's case, the shooter was able to get off one shot, not 70 like the 4th of July parade shooter earlier this week. And while one gun death is a tragedy, at least it wasn't a massacre. Additionally, the shooter had to have the skills, space, time and equipment to build his own weapon. How many of the mass shootings in recent years might have been prevented if the shooters had to manufacture their own assault weapons? Of course, no laws will ever prevent all shootings. But Japan's gun control laws seem to be very effective in what they are aimed to do: controlling the use of firearms.

---




M.C. in Portland, OR, writes: After reading comments from many heads-of-state and previous heads-of-state about the assassination of former Japanese Prime Minister Shinzo Abe, the word "coward" kept appearing over and over and over. At first, I found that quite curious. Why was everyone referring to this as a "cowardly act" compared to any other act of gun violence? But then I realized it was because Abe was shot in the back. And it got me to thinking, maybe it's not more gun laws or tougher gun laws that are needed in the U.S. (although I would be in support of them) but rather a "rebranding" of those that commit these acts of terror as cowards.

If the news media, if the politicians, if everyone who was against these violent acts started branding those that commit them as cowards and cowardly, perhaps that would prevent some from thinking they could gain notoriety in this way. It would be a sort of scarlet letter on anyone who used a gun against their unarmed brothers and sisters. For any act where you can kill or injure another from a distance, thus protecting yourself from any bodily harm, is cowardly!

---




S.C. in Mountain View, CA, writes: I would like to see a number of states, preferably in circuits that would rule the eventual lawsuit appeals in their favor, ban ownership or possession of any firearm of a type that did not exist in 1791, when the Second Amendment was ratified. This would restrict ownership and possession to flintlocks and earlier technologies. I would like to see how the originalists on the Supreme Court would deal with that.
Climate Change
P.M. in Edenton, NC, writes: There is so much alarmism regarding climate change. J.T. in Greensboro writes that "everyone is going to die from climate change," and I have heard (on NPR, of course) about people who suffer from "climate change depression," and some who are choosing not to have children because the planet is dying. Really? You think that will stop the rednecks down the road from reproducing? By choosing not to have children, those (intelligent?) folks will just doom the planet to the future that J.T. sees coming, rather than creating other intelligent minds who could possibly do something to ameliorate the issue.

M.M. in Southern Pines is correct—climate change is going to happen, and there is nothing we can do about it. Even if America were to suddenly become the greenest country in the world, and immediately produce zero carbon emissions, is that going to just stop every other country in the world from how they are living? I have spent nearly the past two weeks in the Philippines. The way people are here, how they travel, how they live—climate change is far from their minds. The country is too poor to be concerned about such a long-term and nebulous issue, especially when a good chunk of the people are living in abject poverty.

I also want to ask: Why is climate change always bad? Is there not a good side at all? M.M. cited some scientists who suggested that Siberia will be like Colorado in 300 years. Siberia is almost uninhabitable at present; would not its climate changing to something like Colorado's be a good thing? Or the same effect in places like northern Quebec, or Nunavut? Why is there always such alarmism when it comes to this issue, and never any positive thinking about it at all?

---




K.J. in Pecatonica, IL, writes: I'm extremely saddened when I see people just shrug their shoulders and say "there's nothing we can do about climate change, so we may as well not even try." Climate change in itself is going to have disastrous social and economic effects, and stonewalling any attempts to reduce the speed of climate change is irresponsible.

Climate change is serious stuff, and no one can be certain exactly what will happen. It's not just a matter of building seawalls and moving north to more temperate climates—it's changing climate patterns. Yes, some future effects may be mitigated, but what if... What if the Midwest and Great Plains turn more arid and can't grow the nation's (and planet's) food? What if the ice sheets on Greenland all slide into the North Atlantic and causes the Gulf Stream to shut down? I seriously doubt the effects of these things (starvation and an ice age in Europe?) could be mitigated.

It's attitudes like M.M.'s that make me so glad I'm in my mid-50s and have no children or grandchildren. The ignorance surrounding climate change is depressing enough, but if I had descendants, I'd be utterly despondent at the thought of how we're leaving the planet for future generations. I firmly believe that worse effects of climate change will happen much sooner than many people think, and I only hope that I pass on before the more drastic effects kick in.

---




D.S. in Querétaro, México, writes: M.M. in Southern Pines writes that they "would much rather see massive investment into seawalls, coastal defense, and the restoration of the Mississippi delta (for example), rather than any policy or law that impedes our economy." And they then go on to make a comment about the proper Christian view of pollution (which they say, in apparent contradiction to the rest of the letter, is "that it's never OK to pollute"). I have just two comments:

Massive investment in flood abatement is likely to prove an impediment to the economy; possibly as great or greater than limiting our greenhouse gas emissions.


Protecting our own while spewing pollution into the atmosphere that we share with the rest of the world and smiling while they drown does not accord with anything I can remember Christ saying (although it does seem to accord rather nicely with many so-called Christians).

---




J.W. in Newton, MA, writes: I disagree (strongly!) with the suggestion by M.M. in Southern Pines, NC, that we can't "afford" to develop non-carbon-based energy sources. We can use carbon taxes and develop better technologies to steer even the world's petro-states toward less catastrophic power supplies. However, I agree that it's too late to prevent the climate crisis, and we need to start implementing Dutch-style mitigation strategies now. Additionally, we're going to be forced to meddle with the planet, e.g., by inventing new methods of carbon sequestration or by seeding the upper atmosphere with light-scattering particles. No doubt, we'll induce unintended consequences, but that's where we are.

---




K.F. in Madison, AL, writes: I wanted to thank R.R. in Mesa, for jogging my memory on this article published in 1956:




Not so Nixonian, After All?
G.S. in Oakland, CA, writes: While intensive audits of James Comey and Andrew McCabe sound like the kind of thing that Donald Trump would have loved to arrange if he could, one would also think that if there weren't lots of protections against something like that, it would have happened to a great many more of Trump's perceived enemies.

The Washington Post offers an explanation that makes more sense to me: "By firing his enemies, Trump made their taxes more interesting to the IRS."

---




J.L. in Chicago, IL, writes: Only one of the 30 Major League Baseball teams wins the World Series each year. Yet the White Sox won in 2005 and the Cubs in 2016—a 1-in-900 shot. Seems awfully suspect!

Except not, of course, for a number of reasons, including that the teams were well better than 1-in-30 shots in those years and that this combination is no more noteworthy ahead of time than many others. Similarly, while the probability of James Comey, in particular, being audited in the most invasive manner in one specific year and Andrew McCabe, in particular, being audited in the same manner in a different specific year is, indeed, 1 in 600 million, the probability of some two people high on Trump's enemies list being subjected to an unpleasant and supposedly random (although surely weighted) federal government process overseen by a Trump appointee, across all years, is much higher. It may still be unlikely to a degree that it creates reasonable suspicion worth investigating, of course.

The New York Times had an interesting treatment of this basic issue.
Bye-Bye, BoJo: Assessments
R.O. in Manchester, England, UK, writes: And so, finally, the Johnson government imploded into the mire of its own sleaze and incompetence. The slow crumbling has been an ongoing rot for nearly a full year at this point, and all that's held it together is the absolute moral cowardice of... well, everyone involved who had any ability to halt it.

While, ultimately, the cause for the eventual mass resignations was presented as Johnson's decision to hire and promote an underling whom he knew was a dangerous sex predator, in truth the Tories were sick of Johnson lying to them about his scandals. They don't mind lying to the public, as long as they're in on the con, but Johnson would routinely swear to his own ministers that his latest untruth is factual—only for them to be revealed to be untrue moments after they went on TV to repeat them, and for him to present a new untruth that he insists was accurate this time. In fact, on Tuesday morning, the Deputy Prime Minister was literally live in an interview as the defense he'd been sent to present was proven to be an outright lie; his reaction is priceless.

Government as a whole had long since stopped having any sort of unified theme beyond keeping Johnson in power. Policy was increasingly a game of right-wing Mad Libs to placate fringe groups within the parliamentary party. Eliminating the metric system and returning to Imperial measures was suggested as a policy. Half a million pounds were spent flying an empty plane to Rwanda as a stunt to threaten asylum seekers. Plans were made to issue mortgages to people on state benefits—a plan which was quickly turned out to apply to absolutely nobody, since anyone with sufficient saving to afford a mortgage deposit was ineligible to claim benefits. Selling off Channel 4 was proposed, despite 90% of the population being against it and none of the reasons in favor having any factual basis. A website was created for people to propose which "EU red tape" they'd most like to see repealed, in a desperate attempt to find "Brexit Opportunities." The government attempted to unilaterally rip up international treaties they'd negotiated themselves mere months earlier.

Meanwhile, Johnson himself has become increasingly estranged from reality. His comments about "planning his third term" mere weeks after barely surviving a vote of no confidence suggested an almost Caligula-like level of delusion, as few imagined he'd still be in office in 6 months, let alone 10 years. Even having had 44 members of his government resign (four times as many as any previous prime minister has ever lost in a single day, and 7% of the total number of MPs in the UK parliament—nearly 15% of his own party), he was insisting that he could continue despite the fact that large parts of the government had not merely ceased to function, but in a very real way had ceased to exist. Committees and bill readings in Parliament are being canceled because there's literally no minister to address them. Even as I write, he's talking about resigning as party leader but somehow staying on as prime minister until October, which no one else thinks is remotely plausible, and his resignation speech failed to take any responsibility for his own downfall.

The biggest problem is that, since 2016, nothing has been done to address real issues that are confronting the country. Scotland is demanding another independence referendum. Northern Ireland's governing agreement has collapsed and the region is in danger of slipping back into sectarian violence—a terrifying threat that the government has largely ignored when not making it actively worse. Fuel bills have increased by over 100%; general inflation is over 10%; strikes are crippling whole sectors of the economy (teachers, lawyers, and doctors are balloting for strikes even as transport workers are already striking). Growth has collapsed and we've still not matched pre-2008 GDP per capita, while inequality has skyrocketed and food banks have proliferated.

Johnson leaves a legacy of incompetence and mismanagement comparable to a third century Roman emperor. He has ruined our international reputation, destroyed the Conservative party for a generation, fiddled as our economy burned and caused lasting damage to both the substance and the reputation of our political institutions. He was literally compared to Nero in a committee yesterday, but at least Nero really did try to stop Rome from burning. Johnson would have tried to fill his own pockets as the fire raged and then tried to blame the E.U. for starting it.

---




C.S. in Toronto, ON, Canada, writes: The resignation of Boris Johnson shows that politicians can still do the right thing. He broke the rules and was embroiled in scandals. Perhaps one can argue that he should have stepped down earlier. Nevertheless, politics is bigger than one person and the British democracy will continue quite happily.

---




J.B. in London, England, UK, writes: OK, I admit that I'm partisan, as I've been an active Labour Party member since 1966. But I'm not alone in believing that Tory PM Boris Johnson (or BoJo the Clown, to describe him more accurately) is totally unfit for office. The quicker he goes the better, even though, were he to remain, his continued and discredited presence would be one of the greatest assets the Labour Party could ever hope to have.

Johnson is a product of privilege. Eton educated, he is the absolute epitome of entitlement, expecting everything to be given him of right, and believing rules are for the little people, not for him. His flagrant breaches of his own rules during lockdown; his demanding (and getting) vastly expensive refurbishment of 10 Downing Street, mainly at the taxpayers' expense; appointing serial sexual predators to office; and surrounding himself with second or third rate sycophantic cabinet ministers who wouldn't get a job elsewhere running a whelk stall (I hope U.S. readers understand that very English metaphor for utter incompetence!) all sum him up for the shallow populist he has always been. When a small child, he wrote: "I want to be king of the world." He never stopped until he attained that goal, come what may, until he reached No. 10. Now that he's on his way out, we have to ask: "What next?"

The Tories elected him as their leader because they thought, rightly, that he could lie himself to victory in the context of Brexit, and didn't care as long as he delivered populist goals. But now even they, rather like many in Donald Trump's circle, have realized that his continuous stream of short-term knee-jerk policies and lies eventually would come undone, as it is now doing, spectacularly. However, will they reset, or will they keep on going in the same populist direction, but with a more credible face to populism's bare-faced lies?

Their election process is bizarre. Their MPs, and they alone, decide who the candidates will be, with a knock-out ballot of candidates until just two remain. Those two are then presented to the Tory Party membership in the country to vote on (average age 95, verging on dead). So the MPs will either offer a choice of a populist (which is, judging by when BoJo was elected, what the Tory membership want ) vs. a saner and more sober approach; or will conclude that the country needs better, more integrity in government, and offer a choice between two rather less irresponsible candidates. Watch this space.

Within the parliamentary Tory Party, there is a strong strain of BoJo-light populists, but there are also quite a lot of more nuanced politicians. So it will all depend on which group prevails. One thing is for sure: There won't be too many jobs around for whelk stall owners once we're under new management.

---




D.K. in Leicester, England, UK, writes: I have been reading your blog for many years, and have been tempted to write in on a number of occasions before. However, this time I thought I really should add my comments concerning your item about developments here in the U.K..

As regards the outgoing Prime Minister, I will say little. The similarities with Donald Trump are many and obvious, but one big difference is that Boris Johnson is a professional politician who in some ways—if any American readers who might read this are eating or drinking anything, they might wish to put it down for a moment—is more dishonest than Donald Trump. At least Trump doesn't really try to pretend he's something he isn't—the true nature of Trump is obvious to anyone who cares to look—but Johnson puts on this act of an amiable buffoon, a mask for an unusually ruthless and unprincipled professional politician. However, it ought to be pointed out that at the last general election the alternative was Jeremy Corbyn, who is quite far enough to the left to make Bernie Sanders look like a mere SINO (Socialist in Name Only). Faced with this appalling choice, the electorate chose what was almost certainly the lesser of two evils. Any comparisons with Trump and Hillary Clinton in 2016 don't come close. I can't begin to imagine what damage Jeremy Corbyn might have done in 10 Downing Street—particularly regarding Ukraine.

As regards the constitutional position... The British constitution, such as it is, is sometimes difficult to understand, as it is a grand illusion of smoke and mirrors, where form and substance are often two very different things. On paper, for instance, the Queen still enjoys enormous power. In practice, this power has been exercised by the prime minister of the day for about the last 300 years. By the early 18th century, parliament had established itself as a power that could no longer be ignored. George I—who was often out of the country, anyway—needed a minister who could manage parliament on his behalf, and found one in Sir Robert Walpole. So essential did Walpole become that he came to exercise royal power on the king's behalf—as his successors have done ever since. George III made some attempt to roll this back after he became king in 1760, but it was too late, even then. It was accepted that the choice of prime minister lay with the monarch, but this power too melted away in the 19th century. Today, the palace is quite clear—it is up to the politicians to work out who is to be prime minister, the Queen merely makes it official. But it has always been implicit that the prime minister does need to be able to command a majority among the members of the House of Commons. And if that support is withdrawn? Well, we have just seen what happens then. And without—dare I say it—the the somewhat cumbersome process of impeachment, which has been obsolete in the U.K. since the early 19th century.

But is it democratic? Well, with a hereditary head of state and an unelected upper house, the British constitution certainly contains some very undemocratic elements! And it is perhaps understandable why some Britons feel they should have a direct say in the process of choosing a prime minister. But aside from the fact that we enjoy such basic democratic freedoms such as a free press and the rule of law, etc., power here is ultimately vested in the House of Commons, which is elected by universal adult suffrage. The constituency boundaries are determined by an independent commission, electoral rolls are maintained by local councils, who ask households to update their information on an annual basis, with any teenagers automatically added as they come of age, and—at least so far—you don't even have to provide any identity documents to vote. It may seem a little absurd that only 200,000 or so Conservative Party members will effectively chose the next prime minister, but more to the point is that the—I believe, presently, 358—Conservative MPs who form a majority in the House of Commons will (presumably) accept that decision, and the Queen will therefore appoint whoever it is on that basis. You suggested it was a little like the selection of the Majority Leader, and it is. The Speaker of the House might be an even better comparison. After all, if anything were to happen to Speaker Nancy Pelosi (D-CA), no one would deny the right of the House of Representative to choose a new speaker. In the American system, you have a president, who is both head of government and head of state, and a speaker, who is at least somewhat responsible for legislation. And both of these are partisan positions. In Britain, we have a prime minister who is a professional politician and is both the head of government and in charge of legislation, leaving our head of state (Queen Elizabeth II) and speaker (Sir Lindsay Hoyle) as neutrals. Sir Lindsay was originally a Labour M.P., but the Speaker of the House of Commons is expected to forego past party allegiances and become an impartial arbitrator.

I hope that helps! As regards the likely contenders, you were not impressed, but early straws in the wind seem to be favoring the current Defence Secretary, Ben Wallace. Who, as you noted, does appear to hold a record for running up a bar bill. But, to be fair, he has also gained a great deal of kudos for his sober, un-showy performance at the Ministry of Defence during the present crisis in Ukraine, in contrast to Liz Truss at the Foreign Office, who has not only been very showy, but has also made some rather unwise remarks on the subject. Which she now denies making. Obviously.
Bye-Bye, BoJo: Boris and Donald
B.H. in Nottingham, England, UK, writes: It appears that Boris Johnson may finally, Rasputin-like, be finished. Unfortunately, I can only feel cheated of justice.

As with Donald Trump before him, Boris Johnson has done lasting damage to democracy: time and time again abusing a parliamentary system in which individuals were expected to govern their own behavior through some collective sense of honor or duty.

Like Trump, he has shown the weakness of a system that lacks the means of checking the powers of those who care little for the rule of law, let alone governance by popular consent.

His successive lies have lead to irreparable economic and cultural damage in the form of Brexit, while his complacent and profligate approach to COVID resulted in the combined expense of both tens of thousands of avoidable deaths, and billions of pounds lost to fraud through unvetted loan schemes. He is an intellectual lightweight entirely lacking in the ability or commitment to address the multitude of problems facing the country.

Boris Johnson is undoubtedly the worst U.K. Prime Minister of at least the last century, and one of the more despicable characters to have held prominent public office in this country.

Sadly, I can take no pleasure in the week's events. Even in Johnson's "resignation" speech (in which the word "resign" was not even uttered), he demonstrated neither self-reflection nor contrition. I fear the Conservative Party, keen to sweep its own shame under the rug, will deny the country the full loss of stature and humiliation that ought now to be delivered upon him.

---




S.B. in Waltham St. Lawrence, England, UK (The only Yank in the village. Well, actually, with my wife, it's plural "Yanks"), writes: I'm a U.S. expat with a lot of time in the U.K. behind me. I follow U.K. politics as closely as one could expect given my background, but I do see some interesting parallels between Boris Johnson and Donald Trump—both made lots of noise and unrealistic promises that lots of gullible voters ate up; both don't really care who they alienate, how many enemies they make (no matter how powerful) and both ended up being thrown onto the burn pile after a short tenure. While the jury is still out on Trump's possible return to the summit, Johnson is toast—he's been such a money-chasing dog for so long, the only question is what he'll do next to keep the cash flowing. That might be a great wager question for U.K. readership—I'll volunteer the first pint at the winner's pub of choice for the most accurate guess.
Bye-Bye, BoJo: A Touch of Humour
B.H. in Greenbelt, MD, writes: The anti-Boris Johnson protesters who played the Benny Hill theme every time a conservative M.P. did an interview outside Parliament were on to something. Boris Johnson is perfect for the lead in a revival of that show! They don't even have to start from scratch; they can dig through the existing 59 episodes (according to IMdB), get rid of the racist and sexist skits, and probably put together an episode or two. If they let Johnson do the weeding out, they'll have a lot more material left from the original.

BTW, a Mega MAGA Trump supporter told me some years ago that the tune is actually called "Yakety Sax" (IMdB confirms that). That title sounds about right for BoJo.

---




K.C. in El Cajon, CA, writes: Regarding the end of the reign of error of Boris Johnson, the early Who song "Boris the Spider" is thematically appropriate: "He's come to a sticky end/Don't think he will ever mend."

---




M.B. in Menlo Park, CA, writes: A Twitter account named Larry the Cat chronicles the life of the permanent feline resident of 10 Downing Street. Or, as Larry puts it, unlike the prime ministers, he lives there permanently, and when Boris goes, Larry stays. Larry is "willing to serve as caretaker Prime Minister because that's frankly less ridiculous than the idea of Boris Johnson hanging around a minute longer." If the Brits reject that generous offer, Larry advertises: "Wanted: New housemate for Westminster based feline. Recently decorated house includes excellent security, lightly used office space and large garden, suitable for hosting parties. Deep clean required."

---




G.S. in Basingstoke, England, UK, writes: I read with immense pride your comments on the biting nature of British wit. That said, Americans aren't complete novices at the art:
Gallimaufry
M.M. in San Diego, CA, writes: France is Canada East? I think you mean EuroCanada.

V & Z respond: You're right; our error.

---




K.V. from Albuquerque, NM, writes: You wrote: "(Z) can't speak for USC, of course, since he was not a student or a faculty member there. He's not eligible, actually—his parents were married."

Now, that's what I call a (Z)inger!

---




J.R. in San Francisco, CA, writes: D.C. in Hofheim (by way of Palo Alto) writes: "For those of us from Stanford, it's common to refer to USC as U$C. I guess now we can start referring to UCLA as u¢la."

Actually, those of us from Stanford refer to USC as the University of Spoiled Children, or the University of Second Choice.

From the admissions application to USC:

Name five states (e.g. California, Florida, Missouri, Ohio, Alabama).
If you were going to Palm Springs and could only take five of your family's servants, which ones would you bring? Justify your decision.
If you were trapped in the Beverly Hills I Magnin for five hours and had only $5,000 to spend, what would you buy? Justify your decision.
Please enclose a transcript, e.g. your grades. In lieu, an 8" x 10" headshot may be submitted.

V & Z respond: You forgot "Have you read a book this year? If yes, then why?"
Previous
|
Next
Back to the main page