Senate page Jun. 08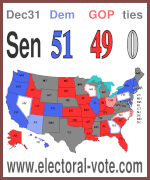 Previous
|
Next
New polls:
Dem pickups: (None)
GOP pickups: (None)
---
States that are home to nearly one-fifth of the nation's population held their primaries yesterday. Consequently, it is now the case that for just over half the country (163,406,224 people), their 2022 primary is now in the books. That's a literal tipping point. It may also be the case that we reached a tipping point in terms of Donald Trump's power over Republican candidates last night. Anyhow, here are the ten biggest storylines:
Gubernatorial Yawns

: There was virtually no drama on the gubernatorial front yesterday. In California, where they've been giving governors a second term for nearly a century (since 1943), Gov. Gavin Newsom (D) claimed 56.8% of the vote. That would be pretty poor in a normal primary, but in California's top-two-finishers system, where he was up against all the other candidates in the running—Democrats, Republicans, independents—it's a dominant performance. Newsom's victim in November will be state Sen. Brian Dahle (R), whose #1 campaign promise is to "bring balance to the legislature." We're not sure what that means; our best guess is that he's watched Star Wars one time too many. In any event, Dahle is going to get the Anakin Skywalker treatment at the hands of Obi-Wan Kenewsome in the general election.

Three other states had gubernatorial primaries last night. In New Mexico, Gov. Michelle Lujan Grisham (D) was unopposed. Her opponent will be Mark Ronchetti (R), who is a weatherman. No, not the radical-left-wing-terrorist type, the "20% chance of rain tomorrow" type. Ronchetti lost to Sen. Ben Ray Luján (D-NM), who is not related to the governor, in 2020, and he'll run his record against Lujans/Lujáns to 0-2 in November.

Iowa, meanwhile, was the biggest gubernatorial yawn of the night. Gov. Kim Reynolds (R) was unopposed, as was Democratic challenger Deidre DeJear. So, we know nothing today that we did not already know yesterday. DeJear is not only blue, she's also Black. And this is in a state that is quite red, and where one-quarter of the voters happily kept reelecting Steve King, despite his open flirtations with white supremacism. So, we don't love her chances.

And then there is South Dakota, where voters quite like what Gov. Kristi Noem (R-SD) is selling. She took 76.4% of the vote, despite spending most of her time on political stunts designed to get her on to the 2024 Republican ticket and out of South Dakota. She will face off against state Rep. Jamie Smith (D), who was unopposed. Given that South Dakota is one of those part-time-legislature states, he primarily supports himself as a realtor. He will have no need to sell his house in November, in anticipation of moving into the governor's mansion.



Smoking Grassley?

: While the gubernatorial races were ho-hum, there was one interesting result in the Senate races. Everyone, including us, assumed that former representative Abby Finkenauer (D) would easily win the right to face off against Sen. Chuck Grassley (R-IA) as he shoots for an eighth term that would take him into his mid-90s. However, Vice Admiral Mike Franken (ret.) came on strong to claim the Democratic nomination, with 55.2% of the vote to 40.0% for Finkenauer. Grassley won reelection in 2016 by 25 points, and one has to assume that Iowa's strong Republican lean and the Senator's universal name recognition and incumbency will carry him to another easy win. That said, a moderate, high-ranking military veteran is undoubtedly Grassley's nightmare opponent. Franken will have to (gently) make the campaign about the Senator's advanced age, and the question of whether he's up to the rigors of another 6 years on the job. At risk of being vulgar, it would help him make that case if Grassley had some sort of health-related incident in the next few months.

Over in California's U.S. Senate race, Sen. Alex Padilla (D) came out on top—twice. In the special election, he claimed 54.6% of the vote to 21.4% for Republican Mark Meuser. They will both advance, and the winner of that contest will earn the right to serve from November to January 3. In the primary for the full-term election, Padilla is up 53.7% to 14.4% on Meuser. Recall, once again, that all candidates run in the same primary in California, so Padilla's showing is very strong. Meuser, for his part, has zero political experience, and his campaign website contains multiple rants about Antifa, while also bragging that the candidate "has been involved in 22 lawsuits brought against Newsom for his unconstitutional usurpation of power as a result of COVID-19." So, you kinda know where he's coming from. He's going to get slaughtered in November. Twice.

There is also a Senate race in South Dakota this year. Sen. John Thune (R), who is on Donald Trump's sh**list, thumped his main challenger, the very Trumpy Bruce Whalen, 72.2% to 20.3%. Thune's opponent will be Brian Bengs, who is a veteran of both the Air Force and the Navy, and who is pretty lefty on policy issues. He'd be an interesting candidate in many states, but not in South Dakota, where he's going to lose by 40+ points, just like all of Thune's other opponents.



TrumpWatch 2020

: Now let's get to the storyline mentioned in the intro. Trump endorsed 16 candidates who were on the various ballots yesterday. At least 15 of them appear that they will advance. So the former president, who is a savant of spin, will have his talking point.

However, these 15 were all layups—candidates who were unopposed, or are incumbent, or both. A closer look at the results reveals a pretty disastrous day for him. To start, the 16th endorsement was his former Secretary of the Interior Ryan Zinke, who leaned heavily into his service under Trump. With 74% of the votes counted, Zinke is just holding on to a lead, 41.3% to 40.0% over the Trumpy-but-not-Trump-backed Al Olszewski. If Trump can't carry a member of his own Cabinet over the line? Or if he can only barely do so? And in a state he twice won in a landslide? Not good.

It gets worse. As we already noted, Trump badly wanted to take down John Thune, and couldn't find a candidate to do so. We guess no former USFL players live in South Dakota.

Further, there were five Republicans on the ballots yesterday who voted in favor of the bipartisan 1/6 Commission (the one that the Senate ultimately rejected). None of those five saw their careers end, at least not yesterday. Rep. Mariannette Miller-Meeks (IA) was unopposed, while Rep. Dusty Johnson (SD) crushed his opponent. Rep. Chris Smith (NJ) did the same, and to a challenger named Mike Crispi, affording The New Jersey Globe the opportunity to run this headline: "Crispi creamed by Smith in 4th district GOP primary." Rep. David Valadao (CA) appears to have made it to the general election, and Rep. Michael Guest (MS) is headed to a runoff.

Clear patterns are emerging. For those running for office as a Republican, Trumpism is much more important than Trump. His endorsement is a bit of a boost, but is not essential. And again, this is just the primaries; we don't yet know whether his backing is a plus or a minus in the general. Meanwhile, a Republican can clearly cross The Donald these days and get away with it. He just doesn't have the same firepower without his Twitter account.



Incumbent Woes

: It was not a good night, on the whole for incumbent Republican members of the House. As we note above, David Valadao survived. However, he finished behind his Democratic challenger Rudy Salas, 48.3% to 25.6%. It was the same story with Rep. Young Kim, also in California. She took 34.3% of the vote to 39.8% for Asif Mahmood. And in Mississippi, as we also note above, Michael Guest survived to a runoff. But he's actually slightly trailing challenger Michael Cassidy, 47.8% to 46.6%. Guest's fellow Mississippian, Rep. Steven Palazzo, will also head to a runoff; he led in the balloting, but with just 31.6% of the vote.

You wouldn't want to generalize too much from these results. In the California races, for example, the Republican vote was split across several candidates. Still, it could be an early hint that maybe there won't be a red tsunami in November.



Jungle Boogie

: California doesn't actually have a jungle primary, what it has is a top-two-finishers primary. That means that for federal and state office, a candidate can't win election outright in the first round of voting; they have to face off against the person with the second-most votes, even if it's 99.99% to .01%. By contrast, in Louisiana, which does have a jungle primary, the first round of voting is held on Election Day, as mandated by the Constitution (first Tuesday after the first Monday in November), and a candidate who claims a majority is elected without facing a second round of voting.

We, and most others, tend to describe California's primary as "jungle" style anyhow, because that communicates that the final showdown might well be between two members of the same party. Because California strongly encourages voting by mail, the majority of ballots in the Golden State are actually still outstanding. However, with 42% reporting, there do not appear to be very many one-party general-election matchups on tap. A handful of very blue House districts—CA-15, CA-16, CA-29, CA-34, and CA-37—are likely to be all-Democratic affairs, but other than that, the federal and statewide races will be Democrat vs. Republican.



Sorry, Lanhee

: There was a fair bit of chatter that California might get its first Republican elected to statewide office since 2006 in Lanhee Chen, who is running for Controller. We honestly don't know where that was coming from, since he's pretty far to the right of most California voters. Anyhow, he did lead the field yesterday with 36.7% of the vote. However, that is because there were four Democrats in the race. Those four combined for nearly 60% of the vote. There is just no way, in a California general election, that some enormous percentage of Democrats split their tickets, particularly with a fairly low-level office. It just doesn't add up. So, the next controller of California is going to be the Democrat who finishes second. At the moment, that's Malia Cohen, with 21% of the vote, though she could be caught by Yvonne Yiu, who has 16.0%.



L.A. Can't Be Bought

: On a similar note, Republican-turned-Democrat Rick Caruso is leading in the balloting for L.A. mayor, with 42.0% of the vote. He's headed for a runoff against Democrat-who-has-always-been-a-Democrat Rep. Karen Bass, who claimed 37.0%. Maybe, with his money and his centrist message, Caruso can pick up the additional 8% of the vote that he needs. It worked for Dick Riordan. However, that was back in the 1990s, and most of the vote yesterday that did not go to Caruso or Bass went to candidates to the left of Bass. So, there would not appear to be a lot of Caruso voters there. Further, the Los Angeles Democratic establishment is already unifying around the message "L.A. Can't Be Bought." In the view of (Z), who has watched this campaign from the front lines, Caruso made a huge mistake when he went negative and started running ads viciously attacking Bass. Such ads run entirely contrary to Caruso's message of "no more politics as usual." Attacks and smears are exactly the thing that people hate about politics as usual. Or one of the things, at least.



He's the Sheriff (but Maybe Not for Long)

: Alex Villanueva ran for sheriff of Los Angeles County on a largely progressive platform. He then turned into California's answer to Joe Arpaio. Because he is very unpopular, candidates came out of the woodwork to challenge him. There was little question Villanueva would come out on top yesterday; the question was whether he could claim a majority and avoid a runoff (it's a county office, so that is possible, in contrast to state and federal offices). He was unsuccessful in this, taking only 34.4% of the vote.

It was at least possible that, in a head-to-head matchup in November, identity politics might get the Sheriff that additional 15.6%. However, his opponent will almost certainly be former Long Beach Police Department Chief Robert Luna. Villanueva is of Puerto Rican descent, while Luna is of Mexican descent, and there are way more Mexicans in Los Angeles than there are Puerto Ricans. So much for playing the Latino card, then. Villanueva also can't really play the "experience" card, as both men have experience running large law enforcement organizations. Meanwhile, Luna will regularly point out that only one of the two candidates in the race has more baggage than LAX, and it ain't him. Villanueva is in big trouble, as most of the 65.6% non-Villanueva vote is going to coalesce behind Luna.



More Walls, More Bars, More Guards

: That's a line from the movie The Shawshank Redemption, and it refers to how voters in the state of Maine in the 1950s prefer to see their tax dollars spent when it comes to dealing with lawbreakers. It would seem that voters in liberal San Francisco, 70 years later, have a similar viewpoint. After electing DA Chesa Boudin on an unabashedly progressive platform in 2019, San Franciscans decided yesterday to send him packing, with 60.0% voting to recall and 40.0% voting against. Because if there's one thing the United States just doesn't do enough of, it's send people to prison for lengthy terms. Note that the U.S. has 639 inmates per 100,000 residents, which puts it in first place among the nations of the world, well ahead of #2 El Salvador (564 per 100,000). Anyhow, Boudin is out, and Mayor London Breed (D) will choose his replacement.



Dynastic Politics

: Most states have few political dynasties that stretch across several generations (or more). New Jersey is no exception. Tom Kean Jr. (R), son of former governor Tom Kean Sr., won the right to take on Rep. Tom Malinowski (D). That will be one of the most closely-watched contests in the nation, as the district (NJ-07) has a PVI of EVEN. Meanwhile, as expected, Robert Menendez Jr. (D) crushed all comers in NJ-08, with 84.0% of the vote. Unlike its neighbor, NJ-08 is very, very blue. So, there will be a member of the Menendez family in each chamber of Congress next year, as Robert's father Bob (D) is New Jersey's U.S. Senator.
There will be more news from Tuesday as the votes are all counted and the close races are resolved. Then, next week, Maine, Nevada, and the Carolinas will take their turns.
Also it takes a while to process and write up everything when a whole bunch of states have their elections on the same night. We'll return to normal order tomorrow and Friday. (Z)
Previous
|
Next
Back to the main page