Senate page Oct. 04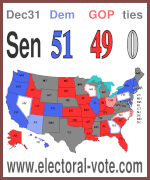 Previous
|
Next
New polls: FL NC
Dem pickups: OH PA
GOP pickups: NV
---
Yesterday was the 5-year anniversary, to the day, of Donald Trump's presidential visit to Puerto Rico. Undoubtedly that is just a coincidence, given that the annual hurricane season is quite short, but Joe Biden made his own presidential visit to the island yesterday.
If we're talking garden-variety politics—as opposed to extorting foreign leaders and fomenting insurrections—Trump's trip to Puerto Rico was one of the lowlights of his time in office. His basketball-shotting of rolls of paper towels and his declaration that the visit was an "A+" experience, led him to be widely (and justifiably) derided as insensitive. And, of course, he turned his back on the Puerto Ricans thereafter, and lifted nary a finger as they tried to bounce back from Hurricane Maria.
Biden's visit was, as you might expect, a stark contrast. There were no paper towels involved whatsoever. The President and First Lady helped pack bags of supplies for those folks who need them. He met with families who were affected by Hurricane Fiona, told them "America is with you" and conceded that the people of the island "haven't been taken very good care of." In addition to the 1,000 or so federal relief workers already on the ground, Biden said that $60 million in emergency funding would be made available immediately (in addition to another $8 million announced last week). Eventually, FEMA will sweeten that pot considerably.
We have pointed out many times that Puerto Ricans, if they relocate to the U.S. mainland, receive the franchise. We have also pointed out that there are 1,190,891 of them in Florida, making up nearly 6% of the population. And this is a state where major statewide elections tend to be decided by tens of thousands of votes, or fewer. Trump's ham-fisted "leadership" 5 years ago clearly did not hurt Florida Republicans, at least not enough to cost them any major elections. But perhaps Biden's more presidential and more compassionate approach will make a dent. And that's on top of the fact that the President will undoubtedly soon visit Florida to help with the Hurricane Ian damage, which will give him an additional high-profile opportunity to win some brownie points. (Z)
There was a fair bit of drama in Trumpworld yesterday. We don't have the heart to subject readers to multiple items on the former president, so we're just going to write one Trump omnibus item.
To start, there are many, many Trump exposé books out there; such that new ones are barely worth noting. After all, those who want their fix of Trump porn can easily keep track when new stuff comes available. However, the latest entry in the genre actually is worth a mention, since it comes from The New York Times' Maggie Haberman, a.k.a. "The Trump Whisperer."
The book is titled Confidence Man: The Making of Donald Trump and the Breaking of America, and it comes out... well, today. In view of that, Haberman has been appearing anywhere and everywhere to talk about the former president and to share tidbits from the book. If the staff of the East Cupcake Junior High Herald ever wanted to land an interview with the nation's best-known political reporter, now's the time.
We honestly don't care about most Trump-related dirt, as the great majority of it doesn't tell us anything substantive we didn't already know. However, we are certainly interested in Haberman's insights about the presidential election of 2024. And we're not the only ones, as that is the first question she gets asked anywhere she goes. She's shared two interesting bits of information in response to these queries. The first is that she thinks a Trump 2024 run is inevitable, no matter what happens to him legally, because he would become irrelevant the moment he said "I'm out," and he just can't bear to be irrelevant. As the same time, because he just can't bear to lose (again), Haberman thinks he might not keep his candidacy going throughout the primaries.
Haberman also has some ideas about Trump's future running mate, which she says are based on conversations with Trump insiders. It would appear that the favorite is... Sen. Tim Scott (R-SC). Republicans continue to persuade themselves that if they just put a Black guy on the ballot, the Black votes will come in bushels. The runner-up, who is not terribly surprising, but is also someone that has not previously been mentioned as a Trump ticket-mate, is... Sarah Huckabee Sanders (R). By 2024, she will presumably be the sitting governor of Arkansas. In that case, we'd have a far-right, outspokenly Christian woman with a third-rate college education and service as a small-state governor on her résumé. Where have we heard this story before? In any event, it would appear that Gov. Kristi Noem (R-SD) and former South Carolina governor Nikki Haley (R) are fooling themselves into thinking that they are serious candidates to join a Trump ticket.
Trump, for his part, is apparently furious that Haberman would have the audacity to write a non-fawning book about him, and so he took to his social media platform to complain:
Maggot Hagerman of the Unfunded Liability plagued New York Times is my self appointed Biographer, even though she got the Russia, Russia, Russia Hoax & the Mueller Report conclusion completely wrong, & refused to write about the FACT that the Democrats spied on my campaign, Lied to Congress, & Cheated and Lied to the FISA Court
This does not do much to persuade us that the Trump cheese is still on the Trump cracker. The thing is, he's lashed out at Haberman many times before. And yet, he keeps talking to her, including for this book. It must be a similar dynamic as in the movie Brokeback Mountain: "I wish I knew how to quit you."
Moving along, Trump also filed a lawsuit yesterday, against CNN. The basic claim is that CNN used the phrase "Big Lie" to refer to his claims about the 2020 election, "Big Lie" is associated with Adolf Hitler and, ipso facto, CNN has equated Trump to Hitler, thus defaming him. And by "him," we mean Trump and not Hitler. Anyhow, the former president wants $75,000 in actual damages. As to punitive damages, he's asking for... $475 million.
We don't know what Trump is going for here. Maybe he's hoping for a miracle run of friendly judges who will allow the suit to go forward. Maybe he's looking for some raw material to use in his fundraising efforts, which are, as we have pointed out, quite flaccid right now (as are so many things in TrumpWorld, presumably). Maybe he's just trying to change the narrative from the Haberman book and to get some headlines. Whatever is going on, this suit should get bounced with lightning speed. It is very difficult to defame public figures, especially to the tune of nearly half a billion dollars. Employing a phrase that has been widely associated with Trump, whether or not that phrase has its origins with Adolf Hitler, does not come within a country mile of clearing the bar.
This is not to say that all defamation suits are hopeless, though. Some of them actually have a great deal of merit. For example, the $1.3 billion suit that Dominion Voting Systems has filed against Mike Lindell, the MyPillow guy. Yesterday, the Supreme Court declined Lindell's request to block the case, meaning it can now go forward and move to the discovery process. That should certainly be... interesting.
And finally, also on the legal front, Trump attorney Christina Bobb—the person who signed a document affirming, incorrectly and possibly dishonestly, that there were no more documents at Mar-a-Lago—has just hired a lawyer of her own to represent her. It is not going to help Bobb's case that she only signed because another Trump lawyer, Alex Cannon, refused. Did you ever notice, incidentally, how many Trump attorneys end up having to hire their own representation? One would think there would be a lesson in that... (Z)
If the life of Georgia Republican U.S. Senate candidate Herschel Walker were to be made into a soap opera or a telenovela, nobody would believe it. And yet, that is exactly what his daily existence brings to mind. That was especially true yesterday.
Monday's episode began with a report from the lefty, semi-gossipy site The Daily Beast. In short, the site talked to a woman who was granted anonymity, and who says she was impregnated by Walker. The candidate, who clearly doesn't like to mix in a condom once in a while, and who has at least four kids by three different women, allegedly didn't want another. So, the anonymous woman claims, he paid for an abortion. She says she has a picture of a canceled check from him, a get-well card, and a receipt from the abortion clinic in support of her claims.
Walker, who knows full well what side his (political) bread is buttered on, has been outspokenly anti-choice during the current campaign. So, if the woman's story was true, it would make him a giant hypocrite. He reacted strongly—and badly—calling the story a "flat-out lie," promising that he would sue The Daily Beast for defamation, and appearing on Hannity to declare that the whole thing is a secret Democratic plot.
At this point, it was something of a "he said, she said" situation. However, the plot thickened when, of all people, Walker's son waded in on the side of the anonymous woman. Here is a portion of Christian Walker's contribution to the conversation:
Young Walker also wrote that he and his family tried to persuade his father not to run for the Senate, since they knew all these skeletons would come out of the closet.
We shall see if the promised evidence of the Walker-funded abortion comes to light, and if the story sticks to him. Whatever happens, though, it's not going to be easy for Walker to keep touting himself as the family values candidate when his own son is shredding him on Twitter. (Z)
What's worse for a political candidate: funding an abortion after claiming to be anti-abortion, or killing puppies? We may soon find out. The website Jezebel, which is also left-leaning and gossipy (see above), broke some rather substantial news yesterday about would-be U.S. Senator from Pennsylvania Mehmet Oz (R). The short version: In his research career, he practiced vivisection.
We recognize that is a loaded word, used only by opponents of the practice. However, the alternative term, "animal testing," is a soft-sell in the opposite direction. Since we have to choose, we'll go with the side that opposes animal experimentation. In Oz's case, a recently completed internal review by his (former?) employer Columbia University finds that, across the course of 75 studies, Oz conducted experiments on over 1,000 live-animal subjects. This included experimentation upon, and the killing of, at least 329 dogs. Further, even if someone argues that sometimes animal research is necessary, Columbia found that Oz's experiments were often needlessly cruel, and ignored the rules laid out in the Animal Welfare Act. The linked article contains specific examples, but we strongly encourage you not to read it, because you can't un-read it once you do.
In any case, can we now officially say that Oz is just a bad guy? It's one thing to be a wealthy blue-blood elite; there are lots of those. But he made tens of millions of dollars peddling snake oil to Americans who thought his medical degree meant that they could trust him. And then, on top of that, he victimized animals who were in no position to defend themselves, and inflicted pain that was neither legal nor necessary. That's dangerously close to psychopath territory.
This news hasn't gotten wide circulation yet, though it's gotten some attention from mainstream sources, including NBC and The New York Times. So, it's not possible to know yet how much it might damage "Doctor" Oz. That said, his opponent, Lt. Gov. John Fetterman (D-PA), has a tenth-degree black belt in weaponizing these sorts of things. Here is what Fetterman tweeted shortly after the Jezebel story broke:
We suspect that the Lieutenant Governor might bring this up one or two more times, and that his dogs might be joining him on the campaign trail. (Z)
Gov. Eric Holcomb (R-IN) will be, in effect, term-limited when his current term expires (Indiana governors can only serve 8 years out of any 12, so he could theoretically return for a third term, but not until 2028). Given that big, shiny vacancy, there are a lot of folks eyeing the Indiana governor's mansion. And it looks like the first to toss their hat into the ring will be Sen. Mike Braun (R).
Braun is not going to make an official announcement until after the midterms; that's the "polite" way that these things are usually done. Not everyone would give up an effectively lifetime job in the Senate for a term-limited state-level job, especially since it comes with a roughly $60,000 pay cut ($174,000 vs. $111,688). We guess it's better to be the biggest fish in a smallish pond than to be a medium-sized fish in a giant pond. Or maybe any pond is preferable to one that has Sens. Ted Cruz (R-TX) and Josh Hawley (R-MO) polluting it.
Even once Braun makes it official, he isn't necessarily home free. Former governor Mitch Daniels (R) has been making some noise about getting his old job back, and he remains pretty popular in the Hoosier State. Braun is very right-wing, while Daniels comes from a somewhat kinder, gentler, more centrist era in Republican politics, so it would certainly be interesting to see how things shake out if they go head-to-head. Indiana is pretty red, but it's not necessarily as far-right as, say, Wyoming or Alabama.
Naturally, as soon as Braun announces, it's going to set off a feeding frenzy among folks who would like to replace him in the upper chamber. Holcomb might take his shot, and so too might some of Indiana's other statewide officeholders. There are also five Republicans in the state's House delegation, and one of those—Victoria Spartz—has already indicated that she's planning a bid. Spartz would be a... challenging candidate for the Republican Party. As a person of Ukrainian descent, she's not exactly in line with the Trumpist wing of the party on the Ukraine War. She's also apparently a mean boss, and her staff doesn't like her. This supposedly is a political liability, though we struggle to think of someone who actually lost an election because their employees said they were a meanie. It also seems to us that the members who are attacked for abusing their staffs are almost always women, which may be instructive.
Meanwhile, once Braun vacates, will his seat join the "potential Democratic pickup" list? If it does, it will only be because the 2024 map is so grim for the blue team, such that they might be grasping at straws. Indiana has not typically elected Democratic senators in recent decades, unless the Republican candidate made ill-advised comments about rape, or the Democrat had the last name Bayh. Maybe if the Republican primary for the seat is really ugly, and the Democratic presidential candidate has major coattails, but even then it's a longshot. (Z)
The weekend Q&A and letters posts have featured a spirited discussion, in the last couple of weeks, of how Joe Biden and other leaders might play their hand if Vladimir Putin decides to use nuclear weapons. Gen. David Petraeus (ret.), who also served as CIA Director for part of the Obama administration, was on This Week this weekend, and gave his opinion, which we thought we would pass along.
Here, in his own words, is the General's assessment: "[W]e would respond by leading a NATO, a collective effort, that would take out every Russian conventional force that we can see and identify on the battlefield in Ukraine and also in Crimea and every ship in the Black Sea." He also proposed that it would not much matter if the currently non-NATO-member Ukraine was the target, as the fallout from a nuclear attack would reach NATO countries, thus making the incident an attack upon them, as well.
In the end, all of this is almost certainly hypothetical, of course. If Putin were to go nuclear, he would almost certainly be sealing his own doom. And his generals would probably refuse to execute the order, anyhow. So, the odds are high that we'll never know if Petraeus' prediction was on the mark. (Z)
While Sen. Marco Rubio (R-FL) is the favorite, we find it hard to believe he's opened up this big a lead, particularly after co-sponsoring Sen. Lindsey Graham's (R-SC) abortion bill.
Meanwhile, as a state in the Eastern Time Zone, and with a see-saw race, North Carolina is shaping up as the election-night bellwether. If Beasley wins, especially by several points, it suggests the Democrats will be getting much good news. And if she loses, especially by several points, it should gladden the hearts of Republicans. (Z)
Florida
Val Demings
41%
Marco Rubio*
48%
Sep 18
Sep 25
Siena Coll.
North Carolina
Cheri Beasley
42%
Ted Budd
43%
Sep 28
Oct 02
SurveyUSA
* Denotes incumbent
Previous
|
Next
Back to the main page