Senate page Sep. 22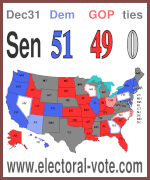 Previous
|
Next
New polls: AZ CT FL GA KS NC OH
Dem pickups: PA
GOP pickups: NV
---
After years of investigations, NY AG Letitia James yesterday sued Donald Trump, three of his adult children, CFO Allen Weisselberg, the Trump Organization and several other Trump-owned entities for fraud. This is a civil case, so no one will go to prison by James' hand, even if everyone and the company are found guilty. However, there could be some whopping fines.
In case you are wondering which adult child lucked out, it is Tiffany Trump, whom Trump long ago wrote off because he thinks she is too fat and not a 10. This means the only child he actually likes, Ivanka, is included in the suit. Bummer for him. Here are five of the defendants at Trump Tower in 2017. The little guy in the background between Trump Sr. and Trump Jr. is Weisselberg.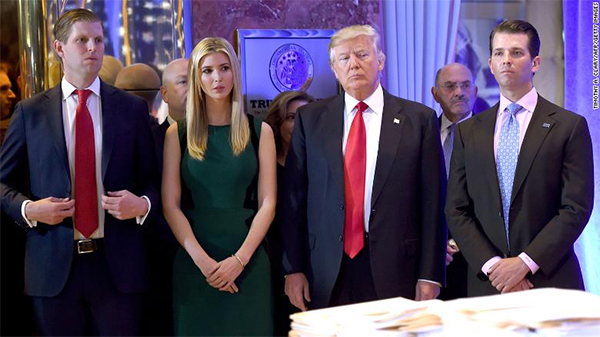 The suit asks the New York Supreme Court, which is actually a lower court in New York, to bar Trump, Eric Trump, Donald Trump Jr., and dear Ivanka from serving as executives at any company in New York state and to bar the Trump Organization from acquiring any commercial real estate for 5 years. It also seeks to recover $250 million in ill-gotten gains. Penalties are also a possibility./p>
Among other things, James alleges that Trump lied over 200 times about the value of his assets over a period of 10 years. Falsely reducing the value of property to reduce property tax is tax fraud. Falsely increasing the value of property to banks to qualify for loans is bank fraud.
The problem (for Trump) is that cases like this leave huge paper trails. If Trump told a bank that a property was worth $50 million to get a loan and then told local authorities that it was worth $10 million for property taxes, there tends to be a lot of written evidence that is going to be hard to explain away, especially if the two statements were in the same year.
That said, all is not lost for the former president here. The behavior he's accused of is rather common in the world of big-time real estate; he just took it to extremes. And while it's clear that there is far too big a gap between what he was telling the banks and what he was telling the government for tax purposes, it's not necessarily clear in which direction the exaggerations became problematic. Trump could, and presumably will, argue that the valuations he gave the government were legit and the ones he gave to the banks were inflated. If so, then the primary victim here would be his (former) bank of choice, Deutsche Bank. And Trump could, and presumably will, further argue that Deutsche Bank knows how the game is played, and was careless about verifying his claims, and so it's on them for accepting wildly incorrect valuations. This is not a totally meritless argument.
Of course, it is also possible that Trump exaggerated too much in both directions, and that he's guilty of both defrauding his lending partners and also underpaying his tax bill. Although James, as noted, is not pursuing criminal charges, she's referring the case to the Southern District of NY and the IRS for them to consider criminal prosecution. Just in case they didn't have enough Trump-related work already.
One interesting question is exactly why Trump (allegedly) cooked the books as much as he did. Was it just because he could, and once you've gotten away with stealing one cookie, you shoot for two the next time? Or was it because he had no choice, due to his financial picture being precarious. If it's the latter, and it may very well be, then a nine-figure fine (and the other sanctions), if imposed, could be a brutal blow to him, financially.
James has forced both Donald Trump Sr. and Eric Trump to sit for depositions. Eric pleaded the Fifth Amendment over 500 times. Donald did it over 400 times. In civil cases, the prosecutor is allowed to tell the jury that and ask them to consider: "What is he hiding?" So, whatever attorney handles this case for The Donald really has their work cut out for them. (V & Z)
The good news for Donald Trump is that, for the appeal of Judge Aileen Cannon's ruling to the Eleventh Circuit, he beat the odds and drew two judges that he'd approved (out of a panel of three; the third is a Barack Obama appointee). The bad news is that they are not buying what he is selling, at all. Yesterday, the judges issued an emergency stay of the portion of Cannon's order that said the Department of Justice had to set aside the classified documents taken from Mar-a-Lago until the special master is able to review them.
What this means is that the DoJ can continue working on their case against Trump, without interruption. In theory, while the Eleventh Circuit might rule in the former president's favor when his appeal is actually heard, he really shouldn't count on it. Yesterday's ruling was per curiam, which not only implies that the three judges are entirely in agreement, but that Trump's arguments are lacking in serious merit. Further, their opinion is rather... strongly worded, as far as these things go. For example it includes this observation:
For our part, we cannot discern why Plaintiff would have an individual interest in or need for any of the one-hundred documents with classification markings. Plaintiff has not even attempted to show that he has a need to know the information contained in the classified documents. Nor has he established that the current administration has waived that requirement for these documents. And even if he had, that, in and of itself, would not explain why Plaintiff has an individual interest in the classified documents.

Plaintiff suggests that he may have declassified these documents when he was President. But the record contains no evidence that any of these records were declassified. And before the special master, Plaintiff resisted providing any evidence that he had declassified any of these documents.
In other words, Trump's argument is full of holes (and, by extension, Judge Cannon was apparently smoking something when she issued her order). The former president, who was on Fox last night, has already issued forth with an answer to the Court's remarks. He now claims that it doesn't matter if there's no paper trail proving the documents were declassified because he has the power to declassify them just by thinking it. That's right, telepathic declassification, a new frontier in the handling of sensitive intelligence. We suspect that Trump's lead counsel Chris Kise will not be using this argument in court. Meanwhile, we are wondering if The Amazing Donald could also cause a plate full of ketchup to hurl itself against a wall just by thinking it.
In short, Trump's effort to drag things out and to muddy the waters has now all but completely failed. The Department of Justice won't be slowed by the special master. And the special master plans to complete his work quickly, anyhow. Further, none of the five non-Cannon judges Trump has gotten himself before in this matter (the three Eleventh Circuit judges, special master Raymond Dearie, and Bruce Reinhart in Florida) has shown the slightest inclination to accept anything Trump is asserting. So, things don't figure to get better for him from here. (Z)
This item would not normally be ranked this high on the page, but combined with the two above, it shows that Trump has his work cut out for him on the legal front. A new law just signed by Gov. Kathy Hochul (D-NY) gives adult accusers a 1-year window to bring civil claims against someone they are accusing of sexual misconduct, no matter how long ago it was. Writer E. Jean Carroll, who has maintained for over 25 years that Donald Trump raped her in the dressing room of a department store in Manhattan, has decided to take advantage of the new law and will sue Trump on Nov. 24, when the law kicks in. Trump has denied that he did it. This suit is in addition to the defamation suit Carroll filed years ago and which is ongoing. Carroll wants to combine the two suits, but Trump's lawyer, Alina Habba, strongly opposes that.
Carroll's lawyer, Roberta Kaplan, who successfully argued the landmark United States v. Windsor case, which legalized same-sex marriage, wants to depose Trump under oath. The last time Trump was deposed was in August (by NY AG Letitia James). As we note above, he pleaded the Fifth Amendment over 400 times. In a new deposition, he would probably do that again. Also here, the jury can take this into account. Kaplan also wants to obtain a DNA sample from Trump to compare against a dress Carroll claims she wore during the alleged rape. It is not known if the dress is blue.
The courts move very slowly, but if there is action on this case in 2023 or 2024, it is not the kind of news Trump wants in the newspapers during a presidential run. A lot of women voters might decide that Trump did it and is a scoundrel, long before a jury is even selected. A lot of women in addition to the ones who have already concluded that, that is. (V)
Fed Chairman Jerome Powell wants to crush inflation. Yesterday, he raised interest rates by another 0.75%, the third such raise this year. He is going to keep raising rates until inflation is as dead as the dodo. Probably this will help the Democrats in 2022 and hurt them in 2024. In the near term (the next 2 months), companies will be cutting back on all kinds of stuff and laying off workers. It won't be pretty, but is likely to reduce inflation fairly fast. Clear signs that inflation is slowing could further take the wind out of the Republicans' sails this fall.
However, all this interest rate raising is likely to cause a recession in 2023 or 2024, just as the presidential election gets going. Democrats will crow that they beat inflation, but Republicans will say: "Maybe, but you put millions of people out of work." Actually, the Democrats did neither. Jerome Powell is the hero/villain here, but most voters don't really understand that. To the extent that the economy dominates in 2024, it could be nasty for the Democrats. Of course, if the recession hits in 2023 and things are clearly improving by Nov. 2024, the Democrats might be able to dodge the bullet.
The Dow Jones index was down 522 points yesterday, but it always reacts strongly to interest rate increases. If investors begin to believe that inflation can be licked, it could tick up again. However, if T-bills start paying 3-3½%, some money is bound to flow into T-bills and Treasury bonds and out of the stock market. People whose 401(k) plans are invested in stocks may get a shock when they see their statement, which probably won't help the Democrats. (V)
House Minority Leader Kevin McCarthy (R-CA) has to demonstrate that he can unify the House Republican caucus if he hopes to be elected speaker in January. Remember, the speaker is elected by the entire House, so to win, a candidate needs 218 votes. Current predictions suggest the Republicans will have a majority, but it could be quite small. If, for example, the Republicans get 225 seats, then any gang of eight Republicans could torpedo McCarthy's dreams. Also, nobody thinks of McCarthy as the greatest speaker since Joe Cannon. His test of leadership will be uniting the caucus before the midterms and then winning a majority. If he can pull that off, he will probably be elected speaker in January.
To that end, he has devised an updated version of Newt Gingrich's "Contract with American." He will present that tomorrow in a suburb of Pittsburgh. Nothing like giving a speech in some random suburb instead of in D.C. to demonstrate what a forceful leader you are.
The details of the plan haven't leaked out yet. That is because there are no details. The way McCarthy will try to unite his fractious caucus is to avoid having any details in it. That's because his caucus doesn't agree on the details. As a refresher, here is Gingrich's eight-point Contract with America:
Require all laws that apply to the rest of the country also apply to Congress
Select a major, independent auditing firm to conduct a comprehensive audit of Congress for waste, fraud or abuse
Cut the number of House committees, and cut committee staff by one-third
Limit the terms of all committee chairs
Ban the casting of proxy votes in committee
Require committee meetings to be open to the public
Require a three-fifths majority vote to pass a tax increase
Guarantee an honest accounting of the Federal Budget by implementing zero base-line budgeting
#1 has always been the case, so it has no content. #2 is doable, but one member's "waste" is another member's essential service. #3-6 are inside baseball. How many members of the public really want to watch the Agriculture Committee mark up the farm bill? #7 might work, but a simple majority could change the rule at any time. #8, zero-based budgeting, would be complete disaster and destroy the federal government, but maybe Gingrich saw that as a feature.
Little actually came of the promise. A study by the libertarian Cato Institute in 2020 showed that the combined budgets of the 95 major programs Gingrich wanted to eliminate were up by 13%. Getting rid of programs sounds easy on paper, but just remember, each one had a majority in the House (and Senate) at one time and some of the members who voted for it are still around and still like it. Is it wasteful to pay farmers not to grow corn or produce milk? Sure. Just ask any member from Brooklyn or San Francisco. However, members from Nebraska often take a different view.
So what is McCarthy going to promise tomorrow that will unite Rep. Marjorie Taylor Green (R-GA) and Rep. Nicole Malliotakis (R-NY)? Turns out McCarthy is technologically challenged, as well as being challenged in many other ways. He inadvertently put information about his plan on the Web (by accident) and realized his mistake and took it down quickly. But not before some people had made screenshots of it. It addresses the following issues but provides little detail:
Fight inflation
Strengthen Social Security and Medicare
Repeal the Democrats' bill to reduce drug prices for seniors
Deal with the voting crisis, basically by making it harder to vote
Probably all Republicans can live with these vague generalities. The problem comes when, say, when the Republicans try to "strengthen" Social Security by privatizing it. Before trying, they should ask George W. Bush how well that went in 2005. Still, the goal here is to produce a few bromides that all Republicans can support and worry about the details in January. (V)
Conservatives are in favor of free speech. Specifically what they mean by that is that Republican politicians feel they have a constitutional right to lie through their teeth on all matters of public interest and tech companies have no right to censor them, or even label the lies as such.
To punish companies that deplatform liars or label lies as such, Florida and Texas have passed laws allowing states to regulate tech companies—for example, prohibiting them from banning people for ideological reasons or removing posts. There were naturally lawsuits claiming these laws violate the First Amendment. In the conservative Fifth Circuit (Texas), the conservatives won. In the slightly less conservative Eleventh Circuit (Florida), they lost. What now?
Florida has responded by asking the U.S. Supreme Court to make a decision. In most cases where two circuit courts make opposite rulings, the Supreme Court takes the case so there will be one national ruling. We assume the Court will take the case with oral arguments next spring. A ruling will then come in June.
If the Court decides that states can regulate tech companies, then all the red states will pass laws saying anybody can post anything he or she wants to and the tech companies can't block them. They will be very happy. Until somebody posts a message to Twitter saying: "Everybody come to the governor's mansion next Friday at noon with a (semi)automatic weapon so we can all storm it and demonstrate to Gov. DeSantis that we think he is a stinking rotten skunk."
If the states get the power to regulate the tech companies, then many blue states will pass laws making it a felony to lie on social media or to post hate speech, with a prison term upon conviction. The country will again be divided along partisan lines, just as with abortion. If the Supreme Court thinks that giving the states the power to regulate online speech will resolve the matter and then they are done, the justices have another think coming. (V)
Stephen Clermont, the polling director at Change Research, a Democratic firm, has written a piece for Politico discussing polling with a special emphasis on predictions, freakouts, and contradictory data. The title is: "'Are the Polls Wong?' Is the Wrong Question." He says poll consumers should take a deep breath, embrace the uncertainty, and go beneath the surface.
Next, he points out that he—and every other pollster in the country—is aware that some Trump supporters refused to be polled in 2016 and 2020 so they were undercounted. But that doesn't mean that polls are useless.
This midterm has been unpredictable for months. To start with, there is the historical background that the president's party usually loses seats in both chambers of Congress, but there have been exceptions. Then the Dobbs decision shook everything up. Next came high inflation, which is now slowly abating, and Donald Trump being caught stealing top-secret defense documents. And then there is the war in Ukraine, which is currently going well and Joe Biden's legislative successes. How to interpret all of this? Clermont has three tips:
Ignore polling margins

: Every poll includes undecided voters. Sometimes many, sometimes few, but you can't count on them breaking the same way as the decided voters. That's why they are undecided. Often, the vast majority of them go the same way but they don't decide until late in the game. That's life. However, one thing to watch is whether any candidate is polling above 50% and the other is consistently under that. This page shows each state race since January. Bookmark it. In any state where the Democrat has largely been above 50% all year, he or she will probably win. If both candidates have consistently been below 50%, it could go either way, although it is better to be +5 than -5.

One lesson from 2014 through 2020 is that Democrats won all the races where they were polling at 49% or better. Democrats who were polling at 48% won 63% of the time. However, Democrats who were polling between 45% and 47% won only 19% of the time, probably due to many of the undecideds being "shy Republicans." Democrats were shocked in 2016 when Hillary Clinton lost many swing states where she was ahead, but they ignored the fact that she was under 50% in all of them.



Two key questions

: In any race, a challenger must give a satisfactory answer to the two key questions listed below:



Is there a good reason to vote out the incumbent (or the incumbent's party for an open seat)?
Am I an acceptable alternative?




If the incumbent's popularity is above 50%, that kind of answers the first question, but if it is below that, there is still the second one. For example, in Iowa, Sen. Chuck Grassley (R-IA) is polling at 47-48%. For an incumbent, this is not good. In Grassley's case, it is probably because he turned 89 last week. However, his opponent, Admiral Mike Franken (ret.), is at 40-44%, so he hasn't answered the second question. Yes, Grassley is too old, but is the other guy up to it?



Politics is Dynamic

: Our way of putting it is to reference former British Prime Minister Harold Wilson: "A week is a long time in politics." The conditions that led to the Republican sweeps in 1994 and 2010 don't exist this time. In 1994, Democrats lost 46 seats, mostly in districts where Bill Clinton did poorly. In 2010, Democrats lost 58 seats in districts that voted Republican in either 2008 or 2004. This time Democrats are largely defending districts where Joe Biden won in 2020, although redistricting has changed some of them.

In the Senate, the Republicans flipped 15 Democratic seats in 2010 and 2014, but just four of them were in states Obama won. This year the key swing state Senate elections are in Arizona, Florida, Georgia, Nevada, Ohio, North Carolina, and Wisconsin. Biden won five of these and lost two of them. These are the states with the white centers in the map above. If the Democrats win all the Senate races in the Biden states, the Democrats will hold Arizona, Nevada, and Georgia, and pick up two seats: Pennsylvania and Wisconsin.

So keep this advice in mind and don't fret about day-to-day fluctuations in the polls. (V)
On Monday, we looked at some of the races for Secretary of State. Now we will look at the 30 races for state Attorney General. These are the highest law-enforcement officers in each state and the AGs get to decide which crimes to go after. As we see above, NY AG Letitia James decided to go after people accused of tax fraud and bank fraud. Other AGs may prioritize welfare fraud, (imaginary) voter fraud, performing abortions, or whatever they think is important. Here is a brief rundown of the 30 AG races.
RACES WHERE THE REPUBLICAN IS SURE TO WIN
Alabama: Steve Marshall (R)

: Marshall is the overwhelming favorite here against attorney, veteran, and police officer Wendell Major.



Arkansas: Open seat (R)

: Lt. Gov. Tim Griffin (R-AR) has been endorsed by Donald Trump. End of story.



Florida: Ashley Moody (R)

: The incumbent has the backing of Ron DeSantis. The Democrats have their hands full trying to unseat him and Sen. Marco Rubio (R-FL). They don't have much time, energy, or money to go after Moody as well. She'll win.



Nebraska: Open seat (R)

: The speaker of the "nonpartisan" unicameral state legislature, Mike Hilgers ("R") wants the job. It's Nebraska, so he will get it.



North Dakota: Drew Wrigley (R)

: Long-serving AG Wayne Stenehjem announced his retirement. Upon hearing this, former U.S. Attorney Drew Wrigley (R) filed to run. Then Stenehjem had the audacity to die before his successor could be sworn in. How rude. Gov. Doug Burgum (R-ND) solved the problem by appointing Wrigley, who can now run as the incumbent, not that it would have mattered.



Ohio: Dave Yost (R)

Yost served two terms as state auditor before being elected AG. As an incumbent with great name recognition, he is unbeatable.



Oklahoma: Open seat (R)

: When AG Mike Hunter resigned in June 2021, John O'Conner (R) was appointed to the job. Then he ran in the GOP primary and lost the nomination to another Republican, Gentner Drummond. Native American tribes con't like Gentner at all, but since no Democrat filed to run, they have no way to express this dissatisfaction and Drummond will easily beat the Libertarian in the race.



South Carolina: Alan Wilson (R)

: Wilson is running unopposed, so he will win.



South Dakota: (R)

: There's a bit of "drama" here. Former AG Jason Ravnsborg was involved in a traffic accident in which a pedestrian was killed. He pleaded guilty to two misdemeanors. The state legislature felt he got off too lightly so it impeached and convicted him. The governor appointed Mark Vargo to the position. However, Vargo didn't like the job and isn't running for a full term. This opened the way for former SD AG, Marty Jackley, to run for his old job. He has no opposition so he is already working within the AG's office to hire personnel.

COMPETITIVE RACES
Now we come to the fun part. There are 12 seats that are at least somewhat competitive, so theoretically either party could win any of the seats, although some are more competitive than others. Currently seven are held by Democrats and five by Republicans. The races are listed from most likely to go Republican to most likely to go Democratic.
Idaho: Open seat (R)

: Long-time AG Lawrence Wasden (R) was defeated in the Republican primary after clashing with the state legislature one time too many over legislation he considered illegal. Former congressman Raul Labrador won the GOP primary. The Democrats have a surprisingly plausible candidate in Tom Arkoosh, a former county prosecutor who has usually run as an independent. Some of Wasden's backers don't like Labrador and are backing Arkoosh. It's still a very red state, but in a national blue wave, Arkoosh might pull it off.



Texas: Ken Paxton (R)

: Normally any Republican incumbent wins statewide offices in a walk. But this state AG is under indictment for securities fraud. Even in Texas that is not a plus. The Democrat, Rochelle Garza, won a contested primary. She is a big defender of abortion. If abortion is a huge issue, she might have a chance to win. A recent poll had her behind Paxton by only 3 points. Her biggest problem is fundraising in a very expensive state.



Georgia: Chris Carr (R)

: The gubernatorial and senatorial races have consumed all the oxygen in Georgia, so not many people are watching this one. The Democrats nominated state Sen. Jen Jordan but there is also a Libertarian on the ballot, so this could go to a runoff. If enough Democrats show up to vote for Raphael Warnock and Stacey Abrams and just continue marking all the (D) candidates down to Vice Deputy Assistant Dog Catcher, Jordan could have a chance.



Kansas: Open (R)

: Normally, Republicans win easily in Kansas unless they are as bad as Kris Kobach. Oh wait. Kobach, who lost the race for governor in 2018 is running for his old job again. The Democrat is Chris Mann, a former police officer and current county D.A. In a race between a crazy Republican who has lost statewide before and a law-and-order Democrat, the Democrat actually has a chance.



Arizona: Open (R)

: AG Mark Brnovich is term-limited, so this is an open seat. Trump endorsee Abe Hamadeh, a former prosecutor, is running against Kris Mayes, who has bipartisan credentials. It is likely that all three Trump endorsees running statewide will rise or fall together. If more Trump lovers show up, all three will win. If more Trump haters show up, all three will lose.



Iowa: Tom Miller (D)

: Miller has served as AG since 1978 except for 4 years. He is running against Brenna Bird. Bird will be aided by the fact that Gov. Kim Reynolds (R-IA) and Sen. Chuck Grassley (R-IA) are on the top of the ticket and may have coattails. On the other hand, Miller is extremely well known due to his long service.



Wisconsin: Josh Kaul (D)

: Kaul barely won in 2018 and this race could be tougher. He faces Fond du Lac County D.A. Eric Toney (R). A big factor here could be Dobbs. The only thing preventing the Republican-controlled state legislature from banning abortion is the Democratic governor. That could result in heavy Democratic turnout, which would help Kaul.



Nevada: Aaron Ford (D)

: Ford barely won in 2018, but he hasn't had any problems in his job. His opponent is Sigal Chattah, who is far more conservative than some Republicans like. It could be close.



Minnesota: Keith Ellison (DFL)

: Ellison is Black and Muslim in a state that is neither, but he did win in 2018. He also successfully prosecuted George Floyd's killer, so he is very well known. The Republican is lawyer Jim Schultz, who is not widely known. Ellison has the edge here.



Michigan: Dana Nessel (D)

: Nessel is part of a high-profile group of Democrats running, including Gov. Gretchen Whitmer (D-MI) and Secretary of State Jocelyn Benson (D). Nessel, who had an abortion, is opposed by Matthew DePerno, who is anti-abortion and very much pro-Trump. This race might not be competitive, but in a red wave it could be.



New Mexico: Open (D)

: State AG Hector Balderas is term-limited. Bernalillo County D.A. Torrez won the Democratic primary and will face Marine veteran and lawyer Jeremy Gay. The state is fairly blue, so Torrez is the favorite.



Colorado: Phil Weiser (D)

: Weiser faces Arapahoe County D.A. John Kellner. The state is fairly blue, but one Republican-sponsored poll showed it to be close.

RACES WHERE THE DEMOCRAT IS SURE TO WIN
Barring something very, very strange, these states are likely to elect a Democrat to the AG's office. They are listed in alphabetical order:
California: Rob Bonta (D)

: Bonta was appointed to fill Xavier Becerra's position when the latter departed for D.C. to become Secretary of HHS. He has done a good job and is generally liked. Even the moderately conservative Orange County Register has endorsed him against Republican Nathan Hochman.



Connecticut: William Tong (D)

: As an incumbent, Tong is well known and his opponent, lawyer Jessica Kordas, is not well known. Tong should win reelection easily.



Delaware: Kathy Jennings (D)

: Delaware is a very blue state so Jennings shouldn't have any problems dispatching Republican attorney Julianne Murray, who recently ran for governor and lost.



Kwame Raoul (D)

: In 2018, Raoul won an 8-way primary and beat a credible Republican. He is running against Tom DeVore, who has challenged coronavirus mandates. That won't play well in Chicago.



Maryland: Open seat (D)

: Incumbent Brian Frosh (D) is retiring. Fomer lieutenant governor Anthony Brown won the Democratic primary. He will face a conspiracy theorist who sides with the Confederacy and says the COVID-19 pandemic was planned. Good luck with that in blue Maryland, where the South won't be rising again.



Massachusetts: Open seat (D)

: Incumbent Maura Healey (D) is running for governor. Former Boston City Councilwoman Andrew Campbell won the Democratic nomination. She will trounce Republican lawyer Jay McMahon.



New York: Letitia James (D)

: James is too busy prosecuting Donald Trump and doesn't have time to campaign. She doesn't need to. She will win in a landslide without it. New York is very blue and, as it turns out, turning the screws on Trump is even better than campaigning.



Rhode Island: Peter Neronha (D)

: Neronha has had a busy time as AG. He investigated sexual abuse allegations of the Catholic Church, supported state gun legislation, and dealt with hospital mergers. He is the heavy favorite to get another term.



Vermont: Open seat (D)

: In May, AG T.J. Donovan quit to take a job in the private sector. Gov. Phil Scott (R-VT) appointed a caretaker, Susanne Young, but she is not running for election. Democrat Charity Clark will win easily.

Hope we didn't lose you. These downballot races are important and don't get enough attention. (V)
Campaign managers hate candidate debates. They want to control every aspect of the campaign and having the candidate appear live on television can result in a huge blunder from which they can't recover. It is far better to "debate" by sending out carefully vetted tweets and then responding to the opponent's carefully vetted responses with carefully vetted rejoinders. Consequently, live debates between candidates are increasingly rare. Candidates tend to demand them when:
They are trailing in the polls and see a debate as a Hail Mary play to shake the race up
They expect to wipe the floor with their opponent
Given these rules of thumb, there ought to be a series of debates in the Missouri Senate race featuring beer heiress Trudy Busch Valentine and Missouri AG Eric Schmitt. Valentine should be demanding six debates because she is way behind and absent a lot of debates has no good way of catching up. Schmitt should be demanding six debates because Valentine is a stilted speaker who has never run for public office before and he has been in elected office since 2009, as state senator, state Treasurer, and now Attorney General. But so far, there haven't been any debates or plans for debates.
Instead, Schmitt is claiming she is scared of debating him and she says he is the one who won't agree to debate her. These aren't the only Senate candidates bickering over debates. Another high-profile case is playing out in Pennsylvania, where Lt. Gov. John Fetterman (D-PA) is way ahead of Mehmet Oz (R) in the polls and as such has no reason to accept—except Oz is hammering on his recent stroke and is saying Fetterman is unable to debate and unable to function as a senator. After much hounding, Fetterman finally agreed to one debate in a month, by which time he might be fully recovered. Of course, if he can make the case on stage that illness can strike anyone so the Democrats' plans for health care are really important, the debate might work for him.
Another state where the debates are being debated is Georgia. Sen. Raphael Warnock (D-GA) is a very experienced public speaker who has preached in church hundreds of times. Herschel Walker (R) played football for many years, which resulted in him getting bashed on the head hundreds of times. This has not led to improving his speaking style. He recently said that he is not that smart. Such a statement is proof that he is not that smart. No smart candidate would ever say anything like that. "Vote for stupid" fits on a bumper sticker, but is unlikely to win the hearts and minds of those much-desired affluent college-educated suburban women.
Another issue is that debates are almost always moderated by television or newspaper journalists. Only 5% of Republicans say they trust newspapers and only 8% say they trust television news. That is an obvious lie because if they don't trust television news, why do so many of them watch Fox? Maybe they don't consider it news. After all, it isn't. This means that when Republicans skip debates they can say they don't trust the moderators to be fair and their bases acepts this as a legitimate reason not to debate. Consequently, absent debates, both parties concentrate more on turning out their own loyal voters and not bothering to try to win new converts.
The Internet has also made debates less relevant. Anyone who wants to get a feel for what a candidate is like can just go to that candidate's website. In less than 5 minutes, you can get a pretty good idea of what a candidate thinks is important. On our candidates' page all 68 known candidates are shown and by clicking on a candidate's photo, you get the candidate's webpage in a new browser tab. (V)
Arizona
Mark Kelly*
47%
Blake Masters
35%
Sep 06
Sep 09
OH Predictive Insights
Connecticut
Richard Blumenthal*
57%
Leora Levy
40%
Sep 15
Sep 19
Quinnipiac U.
Florida
Val Demings
41%
Marco Rubio*
45%
Sep 15
Sep 18
Suffolk U.
Florida
Val Demings
47%
Marco Rubio*
49%
Sep 17
Sep 20
Civiqs
Georgia
Raphael Warnock*
45%
Herschel Walker
41%
Sep 15
Sep 19
Monmouth U.
Georgia
Raphael Warnock*
51%
Herschel Walker
49%
Sep 14
Sep 19
YouGov
Kansas
Mark Holland
33%
Jerry Moran*
45%
Sep 15
Sep 18
Emerson Coll.
North Carolina
Cheri Beasley
49%
Ted Budd
48%
Sep 17
Sep 20
Civiqs
Ohio
Tim Ryan
47%
J.D. Vance
48%
Sep 12
Sep 15
Marist Coll.
* Denotes incumbent
Previous
|
Next
Back to the main page