A Michigan Democrat in a Swing District Will Retire in Jan. 2025
Retirement season is definitely upon us. Now Rep. Dan Kildee (D-MI) has announced that he will not run for reelection. His district, MI-08, is R+1, which guarantees a huge battle next year for the open seat. Here is the district.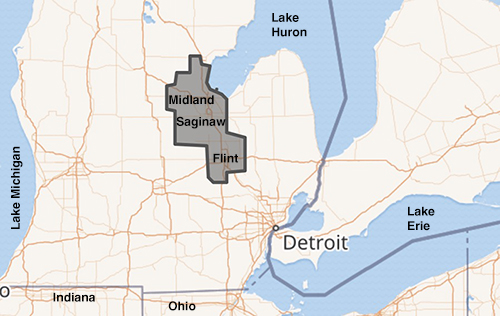 Kildee was first elected in 2012 and was reelected five times since then, despite the district being R+1. He is calling it quits at 65 not so much because getting elected in a swing district is so hard (he's done it six times), but because he was diagnosed with a squamous cell carcinoma. He has been treated successfully for it, but it made him reassess his life. Much of the time when a politician announces a retirement, the reason given sounds iffy. In this case, it is likely true. Kildee's focus has always been his district, not national politics. That's probably why he keeps winning. He has fought for his hometown of Flint and its beleaguered water supply. He has also obtained federal funding for Saginaw, a blighted city with a crime rate higher than Detroit's. He has also been a strong supporter of getting manufacturing done in the U.S., especially Michigan and his district. His uncle, Dale Kildee, held the seat before him.
For the Democrats, it seems obvious that the pitch should be continuing in Kildee's footsteps. Democrats have a deep bench in the district, which will lead to a vigorous primary. Good prospects are Genesee County Sheriff Chris Swanson, former state House minority leader Jim Ananich, and state Sen. Kristen Rivet. Other possibilities are Saginaw County Clerk Vanessa Guerra and Michigan Board of Education President Pamela Pugh.
One Republican candidate who is already in is Saginaw police officer Martin Blank, a former Army surgeon. Other possibilities are state Sen. Timmy Beson, state House Speaker Tom Leonard, and state Rep. Bill Schuette Jr. (son of former state AG Bill Schuette Sr.).
The primary is on Aug. 6, 2024. The Cook Political Report has moved the district from lean Democratic to toss-up.
What with Rep. Elissa Slotkin (D-MI) running for Sen. Debbie Stabenow's seat, both MI-07 and MI-08 are open-seat races. Along with the open Senate race and the fact that Michigan is a key swing state, Michigan will be very hotly contested next year. (V)
---

This item appeared on www.electoral-vote.com. Read it Monday through Friday for political and election news, Saturday for answers to reader's questions, and Sunday for letters from readers.

www.electoral-vote.com State polls All Senate candidates