Obama Runs Informercial on Seven Networks Yesterday
Barack Obama's 30-minute "infomercial" ran last night simultaneously on seven broadcast and cable networks, including the nation's largest Spanish-language network, Univision. It was a montage of scenes shot all over America (especially in swing states), flawlessly edited with slow cross dissolves, cutaways and dips to black and with emotional music playing in the background the whole time. While Obama repeated a number of his oft-stated policy positions, such as a middle-class tax cut and affordable health care, the effect was more the look-and-feel than the content. Obama was shown talking to wildly cheering crowds and individuals, constantly emphasizing how he will help the middle class. There were scenes with Obama addressing the nation from a mockup of the oval office as well as several segments in which ordinary people tell about their problems. In one of them, a 72-year-old man tells how he had to go back to work to be able to pay for his wife's medicines. In another, a single mother tells how she gets up before sunrise every day to work two jobs in order to feed her kids. Washington Post columnist Tom Shales compared Obama to Tom Joad in The Grapes of Wrath, only potentially with a happier ending. All in all, it is hard to imagine anyone watching it and thinking "this guy is a newbie not ready for prime time." If you missed it, here is a link to the video.
What is noteworthy about this campaign is McCain's response. He just attacked Obama more, saying he is not ready to be commander in chief and his economic policies would undermine our national security. He is also making robocalls--in Arizona (!)--a state that wasn't thought to be competitive. What is so astounding about this strategy is that most Republicans worship Ronald Reagan, not so much due to his specific policies, but for the tone of his campaigns and administration. He was always talking about hope and "Morning in America," rarely attacking his opponents. McCain could easily have countered Obama's film with an upbeat message saying: "I also believe in a good future for America, but a future produced by hardworking Americans like Joe the Plumber, not by government bureaucrats." He didn't do it. Just attack, attack, attack. You can see Atwater-Rove-Schmidt writ large on McCain's whole campaign. Spend all your time tearing down your opponent, rather than saying what your plans are. The weird part of this is that before 2008, McCain was not an attack kind of guy. His most noteworthy bills in the Senate are the McCain-Feingold campaign finance reform bill (which passed) and the McCain-Kennedy immigration bill (which didn't). And Russ Feingold and Ted Kennedy aren't just any old Democrats. Feingold is tied for being the most liberal member of the Senate and Kennedy has been a champion of progressive causes for decades. So McCain has a long history of being practical senator working with the other guys to get things done. Nary a word about his many accomplishments. Just attack, attack, attack. Historically, when one candidate offers hope and one offers fear, hope wins.
Comparison of Intrade and Electoral Votes
Several people have pointed out that the price of Obama stock at intrade.com and the electoral vote of the solid+weak states are remarkably similar. Here are the graphs. Very likely, the bettors are prime consumers of polling data.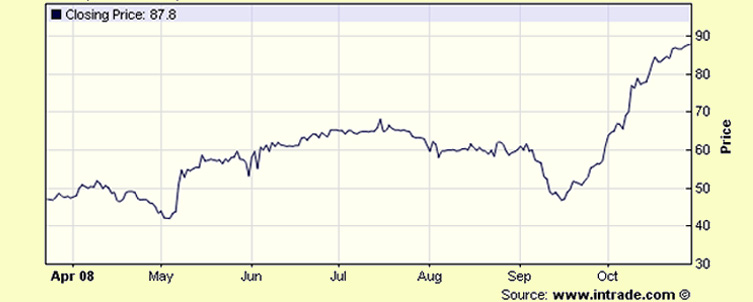 Ohio Voters Are Wary of the Integrity of the Election
First-time Ohio voters may be forgiven if they have forgotten the problems and controversies concerning the 2004 Ohio election, but older voters remember them well. Republicans are worried about ineligible voters casting a ballot and Democrats are worried about eligible voters being denied the right to vote. In truth there is hardly any evidence that many ineligible voters have ever voted. In fact, this issue was the heart of the U.S. attorneys scandal, when the Bush administration pushed many U.S. attorneys to prosecute voter fraud and the attorneys argued there really wasn't any fraud to prosecute, which prompted the administration to fire a number of them.
Watchdogs Warn of Trouble on Election Day
Many experts say that despite 30% of the electorate voting before election day, the crowds will be so large on Tuesday that there could be chaos everywhere. Florida, among other states, has a "no match, no vote" law, which prevents anyone from voting if information in the voter registration data base differs from that in other state data bases, all of which are riddled with errors from top to bottom. These people will no doubt argue with the poll workers, slowing down the voting process. In principle, disputed voters can cast provisional ballots, but many precincts are expected to run out of them. In Georgia, people with Latino names have been flagged because they might be illegal aliens. Lawsuits are flying all over the country and poll workers are memorizing the election administrator's prayer: "Lord, let it be a landslide."
Ron Paul Could Be a Spoiler in Montana
Rep. Ron Paul (R-TX) is on the ballot in Montana on the Constitution Party line and could play the role of a spoiler. Although Paul has not campaigned in the state, he is popular in this libertarian state and could draw votes away from John McCain here. Recent polls have shown Montana to be close, so Paul might tip the state's three electoral votes to Barack Obama.
Electoral Vote Screen Saver Available
If you want to keep track of the electoral votes even when you are not using your computer, there is an electoral vote screen saver at https://w ww.cannonade.net/ElectoralCollege.html that cycles through the states showing the election data.
Obama Still Leading Nationally
Obama's national lead obtained by averaging the polls is 6.0%/

- Diegeo (Obama +7)
- Gallup expanded (Obama +7)
- IBD (Obama +3)
- Rasmussen (Obama +5)
- Research 2000 (Obama +5)
- Washington Post/ABC (Obama +8)
- Zogby (Obama +7)
Today's Polls
We have 29 presidential polls today. In today's polls, Barack Obama is maintaining his small but significant leads in Florida, North Carolina, Nevada. and Ohio, as well as larger leads in Colorado, Michigan, Minnesota, New Hampshire, Pennsylvania, and Virginia. Indiana and Missouri are too close to call. All in all, the picture looks bleak for John McCain as Obama is leading in far too many swing states for him to feel comfortable.
Alaska
41%
57%
Oct 28
Oct 28
Rasmussen
Alabama
36%
61%
Oct 27
Oct 28
SurveyUSA
Arizona
46%
53%
Oct 23
Oct 28
Opinion Research
Colorado
53%
45%
Oct 23
Oct 28
Opinion Research
Delaware
63%
33%
Oct 27
Oct 28
SurveyUSA
Florida
51%
47%
Oct 23
Oct 28
Opinion Research
Georgia
47%
52%
Oct 23
Oct 28
Opinion Research
Indiana
46%
45%
Oct 26
Oct 28
Selzer
Kansas
37%
58%
Oct 27
Oct 28
SurveyUSA
Massachusetts
56%
39%
Oct 27
Oct 28
SurveyUSA
Michigan
53%
43%
Oct 28
Oct 28
Rasmussen
Minnesota
55%
43%
Oct 28
Oct 28
Rasmussen
Minnesota
56%
37%
Oct 24
Oct 27
U. of Minnesota
Missouri
48%
50%
Oct 23
Oct 28
Opinion Research
North Carolina
52%
46%
Oct 23
Oct 28
Opinion Research
New Hampshire
55%
37%
Oct 22
Oct 26
GfK Roper
New Jersey
54%
38%
Oct 26
Oct 28
Research 2000
New Mexico
54%
44%
Oct 28
Oct 28
Rasmussen
Nevada
50%
45%
Oct 25
Oct 28
Research 2000
Nevada
52%
45%
Oct 23
Oct 28
Opinion Research
New York
62%
33%
Oct 27
Oct 28
SurveyUSA
Ohio
48%
45%
Oct 24
Oct 26
Marist Coll.
Ohio
51%
47%
Oct 23
Oct 28
Opinion Research
Pennsylvania
55%
41%
Oct 26
Oct 27
Marist Coll.
Utah
32%
55%
Oct 23
Oct 25
Mason-Dixon
Virginia
48%
39%
Oct 19
Oct 26
Roanoke Coll.
Virginia
49%
42%
Oct 22
Oct 26
GfK Roper
Virginia
53%
44%
Oct 23
Oct 28
Opinion Research
Wisconsin
53%
42%
Oct 27
Oct 28
Research 2000
We also have 12 Senate polls. The first poll taken after the conviction of Sen. Ted Stevens (R-AK) puts Anchorage mayor Mark Begich (D) ahead now by 8 points. Assuming he can stay out of jail, Stevens can now go back to Alaska to enjoy his nice VECO-provided house. Nevertheless, there is some good news for Republicans today. in Minnesota, Sen. Norm Coleman (R-MN) leads Al Franken (D) again, 43% to 39%, although Dean Barkley at 14% is still a factor. Also, in North Carolina, Mason-Dixon has Sen. Elizabeth Dole (R-NC) ahead of Kay Hagan (D) by 4 points in another closely contested race.
Alaska
Mark Begich
52%
Ted Stevens*
44%
Oct 28
Oct 28
Rasmussen
Alabama
Vivian Figures
32%
Jeff Sessions*
65%
Oct 27
Oct 28
SurveyUSA
Colorado
Mark Udall
48%
Bob Schaffer*
36%
Oct 22
Oct 26
GfK Roper
Delaware
Joe Biden*
66%
Christine O'Donnell
32%
Oct 27
Oct 28
SurveyUSA
Kansas
Jim Slattery
33%
Pat Roberts*
60%
Oct 27
Oct 28
SurveyUSA
Massachusetts
John Kerry*
54%
Jeff Beatty
38%
Oct 27
Oct 28
SurveyUSA
Minnesota
Al Franken
39%
Norm Coleman*
43%
Oct 28
Oct 28
Rasmussen
North Carolina
Kay Hagan
42%
Elizabeth Dole*
46%
Oct 22
Oct 24
Mason-Dixon
North Carolina
Kay Hagan
47%
Elizabeth Dole*
43%
Oct 22
Oct 26
GfK Roper
New Hampshire
Jeanne Shaheen
47%
John Sununu*
41%
Oct 22
Oct 26
GfK Roper
Virginia
Mark Warner
57%
Jim Gilmore*
22%
Oct 19
Oct 26
Roanoke Coll.
Virginia
Mark Warner
58%
Jim Gilmore*
32%
Oct 22
Oct 26
GfK Roper
We also have five House polls. The most interesting one is PA-12, where Rep. John Murtha was expected to cruise to an easy reelection until he had his own personal macaca moment, calling his constituents racists. The race is essentially tied now. Murtha may yet pull it out of the fire, but it will be close instead of being a landslide.
IN-03
Michael Montagano
40%
Mark Souder*
45%
Oct 16
Oct 18
Research 2000
KY-02
David Boswell
43%
Brett Gurthrie*
53%
Oct 27
Oct 28
SurveyUSA
MO-06
Kay Barnes
36%
Sam Graves*
54%
Oct 27
Oct 28
SurveyUSA
OR-05
Kurt Schrader*
55%
Mike Erickson
31%
Oct 27
Oct 28
SurveyUSA
PA-12
John Murtha*
46%
William Russell
44%
Oct 28
Oct 28
Dane
If you like this Website, tell your friends. You can also share by clicking this button
-- The Votemaster
Your donation is greatly appreciated. It will buy ads to publicize the site.