Senate page Nov. 10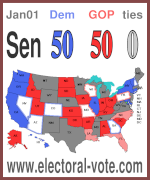 Previous
|
Next
New polls:
Dem pickups: (None)
GOP pickups: (None)
---
Back on Sept. 23, the House's 1/6 Committee issued four subpoenas, to Steve Bannon, Dan Scavino, Kashyap Patel, and Mark Meadows. On Monday, they added six more people to the list, most notably Michael Flynn, Bernie Kerik, and John Eastman. And yesterday, the Committee doubled down—literally—and issued 10 more subpoenas. The staff mathematician tells us that brings the total to "20, or something like that."
Here are the latest lucky winners of a no-expenses-paid trip to Capitol Hill, and their role in the Donald Trump administration:
Cassidy Hutchinson, Special Assistant to the President for Legislative Affairs
Keith Kellogg, National Security Adviser to Vice President Mike Pence
Kenneth Klukowski, senior counsel to Assistant Attorney General Jeffrey Clark
Christopher Liddell, White House Deputy Chief of Staff
Nicholas Luna, Trump's personal assistant
Kayleigh McEnany, Minister of Information...er, White House Press Secretary
John McEntee, White House Personnel Director
Molly Michael, Special Assistant to the President and Oval Office Operations Coordinator
Stephen Miller, senior adviser
Ben Williamson, Deputy Assistant to the President and Senior Adviser to Chief of Staff Mark Meadows
In something of a baller move, the Committee has posted all the letters they sent to these folks. In each, Chair Bennie G. Thompson (D-MS) lays out exactly what he and his colleagues want to discuss with the recipient. You might want to follow that link and pick one to read, just to get a feel for the Committee's work.
Of course, the Committee's expectations here are something they are not commenting on. Perhaps they believe that at least some of the 20 people they've subpoenaed will respect the institution and will do as ordered. Heck, they might even know that some of them will—recall that several anonymous Trump-insider sources who talked to The Washington Post said they would eventually be appearing before the Committee, once summoned.
The Committee must also have some amount of faith that AG Merrick Garland, and the Department of Justice, will decide that congressional subpoenas probably ought to be respected, and so will help enforce those subpoenas that are ignored. On that point, MSNBC legal analyst Joyce Vance, a former U.S. Attorney, has an opinion piece in which she writes that it may be frustrating that the DoJ seems to be doing nothing, but that they can't take action until they have dotted all the i's and crossed all the t's, and have properly prepared for any defense that Steve Bannon and other subpoena-ignorers might try to mount. In fact, per DoJ policy, government lawyers cannot pursue a case until such point that they feel confident they will win it. In short, patience is called for, especially since those of us who don't work for the DoJ don't have any other option. (Z)
Speaking of having a sound legal footing before going after Steve Bannon and others who would defy Congress, it is at least possible that Garland & Co. will be influenced by the decision Judge Tanya Chutkan handed down on Tuesday night, in which she flatly rejected Donald Trump's claims that his executive privilege extends beyond his term in office. "Presidents are not kings, and Plaintiff is not President," wrote the Judge. Ouch, that smarts.
The Judge did give Trump a small victory, finding that certain personal communications are beyond Congress' purview, and need not be turned over to the 1/6 Committee. That's pretty hollow, though, and is not really what the former president cares about. So, he promptly appealed the ruling, in hopes that he will eventually find a judge willing to completely set aside past precedent when it comes to executive privilege. Meanwhile, NARA has already said it will hand the requested records over to the Committee on Friday morning unless instructed not to by a court. So, beyond trying to revive the underlying case, Trump has about 48 hours to find a judge who will give him an injunction (24 of which are a national holiday), otherwise the whole thing is largely moot because the Committee will already have the documents it wants.
The ruling also kicks the legs out of Bannon's stated reason for defying the subpoena, namely that he's protected by Trump's executive privilege. So again, this could be what the DoJ needs in order to start moving forward. (Z)
Given that the 1/6 Committee is looking into, you know, an effort to overthrow the government by violent means, this story seems positively quaint. Nonetheless, during the years of the Trump administration, and in particular during the 2020 election cycle, the Department of Justice's Office of Special Counsel (OSC) received hundreds of complaints that Trump administration officials were violating the Hatch Act. That law, which dates back to the 1930s, prevents executive branch employees (excepting the president and vice president) from electioneering while acting in their official capacity. OSC has finished looking into the complaints, and yesterday released its report. The conclusion: Yep, Team Trump sure did violate the Hatch Act. In fact, the OSC describes the situation as something like a "taxpayer-funded campaign apparatus within the upper echelons of the executive branch."
The report specifically names 13 high-ranking members of the administration, and it's the usual suspects, including a couple of folks who also appear on the list above. Here are the crooked baker's dozen, in the order they are listed in the report, with the title they held at the time of the violation:
Secretary of Energy Dan Brouillette
Senior Counselor to the President Kellyanne Conway
White House Director of Strategic Communications Alyssa Farah
U.S. Ambassador to Israel David Friedman
Senior Advisor to the President Jared Kushner
White House Press Secretary Kayleigh McEnany
White House Chief of Staff Mark Meadows
Senior Advisor to the President for Policy Stephen Miller
White House Deputy Press Secretary Brian Morgenstern
National Security Advisor Robert O'Brien
Chief of Staff to the Vice President Marc Short
Secretary of State Mike Pompeo
Acting Secretary of Homeland Security Chad Wolf
Undoubtedly, the list leaves you with the same question it left us: Where the hell is Ivanka?
Punishing violators of the Hatch Act is the responsibility of the president, who has a range of options available, from a verbal rebuke to termination. Of course, if you have a president who does not give a tinker's damn about this law, and who openly encourages his underlings to violate it, then the whole setup breaks down. Now that Joe Biden is in office, he has the power to bar these folks from future employment in the executive branch, but that's ultimately pretty meaningless, too. None of these folks will be working for a Democratic administration, and if and when a Republican wins the White House, that president can just reverse Biden's decision.
The real solution, which the OSC uses pages 45-58 to basically get down on its knees and plead for, is for Congress to update the Hatch Act to give it some actual teeth. It's not surprising that the law is rather milquetoast when it comes to punishment; Congress often fails to give their bills teeth until they absolutely have to. Further, the original Act was passed by a Democratic Congress because there were complaints that people hired for New Deal programs, like the Works Progress Administration, were campaigning on behalf of Franklin D. Roosevelt. Under those circumstances, one might expect a bill that is mostly for show, and that doesn't have much in the way of enforcement.
If Congress is unwilling or unable to update the Hatch Act, then it really ought to be repealed. Or, failing that, the Department of Justice could just announce that it will no longer investigate Hatch Act violations, since such investigations are not a profitable use of department resources. Whatever the outcome, the current situation, namely that sleazy presidential administrations have a leg up on their more honest competitors, is simply not fair, and is not very democratic. (Z)
According to the latest Donald Trump tell-all, written by ABC News Chief Washington Correspondent Jonathan Karl, and entitled Betrayal: The Final Act of the Trump Show, the former president was so furious with the RNC that, in the final hours of his term he lit into Chair Ronna Romney McDaniel, and declared that he was going to leave the GOP and found his own party. The key passage:
Trump was in no mood for small talk or nostalgic goodbyes. He got right to the point. He told her he was leaving the Republican Party and would be creating his own political party. The president's son, Donald Trump Jr., was also on the phone. The younger Trump had been relentlessly denigrating the RNC for being insufficiently loyal to Trump. In fact, at the January 6 rally before the Capitol Riot, the younger Trump all but declared that the old Republican Party didn't exist anymore.
McDaniel knows full well what impact that would have, and pleaded with Trump: "You cannot do that. If you do, we will lose forever." Trump responded: "Exactly. You lose forever without me. I don't care." This is just in case you needed any further evidence as to the percentage of his loyalty that is to the Republican Party, as opposed to the percentage of his loyalty that is to himself (Hint: 0% vs. 1.0 x 1019%).
Democrats know the same thing that the RNC Chair knows, and so they would welcome this development like it was manna from heaven. But apparently the former president is over it, because he's not threatening to rebel anymore, and he's even thinking about the well-being of the Party, at least a little bit... maybe.
How is that so? Well, in an interview with Fox published on Monday, Trump said that he would "probably" wait until after next year's elections to announce his future presidential plans, but that "I think a lot of people will be very happy, frankly, with the decision." With the usual warnings about possibly misreading such hints (see below for more), it's hard to imagine he would say that unless he was throwing his hat into the ring. He would never say: "Guess what, people, here's some very happy news: You're done with me because I'm never running for president again!"
It's not the announcement that is considerate of the Republican Party, though, it's the timing. If he is going to run, he's presumably itching to let the world know, so that he can have the higher level of attention that comes with being a bona fide candidate. However, that would also make it easier for Democrats to run against Trump in 2022, since the Republican Party would clearly be a wholly owned subsidiary of the Trump Organization, and since Democratic candidates could say, "If you vote for my opponent, he could be a vote for the Trump agenda in just a couple of years."
Republican leadership knows that Trump is an albatross around their necks in most of the close races, and the more official his dominance of the Party is, the more of an albatross he is. In a rare (but not entirely unprecedented) moment of self-awareness, Trump apparently knows it, too. So, he's going to take one (admittedly, a small one) for the team, and will zip his lip for now. Of course, he will still muck around in lots of races; he'll just do so as former president Trump rather than as presumptive 2024 nominee Trump. And naturally, it remains to be seen how well the zipper on his lip actually holds. (Z)
The Republican Party will have to find some other person to run for the U.S. Senate from New Hampshire, because Gov. Chris Sununu (R-NH) announced Tuesday that he's going to run for another term as governor instead. This news came as a surprise, first because Sununu made his declaration more quickly than expected, and second because his "teaser" on Monday strongly implied that he was going to challenge Sen. Maggie Hassan (D-NH). Certainly that is how we read the tea leaves that Sununu put before us.
Republicans are very upset, first that they lost their best potential candidate in a purple state, and second because of the way Sununu handled the whole affair. They interpreted his teaser the same way we did, especially since he also made a trip this weekend to the Republican Jewish Coalition conference, which is more a Washington politicians' thing than a New Hampshire politicians' thing. "This was handled so poorly," said one Republican operative. "He publicly flirted with it. He hyped it up as this big announcement to the national press, and then bailed in a way that hurts the party's momentum after a big week in Virginia last week."
Republicans' pique goes beyond the fact that Sununu fooled everyone, however. They are also irked that he hinted at a future presidential run, and also that he did not give a heads up to Senate Minority Leader Mitch McConnell (R-KY) or National Republican Senatorial Committee Chair Sen. Rick Scott (R-FL) before making an announcement. It's strange; we checked our copy of the Constitution, and it doesn't say anything about the governor of New Hampshire being answerable to the minority leadership of the U.S. Senate. Maybe our copy is out of date, and there's been some sort of addition we don't know about.
This will make New Hampshire less competitive, which is good for the Democrats (and their finite financial resources), and bad for the Republicans' hopes of regaining a majority in the Senate. However, the red team will still target Arizona, Nevada, and Georgia, and they will try to hold on for dear life in North Carolina, Pennsylvania and Wisconsin. It's a tall order to hold all of the latter three and win at least one of the former three, but in a red wave year—which is certainly a possibility—it's doable.
Further, Hassan isn't quite out of the woods yet. She won her first Senate election by just over 1,000 votes (354,649 to 353,632), and while she has incumbency and a big war chest now, there are other candidates out there who could make her sweat. The most obvious is the senator Hassan vanquished in the first place, namely Kelly Ayotte (R). Ayotte has already said she's not interested in a run, but things have a funny way of changing, sometimes, when the leading candidate from your party says they're out. (Z)
As we note above, we (and lots of other people) were sure that the way Chris Sununu framed his upcoming "big announcement," his candidacy for the U.S. Senate was a done deal. So, take this with a grain of salt (or even a whole packet of salt). But the PAC created by former U.S. senate and presidential candidate Beto O'Rourke sent this tweet on Monday:
Maybe he's decided to switch from boxers to briefs, or from whole milk to 2%, and he wants the world to know about it. But boy, this sure does look like a candidacy announcement is coming, doesn't it?
If O'Rourke does run, how do his chances look? That's hard to say, because the polling is all over the place. In the last week, two polls of a hypothetical Gov. Greg Abbott (R-TX)-O'Rourke matchup were released. One of them, from the Texas Hispanic Policy Foundation, had it at Abbott 43%, O'Rourke 42%. In other words, a statistical dead heat. On the other hand, the other poll, from UT Austin and The Texas Tribune, gave Abbott a 9-point lead, 46%-37%.
So maybe O'Rourke is competitive with Abbott right now, and maybe he's not. But the most important thing is that there are clearly a lot of voters who aren't sold on giving the Governor another term. Being down 54%-45% is far, far worse than being down 46%-37%. In the latter case, you just have to win over most of the undecideds. In the former case, you have to hold all of your support and peel off a bunch of people already committed to the other candidate.
If O'Rourke does run, his single biggest problem is that he pledged to go after assault rifles during his presidential run. Texans love their guns, and that includes a lot of independents and a lot of Democrats. Whether he apologizes and says he doesn't know what got into him, or he tries to qualify the promise, or he just leans into it and decides he'll have to win on the strength of anti-gun votes is a critical tactical decision that will do much to decide if he can really make a run at this. (Z)
We noted yesterday that Rep. Paul Gosar (R-AZ) posted a video to social media showing him, in anime form, killing Rep. Alexandria Ocasio-Cortez (D-NY) and attacking Joe Biden. The Congressman's office, in response to the initial wave of blowback, issued a statement that read, in part: "We made an anime video. Everyone needs to relax. The left doesn't get meme culture. They have no joy. They are not the future. It's a cartoon."
The blowback just grew more intense, however, and in particular there was enormous pressure on House Minority Leader Kevin McCarthy (R-CA) to do something. Doing things is not exactly his forte, but reportedly he was getting his arm twisted even by members of the Republican conference. Clearly, Gosar figured out that he might have gone too far, because he issued a rather lengthy statement. Part of the statement is a defense of himself ("It is a symbolic cartoon. It is not real life. Congressman Gosar cannot fly."), and part of it is an attack on undocumented immigrants (a legal requirement for all Gosar-issued press releases). But part of it is him backing off, and declaring "I do not espouse violence or harm towards any Member of Congress or Mr. Biden." When it comes to Paul Gosar, that is as close as it gets to an apology.
Presumably, this will be the end of it, again given McCarthy's proclivity for inaction. That said, clearly a little bit of the fear of God was thrown into Gosar, and we wouldn't have even thought that was possible. So, you never know. If he somehow is expelled from Congress (something his sister called for yesterday), then that will set a rather significant precedent in terms of dealing with this new sort of Republican member, who is uncollegial and/or fanatical to the point of tacitly or explicitly encouraging violence against their colleagues. Put another way, if Gosar somehow gets the heave-ho, then Rep. Marjorie Taylor Greene (R-GA) will need to start thinking about getting her résumé up to date. (Z)
Previous
|
Next
Back to the main page