Senate page Nov. 11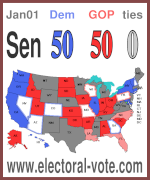 Previous
|
Next
New polls:
Dem pickups: (None)
GOP pickups: (None)
---
Happy Veterans' Day! And a tip of our caps to those who served, and those who supported those who served.
The bipartisan infrastructure bill that Congress has now passed is, well, bipartisan. That means that at least one Democrat and at least one Republican voted for it. Actually, 13 House Republicans voted for it, which allowed the bill to pass even though six Democrats voted against it. We have little doubt that Speaker Nancy Pelosi (D-CA), who is probably the shrewdest politician Congress has had in many decades, gave the six Democrats permission to vote against the bill to help their reelection campaigns since she knew she didn't need their votes. So those six votes aren't controversial.
However, the 13 Republicans who voted for the bill are a big deal, as Donald Trump is demanding each of their heads on a pike. This has split the House Republican conference, with a few members saying that once in a while they should devote a small amount of time to actually passing laws that help the country, while others say they should do whatever Trump orders them to do. And in this case he ordered them to vote against the infrastructure bill because he—and not Joe Biden—was going to be the "infrastructure president." In essence, Trump has put a simple rule in place: If Biden supports it, I am against it. If Biden were smart, he would use child psychology and propose eliminating all income taxes on billionaires so they could create more jobs. This would make Trump instantly oppose it, which would make all the big Republican donors furious with him. Then Biden would withdraw the idea, saying that it had no bipartisan support.
At a private event run by the NRCC this week, Trump gave a 90-minute speech about how the election was stolen from him, but managed to get in a couple of pot shots at the Republicans who voted for the infrastructure bill. He said: "I love all the House Republicans. Well, actually I don't love all of you. I don't love the 13 that voted for Biden's infrastructure plan." Trump's position puts him at odds with Senate Minority Leader Mitch McConnell (R-KY), who said he was delighted the bill passed, in part because it will improve a bridge over the Ohio River. The bridge connects Cincinnati to Kentucky, and is one of the nation's worst traffic bottlenecks.
The House Republicans who voted for the bill are getting hate mail calling them traitors and threatening to kill them. The Trump supporters who are threatening members of Congress are being egged on by Reps. Marjorie Taylor Greene (R-GA) and Madison Cawthorn (R-NC). While the House has long been less civil than the Senate, having House members encouraging people to threaten other members of their own party is something new. We noted yesterday that Rep. Paul Gosar (R-AZ) has gotten himself in some trouble for threatening other members of Congress, but they were from the opposing party. Now Republicans are turning on their own.
Former White House Chief of Staff Mark Meadows actually spoke the truth in an interview with Steve Bannon when he said: "These people voted for Joe Biden, for an infrastructure bill that will clear the way for more socialist spending that will, quite frankly, give Joe Biden a win." While it is true that socialists are generally in favor of the government fixing broken roads, it is the part about him opposing a win for Biden, no matter the cost, that rings true. Trump and his allies simply do not want to give Biden any wins on anything because that will only make him stronger if he runs against Trump in 2024. In the interview, Meadows said that all 13 renegades should be stripped of their committee assignments. Other Republicans immediately began echoing that and calling their colleagues "socialists."
The 19 Senate Republicans who voted for the bill have (so far) avoided being cannibalized by members of their own caucus.
Joe Biden was dismayed by all the infighting. He said: "I've never seen it like this before. It's got to stop." Actually, Pelosi was brilliant again, as she often is. She has managed to hand Joe Biden a big victory, set Republican against Republican, and get Donald Trump to oppose infrastructure repairs that a vast majority of Americans want, while creating millions of blue-collar jobs in the process. Is that so bad? (V)
The midterm elections next year will be like no other midterms. Yes, control of the House and Senate are at stake, but so is the very concept of democracy. Many Republican candidates have well noted that Donald Trump's claim that he won the election has been accepted by a large fraction of the Republican voters. Some of them are surely thinking that if they lose, they will simply deny it and claim their victory was stolen from them by corrupt bureaucrats and crooked Democrats. That may not get them into office, but it could easily position them for another run in 2 or 4 years. Who cares if faith in democracy goes down the drain if you get another shot at becoming a state senator?
Many election officials, academics, party operatives and others have issued warnings about this state of affairs, but there is little they can do about it. Nearly 60 rulings against Trump from judges, some of them ones he appointed, haven't convinced everyone that elections are honest. And 2020 featured only one huge "disputed" election. What if 2022 features five Senate races, 20 House races, and 100 races in state legislatures in which the loser claims he was robbed? Will anyone trust the resulting governments? Will they be able to govern when a large fraction of the population doesn't believe they are legitimate?
Stephen Spaulding of Common Cause said: "Trust is the glue that really holds the system together. When it starts to erode, it really threatens the whole system." His group and others are gearing up to monitor the polls and social media, but what happens if they report that the election was honest but Republicans who lose claim it was stolen from them? Whom will the voters believe?
One ray of hope was the way 2021 went. For the most part, the losers conceded, with the exception of Jack Ciattarelli (R), who lost the governorship of New Jersey by 65,000 votes yet refuses to concede. Maybe he will eventually, but conceding grudgingly a week or two later, and leaving open the possibility that maybe the election was rigged doesn't increase voters' trust in elections.
Another factor that could play a role in 2024 is that maybe the system will be rigged. Rep. Jody Hice (R-GA) is running for secretary of state on a platform of promising to obey Trump if he wants some votes changed after they are counted. What if he really means it? And what if other secretaries of state see Georgia Secretary of State Brad Raffensperger (R) lose his primary next year and decide that the only way to survive politically (and maybe physically) is to give in to whatever Trump wants?
All of this is very worrisome to people like Ciara Torres-Spelliscy, a professor at Stetson University who specializes in political law. She said: "What keeps me up at night is this lasting perception among Republican voters, and especially Trump voters, that the election was stolen. It is very disturbing to me, the lack of faith in the democratic process that reveals, and how stridently they hang on to this belief despite the facts." Rick Hasen, a professor of law and an elections expert at UC Irvine, is worried about the effects of the 2022 election on 2024, especially races for secretary of state like the one in Georgia, where a potential secretary wants to rig elections and is open about it. Hasen is also worried about all the threats of violence against election officials at all levels, causing some of them to quit and potentially be replaced by people who want a certain result and don't care how they get it. (V)
Rep. Liz Cheney (R-WY) attacking Donald Trump isn't usually news—unless she does it in New Hampshire, which she did on Tuesday. Whenever a high-profile politician gives a big speech in New Hampshire or Iowa, everyone jumps to the conclusion that the politician is testing the waters for a future presidential run. When the audience gives the politician a standing ovation, as they did for Cheney in New Hampshire on Tuesday, the media picks up on that fast. That is especially true of New Hampshire, which tends to march to the beat of its own drummer and sometimes gives frontrunners a surprise. For example, Paul Tsongas won the Democratic primary in 1992, John McCain clobbered George W. Bush in the Republican primary in 2000, and Sen. Bernie Sanders (I-VT) walloped Hillary Clinton in the Democratic primary in 2016. None of those winners ultimately got the nomination, but if Cheney were to beat Trump in New Hampshire in 2024, that would certainly upset the race and give her a massive amount of publicity and momentum.
In her speech, Cheney made a point of emphasizing how conservative she is by saying that she disagrees with everything Joe Biden has done so far. She also noted that she believes in limited government, low taxes, a strong defense, and the family as the building block for society. Dad couldn't have agreed more.
It is more than 2 years until the New Hampshire primary, but if Trump has been weakened by then, a challenge to him from Cheney might be plausible. Also important is that New Hampshire has a semi-closed primary. Voters who are registered as "undeclared" can vote in any party's primary and voters who are registered for some party can change to undeclared on the spot when they show up on Primary Day. That means if Joe Biden decides to run for reelection there will be no Democratic primary. Many Democrats would then likely reregister as undeclared on Primary Day and vote for Cheney. Trump would call that unfair, but if the headlines the next day are "Cheney Beats Trump in New Hampshire" the damage will be done, even if the fifth paragraph of all the news stories points out that many of Cheney's voters are probably Democrats who don't actually like her very much. If this stunt works, it could go nationwide, even in states where switching registration from Democratic to Republican is more work. If California Democrats did this en masse, Cheney could actually win a lot of delegates, but probably not enough to win the nomination. (V)
It is often said that Democrats are all over the map but Republicans are a fairly homogeneous bunch. A new report from the Pew Research Center shows that this is not true. Both parties have multiple subgroups that are not always on the same page about everything. Pew identified nine subgroups in the adult population, four of which generally vote Republican, four of which generally vote Democratic, and one that is split almost evenly. Here is the breakdown: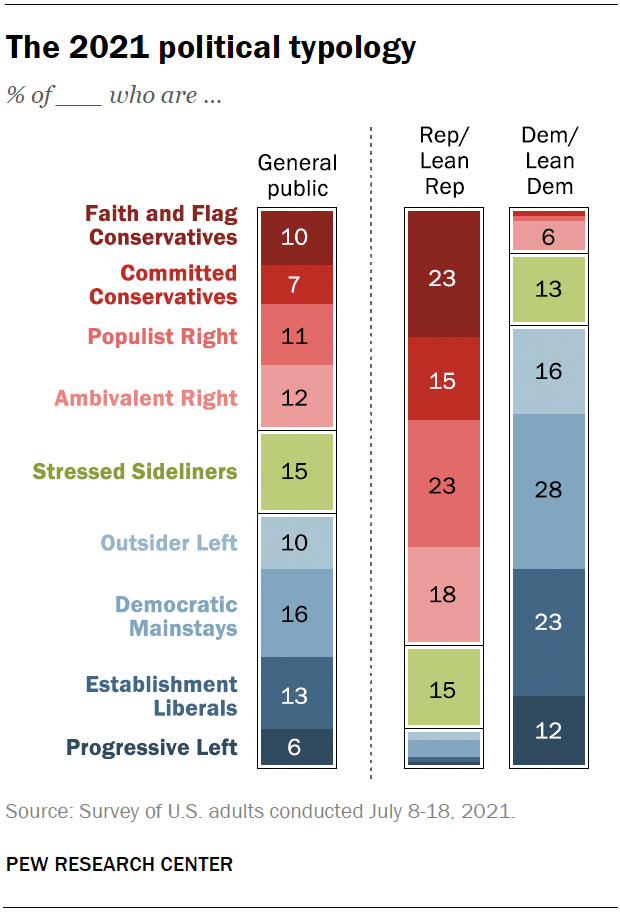 Faith and Flag conservatives (10% of population, 23% of Republicans)

: These voters are staunchly conservative on all issues. They believe America stands above all other countries. They want Christianity to be more prominent in public life. They are strong Donald Trump backers and support politicians who say he won in 2020. They are the most elderly of the nine groups, are overwhelmingly Christian, and highly politically active. Only 1% approve of Joe Biden.



Committed conservatives (7% of population, 15% of Republicans)

: These voters are very conservative on most issues, especially economic issues. They favor a foreign policy that works with allies. They overwhelmingly voted for Trump in 2020, but with less enthusiasm than the other groups. Many name Ronald Reagan as the best recent president. They are the best-educated Republican group and are very active politically. Many big-business types are here. About 8% approve of Biden.



Populist right (11% of population, 23% of Republicans)

: These voters have very restrictive views about immigration and are very critical of the economic system, especially banks and large corporations. They are also strong Trump supporters. These people are less likely to have a college degree than the other groups and are largely rural. Only 2% approve of Biden.



Ambivalent right (12% of population, 18% of Republicans)

: These voters have generally conservative views of government and the social safety net but they are less hawkish on immigration and are moderate on some social issues. They tilt Republican but are not actually comfortable in the Republican Party. They want Trump to leave politics. This is the youngest GOP group and also the least religious. Here 20% approve of Biden.



Stressed sideliners (14% of population, 15% of Republicans, 13% of Democrats)

: These voters are mixed politically. They are slightly liberal on economics and less liberal on other issues. They are financially stressed and not politically engaged. These are the true swing voters. But only 39% approve of Biden.



Outsider left (10% of population, 13% of Democrats)

: These voters are very liberal on some issues, especially climate and race. They don't like the Democrats, but do vote for them because the other guys are worse. Interestingly, they say other nations are better than the U.S. This is by far the youngest and least politically active of the nine groups. They agree with the progressive left on some issues, but differ from them by not being at all politically active, whereas the progressive left is very politically active. Only 62% approve of Biden.



Democratic mainstays (16% of population, 28% of Democrats)

: These voters identify as moderate and hold mainstream Democratic views on most issues. However, they are less liberal than the other Democratic groups on immigration, the military and crime. This is the largest chunk of the Democratic coalition. These people are generally older and not many are college educated. The group is very racially and ethnically diverse. It sounds like FDR's base. A full 79% approve of Biden.



Establishment liberals (13% of population, 23% of Democrats)

: These voters are solidly liberal, support the Democratic Party and its leaders strongly, are generally upbeat about politics, and favor compromise. The group is highly educated, racially and ethnically diverse, and have an age distribution similar to the country as a whole. Here Biden does well: 87% approve of him.



Progressive left (6% of the population, 12% of the Democrats)

: These voters hold liberal views across the board. They like leaders who identify as Democratic Socialists. They backed Bernie Sanders or Elizabeth Warren in the primaries. They are young, well-educated and heavily politically involved. About two-thirds are non-Hispanic whites. Biden does well here, too, with 82% approving of him.

When you look at the crosstabs, there are huge differences among the groups on questions like whether government should do more to solve problems, whether government is wasteful and inefficient, whether the government should protect people from themselves, and whether the government should make sure everyone has health care. For example, on the last question, only about 10% of faith and flag conservatives say yes to that vs. 95% of the progressive left.
Within the Republican coalition, there is a big divide on the fairness of the economic system. The populist right wants to raise taxes on big business whereas the other groups don't. Democrats are much more unified on economic issues. In contrast, Republicans are largely unified against more immigration whereas Democrats are divided on this issue. Of course, the differences between the parties are much greater than the differences within each party.
One big takeaway is that Republican politicians are fairly representative of Republican voters. They distrust government, hate abortion, love guns and God, and don't want any more immigrants. In contrast, Democratic politicians are way to the left of Democratic voters. The outsider left and progressive left form only a quarter of the Democratic voters, yet but for Sen. Joe Manchin (D-WV), the House would have passed a $6 trillion bill that would have remade America the way these groups would like to see it. Most Democrats aren't clamoring for all these things. Manchin is probably closer to the median Democrat than Rep. Alexandria Ocasio-Cortez (D-NY). (V)
We have discussed the Senate race in Pennsylvania and the damaged, Trump-endorsed candidate Sean Parnell before, but there are new developments in the story.
Just to make sure everyone is on the same page, former Army Ranger Parnell is the leading Republican candidate for the open Senate seat in Pennsylvania. He is now engaged in an extremely bitter custody battle with his estranged wife, Laurie Snell. Each of them wants their three children, aged 8 to 12. There were three days of hearings in a rural courthouse in Pennsylvania this week—attended by a couple of dozen national reporters, with television crews outside the courtroom. Normally divorce cases don't attract the national media in full force, but this one is special because the fallout from it could determine control of the Senate in 2023.
Snell has accused Parnell of pulling his car over along a highway and forcing her out, and also of telling her to go get an abortion when she was pregnant with their first child. More recently, she said he pinned her down, tried to strangle her, and called her a whore. She also accused him of harming their children. One time he hit one of them so hard that it left a bruise, a photo of which was shown to the judge. Parnell claimed the child in the photo wasn't theirs, but the background matched the child's room exactly. In the past, a judge has twice issued protective orders telling Parnell to stay away from his children. The contents of the orders are sealed, but judges generally don't issue such orders without compelling evidence that there is a problem.
Oh, and it came out that Parnell had been carrying on a long affair with his current girlfriend 4 years before the divorce proceedings began. The girlfriend, Melanie Rawley, accompanied Parnell to the hearing and testified that he loves children and small animals.
The judge said he had seen all the evidence and heard all the testimony and will make a decision as soon as possible. If the judge finds for Snell, the implication will be that the evidence supports the contention that Parnell has indeed threatened and beaten his wife and children. That information might just find its way into Democratic ads if Parnell is the GOP nominee.
National Republicans see the handwriting on the wall here and want to get rid of Parnell yesterday—no wait, make that 6 months ago. Consequently, they are actively recruiting wealthy business executive David McCormick to enter the race and challenge Parnell. McCormick currently runs Bridgewater Associates, the world's biggest hedge fund with $140 billion in assets. Not only can he self-fund the entire race, but he has an impressive résumé, including graduating from West Point, serving in the Gulf War, getting a Ph.D. from Princeton, and working as a top official in George W. Bush's Treasury Dept. He hasn't decided yet if he wants to run. He is the kind of guy who could follow the Glenn Youngkin template. The only problem is if Parnell refuses to drop out and Trump continues to support him. Then Mitch McConnell and Trump will be at each other's throats.
One problem McCormick would have as a candidate is that he lives in Connecticut. He did go to high school in Pennsylvania, though, and he ran a company in Pittsburgh for 10 years. Still, the Democrats are going to be yelling "CARPETBAGGER CARPETBAGGER CARPETBAGGER" at the top of their lungs if he gets the nomination. In contrast, both serious Democratic candidates for the nomination have deep ties to the Keystone State. Lt. Gov. John Fetterman (D-PA) was born in West Reading, PA, and grew up in York, PA. He graduated from Albright College in Reading, PA, and is now the lieutenant governor of the state. Rep. Conor Lamb (D-PA) was born in D.C. but grew up in a suburb of Pittsburgh. He got his B.A. from the University of Pennsylvania and his law degree from Penn Law. He is a decorated major in the Marine Corps reserve. But his ties to the state go back even further. His grandfather was the majority leader of the Pennsylvania state Senate. Fetterman is a progressive and Lamb is a moderate, but both would be very strong candidates, albeit with different coalitions.
For the Democrats, the best-case scenario is that Parnell stays in, Trump continues to support him, and McCormick decides that making lots of money is more fun than a grueling Senate race he might well lose against a Trump-endorsed candidate in the primary and against a strong Democrat in the general election in a bluish state. The worst-case scenario for the Democrats is that Parnell drops out and McCormick gets the nomination without a primary. (V)
The chair of the Federal Reserve Board is a massively powerful position. He or she can determine the fate of the economy and the fate of the president. Joe Biden soon has to pick a new chair and the choice has essentially narrowed down to two candidates: Jay Powell and Lael Brainard. Powell is the current chair and Brainard is a Board member. Biden met with both of them last week, but hasn't given any hints about what he is thinking. However, he did say he would make an announcement soon.
In Powell's favor are these points:
Wall Street knows and likes Powell, so markets will rejoice.
Markets might allow inflation to run a bit hotter with Powell before demanding the Fed do something.
A few Democrats, such as Sen. Jon Tester (D-MT), support Powell.
Powell worked across the aisle during the pandemic.
In Brainard's favor are these points:
She is an actual economist (with a Harvard Ph.D.), which Powell is not.
Sen. Elizabeth Warren (D-MA) has called Powell a "dangerous man" to his face.
Brainard wants the Fed to do much more to fight climate change.
Democratic presidents are entitled to their own pick and shouldn't be bullied into accepting a leftover Republican.
Biden is a strong supporter of women in high positions.
Treasury Secretary Janet Yellen, herself a former Fed chair, has urged Biden to pick Powell. But Biden really doesn't want to do something that Warren is strongly opposed to. The choice is extremely important, as Biden's reelection could depend on how well the new chair manages the economy. (V)
Republicans are trying to figure out what they stand for besides worshiping Donald Trump. Figuring this out is especially important if Trump doesn't run for president in 2024—for example, because he has been convicted of tax, bank, or insurance fraud in New York or interfering with an election in Georgia, or because he is too sick to run. Putting together a brand new platform from scratch at a moment's notice and convincing the voters that this is what they really truly believe in might be tricky, so different ideas are bubbling up as the new core principles. Jim VandeHei at Axios has put together a list of possible planks in the 2024 Republican platform, in the event that it decides to have one. They are as follows:
Quit big business

: For decades, Republicans have been the party of big business. Some Republicans, led by Sen. Marco Rubio (R-FL), are now championing the working class against the boardroom class. After all, that's where the votes are (although not the money). Of course, fighting with Sen. Bernie Sanders (I-VT) for the same demographic would be an interesting battle. Sen. Josh Hawley (R-MO) has introduced a bill to break up big companies. How far this goes remains to be seen, though. Rubio is an extremely ineffective senator and all Hawley does is grandstand.



Terrorize tech

: Republicans plan on attacking the big tech companies. In practice, this might end up as the same as the item above as we don't see the Republicans demanding the break-up of big oil, big ag, big pharma, or big tobacco. Also, we suspect that a lot of people rather like Amazon and use it quite a bit and might not want to see it broken up. Apple fans are notorious for their devotion to the company [Full disclosure: both (V) and (Z) have MacBooks]. And many people use Google every day and seem to like it. The only big tech company that is really very controversial is Facebook. Is attacking Facebook really a core principle that Abraham Lincoln, Teddy Roosevelt, Dwight Eisenhower, and Ronald Reagan would wholeheartedly support? Though Lincoln did say a nation divided against itself can't stand.



Pound parental rights

: A week after Glenn Youngkin's surprising victory in Virginia, everybody wants to be a Youngkinian. House Minority Leader Kevin McCarthy (R-CA) is working on a "Parents' bill of rights," which will no doubt allow parents to veto any school policies they don't like (especially health-related ones) and dictate the curriculum. This will move huge battles to school boards and possibly individual schools because not all parents are on the same page on many issues. Expect masks, critical race theory, and the position of transgender students to feature prominently in the yet-to-be-developed bill.



Malign mandates

: Opposing vaccinations, masks, social distancing and related anti-coronavirus measures might get some traction now, but are these really core principles that will carry the party to victory in 2022 and especially in 2024, when the virus may have receded into the background? And will this fly with the affluent, college-educated suburban voters who seem to be the new swing voters?



Fan fear

: Of course, there are always the old boogeymen of crime, inflation, immigration, and creeping socialism to harp on. Maybe throw in a caravan of migrants heading toward the southern border. We haven't heard that song in a while, but anything that might scare people could work, so that the Republicans can say the Democrats aren't protecting people from whatever the boogeyman du jour is.

Of course, these are only possibilities. Circumstances can change. And if Trump is indeed the 2024 nominee, he could throw all of these into the shredder and make the stolen 2020 election the only issue. (V)
A new CNN/SSRS poll shows that 70% of Americans think that Facebook harms American society vs. only 14% who think that it helps it. Even frequent Facebook users—people who log in three or more times a week—say it is harmful (70%) rather than good (14%). Oddly enough, it is Republicans who are the most negative about Facebook, with 82% saying it is harmful.
However, when asked why Facebook is harmful, the results are less clear, with 55% saying it is the way people use Facebook and 45% saying it is the way Facebook is run. Almost half of Americans (49%) say they know someone who was persuaded to believe in a conspiracy theory because they saw it on Facebook. Among adults younger than 35, 61% say they know someone who adopted a conspiracy theory they saw on Facebook, compared to just 35% of seniors.
Should something be done about Facebook? The poll shows that 55% of Democrats and 48% of Republicans want increased government regulation of Facebook. Of course, saying you want regulation and figuring out how to do it are different things. Surely nobody wants government censors vetting every post. One way that might work is to force Facebook to get back to its roots of connecting friends and stop recommending third-party content to anyone. Another way might be to revise Sec. 230 of the Communications Decency Act (which Republicans harp on all the time) and declare Facebook to be a publisher, not a platform. That would mean that if someone posted libelous content, Facebook itself could be sued for it, the same way the New York Times can be sued for a libelous letter to the editor. This would turn Facebook into a moderated forum, where postings could only go up if approved by the company's own censors. This would completely change the nature of the beast, probably for the better.
Given how much politicians of both parties dislike Facebook, albeit for different reasons, some action is at least plausible. The problem is what they want is different. Democrats want to make it impossible to post outright lies whereas Republicans want to prevent Facebook from banning people who post outright lies. Further, very few members of Congress have any knowledge of technology at all, as evidenced every time they grill Mark Zuckerberg. One thing Congress could do that it actually understands is pass a law that makes any social network of the type Facebook clearly is an illegal monopoly and break it up. At the very least, it could be forced to spin off Instagram and Whatsapp as separate independent companies. Then they could get to work on regulating what is left.
One of the creepiest things about Facebook (and Google) is how much data they collect on everyone who uses their products. One way to change that would be to make it a federal crime for any company to collect personal information about people without their explicit approval. So, when you signed up for Facebook, there would be a yes/no question: "Do you grant permission for Facebook to collect, store, and analyze personal data about you?" If you said no, you could still use Facebook, but the company would be forbidden from collecting your data. (V)
We are working on our master list of readers' favorite movies. However, there's still time if you would care to submit the title of your favorite movie, or your two favorites, or your ten favorites, or your dozen favorites. We're going to do great/important movies next, so this one is just about your personal favorites.
Previous
|
Next
Back to the main page