Will Sherrod Brown Meet Tim Ryan's Fate in 2024?
The 2024 Senate map is brutal for the Democrats. Here it is again. You'll see it here many times between now and Nov. 5, 2024. It looks like this: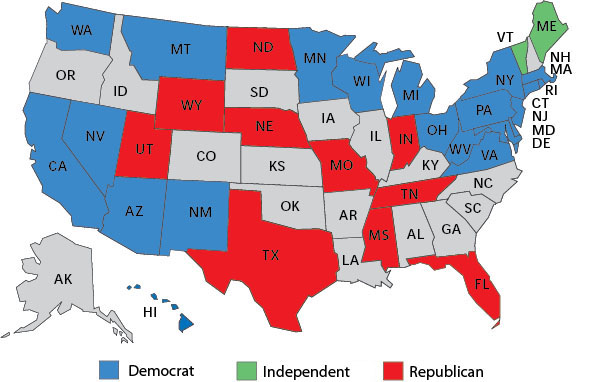 We'll have many stories about 2024 Senate races in the next 2 years. Ohio, Montana, and West Virginia will be especially tough for the Democrats. Let's start with Ohio, where Sen. Sherrod Brown (D-OH) will be seeking reelection.
For starters, Rep. Tim Ryan (D-OH) just lost a Senate race in Ohio to an ultra Trumper, J.D. Vance (R), who has no political experience and who ran a dreadful campaign. That's not an ideal situation for Brown. On the other hand, the Democrat who just lost, Tim Ryan, has never won a statewide race in Ohio. Brown has done that three times, all by decent margins:
2006
Sherrod Brown
56.2%
Mike DeWine*
43.8%
Brown +12.4%
2012
Sherrod Brown*
50.7%
Josh Mandel
44.7%
Brown +6.0%
2018
Sherrod Brown*
53.4%
Jim Renacci
47.6%
Brown +5.8%
And remember, beating an incumbent is always tough, especially one as well known as Brown. Also, Ohio is a working-class state and Brown is well known as a guy who does well with working-class voters. On the other hand, the northeastern part of Ohio, especially Mahoning County, has to be the base for any Democrat. Ryan lost Mahoning County. That signals that the Democratic hold on Youngstown is weakening, certainly not a good sign for Brown. One Ohio Democratic strategist, Irene Lin, was asked if Brown could survive now. She said: "I'm not sure."
Demographically, Ohio and Pennsylvania are very similar in terms of race and educational level. Democrats did just fine in Pennsylvania, so what's the difference? For one thing, Philadelphia and Pittsburgh are huge sources of Democratic votes. By contrast, Ohio's largest city, Columbus, is only 60% the size of Philly and has nothing like the collar counties around that city, full of those much-desired college-educated suburban women.
One advantage Brown will have over Ryan is money. He is a lefty and can count on vast amounts of money flowing in from all over the country. Sens. Bernie Sanders (I-VT) and Elizabeth Warren (D-MA) are sure to campaign for him big time and help him raise oodles of dough.
And the Democrats are not in full retreat in Ohio. They flipped a House seat in the Cincinnati area, held a Toledo-based district that Donald Trump won in 2020, and won the most competitive House race is the state, an open seat in Akron. That doesn't speak to "Democrats can't win in Ohio."
A lot hinges on who the Republican candidates is. People looking at the race include the outgoing Secretary of State Frank LaRose, the incoming Secretary of State Mark Kvamme, a venture capitalist, and Matt Dolan, co-owner of the Cleveland Guardians baseball team. Of course, if Donald Trump finds some ultra Trumper to run and gets him through the primary, that changes the picture, especially if that candidate doesn't live in Ohio but went to junior high school there 30 years ago. Maybe Mehmet Oz will be intersted. After all, he was born in Cleveland, so he's genuinely a native.
It's obviously early, but this will be one of the key races and a race to watch. (V)
---

This item appeared on www.electoral-vote.com. Read it Monday through Friday for political and election news, Saturday for answers to reader's questions, and Sunday for letters from readers.

www.electoral-vote.com State polls All Senate candidates