Trump Dined with Holocaust Denier Nick Fuentes Last Week
Last Tuesday Donald Trump had dinner with Kanye West, Holocaust denier and all-purpose bigot Nick Fuentes, and two other people West brought to Mar-a-Lago with him. Initially, Politico reported that Fuentes was seen at Mar-a-Lago and Trump denied that he was there. Later, it came out that not only was Fuentes present, but that Trump had dinner with him. Trump couldn't deny that because West posted a video to Twitter in which he said that Trump was impressed by Fuentes because "unlike so many of the lawyers and so many people that he was left with on his 2020 campaign, he's actually a loyalist." And, of course, with Trump, bigotry, racism, and an endless stream of vile statements are acceptable from anyone as long as whoever issues them is loyyal to him.
Although Fuentes clearly admires Trump, he has criticized him in postings in the past. In particular, he has said Trump was wrong to disavow white supremacy. Maybe by cozying up to Fuentes now, Trump is trying to fix that problem. No one has reported (yet) on how West (who is Black) feels about his buddy's views on white supremacy.
It didn't take long after the story came out for reactions to start coming in. Democrats and anti-racism groups went first. Joe Biden's Deputy Press Secretary Andrew Bates gave the administration's official reaction: "Bigotry, hate, and antisemitism have absolutely no place in America—including at Mar-A-Lago." Ann Telnaes, the cartoonist for The Washington Post, went for a graphical reaction: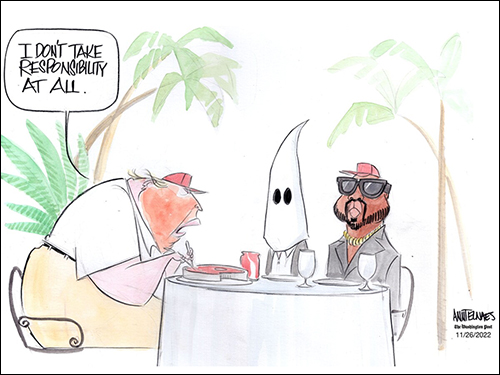 Then a couple of RINOs spoke up, starting with Chris Christie. He said:: "This is just another example of an awful lack of judgment from Donald Trump, which, combined with his past poor judgments, make him an untenable general election candidate for the Republican Party in 2024." That was sort of expected from Christie since he still dreams of sitting in the big chair in the White House. Gov. Asa Hutchinson (R-AR), who is also considering a 2024 bid, called the dinner "very troubling." But no word from Rep. Kevin "Spine of steel" McCarthy (R-CA), who wouldn't want to upset Reps. Marjorie Taylor Greene (R-GA) and Paul Gosar (R-AZ), whose votes he will need on Jan. 3. Also near total silence from most other Republican politicians, all of whom are still scared to death of Trump, despite the midterms.
Somewhat more painful was the condemnation from Matt Brooks, executive director of the Republican Jewish Coalition, whose conference most of the Republican presidential candidates visited just a week ago, trying to curry favor with wealthy donors. Brooks said: "We strongly condemn the virulent antisemitism of Kanye West and Nick Fuentes and call on all political leaders to reject their messages of hate and refuse to meet with them." Trump's own ambassador to Israel said: "Even a social visit from an antisemite like Kanye West and human scum like Nick Fuentes is unacceptable."
The worst (and least expected) condemnation came from Breitbart, which shredded Trump. Their story features a clip of Fuentes speaking about his passions: racism and bigotry. We're not going to link to the clip, but if you want to see why this dinner is going to be a problem for Trump going forward, take a look at the Breitbart story.
Maybe this dinner will disappear into the memory hole, but it appears that the DNC is aware of it, so it might just come up again later on. DNC spokesperson Ammar Moussa said: "If it was any other party, breaking bread with Nick Fuentes would be instantly disqualifying for Trump. The most extreme views have found a home in today's MAGA Republican Party."
Politically, this dinner and West's video aren't going to help Trump presidential run. The people who will be impressed by it are already in his camp. It won't get him any more votes. But some moderate Republicans and independents may be repelled by Trump's hanging out with racists and antisemites. By Saturday, Trump finally figured this out (he's a slow learner). So he naturally blamed West for the incident. There is some truth in that, but he could have called security to have Fuentes removed from the property. He knew very well who Fuentes is because he was very visible at the 2017 "Unite the Right" rally in Charlottesville. You remember, the one where Trump said there were fine people on both sides.
And note that Trump changed his story yet again Saturday night, which tells us that he knows he blew it. The current version (v3.0, for those keeping count) is that the former president was trying to "help a seriously troubled man, who just happens to be Black." In other words, if you're carping about Trump's dinner guests, then you're the one who's a racist. That spin should solve his PR problem, right? (V)
---

This item appeared on www.electoral-vote.com. Read it Monday through Friday for political and election news, Saturday for answers to reader's questions, and Sunday for letters from readers.

www.electoral-vote.com State polls All Senate candidates