| | |
| --- | --- |
| May 12 | |
---
| | | |
| --- | --- | --- |
| | Senate score will go here | |
---
---




Primaries/caucuses
Obama won
Clinton won
Clinton: won popular vote
Obama: most delegates
May
June
---
---
News from the Votemaster
Tomorrow is the West Virginia primary. Here is the lay of the land. West Virginia gets to send 39 delegates to the Democratic National Convention, as follows:
District level
18
June 13
District caucus
At large
7
June 14
State exxecutive committee
Pledged PLEOs
3
June 14
State executive committee
Unpledged PLEOs
10
-
Ex officio
Unpledged add ons
1
June 14
State executive committee
All people registered as Democrats or not registered with any party may vote. Republicans may not vote in the Democratic primary. Voting is by congressional district, of which West Virginia has three. Here is the map.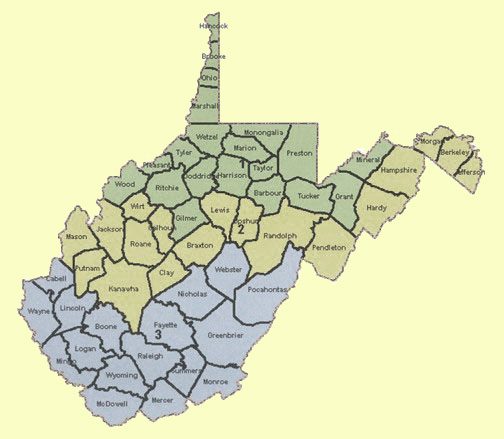 1
3
3
6
North
R+6
Dem
Alan Mollohan
2
3
3
6
Central
R+5
GOP
Shelley Moore-Capito
3
3
3
6
South
D+0
Dem
Nick Rahall
West Virginia is a state tailor-made for Hillary Clinton. There are no rich people, no creative types, few blacks, and few liberals. There are a lot of relatively poor people and some blue-collar workers. The state ranks last in the nation in median household income and has the lowest percentage of the population with a college degree of any state in the country. Only two cities (Charleston and Huntington have 50,000 people and only six cities have 20,000 people or more. The popular image of the state of one being full of poor hillbillies living in mountain cabins unfortunately has a certain amount of truth to it.
As a consequence of these demographics, Hillary Clinton is expected to do very well in West Virginia. Getting 2/3 of the vote is plausible. If she does get this in each of the state's three congressional districts, she gets 4 district-level delegates per CD, for a total of 12 to his 6. With 2/3 of the vote, she will get 5 at-large delegates to his 2 and 2 PLEOs to his 1. Thus she is likely to win 19 pledged delegates to his 9 for a net gain of 10 delegates. Next week Kentucky votes and Oregon (which has only mail-in votes) will finish voting. They are likely to cancel each other out.
Barack Obama has said if his association with Rev. Jeremiah Wright is on the table, then John McCain's association with Charles Keating is too. Executive summary: Keating was a crooked banker who bilked thousands of people out of their life savings. When the feds caught up with him, he made large campaign contributions to McCain and four other senators, who then promptly tried (unsuccessfully) to keep him out of federal prison. Of course all that was 20 years ago, but Obama is going to argue if my association with unsavory people 20 years ago is an issue, then so is yours.
Two potential Democrats who might be interested in House seat of Rep. Vito Fossella (NY-13) are state senator Diane Savino and Brooklyn Burrough president Marty Markowitz (if you don't know who Fossella is, check the postings here for last couple of days. In the unlikely event Fossella refuses to step down and runs again, the GOP may be in even worse shape than with state senator Andy Lanza or DA Dan Donovan, the most likely Republicans if Fossella resigns. It is even possible that the Republican leadership would encourage Lanza or Donovan to run against Fossella in a primary if he refuses to go quietly.
A new political satire site, Political Irony now serves up politicans on wry.
No new primary polls today. The polling results for all primaries and caucuses are available as a Web page and in .csv format.
Barack Obama's lead in the delegate race is now at 170 compared to 136 one week ago. Almost every day he nets a couple more.
Delegates
Needed to win: 2025

Here is another source for delegate totals.



-- The Votemaster
---
---