Hello Economy, Goodbye Cosmetics on Animals
Lehman Brothers and Merrill Lynch no longer exist, A.I.G. is being radcially restructured, and the Dow dropped 500 points yesterday. Guess what? The economy is back. The Washington Post's Dan Balz has a good piece on the political fallout. People are going to be asking the candidates: "How are you going to fix this mess and prevent a repetition?" The election will probably hang on the answers. The moderator of the first debate (Jim Lehrer), on Sept. 26 at the University of Mississippi, is probably going to bring up the subject as well.
Voting Machines Still Don't Work
Current voting machines can still be hacked easily. Computer scientists at the University of California at Santa Barbara commissioned by the California secretary of state, Debra Bowen, have shown how easy it is. Read the story or better yet, watch the video. Bowen is an opponent of electronic voting machines and campaigned for office on a platform of election reform and making sure every vote is counted correctly. She defeated a sitting secretary of state who maintained that everything was fine with the voting systems.
527 Groups Rev Up
The 527s are starting to rev up. A group called Brave New PAC made an ad featuring Philip Butler, who was at Annapolis with John McCain and also a POW with him in Vietnam and who knows him well. In the ad Butler says McCain can blow up and go off like a Roman candle. He added that McCain is "not somebody I would like to see with his finger near the red button." This ad was clearly inspired by the Swift Boaters of 2004 who attacked Kerry on his war record. An ad from the American Issues Project, a Republican group, made an ad linking Obama to Bill Ayers, a 1960s radical turned professor of education.
Over 30 Congressmen Are Unopposed
While many House races are highly competitive (see our list of Hot House races) there are also races that so are uncompetitive that one party or the other didn't even bother to run a candidate. Here is the list.
AL-06
R+25
Spencer Bachus
AL-07
D+17
Artur Davis
AR-01
D+1
Marion Berry*
AR-02
R+0
Vic Snyder*
AR-03
R+11
John Boozman*
AR-04
D+0
Mike Ross*
CA-19
R+10
George Radonovich*
FL-03
D+16
Corrine Brown*
FL-17
D+35
Kendrick Meek*
FL-20
D+18
Debbie Wasserman-Schultz*
GA-04
D+22
Hank Johnson*
GA-05
D+23
John Lewis*
IL-02
D+35
Jesse Jackson, Jr.*
IL-04
D+13
Luis Gutierrez*
IL-07
D+35
Danny Davis*
IL-17
D+5
Philip Hare*
MI-14
D+33
John Conyers*
MN-08
D+4
James Oberstar*
MO-01
D+26
William Clay, Jr.*
NY-06
D+38
Gregory Meeks*
NY-09
D+14
Anthony Weiner*
OR-04
D+0
Peter DeFazio*
PA-14
D+22
Michael Doyle*
TN-06
R+4
Bart Gordon*
TN-08
D+0
John Tanner*
TN-09
D+18
Steve Cohen*
(no Republican)
TX-01
R+17
Louie Gohmert*
TX-02
R+12
Ted Poe*
TX-05
R+16
Jeb Hensarling*
TX-11
R+25
Mike Conaway*
TX-21
R+13
Lamar Smith*
VA-03
D+18
Robert Scott*
VA-09
R+7
Rick Boucher*
VT-AL
D+8
Peter Welch*
WI-04
D+20
Gwen Moore*
WI-05
R+12
Jim Sensenbrenner*
WV-01
R+6
Alan Mollohan*
The reasons why a congressman is unopposed can vary. Sometimes there district so heavily tilted one way or the other that one of the parties can't find anybody willing to put in the effort. Inner cities with large black majorities tend not to be prime hunting grounds for Republicans and rural areas where everybody hunts are not always Democrat friendly. In some cases the district has been gerrymandered to achieve its balance, but not always. here are some examples of the districts listed above that exhbit major gerrymandering. Some others were shown in on this site Sep. 18, 2006.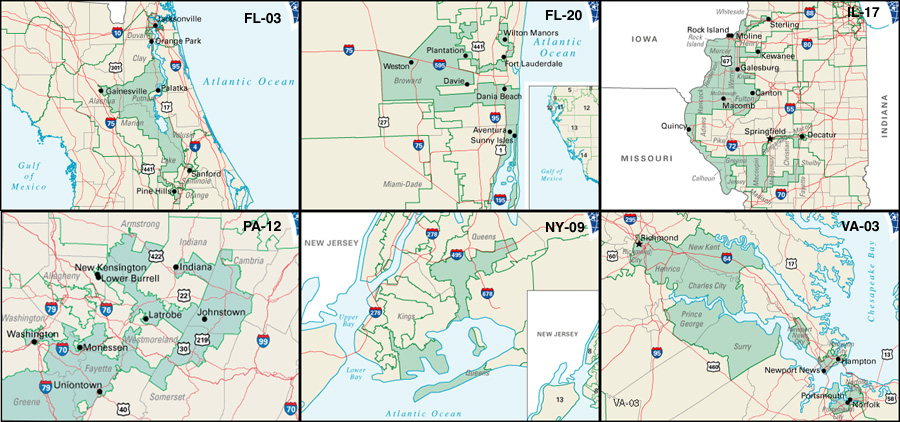 In still other cases, the incumbent is just so popular despite belonging to the wrong party that a run is futile. And in a few cases there are other reasons, such as the chosen candidate failing to file on time.
Today's Polls
We have 10 presidential polls today. On the whole, the McCain post-convention bounce is still visible, but that could change fairly quickly as the financial crisis moves front and center.
Colorado
46%
48%
Sep 14
Sep 14
Rasmussen
Florida
44%
49%
Sep 14
Sep 14
Rasmussen
New York
46%
41%
Sep 08
Sep 10
Siena Coll.
Ohio
42%
46%
Sep 10
Sep 13
Suffolk U.
Ohio
45%
48%
Sep 14
Sep 14
Rasmussen
Ohio
45%
49%
Sep 12
Sep 14
SurveyUSA
Pennsylvania
47%
47%
Sep 14
Sep 14
Rasmussen
Utah
32%
64%
Sep 10
Sep 10
Rasmussen
Virginia
48%
48%
Sep 14
Sep 14
Rasmussen
Virginia
50%
46%
Sep 12
Sep 14
SurveyUSA
We also have 3 Senate polls. Nothing surprising here.
Iowa
Tom Harkin*
53%
Christopher Reed
34%
Sep 08
Sep 10
Selzer
Minnesota
Al Franken
37%
Norm Coleman*
41%
Sep 10
Sep 12
Princeton Survey
Virginia
Mark Warner
57%
Jim Gilmore
34%
Sep 12
Sep 14
SurveyUSA
If you like this Website, tell your friends. You can also share by clicking this button
-- The Votemaster