News from the Votemaster
The establishment struck back, but it was aided by a little bit of good luck. In North Carolina, the state and national Republican leadership backed speaker of the North Carolina house, Thom Tillis, as the Republican candidate to face Sen. Kay Hagan (D-NC) in November. Tillis won with about 45% of the vote, thus avoiding a runoff. The establishment's good luck here was that there were two tea party candidates opposing him, fiery pastor Mark Harris and physician Greg Brannon. Harris was backed by former Arkansas governor Mike Huckabee. Brannon was supported by Sen. Rand Paul (R-KY). Together, Harris and Brannon also got about 45%. If one of them had dropped out in favor of the other one, it would have been a cliffhanger, but since Tillis made it past the 40% mark, there is no runoff and the general election will be Tillis vs. Hagan.
The general election is going to be a real barnburner. Outside groups have already spent $20 million on the race and it hasn't even started yet. Control of the Senate could easily hinge on North Carolina, and a small number of other states such as Alaska and Louisiana. Most observers were expecting Tillis to win the primary; the main question was whether he would pass the 40% mark, and he did. General election polling of a Tillis vs. Hagan race has shown it to be very close, within the margin of error in most cases. Hagan is burdened by the ACA, which is not popular in North Carolina, but Tillis has to deal with the fact that he is the face of an extremely unpopular state legislature, which has cut education and social programs. Lots of mud is going to thrown in this race.
Next week we have the Nebraska and West Virginia primaries, neither of which is going to have any surprises. The week after that, however, will feature the Georgia and Kentucky primaries. Georgia is a real food fight, where wealthy businessman David Perdue currently is slightly ahead of Rep. Jack Kingston (R-GA). But even if Perdue comes out first, he is certain to face a runoff in July. If supporters of the (right-wing) candidates who fail to make the runoff, probably Karen Handel, Paul Broun, and Phil Gingrey, largely support Perdue's opponent, he could win the nomination. If he does, Democrat Michelle Nunn would actually have a good shot at winning the general election because Kingston, Handel, Gingrey, and Broun are all so far to the right.
The Kentucky primary initially looked exciting, with tea party candidate Matt Bevin challenging minority leader Mitch McConnell, whose popularity in Kentucky is even lower than Obama's. However, McConnell's huge bank account and control of the state machine have now made him the clear favorite in the primary. If he wins, he will face secretary of state Alison Lundergan Grimes in the general election. Most polls show this to be a surprisingly close race.
In other primary news, House speaker John Boehner was renominated to run for the House in November. He got 74% of the vote. His tea party challenger, J.D. Winteregg, a French teacher at a Christian college, got 15%, with the rest going to minor candidates. The most noteworthy point in the campaign was Winteregg's ad accusing Boehner of causing "electile dysfunction," a spoof on Cialis ads. His employer didn't think it funny at all and fired him. No one expected Boehner to lose or even come in below 50%, but a weak showing could have weakened his already tenuous grip on the tea party caucus in the House and led to a leadership challenge.
As the country has become more partisan, voters are less likely to split their tickets. There was a time when liberal Republicans could survive in the Northeast and conservative Democrats could hang on in the South. That is becoming less and less common. Typically, when a long-entrenched Democrat in a red state retires, the seat flips to the Republicans and vice versa. If this continues, we will eventually have states that vote for Democrats up and down the line or Republicans up and down the line. As a thought experiment, let us see what the consequences of this tendency would be for the Senate.
For simplicity, we only examine regular Senate elections, not special elections for this analysis. In 2014, all the class II senators up up for reelection (or their open seats are up for grabs). For purposes of this discussion, a blue state is one that President Obama won in 2012 and a red state is one that Mitt Romney carried. In the 33 regular Senate seats up in 2013, eight are occupied by someone of the "wrong" party. Of these, seven are Democrats in red states and one is a Republican in a blue state. The seven endangered Democratic seats are currently occupied by senators Begich, Hagan, Johnson (retiring), Landrieu, Pryor, Rockefeller (retiring), and Walsh (appointed). The one Republican mismatched with her state is Sen. Susan Collins, who is from the blue state of Maine, but whose personal popularity is likely to save her, but just to be consistent, we will consider her endangered. If these eight seats were to flip, we would get this map of new Senate seats.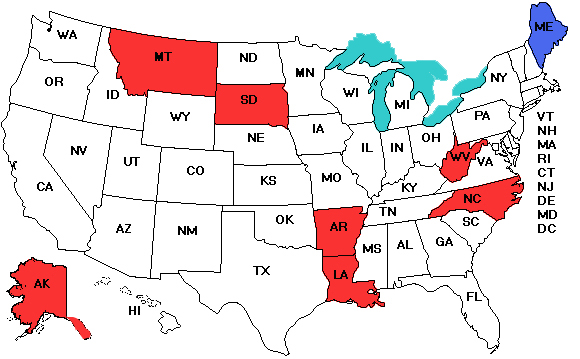 In 2016, the situation is completely different. The endangered Democrats in 2014 are the ones who rode Obama's coattails to victory in 2008. In 2016 we have seven Republicans who rode the low-turnout 2010 Republican wave to victory and are going to have to deal with a much larger electorate in 2016. All seven senators who are mismatched to their states in 2016 are Republicans, namely senators Ayotte, Grassley, Johnson, Kirk, Portman, Rubio, and Toomey. Of these, Grassley is popular enough to win even in a presidential election year, but he will be 83 on election day 2016 and is likely to retire, giving the Democrats an excellent chance to grab his seat. Below is a map showing what would happen if every Senate seat up in 2016 goes to the state's dominant party.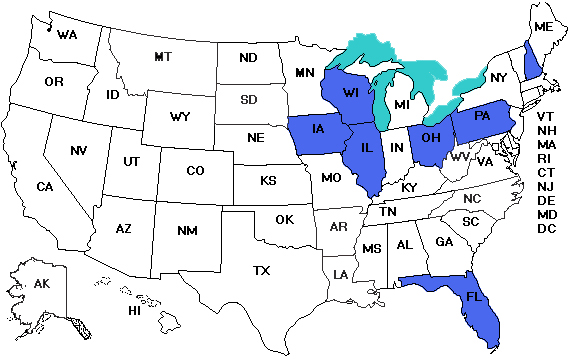 Of course, not all of these flips are equally likely. If Sen. Mario Rubio (R-FL) declines to run for reelection in order to run for President, the Democrats indeed have a good chance to pick off his seat, but if he runs for reelection, he might well be able to hold it. In contrast, Sen. Mark Kirk (R-IL) is unlikely to survive any strong challenge in very blue Illinois, especially if the challenger is Michelle Obama.
Now let us move to the 2018 election. This is the echo of the 2012 presidential election and again we have more red state Democrats up than blue state Republicans. The Democrats in red states up are senators Donnelly, Heitkamp, Manchin, McCaskill, and Tester. The lone blue-state Republican is Sen. Heller. If all these states flip we get this map.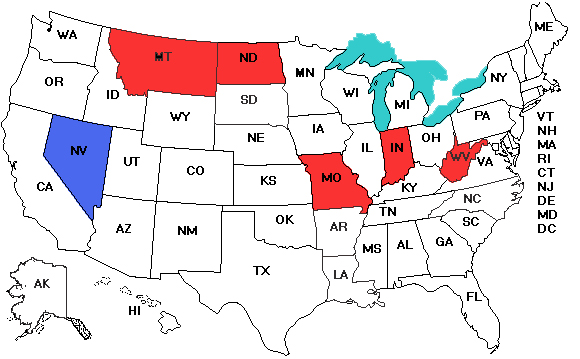 Now let us look at these data in table form.
| | | | | | | |
| --- | --- | --- | --- | --- | --- | --- |
| Year | Dems up | GOP up | Endangered Dems | Endangered GOP | Dems | GOP |
| 2014 | 20 | 13 | 7 | 1 | 49 | 51 |
| 2016 | 10 | 24 | 0 | 7 | 56 | 44 |
| 2018 | 25 | 8 | 5 | 1 | 52 | 48 |
If every Democrat in a red state and every Republican in a blue state loses, the Senate seated in January of 2015 will have 49 Democrats (including the two independents who caucus with the Democrats) and 51 Republicans. However, after the 2016 election, it will flip back and the Democrats will have 56 seats. Then after the 2018 election the Democrats will still be in control, but with a reduced majority of 52 seats. If Collins wins in Maine, as expected, add one to GOP totals and subtract one from the Democrats' totals.
Nevertheless don't count on all the mismatched seats flipping and also don't count on senators who are correctly matched winning. Candidates make gaffes, there can be waves, fundraising is important, the person on the top of the ticket can have coattails, the demographics of the electorate are changing, and more. Nevertheless, while the Republicans have a shot at capturing the Senate in 2014 (assuming they can hold their own seats in tight races in Kentucky and Georgia), the long view favors the Democrats until 2020, which is again a presidential election year, when the 2014 winners who did well in a low-turnout election will face a bigger electorate, which probably also favors the Democrats.
So the conclusion is while a lot of Democrats are crying in their beer this year, the long-range prospects for the Democrats aren't really that bad.
The long-range prospects of the parties can have short-term consequences, though. Suppose the Republicans get 51 seats in the new Senate. The House will immediately pass a bill to repeal the ACA and send it over to the Senate. Sen. Ted Cruz (R-TX) will loudly demand a straight up-or-down vote on it, which will put Mitch McConnell in a bind (we can safely assume McConnell will be majority leader in this scenario because if he loses his own race in 2014, it is very unlikely the Republicans will have a majority). If McConnell tries to bring a repeal bill to the floor, the minority Democrats will fillibuster it. McConnell could abolish the filibuster once and for all, but he is smart enough to know that after the 2016 elections, the Republicans will probably be back in the minority. So his choices will be either (1) tell Cruz to shut up, let the Democrats filibuster, and take the heat, or (2) abolish the filibuster and give up the power to obstruct after returning to the minority starting in January 2017.
Fourteen years after the Florida voting debacle, where state officials with magnifying glasses examined punched cards to see if they contained any pregnant chads, voting technology has barely changed. True, punched cards are gone now and huge voting machines that use mechanical levers are dwindling, but the overall picture is a mess. The main problem is that voting procedures are determined by the states and they are underfunded, disinterested, or have a hidden agenda when it comes to voting. Congress did provide funds for new equipment via the Help America Vote Act, but they are largely gone now.
Paper ballots seem cumbersome in the digital age, especially when there may be dozens of races and ballot initiatives in some states, but almost no experts trust electronic voting machines since they can be hacked. A possible solution now under consideration is to use touch-screen tablets, such as iPads, as the actual user interface, but to have the devices print a paper ballot that the voter can verify and which can be optically scanned and hand recounted in the event of a close race. Nevertheless, even this solution has problems since some voters will find tablets intimidating and printers can break down. Certainly nothing will be done before the 2014 elections and probably nothing will be done before the 2016 elections. The Website Verified Voting is a good resource about voting technology.
Email a link to a friend
or share:
---The Votemaster