TODAY'S HEADLINES (click to jump there; use your browser's "Back" button to return here)

•
Trump's Lawyers Plan to Call Flynn a Liar
•
Moore Claims Fraud in Alabama
•
Blue Staters Rush to Pay Property Taxes
•
McConnell and Ryan Are Not on the Same Page on Entitlement Reform
•
Obama Beats Trump as Most Admired Man of 2017
•
How Some Political Predictions Turned Out
•
No, Trump Has Not Signed More Laws Than Any Other President in His First Year
•
Bannon Cuts Ties with Nehlen
•
China Dogs Trump
Donald Trump's lawyers plan on calling former NSA Michael Flynn a liar if he incriminates Trump or anyone close to him. This is a complete break from Trump's previous kid gloves' approach to Flynn, in which he tried to protect Flynn by asking former FBI Director James Comey to drop his investigation of Flynn. In fact, on Dec. 15, Trump even dangled a pardon in front of Flynn. Of course, having Trump (directly, or through his lawyers) calling Flynn a liar is not going to affect special counsel Robert Mueller one iota. At this point, if Trump said February follows January, Mueller would probably consult three calendars before even considering the possibility.
So why are Trump's lawyers already talking about calling Flynn a liar? Very likely, they expect him to have damning testimony and—naturally—any good defense attorney tries to undermine the credibility of the prosecution's witnesses. Whether this works could depend on whether Mueller has evidence that supports Flynn's version of events, such as additional witnesses or documents. Mueller may or may not have anything to support Flynn, but at this point he is not talking.
This situation is another example of how Trump does not think long-term, and how he is a very difficult client for a lawyer to have. If "Flynn is a liar" had been the party line all along, it might have flown. But Trump hired the former general, knowing him to be compromised, for a high-ranking position in the federal government. Then, he stuck by Flynn for several weeks before cashiering him. Then, he tried to save Flynn's hide, over and over. None of these things are consistent with "he's a liar" or "there's no truth to whatever he tells you." Meanwhile, this is the first time we've heard Team Trump cast aspersions on Flynn. If the general really is so untrustworthy, how come it took a year for it to occur to anybody to mention that? And, of course, the President's habit of lying is very well established. So, even if Mueller doesn't have anyone or anything to corroborate Flynn (unlikely), and it comes down to a "he said, he said" situation, Trump could well come out on the short end of that one. (V & Z)
Roy Moore hasn't given up on being a senator quite yet. On Wednesday night, he filed a complaint with Alabama's secretary of state, alleging that "experts say" he was denied victory due to massive fraud, and demanding that a new special election be held. Moore's "experts" include Richard Charnin, a fringy type who is a leading advocate for the notion that the DNC murdered Seth Rich, and whose blog is literally titled, "JFK CONSPIRACY AND SYSTEMIC ELECTION FRAUD ANALYSIS." You can't make this stuff up. Moore's "evidence" includes the fact that there was 47% voter turnout In Jefferson County, which he describes as "highly unusual." In unrelated news, Jefferson County is 43% black.
The purpose of this complaint, which might as well have "we're desperate!" stamped on the cover, is to stop Alabama Secretary of State John Merrill from certifying the election results, something that is supposed to happen today. Moore and his team know that once that happens, then it's all over. Of course, even if the former judge somehow succeeds in postponing certification, the path between him and a U.S. Senate seat would still be very, very long, and uphill all the way. (Z)
Folks who own homes in states with high property taxes can deduct all of the property taxes they pay this year. Starting January 1, they can deduct only the first $10,000. Consequently, many of them are hustling to pay next year's taxes (and maybe even years beyond that) before the calendar turns. The legality of doing so varies from locality to locality, though some of the affected states are hurrying to change the rules, since they are happy to receive the payments early. For example, Gov. Chris Christie (R-NJ) signed an executive order on Wednesday ordering the New Jersey bureaucracy to accept early payment.
There's actually no guarantee that this maneuver will save people money; those who are paying in advance are gambling that when the new rules are fleshed out, they will have outmaneuvered the system. However, all the IRS has to do is declare that the relevant year is when the taxes were due, not when they were paid, and the early payments were for naught. However it turns out, clearly many homeowners are very much attuned to what's going on with the tax code, and the fact that their tax bills are going to go up. They must also be attuned, then, to which party is responsible. Our researchers are still looking into how this might possibly affect these homeowners' voting behavior. However, it's likely that Reps. Frank LoBiondo (R-NJ), Tom MacArthur (R-NJ), Leonard Lance (R-NJ), Rodney Frelinghuysen (R-NJ), Peter Roskam (R-IL), Mike Bost (R-IL), Rodney L. Davis (R-IL), Ryan Costello (R-PA), Pat Meehan (R-PA), and Brian Fitzpatrick (R-PA), among others, are a bit nervous, since they all represent swing districts where the average property tax bill is more than $5,000. In addition, all of those states have income taxes and the maximum deduction for state and local taxes combined is $10,000. (Z)
Fresh off a big victory cutting taxes, Speaker Paul Ryan (R-WI) has even bigger plans for 2018. He says that the federal budget deficit is out of control and wants to slash Medicaid, Medicare, and Social Security to tame it. While the idea might well fly in the House, it has run into some stiff resistance from an unexpected quarter: Senate Majority Leader Mitch McConnell (R-KY). McConnell has essentially ruled it out already. McConnell knows how explosive such a plan will be and wants no part of it unless Democrats join in, which they most certainly will not.
A big factor in McConnell's distinct lack of interest is politics. He knows that gutting the popular programs will energize Democrats even more than they already are, which could endanger some Senate seats (in particular, Nevada and Arizona) and his job as majority leader. Ryan is fearless because so many of his members are from deeply-gerrymandered districts that they aren't afraid of anything except primary challenges from the right. Rep. Charlie Dent (R-PA), a centrist leader, put it very bluntly: "The longer I'm here, the more I'm convinced that we don't do things to help members in swing-state districts. We do things to help people in the really red districts to keep the base pacified. That's not how you hold the majority." It is probably a safe bet that Ryan won't try very hard to gut the programs, since he knows any bill he passes will be killed in the Senate and members will have stuck their necks out for nothing. (V)
Gallup has released the 2017 version of its annual poll asking who people think is the most admired man and most admired woman in the world. It's official now: Barack Obama is more admired than Donald Trump. Obama has topped the list for 10 years in a row now, just as Hillary Clinton has. Here are the lists for people scoring above 1%.
| | |
| --- | --- |
| Most admired man | Most admired woman |
| Barack Obama (17%) | Hillary Clinton (9%) |
| Donald Trump (14%) | Michelle Obama (7%) |
| Pope Francis (3%) | Oprah Winfrey (4%) |
| Billy Graham (2%) | Elizabeth Warren (3%) |
| John McCain (2%) | Angela Merkel (2%) |
| Elon Musk (2%) | Queen Elizabeth II (2%) |
Clearly people have very loose criteria for admiration. Below 2% we find Benjamin Netanyahu, Jeff Bezos, and the Dalai Lama tied at 1%. The astute reader will note that these three made their marks in different ways. Also noteworthy is that even the most popular person (Obama) got only 17% of the votes. Still, that was enough to make him the first ex-president to beat out a sitting president. (V)
Politico has collected some of the not-so-good political predictions made in 2017. Here is a sampler:
Tony Schwartz: Trump will resign by year end.
Many people: Jared Kushner will be a moderating influence on President Trump.
Tory Newmyer et al.: Trump will make infrastructure a high priority.
Steve Bannon: Ed Gillespie will beat Ralph Northam, thanks to Corey Stewart's voters.
Josh Barro: Trump is headed for a do-nothing presidency.
John Aravosis: In six months, Trump will be holed up in the Ecuadorian embassy.
Laura Ingraham: Mitch McConnell will make it into 2018 without passing a tax bill.
Peter Daou: The House will pass AHCA (in March) and pundits will fawn over Trump.
Bill Kristol: Trump will throw Roy Moore under the bus following sexual assault allegations.
Scott Adams: By September, it's going to be super-awkward to be anti-Trump.
SE Cupp: Trump will end 2017 with an approval rating above 60 percent.
Ari Fleischer: White House aides will keep Trump from tweeting.
Chris Cillizza: Al Franken could be a formidable 2020 candidate.
Making predictions is tough—especially about the future. However, undaunted, we bravely make a prediction about next year: "2018 will be an interesting year in politics." (V)
Now that his first year in office is nearing its end, Donald Trump's talking point du jour is that he's signed more bills into law than any other president. Here he is saying it on Twitter:
With all my Administration has done on Legislative Approvals (broke Harry Truman's Record), Regulation Cutting, Judicial Appointments, Building Military, VA, TAX CUTS & REFORM, Record Economy/Stock Market and so much more, I am sure great credit will be given by mainstream news?

— Donald J. Trump (@realDonaldTrump) December 22, 2017
The President also made the claim at an appearance on Wednesday, telling a group of firefighters that, "You know, one of the things that people don't understand—we have signed more legislation than anybody. We broke the record of Harry Truman."
As with anything Trump says, some rather significant clarifications are needed. First, volume of legislation is not actually a particularly meaningful measurement of accomplishment. Quantity does not equal quality; after all, the Social Security Act and the "rename a post office for Fred D. Thompson" resolution were both +1 for their respective presidents.
More significantly, even if volume is the measuring stick we are using, Trump's claim is just slightly off. While it is true that he broke Truman's record for most bills signed in the first 100 days (thanks to a lot of post offices being renamed), "100 days" and "first year" are far from the same thing. Here is a chart of bills each president signed in the first 336 days after their election, courtesy of GovTrack: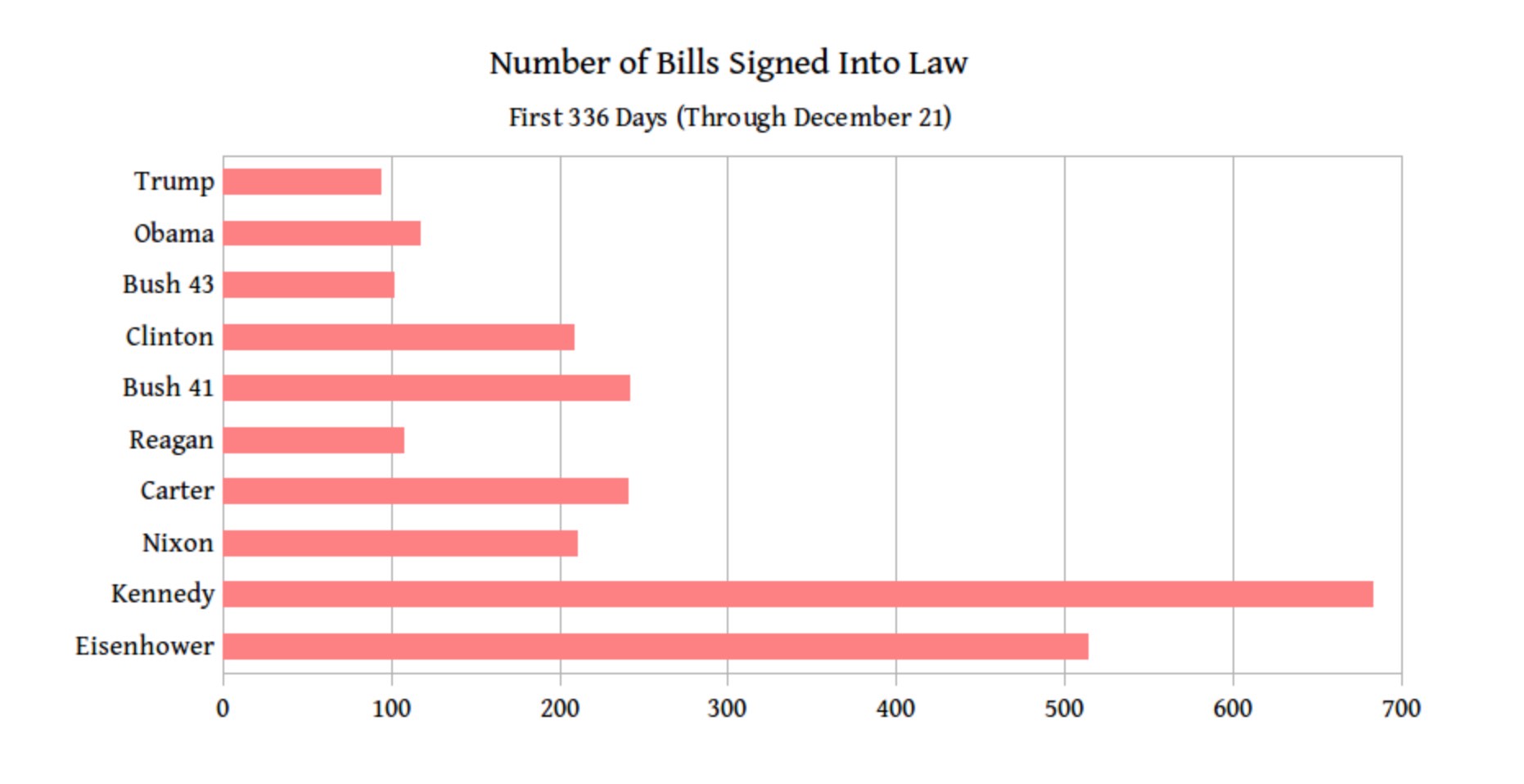 As the chart shows, Trump's one-year total does not put him in first place, or even second place. With 96 bills signed, he's actually in something known as "last place." Whether Trump doesn't understand that the "we broke Truman's record" line is no longer remotely true, or he simply does not care, is something only he knows. (Z)
Roy Moore was plausibly accused of committing multiple sexual assaults against underaged girls, and Steve Bannon stuck with him. This raises an obvious question: Is there anything that is a bridge too far for the Breitbart publisher? And it turns out that the answer, apparently, is "yes." Bannon has turned his back on Paul Nehlen—who is challenging Speaker Paul Ryan (R-WI) in WI-01—after a series of controversial appearances, statements, and tweets.
Nehlen, who proudly calls himself "mini-Trump," has—apropos to that label—flirted regularly with xenophobia, Islamophobia, anti-Semitism, and dog whistle racism. Recently, however, he's thrown away the whistle and become a full-blown bigot. Nehlen appeared on the white supremacist podcast "Fash the Nation" and has been actively retweeting white supremacist memes, many with the caption "It's ok to be white." He's also become overtly anti-Semitic, carrying around copies of books by Kevin MacDonald—who uses his position as a tenured professor at Cal State Long Beach to make anti-Semitism seem scholarly—and similarly using Twitter to broadcast anti-Semitic memes. On Wednesday, for example, Nehlen posted a poll asking for his followers' "position" on "the Jews." 10% said they are philosemites ("lovesJews1st"), 63% said they believe in America First ("indiff2Jews"), and 27% said they are anti-semites ("hatesJews"). The would-be congressman also accused his critics of accepting "shekels for hire."
In any event, the Brietbart folks now say that "Nehlen is dead to us" and "He's gone off the deep end." One wonders where, exactly, the deep end is, since Steve Bannon and the site's authors have historically been more than happy to embrace white supremacist memes and anti-Semitism, and it's not like Nehlen's views were a secret three months ago or six months ago. In fact, one wonders if the difference between Nehlen and Roy Moore is not that anti-Semitism/white supremacism is worse than child molestation, it's that Moore had a chance to win, and Nehlen does not. After all, the site is still publishing plenty of articles supporting Rep. Steve King (R-IA), and he's a racist and an anti-Semite, too. (Z)
In China, 2018 is the year of the dog. 1946, when Donald Trump was born, was also the year of the dog. The Chinese don't much care for Trump. You can see where this is headed: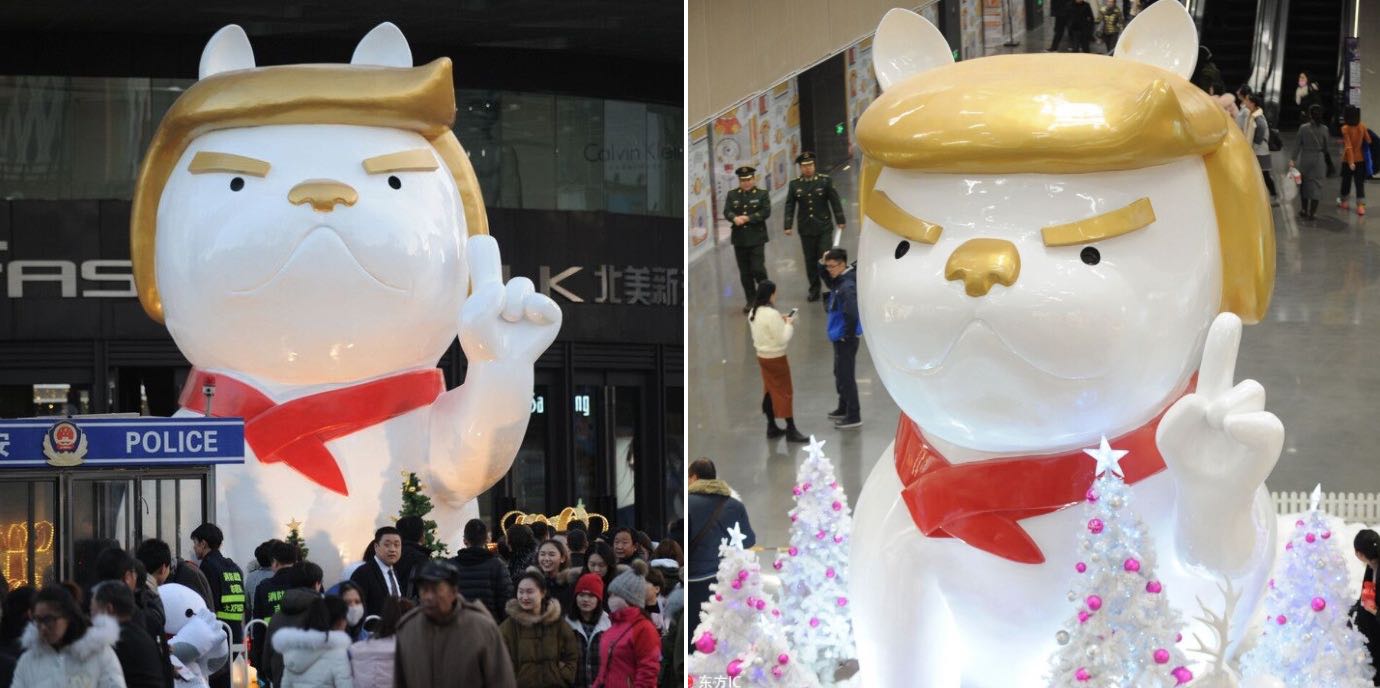 The photos were snapped in front of one of China's largest shopping malls. It is more evidence that the President is widely-disdained beyond America's borders. And should there be any doubt about the significance of this particular installation, the pictures were taken and published by the Worker's Daily, the official organ of the Chinese communist party, and thus the mouthpiece of the Chinese government. (Z)
Email a link to a friend
or share:
---The Votemaster and Zenger