TODAY'S HEADLINES (click to jump there; use your browser's "Back" button to return here)

•
Virginians Give Red Team, and Their White Nationalist Supporters, the Blues
•
Mostly Good News for Democrats Elsewhere
•
Seven Problems Trump Will Face on His Asia Trip
•
Martha McSally Will Run for Jeff Flake's Seat
•
Frank LoBiondo Is Retiring from the House
•
Twitter Doubles Down
Yesterday was Election Day, and Democrats finally got the ballot box repudiation of Donald Trump they've been thirsting for. The star of Tuesday's drama was the state of Virginia, where just about everything came up roses for the blue team. Despite running a lousy campaign for the last month, Lt. Gov. Ralph Northam (D) triumphed easily over Ed Gillespie (R), 53.7% to 45.1%. This was a slightly larger vote total than in the race for lieutenant governor, where Justin Fairfax (D) sent Jill Vogel (R) packing 52.7% to 47.3%, or in the race for Attorney General, where Mark Herring (D) won out over John Adams (R), 53.3% to 46.7%.
The most striking result in the Old Dominion State, however, may have been in the Virginia House of Delegates, where the Republicans entered the day in control of 66 seats to the Democrats' 34. Three of those 66 retired voluntarily and then saw their seats flip, while another 11 will be retiring non-voluntarily after Tuesday night's results. The victors include Danica Roem, who will become the first openly transgender state lawmaker in the United States. As a consequence of all this winning, the count is now 48 seats for the Democrats and 47 for the GOP, with the other five too close to call. At least four of those are narrow enough to trigger automatic recounts, so it will be a number of days until it is clear which party will control the lower chamber (the members of the upper chamber, where the Republicans hold a slim 21-19 majority. are not up again until 2019).
There is zero question that Tuesday's outcome in Virginia was a direct repudiation of Trump. First of all, because Gillespie ran as Trump, Jr., and was thumped considerably worse than the last Republican who tried to claim the state's governor's mansion. In that race, in 2013, Gov. Terry McAuliffe (D) won only narrowly, 47.8% to 45.2%. Beyond that, Northam outperformed Hillary Clinton across the board, suggesting one or more of the following: (1) Democrats are more enthusiastic than in 2016, (2) Republicans are less enthusiastic, or (3) Some Republicans flipped their votes on Tuesday. The latter possibility is strongly suggested by the fact that fully 50% of voters interviewed in exit polls said that they specifically wanted to send a message to the President with their ballot, with two-thirds of those being in opposition, and only one-third in support.
In view of all this, things couldn't get much worse for the President, right? If you said, "nope!" then you apparently haven't been paying attention this year. As soon as Gillespie's defeat was official, Trump—who endorsed the Republican candidate several times on Twitter and also campaigned for him—immediately tweeted this:
Ed Gillespie worked hard but did not embrace me or what I stand for. Don't forget, Republicans won 4 out of 4 House seats, and with the economy doing record numbers, we will continue to win, even bigger than before!

— Donald J. Trump (@realDonaldTrump) November 8, 2017
Steve Bannon, incidentally, behaved in much the same fashion. After throwing his support behind Gillespie, the Tuesday night headline on Breitbart was this: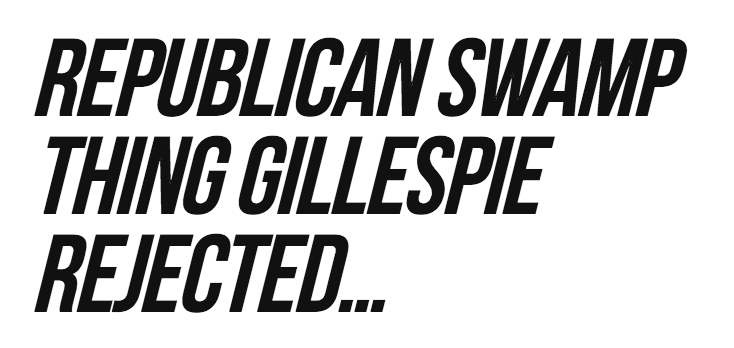 Working with a limited data set, because it's all they have, Republican politicians will reach the following conclusions heading into 2018:
Trump's endorsement doesn't matter in purple states.
Nor does Bannon's.
Trump's endorsement doesn't matter in red states (see Strange, Luther).
Bannon's probably doesn't, either.
If you cozy up to Trump and lose, he will throw you under the bus.
So will Bannon.
Even if you don't lose, Trump may still throw you under the bus (see Corker, Bob; McCain, John; etc.).
Bannon, too!
Embracing Trumpism doesn't work in purple states (and is suicidal in blue states).
In short, whatever small amount of political capital Trump still has is shrinking by the day. All he may have left in his arsenal, in fact, is his ability to shame people via Twitter. And if this were not bad enough, the President made an attempt to "spontaneously" visit the DMZ in Korea, in an obvious attempt to grab a few positive headlines, only to be turned back by bad weather.
Presumably, Democrats are also going to take a lesson or two from what happened in Virginia. Most obviously, a moderate Democrat with a few progressive leanings breezed to victory. That's probably an argument for running moderates in purple states, and it's definitely not an argument for running fire-breathing left-wingers. Further, the Virginia governorship, and half a dozen others that will be up for election next year, are going to be key to the next round of redistricting in 2020. Assuming that the Supreme Court does not strike down political gerrymanders, then the Democrats will need as many of those governors' mansions as possible to resist gerrymandering and to set the stage for the next decade in American politics. So, good strategy suggests that "the ideal candidate" should be subordinate to "the candidate who can win." That's a pragmatic argument that moderate and progressive Democrats might both be able to unify behind.
Nevertheless, the Democrats have a ways to go, as shown by the New York Times map on the left below.

Gillespie actually swept most of Virginia's counties and land area by large margins. These places are full of conservative white voters who are still staunch Republicans. Democrats have turned Virginia into a swing state by moving into the D.C. suburbs, Richmond, and Norfolk from out of the state, not by converting rural Republicans to Democrats in large numbers. However, in much of the state there has been some movement toward the Democrats since 2016, as shown in the map on the right. Except for the south central part of the state and a bit of the shoreline, the whole state moved toward the Democrats compared to 2016. This is clearly a reaction to Trump, since political ideologies and demographics don't change that much in a year.
The Times isn't the only news outlet into graphics. Politico decided to take a look at the demographics of the Virginia gubernatorial election, as shown in its four scatterplots below.
In the left-most plot, it can be seen that there is a very strong correlation between race and voting behavior. The whiter a county is, the more Republican it is. The second plot shows education vs. partisanship. Here, too, there is a strong correlation. The more college graduates a county has, the more Democratic it votes. In the third one, one can see a weak trend in which richer areas tend to be somewhat more Republican. Finally, the fourth chart is the inverse of the third one: the less impoverished a county is, the more Republican it is. From the four charts, the first two are the ones that really stand out though.
There will no doubt be lists of takeaways in the coming days, but The Hill came out with its list as soon as the votes were counted. Here it is:
Reinvigorated Democrats score their first big Trump-era victory
Trump-style campaigns won't work everywhere
The House is in play for Democrats
Virginia loss could fuel more Republican primaries
The enthusiasm gap is real
The scary one for the Republicans is possible loss of the House in 2018. Elections elsewhere in the country (see below) also show this as a realistic possibility. In short, for Republicans, yesterday could be the handwriting on the wall. (Z & V)
While Virginia was the big story of the night, the Democrats also did very well in elections held in other states. In New Jersey, Phil Murphy (D) scored an easy victory over Lt Gov. Kim Guadagno (R), 55.4% to 42.5%. The blue team also retained control of both houses of the New Jersey legislature, so they now have the trifecta in the Garden State. Further, if and when Sen. Bob Menendez (D) is compelled to resign, he will be able to hold on long enough to be certain his replacement will be a Democrat.
New York, as befits a deep blue state, gave a wave of victories to Democrats on the local level. Bill de Blasio was re-elected as mayor of New York City in a landslide, crushing Republican Nicole Malliotakis 66.5% to 27.8%. He will be working with a 100% Democratic city council. The blue team also won three special elections to fill vacant seats in the legislature, and claimed the mayor's offices in Albany, Buffalo, and Rochester. The only prominent member of the GOP to host a victory party on Tuesday was Richard David, who was retained as mayor of Binghamton (a.k.a. New York's 15th-largest city).
On the other side of the country, Manka Dhingra (D) has won her state senate race over Jinyoung Lee Englund, by roughly 10 points (final tallies won't be available for several days because Washington votes by mail, and several days' leeway are given for ballots mailed on Tuesday). Once Dhingra's victory is certified, Democrats will have the trifecta up and down the west coast. If we were to conceive of California, Washington, and Oregon as a country, it would be the 29th-largest in the world by population, while boasting the sixth-largest economy. The Democrats will try to use that might to advance their legislative priorities, like reducing carbon and increasing workers' wages.
Among the many ballot initiatives being decided on Tuesday, the most interesting and significant was in Maine, where voters overwhelmingly chose to expand access to Medicaid, per the terms of the Affordable Care Act, 58.8% to 41.2%. Given that Maine is a purplish state, and that Gov. Paul LePage (R) strongly opposed the initiative, this is a pretty loud message to the Republicans in general, and to Donald Trump in particular, that the voters would like to see Obamacare fixed and improved rather than destroyed from within. Further evidence along those lines come from the fact that the enrollment period for 2018 Obamacare opened this week, and people are signing up at a record rate.
The only real bright spot for the GOP on Tuesday came in UT-03, where Provo mayor John Curtis (R) easily won the right to succeed Jason Chaffetz in the House of Representatives, beating Kathryn Allen (D) 57.6% to 27.1%. Of course, a Republican winning in Utah is kind of like a Democrat winning in Hawaii, it's about as much of a sure thing as there is, like death or taxes or the Mexican wall never being built. Still, you take your victories where you can get them. (Z)
As Donald Trump makes his way around Asia, he will discover that many contentious issues will come up, and none of them are amenable to a solution in 140 characters (or even in 280 characters; see below). Here is one list of the top seven.
North Korea's nuclear weapons
Saudi Arabia-Iran tensions
The rise of Xi Jinping to a position of absolute power
The fast-fading U.S. credibility
Russia's meddling in the U.S. election
The wreckage of Syria
Venezuela's debt
Not every country Trump will visit cares about all of these things, but together the agenda is enormous. This will be Trump's first real test as the greatest negotiator in the world. Especially important is what, if anything, he gets from Xi. From China's point of view, the status quo is fine in many respects, so if Trump and Xi don't agree on anything, de facto China wins. (V)
Arizona Republicans are going to have a doozy of a Senate primary next year. Rep. Martha McSally (R-AZ) is planning to enter it and compete with Kelli Ward, who is already in. Ward is strongly backed by Breitbart executive chairman Steve Bannon. The rest of the Republican Party wants nothing to do with her, fearing her right-wing views would be completely toxic in the general election. McSally is more acceptable to the Republican establishment, but she is far from home free since many conservatives think she isn't conservative enough. Ward is no doubt going to tie her to Majority Leader Mitch McConnell (R-KY), the least popular member of the Senate.
Politics aside, the Arizona Senate race has an interesting characteristic at this point: The three leading contenders are all women. The two Republicans, Ward and McSally, are women as is the leading Democrat, Rep. Kyrsten Sinema. (V)
Yet another veteran House Republican is calling it quits. This time it is Rep. Frank LoBiondo (R-NJ), who represents NJ-02 in the southern part of the state. This is a swing district with a PVI of R+1. The Democrats will certainly vigorously contest the seat in 2018 and, without the 12-term incumbent standing for reelection next year, it has a good chance of flipping. Rep. Ted Poe (R-TX) also announced his retirement yesterday, but his district, TX-02, is deep red and some new Republican will surely be elected there. (V)
The policies of the Trump administration are about to get a lot more sophisticated. Not because they've hired Henry Kissinger as a special advisor, though, or because they have been re-thinking their approach to changing the tax code. Nope, because Twitter is officially doubling its character limit for all users, including their most famous (and infamous) user. In testing, the social media platform says that only 5% of users made regular use of the extra space. But Donald Trump, who regularly issues forth with lengthy, multi-part tweets, seems likely to take to the new policy like a goldfish to water. Or maybe an orange roughy. If nothing else, 280 characters is enough for Trump to use every single one of his 15 favorite Twitter words—terrific, tremendous, loser, tough, smart, weak, dangerous, stupid, zero, huge, amazing, rich, winning, bad, and moron, in that order—twice. (Z)
Email a link to a friend
or share:
---The Votemaster and Zenger