TODAY'S HEADLINES (click to jump there; use your browser's "Back" button to return here)

•
Trump Asserts His Right to Pardon Himself
•
Eight States Hold Primaries Today
•
Trump Is Now Willing to Support Candidates Who Didn't Vote for Him
•
Mueller Wants Manafort Jailed Due to Witness Tampering
•
Koch Brothers Will Spend Millions to Defeat Trump's Tariffs
•
House Moving Toward Immigration Showdown
•
SCOTUS Kicks the Gay Wedding Cake Down the Road
•
Philadelphia Eagles Disinvited From White House
•
More Fuel for the Pruitt Fire
•
Melania Trump Is Sighted
Over the weekend, Donald Trump's lawyer Rudy Giuliani said that Trump has the right to pardon himself but that he won't do it. Yesterday, the President made it crystal clear that he is asserting the right to pardon himself. Unlike Giuliani, he said nothing about "but I won't do it." Here is his tweet.
As has been stated by numerous legal scholars, I have the absolute right to PARDON myself, but why would I do that when I have done nothing wrong? In the meantime, the never ending Witch Hunt, led by 13 very Angry and Conflicted Democrats (& others) continues into the mid-terms!

— Donald J. Trump (@realDonaldTrump) June 4, 2018
This is an astounding claim and goes against what the head of the Office of Legal Counsel, Mary Lawton, wrote just before Richard Nixon resigned. In her memorandum, she noted that a self pardon would violate the fundamental rule that no one may be judge in his own case. Taking Trump's tweet to its logical conclusion, it means he could put up a page on the White House Website saying that pardons are available for sale to any and all criminals. Prices start at $10 million, depending on the crime, and checks should be made out to Donald J. Trump. If he were indicted for taking bribes, he could just pardon himself and it would all be perfectly legal. It is doubtful that James Madison had that in mind when he wrote most of the Constitution, but the courts have never ruled on this.
Actually, though, we're not left entirely to guesswork when it comes to what James Madison did or did not have in mind. He and his friends Alexander Hamilton and John Jay wrote the Federalist Papers, in which they explored—in great detail—just about every issue raised by the (then-new) Constitution. It is Federalist No. 74 that specifically addresses the pardon power. Hamilton wrote that particular entry, but it's reasonable to assume that Madison was in agreement, or it wouldn't have been published. What No. 74 says, in essence, is that the Founding Parents understood that it might be nice to invest pardon power in a deliberative body—say, the Senate—to make sure that the power is not abused in the manner of the King of England. However, there are cases—say, armed rebellions—where speed is of the essence. Ergo, Madison & Co. concluded that it was best to grant the power to a single individual, the president, and to trust that the president would exercise "prudence and good sense."
Implicit in this whole argument is that the pardon power certainly could be abused (by granting pardons to friends and family members and benefactors, the way the king did); the Founding Parents just trusted that the president wouldn't do so. Hamilton did not bother to write, "Of course, the president can't use the pardon power on himself," because that was taken for granted—if using the pardon power to benefit one's friends is presumed to be an abuse, then of course using it to benefit one's self would be even worse. We have further evidence of the Founding Parents' intent in the person of George Washington. Although Washington did not contribute to the Federalist Papers, he was present during the debates over the Constitution. During his eight years as president (well, 7 years and 10 months), he got a chance to take the pardon power out of the wrapper and take it for a spin. And in his very first exercise of the prerogative, he did exactly what was intended, and used it to bring the Whiskey Rebellion to a peaceful end by pardoning the ringleaders. The Father of His Country certainly never considered using it on himself. After all, the statute of limitations on chopping down cherry trees had already run by the time he took office.
Now, back to the 21st century. Trump's tweet did not sit well with the chairman of the Senate Judiciary Committee, Sen. Chuck Grassley (R-IA). He told reporters: "If I were president of the United States and I had a lawyer that told me I could pardon myself, I think I would hire a new lawyer." Democrats were less kind. Rep. Ted Deutch (D-FL), a member of the House Judiciary Committee, put it like this: "Let me remind you of something, we don't live in a monarchy and you are not a king." Of course, they are politicians, so they may not be thinking about the matter like legal scholars (though Deutch does have a JD). Despite what the President says in his tweet, legal experts largely fall into three camps:
The president obviously cannot pardon himself.
There are arguments on both sides, and it would require the courts to sort it out.
The president probably can pardon himself, but would unleash severe political consequences, most likely impeachment and removal.
You would have to look long and hard to find a legal scholar who sees it as Trump presents it: "Yes the president can do it, case closed, end of story." Even defender-of-Trump Alan Dershowitz, isn't willing to go there. He actually falls into the second camp. When asked by Anderson Cooper, he said, "Nobody knows the answer to that question."
Another minor detail here is that many federal laws have analogs in state law, so a president indicted for violating state law (possibly after leaving office), could still be tried, convicted, and punished according to state law even after having pardoned himself for federal crimes. There is no doubt whatsoever that the president has no power to issue pardons for state crimes. Also, a self-pardon offers no protection against impeachment.
But Trump didn't leave it at self pardoning. He also said that the appointment of a special counsel is unconstitutional, although he failed to explain why Deputy AG Rod Rosenstein lacks the power to do so, given the existence of a law clearly giving him that authority. All told, Trump's view seems to be the law and Constitution are whatever he says they are. We are getting close to Louis XIV here, whose view on government was summed up by the statement: L'état, c'est moi. After all, it worked pretty well for Louis, so why not for Donald? (more below) (V & Z)
There's no presidential contest this year, of course, but today bears a striking resemblance to Super Tuesday, because a whole lot of states are holding primaries today. Here are the most interesting races to watch:
California

: This is the biggie. As we noted yesterday, California's primary will serve to illustrate the bugs in California's jungle primary system. The most momentous races will be for the House of Representatives, particularly in CA-39, CA-48, and CA-49. Broadly speaking, we will get a sense of Democratic vs. Republican enthusiasm. More specifically, we will see if the blue team can manage to get at least one candidate into the second round of races they are counting on when it comes to flipping control of the House.



Mississippi

: The Democrats will choose a Senate candidate, who will immediately become a big underdog to Sen. Roger Wicker (R). The frontrunner appears to be long-serving state rep. Omeria Scott, whose interesting claim to fame is that she was one of the first cheerleaders in Mississippi to integrate their high school squad. If it's not her, it will probably be Mississippi House of Representatives Minority Leader David Baria, who is white, and may struggle to rally the Democratic vote in a state where more than half the blue team's voters are black. The most interesting race in Mississippi this year, the one to fill former senator Thad Cochran's vacated seat (currently held by appointee Cindy Hyde-Smith), won't be on the ballot today because it's a special election.



Alabama

: There won't be many competitive races in Alabama, as a raft of incumbent Republicans are expected to be reelected in November. The one exception may be AL-02, where Rep. Martha Roby (R) has consistently refused to support Donald Trump due to the pu**ygate tape. A number of pretty rabid right-wingers are trying to unseat her—and surprise, they're all men! The two Democrats are both women: Tabitha Isner and Audri Scott Williams. If the GOP dispatches Roby (which probably wouldn't happen until the runoff in July), then it might create an opening for the Democrat who wins today to cobble together a coalition of conservative Democrats, suburbanites, black voters, and offended women.



Iowa

: The Democrats are going to figure out who their gubernatorial candidate will be: business owner Fred Hubbell (more centrist) or labor leader Cathy Glasson (more liberal). The winner will go on to face Gov. Kim Reynolds (R), who got the job when Terry Branstad was appointed ambassador to China, and who is trying to win a term in her own right. If there's a wave, Reynolds could be vulnerable; she's only moderately popular and may be too closely linked to Donald Trump for Iowans' tastes (he's got 51% disapproval in the state). Meanwhile, IA-3 will have a similar sort of contest, where Cindy Axne, a Democratic moderate backed by Emily's List, will go up against Pete D'Alessandro, a former aide to Sen. Bernie Sanders (I-VT). The survivor will face Trump-loving Rep. David Young (R), who is seen as very vulnerable in the R+1 district.



Montana

: Sen. Jon Tester (D) will find out which Republican he'll face in November. There are four Republicans running, but two appear to have emerged from the pack. Russ Fagg, a retired judge, is a fourth-generation Montanan with no political experience. Montana state auditor Matt Rosendale is the establishment favorite, and has gotten piles of outside money, but he's lived in the state for only 20 years and is being portrayed by Fagg is a carpetbagger. It is hard to say which one Tester would rather face, but for what it's worth, he's a third-generation Montanan.



New Jersey

: The Senate race here is going to get interesting in November, when we learn if Sen. Bob Menendez' corruption trial will make him vulnerable to soon-to-be Republican nominee Bob Hugin, a pharmaceutical executive with lots of money in his personal bank account but no political experience. But neither of these men is seriously threatened today, which means that most eyes will be on the many NJ House seats that are going to be hotly contested in November. In four of them, the Democrats have lots of candidates looking to steal a Republican seat. In contrast to California, however, the state party has an iron grip on things, and so the four establishment candidates—State Sen. Jeff Van Drew (NJ-2), navy veteran Josh Welle (NJ-4), former Asst. Sec. of State. Tom Malinowski (NJ-7), and federal prosecutor Mikie Sherrill (NJ-11)—are likely to win. In NJ-5, meanwhile, the GOP has one of its best pickup chances (it's R+4). Perennial candidate Steve Lonegan is more conservative while attorney John McCann is a more outspoken Trump supporter. The winner will face Rep. Josh Gottheimer (D).



New Mexico

: The Democrats are really hoping to claim the governor's mansion from term-limited Gov. Susana Martinez (R). Today, they are expected to nominate Rep. Michelle Lujan Grisham (D), while the Republicans are going to nominate Rep. Steve Pearce (R). Grisham is Latina, fairly moderate, and a member of a New Mexico dynastic family, while Pearce is pretty far right. If Grisham prevails in November, it should give the blue team the trifecta in the Land of Enchantment. Since Grisham is an overwhelming favorite and Pearce is unopposed, the only thing we'll really figure out on Tuesday is how enthusiastic each side is. Meanwhile, in the race for Pearce's vacated seat (NM-02), the Democrats are all-but-certain to tap water attorney Xochitl Torres Small, a moderate with the support of the establishment, while the Republicans will choose from among a tea partier (Yvette Herrell), a Ted Cruz acolyte (Monty Newman), a former member of the Trump administration (Gavin Clarkson) and a libertarian (Clayburn Griffin). Small has to like her chances against any of the quartet.



South Dakota

: Rep. Kristi Noem (R) and South Dakota Attorney General Marty Jackley (R) are in a heated battle for the GOP nomination, and the winner will presumably be elected to succeed term-limited Gov. Dennis Daugaard (R). The cannon fodder, er Democrat, in the race will be state senate minority leader Billie Sutton, who is unopposed.
In short, then, it's going to be a busy day for both parties. (Z)
Although Donald Trump's choices for personnel have been somewhat, er, unusual (e.g., picking his personal physician to run the Veterans Administration, trying to pick his personal pilot to run the FAA, Ben Carson to run HUD), there actually has been a single guiding principle behind all his choices: He likes only people who are personally loyal to him. As the midterms heat up, he is abandoning that principle in the name of power. He truly wants the Republicans to control the House and Senate next year, and is now willing to endorse candidates who didn't even vote for him.
GOP leaders are ecstatic that he is willing to put aside personal preferences and support Republicans whose seats the party desperately needs to hold. For example, he has endorsed Sen. Ted Cruz (R-TX), who called him "a pathological liar," "a serial philanderer," and a "narcissist at a level I don't think this country's every seen." He has also endorsed Mitt Romney, who is running for the Senate in Utah. During the campaign, Romney called Trump "a phoney" who was "playing the American public for suckers." The President has formally endorsed 15 candidates and made statements in support of five others. Not all have supported him. In the California gubernatorial primary he declined to endorse Travis Allen, who is a strong supporter and whose slogan is "Make California Great Again." Instead he supported John Cox, who has a greater chance to finish in the top two, and thus be on the November ballot. In short, Trump is beginning to understand that supporting only people who are personally loyal to you is not a good strategy for keeping your party in power. (V)
Like Clint Eastwood's character in the "Man Without a Name" movies, Robert Mueller doesn't say much unless he absolutely has to. That means that on those occasions when he does say something, people tend to take notice. Like late Monday afternoon, when he sent members of his team to ask a judge to jail former Trump campaign chair Paul Manafort (who is currently under house arrest).
At the center of the new complaint is a European PR firm informally known as the "Hapsburg Group." Manafort secretly utilized these folks' services in 2012 when he was working for the government of Ukraine. According to Team Mueller, Manafort and an associate identified in Monday's filing as Person A (almost certainly longtime colleague Konstantin Kilimnik) have been pressuring the members of the Hapsburg Group to lie to the FBI about the work they did for Manafort. That, of course, is witness tampering and is a felony.
If all of the (many) charges against Manafort are false, then he is one of the unluckiest defendants in American political history. But if they are true, then he might be the most comically inept crook in recent memory—worse even than the dopes who burgled the Watergate. He's not in enough trouble? He needs to add another charge to the list? And not just any charge; one that is particularly easy to prove? If the judge grants the request, it's a sign that he thinks Mueller's concern is warranted. And at that point, sitting in a jail cell, the pressure on Manafort to flip will grow that much more intense. (Z)
Three groups run by David and Charles Koch announced yesterday that they will spend millions of dollars to defeat Donald Trump's tariffs and the other trade barriers he's trying to erect. The groups said that trade is a priority for them and they will work aggressively to educate policy makers about the facts. The way this is likely to work is that members of Congress who promise to work to repeal Trump's authority to unilaterally impose tariffs will discover money coming down upon them like a gentle April rain. Those who support Trump on trade are likely to have well funded primary or general-election opponents. This is the first time the Koch brothers have basically declared war on a sitting Republican president.
However, the brothers are about to hit some headwinds. Sen. John Cornyn (R-TX), the Republican whip, commented on tariffs by saying: "I think that's primarily an executive branch function, and I don't really see Congress passing and getting a presidential signature on something constraining his authority." Cornyn needs to get out his pocket copy of the Constitution and read Art. I Sec. 8. The power to regulate trade with foreign nations is explicitly granted to Congress, not the president. Nevertheless, Cornyn has signaled that he is on Trump's side and against the Koch brothers. Also, as a practical matter, any bill to retract the power a previous Congress granted the president would need a 2/3 majority in each chamber to override a certain veto.
In case there was any doubt that Trump was ready to go to the wall on this one, he responded to the Koch news thusly on Twitter:
Farmers have not been doing well for 15 years. Mexico, Canada, China and others have treated them unfairly. By the time I finish trade talks, that will change. Big trade barriers against U.S. farmers, and other businesses, will finally be broken. Massive trade deficits no longer!

— Donald J. Trump (@realDonaldTrump) June 4, 2018
As per usual, Trump is thinking microeconomically, like the hotel/casino owner he is. To him, trade is a simple matter: Whoever pays the most loses, whoever receives the most wins. He seems to have zero understanding of macroeconomics, and that farm products (or any other goods) are just one part of a big, complex picture. He might consider talking to some actual farmers, and asking them how much it hurts them to send billions of dollars worth of pork, or corn, or soy, or wheat to Asia, Europe, and Latin America. If anyone in America is being hurt, it would—in theory—be the industries that face the largest amount of competition from imported goods. The odds are good, however, that Trump doesn't even know what the United States' #1 import category is. The answer is electronic equipment, at about $350 billion a year. If, in his tweets and rallies and speeches, Trump started talking about the evils of Sony and Ericsson and Toshiba, then it would at least give a little confidence that he has some small idea of what he's talking about. But the only thing he seems to be doing on the electronics front is paving the way for Chinese telecom firm ZTE to begin sending their security-compromised products to the U.S. again. (V & Z)
A fight over immigration is brewing in the House and it could split the Republican caucus badly. Moderate Republicans want to pass a bill that would allow the dreamers to remain in the country and eventually become citizens. The Freedom Caucus calls this amnesty and is dead set against it. The moderates are trying to force one or more immigration bills out of committee and onto the House floor for a vote, and are now just five signatures away from getting to 218, which will trigger a vote the Freedom Caucus and the House leadership absolutely do not want because it will put the split within the caucus out there for all to see.
Weeks-long attempts at a compromise between the moderates and the Freedom Caucus have failed. It is likely that the moderates will be able to get those last five signatures on the discharge petition and force a floor vote. If it comes to that, one of the discharged bills is likely to pass and be sent over to the Senate, where it has a good chance since the Senate passed its own bill several years ago. But Donald Trump would likely veto the bill, and there probably aren't 2/3 majorities to override the veto. Still, if Congress passed a bill, it would make immigration a key issue in the midterms, which could affect turnout, House seats, and more. (V)
That's not a headline you see every day, but there it is. In brief, a Colorado baker named Jack Phillips refused to bake a wedding cake for two gay men, Charlie Craig and David Mullins. They filed a complaint with the Colorado Civil Rights Commission (CCRC), and the CCRC found in favor of the two men. Phillips sued, and partisans on both sides watched with great interest as SCOTUS issued its ruling today. That included the partisan-in-chief:
Big Supreme Court ruling for Baker just out!

— Donald J. Trump (@realDonaldTrump) June 5, 2018
The expectation was that the Court would give a definitive answer to the question of whether a business can legally discriminate on religious grounds.
For whatever reason, the Court apparently did not want to rule on such a big question, at least not right now. It's possible they feared that a ruling, in either direction, would open a big can of worms. Or maybe they are trying to stay above the political fray for now, so they'll have credibility when potential tricky decisions come down the pike in the near future (like, "can the President pardon himself?"). Or maybe swing justice Anthony Kennedy, aka the most powerful judge in the country, just couldn't decide. Historically, he's been a big supporter of both individual liberty and LGBT rights, and in this case those two things were on opposite sides.
In any case, the Court issued a very narrow 7-2 ruling (the two were Ruth Bader Ginsburg and Sonia Sotomayor). Phillips won his case, but on the basis that the CCRC mishandled the matter by not giving due consideration to his arguments. So, the Court did not in any meaningful way rule on the fundamental legal issues in play here, and they did not set any sort of significant precedent. This allowed both sides to claim "victory," but that was mostly just posturing. All you really need to know is that Trump followed up his tweet with...nothing. You can be confident that if the ruling had truly been favorable to his base, he would not only have celebrated it, he would have also taken credit for it. (Z)
The first documented visit of a sports team to the White House happened shortly after the Civil War, when President Andrew Johnson hosted a pair of amateur baseball teams at what was then known as the Executive Mansion. Such visits happened sporadically thereafter, until 1980, when both the Pittsburgh Steelers and Pittsburgh Pirates were feted by Jimmy Carter after winning championships. Following the two Pittsburgh teams' visits, with the sports-loving Ronnie Reagan now occupying the Oval Office, the tradition was expanded to all four of the major sports (NFL, NBA, MLB, and NHL), and eventually to college teams, Olympians, and a handful of other sports champions.
Now, however, the custom may be coming to an end. Already, the reigning NBA champions (the Golden State Warriors) were disinvited, while the reigning MLB champions (the Houston Astros) hemmed and hawed before showing up sans several players. Today, the reigning Super Bowl Champions, the Philadelphia Eagles, were supposed to pay their visit. However, a few of them bowed out because they don't like Trump. Then a few more dropped out because they didn't care for the President's scapegoating of the NFL. Then a few more canceled because they wanted to support their teammates. Once all was said and done, fewer than 10 players, from a roster of almost 70, planned to show up.
This created something of a dilemma for Donald Trump. To be pictured with such a small number of players, probably all of them white, would be a real black eye for him. The President surely could already foresee those images being placed alongside pictures like this one, of Barack Obama with the Super Bowl 50 champion Denver Broncos: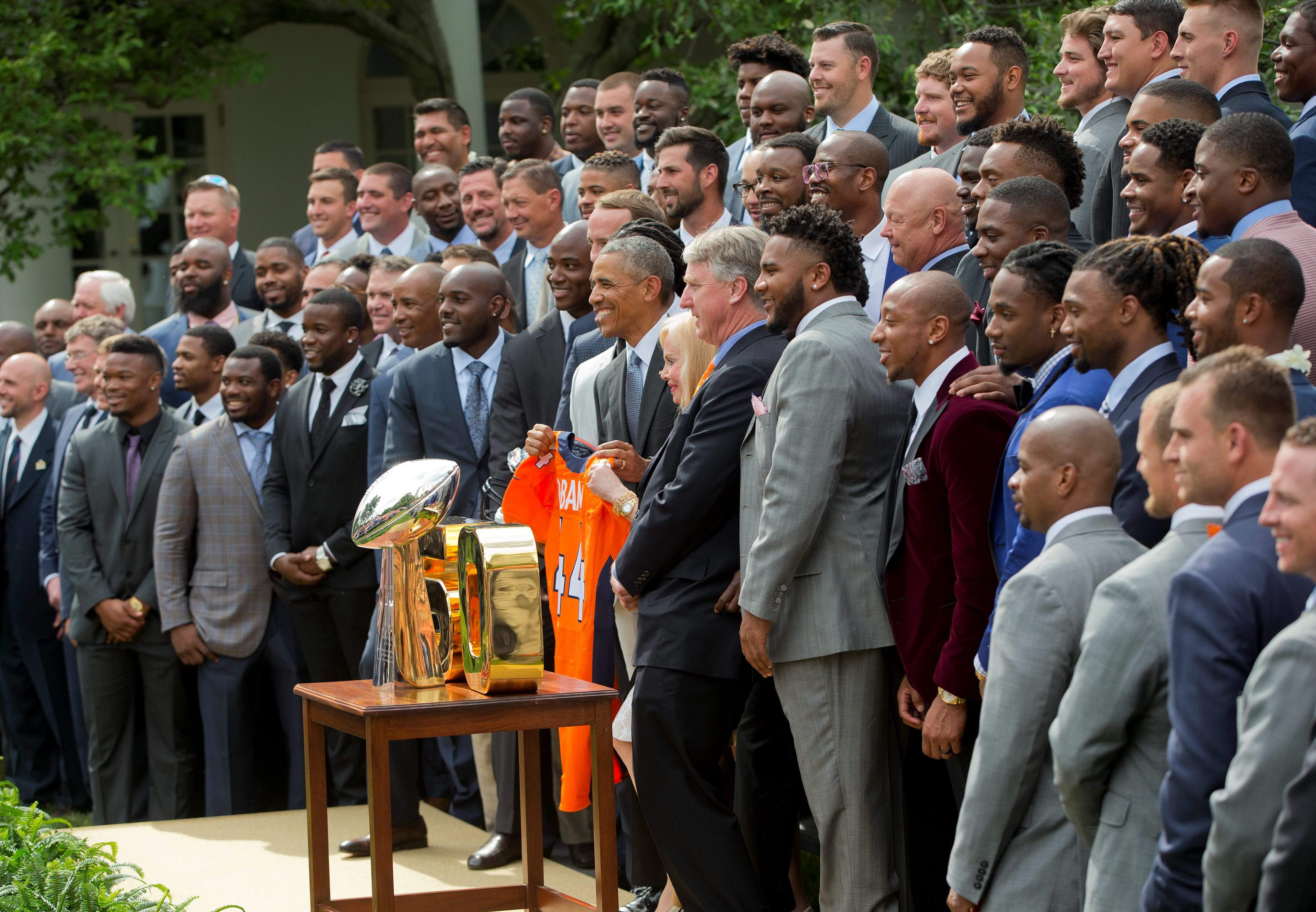 It would have been inauguration photos, redux.
Anyhow, given these lemons at the last minute, Trump decided to make lemonade, of a sort. He canceled the Eagles' visit, and issued a statement:
The Philadelphia Eagles are unable to come to the White House with their full team to be celebrated tomorrow. They disagree with their President because he insists that they proudly stand for the National Anthem, hand on heart, in honor of the great men and women of our military and the people of our country.
He followed that with this tweet:
The Philadelphia Eagles Football Team was invited to the White House. Unfortunately, only a small number of players decided to come, and we canceled the event. Staying in the Locker Room for the playing of our National Anthem is as disrespectful to our country as kneeling. Sorry!

— Donald J. Trump (@realDonaldTrump) June 5, 2018
Speaking of L'état, c'est moi (see above), Trump apparently has no problem with demanding the loyalty of his subjects, or referring to himself in the third person. It is unknown whether he initially responded to news of the players' boycotts by declaring, "We are not amused." It should be noted, incidentally, that the Eagles were one of the handful of NFL teams that had no kneeling players last season.
Of course, the Eagles also issued a statement. They blasted Trump as an orange-skinned, overweight, balding, small-handed moron, and warned him that if he ever sets foot in Philadelphia, he should watch his back. No, wait, that's not what they said. Actually, they said this:
It has been incredibly thrilling to celebrate our first Super Bowl Championship. Watching the entire Eagles community come together has been an inspiration. We are truly grateful for all of the support we have received and we are looking forward to continuing our preparations for the 2018 season.
In other words, the football players took the high road, while the President was busy taking...well, a different option.
Judging by the comments on Twitter, message boards, sports sites, etc., the base is pretty happy that Trump "stood up" to those "spoiled," "immature," "selfish" players (translation: spoiled, immature, selfish black players). However, it's pretty hard to find any right-leaning media outlet or politician who was willing to support the President's handling of the situation. Meanwhile, on the left side of the aisle, it was open season. Philadelphia mayor Jim Kenney (D) issued a statement that included this declaration:
These are players who stand up for the causes they believe in and who contribute in meaningful ways to their community. They represent the diversity of our nation--a nation in which we are free to express our opinions. Disinviting them from the White House only proves that our President is not a true patriot, but a fragile egomaniac obsessed with crowd size and afraid of the embarrassment of throwing a party to which no one wants to attend.
Dozens of Democratic members of Congress also issued statements on Twitter, like this one:
Hey @realDonaldTrump it's one thing to be wrong on policy, but to take on my @Eagles is a whole new level.
You even make a championship team visiting the White House all about you. What is wrong with you? Seriously, what condition do you have? https://t.co/QOknsH20Ln

— US Rep Brendan Boyle (@RepBrendanBoyle) June 4, 2018
Already, the Eagles have been invited to tour the U.S. Capitol building when they play in Washington this season.
At this point, it's entirely possible that the Trump administration won't open itself up to any more embarrassments like this one, and will cease extending invites to the White House. Certainly the Golden State Warriors—who are likely to win their second consecutive NBA title in the next several days—aren't going to get one, and all MLB teams have multiple black and Latino players, while all NFL teams are majority black. The one league that may still get the presidential treatment is the NHL; when Trump invited the reigning Stanley Cup champions (the Pittsburgh Penguins), there were no protests or boycotts at all. And the good thing about hockey teams, from Trump's perspective, is that the players are almost all white, and many of them are Russians. (Z)
If someone tried to write a screenplay—say, for the new season of "House of Cards"—in which a fictional politician pulled all the various stunts that EPA Administrator Scott Pruitt has supposedly pulled, nobody would buy it. "It's just too unrealistic," the notes from the studio executives would say.
But truth, as they say, is stranger than fiction. And so, yet another item was added to the ledger of Pruitt's alleged misdeeds on Monday. According to reporting from the Washington Post, the Administrator utilized the EPA's director of scheduling and advance, Millan Hupp, as his personal errand runner. Among the tasks she was ordered to handle: Calling the Trump International Hotel in search of a used, discount "Trump Home Luxury Plush Euro Pillow Top" mattress.
It's hard to say what thought comes to mind first. Tightwad? Yuck? Seriously? In any case, this isn't quite as bad as some of the other things Pruitt has been accused of: renting a room at a bargain rate from a lobbyist, traveling first class needlessly, overspending on office furniture, spending zero time actually protecting the environment. Nonetheless, the story makes clear that the Administrator has serious boundary issues, and that Scott Pruitt's main (and perhaps only) concern is the needs of Scott Pruitt. (Z)
After 25 days of seclusion, First Lady Melania Trump emerged from hiding—sort of. She appeared at an event on Monday honoring gold star families (presumably not the Khan family, though). For reasons that nobody in the White House was willing to explain, however, the event was closed to the press. One reporter did manage to peek through a doorway and catch a glimpse of Trump, so apparently she really was there.
As we have noted, it's likely that nothing nefarious is going on here, but the First Lady's behavior has definitely veered into "odd" territory. She could easily put to rest all of these stories by speaking to reporters for just 30 seconds, but she chooses not to do so. Even more interesting, the West Wing staff, including the President, is apparently not much more knowledgeable than the rest of us. They are reportedly on a "need-to-know" basis, and Melania has decided that currently, they do not need to know. The one thing that is known is that she won't be joining her husband at the G7 or at the Kim Jong-Un summit; both absences certainly run contrary to usual protocol.
If we were going to speculate, the likeliest possibility here is that her health problems are more serious than she's let on. She was in the hospital for nearly a week, and for a procedure that usually entails a same-day release. That seems to go pretty far beyond "being cautious." And now, she's apparently been in recovery mode for three weeks—again, far longer than is typical for this sort of procedure. Presumably, the truth will be revealed at some point, whether it's a week, or a month, or five years from now. The one interesting thing we can say for certain: Melania's East Wing is clearly far less leaky than Donald's West Wing. (Z)
Email a link to a friend
or share:
---The Votemaster and Zenger