TODAY'S HEADLINES (click to jump there; use your browser's "Back" button to return here)

•
EPA: "Yes, Sir!"; Pentagon: "No, Thanks."
•
Iran Sanctions Are Underwhelming
•
Maybe God Is a Republican
•
And So it Begins
•
This Week's Senate News
•
Democratic Presidential Candidate of the Week: Hillary Clinton
•
Today's Senate Polls
It would appear that not everyone in the Trump administration is behaving like a good little soldier (literally). As he sends 15,000 or so troops to the border, to "protect" Americans against a caravan of 3,500 people, Donald Trump wanted those soldiers to take on a law enforcement role. The folks at the Pentagon who, unlike Trump, appear to have read the Posse Comitatus Act of 1878, said they would not follow the president's directive. The soldiers being deployed will provide logistical support, crowd control, and other such services, but will not use force. Trump quickly backed down, not only on his plans for the use of soldiers, but also his threat that rock throwers would be shot at. However, this incident certainly does not increase the chances that Secretary of Defense Jim Mattis will still be on the job when the calendar turns to 2019.
Over at the EPA, meanwhile, folks are apparently much more willing to take orders. And so, this week, they seem to have shut down the Agency's climate change website for good (well, until the next Democratic president takes office). Previously, the site was taken down for "updates," but nobody really believed that it would be back. Now, the link redirects to an EPA-hosted search page that makes no mention of climate change whatsoever. There is no truth to the rumor that they have also added a picture of an ostrich with its head in the sand, however. And incidentally, it's worth taking a look at the URL to the Newsweek piece linked above. Freudian slip?
In the end, Donald Trump and the EPA can stick their fingers in their ears and pretend all they want, but this issue is not going away. In fact, just this week the Supreme Court rejected a request by the administration to quash a lawsuit filed by a group of young people who believe that they are being injured by the government's failures to fight climate change. "These young Plaintiffs, mere children and youth, are already suffering irreparable harm which worsens as each day passes with more carbon dioxide accumulating in the atmosphere and oceans," reads the complaint. Whether the plaintiffs fail or not, the heat on the administration and on the GOP is just going to get worse and worse as the situation gets more dire. (Z)
On Friday, Donald Trump—who is in full "get out the base" mode—tweeted this for the benefit of his Iran-hating followers:
November 2, 2018
Very...uh, interesting use of the "Game of Thrones" font. And while most presidents, of course, would not be so ham-fisted as to announce an obvious vote-grabbing policy decision literally the day before an election, Trump is not most presidents.
In any event, Trump is lucky there is no fine print on Twitter, because the sanctions aren't exactly a song of fire and ice. In fact, they are closer to a song of limp noodles and rice. Eight countries will be allowed to keep purchasing Iranian oil. That includes Japan, India, and South Korea, who are the Iranians' three biggest customers. Iranian banks will also be allowed to remain connected to the global SWIFT financial messaging system, which effectively means they remain dialed into the world's stock and commodities markets.
These developments suggest two things. The first is that the hawks in the Trump administration, particularly John Bolton, are not getting their way. It would not be a surprise if Bolton joins the post-midterm exodus. The second is that, when push comes to shove, Trump doesn't have the power to bend the other industrialized democracies to his will. It is clear that Japan, South Korea, et al. were going to do as they pleased; granting them "waivers" just looks better than admitting "they ignored us." Meanwhile, the Iranian government has historically responded to sanctions by rallying around them, hunkering down, and whipping up anti-American sentiment. So, Trump may have secured the worst of both worlds for himself: Sanctions weak enough to have a limited impact, and yet strong enough to provide the Rouhani regime with a useful propaganda tool. That is certainly not going to help the Donald gain control of the Seven Kingdoms of Westeros, much less the Iron Throne. (Z)
We are now close enough to Election Day that it is possible to project the weather with a fair bit of precision. Here is what it will look like: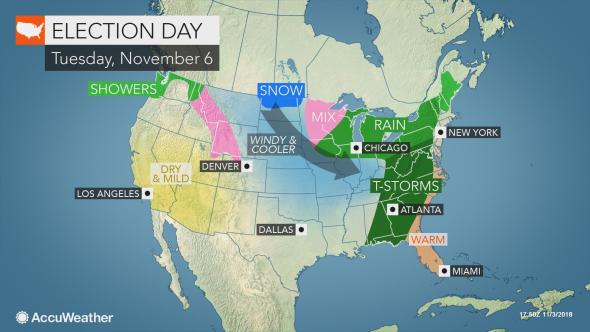 As you can see, some of the swingiest states will also be the hardest-hit. That includes Georgia, Missouri, Indiana, Tennessee, Michigan, Wisconsin, and Florida.
As a general rule, bad weather depresses turnout, and lower turnout favors the GOP. Whether that holds this year, when voter enthusiasm—particularly on the left—appears to be sky-high is one of the many known unknowns on Tuesday. Particularly interesting is the pattern in Florida, where the strongly conservative panhandle is set for a beating, but the left-leaning rest of the state is not. A pattern like that might have saved Al Gore in 2000, and could certainly work to the benefit of Sen. Bill Nelson (D-FL) and Democratic gubernatorial candidate Andrew Gillum. (Z)
If the Democrats do take the House and/or the Senate, it's going to lay the groundwork for two years of gridlock. The Democrats have no interest in advancing Donald Trump's agenda, and Trump has no interest in advancing theirs. And so, the business of Washington for the next two years is likely going to be posturing in advance of the 2020 election, and trying to show voters what will be done if each party is given control of the federal government.
Donald Trump and the GOP probably have the weaker end of that deal, if only because they've already had control of the government for two years, and so people already know what they will do with it. It is the Democrats who will have an opportunity to make the biggest and loudest statements. Election Day isn't even here yet, and already the blue team has fired the first salvo, a proposal to get rid of the tax cut for the rich and to use the money to fund raises for teachers instead. At a press conference to announce the proposal, Senate Minority Leader Chuck Schumer (D-NY) declared:
Teachers of America, we Democrats hear you loud and clear. Put simply, instead of giving a tax cut to the richest of Americans, we should give a pay raise to teachers in this country who our students depend on to succeed.
Schumer & Co. undoubtedly got this one in early in hopes that it might give the blue team a little boost ahead of the midterms. But this is going to be commonplace if the country exits the midterms with a divided government, setting up 2020 Democratic pitches like, "The party of teachers, not the 1%" and GOP responses like "Money for the wall, or money for corrupt liberal teachers' unions?" It's not going to be pretty. (Z)
Here's the last roundup of Senate news before the midterms. The vast majority of news stories are of the following four types:
The East Cupcake Junior High Herald-Tribune has decided to endorse [Candidate]
[Candidate] is running a nasty, misleading ad about [Opponent]
[Candidate] and [Opponent] are "making their final push" or "nearing the finish line"
Donald Trump was in [state no further west than Montana] to attack [Democratic candidate]
Here are the stories that make up most of the remaining 10%:
That's our story and we're sticking to it. (Z)
As voters get their first chance, nationwide, to express their views on the choices made in 2016, why not go back to that election for our Democratic candidate of the week?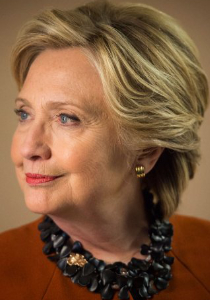 Full Name

: Hillary Rodham Clinton



Age on January 20, 2021

: 73



Background

: If there is any candidate for whom a bio is a little unnecessary, it's the person who is among the three or four most famous Democrats in the land. Nonetheless, Hillary Rodham was born in Chicago, and largely grew up in the suburbs outside that city. Her parents were conservatives, meaning that she was a "Goldwater Republican" in 1964. However her years at Wellesley College (BA) and Yale (JD) pulled her toward the other end of the spectrum, meaning she walked the opposite path of Ronald Reagan (who went from Illinois liberal to nationally-prominent conservative). While at Yale, she met an up-and-coming young man named Bill Clinton, and also donated much time to various organizations that provided legal services to the poor, abused children, and migrant workers. After graduation from Yale law, she spent a year in postgraduate study at the Yale Child Study Center, interned or volunteered for several politicians in Washington, and began building a political network. While her head told her that D.C. was the place to be, her heart (and, possibly, a "fail" on the D.C. bar exam) told her to move to Arkansas to be with Bill. Rodham passed the Arkansas bar, began teaching at the University of Arkansas, Fayetteville law school, and continued to volunteer for child-centered causes.

In 1975, she married Bill, and became...Hillary Rodham. She originally did not take Bill's last name, so as to keep their professional lives separate, and to maintain an independent identity. However, pressure from both her mother and her mother-in-law, not to mention the realities of Arkansas politics (very tradition-oriented) eventually compelled her to become Hillary Rodham Clinton (much later, she would drop the Rodham for most purposes). The couple's political ascent began shortly after their marriage, with Hillary serving as a fairly prominent member of the Jimmy Carter campaign in 1976, and Bill winning his first election, as Arkansas AG, that same year. Hillary kept her law career going, rising up the ranks of the prominent Rose Law Firm, and working on intellectual property and children's welfare issues. She would not fully give herself over to public life until her husband entered the White House in 1993. Prior to that, as a result of the rather low salaries that government officials earn in the South, she was actually the family's main breadwinner (she earned around $100,000/year in the 1980s; he earned around $35,000/year).



Political Experience

: Clinton has one of the longest and most distinguished resumes in American political history. Beyond her private legal and volunteer work, she was First Lady of Arkansas for 10 years, First Lady of the United States for 8 years, a U.S. Senator for 8 years, and U.S. Secretary of State for 4 years. It is a very great irony that she accepted the latter post to burnish her credentials for a 2016 run, and that instead—thanks to Benghazi, the e-mail server, and whisperings of Clinton Foundation corruption—those four years probably cost her the 2016 election.



Signature Issue(s)

: Intellectually, there are few presidents who rival Bill Clinton. And among those who know the Clintons best, most say Hillary is the smarter one. Given that, along with the fact that she's spent decades at the epicenter of American politics, it is not surprising that she's a walking encyclopedia of political issues, and can essentially go toe-to-toe with any Democrat on any issue (and, very probably, outduel them). That said, her signature issue—ever since the Yale days—is children's welfare. That issue does not line up particularly well with the concerns of the present, where things like terrorism, and opioid abuse, and immigration are preeminent, which is why she didn't get to talk much about the subject in 2016.



Instructive Quote

: "Do all the good you can, for all the people you can, in all the ways you can, as long as you can."



Completely Trivial Fact

: There have been seven rematches in presidential electoral history, and they have broken 5-2 in favor of the candidate who lost the first one. Thomas Jefferson defeated John Adams in 1800 (after losing to him in 1796), Andrew Jackson knocked off John Quincy Adams in 1828 and then Henry Clay in 1832 (after losing to both in 1824), William Henry Harrison got revenge against Martin Van Buren in 1840 (after losing to him in 1836), and then Grover Cleveland got revenge against Harrison's grandson Benjamin in 1892 (after losing to him in 1888). The two double losers are also the two candidates who most recently tried their luck twice; William Jennings Bryan went 0-for-2 against William McKinley in 1896 and 1900, and Adlai Stevenson did the same against Dwight D. Eisenhower in 1952 and 1956.



Recent News

: The midterms apparently have Hillary on everyone's minds, because Donald Trump spoke up this week, and said he'd love to face Clinton again. Meanwhile, the right-wing group Judicial Watch launched yet another "investigation" into Clinton, this one focused on her security clearance. Either they think she's running again, or they haven't heard the bit about beating a dead horse.



Three Biggest Pros

: (1) The errors Clinton made in 2016 are largely correctable, and if she were to run again she would undoubtedly be in Wisconsin and Michigan and Minnesota so much that she'd start ending every sentence with "Dontcha Know?" or "Uff Da!"; (2) It's likely that foreign policy will be a big deal in 2020 and Clinton's foreign policy credentials are second to none; and (3) The events of the Trump presidency may well have served to convince some of the folks who voted against Clinton in 2016 that maybe experience does matter, or maybe it's not correct to say "Democrats and Republicans, it's all the same thing," or maybe that much of the decades-long smear campaign targeted at her was rooted in lies and/or gross exaggerations.



Three Biggest Cons

: (1) The Democrats would not be served well by another Bernie-Hillary schism, and the surest way for that to happen would be if Bernie and Hillary are both running again; (2) No candidate will get the GOP base to the polls, and Russian hackers to their computers, more surely than Hillary Clinton; and (3) Given the attention being paid to sexual misconduct and sexual abuse, Clinton's response to her husband's bad behavior could prove an even bigger anchor around her neck in 2020 than the e-mail server was in 2016.



Is She Actually Running?

: This week, her "people" delivered the Full Sherman on her behalf, with several of them saying there is "no way" she would run again. At the same time, Clinton insiders have also let it slip that she still really wants to be president. So, that's the Full Sherman with two big asterisks (she didn't say it herself, and the contradictory statement). Given the size of the target on her back, it would behoove her to hold off on throwing her hat into the ring for as long as is possible. And given her national prominence and pre-existing political network, she could declare very late and still be just fine. So, Full Sherman** notwithstanding, she cannot be counted out until February of 2020 or so.



Betting Odds

: She's getting anywhere from 50-to-1 to 20-to-1, which implies a 2% to 5% chance of claiming the nomination.



The Bottom Line

: Clinton's betting odds are not a reflection of how viable she is as a candidate, but instead how likely she is to actually run. Were she to declare, she would quickly move to the top of the leaderboard. Nobody knows what she will do except, possibly, Hillary herself. And maybe even she doesn't really know yet.
You can access the list of candidate profiles by clicking on the 2020 Dem candidates link in the menu to the left of the map. (Z)
New polls put Rick Scott slightly ahead in Florida and Tennessee tied. But the weather could affect both of those elections (see above), with God helping the Republicans in Tennessee and the Democrats in Florida. Bipartisanship on high?
The closeness (and thus unpredictability) of the Senate is indicated by the map today where we have three exact ties (Arizona, Missouri, and Florida). All of them could go either way, and so could Indiana and Nevada. It will probably be a real nailbiter Tuesday evening. (V)
| | | | | | | | |
| --- | --- | --- | --- | --- | --- | --- | --- |
| State | Democrat | D % | Republican | R % | Start | End | Pollster |
| California | Dianne Feinstein* | 41% | Kevin de Leon (D) | 35% | Oct 25 | Oct 30 | Probolsky Research |
| Florida | Bill Nelson* | 45% | Rick Scott | 49% | Oct 28 | Oct 31 | Targoz Market Research |
| Florida | Bill Nelson* | 48% | Rick Scott | 49% | Nov 01 | Nov 02 | St. Pete Polls |
| New Mexico | Martin Heinrich* | 51% | Mick Rich | 31% | Oct 26 | Nov 01 | Research and Polling |
| Tennessee | Phil Bredesen | 48% | Marsha Blackburn | 52% | Oct 09 | Oct 12 | Targoz Market Research |
| Tennessee | Phil Bredesen | 49% | Marsha Blackburn | 49% | Oct 28 | Oct 31 | Targoz Market Research |
* Denotes incumbent
---
If you have a question about politics, civics, history, etc. you would like us to answer, click here for submission instructions and previous Q & A's
Email a link to a friend
or share:
---The Votemaster and Zenger