TODAY'S HEADLINES (click to jump there; use your browser's "Back" button to return here)

•
Amash May Run
•
Warren Endorses Biden
•
Trump Faces Blowback on WHO Funding Cut
•
Trump Threatens to Adjourn Congress
•
Retail Sales Drop in March by the Greatest Amount Ever
•
Democrats Are Motivated Like Never Before
•
Poll: Biden Should Pick Experienced Running Mate
•
Some States Are More Ready for Mail-in Voting than Others
•
Delaying the Census Could Cause Big Problems
•
Some Surprising Industries Have Been Hit Hard by COVID-19
We generally try to put the most important story of the day first, usually followed by related pieces, if any, with the fun stuff at the end (like today). Sometimes, the hard part is figuring out what's important, as there are some days where the significance of a topic becomes clear only weeks later. This is one of those days.
Rep. Justin Amash (I-MI), a founding member of the House Freedom Caucus and a hard-core libertarian, said yesterday that he is mulling a run for president on the Libertarian Party ticket. He hasn't decided if he will do it yet. And even if he decides he wants the nomination, it's not in the bag yet.
Nevertheless, if he decides he wants it and gets it, he could become a major factor in the election. Look at the final 2016 results in six states that are expected to be toss-ups this year:
| | | | | | |
| --- | --- | --- | --- | --- | --- |
| State | Trump | Clinton | Margin | Johnson | Stein |
| Arizona | 48.1% | 44.6% | 3.5% | 4.1% | 1.3% |
| Florida | 49.0% | 47.8% | 1.2% | 2.2% | 0.7% |
| Michigan | 47.5% | 47.3% | 0.2% | 3.6% | 1.1% |
| North Carolina | 49.8% | 46.2% | 3.6% | 2.7% | 0.3% |
| Pennsylvania | 48.2% | 47.5% | 0.7% | 2.4% | 0.8% |
| Wisconsin | 47.2% | 46.5% | 0.7% | 3.6% | 1.0% |
In all but North Carolina, the third-party vote exceeded Donald Trump's margin over Hillary Clinton. Did the third parties hand Trump his victory? Probably not, because the former New Mexico governor, Gary Johnson, undoubtedly pulled more votes from Trump than from Clinton, although equally undoubtedly, every one of Jill Stein's votes came out of Clinton's hide. Libertarians are sort of right wing, but not entirely. While they favor lower taxes, small government, and abolishing pesky rules like minimum wage laws, they also believe that the government has no business telling anyone whom they can marry, what a woman can do with her own body, or who smokes what.
Amash is a fairly high-profile congressman, between his having founded the Freedom Caucus and then his vocally rejecting the Republican Party in its entirety. If he were to be the Libertarian Party candidate, he would be a terrible thorn in Donald Trump's side, because the Libertarian Party is on the ballot in all 50 states. Republicans who can't stand Trump but simply cannot bring themselves to vote for a Democrat would then have a legitimate way not to vote for Trump but also not for a Democrat. Absent the LP, the majority of those votes would go to the Republican. The Libertarian Party National Convention is scheduled for Austin, TX, in late May, but whether that happens and in what form is an open question.
As to the Green Party, there are eight candidates, but none of them are high-profile. Additionally, a lot of the Democrats who voted for Jill Stein in 2016 absolutely expected Hillary Clinton to win in a walk and just wanted to send her a message. It is doubtful that many Democrats this year are convinced that Joe Biden is a shoo-in and just want to send him a message. If Amash takes the plunge and gets the LP nomination and the Green Party nominates a nobody, the third-party vote could be crucial. (V)
Elizabeth Warren finally got around to endorsing Joe Biden yesterday. Did she have a hard time deciding if she was going to vote for Biden or Trump? In her statement, she said empathy matters. Maybe she wasn't sure which of them had a bigger stash of it?
Probably not. Warren is a fairly canny politician and doesn't do a lot off the cuff. She was no doubt waiting for Sanders to endorse Biden, which he did earlier this week. That left the Senator free to do it. The logic here is that she wants to get the die-hard Sanders supporters to vote for Biden, and if she did the deed before Sanders, some progressives might feel she had sold out the cause. But by merely seconding Sanders, if any progressive complains to her, she can say: "I just did what Bernie did." There is no good response to that.
At this point, Biden has landed the endorsement of just about every Democrat who matters. The last holdout was Rep. Alexandria Ocasio Cortez (D-NY), who is now on board with the former veep. The Democratic leadership is now completely unified. Maybe the Democratic voters will follow, sooner or later. (V)
Donald Trump's decision to suspend funding to the World Health Organization in the middle of a pandemic has not been well received. There has been furious blowback from all quarters, including foreign leaders and health groups. Even the U.S. Chamber of Commerce said that Trump's decision is not in the interest of the United States. The American Medical Association called it a "dangerous step." The EU foreign policy chief, Josep Borell, tweeted: "There is no reason justifying this move at a moment when their efforts are needed more than ever to help contain & mitigate the #coronavirus pandemic." U.N. Secretary General António Guterres said it is "not the time to reduce the resources for the operations of the World Health Organization or any other humanitarian organization in the fight against the virus."
Many Democrats believe that Trump does not have the legal authority to suspend payments duly authorized by law. In effect, Trump is claiming that he, not Congress, has the power of the purse. One thing the Democrats can do is put language in the next COVID-19 bill specifically ordering the payment to WHO to be made. But if Senate Republicans balk, the Democrats will be forced to give in, or they can kill the bill and try to give the red team the blame. The problem is that while some Senate Republicans (ahem, Rand Paul) will undoubtedly be thrilled to back the President, there are several members of that caucus, particularly those up this year, who may not want to die on the "We cut funding to WHO in the middle of a pandemic" hill. (V)
If you thought Donald Trump didn't know the Constitution, well, guess what, you're wrong. Consider Art. II, Sec. 3, which lists some of the powers of the presidency. Here is the second clause:
[H]e may, on extraordinary Occasions, convene both Houses, or either of them, and in Case of Disagreement between them, with Respect to the Time of Adjournment, he may adjourn them to such Time as he shall think proper
He figured that since Speaker Nancy Pelosi and Senate Majority Leader Mitch McConnell don't see eye to eye on anything, they surely don't agree on when to adjourn. In that case, he can just send Congress packing and rule by decree. Viktor Orban did it in Hungary, so why not in the U.S.? Actually, both chambers have agreed to adjourn on Jan. 3, 2021, so there is no disagreement.
This power has never been invoked in U.S. history, but yesterday Trump threatened to invoke it for the first time. When he ran for president in 2016, he promised to shake things up. Getting rid of Congress would probably qualify.
Trump's specific gripe is that he wants some nominees confirmed, but the Senate is away until May 4. It holds pro-forma sessions every three days in which one member shows up at 9 A.M., asks the empty chamber if anyone has any business, and not hearing any answer from the ghosts of Daniel Webster and John Calhoun, announces that the next meeting is in 3 days. Rinse and repeat. This procedure prevents the president from making any recess appointments since formally the Senate is in continuous session.
Rep. Jamie Raskin (D-MD) is a member of the House Judiciary Committee and taught constitutional law before entering politics. He said of Trump's idea: "[It] comes out of a dictator's handbook. That's banana republic stuff." Actually, the Supreme Court has ruled on recess appointments before. In a 2012 ruling, Stephen Breyer wrote a unanimous decision, saying: "The Senate is in session when it says it is." The bottom line is that this is all bluster. While McConnell is willing to carry barrels of water for Trump, he is not prepared to de facto abolish the Senate for him. (V)
March was not a great month for shopping. Retail sales plunged by 8.7% compared to February (and that includes online sales, which went up). The New York Times has prepared a nice chart showing month-to-month changes in retail sales since 2000. It's pretty grim, the biggest month-to-month drop ever. April may be worse since the stay-at-home orders didn't kick in until mid-March in most states. Here is the chart: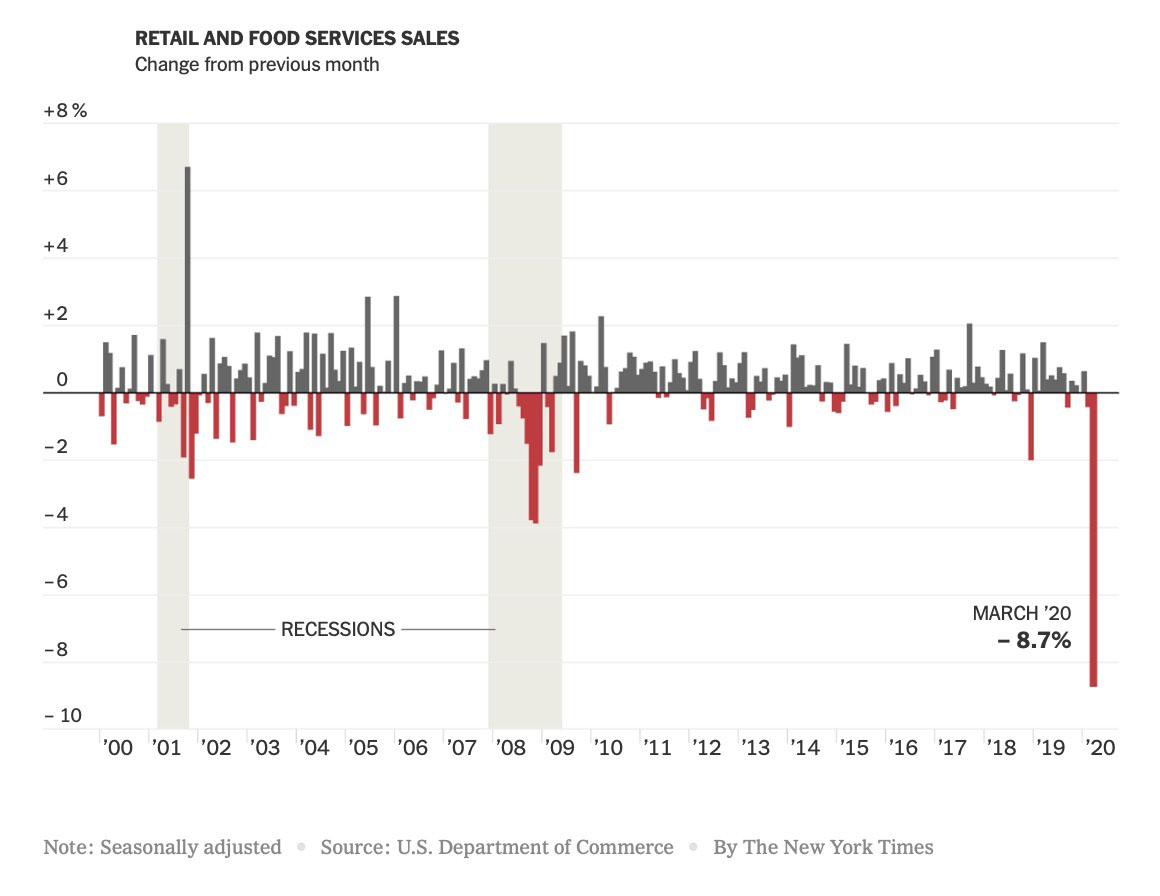 The biggest hits came in clothing (-51%), furniture and home furnishings (-27%), restaurants (-27%), motor vehicles (-26%), and sports/hobbies/books (-24%). There was one sector that shot up, though: food stores (+26%). Since people are not eating out, they are buying more food to cook at home.
The political impact of a retail collapse is pretty obvious for a president who was planning to run on how great the economy is. Retail is the second or third biggest industry in the U.S., depending on whether professional and business services are lumped together (combined, those things are #2; separately they drop below retail and become #3 and #4). Healthcare is also bigger. Still, a large number of the 16 million people who have already filed for unemployment worked in retail and the worst may be yet to come.
These figures explain why Donald Trump is so eager to reopen the economy. Then he can order people to run into stores and buy stuff. However, no serious economist believes that you can flip a switch and get spending in stores back to where it was in January. Are women going to rush out and buy new emergency dresses? Are men going to feel that they just have to have a new suit? Probably not. Even when it is legal to go to restaurants, many people are going to avoid them for fear of picking up the coronavirus. The same holds for movies, health clubs, sporting events, and almost everything else where masses of people come together.
The long-term implications of the virus for retail are staggering. Thousands of stores will vanish forever. And this may include mid-size chains like Macy's and The Gap. The strong will survive and have less competition, meaning they can better strong-arm customers, employees, and suppliers. A lot of people are not going to be happy. (V)
The botched Wisconsin election is starting to shake Republicans. A Reuters story on the Wisconsin election starts with a quote from a 47-year-old Wisconsin Democrat, Jessica Jaglowski, who said: "If I have to wait in line for 12 hours, in a storm, I don't care. I'm voting for whoever can get Trump out." Those are not soothing words to Republican strategists. A Reuters/Ipsos poll cited in the story shows that she is not the only Democrat who is thinking like that. At this point in 2012, 71% of Republicans were certain they would vote vs. 62% of the Democrats. In 2016, it was 68% to 61% in favor of the GOP. Now they have just a 1-point edge, 71% to 70%. Since there are fewer Republicans than Democrats, that math is not good for the red team.
The Washington Post also had a story on motivation yesterday. It began with a quote from another Wisconsin voter, John Carter (71), who stood on line for 3 hours to vote for Jill Karofsky, the liberal state Supreme Court candidate. He said: "I saw the line and thought: 'Oh my God,' but I have to vote." The former Wisconsin state Republican chairman, Brandon Scholz, said that the results of the state supreme court election reminded him of how much Democrats hate the president and what a motivating force that could be.
Charles Franklin, who runs the respected Marquette University Law School poll, noted that the Wisconsin results showed that Democrats are now winning in the suburban areas in Wisconsin, something that occurred in other states earlier. Now Wisconsin is catching up. Incumbent conservative Supreme Court Justice Daniel Kelly carried some of the deep-red suburban counties around Milwaukee, but by much smaller margins than other Republicans in the past have done. Also, the Democrats picked up normally Republican counties around Green Bay, Appleton, and Oshkosh. Keith Gilkes, a long-time Republican strategist, said: "I don't think this is going to be an easy win in any way, shape, or form."
In short, it is clear that Democrats are much more motivated to vote than in 2016, an election that Trump won by a mere 77,000 votes in three states. Nearly all of the motivation on the Democratic side is about getting rid of Trump, rather than electing Joe Biden, but when someone marks the box on the ballot for Biden, it doesn't matter if that was really a vote against Trump or a vote for Biden. A vote is a vote.
Motivation matters a lot. Democrats have outnumbered Republicans nationwide for years, but Republicans are better motivated and have a larger percentage turnout most of the time. That might be different this time. The poll combined the results of seven swingy states (Arizona, Florida, Michigan, Wisconsin, Pennsylvania, North Carolina, and Colorado) and determined that interest in voting rose among Democrats by 11 points compared to 2016, while among Republicans it moved up only 3 points. That may come close to evening it out. (V)
A new Politico/Morning Consult poll released yesterday asked about what Americans are looking for in Joe Biden's running mate. Among registered voters, 66% of the respondents want a running mate with executive experience, while 67% want someone with legislative experience. Only 22% think having the running mate be a person of color is important.
The pollsters didn't define "executive experience." Obviously a governor or a mayor has it, but what about a state attorney general? Such a person runs a large bureaucracy full of prosecutors and staff, so maybe that counts. If so, Sen. Kamala Harris (D-CA) scores on both points since she was attorney general of California before being elected to the Senate. Sen. Catherine Cortez Masto (D-NV) was also an AG and is now a senator. And Sen. Amy Klobuchar (DFL-MN) was the equivalent of a county DA in Hennepin County before moving on to Congress. However, several of the top candidates, including Stacey Abrams, Sens. Tammy Baldwin (D-WI), and Elizabeth Warren (D-MA) don't have any executive experience. Sen. Bernie Sanders (I-VT) has a little bit of executive experience, but as mayor of a small town many decades ago (plus, he's a man, and Biden already said his #2 is going to be a woman). In contrast, Gov. Gretchen Whitmer (D-MI) has executive experience but no federal legislative experience. The only plausible candidate who is (or has been) a governor and has also served in Congress is Gov. Michelle Lujan Grisham (D-NM).
Morning Consult ran a few names up the flagpole to see who respondents would salute. Here are the results:
| | | | | |
| --- | --- | --- | --- | --- |
| Candidate | Favorable | Unfavorable | No opinion | Never heard of |
| Stacey Abrams | 21% | 21% | 20% | 38% |
| Tammy Baldwin | 10% | 13% | 20% | 57% |
| Kamala Harris | 32% | 35% | 16% | 19% |
| Amy Klobuchar | 32% | 27% | 20% | 22% |
| Catherine Cortez Masto | 12% | 18% | 17% | 53% |
| Bernie Sanders | 45% | 43% | 8% | 3% |
| Elizabeth Warren | 36% | 41% | 14% | 9% |
| Gretchen Whitmer | 14% | 17% | 19% | 51% |
What amazes us (but does not surprise us) is that 19% of voters don't know who Kamala Harris is despite the massive amount of publicity she got, especially after the first debate, when she lit into Biden. The reality is that a substantial fraction of the population does not follow the news at all. That 16% have no opinion of her is understandable—news reports rarely talk about candidates' positions—but not knowing who she is, well, that is a whole other ballgame. The winner in the "never heard of her" sweepstakes is Sen. Catherine Cortez Masto (D-NV) at 53%, but she is from a small state, has not been in politics long, and is not running for anything this year (yet). Readers of this site know, of course, that as a Latina from a state near Arizona, she is undoubtedly on Biden's list, but for most of the country, her name doesn't ring a bell.
On the subject of handling COVID-19, 26% think Donald Trump is doing an excellent job, 16% say he is doing a good job, 11% say fair, and 41% say poor. Congressional Democrats and Republicans are essentially tied on the same question, with 39% and 38%, respectively approving of their handling of the matter. But neither is as good as the WHO, which gets a 53% rating. Whether Donald Trump knows that the WHO gets a better rating than congressional Republicans is not known, but even if he knows, he needs to find a scapegoat, and the WHO seemed like a better pick than the GOP. The CDC, meanwhile, beat them all, with a 67% approval rating.
As to whether the administration is doing enough in response to the virus, 3% think it is doing too much, 39% think it is spot on, and 50% think it is not doing enough.
Morning Consult also asked what people are likely to do in light of the coronavirus, with these results: stay 6 feet away from people (91%), avoid unnecessary trips outside (89%), shop online (79%), wear a mask outside (75%), use a delivery service (68%), get the vaccine when it is available (67%), wear gloves in public (59%), and use hydroxycloroquine (17%).
The top issues people are thinking about when considering candidates to vote for are the economy (30%), health care (24%), Social Security and Medicare (15%), and national security (12%). Nothing else is in double digits.
One more item that might be of interest to Trump if he sees this poll is that 75% of the voters think the top priority is containing the virus and only 17% think fixing the economy is #1. (V)
Despite Donald Trump's opposition, it is obvious that many votes will be cast by mail this year. Five states (Colorado, Hawaii, Oregon, Washington, and Utah) already run all elections by mail and so do some California counties. Still, the other states differ greatly in how prepared they are for mail-in voting, and what steps have to be taken to get there.
On one hand, New Mexico is currently in the middle of a legal battle about joining Colorado and the others to go all mail-in. Michelle Lujan Grisham wants to go down that road, but the state's Republicans oppose it. So, legal obstacles are a bigger problem there than technical ones.
Also a legal problem is that in some states you have to have a good reason for getting an absentee ballot. Those laws could be changed, of course, but in many states the Republicans in the state legislature don't want people to vote absentee because they fear that an all-mail vote will help the Democrats (although Utah has mail-in and doesn't appear to be on the verge of becoming a blue state).
On the other hand, some states already have a lot of mail-in voting, but have to scale up. These states include Florida, Minnesota, Indiana, and Iowa. In Florida, for example, Tammy Jones, the president of the Florida Supervisors of Elections, asked Gov. Ron DeSantis (R-FL) to issue an executive order providing flexibility for Florida's 67 counties. She said that she expects a significant shortage of poll workers. She doesn't think it is possible to do an all mail-in election this year, but does think that with 22 full days of early voting, crowds could be reduced enough to make voting safe.
However, Gov. Mike Parson (R-MO) yesterday said that fear of getting sick does not qualify a voter for getting an absentee ballot. Under Missouri law, casting an absentee ballot illegally is a felony. The governor also said that this is not the time to talk about elections. It is the time to get people back to work. He also said that he would not support legislation to expand absentee voting.
It is increasingly clear that Republicans see COVID-19 as a godsend, in a way, because it may suppress turnout far more than any voter ID law could do. But as we have pointed out before—and will point out again—be careful what you wish for. You might get it. In particular, the people most likely to stay home for fear of getting sick are old people, in other words, the Republican base. (V)
The Census Bureau doesn't think it can do its job on time because although many people answer their questionnaires by mail or online, some don't and then enumerators have to go out into the field and scout them out. Finding folks willing to go talk close up with dozens or hundreds of refuseniks isn't easy, even with a surplus of unemployed people right now. Also, the people being interviewed may not be enthusiastic about taking a long survey in person with a stranger who may have been within 6 feet of lots of people recently. So the Bureau wants Congress to delay its deadline.
As it turns out, a delay would cause trouble in various ways, some minor and some major. For states with a full-time legislature responsible for drawing district boundaries and no deadline for getting the job done, getting the data late is not a problem. However, some states have a part-time legislature, like Minnesota and Texas. In Minnesota, for example, the legislature must adjourn by the third week in May, and if the data come in later, it won't be able to draw the map.
But it is even worse in New Jersey and Virginia. They hold legislative elections in 2021, and if the data are late, how are politicians going to run for state house and senate positions if the districts haven't been determined yet? Worse yet, how are they even going to file if the filing deadline is before the maps are ready? In some states, special sessions of the legislature may be needed to comply with constitutional or statutory deadlines. Maybe they can work quick-like-a-bunny once called (back) into session, but if power is split between the parties, long and difficult negotiations will be needed since neither party is going to accept the other's (gerrymandered) map. (V)
Restaurants, hotels, airlines, and sports have all been hit hard by the spread of the coronavirus. But there also have been some big hits in surprising places as well. These include:
Private investigators (because snooping around stands out so much more now)
Elvis impersonators (because they are performers and there are no audiences any more)
Tattoo artists (because it is hard to do tattoos standing 6 feet from the client)
Sporting equipment manufacturers (because all sports have been canceled)
Sex doll companies (surprised? The problem is that the product is made in China)
Notaries (because people aren't buying things that require notarization)
Pet sitters (because everyone is at home sitting their own pet)
Auto mechanics (because no one is driving anywhere, so cars aren't breaking down)
Check cashers (because if you aren't getting a paycheck, you don't need to cash it)
Matchmakers (because nobody wants to meet strangers for coffee and COVID)
Buskers (because they work in places that are now empty, like the subway)
There are obviously a lot more in the same category as tattoo artists, like dentists. Normally tattoo artists and dentists aren't lumped together in the same bin. However, nowadays, jobs are categorized as either (1) can be done at home using videoconferencing or (2) cannot be done at home using videoconferencing. So, indeed, tattoo artists and dentists are more similar than their respective practitioners may have realized. (V)
---
If you have a question about politics, civics, history, etc. you would like us to answer on the site, please send it to
questions@electoral-vote.com
, and include your initials and city of residence. If you have a comment about the site or one of the items therein, please send it to
comments@electoral-vote.com
and include your initials and city of residence in case we decide to publish it. If you spot any typos or other errors on the site that we should fix, please let us know at
corrections@electoral-vote.com
.
---
Email a link to a friend
or share:
---The Votemaster and Zenger