TODAY'S HEADLINES (click to jump there; use your browser's "Back" button to return here)

•
In the Sunflower State, Everything Comes Up Roses for the GOP
•
Trump Embarrasses Himself in Axios Interview
•
Trump's Debate Dithering
•
Today's Stance on Vote-By-Mail
•
How Trump Could Steal the Election
•
VP Candidate Profile: Gov. Gina Raimondo (D-RI)
•
Today's Presidential Polls
•
Today's Senate Polls
Lots of voters cast lots of votes in lots of races on Tuesday. However, the election that everyone had their eyes on was in Kansas, where control of the Senate might plausibly have hung in the balance. There, Rep. Roger Marshall (R-KS) trounced the rather unelectable Kris Kobach, 40.3% to 26.3%, presumably ending Kobach's political career for good, and also reminding us that ratfu**ing rarely works. As a bonus for the GOP, voters also sent Rep. Steve Watkins (R-KS) packing. His recent indictment might have put that seat into play if he had advanced to the general election, but instead the candidate will be Kansas Treasurer Jake LaTurner.
Here are some of the other big stories of the night:
The other news in Kansas is that the state is set to elect its first trans officeholder. Stephanie Byers is going to be the Democratic nominee for the Kansas House of Representatives, District 86, a very blue district she is favored to win.


In Missouri, progressive challenger and Black Lives Matter activist Cori Bush unseated 10-term Rep. William Lacy Clay (D-MO) in MO-01. Clay's pretty progressive, but apparently not quite progressive enough for the D+29 district. He and Watkins become the sixth and seventh representatives to be defeated in a primary this cycle, following Dan Lipinski (D-IL), Eliot Engel (D-NY), Steve King (R-IA), Denver Riggleman (R-VA), and Scott Tipton (R-CO).

Bush will win the election in November, and has "future Squad member" written all over her. This will be the first time in 50 years that St. Louis will be represented in the House by someone who is not a member of the Clay family. It's also worth a mention that the race was incorrectly called for Clay early in the night based on early returns, because prognosticators did not account for the difference between mail-in votes (which favored Clay) and in-person votes (which favored Bush). Uh, oh. That is a very bad omen for Nov. 3.


Also in Missouri, folks apparently concluded they like free money more than they dislike immigrants, so they approved Medicaid Expansion 53.3% to 46.7%. And so it is that Obamacare becomes just a bit more ingrained in American life. They stabbed it with their steely knives, but they just can't kill the beast.


Speaking of The Squad, in MI-13, Rep. Rashida Tlaib (D) is leading, but most of the ballots are outstanding, so her fate won't be known until Wednesday or Thursday.


In MI-03, Republican Peter Meijer and Democrat Hillary Scholten will face off for the right to succeed the retiring Rep. Justin Amash (L-MI). The district is R+6, but Joe Biden is likely to have some coattails there, so it's close to a toss-up.


In the Arizona Senate race, Mark Kelly won the Democratic nomination, which wasn't too hard since he was unopposed. Sen. Martha McSally, on the other hand, got just 76% of the vote, with challenger Daniel McCarthy collecting the balance. That's not great for an incumbent, especially an appointed one, and suggests she's got an enthusiasm issue in a race where the polls have her trailing big.


In AZ-02, Rep. Tom O'Halleran (D) avoided becoming the eighth sitting member to be beaten in a primary, outpacing challenger Eva Putzova 58.7% to 41.3%.


In AZ-06, the Democrats got their preferred candidate in Hiral Tipirneni. The district is R+9, but has flip potential, since current occupant Rep. David Schweikert (R) just got busted for serious violations of House ethics rules.


In the Republican primary for Maricopa County sheriff, former sheriff and current convicted criminal Joe Arpaio keeps trading off with his former deputy Jerry Sheridan for the lead. That result will take another day or two. Inasmuch as Arpaio is seen as an avatar for Donald Trump, the man who pardoned him, Arpaio's somewhat tepid vote total could be a bad sign for the President in the Grand Canyon State. Of course, Trump will be running statewide, not just in Maricopa County, but that county has 62% of the state's voters.


In Washington, Gov. Jay Inslee (D) is on course for a third term. He collected 51.9% of the vote in the state's jungle primary, well ahead of the 16.8% for second-place finisher Loren Culp (R). Those two will face off again in November and Inslee will win.


In WA-03, an R+4 district that Democrats aspire to flip, there will be a rematch of the 2018 matchup between Rep. Jaime Herrera Beutler (R) and Carolyn Long (D). Beutler won the last time by 5 points, but Long is hoping a presidential year will have a different dynamic.


In New York, progressive Ritchie Torres won his primary in NY-15, an open seat, while progressive Suraj Patel lost his primary in NY-12, falling to incumbent Rep. Carolyn Maloney (D). Both those districts are deep, deep blue, so Torres and Maloney will win in November.

What's that? You don't remember us mentioning that New York would be voting Tuesday? We didn't and it didn't. New Yorkers voted back in June. It took six weeks to figure out the results, in large part due to issues with mail-in voting. Uh oh, again. And primaries have low turnout. General elections have big turnout.
Those are the biggies for now; other storylines may develop later as further returns come in, and as people pore through the results. Meanwhile, 24 hours for everyone to catch their breath, and then Tennessee votes on Thursday. (Z)
On Monday, Donald Trump sat for an interview with Jonathan Swan of Axios, which has an agreement with HBO to carry some of its coverage. It was a train wreck. We didn't write it up yesterday because "Trump screws up interview" is kinda "dog bites man," and also feels a bit like a cheap shot. However, with 24 hours to reflect, we are persuaded that was an error. It's just too consequential to ignore.
Probably the easiest way to do this is to discuss the five worst bits, in our view, from less bad to more bad. So, here goes:
Russia

: Trump's ever-evolving story on the bounties that Vlad Putin placed on the heads of American soliders has settled, at least for now, on asserting that the intelligence never reached him. He told Swan that this is a sign that it was not taken seriously by the U.S. intelligence establishment. It is very possible that he's lying that it never crossed his desk or, alternatively, that he already forgot that he saw it. If the intelligence pros really did keep it from him, or if they downplayed it, that could indeed be evidence they didn't take it seriously. On the other hand, it could also be evidence that they knew he wouldn't pay attention, or that they don't trust him with sensitive Russia-related information. And whatever the truth is, it still does not explain or excuse his refusal to raise the matter when speaking to Putin.



Mail-in Voting

: Trump seems to barely understand mail-in voting, despite having used that option multiple times himself. He was shaky on how long the U.S. has been voting by mail (since the Civil War), how secure it is, and whether or not there's a difference between absentee and vote-by-mail (there isn't). He repeated a couple of anecdotal stories about vote-by-mail, such as an allegation that someone's dog once got a ballot. As we have pointed out many times, the plural of "anecdote" is not "data." Further, that dog owner was deliberately trying to "expose" the flaws in the system, and yet was caught and reprimanded. So, to the extent that the anecdote is instructive, it actually proves the opposite point from the one Trump was trying to make. Note, incidentally, that his position on vote-by-mail has since evolved yet again; see below.



Ghislaine Maxwell

: For the second time in an interview, the President discussed Ghislaine Maxwell, the former paramour and procurer of Trump friend Jeffrey Epstein. The Donald apparently thinks people have been living on a desert island for the last 20 years, because he insists on behaving as if he barely knows about the situation, or about the people involved. Avoiding the serial pedophile rapist's name, Trump said: "Her boyfriend died in jail, and people are still trying to figure out how did it happen, was it suicide, was he killed?"

Exactly what his game is here is not perfectly clear, since we don't know what exactly it is that Trump is trying to keep secret. At the very least, it's clear he feels he has some amount of exposure here. And the general consensus is that he's trying to telegraph something to Maxwell, either: (1) the promise of a pardon if she remains quiet, or (2) some sort of threat. At the moment, she's facing federal charges, so a pardon might be of interest. On the other hand, much of her procuring took place in New York. If she escapes the clutches of the feds by hook or by crook, one imagines state-level charges will soon follow. This could change the calculus for her. Her choices might now be (1) Keep mum, get a pardon, and go to state prison for a long time or (2) make a deal with both the feds and NYS, spill the beans, and get a shorter stay in Club Fed only.



John Lewis

: This, we would say, is where things got really cringeworthy. Trump essentially explained why he chose to skip the commemorations of John Lewis' life, observing that Lewis did not come to his inauguration or to his State of the Union addresses, and also noting that he really did not know if Lewis was "impressive" or not. Oof. The President then asserted that he has done more for Black Americans than Lewis and, in fact, more than anyone besides Abraham Lincoln. Double oof. Undoubtedly, much of the base nods knowingly when they hear things like that. But someone like campaign manager Bill Stepien, who is smart enough to know better, and also to know how tone-deaf that sounds, must surely put his face in his hands when he hears the President utter such obvious (and offensive) absurdities.



COVID-19

: As bad as the Lewis bit was, however, things got even more cringeworthy when Trump tried to defend his administration's record on COVID-19. Someone—and that person really should be fired, because they should have known better—gave the President a passel of charts and graphs with which he was ostensibly supposed to make his case. However, it quickly became clear that Trump barely understood the evidence in his hands, and that he had absolutely no ability to respond to obvious counter-arguments (for example, he and Swan disagreed on whether or not total deaths matter as long as deaths per thousand diagnoses is low). Anyhow, as Swan pressed the President with follow-ups, Trump became flustered, and shuffled through his papers, waving them around to try to salvage the situation. Here's a brief clip:



It's like a "Saturday Night Live" sketch. Again, Stepien must have been reaching for the aspirin. And the antacid. And the bottle of whiskey. If you want to watch the entire 37 minutes, incidentally, it is here.
In short, it was really, really bad. There's just no way around it. All day long, people on social media have been calling it "the cognitive test that Donald Trump couldn't pass."
In any event, this item isn't just shooting fish in a barrel, there's some actual electoral significance here (beyond Trump's constantly evolving and often-outlandish positions on the issues of the day). Clearly, Team Trump recognizes that he's got to get out on the campaign trail, such as it is, and try to broaden his support beyond the base. Rallies are out, there isn't going to be much of a Republican National Convention, and while interviews with Sean Hannity and Tucker Carlson are good and well, they only reach folks who are already true believers. So, the President sat with Chris Wallace and it was a disaster and then he sat with Jonathan Swan and it was another disaster. And what both of these men demonstrated to those who might follow them is that if you come prepared, and you fact-check Trump in real time with follow-up questions, the President is utterly out of his depth.
If you're one of the folks running Trump 2020, we just don't know what you do here. Again, the type of campaigning the President is best at (rallies) is off the table, probably for good. Trump 2020 is already running vast numbers of commercials, both on TV and online, and it's not helping. Sending him for an interview with anyone but the most friendly of interviewers, with charts and graphs or without, is like sending a lamb to slaughter. The debates offer a similar dilemma (more below). It's not easy when you've got a candidate whose most dangerous opponent is himself. (Z)
Yesterday, we had an item about stories that imply that Joe Biden is reluctant to debate when, in fact, he has committed to participating both orally and in writing. It is the Trump campaign that is being coy, a phenomenon that was on display once again on Tuesday.
At the start of the day, Trump spokesperson Erin Perrine appeared on Fox News, and said the President is going to be present for the three debates. So, done deal, right? Not so fast. As everyone knows, you can never be sure if Trump spokespeople actually speak for Trump. And after Perrine's interview, members of the campaign equivocated, and somewhat implied that The Donald would only appear if his demands for a fourth, earlier debate (possibly with moderators of his choosing) is scheduled.
What's going on here? With Team Trump, you just never know, but here are some guesses:
Team Trump thinks that "home court" debate they want is absolutely key to their chances, and they'll do anything to get it. It could even be that they hope to get Trump the friendly moderators he wants, let him debate one time, and then have him cancel on the remaining three.


They want to create the impression that Biden is afraid of debating, or that he's afraid of a "fair" debate, and will only appear before "biased" "fake news" moderators. He would be a damn fool to agree to a debate with, say, Sean Hannity and Jeanine Pirro asking the questions. And the Commission on Presidential Debates would never go for it, anyhow. But it doesn't take much to create a negative perception, particularly among members of the base. After all, many of these folks believe QAnon, and there isn't any evidence for that.


The Trump campaign has decided that, as much as their candidate needs a game changer, there is too much risk here, and so they are trying to give him an out. It's true that he handled the debates with Hillary Clinton four years ago. However, it is also true that he's got many Achilles heels that he did not have four years ago (COVID-19, Ukraineyola, the economic downturn, various dictatorial behaviors, immigrant children in cages, etc.). There is also some evidence of meaningful cognitive decline (see above for one example). If 30-minute interviews with Chris Wallace and Jonathan Swan turned disastrous, what might happen in a 2-hour debate?
We shall see what happens, but between the challenges posed by the pandemic and Trump's dithering, we wouldn't plan your debate-viewing party (conducted via Zoom, of course) quite yet.
If Trump insists on some conditions before he is willing to debate, Joe Biden could take Thomas Friedman's advice and insist that the last 15 minutes be given over to neutral fact checkers who will analyze the debate and flag the major outright lies either candidate told. Needless to say, Trump would never accept that and the idea of "you have to accept my conditions but I don't have to accept yours" is a nonstarter. (Z & V)
The debates aren't the only subject where it's awfully hard to pin Donald Trump down. His opinion on vote-by-mail continues to oscillate wildly. On Tuesday, he decreed that vote-by-mail is not only the same thing as absentee voting (a breakthrough!), but that it works just fine, at least in Florida:
Whether you call it Vote by Mail or Absentee Voting, in Florida the election system is Safe and Secure, Tried and True. Florida's Voting system has been cleaned up (we defeated Democrats attempts at change), so in Florida I encourage all to request a Ballot & Vote by Mail! #MAGA

— Donald J. Trump (@realDonaldTrump) August 4, 2020
Later in the day, Trump suggested that the distinction is that Republican-run states know how to run an honest absentee election, while Democratic-run states do not. We look forward to reading the numerous studies on which he surely based that conclusion; we assume a full bibliography will be promulgated on the White House website later this week.
In any event, somebody clearly got through to Trump and pointed out that if he is going to win the must-have state of Florida, he needs a lot of votes from elderly people. And there are plenty of elderly people who are either going to vote by mail, or aren't going to vote at all. So, the President really needs to be on the vote-by-mail train. It's also possible someone pointed out to him that he's now a resident of Florida, and that he comes off as something of a hypocrite voting by mail there and then claiming the system is inherently fraudulent.
And now, we will see how long he sticks with this new take on absentee balloting, and if he's really able to persuade people that only blue states don't know how to run such elections with integrity. We will be particularly interested to see what his opinion is about states with mixed government, like Kentucky (Republican legislature, Democratic governor) or Maryland (Democratic legislature, Republican governor). Will he be talking to Jonathan Swan again anytime soon? Also, four of the five states that vote entirely by mail are blue states and have virtually no problems with their elections. (Z)
Slate's Mark Joseph Stern has just published a "new" article headlined "How Trump Could Steal the Election," in which he supposes that Republican-controlled state legislatures could seize upon Election Day chaos to directly award their EVs to Donald Trump and thus hand him the election outright, or else throw it to the House and re-elect him in that way. This is hardly the first time this cycle this clickbait-y article has been written. For example, a few months ago, The Atlantic published an item with the near-identical headline "How Donald Trump Could Steal the Election" and an identical argument. Heck, this isn't even the first time Stern has published this article; he made almost exactly the same argument back in March, that time under the headline "Trump Can't Cancel the Election. But States Could Do It for Him."
Perhaps it is already clear that we don't think much of these pieces. We wonder, in particular, what the purpose is in discomfiting people with worst-case-scenario discussions. Is it to educate and warn them? Or is it to attract eyeballs? We don't know. In any event, we cannot say that this is an entirely impossible scenario. What we can do, however, is make clear that it is very, very unlikely. Here are six issues:
The Fog

: We don't know any other way to characterize this, but what it boils down to is that there has to be some substantial ambiguity when it comes to the results. Either the balloting has to be a train wreck or the results have to be pretty close or, more likely, both have to be the case. Further, it's not enough for one or two states to have problems. The Michigan legislature can't toss that state's popular vote out because Florida had issues with its ballots. There would have to be widespread issues in many (or all) of the swing states.



The Math

: If we assume there is enough "fog" to give cover to state legislatures to start thinking about shenanigans, that still leaves the pro-Trump forces with some daunting math to confront. Let's start with the states that have Democratic trifectas. Joe Biden is expected to win all of these, and there are not going to be any EV-stealing shenanigans in Trump's favor in these places:



That already puts us at 195 EVs. Now let's add in the states where Biden is expected to win, and the Democrats control at least one chamber of the state legislature:



We're up to 233 EVs. Biden isn't going to lose any of these due to shenanigans, either. Note, incidentally, that Minnesota is the only one of the five additional states that has a split legislature. The four others have both chambers with Democratic control.

Now, let's add states where Biden is favored to win, and where there is at least one Democrat who has to sign off on the results (either the governor, the secretary of state, or both):



Now we are up to 305 EVs. Getting into the weeds of what could happen in each state is a bit much, but several things are already evident: (1) Republican-controlled legislatures in swing states would have to be very unified to pull off this scheme; (2) they would face pushback on that, including lawsuits, in many places; and (3) their likely best case scenario, even if they are unified and they prevail in court, is to deny anyone an electoral victory (by muddying the waters until the deadline for the EC to meet has passed) and to throw the election to the House.



State Law

: At such point that lawsuits began to be filed, the issue would likely become a matter for the state courts. Generally speaking, states have broad discretion in deciding how to run elections and award electoral votes, and are generally given the right to decide what state law does and does not say. So, Team Trump would not need to prevail in just one court case, they would probably have to prevail in half a dozen. And in some of those cases, they would run right into the teeth of a Democratic controlled state supreme court. For example, the Pennsylvania Supreme Court has 5 Democrats and 2 Republicans.



Federal Law

: Maybe the Supreme Court ultimately does get involved. They did it before, after all (albeit under rather different circumstances). Still, say the disposition of one or more states' votes gets tossed to the nine justices. They are going to have two different precedents to think long and hard about. The first, as you might imagine, is Bush v. Gore (2000); in that ruling the judges said that states are specifically empowered to change the terms on which they award their electoral votes, as they see fit. That said, they also warned the ruling was not supposed to be precedential, which presents a problem for those who might hope to use it as a basis to steal the election.

An even bigger problem is Harper v. Virginia Board of Elections (1966). While that one was specifically about poll taxes, it also established the broad principle that once the right of people to vote has been extended, the state cannot intervene to dilute the potency of that vote. Taken together, what Bush and Harper suggest is that a state might be on firm ground if they announce on, say, Jan. 1, 2020, that "this year, the state legislature is just going to award our EVs." However, once states allow people to cast actual ballots, that method for awarding EVs is locked in and cannot be altered.

So, if Chief Justice John Roberts and his four merry men wanted to hand Trump the election, they would have to stand on their heads to justify that ruling. They would also have to think long and hard about whether they are willing to suffer another giant blow to the Court's reputation, and whether they really want to sign off on four more years for a president who thinks nothing of ignoring their rulings.



The House

: As noted, it's going to be pretty tough for chicanerous Republicans to steal 270 EVs; the more viable scenario would be to muddy up enough states' results to toss the election to the House. But that's not necessarily the promised land, either. Here's a current breakdown of the House delegations:



| | | |
| --- | --- | --- |
| State | Delegation | Balance |
| California | 7 R, 45 D | D+38 |
| New York | 6 R, 21 D | D+15 |
| Massachusetts | 9 D | D+9 |
| New Jersey | 2 R, 10 D | D+8 |
| Illinois | 5 R, 13 D | D+8 |
| Maryland | 1 R, 7 D | D+6 |
| Connecticut | 5 D | D+5 |
| Washington | 3 R, 7 D | D+4 |
| Oregon | 1 R, 4 D | D+3 |
| New Mexico | 3 D | D+3 |
| Virginia | 4 R, 7 D | D+3 |
| Iowa | 1 R, 3 D | D+2 |
| Nevada | 1 R, 3 D | D+2 |
| Hawaii | 2 D | D+2 |
| Maine | 2 D | D+2 |
| New Hampshire | 2 D | D+2 |
| Rhode Island | 2 D | D+2 |
| Minnesota | 3 R, 5 D | D+2 |
| Delaware | 1 D | D+1 |
| Vermont | 1 D | D+1 |
| Colorado | 3 R, 4 D | D+1 |
| Arizona | 4 R, 5 D | D+1 |
| Michigan | 6 R, 7 D, 1 I | D+1 |
| Pennsylvania | 9 R, 9 D | Tied |
| Alaska | 1 R | R+1 |
| Montana | 1 R | R+1 |
| North Dakota | 1 R | R+1 |
| South Dakota | 1 R | R+1 |
| Wyoming | 1 R | R+1 |
| Florida | 14 R, 13 D | R+1 |
| Idaho | 2 R | R+2 |
| Kansas | 3 R, 1 D | R+2 |
| Mississippi | 3 R, 1 D | R+2 |
| Utah | 3 R, 1 D | R+2 |
| Wisconsin | 5 R, 3 D | R+2 |
| Nebraska | 3 R | R+3 |
| West Virginia | 3 R | R+3 |
| Oklahoma | 4 R, 1 D | R+3 |
| South Carolina | 5 R, 2 D | R+3 |
| Arkansas | 4 R | R+4 |
| Kentucky | 5 R, 1 D | R+4 |
| Louisiana | 5 R, 1 D | R+4 |
| Missouri | 6 R, 2 D | R+4 |
| Alabama | 6 R, 1 D | R+5 |
| Indiana | 7 R, 2 D | R+5 |
| Tennessee | 7 R, 2 D | R+5 |
| Georgia | 9 R, 4 D | R+5 |
| North Carolina | 9 R, 3 D | R+6 |
| Ohio | 12 R, 4 D | R+8 |
| Texas | 22 R, 13 D | R+9 |



At the moment, there are 23 Democratic-controlled delegations, 26 Republican-controlled delegations, and 1 that is tied. When the next Congress (which would get to make this decision) convenes, it's entirely possible the GOP maintains its edge. They could even add a delegation or two, like Iowa or Michigan. However, there are a lot of wildcards here. The Democrats, particularly if this is a wave year, could also pick up delegations. Florida, for example, is right at the tipping point, as is Pennsylvania. North Carolina, with its new maps, could flip, and even Texas is an outside possibility given the blue team's focus on suburban districts there. There are also GOP-controlled states that could well become ties, like Wisconsin. And note that it's not enough to have a plurality here; the Constitution requires an absolute majority of state delegations, which means 26 of them and no fewer.

Even if the Republicans maintain control of the minimum 26 delegations they need, they're not out of the woods. It's not at all impossible that one or more Republican representatives would not be willing to participate in this scheme. For example, Rep. Liz Cheney (R-WY) has already pushed back against Trump in high-profile fashion, and has made a clear move to become one of the leaders of the post-Trump GOP. She might withhold her vote. As Wyoming has a delegation of one, that would make the Republicans' hill even harder to climb.

There's also one other nagging issue lingering in the background. In the event that the Electoral College cannot do its job, then the House picks the president, but the Senate picks the VP. And the Senators vote individually, not as state delegations. So, if the Democrats recapture the Senate, as they are currently favored to do, the country could end up in a situation where there is a legally elected VP, but no legally elected president. In that case, say hello to President Harris, or Abrams, or Rice. Oh, and if the Senate is unable to pick a VP, then say hello to President Pelosi.



The Republicans

: To build on an issue raised in the previous item on the list, Republicans would have to think long and hard if they wanted to be a part of something like this. There are actually three separate issues, we would say. The first is that, as we have outlined above, the whole scheme could go off the rails at many different points in the process. In that case, the Party would get the fallout from trying to steal an election but not the benefit.

The second issue is their own political futures. Many state legislators and, quite probably, many members of Congress, would be needed to carry it off. And the linchpins to the scheme would not be officeholders in ruby red Alabama or Mississippi, it would be officeholders in purple states like Wisconsin and North Carolina. Are they really willing to stick their necks out like this for a man who is not known for repaying favors? He may not have to face voters again, but they will.

And finally, there is the issue of Trump himself. It is clear that his authoritarian impulses are growing more and more unchecked, and could very well spin out of control if given a second term (where reelection is no longer an issue). It's probable that his mental faculties are diminishing, and possible that he could be headed for a steep decline. Those who are willing to consider cold, hard truths surely also fear that Trump is permanently damaging the Party, perhaps beyond repair. Already, there is ample evidence that many Republicans, beyond the die-hards like Rep. Jim Jordan (R-OH), are distancing themselves from the President. Do hundreds and hundreds of Republican officeholders really want to sign up for four more years? Especially when the alternative is the basically tolerable Joe Biden, as opposed to the hated Hillary Clinton? We doubt it.
Again, we're not saying it's impossible. But it's extremely unlikely; there are just too many moving parts. We would also advise readers, once again, to think carefully about the real purpose behind these sorts of doomsday articles. And while you're at it, maybe skip viewings of movies like Fail Safe, It Could Happen Here, and WarGames. (Z)
Almost done. Even if Joe Biden announces today, we'll have gotten through nearly the entire list:
Sen. Kamala Harris (D-CA) [Score: 27.5]
Gov. Michelle Lujan Grisham (D-NM) [Score: 26]
Sen. Tammy Duckworth (D-IL) [Score: 20]
Gov. Gretchen Whitmer (D-MI) [Score: 17]
Sen. Elizabeth Warren (D-MA) [Score: 27]
Rep. Karen Bass (D-CA) [Score: 13]
Mayor Keisha Lance Bottoms (D-Atlanta) [Score: 24]
Former State Representative Stacey Abrams (D-GA) [Score: 25]
Former NSA Susan Rice [Score: 31]
Rep. Val Demings (D-FL) [Score: 19]
Gov. Gina Raimondo (D-RI)
Sen. Maggie Hassan (D-NH)
As a reminder, we're awarding up to 10 points across five different areas of concern: How ready the candidate is to assume the presidency, if needed; what kind of coattails the candidate might have in terms of helping the Democratic ticket in their state/region; what the candidate brings to the table in terms of "nuts and bolts" political skills like fundraising and debating; the depth of the candidate's relationship with Biden (to the extent that information is publicly known); and how well the candidate balances out Biden. So, the perfect running mate would score a 50, while Fielding L. Wright would score a 0.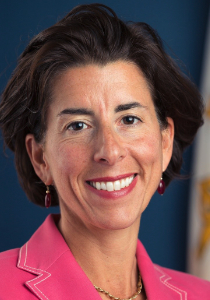 Full Name

: Gina Marie Raimondo



Age on January 20, 2021

: 49



Background

: Raimondo is a native Rhode Islander, born in the smallish town of Smithfield to homemaker Josephine and factory worker Joseph. Joseph lost his job manufacturing Bulova watches after 26 years when the facility was relocated to China, a fact that Raimondo may have mentioned once or twice in speeches and interviews. She was in the first co-ed class at LaSalle Academy, a Catholic high school in Providence, where she was valedictorian. Like many of the Democrats involved in this year's presidential race, she followed that with a wildly impressive postsecondary career: B.A. in economics, magna cum laude, from Harvard; Rhodes Scholarship; master's and Ph.D. in sociology from Oxford; J.D. from Yale.

Following law school, Raimondo clerked for Judge Kimba Wood, who is probably best known for losing out on the chance to be Bill Clinton's AG due to Nannygate. At the conclusion of that service, Raimondo moved into the world of venture capital, working at several firms in New York, and then returning to Rhode Island to form that state's first VC firm, Point Judith Capital (though its offices eventually relocated to Boston). This phase of her career left her a multimillionaire.



Political Experience

: Raimondo first ran for elective office in 2010, crushing Kernan King (R) 62% to 38% to become Treasurer of Rhode Island. In that capacity, she overhauled Rhode Island's struggling pension system, in part by cutting benefits, and in part by making changes to the pension system's investment portfolio. These efforts were approved by the state legislature and signed into law by then-governor Lincoln Chafee. However, Raimondo's firm (where she remains an employee) now handles a portion of the investments, which some regard as self-dealing. In fact, she makes almost as much money annually from that service ($125,000) as she does for being governor ($129,210). Further, union laborers who saw their pensions cut were not happy; their enmity for Raimondo remains palpable nearly a decade later.

In 2014, with Chafee vacating the governor's mansion, Raimondo decided to try for a promotion and was successful, winning 41% of the vote in a three-way race. She's governed as a moderate, lowering taxes and cutting regulation, but also raising the state's minimum wage and making community college free. Nonetheless, the ill-will from the pension situation has followed her, aided by a litany of scandals, some that might escape notice in a larger state, but that were big news in a small state like Rhode Island. For example, the contract for running the state lottery was awarded without public bidding. Consequently, she has consistently been rated among the least popular governors in America, despite being a pretty good fit for her state, politically. Rhode Islanders are notoriously hard on their leaders, so that's not quite as bad as it seems, but it's not good, either. Raimondo's effective management of COVID-19, which earned national attention, has improved her ratings a little, but not a lot. Now she's in the bottom ten among the nation's governors, as opposed to being in the bottom three.



Signature Issue(s)

: We would characterize it as "rebuilding the economy for the 21st century," though she's never used that particular phrasing. Since commencing her political career, Raimondo's focus has been on balancing the books, and on fixing the soft spots that have emerged in the economy over time. That includes things like rebuilding infrastructure and getting people like her father retrained to take on 21st century jobs, now that many of the 20th century jobs have left the country for good.



Instructive Quote

: "Knock it Off!" (Mar. 23, 2020). This was an admonition to people in Rhode Island who were not observing the prohibitions on social distancing and large gatherings. It was popular enough to become a slogan of sorts, finding its way onto t-shirts and the like:





Recent News

: Continuing the primary theme of her political career, Raimondo is at odds with her state's unionists. In this case, it is the members of teachers' unions, who would like clarity on when the school year will begin and what it will look like. Raimondo, by contrast, is taking a "wait and see" approach, and says she will not decide until Aug. 17. That certainly keeps things flexible for the Governor, but it's rough on educators who are going to have just a couple of weeks to implement whatever needs to be implemented.



Ready for the Big Chair?

: She does have a decade's political experience under her belt, including six years in an executive position. But in such a small, relatively homogeneous state? It's hard to assign all that much value to her résumé. (3/10)



Coattails

: Rhode Island is one of the bluest states in the nation, and is bordered by three of the other bluest states in the nation (CT, MA and, just barely, NY). Raimondo has no coattails. (0/10)



Nuts and Bolts Skills

: As someone whose entire career has taken place in a small state, and who can get out the checkbook anytime she needs money, Raimondo doesn't have a lot of nuts and bolts experience in terms of networking, fundraising, and so forth. She does give good press conferences, and she's not bad at needling Donald Trump, but she's got a reputation as more of an administrator than someone who is good at getting "into the arena." (3/10)



Relationship with Biden

: They don't know each other, and she very publicly backed Mike Bloomberg as her candidate before Bloomberg dropped out. Biden seems pretty forgiving, and does not appear to be holding Kamala Harris' debate attacks against her. However, Harris was advocating for herself, while Raimondo was not. And if Raimondo was asked in the vice-presidential debate: "It seems that even you felt that Joe Biden was not the best presidential candidate this year, is that correct?," how would she answer? (0/10)



Balance

: She's younger than he is by close to three decades. Other than that, they're awfully similar: white moderates from small Atlantic states. (1/10)



Betting Odds

: She's getting from 150/1 to 125/1, which implies a less than 1% chance of being selected.



Completely Trivial Fact

: Quite a few VPs graduated from an Ivy League school, but none graduated from two Ivies. The closest is Theodore Roosevelt, who graduated Harvard and then dropped out of Columbia Law School. There are also two two-Ivy presidents, namely George W. Bush (Yale B.A. and Harvard MBA) and Barack Obama (Columbia B.A. and Harvard J.D), as well as two presidential near misses, TR and his cousin Franklin (who also graduated Harvard and then dropped out of Columbia Law).



The Bottom Line

: We are giving Raimondo 7/50, and even that might be high. She's on most of the alleged short lists, but we honestly don't see why. She brings relatively little to the ticket that cannot be had with other candidates. And she's got huge downsides: her poor relationship with unions, the allegations of self-dealing, etc. There's just no way she gets picked as VP, though she's a strong candidate to run the Treasury Department.
Maggie Hassan, you'll bring up the rear tomorrow. (Z)
Morning Consult has been looking at a bunch of states that weren't in doubt. The only interesting things here are that Texas remains in toss-up territory, and South Carolina might just be getting close. (Z)
| | | | | | |
| --- | --- | --- | --- | --- | --- |
| State | Biden | Trump | Start | End | Pollster |
| Alabama | 36% | 58% | Jul 24 | Aug 02 | Morning Consult |
| California | 67% | 28% | Jul 21 | Jul 27 | U.C. Berkeley |
| Kentucky | 35% | 59% | Jul 24 | Aug 02 | Morning Consult |
| South Carolina | 44% | 49% | Jul 24 | Aug 02 | Morning Consult |
| Texas | 47% | 46% | Jul 24 | Aug 02 | Morning Consult |
Democrats would love to keep Doug Jones, who has been a good soldier, and they would really love to get rid of Mitch McConnell, who hasn't. But getting rid of Lindsey Graham would be seen as a pretty good consolation prize. Also, this is the best poll Hegar's gotten in a while, but we'd like to see several more before we deem this a real race. (Z)
| | | | | | | | |
| --- | --- | --- | --- | --- | --- | --- | --- |
| State | Democrat | D % | Republican | R % | Start | End | Pollster |
| Alabama | Doug Jones* | 35% | Tommy Tuberville | 52% | Jul 24 | Aug 02 | Morning Consult |
| Kentucky | Amy McGrath | 36% | Mitch McConnell* | 53% | Jul 24 | Aug 02 | Morning Consult |
| South Carolina | Jaime Harrison | 43% | Lindsey Graham* | 44% | Jul 24 | Aug 02 | Morning Consult |
| Texas | Mary "MJ" Hegar | 38% | John Cornyn* | 44% | Jul 24 | Aug 02 | Morning Consult |
* Denotes incumbent
---
If you wish to contact us, please use one of these addresses. For the first two, please include your initials and city.
To download a poster about the site to hang up, please click here.
---
Email a link to a friend
or share:
---The Votemaster and Zenger