TODAY'S HEADLINES (click to jump there; use your browser's "Back" button to return here)

•
Unconventional, Night Three
•
Democrats Are Rethinking Their Absentee-Ballot Strategy
•
Trump Sues Iowa Counties for Helping Voters
•
Latinos Haven't Heard from Either Campaign
•
Biden's Agenda Could Depend on an Obscure House Primary
•
COVID-19 Deaths in Florida Pass 10,000
•
The Republican Convention Is the Start of the 2024 GOP Primary
•
Sports Teams Are Getting Involved in Politics
•
Harris Is Famous All the Way to India
•
States Differ Greatly on Voting by Mail
Note: The banner at the top of many pages links to VoteFromAbroad.org, which helps Americans overseas register to vote. Registering overseas voters was actually the purpose of starting the site (in 2004). These days we think that getting all voters information about how to vote by mail is more critical, so we need one or more new banners appropriate for mail-in voting. They will link to: vote.org or represent.us on various pages (see below).

Google Analytics says that we have had over 800,000 unique visitors since Jan. 1, 2020 and traffic is growing, so we could provide a useful service. If you have skills as a graphic artist and would like to help out, please send us a 600 x 60 image in GIF, PNG, or JPEG that encourages people to click to register to vote. Use Subject "Banner." If you would like an acknowledgement on the Welcome page if we use yours, please tell us what name to use.


What the Democrats are calling their "unconventional convention" is three-quarters over. Here are our impressions of the penultimate evening:
Hey Now, You're a Rock Star, Part I

: Some politicians are abundantly telegenic and some aren't. Ronald Reagan and JFK are in the former category, while George W. Bush, former California governor Jerry Brown, and Mitt Romney could be replaced by Disney animatronics, and they would immediately appear much more smooth and natural. Anyhow, the Elvis Presley of the modern-day Democratic Party is, of course, Barack Obama, who most certainly gives Kennedy and Reagan a run for their money. He did not disappoint on Wednesday:



Obama has always been good at the "[X] is a great guy or great gal" stuff, with X being Joe Biden and Kamala Harris last night. He's always been good at the aspirational stuff, too. After all, his campaign slogan was "Hope," and last night's address was full of "onward and upward" stuff. What was uncharacteristic is that the guy who played things so calm and so close to the vest that it gave rise to Key & Peele's Obama anger translator bit came out with guns absolutely blazing:

I never expected that my successor would embrace my vision or continue my policies. I did hope, for the sake of our country, that Donald Trump might show some interest in taking the job seriously, that he might come to feel the weight of the office and discover some reverence for the democracy that had been placed in his care.

But he never did. For close to four years now, he's shown no interest in putting in the work; no interest in finding common ground; no interest in using the awesome power of his office to help anyone but himself and his friends; no interest in treating the presidency as anything but one more reality show that he can use to get the attention he craves.

Donald Trump hasn't grown into the job because he can't. And the consequences of that failure are severe: 170,000 Americans dead, millions of jobs gone while those at the top take in more than ever. Our worst impulses unleashed, our proud reputation around the world badly diminished and our democratic institutions threatened like never before.

What do you think the odds are that Trump will take that bait? 100%? 200%? 1 million percent? Well, if you chose any of those, you're already right. The President was all over Twitter with tweets like this, in ALL CAPS (so you know it's serious):



HE SPIED ON MY CAMPAIGN, AND GOT CAUGHT!

— Donald J. Trump (@realDonaldTrump) August 20, 2020


If we just saw the debut of a less kind, less gentle Obama, and Trump is going to keep leasing space in his head to his predecessor, then things are gonna get wild.



Hey Now, You're a Rock Star, Part II

: For her national debut, Kamala Harris was very good. Not Elvis Presley, but maybe Carl Perkins or Jerry Lee Lewis. She's prone to speak too slowly and to over-pronounce words, and she went on a bit too long. But her early appearance (when she emphasized the importance of voting rights) was excellent, and the women in her family, who starred with the VP candidate in a montage of "The Harris family at home" videos, were very appealing.



Theme 1: Red, Red Meat

: On the first two nights, beyond the occasional tip of the cap to George Floyd's family, the Party seemed to be staying away from contentious issues that might scare away moderates and/or never Trump Republicans. Not so Wednesday, where the Party served up so much red meat that Democrats watching on TV are going to need a statin prescription. There was a module on gun control, featuring addresses from DeAndra Dycus (whose son was left profoundly disabled after being struck in the head by an errant bullet and former Representative Gabrielle Giffords, who was herself shot during a mass shooting). There was a module on global warming. And there was a module on the contributions of immigrants, with an 11-year-old Latina reading a letter to Donald Trump and a family of Latinas who came to the U.S. for essential medical treatment. The former clip, between those two, is the one from Wednesday most likely to go viral:





Theme 2: Something for the Kiddies

: There has been some criticism that the DNC was not doing enough to get young people excited. They made a clear effort to correct that on Wednesday. First, by discussing issues of concern to young people, like global warming. Second, by inviting Billie Eilish and Prince Royce for performances. The median age of their fans is a wee bit lower than the median age of, say, Bruce Springsteen fans.



Theme 3: 100 Years, 1 Day

: As we presumed, the Party waited for Kamala Harris' night to celebrate women's suffrage and women's contributions to politics. There were a few brief clips from the 1910s and 1920s, but most of that segment highlighted both everyday and high profile women of recent vintage, including RBG, Speaker Nancy Pelosi (D-CA) tearing up Donald Trump's SOTU, soccer player Megan Rapinoe, Shirley Chisholm, Hillary Clinton, Sen. Elizabeth Warren (D-MA), Harris, etc. That was followed by a Clinton speech, then a Pelosi speech, then a Warren speech. All three were fine, but it's clear Warren has done a lot more public speaking than the other two, something that will happen when you deliver thousands of lectures.
That's all we've got. Tonight is Joe Biden's night to shine. He's gonna have to put up the best speech he's ever delivered if he wants to keep the final evening of the DNC from seeming anticlimactic. (Z)
Up until now, Democrats have been urging voters to vote by mail. Now that the USPS has adopted new policies that will have the result of slowing down the delivery of absentee ballots in both directions, the Democrats are having second thoughts about this strategy. It is true that Postmaster General Louis DeJoy, a major Republican donor, has said he wouldn't adopt any new rules before the election, but most Democrats believe that what he means is that he won't announce any new rules before the election. Instead, he will just implement them quietly. Also, he said that he will not replace the mailboxes and sorting machines he already removed. The chaos DeJoy has created around the mail has forced Democrats to change their approach.
One Democratic leader, Joe Foster, chairman of the Democratic Party in Montgomery County, the most populous suburban county around Philadelphia, is now telling voters that if they haven't mailed their ballot back by Oct. 15, they shouldn't. Instead they should bring it to a drop box or vote in person. But it is definitely possible that even 2½ weeks may not be enough time for the USPS to deliver ballots on time. Democratic leaders in Florida and North Carolina are already urging voters to mail their ballots weeks in advance or vote in person.
In Michigan, Democrats don't trust the mail at all. Volunteers are already telling voters to use drop boxes or bring their ballots to election offices. In North Carolina, a Democratic strategist was planning to send out two million flyers to voters directly from his printer. However, the printer has now informed him that anything mailed after Oct. 19 might not arrive by Election Day.
House Democrats released proposed legislation yesterday that would ban any USPS changes that would alter service levels (such as delivery times) from what they were on Jan. 1, 2020. The House is expected to vote on it Saturday and it is expected to pass, probably on a party line vote. Most likely, when Senate Majority Leader Mitch McConnell (R-KY) gets the bill, he will chuck it into the circular file, next to dozens of other bills the House has sent him. Still, the exercise is not pointless. The Postal Service is popular, with a 91% approval rating. Democrats running for the House in rural districts where the mail is a crucial lifeline are going to be printing bumper stickers reading: "X wants to kill the USPS," where X is the name of the local Republican candidate. If the Republican candidate is a House member who voted for the bill but McConnell filed it away, then the message will be the more generic: "Republicans want to kill the USPS."
In 16 state primaries this year, mail-in ballots accounted for 80% of the votes. In the general election, it could be as much, if not more, because COVID-19 is still going to be here in November, along with the flu and worse weather than in the spring. To deal with the expected flood of ballots while suspicious of the USPS, Democrats are trying to build what is effectively a shadow Postal Service, with drop boxes spread around cities and states. So naturally, Donald Trump is attacking the use of drop boxes, asking who is going to collect the ballots from them and what might be done to them in transport. Thus, the number and location of the drop boxes is becoming a flash point. For example, Charleston County in South Carolina has one drop box for 400,000 people. Some voters must drive 45 minutes to get there. And what happens if it is full when they get there? Democrats are asking county and state officials to provide enough drop boxes, but since voting has become extremely partisan, whether there are enough drop boxes has itself become a hot partisan issue. In short, the act of voting has become another front in the partisan wars. (V)
The Trump campaign has filed a lawsuit against three Iowa counties (Johnson, Linn, and Woodbury). Johnson and Linn voted for Hillary Clinton in 2016 but Woodbury voted for Trump. Under Iowa law, ballot requests must contain a driver's license number or a voter PIN. These counties prefilled in the voters' PINs because they didn't want to disenfranchise voters who don't have a license and don't know their PIN. This is something they have always done in the past. However, a new directive from Secretary of State Paul Pate (R) stated that the request forms should be blank. If the lawsuit succeeds, about 70,000 voters will not get their absentee ballots.
Democrats have also filed a suit claiming that Pate is trying to illegally disenfranchise voters. Republicans are claiming this measure is needed to prevent fraud, even though a signature is required on the form. If Democrats win this round, Republicans are planning to contest every ballot cast by a voter who got the ballot using a pre-filled in form.
A hearing on the Linn County case is set for next week. The Woodbury County hearing is Aug. 28.
In another battle over mail-in voting, Trump has sued New Jersey for its decision to mail every voter a ballot and then leave it to the voter to either fill it in and send it back or vote in person.
In the end, Republicans are going to fight tooth and nail to disenfranchise as many (Democratic) voters as they possibly can. There are probably going to be dozens, if not hundreds, of lawsuits all over the country. Most of the battles will be in swing states, but possibly also in dark blue and dark red states because there could be House seats (or state legislature seats) there with closely fought battles. We may end up with another election in which the courts end up picking the winners and losers. (V)
Both campaigns talk about how important Latinos are for them. But neither one is doing a lot to get them interested in voting.
A new Latino Decisions poll shows that only 34% of Latino adults have heard anything from the Democrats, the Republicans, or nonpartisan groups involved in grassroots organizing. In Florida, a key swing state with many Latinos, it is slightly better, with 42% reporting contact from some political group. Needless to say, these results raise issues about the effectiveness of the outreach from both parties.
The poll also found that among Latinos Joe Biden leads Donald Trump nationally 66% to 24%, a huge 42-point gap. In Florida, which has a large, conservative Cuban community, Biden's lead is much smaller, 55% to 41%.
The big question, though, is how many Latinos will vote. The poll showed that 20% of them say they have a 50-50 chance of voting. It's hard to imagine that so many members of a group that Trump has demonized so much and for so long don't care who is president, but that is what the poll showed.
Last summer, DNC Chairman Tom Perez said that he believed there were 400,000 Democratic-leaning Latinos in Florida who were not registered to vote. Clearly the Democrats have some work to do. But they are apparently aware of it. The hostess of the first night of the convention was Eva Longoria Bastón, a Latina, and many Latinos were featured in the videos shown at the convention. Still, getting those 400,000 people to register is going to take a lot more work than making a few videos with Latinos in them. And this year it will be especially hard because going door to door to register voters is probably not in the cards. Mailing out flyers in Latino areas with a message in English on one side and Spanish on the other could be a start, though. But only a start given how hesitant many Latinos are about voting. (V)
If Joe Biden is elected president and Democrats take both chambers of Congress, it is no slam dunk for Biden to get his program through Congress. He will have to deal with Republicans in the Senate (although abolishing the filibuster would largely sideline them), but also Democrats in the House. Most of what he wants to do involves raising and spending money. Those bills start in the House. In particular, the Ways and Means Committee writes the tax laws and the Appropriations Committee decides how to spend the money. In practice, whoever runs those committees will probably have more influence on Biden's agenda than Biden himself.
Currently, Rep. Richard Neal (D-MA) is the chairman of Ways and Means, but he is being challenged in the Democratic primary by the progressive young mayor of Holyoke, MA, Alex Morse. Young progressives have knocked off senior Democrats in a number of districts this cycle. For example, 16-term congressman Eliot Engel, in NY-16, went down to defeat at the hands of progressive young Black middle-school principal Jamaal Bowman earlier this year. Neal could be next. The district is D+12, so if Morse wins the primary, he's probably going to Congress. If that happens, the new chairman will probably be Rep. Lloyd Doggett (D-TX), the only white male Democrat representing Texas in Congress. His badly gerrymandered district (TX-35), which covers part of San Antonio and nearly all of Austin, 80 miles away, is D+15, so he is in no personal danger. He is also one of the most progressive congressmen ever to represent Texas in the House. So if young mayor Morse knocks off Neal, the guy writing the tax laws will be quite a bit more progressive than the current committee chairman.
So that's raising the money, now what about spending it? The current chairwoman of the Appropriations Committee is Rep. Nita Lowey (D-NY), but she is retiring from Congress in January. Her seat in NY-17 was also won by a young Black progressive, Mondaire Jones, but he's not going to chair the Appropriations Committee, of course. Next in seniority on the Committee is Rep. Marcy Kaptur (D-OH), the longest-serving woman in the history of the House. She was first elected in 1982 and has been around ever since. She comes from a working-class Catholic background and withheld her vote for the Affordable Care Act until it was clear it would not fund abortions. She's also a strong supporter of unions and farmers. In 2016, she initially supported Bernie Sanders. Because she belongs to a long-gone era, she is a bit of a contradiction in modern terms. After all, how many people who are very strongly pro-life are equally strongly pro-union? The Washington Post has a long profile of her.
But it is not a sure thing that Kaptur will get the gavel. Rep. Rosa DeLauro (D-CT) also wants the job, even though she is fourth in line. She's been on the panel for 27 years and is closer to Nancy Pelosi than Kaptur is. Also running for the job is Rep. Debbie Wasserman Schultz (D-FL), who is 20 years younger than Kaptur and DeLauro and making a pitch for the job based on generational change. She is also a potent fundraiser and everyone in the caucus knows it. She has raised an average of $1.0 million for endangered Democrats over the past three cycles, compared to about $100,000 each for DeLauro and Kaptur. Anyone voting for Schultz might get a bit of financial help in 2022.
The procedure is that after the election, the Steering Committee will make a recommendation and then the entire Democratic caucus will vote on it. DeLauro is the Steering Committee's favorite, but seniority and fundraising ability also factor in here.
So will Appropriations become more progressive in January? Probably not, because Lowey was reasonably progressive herself. None of the likely winners is nearly as progressive as Doggett, but progressives won't be entirely happy if Doggett taxes the hell out of the rich then Appropriations decides to use the money to raise farm subsides and buy the Navy a few more boats. (V)
Deaths from COVID-19 in Florida have now passed 10,000 and are still rising as there are about 4,000 new cases and several hundred deaths every day. Florida is the fifth state to make it into the five-digit category, following New York, New Jersey, California, and Texas. The difference with the other four, however, is that the Sunshine State is a swing state full of seniors. As a general rule in American politics, when things are going well, the president gets the credit and when they are going badly, he gets the blame. The 10,000 death "milestone" has not escaped the attention of the media in Miami, Orlando, and Tampa, not to mention the rest of Florida.
Half of all COVID-19 deaths in Florida have occurred in the past month. This means the pandemic is picking up steam there. If it continues like this until November, it could cause trouble for Donald Trump, as seniors played an important part in his 2016 victory in the state. They made up 21% of the electorate and went for Trump 57% to 40%. If Trump were to drop to 50% in 2020—and polls show that would be a good showing for him— that would be a net loss of 1.4%. He carried the state by 1.2% in 2016.
Nationwide, COVID-19 is the third leading cause of death in 2020. Only heart disease and cancer have killed more Americans this year. So far the national death toll from the disease is more than 175,000. At the current rate, it will definitely pass a quarter of a million by Election Day. (V)
Every Republican presidential hopeful is keenly aware of how Barack Obama's speech at the 2004 Democratic National Convention propelled him to the White House four years later. All of them want to catch lightning in a bottle next week and pull off the same trick in 2024. So in a very real sense, next week will be the start of the 2024 GOP primary season.
For this reason, all the folks who dream of sitting in the big chair behind the Resolute Desk are angling for prime time speaking slots at the convention. If they have to sell their souls to Donald Trump to get one, well, that's the price of admission. For some of the candidates, being a wholly owned subsidiary of the Trump Organization is a plus. For others (especially if he loses), well, they have 4 years to try to erase the memory of it.
The 2024 race will be a battle for the soul of the Republican Party. Is it Trump's party or Reagan's party going forward? The RNC still hasn't announced who is going to speak at the convention next week or for how long. Nikki Haley is a TINO (Trumper In Name Only). She'll do what she has to to get on stage, but an Indian-American women who is the daughter of immigrants is not going to run as a race-baiting, immigrant-hating, misogynist. Sen. Tom Cotton (R-AR), in contrast, is fully prepared to run as a younger version of Trump who doesn't grab women by the p*ssy. Sen. Josh Hawley (R-MO) is definitely in, so he'd love a long speaking slot. If Sen. Kamala Harris (D-CA) runs in 2024, which is a given unless Joe Biden wins and decides to go for a second term at 82, the Republicans may decide they need to have a woman to go up against her—preferably a white one—so Gov. Kristi Noem (R-SD) may answer the call. She definitely needs the exposure next week. Both Florida senators, Rick Scott and Marco Rubio, are potential candidates next time and will fight for speaking time next week. So will Sen. Ted Cruz (R-TX). Will Sen. Rand Paul (R-KY) run in 2024? Dad kept doing it, and like father, like son.
Assuming Trump doesn't dump him at the very last minute, Mike Pence is guaranteed a major timeslot when he accepts the nomination for veep, so he doesn't have to fight for time.
But speaking time isn't the only thing potential 2024 candidates want. Early endorsements are also prized. For that reason, some of the candidates have backed primary candidates this year, in hopes of winning their undying love (well, at least 4 years of love). In the Tennessee senatorial primary, Cotton backed Bill Hagerty (who won), Cruz backed Manny Sethi (who didn't). Score one for Cotton. In the upcoming New Hampshire primary, Cotton is backing Brig. Gen. Don Bolduc (ret.) while Paul is backing outsider Corky Messner. Endorsements work both ways, though, so Rubio is working hard to help Trump now such that in 2024 he can remind the Trumpiest voters that he was there when Trump needed him to win Florida.
Speaking time and endorsements aren't the whole show. There's also money. At a normal convention, all the big donors show up and potential 2024 candidates can schmooze with them and do some major rear-end kissing. That's going to be more complicated this time, but it's already started. Pence called in to the meeting of the Republican Jewish Coalition to win the favor of megadonor Sheldon Adelson. Paul has already lined up financial executive Jeffrey Yass, food processing company owner Chris Rufer, and investor George Macricostas.
Working for the party also gets you brownie points. Scott has offered to be the chairman of the NRSC for 2022. That has the added value of requiring him to get to know and talk to the big donors. It is also a high-risk position. If Republicans pick up seats in the Senate in 2022, then he's a hero, but if they lose seats, he's the goat. In 2022, 22 Republicans and only 12 Democrats are up for reelection, but most of them are in safe states.
Even in the time of corona, travel can be useful. The globe-hopping Secretary of State, Mike Pompeo, apparently got lost recently and ended up in ... Iowa, where he spoke at the Iowa Family Leader Summit. Noem is headlining a political dinner in Iowa in September and will appear at a Trump event in New Hampshire in the fall, even though Eau Claire in the swing state of Wisconsin is 1,100 miles closer to Pierre, SD, than is Manchester, NH. Multimillionaire Scott has a private jet and he has used it to ferry Republican candidates around to fundraisers in Florida. Come 2024, he'll remind them of his help in case they have forgotten.
Still, in politics a week is a long time and 4 years is forever and a day. (V)
For the most part, professional sports teams don't like to endorse candidates because that is a sure way to antagonize fans who don't like the endorsed candidates. But there is a way for them to get involved that brings them good will from almost everyone. With many stadiums and arenas empty now, a number of teams have joined the Election Super Centers Project and offered their huge, empty venues up as voting super centers. A big empty football field or even a basketball arena can hold a large number of voting booths more than 6 feet apart, so voters can feel comfortable about voting in person. The outdoor ones have more room and being outdoors is definitely safer than being indoors, but could be subject to rain or snow on Election Day in some locations. Indoor ones are not sensitive to the weather, but are not as big or as safe from a health perspective.
The NFL's Pittsburgh Steelers are part of the project, as are MLB's Boston Red Sox and the NHL's New Jersey Devils and Washington Capitals. Four NBA teams have also signed up: The Indiana Pacers, the Los Angeles Clippers, the Milwaukee Bucks, and the Washington Wizards. Two of the teams signed up so far are in swing states. The Steelers are in Pennsylvania and the Bucks are in Wisconsin. The group is also talking to colleges that have large sports fields and arenas that could be used for voting. In addition to the health aspects of voting on a football field or in a basketball arena, some voters might love the idea of voting where their favorite team plays and it might even bring out some marginal voters just to be in the venue.
There are 32 NFL teams, 31 NHL teams, 30 NBA teams, and 30 MLB teams. Some of them share a venue (e.g. the Boston Celtics and Bruins; the New York Giants and Jets; the Los Angeles Kings, Clippers, and Lakers), but that still leaves a potential total of 101 stadiums and arenas in the U.S. (eight are in Canada). Many large cities have multiple teams, but large cities also have multiple voters to distribute over the venues. Throw in soccer fields, minor league baseball ballparks, college stadiums, and even high school football fields, and this idea has a lot of potential for outdoor voting with plenty of social distancing and lots of parallelism. A football field covers 57,600 square feet. If 40,000 square feet were allocated to voting booths, each occupying a 10' x 10' area, it should be possible to have 400 widely spaced voting booths on a field with room left over for voter check-in stations and aisles. With plastic sheeting held up by poles to keep off rain, it might work in any but very heavy weather.
There are some legal issues here, though, which have to be solved. For one, a football stadium is much too big to handle a single precinct, so voters from many precincts would have to be authorized to vote in the same place. In fact, a big stadium might even be able to serve an entire city or county. Putting up little signs like: "Precinct 394 to the left" and Precinct 109 to the right" would never work. Observers could watch (socially distant) from the stands. Nearly all professional stadiums have plenty of parking and most are already ADA compliant. Finally, it would be natural for star players from a team whose stadium was being used as a voting center to appear in ads encouraging people to visit their stadium—to vote. (V)
Vice presidential nominee Kamala Harris has campaign posters up all the way to Painganadu in southeast Tamil Nadu, India. Like this one: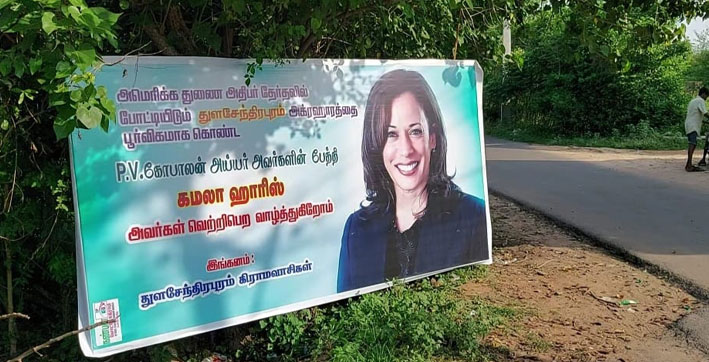 This village is especially proud of Harris because her grandfather, P.V. Gopalan, was born there. He later went to the U.S. with his daughter, Shyamala Gopalan (Harris' mother, who was born in Chennai, formerly Madras, 200 miles to the north).
The locals there don't vote in U.S. elections, but the 2.8 million Indian-Americans can (we had 1.6 million last week, but it turns out that's the 2000 figure). Most of them are in big cities in blue states, but a fair number are in Florida cities, including Miami (41,000), Orlando (26,000), and Tampa (23,000). In addition, almost 80,000 live in Atlanta. Undoubtedly Harris is going to help there. So while Harris doesn't "bring in" any state, she could help in two states that are expected to be close: Florida and Georgia. (V)
In terms of voting by mail this year, states can be grouped into four categories:
Every registered voter will be mailed a ballot automatically
Any registered voter may request an absentee ballot without providing a reason
A registered voter needs a reason to get an absentee ballot, but fear of COVID-19 is a valid reason this year
Voters can get absentee ballots only for specific reasons detailed in state law and COVID-19 isn't among them
The represent.us Website has a lot of information about protecting the election, including a page giving a clickable map of the 50 states and D.C. with detailed information about the procedures for absentee voting in all of them. For each state and D.C., the site provides this information:
Which of the four categories listed above the state falls in
Whether applications for an absentee ballot can be made online
When the deadline for requesting an absentee ballot is
When the deadline for submitting the absentee ballot is
How to get a ballot application (for the states where it is not automatically sent)
For the last item (requesting a ballot), a link is given to one of the following, depending on the state:
On online portal where you can actually register
A PDF application form you can download, fill in, sign, and mail in to request your ballot
A link to the state's secretary of state's Website describing how to request a ballot
In addition to providing detailed information about voting by mail, the site has many other resources, including a page outlining a potential nonpartisan anti-corruption act. Among the various provisions proposed are:
Creating term limits of 18 years for each chamber of Congress
Using ranked-choice voting for all elections
Ending gerrymandering
Letting all voters participate in open primaries
Allowing all eligible voters to use absentee ballots
Campaign-finance reform
Making it a federal crime for politicians to take money from lobbyists
Banning donation bundling by lobbyists
Closing the revolving door between Congress and lobbying shops
Preventing politicians from fundraising during working hours
Ending dark money in politics by disclosing all donations to political groups in real time
Most of these provisions are not controversial in principle, although in practice, politicians don't want to close the loopholes they use themselves. For example, politicians who criticize gerrymandering generally warm up to the practice when they are seated in a nice, safe district. Similarly, Republicans who are running against a Democrat and a strong Green Party candidate always oppose ranked-choice voting, but suddenly change their tune when they are in an election with a Democrat and a Libertarian Party candidate to whom they are bleeding votes.
All in all, it is a very useful website, so you might want to take a look and then tell your family and friends about it. Another website that is focused on voting in general (not only absentee voting) is vote.org. (V)
---
If you wish to contact us, please use one of these addresses. For the first two, please include your initials and city.
To download a poster about the site to hang up, please click here.
---
Email a link to a friend
or share:
---The Votemaster and Zenger