TODAY'S HEADLINES (click to jump there; use your browser's "Back" button to return here)

•
House Votes to Send the Articles of Impeachment to the Senate
•
Pelosi Names Seven Managers
•
Senators Have Been Instructed to Pay Attention to the Trial
•
The Voters Want to Hear from Bolton
•
Democrats Will Send New Documents over to the Senate
•
Trump Signs a Trade Deal
•
More Details on Warren-Sanders Spat
•
Congress Will Vote on Terminating the Border Emergency
•
Voting Wars Continue in Wisconsin
•
Virginia Passes the Equal Rights Amendment
As you probably noticed yesterday, we were down for about 10 hours, until about 2:00 p.m. ET. We did have a post, including items on the debate and impeachment. If you missed it, you can click "Previous report" at top right. Many people immediately jumped to the conclusion that we were hacked by the Russians. Actually, the entire HostRocket datacenter, near Albany, NY, which runs thousands of Web sites was down, because the incoming optical fiber was severed by a hungry gopher, a backhoe, or something else. It took the carrier 10 hours to find the problem and reconnect the entire datacenter. Sorry for the inconvenience.
The die is cast. Yesterday, the House formally voted 228-to-193 to send the articles of impeachment to the Senate, thus starting the trial process. The vote was largely along party lines.
Did the delay in sending them over help the Democrats? It may have. During the past 2 weeks, former NSA John Bolton said he was willing to testify and new documents have come to light (more below). This will put a lot of pressure on Republican senators in tight reelection races to try to avoid the appearance of a sham trial. If the Republicans vote down every Democratic motion and just ram through the acquittal, it could anger the voters and cost the GOP the Senate. If they allow witnesses and one or more of them drops a bombshell, it could cost Donald Trump the presidency.
So what happens next? Will Pelosi tweet the articles over to the Senate, send them by email, or what? No. The House sent the articles to the Senate already, but Majority Leader Mitch McConnell (R-KY) said he won't "officially" accept them until today. So, today the House managers will walk over to the Senate and read them aloud. Then Chief Justice John Roberts and the senators will be sworn in and Donald Trump will be given the opportunity to respond to the articles. The actual trial itself is expected to start on Tuesday of next week. It will start with the House managers making their case. They will have 24 hours to do so. Then the President's lawyers will get 24 hours to defend him. Then the senators could ask questions. After that, a vote is likely about whether witnesses can be called and documents can be subpoenaed. (V)
While nearly every House Democrat would love to be a House manager and participate in the upcoming impeachment trial, only seven of them made the cut. Yesterday Speaker Nancy Pelosi announced who the managers will be. All are Democratic representatives. The leaders are Adam Schiff (CA) and Jerrold Nadler (NY). Also on the team are Sylvia Garcia (TX), Val Demings (FL), Zoe Lofgren (CA), Hakeem Jeffries (NY), and Jason Crow (CO). Pelosi is ever the politician. Both leaders are Jewish. Almost half the team consists of women. Garcia is a Latina. Demings and Jeffries are black. That covers quite a bit of the Democratic base right there. Contrast this with who the Republicans chose as managers for Bill Clinton's impeachment. They were 13 white Christian men. Three of them are still serving in Congress, namely Reps. Jim Sensenbrenner (R-WI) and Steve Chabot (R-OH), and Sen. Lindsey Graham (R-SC). At the time of the trial, Graham represented SC-03 in the House.
Each team member was chosen for a reason, as follows:
Adam Schiff

: He ran the impeachment hearings and did a good job. He excels at explaining complicated material to the public in an easy-to-understand way. He knows his stuff and is a close Pelosi ally. If he does a good job, he could become the next speaker.



Jerrold Nadler

: He is chairman of the Judiciary Committee, so Pelosi really couldn't avoid him. Also, she knows that Nadler and Donald Trump have bad blood going back to the 1980s, when Trump wanted to develop a huge piece of land along the Hudson River as "Television City" and then-New York State Assemblyman Nadler blocked it. Trump hates Nadler because Nadler knows how to get under his skin and possibly make him send out tweets he will later regret.



Sylvia Garcia

: She was the first Latina (along with Veronica Escobar) elected to Congress from Texas (in 2018). Pelosi hopes to flip many Republican districts in Texas in 2020, just as the Democrats did in Orange County, CA, in 2018. What better way than to showcase a Latina from Texas? She has also been actively appearing on television to explain her position, saying: "I'm just a country kid from South Texas who believes in the American Dream and believes in our democracy and the Constitution."



Zoe Lofgren

: She is a senior member of the Judiciary Committee with more impeachment experience than almost anyone in the House. During the impeachment process for Richard Nixon, she was a staffer on the Judiciary Committee. During Bill Clinton's impeachment, she was a member of the Judiciary Committee. Some Republicans have said that what Trump is accused of isn't in the criminal code, so he is OK. Lofgren replied: "Somehow lying about a sexual affair is an abuse of presidential power, but the misuse of presidential power to get a benefit somehow doesn't matter?" That quote has been widely circulated.



Val Demings

: She was the first female police chief of Orlando and her background in law enforcement will no doubt resonate with some voters. She is a member of both the Intelligence Committee and the Judiciary Committee, so she has been in the middle of this from the beginning. She also gave an impassioned speech that was well received during the Judiciary Committee proceedings.



Hakeem Jeffries

: He is the #5 Democrat in the House and a member of the Judiciary Committee. Before entering Congress, he was an accomplished litigator and also a clerk to a federal judge. His being black sends a message to black voters that while there were no black candidates on the debate stage Tuesday, they are well represented in positions of power in the House.



Jason Crow

: Although he is not a member of any of the committees involved in the impeachment process, he comes from a swing district in a swing state, and is a blue dog and a U.S. army veteran. This choice could be an attempt to prebut charges that all the managers are clones of Rep. Alexandria Ocasio-Cortez (D-NY). Also, he was one of the seven first-term members with national security backgrounds who wrote an op-ed in the Washington Post that convinced Pelosi to go ahead with impeachment in the first place.
In short, an impeachment and the resulting trial is a political deed, not a legal one, and Pelosi understands that through and through. She knows the goal is to convince the American people (not the Senate) that Trump has to go so she picked a team that looks a lot like America. (V)
Most of the time, the Senate chamber is nearly empty, even during debates. Sometimes senators watch from their offices, but more often they don't watch at all. The impeachment trial will be different. Senators have been instructed to attend and pay attention, not to play with their phones, sign letters to constituents, review legislation, or do anything else. To give this rule some teeth, special cubby holes have been set up in the Senate cloakroom and the senators are required to store their phones there during the trial. Each one has the name of a senator on it, to make it easier to detect senators violating the rules (although a senator could claim he or she left their phone at home). The senators are even under orders to stand when Chief Justice John Roberts enters or leaves the chamber, a sign of respect not accorded even the president of the Senate (i.e., Mike Pence).
Most of the trial will be televised, but during certain periods, like when classified information is discussed, all members of the media and the public will be sent away and the cameras turned off. Then only the 100 senators and some aides will be present.
Press movement in the Capitol will be restricted during the trial. This is clearly intended to keep reporters from asking senators questions while going to and from the Senate chamber, something they normally do every day. Needless to say, many media organizations have vigorously protested these rules. So did Sen. Amy Klobuchar (DFL-MN), the ranking Democrat on the Rules Committee. She said: "I think this is a big mistake." But she doesn't get to make the call. Ultimately, Majority Leader Mitch McConnell (R-KY) calls the shots. (V)
A new Quinnipiac University poll shows that 52% of the voters are troubled by Donald Trump's attempt to extort Ukraine, while 45% don't see a problem there. As usual, this breaks strongly along party lines.
A more interesting result, however, is that 66% want to have John Bolton testify at the upcoming impeachment trial. That includes 91% of Democrats, 71% of independents, and even 39% of Republicans. Numbers like this are going to put a lot of pressure on senators from swing states up for election when the vote comes to allow or not allow witnesses. If a senator votes for "no witnesses," that vote could become the main theme of that senator's reelection campaign. It's not hard to imagine the Democrats using images like this in their campaigns against senators voting against calling witnesses.
One potential "compromise" is that Mitch McConnell allows Bolton to be called but also allows Hunter Biden to be called. In that case, Democrats would undoubtedly ask Chief Justice John Roberts to refuse to issue a subpoena on the grounds that Biden has no knowledge about whether Trump abused his office or obstructed Congress, and that is the reason there is a trial. What Roberts and the Senate would do after such a request is hard to guess at this point. (V)
Rudy Giuliani's sidekick, Lev Parnas, who is under indictment, appears to be cooperating with investigators. His lawyer, Joseph Bondy, hand delivered the contents of Parnas' iPhone and more to the House Intelligence Committee over the weekend. Some documents have already been made public. One of them makes it clear that Giuliani was not freelancing, but working with Donald Trump's knowledge and consent. However, it also makes clear that Giuliani was representing Trump as a private citizen, not in his function as president. This could expose Giuliani to an indictment for violating the Logan Act, since private citizens may not negotiate with foreign governments.
One of the text messages shows that Giuliani was in contact with former Ukrainian prosecutor General Yuriy Lutsenko. Lutsenko provided Giuliani with unsubstantiated allegations against the Biden family. It is also clear that Giuliani was trying to get rid of Ambassador Marie Yovanovitch, who was trying to stymie him. The documents also revealed a new player: Robert Hyde, a Republican congressional candidate. In one message, Hyde wrote: "F**k that bitch" (meaning Yovanovitch). The next day he wrote: "Wow: Can't believe Trumo [sic] hasn't fired this bitch. I'll get right in [sic] that." When CNN asked Hyde about all this, he had no comment. Another text to Parnas is about getting his help in dumping Yovanovitch.
The document dump also included a handwritten note from Parnas to himself reminding himself to get Ukrainian President Volodymyr Zelensky to announce that the Bidens will be investigated. As we now know, Trump didn't actually care if they were investigated. All he wanted was the announcement, so he could use it in campaign ads. Here is Parnas' note: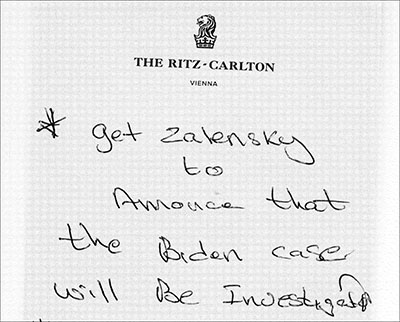 One official involved with the impeachment process said that more documents are coming from Parnas soon. The reporters are probably already digging and there could be more revelations even before the trial starts.
Whether the House managers will be able to present the new evidence in the trial is not clear, because the rules haven't been adopted yet. However, even if the Republicans adopt rules forbidding new evidence, Schiff could conceivably issue subpoenas to Hyde, Parnas, and others and have them testify in the House. While that wouldn't be part of the trial record, the real battle is for public opinion, and damaging testimony before either chamber could sway public opinion. (V)
What Donald Trump wants are wins. It's always the win that matters, never the content. Yesterday's trade deal agreement is a typical example. In it, China promises to buy more soybeans and other stuff from the U.S. However, the pact leaves out all the heavily contested issues, like the billions of dollars in subsidies the Chinese government gives to favored companies so they can undercut U.S. companies. Nor does it address China's longstanding practice of stealing U.S. intellectual property. Chad Bown, a senior fellow at the Peterson Institute for International Economics, said of the agreement: "We're no closer today to resolving any of those fundamental frictions than we were before the trade war started." But Trump doesn't care what is in the agreement as long as he gets to boast that he negotiated a great deal.
Of course, the tough issues could be resolved in a future round of talks, but nothing is scheduled and won't be until after the election, when China is hoping to get a better negotiating partner.
As evidence that Trump realizes that nothing has really changed and that the deal doesn't actually mean much, the tariffs he placed on China will remain in force.
Reaction to the agreement was not very positive. Sen. Marco Rubio (R-FL) said: "One trade deal alone will not solve the critical structural imbalances." Senate Minority Leader Chuck Schumer (D-NY) called the deal a "historic blunder." (V)
As we noted in our writeup of Tuesday's Democratic debate, cameras on stage caught footage of Sens. Bernie Sanders (I-VT) and Elizabeth Warren (D-MA) exchanging not-so-friendly words after the debate. Here is the (very brief) video, if you didn't see it already and you'd like to watch for yourself:
Although the video was broadcast with only background sound, it turns out that CNN did have microphones on the candidates, and so did capture the conversation. The cable channel managed to dig up the audio on Wednesday; here's what the duo said:
Warren: I think you called me a liar on national TV.
Sanders: What?
Warren: I think you called me a liar on national TV.
Sanders: You know, let's not do it right now. If you want to have that discussion, we'll have that discussion.
Warren: Anytime.
Sanders: You called me a liar. You told me—all right, let's not do it now.
If you had asked us to write a script guessing what was said, based solely on the audio-less footage, it would have been something very much like this.
As chance would have it, (Z) has some expertise in the academic analysis of deception, as it is an element of several classes that he teaches. And Warren's actions are not those of a liar. She clearly believes what she is saying. Our best guess, which we offered up when this story was originally reported and which we stand by, is that Sanders said something (maybe even something very reasonable) about the viability of female presidential candidates, and that Warren heard or remembered it in a more problematic form. That is to say, the truth is somewhere between the two versions of events. As anyone who has ever been in a romantic relationship, or who has been in court, or who has read an oral history of any event, or has watched an Akira Kurosawa movie (in other words, approximately 100% of adults), this sort of thing happens all the time. In any case, it's clear that whatever was said, Warren didn't invent this out of thin air.
More importantly, this whole thing may seem gossipy and not worth noting, but as one of our favorite (fictional) political quotes reminds us, "the American people have a funny way of deciding on their own what is and what is not their business," (The American President). And there is little question that this has lit the fuse on long-simmering tensions between supporters of the two candidates. On Twitter, in particular, things have turned downright nasty. A couple of examples from Sanders partisans:
Lie or mischaracterize your "friend's" comments, double down, refuse to shake his hand. Are you watching America? pic.twitter.com/dZo2roHsCY

— Secular Talk (@KyleKulinski) January 15, 2020
Warren is a snake pic.twitter.com/9s8qi4Pd3Q

— Lake Prasad (@LakeMcGroove) January 15, 2020
And a couple from Warren partisans:
That moment when the dude who called himself a "feminist" on his profile shows his true colors on date 5...

You hate to see it. (Cc @MinDCheng) https://t.co/hb4W0t6ZDS

— Lanae Erickson (@LanaeErickson) January 15, 2020
Bernie Sanders is an asshole of the highest order.
There has never been a time in his life when he was not.
Leaves his child to welfare, doesn't support him, kicked out of a commune for not working, no friend to women or POC despite his ability to rig photo-ops.#NeverBernie

— BettiAndretti (@RipplingRed) January 16, 2020
The "Warren is a snake" bit was particularly prominent, as Sanders supporters made liberal use of the Unicode snake emoji.
Needless to say, Twitter is hardly a representative sample of the electorate (although it's probably a bit more representative when it comes to the left-leaning electorate). And there is obviously a lot of time until the election, by which time it's possible that all of this will be forgotten. We doubt it, though, especially given what happened in 2016. Already, there was a segment of the progressive wing that was none too fond of Sanders, and another segment that was none too fond of Warren. This has surely hardened that divide. That means that "all progressives ultimately coming together behind the last progressive standing," which was already far from certain, just became even less probable. It also means that those progressives who believe the best way forward is to demean and denigrate folks who support a different progressive candidate are thinking with their hearts, and not with their heads. In the end, the ironic net effect of all this is to make things at least a little (and maybe more than a little) easier for the decidedly centrist Joe Biden. (Z)
Donald Trump declared a national emergency at the border and has used the resulting emergency powers to take money out of the Defense Dept. budget to build a wall on the Mexican border, despite his campaign promise that Mexico would pay for the wall. Under the 1976 National Emergencies Act, Congress gets to vote every 6 months to terminate a declared emergency. A vote is scheduled for Feb. 15. There have been two previous votes to terminate the emergency, and both got bipartisan majorities. However, the president can veto the termination, which Trump did. In neither case did Congress have the votes to override the veto. Clearly the law is completely broken. Requiring a presidential signature (or 2/3 majorities in both chambers) to terminate an emergency the president himself has declared basically defeats the purpose of giving Congress the power to undeclare emergencies.
Count on all the Democratic presidential candidates taking notes of this procedure. As Tom Steyer promised in the debate Tuesday, he would declare a climate crisis on day 1 of a Steyer administration. Then, he could raid any part of the federal budget for funds to fight it. And it could get much nastier than that. If a Democratic president didn't like some particular program Congress had authorized, the president could take away all the funds used to carry out that program. As an example, if a president decided that marijuana should be legal, he couldn't make it legal, but he could take all the funds from the agency that enforces marijuana laws and use them for his or her emergency. The possibilities for subverting the federal budget are endless and now that Trump has shown how it can be done, if the shoe is ever on the other foot, Democrats will say: "We're just doing what Trump did, and that was just fine with you." (V)
The presidential election may be decided not by the will of the voters, but by who is allowed to vote. One of the most pivotal states is Wisconsin, and the battle over who can vote is raging there. Last month, Ozaukee County Circuit Court Judge Paul Malloy ruled that people who didn't respond to a letter from election officials asking if they were still at their previous address could be purged from the rolls. Over 200,000 people didn't respond, for whatever reason. The three Republicans on the Wisconsin Election Commission were gung ho to purge them all immediately. The three Democrats on the Commission wanted to wait for the appeal to be heard. Malloy ordered a $250/day fine for the three Democrats for not carrying out his order.
On Tuesday, there was a new development. A state appellate court blocked Malloy's ruling for the time being by issuing a stay. Eventually it will rule on the merits of the case. In a separate case, the League of Women Voters also sought to block the purge. The dispute is bitterly partisan, with Democrats opposing the purge and Republicans supporting it. The courts are going to have to sort this out because the state legislature is controlled by the Republicans, but Gov. Tony Evers (D-WI) is not going to sign any bills relating to this that the Republicans pass. (V)
As if Chief Umpire John Roberts doesn't have enough on his plate right now, he may get another hot potato within a year. In 1972, Congress passed the Equal Rights Amendment to the Constitution, which forbids discrimination based on sex. However, Congress also said that the states had 7 years to ratify it. Three-quarters of the states (38) are needed to ratify a constitutional amendment. Congress later extended the window until 1982. By then, 35 states had ratified it. Nevada and Illinois ratified it in 2017 and 2018, respectively. Yesterday, Virginia, now controlled by the Democrats, became #38. Well, it's #38 if you don't subtract the five states that later rescinded their ratifications (Idaho, Kentucky, Nebraska, Tennessee, and South Dakota).
This now raises at least three significant legal questions, none of which are answered by the Constitution: (1) Can Congress actually establish a passage "deadline"?; (2) If so, could a new Congress—say, the 117th Congress, if the Democrats take both chambers in November—extend that deadline; and (3) Are states allowed to rescind ratifications? Nobody knows the answers to these things, as these exact issues have never come up before (although there is the somewhat similar precedent of the 27th Amendment, which was ratified over 200 years after being proposed). If the Democrats do capture the House and Senate, they are undoubtedly going to extend the deadline and act like the amendment is part of the Constitution. Then somebody will sue and the case will land on Roberts' plate in a few years. Given the lack of guidance in the Constitution, Roberts and the other eight justices have little to go on, other than their personal preferences. (V)
---
If you have a question about politics, civics, history, etc. you would like us to answer on the site, please send it to
questions@electoral-vote.com
, and include your initials and city of residence. If you have a comment about the site or one of the items therein, please send it to
comments@electoral-vote.com
and include your initials and city of residence in case we decide to publish it. If you spot any typos or other errors on the site that we should fix, please let us know at
corrections@electoral-vote.com
.
---
Email a link to a friend
or share:
---The Votemaster and Zenger