TODAY'S HEADLINES (click to jump there; use your browser's "Back" button to return here)

•
Time for a COVID-180?
•
Legal Matters, Part I: Obamacare
•
Legal Matters, Part II: A Win for Trump
•
Legal Matters, Part III: A Loss for Trump
•
A Tale of Two Conventions, Part I: the Republicans
•
A Tale of Two Conventions, Part II: the Democrats
•
Democrats Are Liking Biden's Bunker Strategy
•
Kooky Candidate Watch: Winnie Heartstrong
•
COVID-19 Diaries, Friday Edition
•
Today's Presidential Polls
•
Today's Senate Polls
It's been a pretty bad week on the COVID-19 front, a predictable result of all the "re-opening" that has taken place. Each day this week, the U.S. has set a record for newly reported COVID-19 infections. That includes yesterday, which saw the reporting of 39,327 new infections. U.S. deaths from the coronavirus are up to 126,780, meaning that a country with about 4.5% of the world's population has close to 26% of its COVID-19 deaths.
The higher infection numbers might possibly be due, in part, to increased testing. But it is clear that there are some serious problems out there, as well. The three states that are seeing the highest number of new cases are Florida, Texas, and California, and some cities in those states are coming very close to maxing out their capacity to care for patients. Not helping, and flying somewhat under the radar, is that serious cases of COVID-19 sometimes produce kidney failure, and not all hospitals have enough dialysis machine capacity.
Two of those three hard-hit states are run by Republican governors, namely Greg Abbott (TX) and Ron DeSantis (FL), both of whom played along—to a greater or lesser extent—with Donald Trump's "nothing to see here" approach to the pandemic. That duo has now decided, it would seem, that maybe that's not the best position to be on. Abbott, for his part, sat for an interview Tuesday and said:
There remain a lot of people in the state of Texas who believe that the spread of COVID-19 is really not a challenge. ... First, we want to make sure that everyone reinforces the best, safe practices of wearing a mask, hand sanitization, maintaining safe distance. And importantly, because the spread is so rapid right now, there's never a reason for you to have to leave your home, unless you do need to go out. The safest place for you is at your home.
Meanwhile, Abbott announced on Thursday that his state would pause its re-opening efforts as it copes with the spike in cases. DeSantis hasn't gone quite as far as Abbott—no implicit reversing-course interviews—but he also announced a slow-down in the state's reopening on Thursday.
By contrast, despite the very bad numbers, the White House is sticking to its guns. Actually, that may be a slight misnomer, because it implies that they have a consistent position. The only thing that is consistent about the administration's messaging on COVID-19 is that it's invariably inconsistent. That inconsistency is seen among officials of the administration. For example, while Trump continues to downplay the pandemic, White House economic adviser Larry Kudlow conceded on Thursday morning that the disease is real, but said that the U.S. is in "a pretty good situation," and to the extent that there are hot spots like, say, the three most populous states in the country, "we just have to live with that."
The inconsistency is also seen in the pronouncements of individual officials, most obviously Trump himself. At his Tulsa rally last weekend, he complained that the COVID-19 numbers would look much better if we just stopped testing so many people. That was poorly received, such that by Sunday the White House was explaining that it was just a joke. On Tuesday, the President said it was no joke and that, in fact, he never makes jokes. "I don't kid," were his exact words, a sentiment entirely consistent with his vast number of public (and almost entirely humor-free) appearances over the last three decades. Then, on Thursday he was back to saying that it was a joke (and, apparently, that he does kid).
This weekend, the country will get a very noticeable reminder that Trump is increasingly living in one reality while nearly everyone else is living in another. In view of the COVID-19 spikes across the country, the hard-hit states of New York, New Jersey, and Connecticut on Wednesday announced that visitors from Alabama, Arizona, Arkansas, Florida, North Carolina, South Carolina, Texas and Utah would be required (in New York) or asked (in the other two states) to quarantine themselves for 14 days. The President was recently in Arizona, and he's headed to his club in Bedminster, NJ, this weekend. Needless to say, he won't be quarantining (or wearing a mask).
As we've pointed out previously, presidents who serve in time of crisis have historically seen much value in leading by example. Trump, by contrast, is only interested in explaining why the rules don't apply to him. Asked about the trip, the White House offered the clumsy explanation that the president is "not a civilian." That led to people posting hundreds of images like this one to social media:
New Jersey governor Phil Murphy (D), presumably trying to make the best of a bad situation, took a different tack and said that the quarantine does not apply to the President because he is an "essential worker." Who knew golfing was essential work?
In short, while even Trump's most loyal allies appear to be undertaking a COVID-19 course correction, the President is going to keep on keepin' on. In fact, he's doubling down (see below). Assuming these trends continue, then the cheese is in serious danger of standing alone, which is not usually a good place to be in politics. (Z)
It appears that Don Truixote will continue to tilt at the Obamacare windmill. In a filing made late Thursday night, Solicitor General Noel Francisco asked the Supreme Court to invalidate the law, observing that because some elements of the law have been invalidated by Congress/lower courts, the whole thing should be tossed out.
We must confess, we are mystified as to the thinking here. Does Team Trump really want to make the election about killing a health insurance program in the middle of a pandemic? We can find no numbers that justify the wisdom of this, politically. For example, the latest Gallup Poll reveals that the issues that are most on Americans' minds right now are poor leadership (21%), COVID-19 (20%), race relations/racism (19%), the economy in general (9%), and unemployment (5%). Healthcare is tied for ninth, at 3%, and that includes both the people who want Obamacare killed but also those who want it expanded. Further, support for Obamacare remains a (slight) majority position, with 52% favoring the program, and 47% disliking it. Again, though, that 47% includes both people who want Obamacare gone, but also those who want it replaced by something more expansive, like Medicare for All.
That's the numbers; now consider also the 2018 election, when Democrats successfully wielded healthcare as a cudgel to beat Republicans over the head with, thus significantly powering their blue wave. And that, again, was not in the middle of a pandemic. The problem for Republicans, even when it comes to dealing with constituents who want Obamacare gone, is that most of those folks want an answer to the obvious follow-up question: What will you replace it with? The GOP has had more than 10 years to wrestle with that question, and still hasn't come up with an answer. And until they do (don't hold your breath), they aren't going to win over any voters who aren't already with them, while at the same time losing folks who may themselves depend on Obamacare, or who have family/friends who do so.
The only explanation we've got here is that once Donald Trump gets an idea into his head (and his gut), he sticks with it, contravening evidence be damned. In any event, SCOTUS won't hear arguments anytime soon, and they certainly won't rule before the election, so all the President has given himself is another thing to spar with the Democrats over during this election season. And again, he's going to be occupying the "kill the insurance program" position in the middle of a pandemic. In case it's not clear, we don't think that's a winner. (Z)
When it comes to the courts, you win some, and you lose some. And after losing the high-profile DACA case last week, the Trump administration got a (smaller) win with Thursday's decision in Department of Homeland Security v. Thuraissigiam. The case centers on a Sri Lankan named Vijayakumar Thuraissigiam, who asked for asylum in the U.S. because he may well be executed if he is returned home. He was rejected by an immigration judge, and then challenged the policy that said he has no right to appeal that decision. The 9th Judicial Circuit agreed that the no-appeals policy is unconstitutional and deprives refugees of due process. Thursday's decision reversed that, and restored the policy to its original state. The decision was 7-2, with Sonia Sotomayor and Elena Kagan dissenting, while Ruth Bader Ginsburg and Stephen Breyer wrote narrower assents than were contained in the main ruling.
There are two takeaways here. The first is that it's now going to be easier for the Trump administration to turn down refugees and to expedite their return to their countries of origin. Expect Team Trump to make extensive use of that power, and to crow about it during the campaign. The second is that Chief Justice John Roberts, who delivered the key swing vote in last week's DACA decision, is not concerned about protecting vulnerable immigrants, per se. He made the DACA ruling based on i's being incorrectly dotted and t's being incorrectly crossed, and signaled that he would vote differently if the administration cleaned up its process. Clearly, he meant that. (Z)
Again, when it comes to the courts, you win some and you lose some. While coming out on top in the Thuraissigiam case on Thursday, Donald Trump also came up short in a (smaller) case, albeit with blazing speed. Just about a day after Trump's brother Robert asked a court to block publication of Mary Trump's upcoming book, Too Much and Never Enough: How My Family Created the World's Most Dangerous Man, the court said "no," finding that the probate court was not the appropriate forum for the case.
Naturally, Robert Trump is going to take another bite at the apple, and will re-file in New York State Supreme Court. However, the problem that we pointed out yesterday still holds: courts are generally unwilling to interfere with the publication of books, due to the First Amendment. That's especially true when the plaintiff's argument is based on an NDA, as the legal purpose of such an agreement is not to prohibit a particular action, but instead to lay out what the consequences will be if that action is taken. We also suspect that there are one or more loopholes that Mary Trump will use to justify ignoring the NDA she signed. For example, such agreements generally cannot prohibit the release of information learned from a third party who was not part of the NDA. They also cannot stop the release of information that was not actually confidential.
In short, it is extremely likely that Mary Trump's book will be released as scheduled. And though the NDA is not publicly available, the odds are high that it ends up unenforceable, and that the only thing that further lawsuits will do is give the book free publicity by making it look like the President has things he wants to hide. (Z)
Consistent with the ongoing program of downplaying and ignoring COVID-19, the Trump campaign is moving ahead full speed with its convention plans for Jacksonville, FL, despite Florida's emerging status as a possible coronavirus hotspot.
The #1 goal, of course, is to provide Donald Trump with a jam-packed arena, full of cheering fans, for him to deliver his acceptance speech. There are going to be some significant challenges in achieving that. Finding 15,000 or so willing attendees will be a bit of a challenge, given concerns about COVID-19, about potential protests/violence, and about more mundane things like the availability of lodging. Actually, it will probably be necessary to find something more like 20,000 willing attendees, given the risk that many folks may have second thoughts or may fail their health checks.
The good news for Team Trump is that the campaign isn't handling the organizing. Nope, the RNC, in partnership with a local committee, is doing the job. The pros are rather less likely than Brad Parscale to be fooled by K-Pop fans. Further, the Party is throwing everything but the kitchen sink at the problem; there will be near-fanatical health-protection precautions, as well as vast numbers of security personnel. So, barring something very unexpected, this thing is happening. And then, sometime around the middle of September, we will learn if it turned out to be a superspreader event or not. (Z)
While the Republicans are moving forward with their "normal" convention, the Democrats made official what everyone already knew: They will have a not-normal convention. The Party is relocating the main event from the 17,000-seat Fiserv Forum to the much smaller Wisconsin Center (Milwaukee's convention center). They are also urging state delegates not to attend.
There is much about the Democrats' arrangements that is still up in the air. At the moment, Joe Biden expects to visit Milwaukee in person to accept the nomination, but that's not set in stone. Exactly what other things will take place in Milwaukee, and what things will happen elsewhere via remote hookup, are not yet known. It's not even clear that if state delegates do show up, they'll be allowed into the convention hall. The accommodations that will be made for reporters to cover the event are also hazy.
Surely, when all is said and done, the Democrats will take lemons here and make lemonade. For example, and as we've noted before, it would be pretty compelling viewing and messaging for state delegations to cast their votes from their home states, situated in some spot of significance that ties to the party platform. For example: "The delegation from Pennsylvania, standing on the site of America's first hospital, and looking forward to a new era in American healthcare, casts its ballots for Joe Biden!" Far better than group #37 standing up in a crowded arena, followed by group #38, then group #39. Actually, our guess is that the Party is already hard at work on something very much like this, and that they just don't want to let the cat out of the bag right now, for fear their ideas will seem stale by August. In any event, the two parties are clearly steering very different convention paths. (Z)
In its early days, many Democrats were nonplussed about Joe Biden's decision to remain at home in Delaware and to campaign mostly via camera, from his basement. Professional politicians and political operatives are not known for their creativity, and tend to be invested in the "standard" way of doing things. And a front-porch-style campaign (bottom-basement-style?) hasn't been standard for 120 years.
That said, politics is a results-oriented business, and Biden 2020 is clearly getting results (see polls below), such that his fellow Democrats are now pretty happy about his approach. Under current circumstances, there are clear upsides to the bunker strategy. First, it sets up a general contrast between candidates: one is brash, outspoken, and relies on rallies that bear an uncomfortable resemblance to the March on Rome. The other is reserved and calm, and embraces normalcy. "Who do you want in the White House, particularly after the last four years of chaos?" is the implicit question.
At the same time, the Biden approach sets up a specific contrast on the issue of COVID-19. One candidate ignores the warnings of experts, even those in his own administration, and travels about the country, both without reservation and without a mask. The other takes steps to protect the health of himself and of others, limiting his travel, and wearing a mask when he does go outside. "Who do you want managing the COVID-19 response, particularly if it lingers for several years?" is the implicit question here.
And finally, the bunker approach allows the presumptive Democratic nominee to follow the (possibly apocryphal) advice attributed to Napoleon: "Never interrupt your enemy when he is making a mistake." Donald Trump keeps suffering setbacks, some of them beyond his control, some of them only partly in his control. And then, he almost invariably makes things worse with ill-advised lawsuits, unnecessary tweets, and unwise public statements. There is much to be said for allowing self-destructive behavior to have as much oxygen as possible.
There may come a time when Biden has to shift gears, depending on how things unfold. And if that time arrives, the smart money says that the candidate will realize it, and will do what needs to be done. Biden's folksy persona and his habit of tripping over his tongue may cause people to underestimate his intelligence and/or his political skill. Remember, though, that he got himself elected to the U.S. Senate seven times, beating everyone from well-liked incumbents (J. Caleb Boggs) to not-so-well-liked former witches (Christine O'Donnell). He was also on the same ticket twice with Barack Obama, one of the great campaigners of the last century. You don't build up a résumé like that without picking up a trick or two. (Z)
Last week, we noted that with so many races for office going on simultaneously, and with some races attracting multiple candidates on both sides of the aisle, there are going to be some real anchors around the necks of the parties participating in the process. Last week, we gave you serial sexual harasser Chris Janicek (D) and nutty conspiracy theorist and racist Marjorie Taylor Greene (R). This week, we give you Winnie Heartstrong (R), another nutty conspiracist, who is running to represent MO-01 in the House.
Heartstrong is a perennial candidate, and one whose residence may not actually be in Missouri (it's not easy to tell, but until recently, at least, she lived in Maryland). She's also black, which gives her some amount of cover for a conspiracy theory that's wacky even by conspiracy theory standards. Namely, in a 23-page "analysis" entitled "George Floyd is Dead: A Citizen's Investigative Report on the Use of Deep Fake Technology," she insists that the video footage of George Floyd being killed is several years old and is fake. Heartstrong claims the role of Floyd is being played by former basketball player Stephen Jesse Jackson and the role of Derek Chauvin is being played by comedian and former game show host Ben Bailey. If true, one wonders who the heck it was they buried in Houston last week. Similarly, who is the person sitting in prison right now, if not Chauvin? Maybe that explains why there haven't been any new episodes of "Cash Cab" lately.
Given that MO-01 is D+29, there is no chance that Heartstrong actually gets elected to Congress. But given that her only opposition for the Republican nomination is an unknown, she certainly could become her party's candidate. If so, then at best, she'll be another one for the list of "Look whom the Republican Party is nominating these days." At worst, the conspiratorial elements in the Party, which are substantial (ahem, Alex Jones), will seize upon her claims and give her a bunch of attention, thus producing even more bad PR for the Party. Undoubtedly, the pooh-bahs have never even heard of Anthony Rogers, but are nonetheless really, really hoping he wins that primary on August 1. (Z)
The longer I write these diaries, the more frustrated I become. The basic questions we all want to know the answers to are:
If I get exposed to someone who is infected, will I get infected?
If I get infected, will I get sick?
If I get sick will I die?
These are not impossible questions to answer. As I mentioned on Sunday, we need to track a lot of people over time, test them repeatedly and monitor their health. Because that has not been done, epidemiologists are left to look at the data they do have and reach the best conclusions possible.
And the conclusions are all over the map. If you look at number of deaths as a fraction of the number of positive tests, you will conclude that mortality is 5-6% (I have seen researchers reporting that estimate in their presentations). I looked at deaths and estimates of population infection and came up with a mortality of 1%. Some researchers at Penn State ran some numbers and decided the real infection rate was 80 times greater than reported. If they are right about that, then COVID is only a little more virulent than the flu (albeit with a much more damaging impact).
I am particularly frustrated by the "spikes in new cases" stories. If the tests being reported are antibody tests, then we are doing fine and COVID is moving through the population with minimal impact. If the tests are live virus tests, then a train is coming down the tracks and we are tied to the tracks. At this stage of the pandemic, we should mainly be looking at live virus tests. Instead, we get "tests" reported with no further information.
In New Jersey, we used to report all tests, now we only report live virus tests. Here is the trend over time: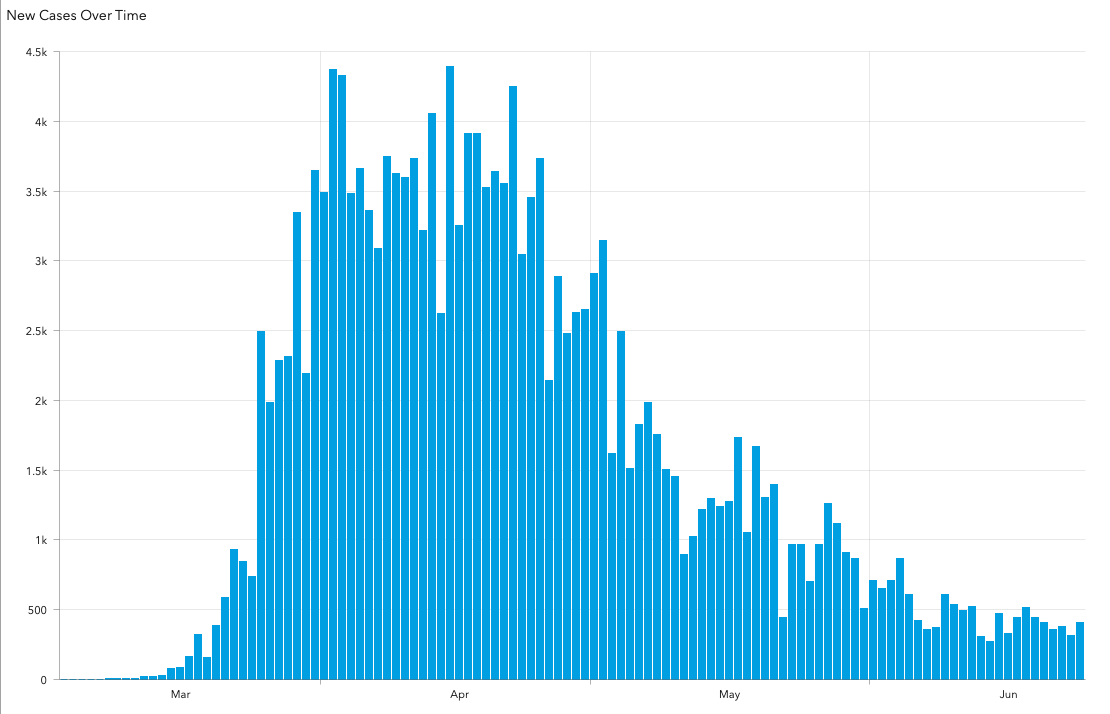 The hospitalization data looks even better. With New Jersey, I have really good data that all tells me the same story: "We have COVID-19 under control."
When the data is not clean, it's much harder. For example, the latest stories about Florida point out that the number of new cases is going through the roof, and lead us to believe that Florida is on its way to be the next hotspot. After reviewing all the data I could find about Florida, I do not think that is clear. It is possible to cherry-pick a statistic and come to a completely invalid conclusion. Here are some relevant data for Florida.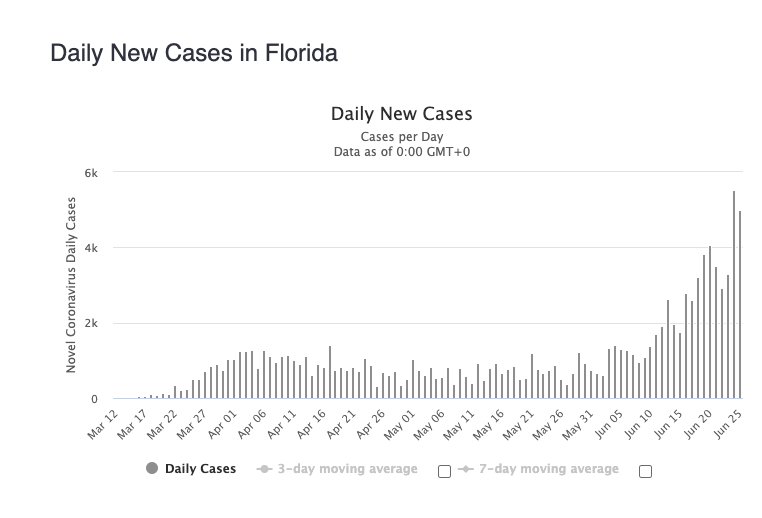 This looks very alarming, and it fuels the reports. If the tests include the antibody tests, though, the above graph tells us nearly nothing. And note that daily deaths do not look nearly so dire: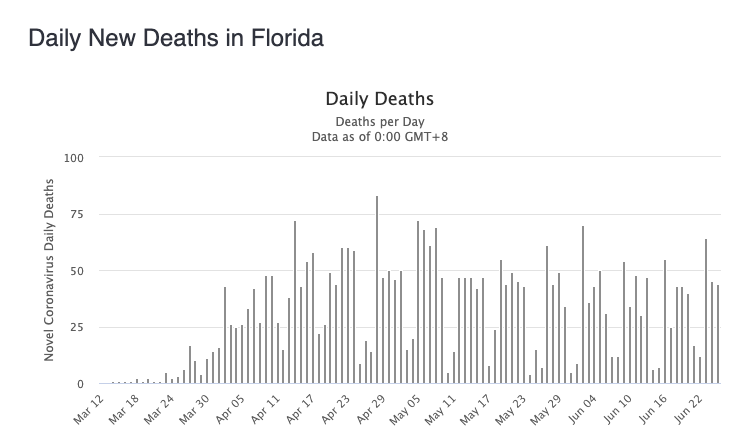 Notice that there is no visible trend. Now, there is a lag between getting sick and dying, so it is at least possible that all of these new cases will lead to an increase in the number of deaths if and when people succumb.
A lot of the testing occurs when someone is sick and goes to the hospital. That means it is difficult to have a big jump in new cases without a big jump in hospitalizations. Here is the hospitalization data: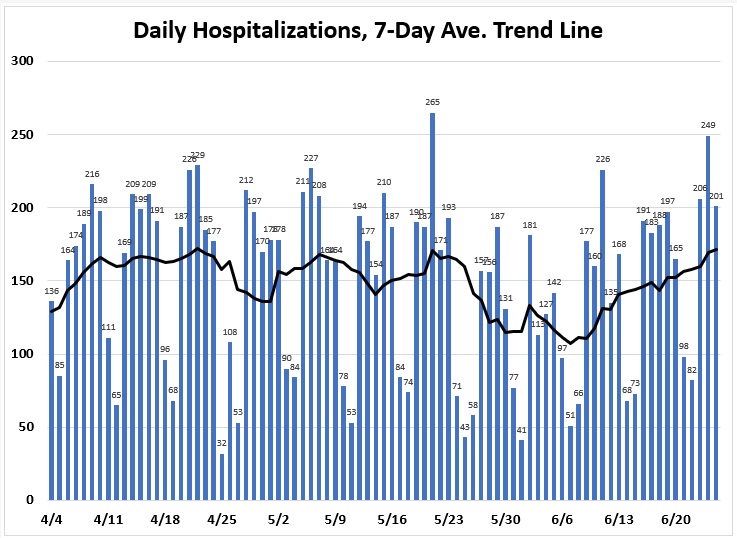 The most reliable COVID-19 data remains hospitalization rates. This data suggests that nothing has materially changed in Florida since the beginning of April.
There are several possible explanations for the disparity between the number of reported infections in Florida and the number of hospitalizations/deaths:
Florida is doing more testing, though state officials deny this is the case.
The new infections are primarily among young people, who are less likely to require hospitalization or to die.
The data is being manipulated, which is possible, but unlikely.
The newly reported infections are nearly all antibody tests.
In the absence of new and better information, I would conclude that Florida is sitting on an R0 of about 1 (plus or minus). I just do not understand how you can have an actual, major increase in the number of positive live virus tests without seeing at least some additional hospitalizations and fatalities. So, is Florida the next hotspot? It certainly could be, but the data do not tell us that yet. (PD)
What we have here is 16 polls, all of them covering states that Donald Trump won in 2016, and the President is not ahead in a single one of them. Depending on which pollster you believe, he's either down a little bit or a lot in Arizona, Florida, Georgia, North Carolina, and Texas. Meanwhile, everyone who polled Michigan, Pennsylvania, and Wisconsin—which, when added to the Clinton states, would give Joe Biden the White House—says that the former VP is up big in those places.
Note also that Biden's "strong Democrat" total (top right) is 249, which isn't far away from 270. And his "strong Democrat" plus "likely Democrat" total is 313. In other words, if the election were held today, Trump would need all of the toss-up states, all of the the "barely Democrat" states, and then would have to pull an upset in at least two of the strong/likely Democrat states. A very tall order. But as you know, the election is not today. (Z)
| | | | | | |
| --- | --- | --- | --- | --- | --- |
| State | Biden | Trump | Start | End | Pollster |
| Arizona | 43% | 39% | Jun 14 | Jun 17 | Redfield and Wilton Strategies |
| Arizona | 48% | 41% | Jun 08 | Jun 16 | Siena Coll. |
| Florida | 45% | 41% | Jun 14 | Jun 15 | Redfield and Wilton Strategies |
| Florida | 47% | 41% | Jun 08 | Jun 18 | Siena Coll. |
| Florida | 49% | 40% | Jun 20 | Jun 23 | Fox News |
| Georgia | 47% | 45% | Jun 20 | Jun 23 | Fox News |
| Michigan | 47% | 36% | Jun 08 | Jun 17 | Siena Coll. |
| Michigan | 47% | 36% | Jun 14 | Jun 16 | Redfield and Wilton Strategies |
| North Carolina | 46% | 40% | Jun 14 | Jun 17 | Redfield and Wilton Strategies |
| North Carolina | 47% | 45% | Jun 20 | Jun 23 | Fox News |
| North Carolina | 49% | 40% | Jun 08 | Jun 18 | Siena Coll. |
| Pennsylvania | 49% | 39% | Jun 14 | Jun 16 | Redfield and Wilton Strategies |
| Pennsylvania | 50% | 40% | Jun 08 | Jun 16 | Siena Coll. |
| Texas | 45% | 44% | Jun 20 | Jun 23 | Fox News |
| Wisconsin | 45% | 36% | Jun 14 | Jun 19 | Redfield and Wilton Strategies |
| Wisconsin | 49% | 38% | Jun 08 | Jun 15 | Siena Coll. |
This also has to gladden the hearts of Democrats. Gary Peters and Mark Kelly are pulling away, leaving the blue team able to focus on winnable races in places like Georgia and North Carolina. Even that Texas number is not hopeless, even if it's a little daunting. (Z)
| | | | | | | | |
| --- | --- | --- | --- | --- | --- | --- | --- |
| State | Democrat | D % | Republican | R % | Start | End | Pollster |
| Arizona | Mark Kelly | 47% | Martha McSally* | 38% | Jun 08 | Jun 16 | Siena Coll. |
| Arizona | Mark Kelly | 49% | Martha McSally* | 34% | Jun 14 | Jun 17 | Redfield and Wilton Strategies |
| Georgia | Jon Ossoff | 42% | David Perdue* | 45% | Jun 20 | Jun 23 | Fox News |
| Michigan | Gary Peters* | 41% | John James | 31% | Jun 08 | Jun 17 | Siena Coll. |
| Michigan | Gary Peters* | 50% | John James | 32% | Jun 14 | Jun 16 | Redfield and Wilton Strategies |
| North Carolina | Cal Cunningham | 39% | Thom Tillis* | 37% | Jun 20 | Jun 23 | Fox News |
| North Carolina | Cal Cunningham | 42% | Thom Tillis* | 39% | Jun 08 | Jun 18 | Siena Coll. |
| North Carolina | Cal Cunningham | 45% | Thom Tillis* | 36% | Jun 14 | Jun 17 | Redfield and Wilton Strategies |
| Texas | Mary Hegar | 36% | John Cornyn* | 46% | Jun 20 | Jun 23 | Fox News |
* Denotes incumbent
---
If you wish to contact us, please use one of these addresses. For the first two, please include your initials and city.
---
Email a link to a friend
or share:
---The Votemaster and Zenger