TODAY'S HEADLINES (click to jump there; use your browser's "Back" button to return here)

•
Obama Will Campaign for Biden
•
Trump's Campaign Is Short of Cash
•
USPS Ordered Its Internal Police to Stand Down
•
It Ain't Over 'Til It's Over
•
Biden Will Consider Putting Republicans in His Cabinet
•
Poll: Americans Want a $2 Trillion COVID-19 Relief Bill
•
Frank Luntz Blasts Trump
•
The South Will Rise Again
•
Maybe The Divide in Politics Isn't Democrats vs. Republicans
•
McGrath's Supporters Are Helping a Libertarian
•
House Districts Most Likely to Flip
•
State Legislatures Most Likely to Flip
•
Salamanders and Politics
•
Today's Presidential Polls
•
Today's Senate Polls
Note: Thanks to the generous donations of our readers, we have been advertising on Google, Microsoft, Duck Duck Go, and Politico for months to build traffic. We are now also up on the websites of the college newspapers at some of the larger universities in Florida, North Carolina, Pennsylvania, and Michigan. We are working on Arizona now. The hope is to get students excited about the election so that they hopefully vote. You can see our ad on the website of the college newspaper at the University of Central Florida, which has 70,000 students in Orlando, one of the swingiest locations in the mother of all swing states. Again, thank you.
Joe Biden is now pulling out the big gun: Barack Obama. The former president is still immensely popular with Democrats, especially Black Democrats, so he is going to focus on getting out the vote among that group. Yesterday Obama spoke in Philadelphia and is expected to campaign in other swing states in the next 2 weeks. Putting the "No Drama Obama" persona aside, the former president lit into his successor, mixing in both professional critiques (COVID-19 mismanagement) and personal jabs (poor town hall ratings). "I never thought Donald Trump would embrace my vision or continue my polices, but I did hope for the sake of the country, that he might show some interest in taking the job seriously," Obama remarked.
The choice of starting with Pennsylvania shows that for Biden, the Keystone State is indeed the keystone of his campaign. If he can win that one and all the other states Hillary Clinton won, he will have 252 electoral votes, only 18 shy of 270. Finding 18 more would mean winning any two of Wisconsin, Michigan, Arizona, North Carolina, and Georgia, or alternatively just Florida.
Biden—and Obama—are painfully aware that Black turnout in 2016 was appreciably less than it was in 2012. In fact, had the same percentage of Black voters turned out in 2016 as in 2012 in every state, Clinton would have won. A recent poll showed that while 91% of Black voters above 50 are going to vote for Biden, only 72% of Black men in Philadelphia are planning to do so, while 14% will vote for Trump and 9% are undecided. It is this group—young Black men— that Obama will be particularly targeting until Election Day. He will emphasize the importance of voting and the power they have to turn Pennsylvania blue. Obama is not only campaigning in person for Biden, he has cut spots for his former sidekick for use across the country on television and digital ads.
Isaiah Thomas (D), the youngest member of the Philadelphia City Council, has said he has met young Black voters who don't plan to vote on the grounds that it doesn't matter which old white guy wins. He tries to counter that by bringing up the ballot initiative this year about eliminating the police practice of stop-and-frisk and also one that would create a Citizens Police Oversight Commission. These are issues that young Black men understand as life-or-death issues and that might actually get them to the polls. (V)
Donald Trump's campaign began October with $63 million in the bank, compared to Joe Biden's $177 million. To make it even worse, Biden doesn't have to spend a penny in the most-expensive swing state (Florida) because Michael Bloomberg has that covered. When the party committees and super PACs are factored in, Biden had $432 million to Trump's $251 million, but the campaign's actual cash on hand is more important than what affiliated groups have. Among other things, campaigns can buy television time cheaper than super PACs and they can decide which states they want to focus on; super PACs may have other ideas.
Back in March, then-campaign manager Brad Parscale compared his fundraising machine to Star Wars' "Death Star." But it didn't quite turn out that way. And the disparity has been around for a while. In September, in the three key "Midwest" states, Biden outspent Trump by 4 to 1. That said, all that did was preserve Biden's lead of 4-8 points in each state. It didn't increase it at all.
Going forward, Biden is going to spend $64 million in 20 states. Trump is going to spend only $32 million and has canceled reservations in Ohio and Iowa, which appear to be true swing states. Sheldon Adelson rode to the Donald's rescue with donations that totaled $75 million in August and September, but how the money is being spent is not clear. There could be some grift going on as there was under Brad Parscale's leadership. And, at very least, the Adelson money will be subject to the higher ad rates paid by any person or group who is not part of the campaign. That applies equally to Bloomberg, of course.
On the Biden side, there seems to be a changing of the guard with respect to super PACs. Unite the Country, Biden's original super PAC, raised only $5 million in September whereas Future Forward, which is a pro-Biden group funded from Silicon Valley, raised $66 million in the 6 weeks starting Sept. 1, most of it in large chunks.
But does more spending mean more votes? Apparently it does. A paper from political scientists at UCLA, Vanderbilt, and George Washington University examined the difference in voting behavior between counties where ads ran vs. similar nearby counties where they didn't. The conclusion is that ads do help, although the effect is much bigger for ads close to Election Day and ads for downballot candidates who are not well known. Of course, 44 million votes have already been cast, so no amount of advertising is going to affect those voters. (V)
While things look good for Joe Biden on the money front, they look a bit less good on the vote front. In particular, since Democrats are counting heavily on mailed-in ballots, security of the mail is paramount for them. Thus it is disturbing to them that in August the USPS ordered its own police force to end patrol duties guarding mailboxes and mail trucks. The USPS has almost 2,000 uniformed and plainclothes officers who protect the sanctity of the mail.
Frank Albergo, president of the postal police workers' union, told The Wall Street Journal: "If I was going to undermine public trust in the mail, one of the first things I would do is pull postal police off the street." He was especially concerned that the order came so close to the election. In fact, it came the day after Postmaster General Louis DeJoy told Congress that he would pause organizational changes until after the election. In fact, he did no such thing.
Having the USPS internal police force stop its work is probably not illegal in and of itself, but it could make it easier for third parties to follow in the footsteps of Jesse James and rob the mail train, knowing that they are unlikely to be caught. Unbolting a mailbox from the ground in a Democratic area and carting it away half an hour before collection time would obviously be detected nearly immediately, but if the 1,300 USPS detectives aren't at work, the thieves aren't likely to be caught and could strike again the next day. And robbing the mail train—or more likely these days, the mail truck—might also be something thieves could try. (V)
Yogi Berra was talking about baseball, not politics, but some of the same rules apply, including that one. Right now, Joe Biden has a substantial lead in the electoral college, but Election Day is still 12 days away and stuff happens. At the bottom of the legend to the right of the map you see "2016 2012 2008." If you click on one of them, you go to our page on today's date in that year. Try 2016 for the "fun" of it. Then you will see that on Oct, 22, 2016, Hillary Clinton had 334 EVs. She was ahead in the "Midwest" (Wisconsin, Michigan, and Pennsylvania) and also in the sun belt (Arizona, Florida, and North Carolina). She lost all of them. Today Biden has 340 EVs, namely all of Clinton's states plus a meaningless 1-point lead in Iowa. Texas is tied today, but we really don't expect that to go blue this year. Maybe 2024 or 2028 though. Also, our first news item on Oct. 22, 2016 was about how the early ballots favored the Democrats. The more things change, the more they stay the same.
On Oct. 22, 2012, Barack Obama had only 286 EVs and ultimately won.
Does this mean Biden is slated to go under, just like Clinton? That's far from sure. First, 11 days before the 2016 election James Comey announced that the FBI had found more of Clinton's emails. That hit Clinton hard. It is difficult to see what kind of late October surprise might happen this year and have that much of an effect. Second, 44 million people have already voted. No matter what happens between now and Nov. 3, those votes are already banked and cannot change. Third, there will (probably) be a debate tonight. If Trump acts like a bully again as he did in the first debate, he will lose a few million more "suburban housewives."
Still, the message here is that the election is not over until the last vote has been counted and every vote counts, so if you haven't voted, do it now. (V)
To prove his bipartisan bonafides, Joe Biden is considering putting one or more Republicans in his cabinet. Doing so might well please some voters who see bipartisanship as a goal unto itself, though it risks enraging many Democrats.
One way Biden could put a Republican or two in his cabinet and yet make that a brilliant strategic move would be to pick Republican senators from states with a Democratic governor. Then the Senate slot would, in most cases, be replaced by a Democrat until at least 2022. The exact list of potential candidates for this maneuver depends on the outcome of the election, but here is the current list:
| | | |
| --- | --- | --- |
| State | Senator | Notes |
| Colorado | Cory Gardner (R) | He probably won't be a senator as of Jan. 3, so not a good choice |
| Kansas | Jerry Moran (R) | Gov. Laura Kelly (D) would appoint a Democrat, but Moran isn't interested in leaving the Senate |
| Kansas | Roger Marshall (R) | If he wins election, he probably wouldn't accept a cabinet job |
| Kentucky | Rand Paul (R) | Biden isn't crazy, even though Gov. Andy Beshear (D-KY) would pick a Democrat |
| Kentucky | Mitch McConnell (R) | McConnell would never accept, of course |
| Louisiana | Bill Cassidy (R) | Gov. John Bel Edwards (D) would appoint a Democrat, but... |
| Louisiana | John Kennedy (R) | ...the rookie senator would serve only 11 weeks until a special election was held |
| Maine | Susan Collins (R) | She probably won't be a senator as of Jan. 3, so not a good choice |
| Montana | Steve Daines (R) | Works only if Mike Cooney (D) is elected governor and Daines wins too |
| North Carolina | Thom Tillis (R) | Under North Carolina law, Democratic governor Roy Cooper... |
| North Carolina | Richard Burr (R) | ...would pick a replacement from among three candidates submitted by the GOP |
| Pennsylvania | Pat Toomey (R) | Gov. Tom Wolf (D) would appoint a Democrat |
| Wisconsin | Ron Johnson (R) | Gov. Tony Evers (D) would appoint a Democrat to serve ≅70 days until a special election |
Add it up, and the only candidate here who would: (1) plausibly accept Biden's offer, and (2) actually give the Democrats a Senate seat for two full years is Pat Toomey. As a bonus, the Democrats would have a real shot of holding that seat when it came up in 2022, whereas they surely would lose many of these other seats once the two years (or the 11 weeks, or the ≅70 days) was up. Toomey is only 58, is retiring from the Senate in 2022, and is probably too young to give up on politics altogether, so he may well accept a cabinet job. And again, if he was offered and he accepted, it would be a twofer for Biden: (1) "Look how bipartisan I am" and (2) a net pickup of two Senate seats (+1 for the Democrats, -1 for the Republicans).
Johnson is second choice. He is 65 but was a businessman before being elected to the Senate. He might be willing to accept the job of secretary of commerce and the Democrats would have a decent shot at winning the special election, especially since they would have an incumbent, which might stave off a primary. (V)
While Treasury Secretary Steven Mnuchin and Speaker Nancy Pelosi are still wrangling over a COVID-19 relief bill, despite the Speaker's self-imposed deadline already having passed, a large majority of Americans want help, and now. A new CNBC/Change Research poll shows that two-thirds of voters nationally and in six swing states want the Senate to work on a new COVID-19 relief bill, not the confirmation of Amy Coney Barrett to the Supreme Court. Nationally it was 66% for COVID, 34% for Coney Barrett. In Arizona, Florida, Michigan, North Carolina, Pennsylvania, and Wisconsin, it was 62% for COVID-19 and 38% for filling the seat. Sounds like a partisan breakdown to us.
Of course, there is no need for a choice. A vote on the Supreme Court vacancy won't take more than an hour at most, leaving the Senate plenty of time to debate a COVID-19 bill. But the real problem is that Senate Republicans don't see the need for one. Rich people are doing fine and that's whom they really respond to. In theory, Donald Trump wants a bill, but he appears to want his bill and Pelosi is not buying that. So as of today, there is still no bill. If Trump were to order Mnuchin to make a deal with Pelosi, it could happen in an hour, but he hasn't. The two sides are still in discussion, though, so even at this late date a deal could be announced. But after that, the actual text of the bill has to be drawn up and approved by the House and Senate. That could take a couple of days. And as a practical matter, it would be close to impossible to disburse something like $2 trillion in a week so although people would hear that money is on the way, little of it would arrive before Election Day. And some people might be asking: "Why did it take so long?"
Meanwhile, Senate Majority Leader Mitch McConnell brought up a "skinny" COVID-19 relief bill yesterday and failed to make it as the Democrats voted against cloture.
If there is no bill, the battle will be about: "whose fault is it?" In the poll, 45% blamed the Republicans and 44% blamed the Democrats. As with so many things, it is rarely about getting something done, even if the "something" is very popular. It is always about blaming the other side for it not getting done.
The election aside, not having a bill helps Joe Biden if he wins. By Jan. 20, the pent-up demand for relief will be overwhelming and Biden will be able to propose a $2-3 trillion bill with lots of items from the Democratic wish list. Republicans will howl to the moon about the cost and the deficit, but public opinion will be with the Democrats. Of course, Biden won't be able to get anything through the Senate unless the Democrats win it and abolish the filibuster. That might require getting 52 or 53 seats though, as Sen. Joe Manchin (D-WV) is against abolition (even though his state was created in 1863 because it was pro-abolition). Sen. Kyrsten Sinema (D-AZ) is also not a big fan of it, but her state is turning blue and she can probably sense the way the winds are blowing. (V)
Veteran Republican pollster Frank Luntz, who is more than a bit sleazy, but who knows a thing or two about how to guide Republican candidates to victory, has slammed Donald Trump's campaign as the worst he has ever seen since getting into politics four decades ago. His well-thought-out professional judgment of Trump's advisers is that they have "their heads up their asses."
His complaint is that Trump's strategy is apparently to make the election about what Hunter Biden did or did not do a decade ago. From his polling, Luntz knows this issue is not at the top of every voter's list of concerns. When talking to a group of consultants, Luntz said: "It is the worst campaign I've ever seen and I've been watching them since 1980. They're on the wrong issues. They're on the wrong message." He added that the campaign should be addressing what the voters care about. His polls show what those are and it's not Hunter Biden.
But what is Trump talking about? He wants AG William Barr to investigate Hunter Biden because, in Trump's words: "This is major corruption and this has to be known about before the election." What Trump is referring to is a bogus story Rudy Giuliani probably got from some Russian operatives which he then gave to Rupert Murdoch's New York Post. Most media outlets saw through it immediately and didn't even cover it. Again Luntz: "Hunter Biden does not help put food on the table. Hunter Biden does not help anyone get a job. Hunter Biden does not provide health care or solve COVID. And Donald Trump spends all of his time focused on that and nobody cares." And remember, Luntz has devoted his entire life to electing Republicans.
Luntz also ran focus groups on the first debate. He said that undecided participants called Trump some pretty awful names. He then warned the President that unless he knocks it out of the park in the debate tonight, it will be too late for him to catch Joe Biden with only 12 days to go and a lot of votes already cast. As of this morning, "a lot of votes" specifically means 44 million votes have already been cast and cannot be taken back, no matter what happens at the debate (assuming it happens at all). (V)
Only this time, as a Democratic stronghold—the way it was before Nixon implemented his "Southern strategy." Ronald Brownstein has taken a detailed look at the changing demographics of the South. It explains a lot about what is going on in Virginia, North Carolina, South Carolina, Georgia, and Florida. Fundamentally, in all five states, the percentage of the electorate that consists of whites with no college degree is dropping—by 2 points compared to 2016 in South Carolina and 3 points in the other four. Whites with no college degree are still the largest group in all but Virginia, but they are not greater than 40% in any of them, as shown by these charts: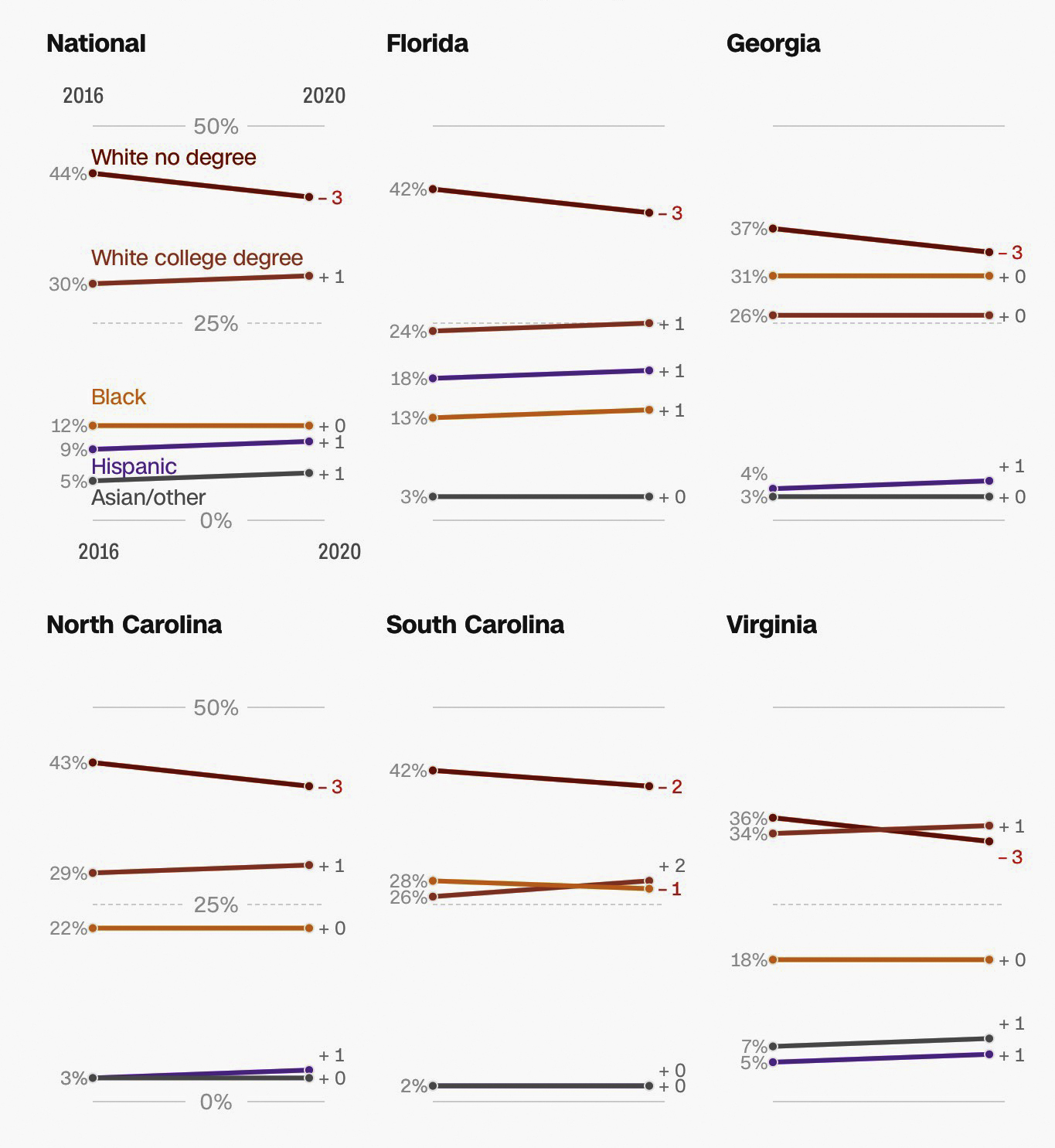 There is little Republicans can do to turn the tide since their base is outnumbered. In states they currently control (South Carolina, Georgia, and Florida) they can try to suppress as many votes as they can, but Virginia is a lost cause and North Carolina may soon be.
Whit Ayres, a top Republican pollster who lived and worked in South Carolina for years and now lives in Virginia, says: "what took the Republicans up was the white middle class." But now that affluent college-educated professionals in the suburbs are changing horses, the Southern strategy of subtle but unmistakable racism isn't working any more.
The first state to go was Virginia. Until 2000, it was solid red. In 2001, Mark Warner (D-VA) was elected governor. He was followed by another Democrat, Tim Kaine. Both later went on to be elected to the Senate, where they both continue to serve. As college-educated professionals from outside the state continue to flood into Fairfax, Loudoun, and Prince William Counties in Northern Virginia, the state has turned completely blue.
North Carolina will be next. Its move to being a purple state is being driven by: (1) an influx of Northerners to the Raleigh-Durham-Chapel Hill Research Triangle area and (2) an increase in minority voting. In 2020, Black voters will cast 20% of the votes and minorities as a whole will cast 30%. Combined with the white professionals, that's about half of the electorate and it skews very heavily Democratic. Interestingly enough, a substantial part of the Democrats' strength in North Carolina is largely due to those three cities, not just their suburbs. Unlike some older northern cities which are a bit run-down, these are modern vibrant cities full of million-dollar condos and an affluent population. The Republicans' strength is in the rural areas in the western parts of the state, but the two parties are roughly at parity at the moment. The problem for the GOP is that the three cities in the center of the state are growing rapidly and the rural areas in the western part are not. The state is more likely to go purple for a few cycles rather than Virginia-blue, but it is likely to reach Virginia-blue status eventually.
Georgia is behind North Carolina, but is slowly turning purple as well. Many polls this year have shown it to be a statistical tie between Biden and Trump, Jon Ossoff (D) is close to tied with Sen. David Perdue (R-GA), and the special election for the seat held by Sen. Kelly Loeffler (R-GA) has ping-ponged back and forth. The Democrats' not-so-secret weapon in Georgia is the Black population, which is 31% (vs. 22% in North Carolina and 19% in Virginia). In 2016, Hillary Clinton won the five most populous counties by over 420,000 votes, compared to John Kerry's victory in those counties of 45,000 votes. In 2018, Stacey Abrams won 40% of college-educated whites in her almost-successful run for governor. Polls show Biden winning in the mid 40s with those same voters, which is why the state is close to a tie. But even if Trump hangs on (barely) in 2020, by 2024 Georgia could be where North Carolina is now: a true swing state.
South Carolina has a large population of Black voters (28%), but nothing like Northern Virginia or the Research Triangle to draw in college-educated professionals. It does have many working-class evangelicals though, so even after North Carolina and Georgia fall to the Democrats, South Carolina will likely remain a Republican bastion for years. What is shocking is how well Jaime Harrison (D) is doing against Sen. Lindsey Graham (R-SC), with his record-breaking haul of $57 million in Q3. However, that may just be a quirk. Out-of-state Democrats hate Graham with a passion for being wildly anti-Trump in 2016 and now being his biggest toady, so they poured millions into Harrison's campaign. When you have that kind of money to spend in a cheap state with no big cites (the capital, Columbia, has only 130,000 people) and are running against a candidate who is not all that popular with his own party, magic can happen. But this one peculiar race doesn't change the underlying fact South Carolina will be red for years to come.
Florida is special. Since 1992, 51 million votes have been cast for president in Florida, and the difference between the parties is fewer than 20,000 votes. The state is balanced on the knife's edge. Seven of the statewide races in the past 10 years have been won by 1.2% or less. Florida is a gigantic puzzle. It is divided between white and minority voters, but also between young and old, and between Democrats in Miami-Dade, Broward, and Palm Beach Counties on the Atlantic Coast and Republicans on the Gulf Coast, in The Villages, and in the Panhandle. Even the state's large Latino population is split among Cuban Americans, Puerto Ricans, Central Americans, and South Americans. Carlos Odio, a Democratic pollster in the state, says: "The first law of Florida elections is that for every trend there is an equal and opposite trend somewhere else."
So the outlook, according to Brownstein, is a blue Virginia for years, a purple North Carolina for a couple of cycles, a purple Georgia probably by 2024, a red South Carolina for years to come, and an exactly even Florida far into the future. For the Republicans, this is not good news. A bright red region is rapidly becoming competitive. At least the GOP still has a lock on Alabama, Mississippi, Arkansas, and Tennessee, with their combined 32 electoral votes. (V)
The popular view that the country is divided into two political camps, with Democrats and Republicans opposing each other at every turn may not be right. Two political scientists at Stony Brook University have studied the electorate and come to a different conclusion.
The divide is there all right, but it is between political junkies and people who don't pay attention to politics. The political junkies consume every scrap of political information out there, religiously watch MSNBC or Fox News, and in their spare time read Politico, The Hill, and maybe even this site. The others—about 80-85% of the voters—don't follow politics closely at all. For example, among this group, low hourly wages was a key issue. For partisans, this is not on the agenda at all. In contrast, partisan Republicans said that drug abuse was the top issue, but less-attentive Republicans ranked that next to last. Among partisan Democrats, the influence of wealthy donors was #1, but among less-attentive Democrats, the moral decline of the country was tops.
Almost 45% of hard partisans are out there on social media spreading their views. For the others, only 11% do this. To put this in perspective, 10% of all Twitterers are responsible for 97% of all tweets about politics.
So the gap is really between the hard partisans, not the country at large. But the hard partisans make the most noise. When a hard-partisan Democrat imagines a Republican, she is not thinking of her nice co-worker who posts cat pictures to the Internet and happens to vote Republican. She is envisioning a co-worker she had to mute on Facebook because her pro-Trump comments were unbearable. And vice-versa, of course.
Each day, hardcore Democrats are worried about whatever outrageous thing Donald Trump will conjure up that day. Hardcore Republicans can't wait to hear it and repeat it endlessly. Most voters aren't paying attention, however. To them it is just background noise, not nearly as important as, say, the weather report. And when a "scandal" erupts, to them it is just "politics" and can be safely ignored. (V)
Ratf*cking is alive and well in Kentucky where one of Amy McGrath's PACs is supporting Libertarian Party Senate candidate Brad Barron. In fact, over 80% of Barron's spending has come from McGrath sources. His flyers tout him as someone who believes in freedom, liberty, and individual rights. His platform is eliminating the IRS, auditing the Fed, and bringing all American troops home.
The goal, of course, is to make a breakthough with conservative Republicans who don't like Mitch McConnell—and there are plenty of them. He is the least popular member of the Senate. For many of these voters, picking a Democrat is a bridge too far, but voting for someone more conservative than McConnell might be acceptable. McGrath, of course, knows that every vote that Barron gets is one fewer vote that McConnell gets. Kentucky uses the first-past-the-post system, so if she can split the conservative vote over two candidates, she might be able to eke out a victory.
Originally, McGrath insisted on having Barron in the debates, but McConnell refused and McGrath caved in the end because McConnell is well known and she is not, such that she needed the debates more than he did. She raised a boatload of money last quarter ($37 million), but she is still behind the unpopular McConnell because Kentucky is so red that unless the Republican is compromised by a scandal, the Democrat has almost no chance. (V)
People sometimes forget that there is more at stake on Nov. 3 than the White House and Senate. All 435 House seats are up for grabs as well, as are thousands of seats in the state legislatures. Let's take a look at both of these in turn. First up, the House.
CNN has a list of House districts most likely to flip. The ratings are based on polling, fundraising, PVI, history, and local reporting. On the whole, CNN sees the Democrats not only holding the House, but expanding their margin. Here are the top ten most-likely-to-flip districts, from most likely to least likely (note that an asterisk indicates that the seat is open, and the candidate running is therefore not the incumbent).
| | | | | |
| --- | --- | --- | --- | --- |
| District | PVI | Incumbent Party Candidate | Challenger | Notes |
| GA-07 | R+9 | Richard McCormick (R)* | Carolyn Bourdeaux (D) | Closest race in the country in 2018, now an open seat |
| NE-02 | R+4 | Don Bacon (R) | Kara Eastman (D) | Women in the Omaha suburbs may give Eastman the edge |
| TX-23 | R+1 | Tony Gonzales (R)* | Gina Ortiz Jones (D) | This is just one of four Clinton seats held by the GOP |
| NM-02 | R+6 | Xochitl Torres Small (D) | Yvette Herrell (R) | This is a purely rural district that Trump will win |
| IN-05 | R+9 | Victoria Spartz (R)* | Christina Hale (D) | Open seats in well-educated suburbs are turning blue |
| NJ-02 | R+1 | Jeff Van Drew (R) | Amy Kennedy (D) | Van Drew is a turncoat Democrat, now a Republican |
| OH-01 | R+5 | Steve Chabot (R) | Kate Schroder (D) | Schroder is outraising Chabot in this suburban district |
| MN-07 | R+12 | Collin Peterson (D) | Michelle Fischback (R) | Peterson is as blue a dog as they come |
| AZ-06 | R+9 | David Schweikert (R) | Hiral Tipirneni (D) | The wealthy suburbanites here don't like Trump |
| NY-11 | R+3 | Max Rose (D) | Nicole Malliotakis (R) | Staten Island leans Republican, but Rose won in '18 |
The mere fact that every district on the list has a Republican PVI is noteworthy, although three of the races involve Democratic incumbents who theoretically shouldn't be there. (V)
Now onto the state legislatures. The National Journal has compiled a list of the ten state legislative chambers most likely to flip, starting with the most likely. In many (but not all) cases, the state legislatures draw the congressional map, but in all states, issues like voter suppression (or not) and Medicaid expansion are state-level issues. Also, if Roe v. Wade is overturned, then decisions about whether to allow or ban abortion will be up to the state legislatures, so control of them is very important. Here's the list (but check out the link above for photos of the battleground state legislature buildings; they are as impressive as the U.S. Capitol):
Minnesota Senate

: The only reason the Democrats have not already picked off the state Senate in Minnesota is that it hasn't been on the ballot since 2016. There are 10 Republicans in districts that Gov. Tim Walz (DFL-MN) carried in 2018. Republicans hold a 35-32 majority in the upper chamber, but flipping at least two of those 10 seats will be easy. If the Democrats pick up the Senate, they will have the trifecta and will be able to gerrymander the U.S. House and state legislature to their hearts' content.



Arizona House

: Arizona has 30 legislative districts, each with one state senator and two state representatives. Currently Republicans hold a 31-29 majority in the state House. All it will take is two flips to change control. Sen. Kyrsten Sinema (D-AZ) won in 2018 and Mark Kelly (D) is almost certain to join her in the Senate in January. Joe Biden will probably get Arizona's 11 electoral votes. Two state House seats in a state rapidly turning purple shouldn't be that hard. The suburbs southeast of Phoenix are likely targets.



Arizona Senate

: The state Senate is currently 17-13 for the GOP, so it will take three flips to win the Senate. Again, the Phoenix suburbs is where the Democrats will go hunting. Flipping both chambers will break the Republican trifecta but it won't change the way the maps are drawn: A nonpartisan commission draws them. However, Gov. Doug Ducey (R-AZ) is term-limited and can't run in 2022, so if the Democrats find a strong candidate for governor, they could end up with a trifecta in this once-deep-red state as early as 2022. Arizona Secretary of State Katie Hobbs (D) might be interested, but if the Democrats flip both state chambers, the majority leaders might also be interested, not to mention the five Democratic House members. In short, a bloody gubernatorial primary is likely in 2022, but if the Democrats win the trifecta in what was until 2016 a deep-red state, it will show how fast things can change.



Texas House

: Texas is like a mirage for the Democrats. Every cycle it looks within reach, only it never is. We don't believe that Joe Biden or MJ Hegar will win their respective races, although they could be closer than usual. However, the Texas House may actually be in reach this time. Democrats need to flip nine seats there to pick it up and they even know which nine seats to target: the districts Beto O'Rourke won in 2018. All are in suburban areas around big cities, especially Houston and Dallas. Needless to say, if the Democrats win the Texas House, drawing the congressional and state maps will be impossible for the legislature and the courts will end up doing it, ending the gerrymander of the second most populous state. This could easily shift half a dozen seats in the U.S. House to the Democrats. Every politician in Texas is keenly aware of this, so while the battles will be under the radar, they will be as fierce as can be.



Iowa House

: In Iowa, the legislature doesn't draw the maps but it does approve (or reject) them. Currently Republicans have a 53-47 majority, so it would take four flips for the Democrats to take over. Iowa is a relatively old state and if Joe Biden does well with seniors, his coattails could help. However, state Rep. Todd Prichard (D) could be vulnerable since he is in a rural district that Trump carried in 2016.



Michigan House

: Democrats did well in the Wolverine State in 2018. They took over the governor's mansion, five seats in the state House, and broke the GOP supermajority in the state Senate. The state House is now controlled by the Republicans 58-52, so the Democrats need to net four seats to take over. They see them in suburban Detroit, especially in Oakland County, which Gov. Gretchen Whitmer (D-MI) won by 17 points in 2018. However, some Democratic incumbents are in danger, so they will probably need more than four in suburban Detroit to capture the House.



North Carolina Senate

: North Carolina is approaching Florida in terms of its importance. Not only are its 15 electoral votes up for grabs, but there is also a hotly contested Senate seat on the ballot. When a federal court threw out the old (badly gerrymandered) state maps, both the state Senate and state House came into play. The Democrats need five pickups to take over the state Senate and the new map gave them two for free by creating a map with two strongly Democratic districts represented by a Republican state senator. They are targeting races in the suburbs of Raleigh, Winston-Salem, and the Piedmont region. Senate District 24, in Alamance County, is the bellwether here. If J.D. Wooten (D) wins that one, they can probably get two more as well.



North Carolina House

: Democrats need to flip six seats to take over the state's lower chamber. They have targeted nine seats, and they may actually need them all because some of their incumbents are in red territory. The North Carolina House currently has 65 Republicans and 55 Democrats. The population of North Carolina is 10.5 million, so with 120 seats in the House, the districts are quite small, averaging 87,500 people each. Thus the battles could turn on very local issues, like whether or not money should be allocated to put in a new pool for the local high school's swim team.



Pennsylvania House

: Republicans control the chamber 110-93, so the Democrats need 9 flips to win it. In 2018, they netted 10, so they already picked off the low-hanging fruit. One place they will go after the medium-hanging fruit is the Harrisburg suburbs, where three seats were narrowly won by Republicans in 2018. The Philadelphia suburbs hold five state House seats occupied by Republicans in districts Hillary Clinton won in 2016. They need one more and have to avoid losing any of their own seats, some of which are in blue-collar districts around Pittsburgh. Will Scranton Joe be able to help? We'll see. Also, the state Senate is possibly in play as well. While it is a steep climb, a Democratic trifecta is possible in a strong blue wave.



Georgia House

: Here is the National Journal's photo of the state legislature, just to give an example of what awaits if you click on the link above:





Snow in Georgia seems unlikely, but strange things happen sometimes. The Republicans have 104 seats in the Georgia House to the Democrats' 74 (with one independent and one vacant). With 10.6 million people in Georgia and 180 House seats, each state rep has only 59,000 constituents. With such small districts, an election could turn on whether or not to fund an upgrade to a local elementary school's playground. It would take a very big blue wave to flip the Georgia House, but lots of money is being spent in the presidential race and the two U.S. Senate races, so national politics could affect the vote downballot.

Of course in a huge wave, other chambers might be up for grabs, too, but these are the most likely to switch sides. As an aside, if you want to make a political donation, you might want to consider state legislative races, where a small amount of money can go a long way, much further than in federal races, which are already swimming in money. Check out ActBlue or WinRed, depending on your preference. (V)
Since we are academics, we just love to give pop quizzes. Who is this gentleman?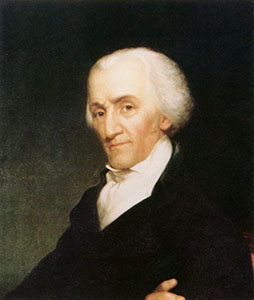 No it is not George Washington, although the likeness is there. If not for the 18th century fashions, you might also guess James Buchanan, who always tipped his head like that because he was nearsighted in one eye and farsighted in the other. But it's not him, either. It is the patron saint and namesake of gerrymandering, James Madison's veep Elbridge Thomas Gerry. Gerry signed the Declaration of Independence and attended the 1787 Constitutional Convention but voted "no" on the Constitution because it didn't include Medicare for All. OK, not really, but he had some progressive positions for his time. He voted "no" on the Constitution because he wanted the Bill of Rights in it and he didn't want slaves to count for apportionment of the House (even at 3/5) since that increased the power of the slave states. But as it turns out, all he is really remembered for is signing a bill when he was governor of Massachusetts that created a state Senate district that looked like a salamander.
Ever so slowly, the states are trying to slay the gerrymander. Sixteen states have moved away from it so far. Here's a summary:
Arizona

: In 2000, Arizonans approved a five-member commission to draw the maps. The same panel that nominates appeals court judges makes a list of 25 candidates. The Democrats pick two of them, the Republicans pick two of them and those four pick one more, who is the chair. The state constitution calls for competitive compact districts.



California

: In 2008 and 2010, California voters approved two initiatives to create a 14-member commission to draw the maps. A state auditor's panel selects 60 people as potential members, 20 Democrats, 20 Republicans, and 20 independents. The state Senate and Assembly leaders can each scratch two nominees from each category. Then three Democrats, three Republicans, and two independents are randomly chosen from the remaining candidates. Those commissioners then pick the remaining six members. Approving a map requires three Democratic votes, three Republican votes, and three independent votes. The Constitution requires districts to be compact and cities and counties to be kept intact where possible.



Colorado

: Last November, Colorado voters approved a commission with four Republicans, four Democrats, and four independents to draw the maps. Half will be chosen at random from the pool of applicants and half will be chosen by a panel of judges. Nonpartisan staff will draw the maps, which require eight votes for approval, including at least two independents. The state Supreme Court will check the maps to see if the districts are compact and competitive.



Hawaii

: The majority and minority leaders of each chamber of the state legislature pick two members and those eight pick the ninth one. If they can't agree, the state Supreme Court picks #9. Districts must not unduly favor one party.



Idaho

: A six-member commission draws the map and four members must approve it. The majority and minority leaders of each chamber of the legislature pick one member apiece. The state parties also pick one each. Districts may not be oddly shaped.



Iowa

: The nonpartisan Legislative Services Agency draws the map, which the legislature must then approve. Districts must be compact and not drawn to favor one party. Iowa is sort of rectangular, and generally each of the four districts is also sort of rectangular, covering one quadrant of the state.



Michigan

A 13-member citizens' commission draws the maps. The commission consists of four Democrats, four Republicans, and five independents randomly selected by the secretary of state. The map must be approved by at least two Democrats, two Republicans, and two independents. If that fails, each commissioner submits a plan and the commissioners vote on them using ranked-choice voting. If there is a tie, the secretary of state picks one at random. Maps may not favor or disfavor parties or candidates.



Missouri

: Last November, the voters approved a nonpartisan state demographer who will draft maps. They are required to achieve partisan fairness and competitiveness. Splitting cities and counties is to be avoided, where possible. For the state Senate map, the governor will appoint five Democrats and five Republicans to a commission to approve it. For the state House, a 16-member commission with eight from each party chosen by the governor must approve. However, the U.S. House map is still drawn by the state legislature.



Montana

: A five-member commission draws the state map. If Montana gets a second House seat in 2021, this commission also splits the state for the congressional map. Each of the four state leaders pick one member and those four pick the fifth one, who serves as chair. Districts must be compact and contiguous.



New Jersey

: The majority and minority members of the two biggest parties each name two members to a commission. The two biggest state parties also pick two each. Those 12 pick a thirteenth member. This commission draws the districts for Congress. A separate 10-member commission draws the state maps, with each party picking five members. If they can't agree, the state Supreme Court picks an 11th member. Districts must be contiguous and as compact as possible.



New York

: The majority and minority members of each chamber name two people to a 10-member commission. These eight pick two more members. The maps must be approved by the legislature. As in the other states, the districts must be contiguous and as compact as possible and encourage competitiveness.



Ohio

: Under a plan approved in 2015, the governor, auditor, and secretary of state are ex officio members of a seven-member commission. The other four are picked by the four leaders of the legislature. If two members of each party approve the maps, they last 10 years. Otherwise, they last just 4 years. The congressional map must be approved by three-fifths of the state legislature. If that fails, there is a backup plan. If that fails, there is a backup plan for the backup plan. If that fails, too, there is a backup for the backup's backup. If all else fails, the legislature gets to draw the map, but it is valid for only 4 years. This seems like a complicated way to pretend there is a nonpartisan commission, but in the end the legislature still has the real power.



Pennsylvania

: The majority and minority members of each chamber each pick one commission member and together they pick the fifth one. If they can't agree, the state Supreme Court picks the fifth member. This commission draws the state maps, but the congressional map is drawn by the legislature.



Utah

: A commission with seven members draws the state and federal maps. The majority and minority leaders each pick one member, the governor picks one member, and the parties have to agree on two independents. The legislature has to approve the final maps, though. As usual, districts must be compact and not favor either party.



Vermont

: The governor picks one commissioner from each party. The parties themselves also pick a member each. The chief justice picks the chair. Districts must recognize "patterns of geography, social interaction, trade, political ties, and common interests." Very Vermont.



Washington

: Each of the four leaders of the legislature picks one member of the commission, who cannot be an officeholder or lobbyist. The four members then pick a fifth member. The legislature can amend the maps with a two-thirds vote of each chamber but the changes cannot shift more than 2% of the state's population.
Whew! It often gets complicated, but it can be done, and these are the many ways. Of course, the real key is picking the members in an impartial way. For example, if the algorithm consists of picking people at random who are registered with a party, one party can cheat by getting many partisan members to register to vote as members of the other party and then flood the list of candidates with these members. The Ohio scheme also leaks like a sieve because if the parties don't agree, the legislature just draws the map itself. The only way to make sure it really works is to impose a requirement like "two-thirds of the members and two-thirds of each chamber of the legislature must approve the maps." That way, only in a one-party state like Idaho or California could a partisan map be approved. But if the state is completely dominated by one party, one can argue that party should draw the map, since that's the party the voters approve of. (V)
Gee, polling is picking up. The key takeaways seem to be that Joe Biden is still slightly ahead in Arizona and Florida, but they will be close. His lead in the three "Midwest" states is more solid however. And Texas might actually be a nail biter. (V)
| | | | | | |
| --- | --- | --- | --- | --- | --- |
| State | Biden | Trump | Start | End | Pollster |
| Alaska | 45% | 50% | Oct 19 | Oct 20 | PPP |
| Arizona | 48% | 46% | Oct 18 | Oct 19 | Pulse Opinion Research |
| Arizona | 49% | 46% | Oct 14 | Oct 21 | Ipsos |
| Florida | 50% | 46% | Oct 14 | Oct 20 | Ipsos |
| Florida | 50% | 46% | Oct 15 | Oct 20 | SSRS |
| Florida | 51% | 47% | Oct 17 | Oct 20 | Civiqs |
| Iowa | 46% | 43% | Oct 18 | Oct 20 | Siena Coll. |
| Iowa | 46% | 48% | Oct 19 | Oct 21 | Emerson Coll. |
| Iowa | 50% | 47% | Oct 15 | Oct 19 | Monmouth U. |
| Kansas | 42% | 54% | Oct 19 | Oct 20 | PPP |
| Michigan | 52% | 40% | Oct 17 | Oct 20 | Fox News |
| Minnesota | 53% | 43% | Oct 17 | Oct 20 | Civiqs |
| Nevada | 52% | 43% | Oct 17 | Oct 20 | Civiqs |
| Ohio | 45% | 48% | Oct 17 | Oct 20 | Fox News |
| Oklahoma | 37% | 59% | Oct 15 | Oct 20 | Sooner Poll |
| Pennsylvania | 49% | 42% | Oct 15 | Oct 19 | Suffolk U. |
| Pennsylvania | 50% | 45% | Oct 17 | Oct 20 | Fox News |
| Pennsylvania | 51% | 43% | Oct 16 | Oct 19 | Quinnipiac U. |
| Pennsylvania | 53% | 43% | Oct 15 | Oct 20 | SSRS |
| Texas | 47% | 47% | Oct 16 | Oct 19 | Quinnipiac U. |
| Wisconsin | 49% | 44% | Oct 17 | Oct 20 | Fox News |
| Wisconsin | 50% | 45% | Oct 14 | Oct 19 | Latino Decisions |
Click on a state name for a graph of its polling history.
The most interesting thing about the Senate polls is the two Minnesota polls. All previous polls have had Sen. Tina Smith (DFL-MN) way ahead of Jason Lewis. Now we have a SurveyUSA poll saying they are essentially tied. The lesson here is that 5% of the polls will be more than two standard deviations from the mean. That is normal in polling. One time in 20 you get a bad sample. There is nothing wrong with SurveyUSA. This is why we average a week's worth of polls.
Other than that, Iowa may end up being the closest Senate race. Yes, Barbara Bollier is doing amazingly well in Kansas, but after all, Kansas is Kansas and Roger Marshall is a perfectly normal Republican with no scandals. In the end, most of the close races will be decided by which party is better at turning out its base. (V)
| | | | | | | | |
| --- | --- | --- | --- | --- | --- | --- | --- |
| State | Democrat | D % | Republican | R % | Start | End | Pollster |
| Alaska | Al Gross | 41% | Dan Sullivan* | 44% | Oct 19 | Oct 20 | PPP |
| Arizona | Mark Kelly | 46% | Martha McSally* | 39% | Oct 14 | Oct 19 | RMG Research |
| Arizona | Mark Kelly | 46% | Martha McSally* | 44% | Oct 18 | Oct 19 | Pulse Opinion Research |
| Arizona | Mark Kelly | 51% | Martha McSally* | 43% | Oct 14 | Oct 21 | Ipsos |
| Iowa | Theresa Greenfield | 44% | Joni Ernst* | 45% | Oct 18 | Oct 20 | Siena Coll. |
| Iowa | Theresa Greenfield | 45% | Joni Ernst* | 46% | Oct 19 | Oct 21 | Emerson Coll. |
| Iowa | Theresa Greenfield | 49% | Joni Ernst* | 47% | Oct 15 | Oct 19 | Monmouth U. |
| Kansas | Barbara Bollier | 43% | Roger Marshall | 43% | Oct 19 | Oct 20 | PPP |
| Kentucky | Amy McGrath | 42% | Mitch McConnell* | 51% | Oct 12 | Oct 15 | Mason Dixon |
| Michigan | Gary Peters* | 49% | John James | 41% | Oct 17 | Oct 20 | Fox News |
| Minnesota | Tina Smith* | 43% | Jason Lewis | 42% | Oct 16 | Oct 20 | SurveyUSA |
| Minnesota | Tina Smith* | 54% | Jason Lewis | 43% | Oct 17 | Oct 20 | Civiqs |
| Oklahoma | Abby Broyles | 37% | Jim Inhofe* | 56% | Oct 15 | Oct 20 | Sooner Poll |
| Texas | Mary Hegar | 43% | John Cornyn* | 49% | Oct 16 | Oct 19 | Quinnipiac U. |
* Denotes incumbent
---
If you wish to contact us, please use one of these addresses. For the first two, please include your initials and city.
To download a poster about the site to hang up, please click here.
---
Email a link to a friend
or share:
---The Votemaster and Zenger