TODAY'S HEADLINES (click to jump there; use your browser's "Back" button to return here)

•
Second Impeachment Trial Could Be Different from First One
•
Durbin Is Open to Scrapping the Filibuster
•
Biden's Cabinet Does Not Look Like Cabinets Past
•
State Election Officials Are Taking Guidance from the 2020 Election
•
The Rio Grande Valley Will Be a Battleground in 2022
•
Business Sucks: The Sequel
•
You Can't Please All of the People All of the Time
•
Election Action is in Louisiana
•
Republicans Who Voted to Impeach Trump Are Already Facing Primary Opponents
•
Trump Wants to Start a New Party
A single article of impeachment will be delivered to the Senate today in the early evening. The trial will start on Feb. 8. This will give the Senate time to confirm some of the secretaries, undersecretaries, deputy secretaries, and assistant secretaries, so the administration can get started administering in the middle of four crises. It will also give Donald Trump's lawyers—assuming he can find lawyers and is willing to pay them in full in advance—time to prepare their case. One lawyer who might join the team is South Carolina attorney Butch Bowers, who has previously represented politicians embroiled in scandals. Since there is actually a chance that a number of Republicans will vote to convict this time, the Democrats have to be careful to make it a fair trial and not a kangaroo court.
Some of the ground rules for the second trial are now being hashed out. There is only one article this time, but it is 82 lines long. Basically, it asserts that Trump encouraged people to sack the Capitol and engage in sedition. He also threatened Georgia Secretary of State Brad Raffensperger with consequences if he failed to "find" another 12,000 votes for Trump. Here is the text of the article. Here is an image of it: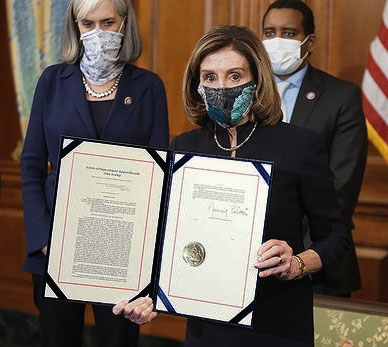 The article has apparently upset Trump enough that he didn't think of monetizing it by selling copies in the official Trump webstore. Framed copies could be sold. There could well be a market (among Democrats):
One difference with last time is that Chief Justice John Roberts will probably opt out from presiding, since the Constitution says only that the Chief will preside over trials of a president. It says nothing about ex-presidents. President of the Senate Kamala Harris is next in line, but she could choose not to preside. Though maybe not; the symbolism of a Black Asian-American woman presiding over a trial that will determine his fate would not be lost on Trump, and Harris knows it. If she declines, President Pro Tem Patrick Leahy (D-VT) will get the gavel.
The trial is likely to be shorter than the first one (which ran for 3 weeks), because the case is so clear this time. There will be nine managers instead of seven this time, and none of them took part in the first trial. One of them (Stacey Plaskett of the U.S. Virgin Islands) isn't even a representative. The impeachment managers will also be free to show videos and call witnesses if they so desire. However, since they want a speedy trial, this time they may not ask for witnesses, since the senators themselves were witnesses to the riot and all of them no doubt heard Trump egg the rioters on.
Probably the biggest difference with the first trial is that Minority Leader Mitch McConnell (R-KY) is potentially open to voting to convict. He defended Trump the first time, but encouraging people to attack and invade the Senate with firearms might be a bridge too far even for McConnell. He definitely does not want Trump to run in 2024 and is personally safe from Trump voters since he isn't up again until 2026. If he does decide to vote to convict, he could bring something like 6-12 other Republicans with him. (V)
Senate Majority Whip Dick Durbin (D-IL) told "Meet the Press" yesterday that he is open to scrapping the filibuster if Republicans prove unwilling to compromise on legislation. Durbin also said he wanted to give the Republicans a chance to show that they are willing to cooperate. He's making that up as he goes. Durbin has been in the Senate for 24 years, and knows full well that if the Republicans won't cooperate on things that help all Americans, like measures to deal with the coronavirus and the economy, they are never going to cooperate on things that don't especially help Republicans, like bills dealing with immigration, racial justice, or D.C. statehood. But he feels he has to say that he is open to cooperation so if push comes to shove, he can say: "We tried to work with them but they were not willing."
The odds of Republicans cooperating with Biden on the economy are small. Yesterday Sen. Mitt Romney (R-UT), one of the more moderate Senate Republicans, told CNN's "State of the Union": "It's important that we don't borrow trillions of dollars from the Chinese for things that may not be absolutely necessary." Romney was also miffed that the Democrats had included a $15/hr minimum wage in the economic package, saying that was "not a response to an emergency." If indeed Democrats were hoping to get many Republicans to support the relief measure, putting in Democratic hobby horses like the minimum wage was counterproductive.
Durbin also said that Mitch McConnell's demand for an agreement not to abolish the filibuster was a non-starter. He said: "If we gave him that, then the filibuster would be on everything, every day." Even if the Democrats decide to go nuclear on the filibuster, it won't be so easy, since Sen. Joe Manchin (D-WV) is against getting rid of it. Nevertheless, there are two potential ways forward. One is to bribe Manchin with lots of goodies for West Virginia (e.g., broadband Internet in rural areas, solar panel factories, tax credits for new businesses that move to the state, etc.). The other is to admit D.C. as a state, so the Democrats will have a 52-50 majority. Not easy to do with the filibuster in place, since that would itself be filibusterable, but maybe 10 Republicans can be persuaded based on a "taxation without representation" argument, or else it can be argued that admitting D.C. would increase tax revenues and so is subject reconciliation. Those are both dubious, but so is sitting on a Supreme Court nomination for nine months, so you never know. If the Democrats do pull it off then, if Manchin votes "no," the final tally will be 51-51 and President of the Senate Kamala Harris can break the tie. If the Democrats take the D.C. route, the 51-star flag is ready. Last year when the House voted for D.C. statehood, the D.C. government flew a 51-star flag outside the Wilson building, the seat of the local government. Here it is in all its 51-star glory. (V)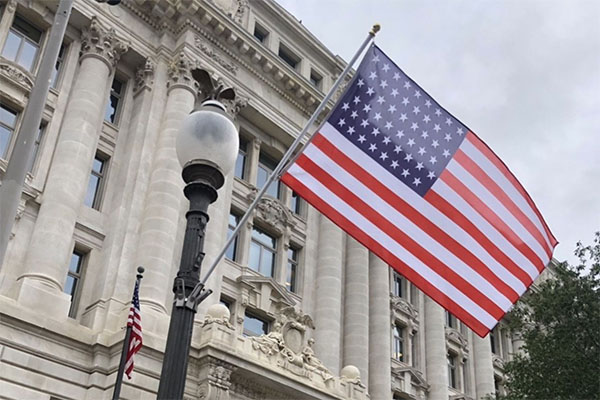 For most of the nation's history, straight white Anglo-Saxon Protestant men ran the show. Yes, there were sometimes variations, like white Irish Catholic men who served as mayor of Boston, but in national politics it was largely straight male WASPs. Or, at least, straight male WWEPs (white, western European Protestants). Indeed, until Joe Biden was elected, only a few presidents failed to fit the model (Jack Kennedy was Catholic, Barack Obama was Black, and James Buchanan was probably gay, even if few people knew that in real time). Boy, are things different now. Here are the cabinet nominees.
| | | |
| --- | --- | --- |
| Department | Nominee | Note |
| Agriculture | Tom Vilsack | Orphan-American, Catholic |
| Attorney General | Merrick Garland | Jewish |
| Commerce | Gina Raimondo | Italian Catholic woman |
| Defense | Lloyd Austin | Black |
| Education | Miguel Cardona | Latino |
| Energy | Jennifer Granholm | Canadian-American woman |
| Health and Human Services | Xavier Becerra | Latino |
| Homeland Security | Alejandro Mayorkas | Latino, Jewish |
| Housing and Urban Development | Marcia Fudge | Black woman |
| Interior | Deb Haaland | Native American woman |
| Labor | Marty Walsh | Irish Catholic |
| State | Antony Blinken | Jewish |
| Transportation | Pete Buttigieg | Gay |
| Treasury | Janet Yellen | Jewish woman |
| Veterans Affairs | Denis McDonough | Irish Catholic |
To start with, a third of the cabinet is female. Only six members are non-Hispanic white men. There are four Jews, three Catholics, and the only white male Protestant (Pete Buttigieg, an Episcopalian) was baptized Catholic as an infant and educated at Catholic schools, and is also gay. Three cabinet members are Latino. Two are Black. Throw in a Native American woman and you have a cabinet that looks a lot more like America than previous ones. Or, to put it another way: no straight, male WWEPs here.
So have the straight WASP men at least gotten the top-level appointments that are not in the line of succession? Well, not exactly. Chief of Staff Ron Klain is Jewish. U.S. Trade Representative Katherine Tai is an Asian-American woman. DNI Avril Haines is a Jewish woman. EPA administrator Michael Regan is Black. SBA administrator Isabel Guzman is a Latina. OMB director Neera Tanden is an Asian-American woman. UN Ambassador Linda Thomas-Greenfield is a Black woman. Chair of the Council of Economic Advisors Cecilia Rouse is a Black woman. Science adviser Eric Lander is Jewish. That covers the entirety of the cabinet, and cabinet-level positions. The highest-ranking WASP in the administration is probably FBI Director Chris Wray, and Biden inherited him from the previous, WASP-heavy administration. As Bob Dylan once pointed out, the times, they are a changin'. (V)
Republican officials, in particular, have noticed that the Democrats won electoral votes and Senate seats in Georgia and Arizona and are determined to make sure this doesn't happen again. Alice O'Lenick, a Republican member of the Gwinnett County, GA, board of elections last week said: "They don't have to change all of them [the rules], but they've got to change the major parts of them so that we at least have a shot at winning." That pretty much sums up the Republican position: "If we let Democrats vote, we lose. We need to stop that." O'Lenick got some blowback for saying the quiet part out loud, but she brushed it off.
Wanting to stop Democrats from voting and being able to do it are different things. In states where Republicans control the trifecta, especially Georgia, Florida, and Arizona, changing election laws is straightforward as long as the Republicans can agree on what they want. In states with a Republican legislature but a Democratic governor, including Wisconsin, Michigan, Pennsylvania, and North Carolina, changing election laws isn't going to fly unless the governor is on board, because Republicans don't have supermajorities in any of those states' legislatures. In deep-red states like Idaho and Wyoming, the Republicans can do whatever they want to, but those states aren't competitive anyway. Blue states like New York, Illinois, and California generally try to make voting easier for everyone.
The main focal point is Georgia, where Republican legislators are intensely busy trying to make voting harder. In particular, groups that are being targeted include:
Students who are in Georgia from September through May but out of state in the summer
Seniors who don't drive any more and who don't travel internationally any more
Communities of color
Voters with disabilities
Some of the effort is in strengthening photo-ID laws. Nationally, about 25 million people do not have a government-issued photo ID. For Georgia, that number is probably about 800,000. For reference, Joe Biden won the state by 12,670 votes. Sen. Raphael Warnock (D-GA) won by 93,550 votes. Sen. Jon Ossoff (D-GA) won by 55,232 votes. If a sizable chunk of those 800,000 Georgia voters can be disenfranchised, Republicans can probably win all elections for years to come.
A variety of changes have been proposed, in addition to strengthening photo-ID laws. The Republican caucus in the Georgia Senate wants to abolish no-excuse absentee voting (because over one-third of Biden's votes were by mail as opposed to only 18% of Donald Trump's). Georgia Secretary of State Brad Raffensperger (R) supports that because he says counting the absentee ballots was too difficult for local administrators. However, Lt. Gov. Geoff Duncan (R-GA), who is president of the state Senate, doesn't want to end no-excuse absentee voting. He wants to require absentee voters to send a photocopy of their government-issued photo-ID along with their ballot request. It is more likely that the latter passes because it has less impact on elderly Republican voters who do have a driver's license or passport.
In Arizona, a bill to require more automatic recounts has advanced, but not passed yet. Another bill to eliminate the state's list of permanent early voters is pending, but since over two-thirds of the voters are on it, eliminating it would be very unpopular.
In 2018, North Carolina voters approved a constitutional amendment requiring photo ID to vote. However, it was blocked by a federal court. Now an appeals court has overturned the lower court. The case is likely to go to the U.S. Supreme Court, which has generally ruled that states are free to set their own election laws. Battles over photo ID, ex-felon voting, where students can vote, and much more are going to continue in every state where Republicans have the power to do it. (V)
Democrats spent millions trying to flip suburban House districts in Texas. They lost all of them. They also came within a hair of losing one formerly solidly Democratic House seat in the Rio Grande Valley (TX-15, Vicente Gonzalez) and did much worse than usual in two others (TX-28, Henry Cuellar; TX-34, Filemon Vela). In 2016, Hillary Clinton won them all by margins of 17-22 points; Joe Biden just eked out narrow wins there.
It's going to be worse in 2022 unless Democrats do something. Specifically, Texas is going to be more important than ever in 2022. It is expected to gain three new House seats. The Republicans control the trifecta in the state, so they will hire the best gerrymanderers and mapmakers money can buy to maximize the size of their congressional delegation. Democrats currently have 221 seats in the U.S. House of Representatives, with three vacancies, one of which is due to a death in a deep red district in Louisiana. Two are due to very close elections (in Iowa and New York) where there are ongoing court battles. A majority is 218 seats. That doesn't leave the Democrats much margin for error.
The problem is that the Democrats focused a lot (too much?) on the concerns of those much-desired suburban housewives, but that doesn't cut it with lower-income Latinos who live along the border. Also, many of these voters have been in the U.S. literally for centuries. Immigration, legal or otherwise, is not an issue for them and having Democrats talk about how they want to give undocumented immigrants citizenship probably is a net negative for many of them. The Latinos around the border who have been there for generations have more in common with working-class whites than with recent immigrants without documentation.
Part of the problem is that the Latino voters along the border are culturally conservative, especially on issues like abortion and gay rights. Many are deeply religious. They don't like the Democrats' lurch to the left and certainly not things like "defund the police." Some of the more macho men like Caudillo Trump because he projects strength, which they admire in a leader. Gonzalez said that many voters told him they didn't know anything about Trump's policies, but they liked his character. Whether they will continue to vote Republican when Trump is not on the ballot is not known, but if what they want is someone who disses women, gays, the disabled, and Black people, they might not vote in a race between a generic Democrat and a generic Republican who doesn't do that.
The Trump effect could hinder the attempts at gerrymandering. Normally, gerrymanderers feed precinct-level data into geographic information systems to get the best maps they can. However, the precinct-level data for 2020 may not be indicative of 2022 with Trump not on the ballot. The big questions are: (1) how much to weight the 2020 data (vs. the 2018 data) and (2) how to deal with the brand-new districts that will be smaller than the current districts because Texas will soon have 39 districts instead of 36. The exercise is easier when districts don't change size and shape. Still, all in all, the Democrats have a problem in South Texas that they need to start dealing with, starting with building up the strength of the local Democratic Party organizations and showing up well in advance of the election. (V)
Ten days ago we had an item entitled "Business Sucks," about all the problems Donald Trump is about to have with his hotels and other businesses. Now a new problem has arisen. Many people who had been members of Trump's Mar-a-Lago club are quitting because they don't want to be associated with the disgraced president. Others are quitting because they joined only to get access to him and now that access is worthless. One member said there isn't any entertainment on the property. Another said the food is no good. Someone else said that everyone there is 100 years old. Still another said: "It's a sad place."
The future of the 126-room estate, built by cereal heiress Marjorie Merriweather Post, is in doubt. In 1993, Trump signed an agreement with the town of Palm Beach stating that he would run it as a club and not live there. If the town enforces that and makes him move, he could continue to run it as a club, but if business sucks, that might not be attractive. The alternative might be to close down the club and just live there (if the town agrees), with Melania getting 42 rooms, Barron getting 42 rooms, and the ex-president getting, say, 30 rooms, leaving a dozen rooms for visiting lawyers who are defending him in numerous civil and criminal cases. If the cases get out of hand, though, it might have to be reorganized with Melania, Barron, and Donald each getting 10 rooms and the lawyers getting 96 rooms. (V)
To paraphrase a line often attributed to Abraham Lincoln, "You can please all the people some of the time and some of the people all the time, but you cannot please all the people all the time." At Joe Biden's inauguration, Jennifer Lopez sang part of Woodie Guthrie's classic "This Land Is Your Land." She left out the fourth verse, which attacks private property, and also the sixth verse, which talks about hungry people standing in a relief line, but oh, well. Guthrie wrote the song as an antidote to "God Bless America." It is popular around campfires and many other places.
But not with everyone. Benny Wayne Sully, who is a Sicangu Lakota Native American wasn't pleased with Lopez's choice of entertainment. He said: "But does anybody believe this land was made for you and me? Or was it made for white folks?" Cherie Tebo, a Winnebago Native American, said: "People [need] to understand that it doesn't belong to us. If anything, we belong to it. And when our land is sick, we are sick." So, the song brings up the issue of whose land is it, anyway, and who does it belong to (if anyone)? Maybe it's back to "God Bless America" after all. (V)
For two months, the country was riveted on two Senate runoffs in Georgia. Next in line for attention is Louisiana. Two House seats are up in a special election on March 20. Rep.-elect Luke Letlow (R-LA) died of COVID-19 before be could be sworn in, creating a vacancy in LA-05. As is traditional in such cases, his wife Julia Letlow, an administrator at the University of Louisiana, is running for his seat. She wants to fulfill his vision and teach her children, who are 1 and 3, all about public service. If she can teach a 3-year-old about public service, she will have earned the seat. About 40% of the voters in LA-05 are registered as Democrats, but the poor rural district is R+15, so Letlow, whose name is now well known, is likely to win the primary and then beat whomever the Democrats nominate.
The other special election is in LA-02, a heavily gerrymandered D+25 district that was occupied by Cedric Richmond until he joined the Biden administration. Fifteen Democrats have filed to run. The two major contenders are state Sens. Troy Carter and Karen Peterson. Carter has been endorsed by Richmond, which is obviously very helpful. However, Peterson has been endorsed by Stacey Abrams, whose reputation has gone over the moon after the two Georgia runoffs. Both Carter and Peterson are Black.
If Peterson wins, she would be the second woman to represent the district. Lindy Boggs won a special election in 1973 after her husband, Hale Boggs, who represented the district, went missing in a plane crash in Alaska while campaigning for a colleague, Nicholas Begich. Lindy was no Lurleen Wallace, who didn't engage in politics and just did what she was told. Boggs managed to get elected on her own eight times after that and became a real power in the Democratic Party. In any event, no matter whether Carter or Peterson wins, the Democrats will certainly hold the seat. So, once the Bayou State has filled its two vacancies, the House will be plus one Republican and plus one Democrat. All we're really doing is waiting to find out which Republican and which Democrat. If you are a big fan of gerrymanders, crawfishmanders, and other kinds of manders, you will love LA-02. (V)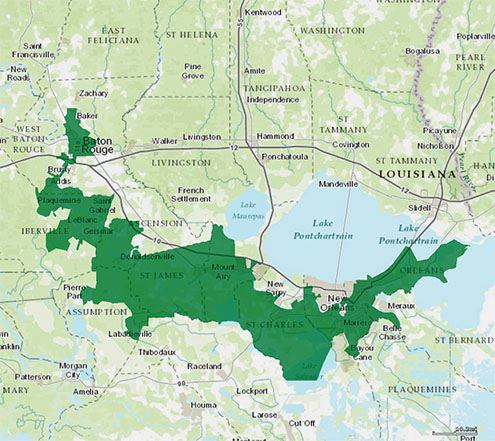 The 10 House Republicans who voted to impeach Donald Trump for the second time are already in trouble. Not everyone is pleased with their votes. Ken Spain, a former official at the NRCC, put it this way: "Trump might be gone, but Trumpism is virtually guaranteed to be a part of the 2022 elections." He's right and it has started already.
It's not even unusual. When a party loses big time, it often starts a battle that ends up eating its own. Ken Richardson, the chairman of the school board in Horry County, SC, said that he had to charge his phone three times a day to keep up with the calls and messages urging him to primary Rep. Tom Rice (R-SC), who represents a Trump-friendly district but nevertheless voted to impeach Trump. Richardson is leaning toward doing it. He's not alone. Former Myrtle Beach, SC mayor Mark McBride, who claims that Trump won the 2020 election, is circulating a petition calling on Rice to resign and is expected to mount a challenge as well.
Rep. Adam Kinzinger (R-IL) also voted to impeach Trump. For this act, he got conservative filmmaker Gene Koprowski agitated enough to file to run against him in the primary. Rep. Liz Cheney (R-WY) also has a primary opponent already.
Rep. Peter Meijer (R-MI) is another who voted for impeachment. This got his 2020 primary opponent, Tom Norton, a veteran and local businessman, to file to run again in 2022. Norton said that blaming Trump for the Capitol riots is like blaming Joe Biden for the antifa riots of last summer. Probably all ten of the representatives who voted for impeachment will get a primary challenge from the right.
Some of the representatives who voted for impeachment may face a different issue: redistricting. Illinois, California, Ohio, and Michigan are all likely to lose seats in the House, meaning there will be new maps in those states. How will Trumpists and anti-Trumpists who are responsible for drawing the maps feel about those impeachment votes?
However, many of the pro-impeachment representatives have had strong primary challengers before and have survived. Also, many big companies are washing their hands of Trump and might just help out representatives who tried to get rid of him. An anti-Trump group has also pledged $50 million for Republicans who voted to impeach/vote to convict him. Talking about primarying an incumbent is one thing, but finding a strong challenger and getting him or her well funded is something else. It's not over yet for the anti-Trump ten. (V)
We put this item last because it is just talk and won't happen, but it's always nice to keep up with the news. Over the weekend, Donald Trump entertained the idea of creating a new political party, the MAGA Party. Or maybe the Patriot Party.
Maybe he is serious, but so often what he says is forgotten 24 hours later. More likely, he wants to scare Republican senators who will soon be voting in his impeachment trial. Yes, he is famous and has about $70 million left over in his campaign account plus a few hundred million in his new slush fund, but creating a new party requires a lot more than one famous name and a bundle of money. Setting up a new party requires a lot of attention to detail and knowledge of election laws in 50 states, not to mention federal election laws. Attention to detail is not one of Trump's strengths. Nor is telling the truth. The Green Party, which is a normal political party with plenty of passionate and savvy people, managed to make it on the ballot in just a bit more than half the states in 2020.
If Trump were to try this, it would get instant and powerful pushback from almost every elected Republican. They would all realize that splitting the conservative vote two ways would result in Democrats getting elected everywhere, except in states with runoffs (mostly in the South, where Democrats usually have little chance of winning anyway). They would do absolutely everything they could to sabotage it. Democrats might actually encourage it, though. Red states might change their election laws to make it harder for new parties to get on the ballot, whereas blue states might make it easier. The Democratic legislature in California would be happy to see Democrats, Republicans, and Trumpists on the ballot (along with Greens, Libertarians, and others already there). Having Trumpists on the ballot wouldn't matter for statewide elections, but it could split the conservative vote and throw House races to the Democrats in red districts.
Nevertheless, there are a handful of elected Republicans who would welcome a new party. One is Rep. Marjorie Taylor Greene (R-GA), who recently said: "The vast majority of Republican voters, volunteers, and donors are no longer loyal to the GOP, Republican Party, and candidates just because they have an 'R' by their name. Their loyalty now lies with Donald J. Trump." That might be true in a narrow sense, but most elected Republican officials privately loathe Trump and the big donors aren't even private about it any more. In essence, Greene is saying that the Republican Party—at least the part she identifies with—has become a cult.
The divide that Greene is talking about is being felt already in Arizona. On Saturday, hundreds of mask-free Republican activists piled into a church to elect a new state chair. The current chair, Kelli Ward, made a pitch for reelection by saying that she was the only option to keep the Arizona party from going "back to the dark days before Trump." She won, but barely. On the day of the Capitol riot, she posted a poll to her Twitter account asking if the Republican Party was worth salvaging. That got 8% while "Start the MAGA Party" got 78%.
On the other hand, the new party, were it to spring into existence, would not have the support of big business. The head of the Arizona Chamber of Commerce, Glenn Hamer, said: "Whatever the worst-case scenario is, this is worse. There will be a reaction to this. I have no doubt about it." In short, Trump is bluffing again, as he often does. (V)
---
If you wish to contact us, please use one of these addresses. For the first two, please include your initials and city.
To download a poster about the site to hang up, please click here.
---
Email a link to a friend
or share:
---The Votemaster and Zenger