TODAY'S HEADLINES (click to jump there; use your browser's "Back" button to return here)

•
Biden Warns Putin Not to Invade Ukraine
•
Biden's Pick for Bank Regulator Withdraws
•
Now Meadows Is Not Cooperating with the Select Committee
•
Democrats Are Getting Tired of Waiting for Godot
•
Manchin and Sinema Are Starring in Pennsylvania
•
The Courts Are Getting Involved in Redistricting
•
Former Democratic Representative Will Run again for Staten Island Seat
•
Democrats Are Having a Problem with Latinx
•
In Defense of Lauren Boebert
•
A December to Rhymember (Parts 7-8)
As if Joe Biden didn't have enough trouble with managing Sen. Joe Manchin III (D-WV), now he has to deal with yet another guy from a place loaded with fossil fuels: Russian President Vladimir Putin. Biden and Putin spoke on a video call yesterday. Putin opened the call by saying: "Greetings, Mr. President." Probably later today, Donald Trump will call Putin to remind him that he is actually the president and Biden is an impostor.
Biden didn't wait long to warn Putin not to invade Ukraine, telling him that if he did, the U.S. and European allies would impose heavy economic penalties on Russia. Biden probably means it, but Putin is not one to fear sanctions unless they are strong enough to really disrupt the Russian economy and get the peasants to grab their pitchforks. Biden probably doesn't want to destabilize Russia and it is not clear he could even if he wanted to, but Putin has to take into consideration the worst-case scenario.
Secretary of Defense Lloyd Austin said: "This looks very familiar. It looks like a replay of 2014." He was referring to Russia's seizure of Crimea in that year. Austin also said that U.S. officials are working with allies "to ensure that we continue to convey to Russia that this is a really bad idea." Austin didn't want to discuss any military options, but no doubt the thought of supplying Ukraine with anti-tank rockets and anti-aircraft missiles has occurred to him. Putin knows that an unprovoked but "successful" invasion of Ukraine that nevertheless resulted in thousands of Russian soldiers being killed would not be popular at home. Austin knows that he knows this.
If Putin does invade Ukraine and Biden does place heavy sanctions on Russia, Russia could respond by cutting off the natural gas that some European countries depend on. This would not make them happy and they would press Biden to export more liquified natural gas to Europe. He could do that, but doing so would mean more drilling, which would anger environmentalists in the Democratic Party. Another factor that both leaders need to consider is the pipeline for yet more gas Russia wants to sell to Europe. A mini-cold war over Ukraine could kill that deal, something Biden would actually like but Putin would not like.
Maybe threatening to invade Ukraine is Putin's way of testing Biden, to see how he reacts. In the past half-decade, Putin has become used to U.S. presidents who kowtow to him and perhaps wants to see if the new kid on the block will bend under pressure. Biden, of course, knows that successfully standing up to Russia will cause his polls to shoot up. What are the Republicans going to say: "You stood up to our buddy Putin? Donald wouldn't have done that! Shame on you!" Probably not. They might think it, but they wouldn't say it.
It looks like a game of chicken, but this is not new in U.S.-Russian relations. In 1962, then-First-Secretary-of-the-Soviet-Union Nikita Khrushchev wanted to test the new U.S. president, John F. Kennedy, so Russia commenced the process of installing missiles in Cuba, only 90 miles from the U.S. This led to the Cuban Missile Crisis. Kennedy didn't blink. Khrushchev did. Khrushchev did get something out of the deal, though, to allow Khrushchev to save face: Kennedy agreed to pull some obsolete missiles out of Turkey in return for Russia removing the not-obsolete missiles from Cuba. Could Putin be angling for a deal like: "Promise not to let Ukraine join NATO and we won't invade"? Ukraine has a 1,200-mile long border with Russia and the northeast part of Ukraine is only 300 miles from Moscow. Putin most definitely does not want highly accurate American nuclear missiles just minutes' flying time from Moscow. Making sure that doesn't happen could be his real goal here. We don't know. Unlike some former world leaders, Putin, a former Lt. Colonel in the KGB, is not the kind of guy who casually spills state secrets. (V)
Joe Biden's pick for comptroller of the currency, Saule Omarova, withdrew her name from consideration yesterday. In addition to comptrolling the currency, the job also entails regulating the banks, which makes this a key position. Omarova might actually have been rejected by the Senate. It is a given that every Republican would have voted "no" and it is possible that at least one Democrat would have as well, which would have sunk her chances. Realizing this, Omarova decided not to chance it and go back to Cornell, where she is a professor of law with a specialty in financial regulation.
Omarova was born in the former Soviet Union, in what is now Kazakhstan. That's one strike against her already in the minds of some senators. Her thesis at Moscow State University was "Karl Marx's Economic Analysis and the Theory of Revolution in Das Kapital." That's strike two. Her writings indicate that she would really like to regulate the banks and does not see them as her customers, as did Donald Trump's comptroller. Three strikes and you're out.
For some senators, the third strike is really the killer. As comptroller, she would oversee the banks' risk management strategies and could make them take fewer risks, put more money aside for contingencies, lend more to low-income communities and less to oil companies, and a whole bunch of other things the banks really don't want to do. Even some Democrats, including Sen. Jon Tester (D-MT), were a bit worried about that.
Biden hasn't had time to find a new nominee yet, although a quick text message to Sen. Elizabeth Warren (D-MA), like: "Give me a new comptroller suggestion, preferably a white guy born in Texas and whose thesis was on bringing back the gold standard" might produce one who could get confirmed. (V)
You are forgiven if you can't keep track of whether former White House Chief of Staff Mark Meadows is or is not cooperating with the Select Committee investigating the Jan. 6 coup attempt. We can't keep track, either. First he was stonewalling it, then he was cooperating, and as of yesterday he is back to stonewalling. He bounces back and forth so much he could be a tennis ball. Or John Kerry giving his views on abortion.
Meadows' lawyer, George Terwilliger, explained: The Committee has no intention of respecting executive privilege. In other words, Meadows was really only willing to testify if he could avoid talking about anything that happened on Jan. 6, since Donald Trump claims that is all blocked by executive privilege. Now that it is clear that the Committee, indeed, is not going to respect that claim, Meadows has backed off. He did hand over some documents earlier, though. It is unlikely that Chairman Bennie Thompson (D-MS) is going to return the documents to Meadows. More likely is that he asks the Committee to refer Meadows to the Dept. of Justice for criminal prosecution. In any case, we will soon learn if this is a one-man strategy, or if "I'll cooperate" then "Ahhh! No, I won't!" is a broad tactic among the Trumpers to waste time. They all know the clock is ticking down to Jan. 3, 2023, when the Republicans are likely to retake the House and dissolve the 1/6 Committee. (V)
No, make that Joe, not Godot. Many Democrats are sick and tired of Sen. Joe Manchin's (D-WV) endless foot-dragging and stalling and want to make him put up or shut up. They want to bring the Build Back Better bill to a vote on the Senate floor and see if he is willing to tank the bill and the Democratic Party as well. Sen. Jeanne Shaheen (D-NH) said: "It's time to move forward." Sen. Dick Durbin (D-IL) said Manchin's had more than enough time and "there comes a point where the American people expect a result."
Majority Leader Chuck Schumer (D-NY) said he wants a vote on the bill before Christmas. But Schumer rarely puts a bill up for a vote unless he is pretty sure it will pass. Manchin knows this and is not impressed. He said: "I've heard all these time tables." If he is really prepared to sink the bill, watch the Democrats be crushed in 2022, and effectively end Joe Biden's presidency, he has that power. Senate Democrats are hugely frustrated with him (and to a lesser extent with Sen. Kyrsten Sinema, D-AZ), but putting the bill on the floor when they don't know how he will vote on it is really betting the farm. Sinema is in a different situation since there is a plausible primary opponent for her champing at the bit in Rep. Ruben Gallego (D-AZ). Democrats can threaten her with a massively funded challenge. She knows that very well and when push comes to shove, is unlikely to sink the bill and her career at the same time. There is no plausible West Virginia Democrat who could beat Manchin in a primary and then go on to win the general election.
Some Democrats are scared that Manchin is difficult enough that he could really vote no and destroy the Party. Sen. Tina Smith (DFL-MN) said: "I'd like to have a commitment among all 50 of us that we're going to stick together." Jon Tester said: "What happens if it goes down? We can walk around and say we tried? That doesn't really sell." Others are already getting used to the idea that the bill won't come to a vote this year. Sen. Tim Kaine (D-VA) noted that while passing it this year would be nice, it doesn't have to happen that way. "There's nothing magic about it," he said.
The House is currently on vacation; if the Senate changes the House bill and passes the revised bill, the House will have to vote on it again. The House is not expected to come back into session until Jan. 10, so if the Senate does not pass the House bill as is, it will be Jan. 10 at the earliest for another bill.
What Manchin either doesn't see or doesn't care about is that every day that nothing happens, more people come to the conclusion: "Democrats can't govern." By Jan. 10, that image will be so ingrained with many voters that a final bill that gets passed, with many progressives moping that it's too little too late, might not change that impression. At this point, it will be hard for Biden to run in 2024 as a dynamic and effective leader who gets stuff done. The damage is already done because the process has taken a year. FDR's first 100 days this is not. And remember, few of the provisions of the reconciliation bill will have kicked in by Nov. 2022. Even if the bill funds pre-K, for example, 40,000 new teachers will have to be located and hired, new classrooms will have to be constructed, and so on. Not many three-year-olds will actually be in school in Nov. 2022. For many voters, the sausage making is the message. (V)
West Virginia has a substantial border with Pennsylvania and folks in the southwestern corner of the Keystone State are well familiar with the Mountain State and its politicians. Is Joe Manchin campaigning up north? Well, no, not exactly. But his name is coming up quite a bit—and not always in a positive way.
The main candidates in the open-seat Pennsylvania Senate race are Lt. Gov. John Fetterman (D-PA), who cultivates the image of a Hells Angel, even though he has a masters degree in public policy from the Kennedy School of Government at Harvard, and Rep. Conor Lamb (D-PA), whose family have been moderates since his grandfather was majority leader in the Pennsylvania state Senate back in the 1970s. So where do the senators from West Virginia and Arizona come in?
Well, Fetterman is practically running against Manchin (and Sinema) instead of against Lamb. He is constantly criticizing them for subverting Joe Biden and trying to devastate the Democratic Party. Fetterman is making it abundantly clear that a vote for him is not a vote for the senator from the state's neighbor to the southwest. He is emphasizing his grassroots and progressive bonafides. He keeps saying he wants to be the 51st vote for Biden's agenda.
In contrast, Lamb likes Manchin. In fact, he even held a fundraiser with the senator recently. What he doesn't like at all is the Squad of minority progressive women in the House. He also attacks socialism.
There are two other candidates in the race, and they could play a role. State Rep. Malcolm Kenyatta (D), who is Black, and Montgomery County Commissioner Val Arkoosh (D), who is white. Both are progressives and could take votes away from Fetterman. Pennsylvania uses a first-past-the-post system, so if Lamb gets 45%, Fetterman gets 40%, Kenyatta gets 10% and Arkoosh gets 5%, Lamb gets the nomination even though progressive candidates got more votes. Ranked choice voting would solve that problem, but Pennsylvania does not use it and the Republican-controlled state legislature is not about to adopt it.
When Fetterman and Lamb are together at an event, Fetterman constantly criticizes Manchin, implying that Lamb would be another Manchin. Lamb denies that he would be Conor Manchin IV, and attacks Fetterman directly, saying he would be too left-wing to win in a swing state like Pennsylvania. Of course, the lieutenant governor did win in Pennsylvania, on the same ticket as Gov. Tom Wolf (D-PA). But Lamb is claiming Fetterman couldn't do that under his own power.
Fetterman is way ahead in fundraising. He pulled in $9.3 million in the previous quarter to Lamb's $2.6 million. The others are way behind. Fetterman also leads in the early polling.
Lamb understands that being painted as another Manchin is not a winner in Pennsylvania. In the House, he has worked with the chair of the Progressive Caucus, Rep. Pramila Jayapal (D-WA), and has come out against the filibuster. So he is trying to run as a centrist while painting Fetterman as a far-out socialist. The race will be an interesting indicator of what Democrats in swing states want. Both would be strong candidates in the general election. Fetterman would pull in more blue-collar votes than Biden did. Lamb would get the same voters who put the other senator, Bob Casey (D), in the Senate. (V)
In almost every state that has drawn its new congressional map, somebody has sued. In fact, even in states where the map isn't finished, the lawsuits have started. As a consequence, the courts are going to be deeply involved in the redistricting process, whether they want to be or not. The delay in releasing the census data has pushed the process far back, with the result that there will soon be primaries in states where no one knows where the districts are.
The plaintiffs will all be screaming: "It's a gerrymander! It's a gerrymander! Kill it!" In most cases that will be obvious by merely glancing at the lizards prancing all over the maps. The problem for the courts is that the Supreme Court has ruled that racial gerrymanders are unconstitutional but partisan gerrymanders are allowed, and it is sometimes hard to tell the two apart.
On Monday, Associate AG Vanita Gupta said that Texas' redistricting plan is, in effect, a racial gerrymander. She noted that from 2010 to 2020, Texas gained 4 million people and 95% of the growth came from minority populations. Did they get Texas' two new House seats? Of course not. Under the new map, Donald Trump would have won 25 of the 38 seats. The current House delegation is 23R, 13D, so the Republican mapmakers gave themselves both of the new seats. The courts will have to decide whether this is a racial gerrymander. And fast. Primary Day in Texas is March 1, and candidates kinda need to know where the district boundaries are in order to decide which race to enter.
Also on Monday, a North Carolina state court temporarily halted congressional and state candidates from filing, even though the primary is March 8. In the past, the courts have thrown out political maps in North Carolina and could do it again this cycle.
The ACLU has filed a lawsuit to challenge the Ohio map on the grounds that it violates Ohio law. Ohio lost a seat, and the Republicans eliminated the district of Rep. Tim Ryan (D-OH) and made the district of Rep. Marcy Kaptur (D-OH), which had been D+14, Republican leaning. Trump won the state in 2020 with 53% of the vote, but the map makes 11 of the 15 districts Republican. We'll let you do the math, especially since the staff mathematician is once again "indisposed," but that is a lot more than 53%.
In states with divided government, including Virginia, Wisconsin, and Louisiana, the courts will almost certainly draw the maps. In general, the courts don't like to do this, but if the politicians are unable to agree on a map, a judge will generally hire a special master who is thought to be expert and nonpartisan to do the job. But a lot depends on the instructions the judge gives the special master. Judges tend to be conservative in their politics and in their willingness to impose their views and don't like to say things like: "And be sure to create two new minority-majority districts." (V)
NY-11, which includes all of Staten Island and a bit of southern Brooklyn, really swings for a mostly "suburban" district. The past four representatives there have been Michael Grimm (R), Dan Donovan (R), Max Rose (D), and Nicole Malliotakis (R), the current incumbent. The current PVI is R+3. On Monday, former representative Rose said he wants his old job back and will challenge Malliotakis again, despite losing to her in 2020 by 6 points.
One potential difference with 2022 is that the Democrats control the mapmaking in New York now and are planning to gerrymander the hell out of it. They are surely aware that NY-11 is a winnable seat with the right map. However, it makes sense to keep Staten Island, which is indeed an island, together, so they will have to find enough precincts in Brooklyn that are sufficiently Democratic to tilt the new district Democratic. Actually, when you look at the map, Brooklyn isn't that close to Staten Island. The areas north and west of it are much closer: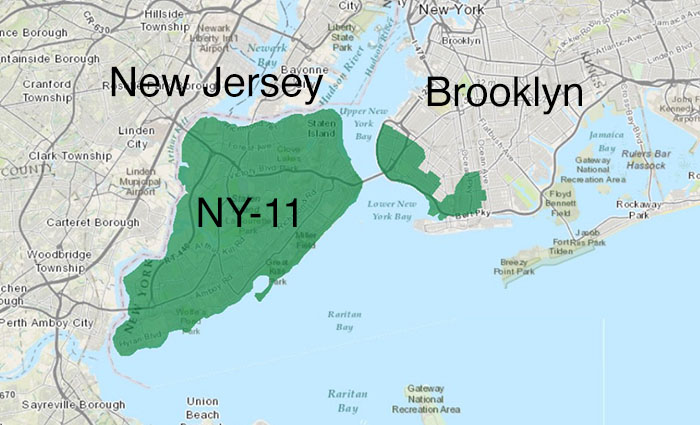 However, adding precincts from New Jersey to NY-11 might just lead to court challenges. (V)
Democrats try so hard to be woke, but it is backfiring again. A new nationwide poll from Bendixen & Amandi, a polling firm that specializes in conducting surveys of Latinos in English and Spanish, shows that only 2% of Latinos use the term "Latinx." The majority uses the term "Hispanic," with "Latino" and "Latina" coming in second. The terms "Hispanic" and "Latino" are not interchangeable, since people from Brazil are Latinos but not Hispanics. Also, "Hispanic" is a reference to Spain, which was the colonial power in South America. The term "Latinx" was invented out of thin air by progressive activists who feel that using "Latinos" as the plural form (even though that is the Spanish word) is insulting to Latinas. One big problem with that term, however, is that Spanish does not have words like "Latinx." This is another example of the item we had on Monday about Steve Bullock saying that voters don't like the Democrats telling them that what they are doing is wrong.
One of the partners in the polling firm, Fernand Amandi, said: "The numbers suggest that using 'Latinx' is a violation of the political Hippocratic Oath, which is to first do no electoral harm." He also said that 40% of the people polled actually objected to the term "Latinx." Of these, 20% said it disturbed them a lot, 11% said it concerned them, and 9% said it was a small annoyance. The right has latched onto the term as a way of mocking Democrats for trying to force their politically correct ways onto people who have no interest whatsoever in being politically correct.
One of the founders of popular Spanish-language television network Univision, Joaquin Blaya, said they built the network around the concept of using the words Latino and, especially, Hispanic, because it reflected the Spanish language and united Spanish speakers from across Latin America. He objects to "Latinx" because "It's too weird. It's dumb. It's foreign. It's not Spanish." He said it is offensive to a lot of people (V)
Bear with us here before you send a message for the Sunday mailbag. The Bulwark is a site formed in 2018 by Bill Kristol, Charlie Sykes, Mona Charen, Sarah Longwell and other Republicans who hate Donald Trump with the heat of 1,000 suns and aren't afraid to say it out loud. Every day. One of their writers is Chris Truax, a San Diego lawyer, who is CEO of certifiedvoter.com, which adds information to your social media profiles confirming that you are a real U.S. voter. To join you have to prove you are a U.S. voter (they check) and pay for your membership (because there are no ads), so there aren't any Russian trolls on it. He has a different take on the flap between Reps. Lauren Boebert (R-CO) and Ilhan Omar (DFL-MN) than most writers. He makes some interesting points.
His first sentence is: "I want to be absolutely clear: Lauren Boebert is an idiot." Later he says: "No decent person should give Lauren Boebert the time of day." So he is no fan of the gun-totin' foul-mouthed lady who represents the western third of Colorado (CO-03) in the House.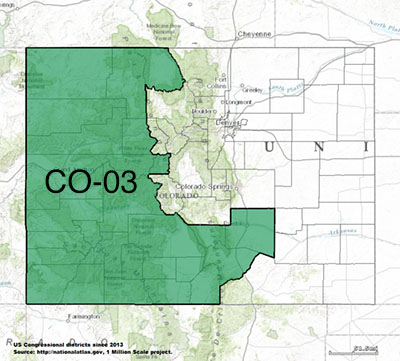 But Truax takes issue with progressives who want to punish Boebert for creating a hostile workplace for Omar. He makes the point that the House of Representatives is not your typical workplace. Most companies don't go out and hire half their staff knowing and expecting them to hate the other half. With the House, that is basically the admission requirement these days, like it or not, and we should not act surprised when it happens. He says that a member of Congress complaining about harassment is like a professional boxer complaining that somebody physically intimidated him at work.
But his main point is in defense of democracy. If the good people of Western Colorado want to be represented by a disgusting bigot, that is their right under the Constitution as long as the disgusting bigot is at least 25, a U.S. citizen, and lives in Colorado. Expelling the member or restricting their rights would deny her 700,000 constituents their right to full representation. If they don't like how she is doing her job, what she says, or anything else, then on Nov. 8, 2022, they can tell her to find a new job. Punishing a member in the middle of a term should only be done for extremely grave offenses—like taking part in an attempted coup against the United States. Telling a joke, even a bigoted one, doesn't make the cut in Truax's view.
Truax also makes the point there is a huge difference between a party disciplining a member and the majority disciplining a member of the minority. Former representative Steve King is also a bigot, and a white supremacist. He was so bad, the entire leadership of the House Republican caucus voted to strip him of his committee assignments. They didn't want him on their team or to occupy seats assigned to their caucus. Their call. That's different than the majority punishing a member of the minority for expressing views (especially in a joke) that they find repugnant. Don't agree? Please don't complain in 2023 when Speaker Kevin McCarthy (R-CA) introduces a resolution to strip Rep. Alexandria Ocasio-Cortez (D-NY) of her committee assignments because he believes she advocates murdering unborn babies, which he finds abhorrent. It's not his call. It's the call of the 700,000 or so people who live in NY-14. Suppose McCarthy goes further and wants to strip every member of the House who wants to "murder unborn babies" of their committee assignments, because advocating the murder of unborn babies is even worse than making racist jokes. You see where this is heading?
Truax goes on to make the point that the check on bigotry in a democracy is at the ballot box. If the people in western Colorado feel that a racist bigot is who they want as their representative, then punishing her is like shooting the messenger. Otherwise, the majority can simply use their power to silence anyone whose views they dislike. Do you really want a Speaker Kevin McCarthy (R-CA) or a Majority Leader Mitch McConnell (R-KY) deciding what is repugnant? If a member says or does something that is really beyond the pale, that member can be expelled from the House by a two-thirds vote of the entire House. That would trigger a special election and give the people in the district the chance to pick someone else if they want to. If they prefer putting the same person back in office, well, that is democracy in action. Truax ends by saying that Democrats should feel free to condemn or even censure Boebert, but should allow her to do the job she was elected to perform and if her constituents don't like what she is doing, they are the ones who have to pull the plug—just as Steve King's Republican constituents did a year ago.
We would add that there is also a certain political logic here. If the Democrats punish Boebert for her behavior, then she potentially becomes a victim and a martyr, and that could be something that actually rallies more voters to her banner. On the other hand, if they roll their eyes and leave her to her own devices, then maybe she's just an embarrassment to some number of her constituents. Not all of them, but maybe enough to cost her reelection. (V)
Still getting caught up. Here are the previous entries:
How about some Donald Trump-themed entries? First up, A.L. in Santa Cruz, CA:
I remember a President named Obama
Who rid us of that pesky Osama
But the backlash was strong
And we got Trump, which was wrong!
So now millennials have to live with their momma
And a second from E.W. in Skaneateles, NY:
Now Biden's approval is sagging.
His domestic agenda is lagging.
But it's supporters of Trump
Who are down in the dumps
So on Biden they all keep on ragging.
We have plenty of Ted Cruz limericks, but could still use entries targeting just about anyone else. (Z)
---
If you wish to contact us, please use one of these addresses. For the first two, please include your initials and city.
To download a poster about the site to hang up, please click here.
---
Email a link to a friend
or share:
---The Votemaster and Zenger