TODAY'S HEADLINES (click to jump there; use your browser's "Back" button to return here)

•
Rundown of the Senate Battles
•
Vulnerable Senate Democrats Are Pulling in Big Bucks
•
House Democrats Are Also in Good Financial Shape
•
AP Investigation: Almost No Voter Fraud in Arizona
•
Poll: Voters Like Democratic Voting Plans, Not Republican Plans
•
Republicans Are Betting on Critical Race Theory to Win Back the Suburbs
•
Republicans Won't Accept More IRS Enforcement as an Infrastructure Revenue Source
•
Forty-one Candidates Qualify for the California Recall Election
•
Jesus and John Wayne
By popular request, we are switching into Senate mode today. Apparently, many of our loyal readers know what the 2020 presidential candidates look like and don't need to be reminded every day. The states will be colored in based on the polls, as usual, but since there aren't any polls yet, we are using the most recent Senate election in each state for the colors for the time being. Mousing over a state works in the usual way.

In addition to the new map, the items in the menu to the left of the map have also been updated where possible. There is more to the site than the front page. Take a look. The first menu item discusses each of the 34 Senate races. The Data galore page has a variety of interesting items and data, for example, an Excel spreadsheet giving the results of each presidential race since 1900 by state. If you want to find out which state has voted for the Democrat (or the Republican) the most times since 1900, you can find it there. If you have some interesting data to include on this page, please let us know. Also, some of the data sets, graphs, etc. stop before 2020. If you would like to help bring them up to 2020, also let us know.
The country is extremely polarized and this extends to the Senate. In 22 states, both senators are Republicans and Donald Trump won the state in 2020. In 22 states, both senators are Democrats (we include Vermont here), and Joe Biden won the state in 2020. It is worth noting that Arizona and Georgia aren't really blue states despite having two Democratic senators and having been won by Biden. Only six states are split: Maine, Montana, Ohio, Pennsylvania, West Virginia, and Wisconsin. Here is a list of all the current senators:
| | | | |
| --- | --- | --- | --- |
| State | Senior senator | Junior senator | 2020 Election winner |
| Alabama | Richard Shelby (R) | Tommy Tuberville (R) | Donald Trump |
| Alaska | Lisa Murkowski (R) | Dan Sullivan (R) | Donald Trump |
| Arizona | Kyrsten Sinema (D) | Mark Kelly (D) | Joe Biden |
| Arkansas | John Boozman (R) | Tom Cotton (R) | Donald Trump |
| California | Dianne Feinstein (D) | Alex Padilla (D) | Joe Biden |
| Colorado | Michael Bennet (D) | John Hickenlooper (D) | Joe Biden |
| Connecticut | Richard Blumenthal (D) | Chris Murphy (D) | Joe Biden |
| Delaware | Tom Carper (D) | Chris Coons (D) | Joe Biden |
| Florida | Marco Rubio (R) | Rick Scott (R) | Donald Trump |
| Georgia | Jon Ossoff (D) | Raphael Warnock (D) | Joe Biden |
| Hawaii | Brian Schatz (D) | Mazie Hirono (D) | Joe Biden |
| Idaho | Mike Crapo (R) | Jim Risch (R) | Donald Trump |
| Illinois | Dick Durbin (D) | Tammy Duckworth (D) | Joe Biden |
| Indiana | Todd Young (R) | Mike Braun (R) | Donald Trump |
| Iowa | Chuck Grassley (R) | Joni Ernst (R) | Donald Trump |
| Kansas | Jerry Moran (R) | Roger Marshall (R) | Donald Trump |
| Kentucky | Mitch McConnell (R) | Rand Paul (R) | Donald Trump |
| Louisiana | Bill Cassidy (R) | John Neely Kennedy (R) | Donald Trump |
| Maine | Susan Collins (R) | Angus King (I) | Joe Biden |
| Maryland | Ben Cardin (D) | Chris Van Hollen (D) | Joe Biden |
| Massachusetts | Elizabeth Warren (D) | Ed Markey (D) | Joe Biden |
| Michigan | Debbie Stabenow (D) | Gary Peters (D) | Joe Biden |
| Minnesota | Amy Klobuchar (D) | Tina Smith (D) | Joe Biden |
| Mississippi | Roger Wicker (R) | Cindy Hyde-Smith (R) | Donald Trump |
| Missouri | Roy Blunt (R) | Josh Hawley (R) | Donald Trump |
| Montana | Jon Tester (D) | Steve Daines (R) | Donald Trump |
| Nebraska | Deb Fischer (R) | Ben Sasse (R) | Donald Trump |
| Nevada | Catherine Cortez Masto (D) | Jacky Rosen (D) | Joe Biden |
| New Hampshire | Jeanne Shaheen (D) | Maggie Hassan (D) | Joe Biden |
| New Jersey | Bob Menendez (D) | Cory Booker (D) | Joe Biden |
| New Mexico | Martin Heinrich (D) | Ben Ray Luján (D) | Joe Biden |
| New York | Chuck Schumer (D) | Kirsten Gillibrand (D) | Joe Biden |
| North Carolina | Richard Burr (R) | Thom Tillis (R) | Donald Trump |
| North Dakota | John Hoeven (R) | Kevin Cramer (R) | Donald Trump |
| Ohio | Sherrod Brown (D) | Rob Portman (R) | Donald Trump |
| Oklahoma | Jim Inhofe (R) | James Lankford (R) | Donald Trump |
| Oregon | Ron Wyden (D) | Jeff Merkley (D) | Joe Biden |
| Pennsylvania | Bob Casey (D) | Pat Toomey (R) | Joe Biden |
| Rhode Island | Jack Reed (D) | Sheldon Whitehouse (D) | Joe Biden |
| South Carolina | Lindsey Graham (R) | Tim Scott (R) | Donald Trump |
| South Dakota | John Thune (R) | Mike Rounds (R) | Donald Trump |
| Tennessee | Marsha Blackburn (R) | Bill Hagerty (R) | Donald Trump |
| Texas | John Cornyn (R) | Ted Cruz (R) | Donald Trump |
| Utah | Mike Lee (R) | Mitt Romney (R) | Donald Trump |
| Vermont | Patrick Leahy (D) | Bernie Sanders (I) | Joe Biden |
| Virginia | Mark Warner (D) | Tim Kaine (D) | Joe Biden |
| Washington | Patty Murray (D) | Maria Cantwell (D) | Joe Biden |
| West Virginia | Joe Manchin (D) | Shelley Moore Capito (R) | Donald Trump |
| Wisconsin | Ron Johnson (R) | Tammy Baldwin (D) | Joe Biden |
| Wyoming | John Barrasso (R) | Cynthia Lummis (R) | Donald Trump |
Veteran election guru Charlie Cook sees nine Senate races as very competitive. All the others are solid. We agree with Cook although we think Missouri might become competitive, depending on who wins the Republican primary. Here are capsule summaries of each of them (including Missouri) taken from our Senate races page (the second item in the menu; the one next to the map). We will update that page as new developments occur.
Democratic-held seats
Arizona
Incumbent
Challenger
Notes Polls

Mark
Kelly
(D)

Candidate
unknown
(R)
In 2020, Mark Kelly won the right to finish out the term of the late John McCain. In 2022, he has to run for a full term on his own, and probably with a less favorable electorate. Still, he is wildly popular among Democrats (87%-6% approval) and did win the general election in 2020. He's a Navy combat veteran (not to mention an astronaut) in a state full of veterans. The Republicans' best candidate, by far, is term-limited Gov. Doug Ducey. However, Ducey has said he won't run for the Senate because he knows Donald Trump will campaign against him. So the Republicans' first problem is finding a candidate. There are plenty of Republicans in statewide office, so there could be a nasty primary. Kelly is very unlikely to have a serious primary. On the one hand, beating an incumbent senator is always tough. On the other hand, historically, the president's party loses seats in the midterms. It could go either way, but unless the Republicans field a strong candidate, Kelly is probably the favorite.
Georgia
Incumbent
Challenger
Notes Polls

Raphael
Warnock
(D)

Candidate
unknown
(R)
Raphael Warnock won a very close special election in 2020 to finish out the term to which Johnny Isakson was elected in 2016. After Isakson resigned from the Senate due to poor health, Gov. Brian Kemp (R) appointed Kelly Loeffler (R) to the seat. She is married to the guy who runs the company that owns the New York Stock Exchange and acted the part, greedy and aloof to the core. Stacey Abrams managed to register hundreds of thousands of new voters, many of them Black, and Warnock narrowly beat Loeffler. The 2022 race will be a real barnburner as Warnock tries for a full term. Donald Trump wants former football player Herschel Walker (R) to run, but he hasn't announced yet. The race is frozen until he makes an announcement. If Walker (who is Black) runs, some Black voters may prefer the famous Black football player to the famous Black preacher/senator. On the other hand, in a Black-Black race, some white voters might say "A plague on both their houses" and sit the election out. If that does happen, well, which party will be hurt by that, do you think?
Nevada
Incumbent
Challenger
Notes Polls

Catherine
Cortez Masto
(D)

Candidate
unknown
(R)
Nevada is a swing state with a bluish tint. It will be a competitive race, no matter whom the Republicans nominate against Catherine Cortez Masto, who is going for her second term. The most likely Republican is Adam Laxalt, the former Nevada attorney general and grandson of former governor Paul Laxalt. He would be a strong candidate, making this one of the most competitive Senate races in the country. Masto is a Latina (in a state full of Latinos) but she doesn't speak Spanish, which many Latinos hold against her. This is a race to watch closely.
New Hampshire
Incumbent
Challenger
Notes Polls

Maggie
Hassan
(D)

Candidate
unknown
(R)
Former governor and current senator Maggie Hassan is up for a second term in this swingy state. If Gov. Chris Sununu (R) runs for the GOP nomination, he will get it easily and the general election will be extremely competitive. Until Sununu makes an announcement, then, as in several other states, the Republican field is frozen. If Sununu decides to stay on as governor, Hassan will probably get another term.
Republican-held seats
Florida
Incumbent
Challenger
Notes Polls

Marco
Rubio
(R)

Candidate
unknown
(D)
This race could be interesting. Marco Rubio is not much of a campaigner and not a terribly good senator, but he is a Cuban-American from Miami, which counts for a lot. Rep. Val Demings (D) is the favorite for the Democratic nomination, although she has to knock off kooky leftist Alan Grayson (D) first in the primary. As she is the former police chief of Orlando, law-and-order voters may be attracted to Demings. It is a race to watch; Rubio's built-in advantages make him the favorite at this point, but an upset is not out of the question.
Missouri
Challenger
Challenger
Notes Polls

Candidate
unknown
(R)

Candidate
unknown
(D)
For reasons best known to himself, Roy Blunt decided to retire. He could have won another two or three terms easily, but he apparently doesn't like the Senate any more. This has created a complicated situation for the open seat. Disgraced former governor Eric Greitens (R), who blackmailed a woman with nude photos he took against her will, is trying to make a comeback. If he gets the Republican nomination, the Democrats could win this one. The state's AG, Eric Schmitt (R), is running as are Rep. Vicky Hartzler (R) and Mark McCloskey (R), the gun-wielding lawyer who confronted peaceful protesters. The Democrats don't have a candidate, but if Greitens is the GOP nominee, they could nominate Generic Candidate, make the entire campaign about Greitens' lack of morals, and maybe still win. So the Republicans will have to settle on a candidate (probably Schmitt) and do everything to block Greitens. If that works, they will hold the seat; otherwise, it could be a toss-up. The primary is Aug. 2, 2022.
Ohio
Challenger
Challenger
Notes Polls

Candidate
unknown
(R)

Candidate
unknown
(D)
Rob Portman doesn't like what has happened to the Republican Party and is retiring. The race to succeed him could be interesting. The former swing state has become quite Republican in presidential races, but the other senator, Sherrod Brown (D), is a liberal Democrat. The Republican side will be wild. Already in are three "major" candidates and four minor ones. Donald Trump almost endorsed former Ohio Republican party chair Jane Timken, but aides talked him out of it. He could yet endorse her. Also running is Hillbilly Elegy author J.D. Vance (R), who presumably has a lock on the hillbilly vote. Also the billionaire vote, as billionaires Peter Thiel and Robert Mercer are funding him. Interesting team. Hillbillyonaires? Then there is Josh Mandel (R), who won two terms as state treasurer. The only Democrat in the race so far is Rep. Tim Ryan. The primary is May 3, 2022.
North Carolina
Challenger
Challenger
Notes Polls

Candidate
unknown
(R)

Candidate
unknown
(D)
This is going to be the most expensive race in the country, maybe the most expensive Senate race in all of U.S. history. Richard Burr is retiring due to an insider trading scandal. Former governor Pat "Bathroom bill" McCrory (R) is trying to make a comeback, just like Greitens in Missouri, only McCrory's problem is the anti-trans bathroom bill he signed, not his personal behavior. If he is nominated, the Democrats have a decent shot at picking up the seat in a state that is purple but trending blue. Donald Trump won it by only 1.5 points. Trump has endorsed Rep. Ted Budd (R), who is not terribly well known. Neither is former representative Mark Walker (R). Other candidates could join as well. On the Democratic side, former Chief Justice of the North Carolina Supreme Court Cheri Beasley (D), former state senator Erica Smith (D), and current state senator Jeff Jackson (D) are all running, among others. With an open seat and so many candidates in a state that is almost 50-50, expect tons of money to pour in from out of state. It will be quite a show for political junkies. The primary is March 8, 2022.
Pennsylvania
Challenger
Challenger
Notes Polls

Candidate
unknown
(R)

Candidate
unknown
(D)
This is by far the Democrats' best pickup chance. Pat Toomey is retiring so there is an open seat in a blue state and the blue team has a deep bench here. To start with, Lt. Gov. John Fetterman (D), a giant with a Harvard degree and a Hells Angels persona, is in. He is also very progressive on many issues, though not on coal, since Pennsylvania is a coal-mining state. Seven other lesser known candidates are also in, but Fetterman is likely to brush them aside. The biggest potential threat to the Lieutenant Governor may be Rep. Conor Lamb (D), who is thinking about hopping in. Lamb is a centrist. On the Republican side, nobody you have ever heard of is in. Also nobody Pennsylvanians have heard of is in. The primary is May 17, 2022.
Wisconsin
Incumbent
Challenger
Notes Polls

Ron
Johnson
(R)

Candidate
unknown
(D)
The $64,000 question here is: Will he or won't he? That is: Will Ron Johnson run for a third term? Before being elected to the Senate, Johnson said he would retire after two terms. The second term is almost over so now he has to either keep his promise or break it. Wisconsin is a swing state and Johnson isn't that popular. Democrats might do better in an open-seat race, but given Johnson's embrace of Donald Trump, they might actually do better with him in the race, where they can accuse him of breaking his promise to the voters and being Trumpier than hell as well. But until Johnson makes a decision, this race is in suspended animation.
In all of the above races and on the Senate races' page, clicking on a picture takes you to the candidate's website. Clicking on the name goes to the candidate's Wikipedia page. Clicking on the (D) or (R) goes to the state party. (V)
Money helps in politics but it isn't everything. Just ask not-senator Sara Gideon (D), who greatly outraised Sen. Susan Collins (R-ME) and lost badly to her anyway. Still, all things considered, it is better to be flush than to be broke. In that respect, the four Democratic senators who are most at risk in 2022 are in good shape. They are raising boatloads of money.
Raphael Warnock is the champ here. In Q2 he raised $7 million. Though when looking at fundraising figures, what is even more important than what you raised is what you have left over. Fundraising requires advertising and that costs money. Raising $7 million is great, but not if it cost $10 million to raise it. In Warnock's case, he is doing fine, with $10.5 million in the bank now and 16 months to go. If Herschel Walker enters the race, Warnock will have to spend heavily to counteract his tremendous name recognition among Georgia football fans. So far, Walker is noncommittal about running. It should be noted that if Walker jumps in, he will first have to win the primary against a couple of other Republican heavyweights, which will cost serious money.
Mark Kelly is also doing fine. He spent $725,000 on digital ads and raised $6 million. He has $7.6 million in the bank. The nice thing about digital ads is that small donors who send in $20 or $50 generally leave their e-mail address behind, so they can be hit up later again and again at a very low cost.
Maggie Hassan raised $3.3 million and has $7 million on hand. If Chris Sununu jumps in, she will need all of that and more since the southern part of the state is located in the expensive Boston media market.
Finally, Catherine Cortez Masto raised $2.8 million and also has $7 million in the bank. If Adam Laxalt jumps in, he will clear the primary field and the general election campaign will begin the day he announces. Of course, if Laxalt takes his time deciding, Cortez Masto will have a big head start in fundraising.
So much for the states where Democrats are playing defense. There are also five states where Republicans are playing defense, as shown above. As we note, North Carolina will be the most expensive Senate race in 2022. Ted Budd, Donald Trump's candidate, pulled in $950,000, of which $250,000 is money he loaned his campaign, so it's $700,000 from other folks. In contrast, Pat "Bathroom bill" McCrory raised nearly $1.3 million, almost twice as much as Budd. Maybe Trump will come to Budd's rescue and do fundraisers for him, but this is not an auspicious start—raising half of what a guy North Carolina voters kicked out of office pulled in. However, Budd has $1.7 million in his House account he can use (vs. $950,000 McCrory has stashed away). Mark Walker raised only $200,000. He doesn't have Trump's endorsement, McCrory's name recognition, or much money. He may not last long. On the Democratic side, both Cheri Beasley and Jeff Jackson are about even in money on hand. Beasley has $835,000 and Jackson has $865,000. Erica Smith is in the mid five figures. She may not last at that rate.
In Pennsylvania, John Fetterman raised $2.5 million, Val Arkoosh (D) raised $1 million, state Rep. Malcolm Kenyatta (D) raised half a million and Conor Lamb raised just under $1 million. As we note, Lamb hasn't announced yet, though he can use that money for a Senate campaign or to run for reelection to the House.
Missouri is wide open. Eric Schmitt, the establishment favorite, pulled in $1.3 million. Vicky Hartzler netted $895,000. Mark McCloskey got $590,000. Disgraced former governor Eric Greitens came in last at $450,000. But more Republicans are likely to enter the race soon. In terms of cash on hand, it is Hartzler with $1.4 million, Schmitt with $1.1 million, McCloskey with $167,000, and Greitens with $135,000. The Democrats' only hope is that Greitens wins the primary. Also, they have to find a candidate.
Now on to Ohio. Bernie Moreno (R) raised $2.2 million. Jane Timken raised $1 million as did Josh Mandel. Mandel has $5 million in the bank. Oh, and Mike Gibbons (R) loaned Mandel's campaign $5.7 million. J.D. Vance hasn't been in long enough to file a report, though his hillbillyonaire backers have lavished millions on Vance-affiliated super PACs, so even when he does file with the FEC, it won't tell the whole story. This looks like it could rival North Carolina in terms of cost.
As an aside, Sen. Tim Scott (R-SC), who is not facing a competitive primary and who will cruise to reelection easily next year even if he doesn't bother to campaign, raised an astounding $9.6 million in Q2. He has $14.5 million in the bank. If he wants to, he can play Santa Claus to other Republican candidates, even though Santa Claus is normally associated with places in the north rather than in the south. (V)
Money may be more important in House races than Senate races, as senators are generally much better known than representatives, so members of the upper chamber don't have to advertise just to get their name known. On the average, House Democrats being targeted by Republicans reported having about $2 million in the bank. House Republicans being targeted by Democrats average about $750,000. We had a list of races that were very close in 2020 last week.
Of course, Senate races have one aspect that House races don't: All candidates know where the state boundaries will be in 2022. Outside of the half dozen states with a single at-large representative, at this point no one knows where the district boundaries will be. This even applies to states that will neither gain nor lose seats because some districts may have gained population and others lost population, requiring adjustments to the boundaries. As a consequence of not knowing what the districts look like, candidates have been slow to file and raise money. After all, people don't want to donate to a candidate, only to find that they are no longer going to be represented by that person.
There are seven incumbent Democrats in districts Donald Trump carried. Six of them are seeking reelection. Their average cash on hand was $1.5 million as of June 30. But some have much more. Rep. Elissa Slotkin (D-MI) has $3.1 million in cash. However, Michigan is losing a seat, so her district may end up looking very different when it is drawn. Nine Republican incumbents are in districts Joe Biden won. Their average bank balance is $1.2 million.
And, once again, money isn't everything. Democrats raised and spent much more money than Republicans in 2020 and still lost 13 seats.
Small-dollar donations (under $200) are fueling both parties' fundraising. The pitches aimed at small donors often use hot-button issues. Democrats are talking about abolishing the filibuster. Republicans are talking about inflation, critical race theory (see below), and government-imposed COVID-19 restrictions. (V)
The Associated Press has conducted its own investigation of the 2020 presidential election race in Arizona. And unlike Cyber Ninjas, which the state Senate hired to run a sham investigation, the AP is a serious organization with tons of experience reporting on elections. What the AP discovered is that of the 3 million ballots cast, only 182, less than 0.01%, were problematical enough to be flagged. No person voted twice and no one was convicted of election fraud. Biden won the state by 10,400 votes, so even if all 182 votes were fraudulent Biden votes, disallowing them would simply reduce Biden's margin to about 10,200. And some of those troublesome votes were surely Trump votes.
The AP and the Cyber Ninjas aren't the only ones still looking at the Arizona votes. The Arizona AG's office created an Election Integrity Unit in 2019 to ferret out fraud. It currently has 21 ongoing investigations. So far, one woman has been charged with voting for her dead mother.
Maricopa County (Phoenix) also has a fraud unit. Out of 2.1 million ballots cast in the county, it found one dubious case: Someone who may have voted in another state. Of course, if that person was actually an eligible resident of Maricopa County, the fraud may have been what occurred in the other state.
Pima County (Tucson) has the practice of referring all cases with even a hint of fraud to prosecutors. They found 176 cases of attempts to vote twice and forwarded 151 of them to prosecutors. The other 25 were from voters over 70 and were often a result of the voter forgetting that he or she had already voted, rather than voting with criminal intent. None of the 176 duplicated ballots were counted. In 2016, Pima County prosecutors didn't file any cases for voter fraud and in 2018 they filed one case. However, this year there might be more because so many people voted by mail. Of the 151 cases, some may be people who voted by mail, weren't sure they did it, or were afraid the USPS wouldn't deliver their ballot on time, and tried to vote again in person. They were all caught.
Yuma County (Yuma) and Cochise County (Sierra Vista) found one and two possible cases of attempted double voting, respectively. These votes were not counted, either.
In all of these investigations, we are talking about maximum 100-200 ballots that might have been cast incorrectly, out of millions. The system worked and they were detected and not counted. There is not a shred of evidence that anywhere near 1,000, let alone 10,000 ballots were voted incorrectly. If Cyber Ninjas ultimately reports problems with thousands of ballots, they will be making that up out of thin air. (V)
Republican-controlled state legislatures all over the country are falling over themselves trying to enact as many restrictive voting laws as they can, and as fast as they can. Democrats would like to pass H.R. 1, which would negate most of these, but they first have to convince a couple of recalcitrant senators to reform the filibuster. But how do the voters feel about these opposing positions?
YouGov ran a poll to find out. In short, all of the Democrats' plans to safeguard voting had more support than opposition and all of the Republicans' plans to make it harder had more opposition than support. For example, the Democrats' plan to allow 15 days of early voting has 49% in favor and 21% opposed. Also, 45% said that people not being allowed to vote was a bigger problem than stopping people voting who aren't allowed to vote (39%). None of the restrictions in the now-infamous Texas bill attracts more than 36% support. The bill includes items like making absentee voting harder, cutting back on dropboxes, shortening early voting, and giving more power to partisan "poll watchers."
All of the provisions proposed by Sen. Joe Manchin (D-WV) are above water. Specifically:
Making Election Day a holiday (63% for, 19% against)
Banning gerrymandering (50% for, 24% against)
Requiring at least 15 consecutive days of early voting (49% for, 21% against)
Requiring ID, but accepting a utility bill as valid ID (61% for, 20% against)
Blocking new voting laws until the DoJ signs off on them (44% for, 27% against)
When asked if they would approve Manchin's bill, which includes all of these, 40% said they would favor the bill and 17% would oppose it. The others were unsure. In short, the public is on the Democrats' side, but all that really matters is whose side Joe Manchin is on. Will he ultimately vote to curtail the filibuster enough to pass the bill he wrote himself? (V)
Republicans aren't planning to run on the economy in 2022, as they sense it may be in good shape. Instead, they are going to push critical race theory hard, especially in the suburbs. Corry Bliss, a Republican strategist who works on congressional races, said: "We are at the beginning of this issue, not the end." The pitch is going to be: "Do you want your kids to learn that America is inherently a racist country?" That's not exactly what CRT is all about, but there is a kernel of truth there, since CRT is about examining the structural and legal ways racism has been an ongoing part of America, even since before it was America. The Republicans' hope is that suburbanites will feel uncomfortable hearing that their children will be learning about the Jim Crow laws and the like that have been around for centuries. If that doesn't work, they will change the pitch to "Do you want your children to learn that all white people are guilty of genocide against Black people?" Well, maybe not at first, but that is where it might end up if nothing else sticks.
On the other hand, it is not clear the pitch will work with college-educated voters. Many of them already know about Jim Crow, the treatment of Native Americans, the internment of Japanese Americans in World War II, and some of the rest. They might well decide their kids should know about these things, too. The Republican pitch is based on the hope that people in the suburbs are fundamentally pretty racist, like much of their own base. That might not be true.
But when CRT is all you have, it is what you use. Fox News mentioned CRT 901 times in June. Seven Republican-led legislatures have passed laws banning the teaching of it. Over 130 school board officials are being targeted over CRT in the Nov. 2021 elections.
So far, most people don't even know what CRT really is, so both sides have a chance to define it. A recent Morning Consult poll showed that 52% of voters don't know what it is. Our guess is that a substantial fraction of the 48% who claim to know what it is are making it up to avoid having the pollster think they are stupid. This gives the Democrats the chance to define it themselves as "fairness to all races." What it actually is, is completely irrelevant. The only thing that matters is how the public comes to define it. It has become another hot-button issue in the raging culture wars, as this photo of the Fort Worth Board of Education meeting last week shows: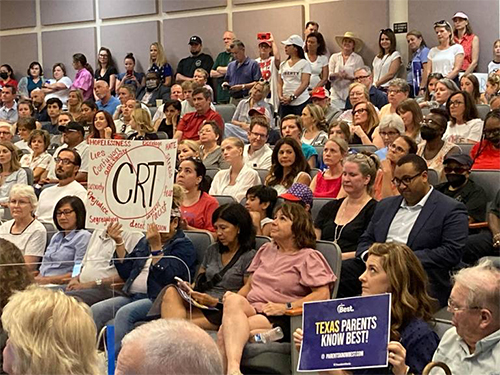 In case you would like a refresher, our take on CRT—both what it is, and how it functions as a political wedge issue—can be found here. (V)
Let's get this straight. A very small number of Republicans have said they are willing to sign on to a bipartisan infrastructure bill provided it is fully paid for. But the way to pay for it cannot be:
Increasing the corporate tax rate
Imposing a minimum corporate tax on multinational corporations
Repealing any part of the 2017 tax-cut bill
Raising the tax rate on millionaires
Raising the capital gains tax
Limiting the stepped-up basis for inherited property (which would result in more estate tax being collected)
These are all off the table for Republicans. Now they have thrown up a new hurdle: They won't support increased funding for the IRS to better enforce existing laws. Sen. Rob Portman (R-OH) announced that yesterday. Why are Republicans against enforcing laws that are already on the books? Maybe some of their wealthy donors don't like the idea of the IRS having the resources to actually audit them carefully, because they know that might not work out so well for them.
So what is left? One proposal Sen. Shelley Moore Capito (R-WV) made is taxing electric cars. That is (1) never going to fly with Democrats and (2) would generate maybe five or six orders of magnitude too little revenue.
Another Republican proposal is user fees, like tolls on roads. This hits the poor and working-class people much harder than it hits rich people, and also doesn't generate much revenue. Yet another proposal Republicans have made is to take money already appropriated for COVID-19 relief and snatch it away to pay for infrastructure. This would retroactively unpass legislation Republicans actively opposed in the first place. So with increased IRS enforcement now also off the table, where is the money for the bipartisan bill going to come from? Paging the infrastructure fairy. Perhaps the U.S. can put its crumbling roads under its pillow tonight, and tomorrow there will be a crisp, new $1 trillion bill to cover the costs of the bipartisan package: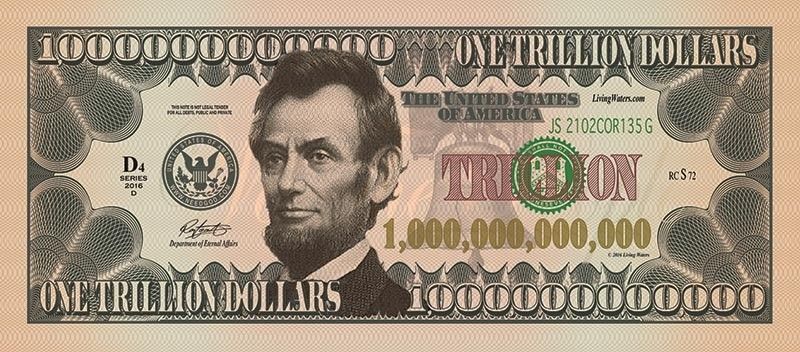 Seems plausible, right? (V)
It is a good thing the California recall election on Sept. 14 doesn't use ranked-choice voting, because 41 candidates will be on the ballot. Ranking #1 might be easy if you want Gov. Gavin Newsom (D-CA) recalled, but deciding who should be 38th or even 27th could be tough (although New York's recently implemented system only requires someone to pick a maximum of five candidates, of course).
The number of candidates this time around is far fewer than the 135 candidates who qualified in the 2003 election in which Gray Davis was recalled. Another difference is that in 2003, Lt. Gov. Cruz Bustamante (D) filed as a backup, so Democrats could vote for him in the event that Davis was recalled. It didn't work. Davis was recalled but Arnold Schwarzenegger won. This time, no high-profile Democrat has filed so Democrats are betting the farm that Newsom won't be recalled.
Of the 41 candidates, 21 are Republicans, including former San Diego Mayor Kevin Faulconer, former representative Doug Ose, Assemblyman Kevin Kiley and Caitlyn Jenner. Right-wing radio host Larry Elder didn't make it and is objecting. He claims that justice will be done and that his name will eventually be added to the ballot, but don't count on it, because Elder makes a lot of claims that are not true. Unlike in 2003, porn star Mary Carey pulled out at the last possible moment. She decided that there are other ways to please people besides being governor.
Democrats are making a big pitch to make sure people vote, saying if they don't some Trumpian will become the new governor. Their whole campaign is about motivating people to get to the polls. Republicans are debating about whether to allow the state party to endorse a candidate. One proposal the state party will consider is requiring a candidate to get 200 delegate signatures to be considered for an endorsement.
Polls show Newsom beating back the recall. He can use (and has used) the power of incumbency. For example, California is running a budget surplus, so he got the legislature to send Californians $600 stimulus checks. He also went to Hollywood to draw the winner of a $1.5 million lottery for vaccinated Californians. No other candidate, Democrat or Republican, can match that sort of PR. (V)
Does that sound like a movie; maybe a Western version of "The Passion of the Christ"? Not yet, but it is a New York Times bestselling book so can the movie be far behind? This is what the book looks like: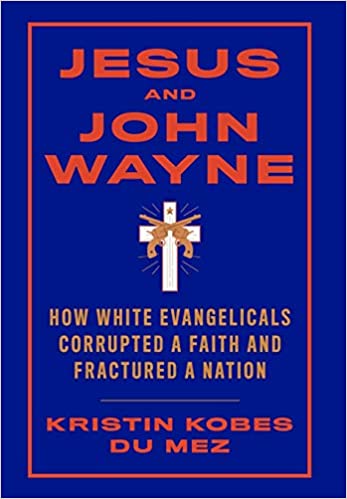 It was written by Kristin Kobes Du Mez, a history professor at Calvin University, a Christian school, who was trying to understand why evangelicals could vote for a man (Donald Trump) who violated just about everything Jesus preached and stood for. What she discovered during her research is that while evangelicals nominally approve of Jesus, in reality, the men much prefer tough, militantly masculine types who place a high value on patriarchy, submissive women, having lots of sex, and the acquisition of power.
Our staff theologian is on vacation now—he needed a rest, for Christ's sake—but as best we can tell, that describes John Wayne's persona pretty well but Jesus not so much. Du Mez' thesis in the book is that when evangelicals voted for Trump, it was on account of his personality and behavior, not in spite of it. He was not an aberration. He is precisely what they wanted. Wayne has been dead for 40 years and wasn't running, but Donald Trump was a passable substitute (although it would have been interesting to see Trump on a horse). Heck, they both even managed to avoid the draft (albeit for different wars).
How did it happen that evangelicals worship John Wayne instead of Jesus? Du Mez says that a number of the top evangelical preachers, including John Piper, James Dobson, and John Eldredge, preach a mutually reinforcing message of white Christian masculinity and this is what attracts some men to the religion, not the Bible. In that light, if your mental model of the savior is someone who fights evil with his guns a blazin' (like the Duke) then if you substitute "mouth" for "guns," Donald Trump sort of fits.
Here are a few of the chapter titles:
John Wayne Will Save Your Ass
Going for the Jugular
No More Christian Nice Guy
Why We Want to Kill You
A New High Priest
In other words, pretty standard theological material. Just don't tell these fellows that John Wayne's real name was Marion Morrison, and that he attended USC. (V)
---
If you wish to contact us, please use one of these addresses. For the first two, please include your initials and city.
To download a poster about the site to hang up, please click here.
---
Email a link to a friend
or share:
---The Votemaster and Zenger