TODAY'S HEADLINES (click to jump there; use your browser's "Back" button to return here)

•
Joe Arpaio Enters Arizona Senate Race
•
Bannon "Quits"
•
Feinstein Releases Fusion GPS Testimony
•
No Progress on the DACA Deal
•
Judges Want North Carolina Districts Redrawn, Pronto
•
Supreme Court to Hear Voting Case Today
•
No Drilling Off the Florida Coast
•
Help Wanted: Republicans to Run Statewide in New York
•
Help Wanted: People to Work in the West Wing
Former Maricopa County Sheriff Joe Arpaio has entered the Republican primary for the seat of retiring Sen. Jeff Flake (R-AZ). Arpaio is extremely controversial, having been convicted of criminal contempt for racially profiling prisoners in his jail. He was then pardoned by Donald Trump and is now a free man again.
His entry into the race greatly complicates matters. National Republicans have long settled on their candidate to replace Flake: Rep. Martha McSally (R-AZ). However, Arpaio isn't the only far-right Republican in the race. Conservative state senator Kelli Ward is also in the mix. She is backed by GOP megadonor Rebekah Mercer and Steve Bannon, although Bannon's role going forward, if any, is not clear (see below). There is a certain analogy between this primary and the recent one in Alabama, which featured two anti-establishment candidates (Roy Moore and Mo Brooks) and one establishment candidate (then-senator Luther Strange).
The primary isn't until August, so a lot can happen between now and then, but Arpaio's entry could hurt the Democrats by splitting the far-right vote and letting the electable McSally win the Republican nomination. On the other hand, should Sen. John McCain (R-AZ) die or resign in the next few months, a special election will be called for his seat. Then Ward might go for one seat and Arpaio for the other, potentially leading to an unelectable Republican nominated in each race.
If Arpaio gets nominated one way or another, the state's Latino community will be enormously energized to turn out to defeat him in the general election. While Arpaio may energize supporters of Donald Trump, he antagonizes the affluent suburban Republicans the Democrats have been poaching lately. Arpaio vs. the Democrat, Rep. Kyrsten Sinema (D-AZ), would be a rerun of Roy Moore vs. Doug Jones in Alabama, with similar results if Latinos turn out in the same numbers as black voters did in Alabama. Actually, that may not even be necessary, since Arizona is not nearly as red as Alabama is (R+6 and R+25, respectively). (V)
As expected, Steve Bannon has departed from Breitbart News, possibly with some pushing from Breitbart owners and management. He was also booted from his SiriusXM radio program. It is rare for someone so high to fall so far in such a short time. Six months ago, he was in the White House telling Donald Trump what to do. After he was kicked out of the White House, he went back to Breitbart News, where he supported fringe candidates and promised to oppose every incumbent Republican running for reelection. His chief backer, Rebekah Mercer, parted ways with him months ago. Now he has lost his platform as well. A comeback would be pretty amazing at this point, though he is a rabble-rouser, the media does love a rabble-rouser.
When discussing Bannon's departure, Breitbart CEO Larry Solov said: "[Bannon] is a valued part of our legacy, and we will always be grateful for his contributions, and what he has helped us to accomplish." Of course, this raises the question of "if he is so valuable, why did you push him out?" (V)
Fusion GPS co-founder Glenn Simpson spent 10 hours testifying before the Senate Judiciary Committee behind closed doors in August. The company is famous for hiring former British spy Christopher Steele to compile a dossier on Donald Trump. Originally it was on assignment for a conservative website, the Washington Free Beacon, but later funding came from the DNC. Simpson had requested that Committee Chairman Sen. Chuck Grassley (R-IA) release the transcript of his testimony but Grassley refused. Yesterday, ranking member Sen. Dianne Feinstein (D-CA) released the 312-page transcript for him. Grassley was not amused.
Reporters are still studying the transcript, but one notable item is that Steele went to the FBI in July 2016 because he thought the Russians could blackmail Trump. Simpson said that Steele did this of his own volition, without any encouragement from anyone at Fusion GPS. The FBI told Steele that it already knew this from another (human) source, so it took Steele seriously. Simpson thought that the source was from inside the campaign, but that may have been only indirectly true as it might have been the Australian ambassador, who was tipped off by Trump campaign aide George Papadopoulos. In any case, this does not prove that the Russians have dirt on the President, but it certainly does not make it less likely. (V)
Funding for the government is going to run out on Jan. 19 unless Congress supplies some more money. The can has been kicked down the road twice already, but sooner or later Congress is going to have to approve a budget for the year. The problem is that budgets cannot be done using reconciliation, so the Democrats can (and likely will) filibuster it unless they get some concessions from Republicans. A key one is legalizing the dreamers, people who were brought to the U.S. illegally as children. Republicans see this as amnesty and are dead set against it.
Closed-door negotiations have been going on for weeks, with no progress. Here is a list of things that could kill any kind of deal:
Republicans decide they just don't want a deal at all, under any conditions
The parties disagree over attaching a DACA deal to the budget or some other must-pass bill
Negotiators can't agree on how to handle chain migration
The diversity lottery becomes a problem
Attempts to attach funds for the border wall to a DACA deal are nixed by the Democrats
Republicans decide they want some new enforcement mechanism that Democrats won't accept
The details of precisely who is legalized and how many people are covered becomes a sticking point
Given that the Republican and Democratic positions are diametrically opposed and neither is interested in conceding much ground, it is hard to see now what is going to happen. However, if the Democrats are willing to shut down the government over this, it could force the Republicans to make some concessions. Whether they will make enough concessions to satisfy the Democrats is an open question, though.
And in case things were not tricky enough, the one person who might have the muscle to get everyone on the same page—Donald Trump—is not being terribly helpful. In fact, it is pretty much the opposite. In the Tuesday meeting between the President and key members of Congress, Trump did not seem to know what it is that he wants, as he veered from position to position, sometimes demanding a stand-alone DACA fix, other times insisting on comprehensive immigration reform. Needless to say, the lawmakers present found this very frustrating.
Further, late Tuesday, a federal judge in California issued an injunction against Trump's wind-down of DACA, and said that the administration must keep issuing permits to recipients. William Alsup's ruling takes note of the President's public statements on the matter, and concludes that the President did not kill the program out of any legal necessity, but instead as a means of improving his bargaining position. The judge referenced, in particular, this tweet:
The Democrats have been told, and fully understand, that there can be no DACA without the desperately needed WALL at the Southern Border and an END to the horrible Chain Migration & ridiculous Lottery System of Immigration etc. We must protect our Country at all cost!

— Donald J. Trump (@realDonaldTrump) December 29, 2017
For the moment, the ruling strengthens the Democrats' position by taking away a major bargaining chip. The Justice Department will undoubtedly move to appeal Alsup's decision as rapidly as is possible, though the current discussions about the budget, etc. may not be able to wait until that is resolved. (V & Z)
William Alsup wasn't the only federal judge with bad news for Republicans on Tuesday. A three-judge panel in North Carolina rejected the district map drawn by the Republican-controlled General Assembly. They declared it to be a partisan gerrymander, and said it therefore violates the Equal Protection Clause of the Fourteenth Amendment, the First Amendment, and Article I of the Constitution. The state has three weeks to come up with a better map.
While racial gerrymanders have been found unconstitutional in the past, Tuesday's ruling marks the first time that a federal court has struck down a partisan gerrymander. Of course, a national precedent will not be set until the Supreme Court weighs in on the matter. Conveniently, they will have an opportunity to do so when they issue their decision in Gill v. Whitford, which deals with partisan gerrymanders cooked up by the Republican legislature in Wisconsin. (Z)
In another case where the Democrats are using the courts to try to stop what they see as unfair election practices, the U.S. Supreme Court today will hear a case challenging Ohio's practice of removing voters from the rolls if they fail to vote in several consecutive elections. Ohio's policy would have prevented 7,500 people from voting in 2016, but at the last minute the U.S. Court of Appeals for the 6th Circuit, which is located in Cincinnati, intervened. Scotusblog has a detailed discussion of the case, known as Husted v. A. Philip Randolph Institute
This is a partisan issue because Republicans are much more consistent voters than Democrats. One analysis showed that Democrats are purged twice as often as Republicans in Ohio's three largest counties. In any case, the law is applied indiscriminately, without regard to why someone didn't vote or respond to a letter asking for an address confirmation. One of the plaintiffs is Joe Helle, who didn't vote or respond because he was in the Army fighting in Iraq and Afghanistan. When he returned home and discovered that his reward for serving his country was to have his vote taken away, he sued Ohio. Supreme Court decisions are typically handed down in June. (V)
Last week, the Trump administration announced plans to open virtually the entire American coastline to offshore drilling. This was greeted with howls of protest from every governor of a coastal state, Democrats and Republicans alike. On Tuesday, Interior Secretary Ryan Zinke partly reversed course, saying that the coast of Florida would not be included in the new plans. Asked to explain why the Sunshine State is being handled differently, Zinke explained, "Florida is obviously unique."
What's so unique about it? Well, it's the mother of all swing states, to start. Beyond that, Gov. Rick Scott (R), who is term limited, is expected to run for the U.S. Senate later this year. He is now going to be able to claim that he "saved" Florida's coast, which will presumably help him in his effort to unseat Sen. Bill Nelson (D). One wonders if other states will be spared thanks to "heroic" Republicans who just happen to be running for office in 2018.
Another interesting test case is South Carolina, whose governor, Henry McMaster (R), is also strongly opposed to drilling off his state's coast. There is no Senate race there in 2018, but there is a crucial early presidential primary in the Palmetto State in 2020. In any event, it's another illustration of the Trump administration's philosophy: He is not the president of all Americans, just those whose votes he needs. (Z)
The New York Republican Party has not yet bought this ad in the Wall Street Journal, but it is getting very close to it.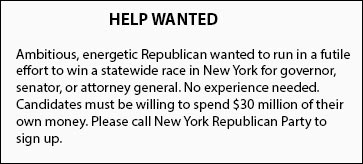 New York state has races for governor, senator, and attorney general in November, and so far every plausible Republican candidate has turned down the opportunity to run. The state party is already in full panic mode because taking on popular and very high-profile Democrats like Gov. Andrew Cuomo, Sen. Kirsten Gillibrand, and AG Eric Schneiderman is going to require a lot of money and a long time to acquire name recognition. Cuomo, for example, has been governor for 7 years and has $30 million in his reelection bank account. He is not exactly going to be a pushover for some unknown billionaire Republican who would like to be governor. Gillibrand has been in the news constantly of late, due to her efforts to stamp out sexual harassment. Schneiderman keeps suing Donald Trump, which in New York is a big plus.
If the Republicans can't find any big names to run for these offices, they will not only lose all three big time, but give Cuomo and Gillibrand huge landslides about which they can brag in their expected 2020 presidential runs. Lack of any big names on the GOP ticket could also discourage Republicans from bothering to vote in November, which could cost the party some of its nine seats in the House. All in all, time is running short to find sacrificial lambs...sorry, make that strong candidates, who want to spend tens of millions of their own dollars in what are almost certain to be losing races. (V)
The Trump administration has had a great many departures in its first year, and several more have already been announced. It is further understood that even more resignations will come once the one-year mark hits on January 20, perhaps even including NSA Herbert McMaster or National Economic Council chairman Gary Cohn.
In other words, Donald Trump needs to do some hiring. The problem is that applicants are in short supply. There appear to be several reasons for this:
The West Wing is a very tough place to work
The Trump West Wing is particularly tough, given the constant drama, and outbursts, and palace intrigues
Trump rejects any and all candidates who have been critical of him in the past, severely limiting the pool
Trump has also alienated many Republicans with his words and actions
Anyone who accepts a job could find themselves needing a lawyer, and paying big-time legal bills
The upshot is that the White House is likely to be grossly understaffed very soon, if it's not already there. One way in which the President tends to respond to this is to add more and more duties to the portfolios of existing staff. Jared Kushner, for example, is theoretically working on Middle East peace, opioid addiction, and reorganizing the executive branch, all at the same time. Johnny DeStefano is overseeing the White House's Office of Political Affairs, the Office of Presidential Personnel, the Office of Public Liaison, and the Office of Intergovernmental Affairs. In both cases, the duties are far too much for one person, meaning very little gets done. Which may or may not be a bad thing, depending on one's perspective.
Sometimes it appears that the administration intentionally makes its own recruiting problem harder. White House aides have now been given an ultimatum saying they must decide before the end of January whether they are leaving now or staying until after the midterms in November. This could push some people who are on the fence to leave now and get it over with. (Z)
Email a link to a friend
or share:
---The Votemaster and Zenger