TODAY'S HEADLINES (click to jump there; use your browser's "Back" button to return here)

•
Bannon Tosses a Molotov Cocktail into the Oval Office
•
Ivanka and Jared Agree: She's the Future President
•
Trump Shuts Down Voter Fraud Commission
•
Manafort Sues Mueller
•
Democrats May Not Cave in Upcoming Budget Battle
•
A Dozen Obama Administration Officials Are Running for Congress
•
Roy Moore's Campaign Manager is Also Running for Congress
•
Colbert is Gunning for Trump's Media Awards
Author Michael Wolff has a new book entitled Fire and Fury: Inside the Trump White House coming out next week. The Guardian (UK) got its hands on an advance copy, and it is red hot. In the portion that everyone was talking about on Wednesday, Steve Bannon has some unfettered opinions about his former boss's campaign team, and in particular their handling of the notorious Trump Tower meeting with Russian lawyer Natalia Veselnitskaya:
The three senior guys in the campaign thought it was a good idea to meet with a foreign government inside Trump Tower in the conference room on the 25th floor—with no lawyers. They didn't have any lawyers. Even if you thought that this was not treasonous, or unpatriotic, or bad sh**, and I happen to think it's all of that, you should have called the FBI immediately....But that's the brain trust that they had. The chance that Don Jr did not walk these jumos up to his father's office on the twenty-sixth floor is zero.
It's a little unclear what "jumos" means, but the general consensus is that it is a mis-transcription of "jamokes," which is a Russian term for "losers." Another theory is that it means "junior Moscow officers." Whatever the meaning, however, Bannon clearly just accused Donald Trump of being an active participant in these shenanigans. If true, that would be very bad for the President, indeed.
If that were not enough for one book, Bannon throws even more fuel on the fire when he shares his assessment of special counsel Robert Mueller's investigation:
You realize where this is going. This is all about money laundering. Mueller chose [senior prosecutor Andrew] Weissmann first and he is a money-laundering guy. Their path to fu**ing Trump goes right through Paul Manafort, Don Jr. and Jared Kushner. It's as plain as a hair on your face. It goes through Deutsche Bank and all the Kushner sh**. The Kushner sh** is greasy. They're going to go right through that. They're going to roll those two guys up and say play me or trade me. They're sitting on a beach trying to stop a Category Five.
For those who are not keeping score at home, in just 99 words, the former manager of Donald Trump's presidential campaign has accused the president's son-in-law of money laundering, said that Kushner will be pressured to turn against The Donald (who may also be guilty of money laundering), and opined that Team Trump has zero ability to deal with what's coming.
Needless to say, Trump was furious, and he quickly released a statement that both communicated his rage and tried to do some damage control:
Steve Bannon has nothing to do with me or my Presidency. When he was fired, he not only lost his job, he lost his mind. Steve was a staffer who worked for me after I had already won the nomination by defeating 17 candidates, often described as the most talented field ever assembled in the Republican party. Now that he is on his own, Steve is learning that winning isn't as easy as I make it look. Steve had very little to do with our historic victory, which was delivered by the forgotten men and women of this country.
Bannon, who is either crazy, or else crazy like a fox, responded to this on Wednesday night by declaring that, "The President of the United States is a great man. You know, I support him day in and day out." If the latter part is true, the Breitbart publisher certainly has a funny way of showing it. Whatever else may happen, we have to presume that the regular phone calls between Trump and Bannon will not continue.
Speaking to reporters off the record on yesterday, White House insiders said that they thought Bannon might go on the warpath like this. Boy, nothing gets by them. Of course this was going to happen, sooner or later. Both Bannon and Trump have giant egos, so big it's a wonder that they both fit in the White House. They are both completely unfiltered. They both think they deserve all the credit for Trump's victory. They are both aggravated that the other keeps claiming credit for himself.
Most important, however, is that Trump and Bannon have wildly different agendas. They were able to partner in 2016, because at that point they were both outsiders who were running against the system. But now, regardless of his populist rhetoric and his tweets and his (empty) talk of "draining the swamp," Trump is now an insider. Indeed, he is the system, while Bannon remains an outsider who wants to burn it all down. These two positions are unreconcilable, and history is replete with examples of "rebel" partnerships that fell victim to the same dynamic. George Washington and Thomas Paine. Vladimir Lenin and Leon Trotsky. Fidel Castro and Che Guevara. The bad news for Bannon is that his counterparts in these three situations ended up shunned and buried in a pauper's grave (Paine), assassinated (Trotsky), and executed by enemy guerrillas (Guevara).
The White House, for its part, says the "gloves are off." Apparently, Bannon feels the same way. This will make for a very interesting primary season in a few months, when there are many races where Bannon/Breibart are on one candidate, and Trump/the GOP establishment are on another. (Z)
Although the Bannon bombshells are getting the lion's share of the attention, Michael Wolff's book is full of other juicy morsels. Clearly, the author knows something about how to drum up interest, because in addition to the excerpts printed by The Guardian (see above), he also authored a lengthy piece for New York Magazine. The whole essay is worth reading, but among the revelations are:
Everyone on Team Trump, including Donald Trump himself, was sure he would lose the election
Trump was ok with that, because his primary goal was to be "the most famous man in the world."
Michael Flynn did not worry about his unethical behavior, because it would only be a problem if Trump won
When the returns came in, Trump looked like a ghost, while Melania was in tears—and not the good kind
Roger Ailes suggested John Boehner as chief of staff; Trump had no idea who he was talking about
Rupert Murdoch gave up on advising Trump, calling him a "fu**ing idiot"
Trump hated his inauguration and spent the day arguing with Melania
Trump is paranoid about being poisoned
The main White House leaker may have been Trump himself, since he vents to everyone, not just friends
Jared Kushner and Ivanka Trump made a pact that, if the opportunity presented itself, she would be the member of the duo to run for president, making her the first woman chief executive
Many of these things are pretty remarkable, but the last one may be the most remarkable at all. There is a great deal of arrogance implicit in the notion that the public is dying to elect as many completely unqualified Trumps to the presidency as is possible. Meanwhile, there is also a terrible lack of awareness—do Ivanka and her husband not realize how narrow The Donald's victory was, and that even for that he needed a very large number of votes from misogynists and anti-Semites? Votes that would surely not be available to a candidate who is a female Jew? (Z)
Donald Trump's voter fraud commission has, for its entire existence, suffered from two major handicaps. The first is that there is no voter fraud—at least, not of the sort (false ballots cast in-person) that the commission was ostensibly examining. The second is that the fellow who was effectively running the commission, Kansas Secretary of State Kris Kobach was, to be blunt, comically inept. His missteps had even the reddest of red states telling him to pound sand, while at the same time inviting the courts to rip him to shreds.
Now, the commission is no more. Trump dissolved it Wednesday evening, saying he did not want to "engage in endless legal battles at taxpayer expense." Is it a coincidence that he pulled the plug on a day with so much other news to distract people's attention? Probably not. The Donald hates when anyone notices his defeats, and knows an opportunity to sneak one under the radar when he sees it. (Z)
On most days, this would be the biggest news of the day. On Wednesday, however, it was secondary to the soap opera unfolding in the White House. In any event, former Trump campaign chairman Paul Manafort has decided to push back against Robert Mueller, filing suit in US District Court in Washington. Manafort's argument is that Deputy AG Rod Rosenstein and Mueller have exceeded their legal authority, and that they had no right to look into his alleged money laundering since it was not directly related to the campaign and/or collusion with the Russians.
It's true that Manafort's financial affairs are probably unrelated to the campaign, and that Mueller's primary goal in investigating them was to put pressure on Manafort to flip on Donald Trump and Co. However, Mueller can plausibly argue that he could not know for certain if there was a connection or not, and that it is necessary for him to follow all leads. Meanwhile, Rosenstein will argue that as the second highest ranking member of the Justice Dept., his job is to enforce all laws, not just a select few that Manafort did not break. So, Manafort appears rather unlikely to prevail here. Either he's throwing a Hail Mary pass, or else he's trying to buy himself a little time or a tiny bit of leverage. (Z)
Three times im the past half-year, when the government ran out of money, Democrats agreed to kick the can down the road and pass a short-term spending bill to keep the government running. On Jan. 19, the money will run out again, and this time the Democratic leaders have said they are going to demand concessions from the Republicans for their votes. In contrast to the health-care and tax bill fights, the budget can't be passed using the reconciliation process, so the Republicans need nine Democratic votes in the Senate to shut down a Democratic filibuster.
Minority Leader Chuck Schumer (D-NY) has made it clear what he wants in return for those votes. First, he wants parity between defense and nondefense spending increases. If the Republicans want to increase defense spending by $50 billion, he might go along provided that nondefense spending also goes up by $50 billion. Second, he wants to protect the dreamers, people who came to the U.S. illegally as children, most of whom have lived much of the their lives in the U.S. and barely know their country of origin. Third is a laundry list of other items, including veterans pensions, the opioid crisis, health research, disaster aid, and the children's health program (CHIP).
Schumer and House Minority Leader Nancy Pelosi met with their Republican counterparts and Budget Director Mick Mulvaney yesterday to discuss the matter. Afterward, the two Democrats issued a fairly non-committal statement, reporting that "We had a positive and productive meeting and all parties have agreed to continue discussing a path forward to quickly resolve all of the issues ahead of us." That tells us that the discussion was not a total failure, but beyond that, not much. No announcement has been made as to the date and/or time of the next confab. (V & Z)
What's a former Obama administration official to do now that getting a job in the Trump administration is not in the cards? For over a dozen of them, the answer is clear: run for a seat in the House of Representatives. According the election guru Charlie Cook, at least 63 Republican-held districts are at least somewhat competitive (and in a wave year, more could be). The Obama officials are challenging incumbents in these districts.
Some examples include former White House technology adviser Brian Forde, who is going after Rep. Mimi Walters (R-CA) in her R+3 swing district in Orange County. Colin Allred and Ed Meier, former HUD and State Dept. officials respectively, are challenging each other for the right to face Rep. Pete Sessions (R-TX) in TX-32, an R+5 district. Sarah Jacobs, who worked in Obama's State Dept., is going after Rep. Darrell Issa (R-CA) in CA-49, an R+1 district that runs along the California coast north of La Jolla up to Dana Point. This district is clearly ripe for picking, as the district is trending Democratic and Issa beat Democrat Doug Applegate by a mere 0.6% in 2016. And former Obama officials are not shying away from tough races. Former acting Assistant Secretary of Defense Elisa Slotkin is challenging Rep. Mike Bishop (R-MI) in MI-08, an R+4 district he won with 56% of the vote in 2016. The filing deadlines in many states are months away, so more former Obama staffers may yet make a run. (V)
Rich Hobson was Roy Moore's campaign manager and head cheerleader during the recent campaign for Alabama's Senate seat. Apparently, Hobson does not take it as a bad sign that he and Moore managed to lose an election that should have been almost un-losable, because he announced on Wednesday that he will challenge Rep. Martha Roby (R-AL) in the GOP primary in AL-2.
As an incumbent who has already won re-election three times, Roby presumably won't lose much sleep over the challenge, although it's possible that if Breitbart gets involved, things could get interesting. Meanwhile, the Republican Party is undoubtedly thrilled that a living, breathing reminder of the fact that they did not condemn an accused child molester will be making headlines at least until June 5. (Z)
Late on Tuesday night, Donald Trump—who is clearly searching for new directions in which to take this reality show—made this rather startling announcement on Twitter:
I will be announcing THE MOST DISHONEST & CORRUPT MEDIA AWARDS OF THE YEAR on Monday at 5:00 o'clock. Subjects will cover Dishonesty & Bad Reporting in various categories from the Fake News Media. Stay tuned!

— Donald J. Trump (@realDonaldTrump) January 3, 2018
We can only imagine what the President has in mind, but no matter what he does, it will be met with voluminous derision and mockery.
Indeed, it has already begun, and from one of the most biting sources possible. On his old show ("The Colbert Report"), one of Stephen Colbert's recurring bits was to get his fanbase to use their collective influence to insinuate him into various places where he was not wanted. For example, he managed to win a poll to get a bridge in Hungary named after him, he was a regular winner of the online version of People's sexiest man alive poll, and he even got himself inserted into the Bible—or, at least, the "conservative" version being prepared by the ultra-right website Conservapedia. Now, on his current show ("Late Night with Stephen Colbert"), he's back at it, asking fans to blanket Donald Trump in tweets, with an eye toward a Colbert sweep of every category. The specific categories haven't actually been spelled out by the President, but that's ok, because Colbert is happy to offer suggestions, including "Least Breitbarty," "The Eric Trump Memorial Award for Disappointment," and "Smallest Button." The entire "for your consideration" ad, posted to Colbert's website and Twitter account: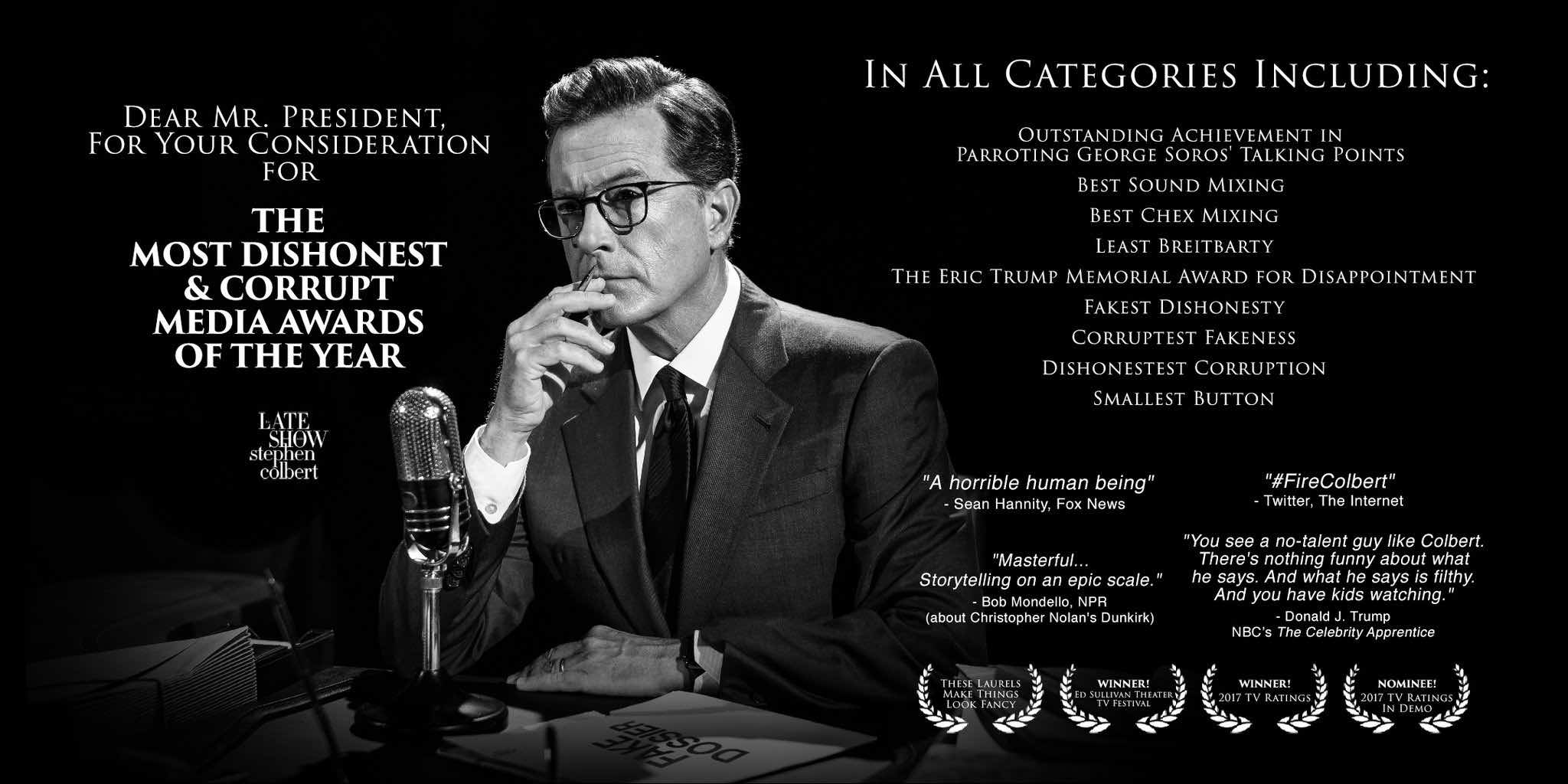 If Trump actually goes through with this, it's only going to get worse. (Z)
Email a link to a friend
or share:
---The Votemaster and Zenger