TODAY'S HEADLINES (click to jump there; use your browser's "Back" button to return here)

•
Mueller Subpoenas Bannon
•
Bannon Testifies Before House Intelligence Committee, Gets Subpoenaed Again
•
Credibility Is Like Virginity: You Only Get to Lose It Once
•
Fox Spiked Daniels Story
•
Doctor Has "No Concerns" About Trump's Mental Capacity
•
Which 2020 Candidate Does Trump Fear Most?
•
Manafort Trial Won't Start Before September
•
Pawlenty Won't Run for the Senate
Oh, boy—here we go. Special counsel Robert Mueller has subpoenaed plenty of little fish. Now he is moving on to the big fish. Last week, he sent former Trump insider Steve Bannon a subpoena to appear before a grand jury to answer questions under oath. This is the first time Mueller has subpoenaed anyone currently or formerly in Donald Trump's inner circle. It was an excellent place to start, because having been very publicly fired first by Trump and then by Breitbart, Bannon is probably not in the mood to lie under oath to protect Trump or his family.
Former federal prosecutor Renato Mariotti, a Democrat who is running for Illinois attorney general, has some comments as to why a subpoena rather than a friendly request for a chat in the office. One reason is that Bannon has a top attorney (William Burck), and grand jury rules prohibit a witness' attorney from being in the room with the witness and the prosecutors, making the experience much more intimidating than an office chat with a friendly lawyer present. Also, there is a court reporter present transcribing every word, which is important for a possible subsequent perjury trial. Finally, Bannon's lawyer is the same one used by Reince Priebus and Don McGahn, which increases the chance of coordination. Not having the lawyer present and pushing Bannon hard might increase the chances that he tells the truth, no matter how much he has prepared.
Nevertheless, it is possible that Mueller will relent and let Bannon testify in his office rather than having the embarrassment of having to do it before a grand jury. However, even then, Mueller is sure to have an FBI official present asking questions because lying to the FBI is a felony, even if you are not under oath.
Bannon was not present when Trump fired former FBI Director James Comey, but may well have heard about it from others in the White House. On the other hand, he was involved in the firing of former NSA Michael Flynn. He was also privy to a tremendous number of other events and documents that Mueller is probably looking at. In addition, he is quoted in Michael Wolff's best-selling book that the Trump Tower meeting with Russian lawyer Natalia Veselnitskaya was "treasonous." Mueller might just want to ask Bannon: "How come?" In short, Bannon may be at a turning point. He can stonewall, lie, claim he doesn't remember anything that happened in the past year and a half and take his chances Mueller has nothing to pin on him. Or he can come clean. We won't know soon, but Mueller will. (V)
If Steve Bannon had a nickel for every subpoena issued in his name on Tuesday, well, he'd be ten cents richer. The former Trump advisor and campaign chair sat for 10 hours of interviews with the House Intelligence Committee, and refused to say much of anything. Members of the committee were so aggravated by this that a voluntary chat quickly became compulsory testimony, as a subpoena was quickly written up and served to Bannon. That had little impact, so Bannon was dismissed, though representatives from both parties vowed that he will eventually answer their questions, one way or another. Waterboarding, perhaps?
Among the areas that Bannon would not touch upon were the transition from President-elect Trump to President Trump, his (fairly brief) time in the White House, and any conversations he has had with the President since being cashiered. His reason was a de facto "gag order" from the White House, which says that they may decide to invoke executive privilege so as to keep Bannon from spilling his guts. While executive privilege may attach to Bannon's time in the White House (though it's dubious; see Nixon, Richard), it certainly does not apply to the time after he left, nor to the transition. So, he's likely going to have to give up the goods, sooner or later. Meanwhile, all of this is undoubtedly invaluable to Robert Mueller as he strategizes for how to handle Bannon. (Z)
That line is from Washington Post reporter James Hohmann in his story about the White House meeting in which Donald Trump referred to "shithole" countries. Initially, Trump didn't deny what he said, even bragging that the word would probably be happily gobbled up by his base. Only after the whole world minus his base reacted very negatively did he deny what he said and attack Sen. Richard "Dicky" Durbin (D-IL) for quoting him. Sen. Lindsey Graham (R-SC), who was also present at the meeting, in effect confirmed Durbin by telling Sen. Tim Scott (R-SC) that Durbin told the truth.
Sens. Tom Cotton (AR) and David Perdue (GA) are now claiming that Durbin lied and has a history of lying. Hohmann's point is that Cotton and Perdue will be forever defined by this event. The other senators know very well that Durbin is an honest man and not given to lying, and most of them, even the Republicans, know Cotton and Perdue have given up every shred of credibility to suck up to Trump. Cotton is doing it because he wants to be appointed CIA director, but Perdue isn't up in 2018 and could have just said he wasn't paying close attention at that moment.
Another person who has been tested is DHS Sec. Kirstjen Nielsen. She testified before the Senate Judiciary Committee yesterday and was asked about the meeting. She said Trump used "tough language" but refused to repeat the specific words Trump used. When Durbin, who is on the committee, asked her how he characterized the countries from which Trump doesn't want immigrants, she said: "I don't specifically remember categorization of countries in Africa." (English translation: "I like my job and if I were to answer that question honestly, Trump would fire me").
In short, everyone who deals with Trump or wants something from him clearly understands that he requires them to abandon all their integrity and blatantly lie for him and humiliate themselves, even when it is perfectly obvious to everyone that they are lying. Such is the price of power. It is not exactly the same thing as college fraternities that demand pledges swallow a live goldfish as a test of obedience, but we're getting warm. Of course, with a fraternity, once you're in, you're in for life. With Trump, you're only in until it suits him to discard you. Sen. Bob Corker (R-TN), among others, can attest to that. (V)
Speaking of credibility and virginity, CNN has a story where both commodities are in short supply. Last week the Wall Street Journal reported that Donald Trump's lawyer paid porn star Stormy Daniels $130,000 in hush money to cover up a 2006 extramarital affair. On Tuesday, CNN reported that Fox News actually had the story well over a year ago, in October 2016. That was at the height of the presidential campaign, and just days after pu**ygate broke, and so the information about the Cohen payment was rather timely and was certainly of interest to the public. However, the cable channel decided to kill the story.
There is little question that Fox News is in the bag for Donald Trump, serving as something close to his ministry of information. The channel's top staffers have defended their work by arguing that the opinion division (Sean Hannity, Fox and Friends, etc.) may have a political slant, but the news division is dispassionate, non-partisan, and has integrity. Stories like this one certainly throw that into question. (Z)
Dr. Ronny Jackson conducted Donald Trump's physical last week, and on Tuesday he spoke to the press about the results. Physically, Trump is basically in fairly good shape for a man of his age, though he needs to lose some weight. Mentally, the President requested a cognitive test, and he passed the one that Jackson administered (the Montreal Cognitive Assessment) with flying colors, scoring a perfect 30/30.
This is certainly going to quiet talk about Trump's mental fitness for a while, possibly with justification. Or maybe not. This is just one brief test, and one with a sensitivity and a specificity of about 85%, which means a fair number of erroneous results. As Sanjay Gupta writes, a proper assessment of mental capacity actually takes many weeks, and involves multiple mental health experts. A 10-minute test from an emergency medicine specialist does not quite rise to that level.
The other problem is that we don't have much of an explanation for some of the concerning indicators Trump has shown. To take one example, a new study released last week rates the last 15 presidents according to the "grade level" of their public speaking on the Flesch-Kincaid Scale: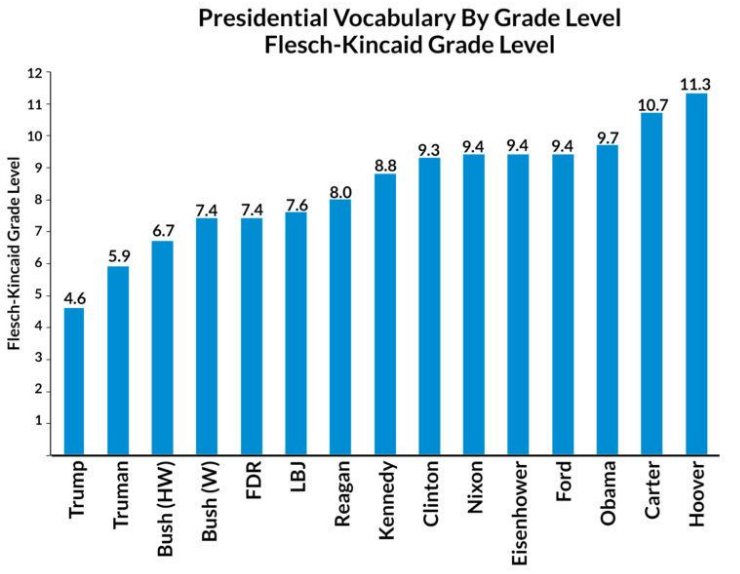 As a sidebar, it's interesting that the least popular presidents in that span largely appear at either end of the scale, talking too "dumb" (Bush, Truman, etc.) or too "smart" (Carter, Hoover), while the really popular ones (JFK, FDR, Reagan) largely managed to hit the apparent sweet spot in the middle.
In any case, Trump speaks at a 4th grade level, which is not only the worst of this group, it's surely the worst in American history. Pre-1920s presidents tended to be quite erudite, and even the one who was barely literate when he reached adulthood (A. Johnson) spoke at a 9th grade level. It's not easy to deliberately dumb it down as far as Trump has, assuming that's possible at all. And when his current speech patterns are compared to how he spoke in the 1980s (11th-grade level), we're left with a pretty worrisome sign that something mental has changed dramatically. So, the book is not closed here, regardless of what Dr. Jackson and his 10-minute test say. (Z)
It's not Sen. Bernie Sanders (I-VT), who is currently the most popular politician in America. Nor is it "Pocahontas." In fact, he believes Sanders or Sen. Elizabeth Warren (D-MA) would be his dream opponents. Trump has no fear of Sen. Kirsten Gillibrand (D-NY). He doesn't think Sen. Cory Booker (D-NJ) will run and is only dimly aware of the existence of Sen. Kamala Harris (D-CA). No, the person Trump fears most is former Vice President Joe Biden. Trump thinks that Biden appeals to the same blue-collar workers in the Midwest that he does, but with a more user-friendly personality, which could be deadly to the President.
Democrats expect that if Trump runs in 2020—which is not a given because he appears to hate actually having to govern—he will campaign on a platform entirely based on culture war issues like NFL players kneeling during the national anthem, protests against police brutality, and blocking immigration. To his base, these are the dominant issues of the day, not taxes, jobs, or foreign policy (other than immigration). Of course, this strategy creates a counter strategy for Democrats: Appeal to young people, minorities, women, and affluent suburban voters who don't agree with Trump at all on these issues and want a president who brings respect to the office of the presidency. Some of those people abstained or voted for a third-party candidate in 2016 because they "knew" Hillary Clinton was going to win and wanted to send her a message. That is very unlikely to happen in 2020 if the Democrats are unified on a consensus candidate—which is, of course, not a sure thing. (V)
Judge Amy Berman Jackson has rejected Robert Mueller's request to start the trial of Paul Manafort and Rick Gates in May. She noted that it will take the defense team a while to go through the 640,000 documents the prosecution has provided them, so she is thinking about a trial in September or October—just before the midterm elections. Needless to say, a trial about Donald Trump's former campaign manager working for a foreign government will bring a lot of attention to the matter. Republicans would prefer talking about the tax cuts many people have gotten.
Gates has been released from house arrest, but under conditions. He had to post $5 million bail, will have to wear a GPS monitor at all times, and stay away from airports, train stations, and bus stations. Manafort is still under house arrest. He has yet to come up with $10 million in bail, and even if he does, he will undoubtedly face the same, or tighter, restrictions. (V)
Republicans lost one of their best hopes to win Al Franken's old seat when former Minnesota governor Tim Pawlenty said yesterday that he is not going to run for it. Pawlenty is now CEO of a group that lobbies for the banks and that probably pays a lot better than the Senate does. Besides, Minnesota is fundamentally a blue state and in a Democratic wave year, which is increasingly likely, there is no reason to think appointed Sen. Tina Smith (DFL-MN), who was formerly the lieutenant governor, is especially vulnerable. (V)
Email a link to a friend
or share:
---The Votemaster and Zenger