TODAY'S HEADLINES (click to jump there; use your browser's "Back" button to return here)

•
Trump Celebrates Martin Luther King Jr.'s Birthday by Golfing
•
Trump Attacks "Dicky Durbin" for Confirming "Shithole" Remarks
•
Bannon Sure Misjudged His Own Popularity
•
A Trump Campaign-Promise Scorecard
•
DNC Is Ready to Fight--with Itself
•
Ryan Squeezed by Conservatives on Immigration
•
Trump Has Conflicts of Interest
•
State of the Union Could Get Ugly
Ever since Ronald Reagan signed a bill making Martin Luther King Jr. Day a federal holiday, U.S. presidents have generally made remarks about the civil rights icon and done some civic service. Bill Clinton joined an AmeriCorps team to repair and paint a senior center in D.C. George W. Bush went to a local high school where students were sending postcards to victims of Hurricane Katrina. Barack Obama went to an elementary school to build planters and plant vegetables for their "MLK Garden."
So, did Donald Trump follow in the footsteps of his predecessors? Nope. He promised he would be a different president, so he flew to Mar-a-Lago in Florida to play golf, skipping all the civic project stuff that loser presidents do.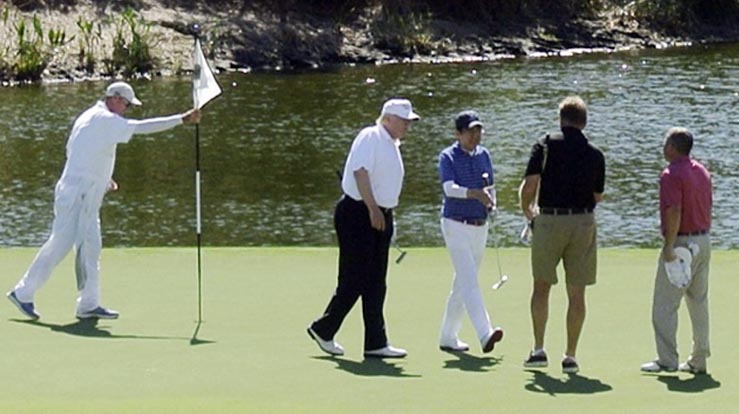 This was the 94th day he has spent golfing and the 121st day at a Trump-branded property. (V)
When Donald Trump called Haiti and some other nations "shithole countries," reporters asked Sen. Richard Durbin (D-IL), who was present at the meeting, if he really said that and Durbin confirmed that the media reports were completely accurate. Naturally Trump could not let this stand, and so yesterday went after Durbin with this tweet:
Senator Dicky Durbin totally misrepresented what was said at the DACA meeting. Deals can't get made when there is no trust! Durbin blew DACA and is hurting our Military.

— Donald J. Trump (@realDonaldTrump) January 15, 2018
To start with, apparently Durbin has a new nickname now. People named Richard have been called worse things, so Durbin is probably used to it. Trump's point about deals being impossible when there is no trust is completely true, but he has apparently forgotten the "deal" he made with "Chuck and Nancy" last fall on the dreamers, so it is not surprising that there is no trust. And there is no evidence of any kind that Durbin is hurting the military. (V)
Steve Bannon managed to persuade himself that he was bulletproof, and that he could say or do anything without taking damage. In particular, he thought that the Breitbart crowd was in his pocket, even if it came down to him versus Donald Trump. Bannon lost his job due to this miscalculation, and now a new poll shows just how wrong he was. According to HuffPost/YouGov, only 1% of people who voted for Trump back the former Breitbart publisher over the President. By contrast, 66% favor The Donald, while 21% don't like either, and 12% just don't know.
The upshot is that Bannon, at the moment, is wounded, embarrassed, and a man with nothing to lose. From the perspective of Team Trump, that makes it pretty bad timing that today is the day he will be speaking to the House Intelligence Committee. Bannon is not likely to be too circumspect, and there is a very good chance that he will use his testimony to do a little score-settling. Jared Kushner, in particular, should probably be worried, though nobody in Trump's orbit should rest too easy. (Z)
As we approach the 1-year mark of Donald Trump's presidency, it is a good time to see how well he has done at fulfilling his campaign promises. Here is a scorecard:
FULFILLED
A massive tax cut
Withdrawing from the Trans-Pacific Partnership
Issuing executive orders banning people from a number of majority-Muslim countries
Environmental deregulation
Eliminating the ACA's individual mandate
Military success against ISIS
Getting a conservative appointed to the Supreme Court
NOT FULFILLED
He didn't bring the corporate tax rate to 15%
He hasn't withdrawn from NAFTA
No tariff on goods from China
No wall on the Mexican border
No rebooting of the coal industry
The full ACA was not repealed
No infrastructure plan
Trump has claimed he signed more bills into law in his first year than any other president. Actually, the reverse is true. He has signed fewer bills than any president since WW II. Nevertheless, it is not true that he has done nothing, as the list above shows. (V)
When Tom Perez took over the leadership of the DNC, one of the first things he did was appoint Rep. Keith Ellison (DFL-MN), a strong backer of Sen. Bernie Sanders (I-VT), as vice chair to try to heal the still-raw wounds caused by the 2016 primaries. He also has made a big effort to get fundraising back on track. While there has been progress, there is still a long way to go.
A key sticking point now is Sanders' email list. The DNC would like to have it to send out fundraising appeals on behalf of Democrats in local races. Sanders refuses to part with it. This makes the Clinton forces reiterate what they have been saying all along, that Sanders is not a Democrat, doesn't care about the Party, and it was well and good that they didn't nominate someone who doesn't have the Party's best interests at heart. The Sanders forces reply that Bernie was fighting for a program that would have helped the American people, not a program to help 200 Party bureaucrats in D.C. Unless the Democrats get their act together, and fast, they are likely to give up the huge advantages they have going into the 2018 midterms and just focus on internal warfare. (V)
House conservatives are not just sitting around waiting for some self-appointed bipartisan gang of half a dozen senators to write an immigration bill that they despise. No, they have taken action and gotten Rep. Bob Goodlatte (R-VA), chairman of the House Judiciary Committee, to write a bill they can get behind. The bill includes heavy border security, a mandate on employers to verify the legality of their workers, beefed up immigration security far from the border, and eliminating sanctuary cities, chain migration, and the diversity visa lottery. The bill also has a path to citizenship for the dreamers, but it puts them at the end of the line, after other claimants to citizenship. The conservatives want Speaker Paul Ryan (R-WI) to hold a floor vote in hopes of passing the bill and sending it to the Senate before the Senate can pass a much less harsh bill.
The Goodlatte bill has zero chance of getting nine Democratic senators to vote for it, so it will never become law. Nevertheless, the House Freedom Caucus is pressuring Ryan to bring it to the floor, basically to block immigration reform. This puts Ryan in a bind. If he brings the bill up for a vote, there might be 218 Republicans (and zero Democrats) who vote for it. However, Senate Democrats are saying they want a law to protect the dreamers (and not Goodlatte's) or they won't vote for the budget, so passing Goodlatte's bill might cause a government shutdown on Friday. On the other hand, if Ryan's doesn't bring the bill up for a vote, the Freedom Caucus will be furious with him and could try to unseat him, just as it did to former speaker John Boehner. He has only a few days left to figure out how to handle this hot potato. (V)
That may be the least surprising revelation of Donald Trump's first year in office. However, the good people at Public Citizen have done the yeoman's work of documenting the issue in detail. They say that 64 trade groups, foreign governments, Republican candidates and others who could have business with the President of the United States stayed at or held events at properties owned by Trump. That includes Representatives of four foreign governments—Kuwait, Malaysia, Saudi Arabia and Turkey. The new report describes all of this as raising "unprecedented conflicts of interest."
Russiagate gets most of the attention, for a number of reasons, but it's worth keeping in mind that the President is also seriously exposed when it comes to the Constitution's Emoluments Clause. That won't matter between now and January 2019, but if the Democrats take control of Congress, expect that to change. (Z)
Speaking of tensions between the Democrats and Donald Trump, they are going to be on full display when he delivers the State of the Union address on January 30. Many women members of the blue team will wear black, so as to protest sexual misconduct in general and the President's bad behavior in particular. There will also be boycotts; Reps. John Lewis (D-GA), Frederica Wilson (D-FL), Earl Blumenauer (D-OR), Maxine Waters (D-CA), and Rep. Pramila Jayapal (D-WA) have already announced that they are not attending, and more Democrats are expected to join the list.
The big question is whether or not Trump will respond to any of these provocations as he delivers the speech. On one hand, the last time he addressed Congress was—arguably—the only time he has behaved like a normal president. On the other hand, The Donald rarely allows slights to go unanswered. So, one of the main things that people will be looking for on that night is whether or not he becomes the first chief executive to turn the SOTU into an opportunity to harangue the opposition in front of a national audience. (Z)
Email a link to a friend
or share:
---The Votemaster and Zenger