TODAY'S HEADLINES (click to jump there; use your browser's "Back" button to return here)

•
House Fails to Pass an Immigration Bill
•
Trump Is on the Cover of Time Magazine Again
•
Melania Trump Doesn't Care--Do U?
•
Judge Allows Prosecutors to Use Evidence Seized from Manafort's Storage Unit
•
Dow Jones Is Taking a Beating
•
Giuliani Steps in the Swamp
•
NFL Players to Trump: Here's How to Use Your Pardon Power
•
Krauthammer Dies
Yesterday the House was supposed to vote on two immigration bills, one written by Freedom Caucus member Rep. Bob Goodlatte (R-VA) and a "compromise" bill written by Speaker Paul Ryan (R-WI). The House got to vote on only one of the two bills (Goodlatte's) so it batted .500. Well, maybe not. The bill failed 193 to 231, so the House really batted .000. Ryan pulled his bill before the vote because he knew the votes weren't there and he wanted to avoid an embarrassing defeat.
The problem won't be easy to solve. All the Democrats oppose the compromise bill because its only saving grace is that it is not as harsh as Goodlatte's bill. The Freedom Caucus also opposes the compromise bill because it is not harsh enough. Ryan said he would hold a vote on the compromise bill today, but then the nose counters told him there was no hope of getting to 218. So, late Thursday afternoon, for the second time in as many hours, he postponed the vote. GOP leadership will use the weekend to twist some arms, but also to make some tweaks to the Ryan bill. Having both bills fail would make both Ryan and Trump, the world's greatest negotiator, look bad. After all, Republicans have a substantial majority in the House and there is no filibuster there. All it takes is a simple majority to pass anything.
Trump, for his part, may not be such a great negotiator. Or leader of his party, for that matter. But what he does do pretty well is set himself up to do damage control with the base. He can see where this is all headed, and so as the House was in the midst of its maneuvering, he tweeted this:
What is the purpose of the House doing good immigration bills when you need 9 votes by Democrats in the Senate, and the Dems are only looking to Obstruct (which they feel is good for them in the Mid-Terms). Republicans must get rid of the stupid Filibuster Rule-it is killing you!

— Donald J. Trump (@realDonaldTrump) June 21, 2018
In other words, no matter what happens, it's the Democrats' fault. Needless to say, when the President effectively announces, "Who cares what the House does, they're just wasting their time," that is not helpful as Paul Ryan tries to get something done. So, it's another case of Trump putting himself above all other concerns.
If both bills definitively fail, Democrats and moderate Republicans may go for plan B. They are working on a discharge petition that would force four other bills out of committee and onto the House floor for a vote. They need two more Republicans to sign the petition to have it take effect. Rep. Barbara Comstock (R-VA), probably the most endangered member of the entire House, is in a bluish (D+1) district in Northern Virginia. She hasn't signed the petition, but it would probably be more of a plus than a minus for her. If she signs, only one more moderate would be needed. (V)
Donald Trump loves being on the cover of magazines, but he might not like this week's cover of Time so much. Technically, it is fake news, since it was created through the magic of Photoshop. Here it is: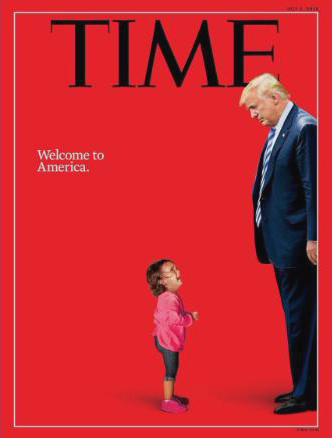 Trump never actually met the child on the cover, but John Moore's photo of the terrified two-year-old girl has already become iconic. Although the photo isn't real, it makes the point about Trump's lack of compassion for children very obvious. The cover will undoubtedly make its way into many a Democratic campaign ad this fall. If a generic picture is worth 1,000 words, this picture is probably worth a million words. (V)
Speaking of pictures, here is a pretty good one: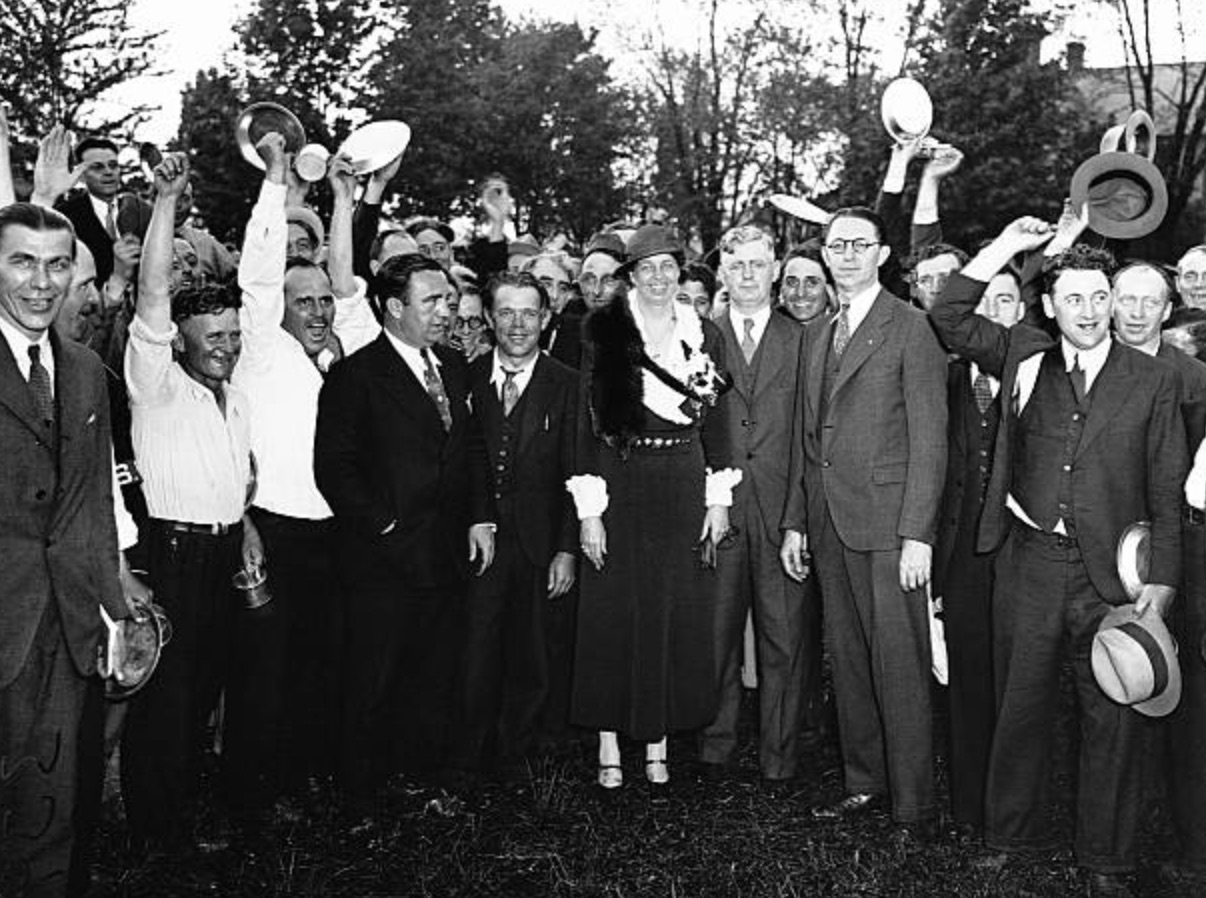 This is from Eleanor Roosevelt's famous meeting with the Bonus Army. For those unfamiliar with the story, Congress passed a bill shortly after World War I granting the veterans of that war a bonus check...in 25 years. Cynically, the members of Congress hoped to curry political favor with the veterans, knowing that many of them would be dead in 25 years and that coming up with money for the rest would be someone else's problem. Then, the Great Depression hit, and a large number of veterans marched on Washington in 1932 to claim their money a decade early. President Hoover refused, tried to get them to leave, and ultimately dispersed them with the U.S. Army. This came off as a tad bit...inhumane, and helped secure his defeat in the election later that year. In 1933, the veterans marched again. FDR wasn't willing to give them their money either, but knew he needed a deft touch to resolve the matter. So, he deployed Eleanor with coffee, donuts, and news of possible jobs. "Hoover sent the army," observed one of the veterans, "and Roosevelt sent his wife."
The point is that when a president gets into a sticky situation, sometimes the first lady is his ticket out of trouble. As first ladies are generally above politics, not unlike a constitutional monarch, they tend to be more popular than the president. Further, they can generally do empathy more plausibly than their husbands can. And so, given the immigration mess that the Trump administration has created for itself, someone had the idea of sending Melania Trump to the border to meet with some of the children who have been separated from their parents. This was potentially a pretty shrewd move; Melania is the only member of the first family who could possibly be described as "well-liked" by anyone besides the base, and a few well-staged photo ops might have served to blunt people's perception that the administration just does not care about these children.
Unfortunately for Melania, she's no Eleanor. The dominant image of the day isn't going to be happy and upbeat, like the picture above. No, it's going to be this: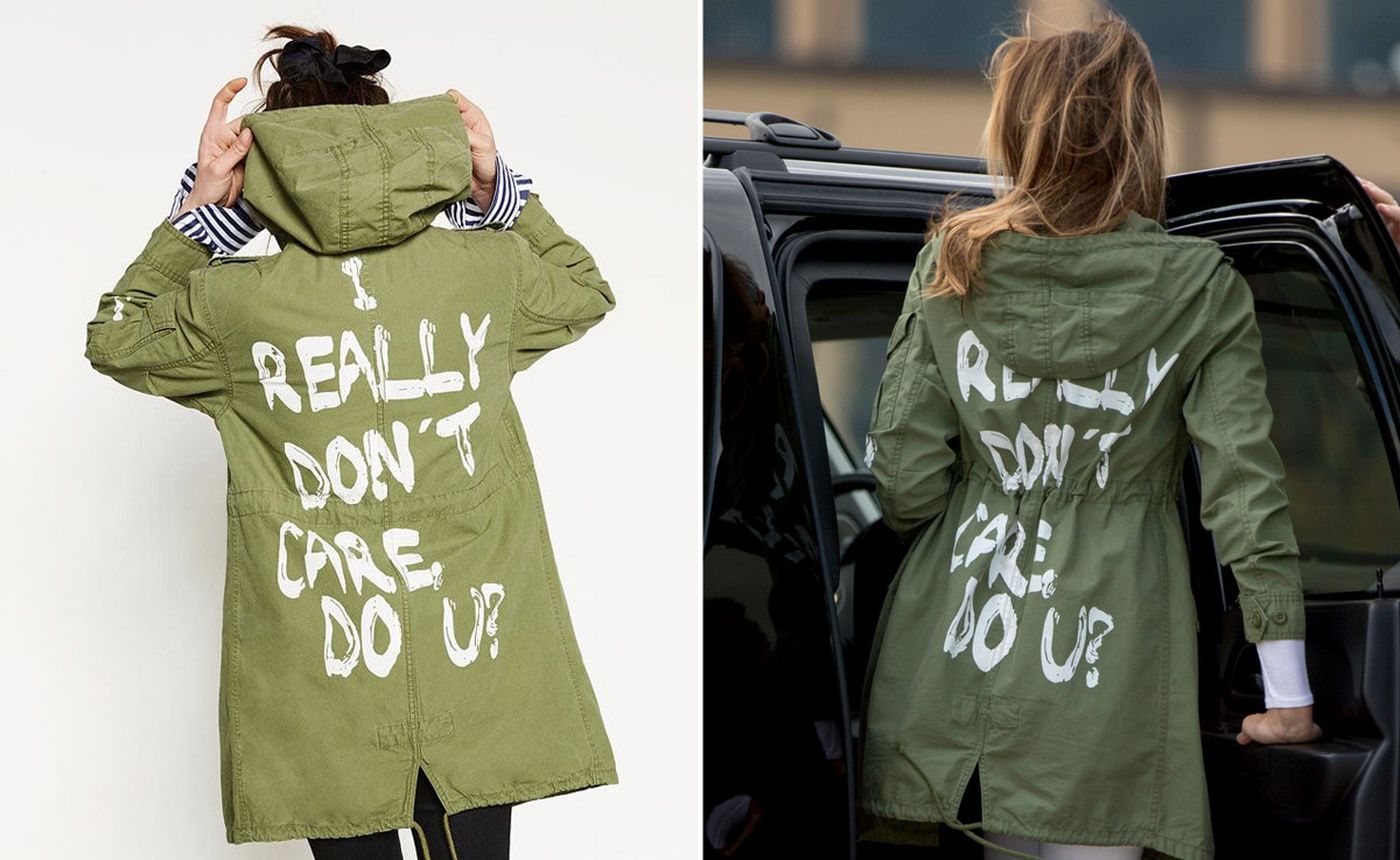 What Trump is wearing is a jacket sold by Zara. Surely, 99.999% of the jackets that the First Lady might have worn would have been no problem whatsoever. It boggles the mind that she managed to choose the .001% that did pose a problem, and that she (and those around her) failed to realize how bad this would look. It's true that she took the jacket off while meeting with the children, but by then she had been photographed hundreds of times with it on.
The tone deafness did not stop there. Her interactions with the children and the staff at the Texas detention center she visited did not exactly draw rave reviews, leaving most witnesses with the impression of aloofness and a lack of concern. The First Lady, for example, asked how many children were being held at the center she visited. When told that the number is 55 (down from 58 a few days ago), she said, "That's great." Later, Trump asked how long the average stay is for the children. She was told that it is 42-45 days, and again replied, "That's great." On her way out, she waved to the children as she left the room and said, "Good luck."
Melania Trump is not a native English speaker, is somewhat unfamiliar with Western culture, and dislikes public appearances. So, her poor performance at the shelter is not entirely unexpected. That said, the White House decided to deploy her, and she agreed to go, so they have to own her palpable lack of enthusiasm and that oh-so-awful jacket. And while she was traveling back to Washington, jacketgate was continuing to unfold. As the pictures of her wearing it spread like wildfire across social media, Stephanie Grisham, a spokeswoman for the First Lady, issued a statement that said, "It's a jacket. There was no hidden message. After today's important visit to Texas, I hope the media isn't going to choose to focus on her wardrobe."
It is at least plausible, though very, very hard to believe, that nobody in the East Wing foresaw that the jacket would not go over well. It is impossible that, once it was pointed out to them, they could not see the problem. So, Grisham's statement comes off as fundamentally dishonest. And if that were not enough, the President decided to get into the act:
"I REALLY DON'T CARE, DO U?" written on the back of Melania's jacket, refers to the Fake News Media. Melania has learned how dishonest they are, and she truly no longer cares!

— Donald J. Trump (@realDonaldTrump) June 21, 2018
So, Grisham says there was no hidden message, and the President says there was. At least one of them is not telling the truth. And again, the initial "mistake" is so implausible, it's fair to wonder if they are both lying. It's not impossible that Melania deliberately botched this whole thing, either out of pique over her husband's philandering ways, or out of a desire to avoid future public engagements. Whatever the true explanation for Thursday's fiasco is, the odds are good that Mrs. Trump won't be making more appearances on behalf of the administration anytime soon. (Z)
In May 2017, the FBI raided the home of Donald Trump's former campaign manager, Paul Manafort. It also had an interest in a storage locker Manafort leases, so it asked one of Manafort's employees—who is listed on the unit's lease—to open it, which he did voluntarily. The agent then got a warrant to seize the business records in the unit. Manafort's lawyers asked Judge Amy Berman Jackson to rule that prosecutors cannot use the evidence they found in the unit because Manafort didn't give permission.
Unfortunately for Manafort, who is currently in a Virginia jail, Jackson yesterday ruled that since the person who voluntarily opened the unit was named on the lease, there was no need for a warrant. That means the evidence was properly obtained and can be used in either of Manafort's upcoming trials. Other than the fact that the evidence consisted of business records, it is not known what they deal with. But since most of the crimes Manafort is accused of are financial crimes, the records could play an important rule in determining whether he was engaged in money laundering, tax evasion, and the like.
Jackson also issued another ruling yesterday that Manafort probably isn't going to like. She ordered the Northern Neck Regional Jail in Warsaw (Virginia, not Poland) to confine Manafort away from other prisoners. She didn't state her reasons, but she sent him to jail for witness tampering, so it is possible she was afraid he might tamper with other prisoners. From her actions so far, it seems that Jackson is not terribly sympathetic to Manafort. Of course, her ruling in the case will depend on whether the prosecution can prove he broke the law, not whether she likes him. (V)
On Thursday, the Dow Jones was down 196 points at close. That is not good. Even worse, however, is that it was the eighth straight day in a row that it was down. Streaks that bad are not common, though this is the second one of Donald Trump's presidency (the first happened in March of last year). If it's down again today, that will be the first nine-day losing streak since February of 1978, which was the height of the Carter-era "stagflation." If the streak somehow continues through next Friday, it will equal the longest streak of down days...ever (the Dow was down for 14 straight days in August of 1941, at the tail end of the Great Depression).
Understanding exactly why the market does what it does is beyond the comprehension of mortal man. Heck, it's even beyond the comprehension of Warren Buffett. Undoubtedly, there are a lot of factors contributing to the recent downturn, including poor earnings reports from several auto manufacturers, one-time Dow Jones crown jewel General Electric getting booted from the index, intrigue at Tesla, and possibly even the immigration mess. However, there is one cause that every analyst agrees looms large: The tariffs and the budding trade war. That means that the Trump administration will soon be under enormous pressure from the titans of industry to back down, presumably at risk of donations to the GOP drying up. Already, many GOP senators are turning the screws, too. And there are at least a few folks in the White House, like say Treasury Secretary Steve Mnuchin, who undoubtedly are lobbying against the tariffs as well. It will be interesting to see if the President backs down on a signature issue for the second time in as many weeks, or if he decides that this is the hill he wants to die upon. (Z)
No, not the D.C. swamp. The real swamp. In southwestern Louisiana. Full of bayous, wetlands, lakes, and wildlife preserves. Giuliani was born in New York City, went to school there, graduated from college there, and got his law degree there. He also worked in the U.S. Attorney's Office there and was later mayor of the city. He knows as much about Louisiana as he knows about the dark side of the moon. But all of a sudden he has endorsed a fringe candidate, Josh Guillory, in the Republican primary against a conservative sitting congressman, Clay Higgins, who is a strong Trump supporter. What is Donald Trump's TV lawyer doing trying to unseat an incumbent Republican who strongly supports the President?
Well, although Donald Trump claims he is the best at everything, in one aspect Giuliani beats him. Trump has been married three times, but divorced only twice (so far). Giuliani is now on his third divorce (wife #3, Judith Nathan, filed on April 4 of this year). So it was time for a new girlfriend. Combining love, politics, and money, Giuliani picked as possible wife #4 Jennifer LeBlanc, a GOP fundraiser who had been on Higgins payroll until late last year, when she abruptly departed for unknown reasons. Now all of a sudden, her new boyfriend is supporting a long-shot candidate who is trying to take down Higgins, in a race Giuliani knows zero about (at least until very recently).
The House Republican leadership is not happy, to put it mildly. The district is R+20, so it is unlikely to be captured by the Democrats, no matter who the Republican nominee is. But as a matter of principle, when a backbencher is completely loyal to the party and does what he is told to do, they support him for reelection and very much resent when an outsider who has probably never been within 1,000 miles of the state jumps in and tries to defeat him. Higgins said he was not fazed by Giuliani, noting "My focus is on serving and continuing to deliver wins for Louisiana and America. I stand with President Trump and will continue to help him advance the conservative agenda in Congress." Higgins is probably right not to be worried. Guillory should be the one who is worried. Having a former Democratic lawyer from New York City in your corner isn't actually a big plus in southwestern Louisiana. (V)
A couple of weeks ago, Donald Trump was basking in the glow caused by his pardon of Alice Marie Johnson, and he tossed out the notion that he might ask NFL players for some pardon suggestions. This, in the President's view, should resolve whatever concerns caused them to kneel.
Now, four current and former players—Doug Baldwin, Anquan Boldin, Malcolm Jenkins and Benjamin Watson—have responded to the president's request, albeit not in the way he was thinking. In a New York Times op-ed, they begin by observing that, "a handful of pardons will not address the sort of systemic injustice that NFL players have been protesting." Anyone who was paying attention—a subsection of the populace that does not include one Donald J. Trump—could have predicted that response. Instead, the four players offer a reasoned critique of the penal system and propose several broad initiatives that Trump might pursue. For example, dramatically reducing the number of folks incarcerated for drug-related offenses. Or the number of people over 60 who are serving time for non-violent offenses. Or bringing an end to the sentence of "life without possibility of parole" for non-violent offenses.
It is worth reading the whole thing, as it is brief and to the point. The White House declined requests for comment, and the likelihood that Trump ever reads the editorial is roughly equal to the likelihood that he decides to abandon the combover and go with the bald look. However, from here on out, every time he tweets about NFL players, folks are going to reply with links to this op-ed, making it just a little bit harder for Trump and his base to misrepresent what the kneeling is actually about. (Z)
Charles Krauthammer, one of America's most prominent conservative commentators for decades, died on Thursday at the age of 68. He succumbed to an aggressive form of cancer, having advised his readers earlier this month that he had just weeks to live.
Krauthammer was—like George Will—the sort of conservative pundit who largely does not, and perhaps cannot, emerge in today's media landscape. That is to say, he took positions that were carefully thought out, and that he believed to be consistent and intellectually defensible. He was unquestionably a conservative, one who celebrated Ronald Reagan, defended the Iraq War, was ok with torture, expressed uncertainty about global warming, and proudly proclaimed American exceptionalism (despite having largely grown up in Canada). On the other hand, he supported stem cell research, mocked the notion of intelligent design, found anti-abortion activism to be a waste of time, loathed the religious right, really loathed Donald Trump, and considered FDR to be the greatest president of the 20th century (Reagan was #2).
In stark contrast to Krauthammer, the titans of 21st century conservative commentary either hew to the party line (Rush Limbaugh, Sean Hannity, Tucker Carlson) or else choose whatever positions will stoke the most outrage and thus sell the most books and/or attract the largest audience (Ann Coulter, Michael Savage, Glenn Beck). It is inconceivable that any of those folks might, for example, acknowledge that FDR might have done one or two things right, or that the religious right doesn't seem to be all that religious. This is one of the unhappy downsides of having so many choices—Internet, radio, cable, print, etc.—a talking head who doesn't tell the audience what they want to hear 100% of the time will lose out to another talking head who will tell them what they want to hear 100% of the time. (Z)
Email a link to a friend
or share:
---The Votemaster and Zenger