TODAY'S HEADLINES (click to jump there; use your browser's "Back" button to return here)

•
Split Decision
•
Winners and Losers
•
Tribalism Wins
•
Exit Polls Show Pretty Much What Was Expected
•
Voters Approve Ballot Measures
•
How Voters Made History on Tuesday
•
And So It Begins
•
Trump Fires Sessions
•
Mueller Just Got Some Help
•
Welcome to 2020
•
The Democrats Probably Lost the Senate until at Least 2022
•
Democrats Had Modest Success in the State Legislatures
Most of the races are now decided and both parties can claim victory. The Democrats won the House, and with that subpoena power and the ability to thwart any and all legislation Donald Trump wants. They also picked up half a dozen governorships and didn't lose any. The Republicans increased their lead in the Senate and will no longer have to kowtow to Sens. Susan Collins (R-ME) and Lisa Murkowski (R-AK) and beg for their votes on key issues.
There are lots of takeaways from the midterms pouring in. Here are a few of them:
NPR
The House wave is a very big deal
The centrist Democrats headed to the House will be an opportunity and challenge for the Democrats
Trump's power was seen clearly in the Senate races
The Republicans who distanced themselves from Trump didn't fare well
Democrats made gains at the state level, but not as much as they would have liked
There will be a record number of women in the House
The polls were wrong but also right
Politico
Suburban Republicans were swept away
In the end, the Orange County House seats in California didn't matter
The Democrats may have lost the Senate until 2022
Republicans held the governorships in Florida, Ohio and (probably) Georgia
Democrats patched the blue wall in the Midwest, but it is still vulnerable
Women won in record numbers, with 100 women in the House next year
Beto O'Rourke lost, but his coattails may have pulled in two or three House Democrats
CNN
A woman's place is in the House
As usual, midterms are a referendum on the president
Mitch McConnell is still the smartest guy in Senate politics
Sherrod Brown is someone the Democrats should listen to more
The 2020 race started yesterday
All the Democrats' big, national rising stars got wiped out
Republicans won the big governor's races in Ohio and Florida
NBC News
The Trump effect is real
It's not the economy, stupid
The blueprint for the Democrats is ???
Get used to divided government
The conventional wisdom was right: Democrats won the House and governorships, Republicans won the Senate
McClatchy
Republicans got smoked in the suburbs
Republicans had a good story on the economy, but Trump didn't tell it
Trump has a lock on his base
But he is keeping the GOP from expanding its tent
Wall Street Journal
Southern Democrats running for governor come up short
A safe Republican seat in Oklahoma flipped
Democrats also unexpectedly picked up TX-11 and NY-11
Only two Democrats, Joe Manchin and Jon Tester, won reelection from traditionally red states
The Democrats' fantasy of winning statewide in Texas remains a fantasy
Tea party star Dave Brat is no more
The Democrats swept the suburbs
Democrats won several governors' mansions in the Midwest
No significant election hacking has been found so far
Two Muslim women were elected to the House
New York Times
Suburbs defect as Trump's base holds
Viral stars fall short
Opponents of abortion win big
The year of the woman: what it all meant
ABC News
Democrats take the House
The Senate gets redder
'Pink wave' crests
Health care is front and center for voters
Washington Post
Backlash to Trump materialized in the suburbs
Trump's 11-rally, six-day campaign swing helped Republicans far outperform expectations in the Senate
But, but, but: Not everything Trump touches turns to gold
The realignment is real, and it's much harder to defy political gravity than it used to be
Candidate quality matters--but only to a point
Moderate Democrats in the Midwest outperformed more ideological Democrats in the Sun Belt
The buzz that this would be a "Year of the Woman" redux came to fruition
The Republican conferences in the House and Senate will be more Trumpian in 2019 than 2018
After Heidi Heitkamp, Joe Donnelly and Claire McCaskill lost, the Senate Democratic caucus is going to become even more liberal
The subpoenas will start flying in January as the Trump investigations begin
The main themes here seem to be that women did well, the country is as divided as ever, the Democrats own the suburbs, and Trump has remade the Republican Party in his image. (V)
A few media outlets are listing winners and losers instead of (or in addition to) takeaways. Here are a few of them:
Washington Post
Winners
The Democrats, who won a heavily gerrymandered chamber
Speaker (?) Nancy Pelosi
Mitch McConnell
Florida's felons, who got the right to vote back after serving their time
Minority candidates, including Muslim women, Native American women, and women generally
John James, who came closer to unseating Debbie Stabenow than expected
Medicaid expansion, which passed in Nebraska, Idaho, and Utah
Sherrod Brown 2020
Beto 2020
Losers
Beto 2018 and the people who gave him $70 million for nothing
"It's the economy, stupid," except it wasn't
The caravan strategy
Voting against Kavanaugh
The rising Democratic stars: Andrew Gillum, Stacey Abrams, and Randy "Iron Stache" Bryce
Danny Tarkanian, who is now 0 for 6 at winning elections
The Hill
Winners
House Democrats, who will now begin issuing subpoenas by the dozen
Senate Republicans, who have probably netted two seats, although Arizona and Florida are not final yet
Sherrod Brown, who won in Ohio and will now be the subject of intense speculation about his 2020 plans
Conservative justices and judges, who will be easier to confirm now
Mixed
Donald Trump, who is happy about the Senate, not so happy about the House
Beto O'Rourke, a rising star, proved that a Latino can beat an Irishman in Texas—if he has an (R) after his name
Losers
The blue wave that never happened
Andrew Gillum and Stacey Abrams showed that it is very, very tough for blacks to win statewide in the South
Chuck Schumer, who will get some of the blame for the Senate, although he did what he could
Republican Trump critics, who were pretty much washed away
USA Today
Winners
Mitch McConnell
House Democrats
Donald Trump
Women and LGBTQ candidates
Losers
Liberal Democrats
Donald Trump (yes, they have him in both categories)
Moderate Republicans
Some of these are obvious, but Tarkanian probably wasn't on the tip of everyone's tongue. (V)
On Jan. 20, 2017, the day Donald Trump was sworn in, pundits were saying that Democrats were going to have a tough time in the Senate races in deep red North Dakota, Indiana, Missouri, Montana, and West Virginia. Guess what? Democrats lost three of the five, and Sen. Joe Manchin (D-WV) may have escaped the guillotine only by voting for Brett Kavanaugh for the Supreme Court. Sen. Jon Tester (D-MT) won by a (flat-top) hair because he was running against a guy from Maryland (although all three of Tester's wins have been nail-biters). The pundits also predicted that Sen. Dean Heller (R-NV) was toast because Nevada is a bluish state that Hillary Clinton carried. Guess what? He's history.
In short, while campaigns are fun, money matters, endorsements are lovely, issues are thought-provoking, and candidates sometimes make a difference, the bottom line is what really determines the result in most cases is that (D) or (R) after the candidate's name. It's completely tribal.
Furthermore, the tribes don't even interact any more. The blue tribe lives in cities and surrounding suburbs in both blue states and red states. The red tribe lives in rural areas in both blue states and red states. The color of a state is simply determined by whether the state has enough cities to balance the rural areas that every state has (well, maybe except Rhode Island and Delaware). Nevada has three cities of over 250,000 so it is a blue state. Idaho has no cities over 250,000 so it is a red state. Education also plays a role, of course, but education and cities are correlated. People with college degrees predominantly live in cities or their suburbs while few people in rural areas have college degrees. (V)
The traditional exit polls didn't have a lot of surprises. Still, getting confirmation on things that were just educated guesses before the election is useful. Among other things, the exit polls showed:
Millennials went Democratic by a 2 to 1 margin.
Republicans won whites (by 10%), Democrats won blacks (by 81%), Latinos (by 40%), and Asians (by 44%)
White women split 49% to 49% but Democrats won black women by a margin of 92% to 7%
Republicans won voters who never went to college by 3 points but lost people with a B.A. by 12 points
Money matters: The poor (under $30K) went Democratic by 29%, but the rich (over $200K) went GOP by 5%
Republicans carried married men, but Democrats won unmarried men and all women by large margins
Gun owners went Republican 61% to 31% but the gunless went Democratic 72% to 26%
Republicans won Protestants but lost Catholics (barely) and Jews (hugely)
City dwellers are Democrats (by 33%), suburbanites are evenly split, rural voters are Republicans (by 14%)
There are many other questions and answers in the linked article. (V)
Numerous ballot measures were approved by the voters on Tuesday, including these:
Ex-felons who have served their time will be allowed to vote in Florida
Maryland will now allow registration on Election Day
Nevada enacted automatic registration when drivers contact the Dept. of Motor Vehicles
Michigan will allow Election Day registration, no-excuse absentee ballots, and straight-party voting
In Colorado, Michigan, and Utah, congressional districts will now be drawn by independent commissions
North Carolina and Arkansas amended their constitutions to require photo ID to vote
Massachusetts affirmed that discrimination against transgender people is forbidden
Alabama and West Virginia voters passed measures declaring that women do not have a right to an abortion
Michigan legalized marijuana
Arkansas and Missouri raised the minimum wage to $11 and $12, respectively
Victims of crimes acquired legal rights in Florida, Georgia, Kentucky, Nevada, North Carolina, and Oklahoma
Starting in 2022, all egg-laying hens in California must be raised outside of cages
Feminine hygiene products are now exempt from sales tax in Nevada
Of course, there were also many other ballot measures that passed (and many that failed). The list above is just a sample. (V)
We mentioned some of these things in our Tuesday live-blogging, and others are referenced above, but here is a list of some of the historic (or possibly historic) things that happened Tuesday, all in one place:
"The Year of the Woman":
Janet Mills (D-ME), Kristi Noem (R-SD), and Kim Reynolds (R-IA) are the first women to be elected governor in their states
Similarly, Lou Leon Guerrero (D) is the first female governor of Guam
Marsha Blackburn (R-TN) and Someone (?-AZ) will be the first female senators from their states
Abby Finkenauer and Cindy Axne (both D-IA) will be the first women to represent their state in the House
Alexandria Ocasio-Cortez (D-NY) is the youngest woman ever elected to Congress (she's 29)
The new House will have at least 100 women, easily breaking the previous record of 85
Nevada is in line to have the first statehouse with a female majority
Diversity:
Ilhan Omar (DFL-MN) and Rashida Tlaib (D-MI) are the first Muslim women elected to Congress
Ayanna Pressley (D-MA) and Jahana Hayes (D-CT) are the first black women to represent their states in the House
Deb Haaland (D-NM) and Sharice Davids (D-KS) are the first Native American women elected to Congress
Veronica Escobar and Sylvia Garcia (both D-TX) are the first Latinas to represent their state in the House
Young Kim (R-CA) is likely to be the first Korean-American woman elected to the House (2.6% lead with 100% reporting)
The House will have at least 38 women of color, breaking the previous record of 34
Non-white voters made up 28% of the electorate, highest ever for a midterm, and 1% off the all-time record (2016)
LGBTQ:
Jared Polis (D-CO) will become the nation's first openly-gay governor
Davids is also the second lesbian to serve in Congress, following Sen. Tammy Baldwin (D-WI)
Miscellaneous:
Six states took steps to rein in gerrymandering
Maine tried out ranked-preference voting, apparently successfully
Six more scientists (all Democrats) are headed to the House, increasing the total by 30% to 75%, depending on who counts as a scientist.
Greg Pence (R-IN) will be the first brother of a sitting veep to serve in Congress
Ok, that last one is not likely to echo through the ages, but some of the others are, or could prove to be, quite momentous, indeed. (Z)
Last night, at 1:29 a.m. EST, we noted that Donald Trump and House Minority Leader Nancy Pelosi (D-CA) were saying the right things and playing nice, but that the singing of "kumbayah" might not last 12 hours. As it turns out, we were off by about 90 minutes. Donald Trump held a press conference, and came out with guns blazing.
To start, and par for the course for him, the Donald declared victory and also took some shots at Republicans who failed to get on board the S.S. Trump and are now out of a job. Coming in for particular scorn was Rep. Mia Love (R-UT), of whom the President said, "Mia Love gave me no love. And she lost. Too bad. Sorry about that, Mia." It's probably just a coincidence that Love happens to be a black woman. Another person whom Trump slammed, Rep. Ryan Costello (R-PA), who did not lose Tuesday night because he chose to retire instead, was furious:
To deal w harassment & filth spewed at GOP MOC's in tough seats every day for 2 yrs, bc of POTUS; to bite ur lip more times you'd care to; to disagree & separate from POTUS on principle & civility in ur campaign; to lose bc of POTUS & have him piss on u. Angers me to my core.

— Ryan Costello (@RyanCostello) November 7, 2018
It's worth noting that quite a few Republicans who held Trump close, including Kris Kobach (KS), Scott Walker (WI), Karen Handel (GA), Dean Heller (NV), and Matt Rosendale (MT) among them, were defeated. So, it's not quite so binary as the President might suggest.
That said, the main task of the day was to begin maneuvering vis-a-vis the Democrats. While Trump claimed that, "I'd like to see bipartisanship, I'd like to see unity," he spent most of his time doing some aggressive posturing. He denied any collusion or any need to investigate him (as per usual), and warned that if House Democrats demand his tax returns, he won't work with them on legislation, and he'll launch a few investigations of his own. He did not make clear what the basis for these investigations would be. When the reporters present observed that Trump appeared to be putting his own needs over those of the country, he said that it would actually be the Democrats who would be to blame. "Being in the majority, I'm just gonna blame them. You understand, I'm gonna blame them. They're the majority. Honestly, it makes it much simpler for me," he explained. And in case there was any chance that the members of the blue team had missed his entirely unsubtle threats, Trump took to Twitter afterward to reiterate them:
If the Democrats think they are going to waste Taxpayer Money investigating us at the House level, then we will likewise be forced to consider investigating them for all of the leaks of Classified Information, and much else, at the Senate level. Two can play that game!

— Donald J. Trump (@realDonaldTrump) November 7, 2018
Presumably this is for the benefit of the base, or maybe to blow off steam, or both, because there is zero chance that the blue team will be influenced by such threats.
Trump was also quite combative with the reporters in the room. He was asked if his claims of being a "nationalist" might embolden racists, and he declared that the real racist was the (black) reporter who asked the question. Another reporter wondered if it was apropos to describe the immigrant caravan as an "invasion" and Trump slurred the questioner as an "enemy of the people." Still another reporter brought up Jeff Sessions, and Trump said there was no news on that front (while surely knowing that he was going to fire the AG an hour later). And, as the icing on the cake, the White House—annoyed by aggressive questioning from Jim Acosta—decided to strip him of the press pass that allows him to access the grounds at 1600 Pennsylvania Avenue. The rest of the press corps is not happy. For example, New York Times Chief White House Correspondent Peter Baker:
Trump @PressSec confirms that White House has suspended the hard pass of a reporter because it doesn't like the way he does his job. This is something I've never seen since I started covering the White House in 1996. Other presidents did not fear tough questioning.

— Peter Baker (@peterbakernyt) November 8, 2018
If the White House does not back down on this, it could get ugly, up to and including lawsuits.
Senate Majority Leader Mitch McConnell (R-KY) made sure to signal on Wednesday that he is still happy to tote the President's water, telling reporters that, "presidential harassment" could backfire on the Democrats. He presented this as merely helpful advice, and not a threat or anything like that. Which is entirely plausible, given the deep and abiding concern for the welfare of the Democratic Party he's shown in the past.
Nancy Pelosi (D-CA), for her part, has already made clear what her plan of attack is. She is going after the tax returns as soon as the calendar turns to January 3, regardless of Trump's and McConnell's threats. On the other hand, impeachment is currently off the table, unless the GOP signs up as well. This position will irritate some of the base, and some of the more lefty members of the Democratic caucus (not to mention outspoken billionaire donor Tom Steyer). It could even cost Pelosi the speakership, but it's not likely. In the end, the Bill Clinton experience makes very clear that, in the absence of overwhelming proof of guilt, impeachment will likely backfire on the blue team. And the proof would probably need to be even more damning that it was for Dick Nixon, since Nixon did not have a propaganda operation on cable TV to spin for him 24 hours a day.
If the Democrats don't hold Trump's feet to the fire at all, the base will be furious. Hence the tax returns, as well as inevitable investigations into emoluments violations, and corruption in various cabinet agencies, and Trump insiders who may have lied to Congress (ahem, Don Jr.), and Russian interference in the 2016 election. However, if the blue team merely spends the next two years trading blows with Trump, they are likely to lose that game, since the President is uniquely talented at getting down into the gutter. The far better path is to pass bill after bill that forces the GOP-controlled Senate and/or the President to make some uncomfortable choices about healthcare, or tax cuts for the middle class, or funding for infrastructure improvements, or protections for voting rights, or the like. Pelosi and the Democratic leadership know this very well, so expect them to adopt a roadmap of this sort. (Z)
As widely expected, Donald Trump demanded and got the resignation of AG Jeff Sessions. It took Trump one day after the midterms to fire one of his earliest and strongest supporters. Loyalty is a one-way street in Trumpland. For the time being, Sessions' chief of staff, Matthew Whitaker, will take over as acting attorney general. Trump has attacked Sessions for months, primarily for recusing himself from the Russiagate investigation.
The speed with which the axe fell suggests one or both of two things. First, that Trump is embarrassed about what happened on Tuesday, and wants to change the narrative. Second, that Trump plans to generate a lot of not-so-positive headlines in the near future, and wants to jam them into as small a timeframe as is possible. We should soon know if it is the latter.
Under normal conditions, Deputy AG Rod Rosenstein would become acting AG, but Trump hates Rosenstein as much as he hates Sessions, so he was bypassed. The $64,000 question now is whether Trump will order Whitaker to fire Mueller, and if so, whether Whitaker will do it. If he is so ordered and refuses, we could be moving into a "Saturday Night Massacre" situation, which could lead to Trump's impeachment when the Democrats take over the House in January.
The "Whitaker replaces Sessions" story has many angles. For example, what will Jeff Sessions do next? He is probably aware that his old Senate seat is currently being occupied by Democrat Doug Jones, who has to face the voters in 2020. Sessions may decide to thank Jones for keeping it warm before taking it back in 2020. On the other hand, Sessions will be 74 when the Senate reconvenes in 2021, so even if he wants his old job back, plenty of other ambititous Alabama Republicans may want it as well.
Then there is the matter of whether Sessions quit or was fired. Formally, he quit, but after being ordered to do so by the president. A court could say that being ordered to quit by someone with the power to fire you is the same as being fired. It matters because the law giving the president the authority to name a temporary cabinet officer applies only to vacancies created when an officer dies or resigns, not to one who is fired. Of course, anyone suing to overturn Whitaker's appointment would have to have standing to sue, that is, someone directly affected by the appointment. Robert Mueller, for example?
Finally, Whitaker has a couple of skeletons in his closet. He was on the advisory board of a company, World Patent Marketing, that supposedly helped inventors get patents and market them. The FTC has taken a dim view of this company. It called it a scam and asked a federal court to shut it down. It's filing included this sentence: "Defendants have operated an invention-promotion scam that has bilked thousands of consumers out of millions of dollars." Is working for a company that scams inventors a barrier to being acting AG? Probably not, but it gives the incoming House Government Oversight Committee something else to investigate.
The connection with a sleazy company is not Whitaker's only ethical issue. Fortune Magazine, which is not exactly a Democratic PR organ, has an article discussing five ways Whitaker may already be ethically compomised:
He said the Trump Tower meeting with the Russians was just fine
He said Mueller may not investigate Trump's finances
He suggested cutting Mueller's budget to thwart him
Whitaker has close ties to Sam Clovis, who is being investigated by Mueller
While on the board of World Patent Marketing, he threatened an inventor the company had cheated
This ought to be enough to keep the Government Oversight Committee busy for a while. (V)
Former AG Jeff Sessions was fired yesterday (see above). With an enhanced majority in the Senate, Donald Trump can appoint a trusted friend to the AG position and get him approved quickly. In principle, the new AG could fire special counsel Robert Mueller outright, but that is unlikely on account of the political blowback. More likely is that the new AG tightens the screws on Mueller. For example, he or she could order Mueller not to subpoena anyone without explicit permission, which will generally not be forthcoming.
Unfortunately for Trump, that doesn't mean Mueller can't get some questions answered. All he has to do is call up Rep. Elijah Cummings (D-MD), who will chair the House Oversight Committee starting in January, and ask him to grill his target in a public hearing under oath. In the very unlikely event that Cummings isn't interested in helping out, Mueller could ask Rep. Jerrold Nadler (D-NY) to do it. Since Nadler will chair the Judiciary Committee, which has jurisdiction over impeachments, he could do so on the grounds that he was collecting evidence for a possible impeachment.
It is also the case that Mueller is no dummy, and that he can see the writing on the wall. It would not be a surprise if he releases a report of some sort post haste. Today, tomorrow, early next week—anything is possible. After all, he could very well have put the finishing touches on something weeks and weeks ago, and could just be waiting for the midterm smoke to clear. The Special Counsel also knows that his offices are at least at some risk of being seized and locked down. So, he's surely got a hard drive or 10 with backups of what he has collected. Maybe in a safe deposit box, maybe at home, maybe in the hands of trusted associates. If necessary, these hard drives could be shared with members of Congress, or state AGs in blue states (especially New York), or anyone else who might be able to pick up the torch.
Other scenarios also come to mind, including a Congressional subpoena of Mueller himself. Suppose Trump throws caution to the winds, hires a new AG, and orders him to fire Mueller immediate and destroy all the documents and recordings he has made. Cummings (or Nadler) could subpoena Mueller and order him to report to his committee all the evidence he has about Russian interference and collusion in the 2016 election. Which, as noted, he would surely be willing and able to do, no matter what steps Team Trump tries to take.
Another House Democrat who is certain to be a big player for Team Mueller is Rep. Adam Schiff (D-CA), who will chair the House Intelligence Committee. His panel, under GOP control, conducted a sham investigation of Russian interference in the 2016 election. Starting in January, it will conduct a very thorough one, with or without Mueller's help. Schiff already has a list of 70 people he plans to subpoena.
Finally, under existing law, the chairman of the House Ways and Means Committee has the legal authority to see anyone's tax return. Incoming Chairman Richard Neal (D-MA) has said he is curious about what is in Trump's and might just use his authority to demand it. If the Commissioner of Internal Revenue were to refuse, the case would probably end up in the Supreme Court. If the Court ruled 5-4 that the 1924 law giving Neal the authority to demand anyone's tax return was unconstitutional, the Court would come under massive attack. Although Trump's tax returns are voluminous, they probably do not constitute a hill Chief Justice John Roberts is prepared to die on. (V)
The 2020 presidential race begins today in earnest. Unless Robert Mueller finds unimpeachable evidence that Donald Trump should be impeached, he (Trump, not Mueller) will be the Republican nominee in 2020.
For the Democrats, there are two paths available in 2020. They can try to win back the resentful white noncollege men in the Midwest, or gamble on getting a more diverse electorate to show up and try to win in warmer climes like North Carolina, Georgia, Florida, and Arizona, which have far more minorities than the upper Midwest. Their hope was that the midterms would give a big clue which way to go. Unfortunately for the Democrats, the midterm elections didn't give a clear message at all. Instead, the midterms were all over the map, so to speak.
In 2016, Donald Trump won by flipping three traditionally Democratic states: Wisconsin, Michigan, and Pennsylvania. Can he hang onto them? Well, all three had contested gubernatorial races and all three had contested senatorial races. Democrats won all six of them as follows:
| | | | | | |
| --- | --- | --- | --- | --- | --- |
| State | Race | Democrat | Dem % | Republican | GOP % |
| Michigan | Governor | Gretchen Whitmer | 53% | Bill Schuette | 44% |
| Michigan | Senator | Debbie Stabenow | 52% | John James | 46% |
| Pennsylvania | Governor | Tom Wolf | 58% | Scott Wagner | 41% |
| Pennsylvania | Senator | Bob Casey | 56% | Lou Barletta | 43% |
| Wisconsin | Governor | Tony Evers | 50% | Scott Walker | 48% |
| Wisconsin | Senator | Tammy Baldwin | 55% | Leah Vukmir | 45% |
That certainly suggests with the right candidate, the Democrats could take back the (upper) Midwest. Potential candidates from that region included Sens. Sherrod Brown (D-OH) and Amy Klobuchar (D-MN). Each has something that would please the progressive wing of the Democratic party. Brown is very liberal and is tight with the unions. Klobuchar is a woman, of course, although she is not as progressive as Brown.
On the other hand, Republicans won some contested races in the Midwest as well, in Indiana, Iowa, Missouri, and Ohio:
| | | | | | |
| --- | --- | --- | --- | --- | --- |
| State | Race | Democrat | Dem % | Republican | GOP % |
| Indiana | Senate | Joe Donnelly | 44% | Mike Braun | 52% |
| Iowa | Governor | Fred Hubbell | 47% | Kim Reynolds | 50% |
| Missouri | Senate | Claire McCaskill | 46% | Josh Hawley | 52% |
| Ohio | Governor | Richard Cordray | 46% | Mike DeWine | 51% |
| Ohio | Senator | Sherrod Brown | 53% | Jim Renacci | 47% |
Ohio has something of a split personality, since each of the parties won one of the top races, but Indiana, Missouri, and Iowa don't look promising for the Democrats since in all three states the governor and both senators are Republicans.
The other route the Democrats can take in 2020 is the "Southern strategy" (with apologizes to Richard Nixon). They could forget the Midwest and concentrate on winning North Carolina, Georgia, Florida, and Arizona. However, yesterday's results there not encouraging for them:
| | | | | | |
| --- | --- | --- | --- | --- | --- |
| State | Race | Democrats | Dem % | Republican | GOP % |
| Arizona | Governor | David Garcia | 40% | Doug Ducey | 58% |
| Arizona | Senator | Kyrsten Sinema | 48% | Martha McSally | 49% |
| Florida | Governor | Andrew Gillum | 49% | Ron DeSantis | 50% |
| Florida | Senator | Bill Nelson | 49.8% | Rick Scott | 50.2% |
| Georgia | Governor | Stacey Abrams | 49% | Brian Kemp | 51% |
All in all, close races, but no victories, and close counts only in horseshoes and hand grenades. So what is the conclusion? No doubt a war for the soul of the Democratic Party is about to break out. The more pragmatic wing of the Party will argue that with the right candidate, the Midwest is winnable (especially if the country is in recession in 2020). The progressive wing will argue that turnout in 2020 is likely to be at least 20 million more than this year, and that is the key to victory. Also possibly significant is that Amendment 4 passed in Florida, so more than a million ex-felons will be allowed to vote in 2020. The ex-felons are disproportionately minorities and Democratic. That could be enough to hand the Democrats Florida. On the other hand, the influx of Puerto Ricans was supposed to do that this time and didn't.
The midterms will boost some candidates and hurt others. If Sen Cory Booker (D-NJ) makes a run for it, surely the moderator of the first debate is going to ask him: "Andrew Gillum was an attractive, enthusiastic, energetic, progressive young African American candidate, yet he lost Florida. What makes you think you can win it?" Sen. Kamala Harris (D-CA) will probably be asked why she can win Georgia when Stacey Abrams couldn't. Moderate young white men may get a boost though. (V)
This year, the Democrats faced a truly dreadful Senate map. In 2020 they will face one that is better in the sense that it is not top-heavy with Democrats trying to hang on by their fingernails in red states. But it isn't good, either. The problem isn't that there is a flock of endangered Democrats. There isn't. In fact, only one Democrats is in trouble: Sen. Doug Jones (D-AL). Actually, he isn't just in danger, he's a dead man walking (assuming the Republicans can find someone to run against him who isn't a child molester). If the Democrats end up with 46 senators in January, they will need to pick up five or six seats in 2020 to control the Senate (assuming Jones loses), depending on who is vice president. It is very hard to see where even five seats might come from, given the 2020 Senate map:
The senators who might potentially be in danger in 2020 (marked by ? in the map) are Sens. Cory Gardner (CO), Joni Ernst (IA), David Perdue (GA), Thom Tillis (NC), and Susan Collins (ME). That's five. It is hard to see where #6 might come from. Maybe Sen. Steve Daines (R-MT)? He's not originally from Maryland, but he is from California, which is probably worse. Paging Gov. Steve Bullock (D-MT), a native-born Montanan like Jon Tester.
If a Democrat is elected president in 2020 and Sen. Mitch McConnell (R-KY) is still majority leader come January 2021, he might decide to really play hardball and refuse to confirm any of the president's cabinet, subcabinet, or other appointees unless he gets some quid pro quo, such his getting to name half the cabinet or the next two Supreme Court nominees. It could really get ugly.
In 2022, the Democrats might be able to pick up another seat, but usually the president's party loses seats in the midterms, this year being a big exception. Since we are rapidly moving toward a situation in which Democrats can win only in blue states and Republicans can only win in red states, the Republicans may have a more-or-less permanent lock on the Senate because there are more red states than blue states, even though those states together have far fewer people than the blue states. At some point the Democrats are going to have to come to grips with this unpleasant fact and find a way to win in red states. (V)
Democrats flipped seven state legislative chambers yesterday, namely:
Colorado senate
Maine senate
Minnesota house
New Hampshire senate
New Hampshire house
Connecticut senate
New York senate
The Republicans didn't flip any Democratic chambers, although the Alaska house is still up in the air. While Democrats may be pleased with these results, they are really nothing to write (e-mail?) home about. In a typical cycle, a dozen chambers flip. Also, Republicans will control 61 or 62 chambers (depending on Alaska) to the Democrats' 37 or 38. Here is what the map showing which party has the trifecta in which state: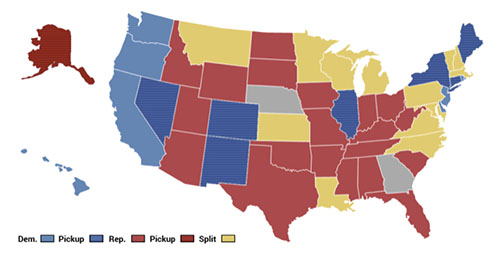 The number of states where the Republicans run the show has been greatly reduced, although they can still gerrymander Texas, Florida, and Ohio at will. Democrats can do the same in Illinois, New York, and Massachusetts. However, the Supreme Court is likely to get another partisan gerrymandering case in the next two years, and that may restrict or eliminate the practice. (V)
---
If you have a question about politics, civics, history, etc. you would like us to answer, click here for submission instructions and previous Q & A's
Email a link to a friend
or share:
---The Votemaster and Zenger