TODAY'S HEADLINES (click to jump there; use your browser's "Back" button to return here)

•
Where Things Stand in Unresolved Elections
•
Can't Donald Trump Do Anything Right?
•
Trump Jr. Thinks He May Be Indicted Soon
•
Now, This Is How To Take a Joke
•
Democratic Presidential Candidate of the Week: Beto O'Rourke
Let's begin with a rundown of the numbers in the various elections from Tuesday that remain unresolved. Rows are colored based on which party currently controls the office, and asterisks indicate an incumbent:
| | | | | |
| --- | --- | --- | --- | --- |
| Office | Currently Leading | Percentage | Currently Trailing | Percentage |
| Georgia Governor | Brian Kemp (R) | 50.3% | Stacey Abrams (D) | 48.8% |
| Florida Governor | Ron DeSantis (R) | 49.6% | Andrew Gillum (D) | 49.2% |
| Florida Senator | Rick Scott (R) | 50.1% | Bill Nelson* (D) | 49.9% |
| Arizona Senator | Kyrsten Sinema (D) | 49.5% | Martha McSally (R) | 48.1% |
| Representative, CA-10 | Josh Harder (D) | 50.9% | Jeff Denham* (R) | 49.1% |
| Representative, CA-39 | Young Kim (R) | 50.7% | Gil Cisneros (D) | 49.3% |
| Representative, CA-45 | Mimi Walters* (R) | 50.5% | Katie Porter (D) | 49.5% |
| Representative, GA-07 | Rob Woodall* (R) | 50.2% | Carolyn Bourdeaux (D) | 49.8% |
| Representative, ME-02 | Bruce Poliquin* (R) | 46.2% | Jared Golden (D) | 45.5% |
| Representative, NJ-03 | Andy Kim (D) | 49.9% | Tom MacArthur* (R) | 48.8% |
| Representative, NY-22 | Anthony Brindisi (D) | 50.3% | Claudia Tenney* (R) | 49.7% |
| Representative, NY-27 | Chris Collins* (R) | 49.5% | Nate McMurray (D) | 48.4% |
| Representative, TX-23 | Will Hurd* (R) | 49.2% | Gina Ortiz Jones (D) | 48.7% |
| Representative, UT-04 | Ben McAdams (D) | 51.2% | Mia Love* (R) | 48.8% |
The joke has been circulating that this election was not so much like Christmas for the Democrats as it was like Hanukkah, because the Party seems to get a new gift every day. The latest is that the defeat of Rep. Dana Rohrabacher (R-CA) became official on Saturday, he will be succeeded by Harley Rouda (D). As to the other remaining races, here's the latest:
Georgia governor

: State elections director Chris Harvey told a federal judge on Thursday that Stacey Abrams has no viable path forward. Although it is not always wise to trust election officials in Georgia, he is probably right about that. There is also much pressure on Abrams to concede, although all of it seems to be coming from people who are white and Republican, so they may not exactly be impartial in this matter. If Kemp's share of the vote drops below 50.0, which is still possible depending on what happens with currently-uncounted provisional ballots (numbering in the tens of thousands), it will trigger a runoff. Failing that, it is very possible that Abrams and/or the Georgia Democratic Party will file lawsuits. Courts are reluctant to overturn election results, but they will do so in circumstances where there are legitimate questions about the fairness and accuracy of an election. This one may well clear that bar.



Florida governor and senator

: These are officially headed for a recount. The ballots will be recounted by machine, a process that must be completed no later than 3:00 p.m. on Thursday. If, after that recount, the margin between any two candidates is 0.25% or less, then a hand recount will be conducted. That one must be finished by Tuesday, November 20. Consistent with these developments, Democratic gubernatorial candidate Andrew Gillum has un-conceded. It is improbable that the recount will find enough votes, all by itself, to put Nelson or Gillum in the lead. However, there are questions surrounding the balloting in Broward County and Palm Beach, questions substantial enough that prominent Republicans, including Donald Trump and Sens. Marco Rubio (R-FL) and Lindsey Graham (R-SC), are already doing everything they can to pooh-pooh the ballots in question. Clearly, they are worried, as well they should be. There are enough ballots in question, coming from two Democratic strongholds, that they could flip one or both results. As in Georgia, there's every chance that the courts are going to end up involved. Actually, they are already involved, so it's probably better to say there's every chance that they are going to become more involved.



Arizona senator

: The number of outstanding ballots is dwindling, and Democrat Kyrsten Sinema's lead is growing (it's just a tad under 30,000 votes now). That is a bad combination for Republican Martha McSally. Election officials estimate that there are 260,000 ballots still to be counted, with almost 80% of those coming from Maricopa County, where Sinema is up by 3.5% in the ballots counted thus far. Assuming that 260,000 figure is correct, and given Sinema's 29,832-vote lead, it means that McSally would have to take about 57% of the remaining ballots to pull ahead. Not impossible, particularly if the outstanding ballots come from the redder corners of Maricopa, but definitely a tall order. Incidentally, Arizona's standards for a recount are very tight; one would be triggered automatically only if the final gap between McSally and Sinema is less than 0.1% of the total vote. Incidentally, McSally and the Arizona GOP are unhappy with the procedures being used for the counting of provisional ballots, so we could see lawsuits here, too.



CA-10

: As is generally the case, particularly in California, the absentee ballots are breaking Democratic. And so, Democrat Josh Harder is gaining ground while the number of outstanding ballots shrinks. Some outlets have already called this for Harder, in fact.



CA-39

: Young Kim, like other Republicans, is losing ground. However, her lead was large enough that she will probably survive. Right now, her lead is 2,423 votes.



CA-45

: If Mimi Walters (R), currently up by 2,009 votes, survives, it will be by the thinnest of margins. Then she will have two years to look forward to a presidential election year, and to think about if she can possibly hang on again.



GA-07

: Rob Woodall has a lead of 901 votes, and there are at least 1,500 provisional ballots left to count in left-leaning Gwinnett County. This race could end up in court, perhaps alongside lawsuits related to the governor's race.



ME-02

: This is one of the most fluid situations on the list, thanks to Maine's ranked-choice voting. Exit polls had the win going to Democrat Jared Golden, so a flip is a real possibility here.



NJ-03

: There are a little more than 6,000 votes left to count, and Democrat Andy Kim has a 3,424-vote lead. This one will soon be over.



NY-22

: New York law actually requires that seven days elapse before the counting of absentee ballots begins, so this one will definitely linger into next week. Democrat Anthony Brindisi has a 1,293-vote lead, and local analysts say the profile of the absentee votes (they came mostly from blue-leaning counties) favors him.



NY-27

: Republican Chris Collins has a 2,910-vote lead, and there don't appear to be enough absentee ballots that erasing that is a viable possibility. However, Democrat Nate McMurray, who conceded and then un-conceded, has asked for a recount.



TX-23

: Incumbent Republican Will Hurd (R) has already claimed victory, but that's just for PR purposes. He has only a 1,150-vote lead over Gina Ortiz Jones, with absentee ballots still to be counted. Jones has also implied that she will request a recount, if it comes to that.



UT-04

: This race has the biggest gap among the still-undecided House races, as Democrat Ben McAdams has a 4,914-vote lead. However, it also has the largest number of uncounted ballots, as only 79% have been reported. Incumbent Republican Mia Love still has hope, but probably not much of it. She would need to take about 55% of the remaining vote to pull it out.
That's where things stand. Some of these are not going to be resolved before the calendar turns to December, and it's possible some will linger into next year. (Z)
Normally, the ceremonial aspects of the presidency are the easiest part of the job. Someone sets up the pins for you, you knock 'em down, there's a round of applause and some nice photo-ops, and then you move on. With Donald Trump, however, even the easiest parts of the job are never all that easy, and result in widespread outrage and criticism. Is this his doing, for mishandling these occasions? Or is it because he is so thoroughly disliked by some people that fault will always be found? We report, you decide.
To start with, today is the 100th anniversary of the end of World War I. For those who are particularly precise, the anniversary happened at 5:00 a.m. EST (11th hour of the 11th day of the 11th month, Central European Standard Time). Donald Trump is in Europe to meet with the various leaders there, and to participate in ceremonies commemorating the anniversary. The meetings, though private, reportedly did not go well, and someone in the room (probably Emmanuel Macron) told reporters off the record that the Donald was "testy."
However, that is not what has people talking (and what has the Europeans irritated). It's that when time came to visit a military cemetery where many U.S. war dead are buried, Trump was nowhere to be found. Apparently, he did not want to go out in the rain, and so watched on a television from where he is staying. If true, that is pretty much the textbook definition of "bad optics." Given that the men and women who served in the Great War braved things like mustard gas and flamethrowers and "no man's land," it is not well for someone to beg out due to a little water, particularly when that someone also went to great lengths to avoid military service. Among those who spoke out was Nicholas Soames, a veteran, British MP for mid-Sussex, and grandson of a fellow named Winston Churchill. He tweeted:
They died with their face to the foe and that pathetic inadequate @realDonaldTrump couldn't even defy the weather to pay his respects to The Fallen #hesnotfittorepresenthisgreatcountry

— Nicholas Soames (@NSoames) November 10, 2018
Soames has received thousands and thousands of replies from Americans who are apologizing on their president's behalf.
And while Trump was managing to aggravate folks across the pond, his administration also managed to ruffle quite a few feathers back home, with their announcement of the first round of winners of the Presidential Medal of Freedom of the Trump presidency. Here is the full list:
Babe Ruth
Roger Staubach
Alan Page
Elvis Presley
Antonin Scalia
Sen. Orrin Hatch (R-UT)
Miriam Adelson
Four of these are pretty standard choices. Staubach, famous as the former QB of the Dallas Cowboys, is also a Vietnam veteran, a successful businessman, and is involved in many charitable causes. Alan Page is also a former NFL player (Minnesota Vikings and Chicago Bears), and was the first black jurist on the Minnesota Supreme Court. Scalia is dead, of course, but this award is often given posthumously. And while many may not like his ideas, there is no question he was a devoted citizen and public servant and one of the titans of the Supreme Court for decades. And Orrin Hatch has certainly been in the Senate for a very long time. He didn't quite compile the record of a Bob Dole or a Lyndon B. Johnson, or even of a Joe Biden, but sometimes the PMoF is a "thanks for retiring" gold watch, so it's not too strange. After all, they gave one to Strom Thurmond, who was more associated with keeping folks in bondage than for giving them freedom.
After that quartet, we move onto the head-scratchers. While the award is indeed given posthumously sometimes, Elvis has been dead for 41 years, and the Babe shuffled off this mortal coil more than 70 years ago. It's also a little unclear what contributions they made to "freedom," though Ruth did give out a lot of shoes and toys to orphans in between eating hot dogs by the dozen and patronizing the services of female "professionals." Presumably the Presley award is an early Christmas present for the base, and Ruth is for Trump's father, who was a huge fan of the Bambino.
The one that is really raising peoples' hackles, of course, is the last one. Miriam Adelson is ostensibly being awarded for her "philanthropy." It's true that she's given a fair chunk of money away, but compared to some other Americans, she and her husband are pikers. In fact, the most generous American philanthropist that doesn't already have a PMoF (since #1/#2 Bill and Melinda Gates have already been recognized) is...George Soros. That probably wasn't going to happen, but how about Paul Allen, who has given away 80 times as much as the Adelsons, and who just passed away? Or Chuck Feeney, who has donated all but $2 million of an $8.0 billion fortune?
Of course, there is one thing that is true of the Adelsons that is not true of Allen, or Soros, or Feeney, or any of the other Americans who have given a billion dollars or more to charity. The Adelsons have also given over $100 million to GOP candidates and to the Party itself. Under the circumstances, quite a few people think that Mrs. Adelson has effectively purchased America's highest civilian honor for herself. Is it so? As we said, we report, you decide. (Z)
By all indications, special counsel Robert Mueller's team has shifted into turbo mode, very possibly in order to finish their investigative work (as much as possible) before their investigation is shut down by acting AG Matthew Whitaker. That could very well mean that the other shoe is about to drop for some of the folks closest to the President. Like, for example, his son Don Jr. Sources within the White House, as well as those close to the First Son, say he is bracing for the possibility that he will soon be indicted.
If this does come to pass, the obvious charge would be perjury, since Trump Jr. certainly appears to have lied to Congress. However, nobody outside of Team Mueller really knows exactly what the special counsel has discovered. It's possible that conspiracy is on the table; if the Trump campaign did indeed coordinate with the Russians, Don Jr. and Jared Kushner are the two most likely conduits (at least, the most likely conduits who haven't already been nailed). Further, Mueller has undoubtedly been looking into the Trump Organization's finances, and it's not impossible that he has Trump Jr. on something like money laundering. In fact, keeping in mind Mueller's standard MO, he may have squeezed the small fish (Carter Page, Paul Manafort) to get dirt on the medium fish (Don Jr.), and he may be ready to squeeze the medium fish to get dirt on the big fish (Don Sr.). Point is, Junior is right to be nervous. (Z)
Last weekend, while appearing on Saturday Night Live's "Weekend Update" segment, cast member Pete Davidson made a joke about the eyepatch worn by newly-elected congressman Dan Crenshaw (R-TX). Here is the original clip:
For those who don't wish to watch, a picture of Crenshaw was displayed, and Davidson said, "This guy is kind of cool, Dan Crenshaw. You may be surprised to hear he's a congressional candidate from Texas and not a hit man in a porno movie." That did not go over so well with the audience, so Davidson punctuated the remark by noting, "I'm sorry; I know he lost his eye in war, or whatever." This, of course, did not go over well with Republicans, or veterans, or Republican veterans. Crenshaw himself expressed mild irritation, while many others called for an apology, or for Davidson to be publicly reprimanded, or suspended, or fired, or maybe even drawn and quartered.
The show does not often apologize for its jokes, even the controversial ones, but this weekend they made an exception. Besides the eyepatch joke, Davidson has also been in the headlines quite a bit due to his bitter breakup with pop star Ariana Grande. He returned to "Weekend Update" and offered a sincere apology. Here's that clip:
Again, for those who don't wish to watch, Crenshaw made a surprise appearance in which he accepted the apology, took a phone call on his cell (which just so happens to have an Ariana Grande song as a ring tone), got off a few bon mots at Davidson's expense, and then offered some thoughts on the meaning of Veterans' Day. In three minutes, he probably won himself 25,000 more votes for his reelection bid. In short, he and Davidson both took lemons and made lemonade. There may be a lesson in that for certain politicians who struggle to take a joke. (Z)
There is no person who was more often the subject of questions this week about his 2020 plans than Rep. Beto O'Rourke (D-TX), so let's run with that.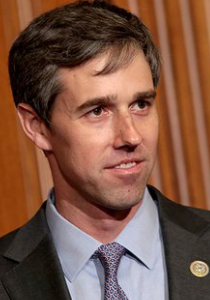 Full Name

: Robert Francis "Beto" O'Rourke



Age on January 20, 2021

: 48



Background

: Spanish-sounding nickname notwithstanding, O'Rourke is as Irish as it gets, though his Texas roots go back many generations, and he is fluent in Spanish. He's got politics in his blood, as his father was a county-level functionary and a judge, and his stepfather served as JFK's navy secretary. He's also got entrepreneurialism in the blood, as his mother owned and ran a very successful furniture store. After taking his B.A. at Columbia University, O'Rourke tried his hand at a number of different careers, including nanny, art mover, proofreader, poet, punk rocker, and congressional intern. He then founded Stanton Street Technology, an Internet services firm that is the primary source of his wealth ($9 million), and is currently operated by his wife.



Political Experience

: O'Rourke served six years on the El Paso City Council (2005-11) before being elected to the House of Representatives in 2012. He was twice reelected to the lower house before giving up his seat to unsuccessfully run for the U.S. Senate.



Signature Issue(s)

: One of them is certainly veterans, particularly their care and support after they end their military service. Though O'Rourke did not himself serve, he did attend a military school for some time, his Congressional committee service has been entirely on veterans' committees (Committee on Armed Services, Committee on Veterans' Affairs), and he holds weekly town halls for veterans. O'Rourke is also an authority on (and an outspoken opponent of) the War on Drugs, and favors decriminalization of some substances, and much greater investment in treatment.



Instructive Quote

: "Reasonable people can disagree...and it makes them no less American."



Completely Trivial Fact

: Like Donald Trump and Bill Clinton, O'Rourke tends to eat less-than-healthy food when he's on the road, particularly favoring donuts and Whataburger cheeseburgers (despite being lactose intolerant). Unlike those two, O'Roukre is also known for his regular workout routine, which he has shared video of online. (Note: Clinton only ate badly back in the 1990s; he's now a vegan).



Recent News

: O'Rourke lost his U.S. Senate race to Sen. Ted Cruz (R-TX), despite raising piles of money, and running an impressive campaign. Still, it really shouldn't have been as close as it was, given how red Texas still is. Cruz's chief strategist Jeff Roe, who is willing to give credit where credit is due, said, "The Democrats don't have anybody like him. I've seen all of them. They don't have anyone of his caliber on the national stage. I pray for the soul of anyone who has to run against him in Iowa in 453 days."



Three Biggest Pros

: (1) Charisma will take you far in politics, and O'Rourke's got charisma to burn; (2) He looks to be a good blend of practical politician and inspiring progressive, and has as good a chance as anyone to unify the Hillary and Bernie wings of his party; and (3) Clearly, he can be competitive in red/Southern states, and in ones less red than Texas (Florida? North Carolina? Arizona?) he can probably win.



Three Biggest Cons

: (1) O'Rourke does have some skeletons in his closet, most obviously a drunk driving arrest; (2) His liberal stance on immigration will guarantee that Donald Trump's base gets to the polls; and (3) It's unclear how well he will do with women, Midwesterners, and black voters, three must-have groups for the Democrats in 2020.



Is He Actually Running?

: Just this week, he said he was not planning to. That said, it would be gauche for him to say anything else before his Senate election was decided. He may "discover" that running in 2020 is a good idea after all, while his extensive list of donors is still fresh.



Betting Odds

: He's getting anywhere from 6-to-1 to 4-to-1, which implies an 18% to 25% chance of landing the nomination. Among the field, the only other candidate who is getting odds that good is Sen. Kamala Harris (D-CA). A Harris-O'Rourke ticket, in some order, would be very interesting indeed.



The Bottom Line

: O'Rourke will be back in 2020 in some capacity. Maybe as a presidential candidate, maybe in the #2 slot on the Democratic ticket, and maybe to take a shot at Sen. John Cornyn (R-TX), who is up that year. Clearly, Beto (as he prefers to be known) has big plans, and he undoubtedly knows you have to strike while the iron is hot.
You can access the list of candidate profiles by clicking on the 2020 Dem candidates link in the menu to the left of the map. (Z)
---
If you have a question about politics, civics, history, etc. you would like us to answer, click here for submission instructions and previous Q & A's
Email a link to a friend
or share:
---The Votemaster and Zenger