TODAY'S HEADLINES (click to jump there; use your browser's "Back" button to return here)

•
Trump Administration Considered Helping Overthrow Venezuelan Leader
•
Apparently, There's Money in Fighting Climate Change
•
Maybe the Author of the Op-ed Was...Jon Huntsman
•
Roy Moore Sues Sacha Baron Cohen
•
This Week's Senate News
•
Democratic Presidential Candidate of the Week: Elizabeth Warren
The U.S. government is none too fond of Venezuelan President Nicolás Maduro. Many high-ranking officers in Venezuela are apparently none too fond of Maduro. And, with folks on both sides thinking that there may be room for some sort of partnership, there were several meetings held, some of them in the White House, about a possible U.S.-supported coup, according to reporting from the New York Times. Clearly, since Maduro is still in power, nothing came of the talks.
This sort of thing is not too common these days. There was certainly a time when the U.S. was comfortable clandestinely overthrowing other countries' leaders (see Iran, South Vietnam, Chile, etc.), but that era largely came to an end when President Gerald Ford announced the country would stop doing that. Now, the U.S. either attacks foreign leaders openly (Panama, Iraq, Libya, etc.) or else stays out of it (with Reagan and Nicaragua an obvious exception).
Donald Trump, of course, loves shows of strength, particularly those that he can execute on his own authority, without having to trouble himself with irritating things like...Congress. Odds are pretty good that he's going to have regular need of something to boost his approval ratings and/or create a distraction in the next two years. And the administration has already gone far enough down this path that they were holding meetings in the White House. The upshot is that it would not be the least bit surprising to see this kind of thing happen in the near future, maybe in Venezuela, or possibly in Syria (another leader Trump wants dead), or in any of a half-dozen other countries. Of course, it's also possible that Trump will order a hit on Maduro, or Bashar al-Assad, or Kim Jong-Un, and the "resistance" within the White House will countermand the order. Strange days. (Z)
There is a new report out from the Global Commission on the Economy and Climate. If you are not familiar with that entity, it's a joint project of seven nations—Colombia, Ethiopia, Indonesia, Norway, South Korea, Sweden and the United Kingdom—and its mission is to draw on the expertise of both political leaders and scientists to understand how climate change and the economy interact. The new report reaches some stunning conclusions, namely that a vigorous fight against climate change would generate $26 trillion in economic benefits in the next 12 years, create more than 65 million new jobs worldwide, and—by the way—avoid 700,000 premature deaths.
Anyone who follows politics knows that when it comes to climate change, the GOP is the party of "What? Me Worry?" and the Democrats are the party of "The sky is falling." The latter stance keeps the environmentalists happy, but has clearly not had much impact on blue-collar voters, many of whom have been told that climate change is a trick, or that it will take away their jobs. If the blue team latches onto the findings of this report, and can somehow craft a message that is concurrently about environmentalism and about economic growth and job creation, that could be a potent combination, indeed. (Z)
We're four days in, and everyone inside the White House and out, excepting a half-dozen or so New York Times editors, is trying to guess who wrote the op-ed slamming Donald Trump. Mike Pence remains a popular guess, with insider-until-recently Omarosa Manigault Newman coming out on Friday and adding her vote to his tally. Others have made the case for Jared Kushner, Larry Kudlow, John Kelly, Kellyanne Conway, James Mattis, Kelly and Mattis, or even a team of authors. The Washington Post has a pretty good rundown of all the possible candidates, along with "why it is" and "why it isn't" for each.
That said, the most compelling of the whodunnit pieces is definitely the one written by Slate's William Saletan, who thinks the author is Ambassador to Russia Jon Huntsman. It's really worth reading the whole thing, but here are the main arguments:
Like Huntsman, the anonymous author loves conservative policies, but hates low character
The op-ed spends much time on the intricacies of Russia policy, which is, of course, Huntsman's area
Similarly, there are details about Trump's interactions with Vlad Putin that not everyone would know
Huntsman and Trump have definitely dueled over the administration's approach to Russia
Huntsman's denial (which every suspect has issued, by now) leaves a lot of wiggle room
The Ambassador is very establishment, and was never a Trump guy
The author loved John McCain, and so does Huntsman, who considered the Senator his mentor
There are linguistic clues aplenty, particularly in several of the unusual word choices, like "malign" instead of "malignant," "amoral" instead of "immoral," "worst inclinations" instead of "worst tendencies," and a handful or others. Saletan documents that each of the unorthodox word choices are a regular part of Huntsman's public record. Further, unlike Mike Pence's "lodestar," they are subtle enough that a copycat would not likely catch on to them.
Overall, it's a very impressive analysis.
White House staff insist that they are close to ferreting out the mole, so maybe we will find out sometime this week who it is. On the other hand, this is the same staff who insisted that record-breaking crowds showed up for Donald Trump's inauguration, so maybe we won't. Meanwhile, for those who do not like a mystery, The Onion has also published an anonymous op-ed on Trump. The author of that one is a little more guessable. (Z)
British actor, comedian, and provocateur Sacha Baron Cohen earned great fame from conducting awkward interviews with real people (often politicians). His shtick was that he was playing a character—moronic chav Ali G, naive-but-bigoted Kazakh reporter Borat Sagdiyev, or flamboyantly gay fashionista Brüno Gehard—but the interview subjects did not know it was a character, and so became the butt of the joke when they grew flustered (or angry) as a result of Cohen's outlandish questioning. All three characters, in turn, became the subjects of feature-length movies, the most successful (and outrageous) of which was 2006's Borat: Cultural Learnings of America for Make Benefit Glorious Nation of Kazakhstan. Thereafter, the three characters were so famous they had to be retired, because it was not possible to fool interview subjects any more.
For five or six years, Cohen cooled his jets and worked mostly on projects using his own name and identity. Recently, however, he invented new fake characters, and started a new show for Showtime called "Who Is America?" And for that show, former judge and U.S. Senate candidate Roy Moore was booked to be interviewed and given an award by "Gen. Erran Morad," who is ostensibly an Israeli anti-terrorism expert, but is really—of course—Cohen in heavy makeup. The central gag of the interview involved "Morad" showing Moore some of the new gadgets that have been invented by the Israeli military, including a "pedophile detector," and then becoming confused when said detector kept going off whenever placed near Moore. Here's the clip:
Eventually, Moore stormed off the set. And this week, he sued Cohen, Showtime, and Showtime's parent company CBS for slander and $95 million in damages. There is, of course, no chance that Moore will win. In fact, there is almost no chance this even goes to trial. Among the reasons: (1) Cohen is a veteran at this, and has people sign extensive waivers before being pranked; (2) The show is a work of satire, which affords broad First Amendment protections; (3) Moore is a public figure, which also broadens the First Amendment protections; and (4) Truth is an absolute defense against slander, and if Moore were to actually take this to court, opposing counsel may cross-examine him in great detail about his relationship with Debbie Wesson Gibson, attempting to establish that he is indeed a pedophile.
Given that Moore is not in office now, and figures to be out of office for the rest of his life, why do we mention this story? It's not to illustrate that Moore is dumb, even though he clearly is if he thinks there really is such a thing as a pedophile detector. Nor is it to try to answer the question that apparently still lingers in Donald Trump's mind, namely why Moore lost his Senate election.
No, the purpose in pointing this out is this: Moore and Trump have much in common, personality-wise. That includes a tendency to make enemies, an inability to ignore slights, an itchy trigger finger when it comes to filing lawsuits, and a love of attention. At the moment, the President's penchant for using lawsuits to avenge himself against those who anger him is being checked by the fact that, well, he's the president. But once he's out of office, that will no longer be true, and there's every reason to expect that he is going to behave just as Moore has, firing off lawsuits as a way of venting his anger and frustration (and, as a benefit, keeping his name in the headlines). In other words, this seems to be a pretty good preview of what an ex-president Trump will behave like. (Z)
The Senate news is coming fast and furious these days. Here's our roundup of this week's big stories:
There you have it. Good night, and good luck. (Z)
This week, it's another one of the presumed favorites for the Democratic nomination. Of course, with a field this large and this amorphous, there are quite a number of presumed favorites.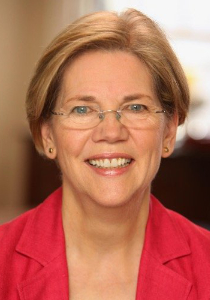 Full Name

: Elizabeth Ann Warren



Age on January 20, 2021

: 71



Background

: Born and raised in Oklahoma, Warren grew up quite poor, and witnessed firsthand her parents' setbacks. Most notably, her father had a heart attack when she was 12, and the resulting medical bills and lengthy period of unemployment nearly broke the family, during which time their car was repossessed by the bank, and their house almost got the same treatment. Nonetheless, Warren became a star student and a champion debater. She won a scholarship to George Washington University, but dropped out after two years to marry and start a family. Moving around the country as a result of her first husband's job transfers, she eventually completed her undergraduate education at the University of Houston, and then took her J.D. at Rutgers. After practicing law out of her home for a few years, she transitioned into a very successful academic career that culminated in a tenured position at Harvard Law. During her time there, she was the only member of the law school faculty to have a degree from a public law school. She published widely, but was particularly known for her work on bankruptcy.



Political Experience

: During her years as an academic, Warren was an activist and an advisor to various politicians and political committees, most notably serving as chair of the Congressionally-appointed committee that oversaw TARP. In 2010, the death of Ted Kennedy triggered a special election, and the idiosyncratic electorate that showed up to vote chose Scott Brown (R), a fairly poor fit for Massachusetts. Warren emerged as a prominent Brown critic, announced her intention to challenge him, and came to national attention thanks to a viral video in which she declared that the rich benefit enormously from things like roads and educated workers, and so it is apropos for them to pay their fair share in taxes. She easily unseated Brown in 2012, and is now in the midst of her first reelection campaign.



Signature Issue(s)

: Warren is one of the foremost anti-Trump leaders in the country, and that will be the centerpiece of any campaign she runs from now until the end of time. In terms of policy, however, her signature issue is financial regulation. She is a vocal critic of Wall Street's excesses and bad behavior and played a key role in the establishment of the Consumer Financial Protection Bureau.



Instructive Quote

: "You built a factory out there, good for you. But I want to be clear. You moved your goods to market on the roads that the rest of us paid for. You hired workers that the rest of us paid to educate. You were safe in your factory because of police forces and fire forces that the rest of us paid for."



Completely Trivial Fact

: Warren's refusal to be silent during Jeff Sessions' AG confirmation hearings aggravated Majority Leader Mitch McConnell (R-KY), and caused him to issue a statement explaining that she had been told to take her seat, and "nevertheless, she persisted." This ill-considered turn of phrase caused Warren to become something of a feminist icon, along the lines of Ruth Bader Ginsburg (aka, the Notorious RBG). Consequently, you can buy your Elizabeth Warren action figures here.



Recent News

: After the publication of the anonymous New York Times op-ed this week, Warren was probably the loudest voice insisting that the Cabinet invoke the 25th Amendment. She is not on the Senate Judiciary Committee, and so was undoubtedly disappointed that she didn't get a chance to take her shots at SCOTUS nominee Brett Kavanaugh, but she did issue a statement approving of Sen. Cory Booker's (D-NJ) decision to leak confidential Senate documents that reveal some of the Judge's views on race.



Three Biggest Pros

: (1) Unlike many leading Democratic candidates (ahem, Sherrod Brown and Amy Klobuchar), Warren is extremely telegenic; (2) She has a progressive outlook, but is also pragmatic and has managed to get things done, so she just might be able to unify the Sanders and Clinton wings of the Democratic Party; and (3) The suburban women who helped power Trump to victory may find it easier to jump ship to Warren than to a Bernie Sanders or a Joe Biden.



Three Biggest Cons

: (1) If the Democrats nominate a feminist, pointy-headed academic from liberal Massachusetts, the white, working class men aren't coming back; (2) Donald Trump thinks she's going to be the candidate, and so has spent a lot of time poisoning the well against her (most obviously with his oft-repeated "Pocahontas" slur); and (3) When the Democratic rank and file learn she used to vote Republican, it could surprise and upset some of them.



Is She Actually Running?

: Warren said she is committed to serving out her full second term in the Senate if reelected, but folks who are focused on "this" election often say such things and then conveniently forget them in time for the next election. Given her age, and her outspoken anti-Trumpness, it's either 2020 or bust for her presidential hopes, and she knows it. So yes, she's running.



Betting Odds

: She's getting between 15/2 and 9/2, which implies a 12% to 18% chance of securing the nomination.



The Bottom Line

: Those odds may be underselling Warren a little bit, actually. Both Sens. Kamala Harris (D-CA) and Bernie Sanders (I-VT) are getting better odds, and yet that pair each seem to have considerably more serious liabilities than Warren does. In any event, she's taken Trump's best shots, and hasn't faded, so she's going to remain among the frontrunners going into 2020 primary season.
The list of candidate profiles can be accessed by clicking on the 2020 Dem candidates link in the menu to the left of the map. (Z)
Email a link to a friend
or share:
---The Votemaster and Zenger