TODAY'S HEADLINES (click to jump there; use your browser's "Back" button to return here)

•
The Emperor Has No Coattails
•
Election Takeaways
•
Biden Beat Clinton in Most States
•
Biden Won the Suburbs
•
Biden Will Immediately Reverse Many of Trump's Policies
•
The Polls Failed--Again
•
Whither Trump?
•
Preview of the Georgia Senate Runoffs
•
Seven New Senators Were Elected
•
The Battle for California Is Heating Up
Note: The results of the reader survey we did last week are near the bottom of the Data Galore page.
Sorry for the mixed metaphor, but the shoe fits and we couldn't resist. Joe Biden won, so he is the emperor for our purposes here, even if Donald Trump has been acting imperially for 4 years. Usually a successful presidential candidate pulls in many downballot candidates. Biden didn't do that and actually failed rather badly.
To start with, Democrats had very high hopes of retaking the Senate. It didn't happen. In fact, it wasn't even close. Here are the results of the races that were thought to be competitive (excluding the as-yet-uncalled races in North Carolina and Alaska):
| | | | | | | | |
| --- | --- | --- | --- | --- | --- | --- | --- |
| State | Democrat | Dem Pct. | Dem $ | Republican | Rep. Pct | Rep. $ | $ Dem advantage |
| Arizona | Mark Kelly | 51.3% | $88M | Martha McSally* | 48.7% | $56M | $22M |
| Colorado | John Hickenlooper | 53.4% | $39M | Cory Gardner* | 44.4% | $26M | $13M |
| Georgia | Jon Ossoff | 47.9% | $32M | David Perdue* | 49.8% | $21M | $11M |
| Georgia special | Raphael Warnock | 32.9% | $22M | Kelly Loeffler* | 25.9% | $28M | $-6M |
| Iowa | Theresa Greenfield | 45.2% | $47M | Joni Ernst* | 51.8% | $24M | $23M |
| Kansas | Barbara Bollier | 41.6% | $24M | Roger Marshall | 53.5% | $6M | $18M |
| Kentucky | Amy McGrath | 38.2% | $88M | Mitch McConnell* | 57.8% | $56M | $32M |
| Maine | Sara Gideon | 42.2% | $69M | Susan Collins* | 51.1% | $27M | $42M |
| Montana | Steve Bullock | 45.0% | $43M | Steve Daines* | 55.0% | $27M | $16M |
| South Carolina | Jaime Harrison | 44.2% | $108M | Lindsey Graham* | 54.5% | $73M | $35M |
The dollar amounts (in millions) come from opensecrets.org. As you can see, the Democrats outspent the Republicans everywhere except the Georgia special election, which featured Sen. Kelly Loeffler (R-GA), whose husband is CEO of the company that owns the New York Stock Exchange, and who undoubtedly contributed a bit of cash to her own campaign. Despite a massive financial advantage, the Democrats lost everywhere except in Arizona, where they had an exceptionally strong candidate and the Republicans had a fairly weak one, and in Colorado, which is a blue state, and where the Democrats had a popular former two-term governor running. Did Joe Biden's coattails help anyone at all? We don't see even the slightest bit of evidence.
It is well known that money can't buy you love. Apparently, it also can't buy you a Senate seat. Here is a graph that shows the Democrats' winning percentages as a function of their financial advantage.

One might have expected that the bigger the Democrats' financial advantage, the bigger their vote margin. That would give a regression line sloping upwards to the right. Instead the regression line slopes downward to the right. In other words, the bigger the Democrat's financial advantage, the worse they generally did!
Be careful not to impute cause and effect here, though. The three rightmost data points are the three states where the Democrats had massive financial advantages and took some of the worst beatings. They are in Kentucky, South Carolina, and Maine. Kentucky is easy to explain: Democrats hate Sen. Mitch McConnell (R-KY) with a passion, so they donated $88 million to beat him, but Kentucky is so red it doesn't matter how many times the average Kentucky voter saw some negative ad about the Majority Leader, as long as there is still an (R) next to his name. In South Carolina, Jaime Harrison raised an astounding $108 million, but that didn't change the fact that he is still Black and a Democrat and South Carolina is still South Carolina. The last point is Maine, where the Democratic advantage was the biggest of all: $67 million to $27 million. Still, Sen. Susan Collins (R-ME) beat Sara Gideon by 8.1 points, despite Joe Biden winning the state by 10.1 points. This is hard to understand other than maybe there were a lot of out-of-state Democrats pouring money into Gideon's campaign but in-state Democrats still like Collins.
Now on to the House. Not all races are final, but it appears now that Democrats lost seven seats to Republicans. In addition, the Republicans picked up the seat of Rep. Justin Amash (L-MI). However, the Democrats picked up three open Republican seats. This gives the Democrats a net loss of four and the Republicans a net gain of five. Here are the seats that have flipped so far:
| | | | |
| --- | --- | --- | --- |
| District | PVI | Incumbent and loser | Challenger and winner |
| FL-26 | D+6 | Debbie Mucarsel-Powell* (D) | Carlos Giménez (R) |
| FL-27 | D+5 | Donna Shalala* (D) | Maria Elvira Salazar (R) |
| GA-07 | R+9 | Open, (Rob Woodall, R) | Carolyn Bourdeaux (D) |
| IA-01 | D+1 | Abby Finkenauer* (D) | Ashley Hinson (R) |
| MI-03 | D+1 | Jusin Amash* (L) | Peter Meijer (R) |
| MN-07 | R+12 | Collin Peterson* (D) | Michelle Fischbach (R) |
| NC-02 | R+7 | Open (George Holding, R) | Deborah Ross (D) |
| NC-06 | R+9 | Open (Mark Walker, R) | Kathy Manning (D) |
| NM-02 | R+6 | Xochitl Torres Small* (D) | Yvette Herrell (R) |
| OK-05 | R+10 | Kendra Horn* (D) | Stephanie Bice (R) |
| SC-01 | R+10 | Joe Cunningham* (D) | Nancy Mace (R) |
For the Democrats, losing deep red districts like MN-07, OK-05 and SC-01 isn't too painful. There should never have been Democrats seated there in the first place. But they also lost two fairly Democratic House districts in Florida that they should have held onto. Of course, Biden had no coattails at all in Florida, since he was beaten there fairly soundly.
Now onto the state legislatures. The Democrats had hopes for flipping at least half a dozen chambers, which in some cases would have prevented the Republicans from gerrymandering the congressional and state maps. They were absolutely certain about flipping the Minnesota Senate and were hopeful about flipping the Texas House. In those places, too, Biden had no coattails downballot and it didn't happen. So far, only two legislative chambers flipped: The Republicans took over the New Hampshire House and also the New Hampshire Senate. The votes are still being counted in Arizona, so the Democrats could yet flip one of those chambers. Other than these, nothing changed. No coattail effect at all. And if one of the chambers flips in Arizona, credit that to Mark Kelly rather than Joe Biden, since Kelly got about 40,000 more votes than Biden did.
What about gubernatorial races? Surely Biden had some coattails there, no? Nope. The only governor's mansion that changed parties was in Montana, where Rep. Greg Gianforte (R) beat Lt. Gov. Mike Cooney (D) to take over from the term-limited (and soon to be unemployed) Gov. Steve Bullock (D).
What about trifectas? The Republicans got trifectas in New Hampshire and Montana. New Hampshire has only two House seats, so the possibilites for gerrymandering there are limited. Montana has only one House seat at the moment but it will probably get a second one in 2022, so the Republicans can try to play some games there, but in a large, thinly populated state, the possibilities for mischief are again limited. The Democrats didn't win any trifectas and none for either party were broken.
In short, not very much changed. Biden eked out a narrow victory for himself, but he had no power to pull in Democrats at any other level. The only bright lights for the Democrats were winning the Arizona and Colorado Senate seats, and they won those due to the star power of the Democratic candidates there. Biden didn't help at all. Biden's coattails were completely nonexistent on Tuesday night. (V)
A number of media outlets have made lists of takeaways from the election. Here are some of them.
The Guardian
Turnout was massive
The polls were way off
Democrats faded away downballot
Washington Post
Biden got the third highest popular vote share since 1988
The suburbs moved toward Biden by seven points
The Senate is a big disappointment for the Democrats
The entire nation will be watching Georgia for 2 months
Trump underperformed Republican Senators, suggesting that voters don't like him personally
The polls did really badly
The Squad and Bernie Sanders were solidly repudiated
Martha McSally was probably the worst candidate of the cycle
CNN
Biden rebuilds the blue wall
Georgia is close
Trump threw a temper tantrum
Harris makes history
Turnout soars
It was a bittersweet election for Democrats
Biden's Sun Belt breakthrough came with misses, too
Politico
A Biden victory does not obscure Democrats' bad night
Pollsters face an existential crisis
Divided government means than no progressive priorities will be passed
What will the Republican Party do now?
The Hill
Georgia will decide the majority of the Senate
Democrats will have to rethink their strategy
Money and polls were overrated
Trump's barnstorming the country may have saved the Senate
Our takeaways
Democracy was saved
Except for the presidency, Republicans did quite well
High turnout does not necessarily help the Democrats
Something is wrong with (some of) the polls
Both parties are going to have to figure out which way they want to go
The next 2 years, maybe 4 years, may well be total gridlock
Food for thought. (V)
After a year of bitter fighting, $6 billion in expenditures, dozens of huge rallies, two debates, 9 million people sick with COVID-19 and 230,000 dead from it, the economy in a delicate condition, and what do we have? The map changed a bit. Joe Biden barely won five states that Hillary Clinton lost: three in the North (Wisconsin, Michigan, and Pennsylvania) and two in the South (Arizona and Georgia). Five out of 50 is 10%. Not a lot. Still, when you dive down into the details, Biden did better than Clinton in 40 states, did worse in nine states, and tied in one. Here are the numbers:
| | | | | | | | | | |
| --- | --- | --- | --- | --- | --- | --- | --- | --- | --- |
| State | 2016 Dem | 2016 GOP | 2016 Dem - GOP | | 2020 Dem | 2020 GOP | 2020 Dem - GOP | | Dem gain |
| Colorado | 48.2% | 43.3% | 4.9% | | 55.3% | 42.1% | 13.2% | | 8.3% |
| Kansas | 36.1% | 56.7% | -20.6% | | 44.1% | 56.7% | -12.6% | | 8.0% |
| Delaware | 53.1% | 41.7% | 11.4% | | 58.8% | 39.8% | 19.0% | | 7.6% |
| Maine | 47.8% | 44.9% | 3.0% | | 53.5% | 43.4% | 10.1% | | 7.1% |
| Vermont | 56.7% | 30.3% | 26.4% | | 64.9% | 31.7% | 33.2% | | 6.8% |
| New Hampshire | 47.0% | 46.6% | 0.4% | | 52.6% | 45.5% | 7.1% | | 6.7% |
| Connecticut | 54.6% | 40.9% | 13.6% | | 59.3% | 39.1% | 20.2% | | 6.6% |
| Nebraska | 33.7% | 58.8% | -25.1% | | 39.1% | 58.5% | -19.4% | | 5.7% |
| Massachusetts | 60.0% | 32.8% | 27.2% | | 65.3% | 32.5% | 32.8% | | 5.6% |
| Minnesota | 46.4% | 44.9% | 1.5% | | 52.5% | 45.4% | 7.1% | | 5.6% |
| Georgia | 45.6% | 50.8% | -5.1% | | 49.5% | 49.3% | 0.2% | | 5.3% |
| Oregon | 50.1% | 39.1% | 11.0% | | 56.5% | 40.4% | 16.1% | | 5.1% |
| Arizona | 45.1% | 48.7% | -3.5% | | 49.5% | 48.1% | 1.4% | | 4.9% |
| Rhode Island | 54.4% | 38.9% | 15.5% | | 59.4% | 39.1% | 20.3% | | 4.8% |
| Washington | 52.5% | 36.8% | 15.7% | | 58.9% | 38.6% | 20.3% | | 4.6% |
| Virginia | 49.7% | 44.4% | 5.3% | | 54.0% | 44.4% | 9.6% | | 4.3% |
| New Jersey | 55.5% | 41.4% | 14.1% | | 58.4% | 40.1% | 18.3% | | 4.2% |
| Montana | 35.8% | 56.2% | -20.4% | | 40.4% | 56.7% | -16.3% | | 4.1% |
| West Virginia | 26.4% | 68.5% | -42.1% | | 30.0% | 68.2% | -38.2% | | 3.9% |
| Kentucky | 32.7% | 62.5% | -29.8% | | 36.0% | 62.2% | -26.2% | | 3.6% |
| South Dakota | 31.7% | 61.5% | -29.8% | | 35.6% | 61.8% | -26.2% | | 3.6% |
| Oklahoma | 28.9% | 65.3% | -36.4% | | 32.3% | 65.4% | -33.1% | | 3.3% |
| Texas | 43.2% | 52.2% | -9.0% | | 46.3% | 52.2% | -5.9% | | 3.1% |
| Missouri | 38.1% | 56.8% | -18.6% | | 41.3% | 56.9% | -15.6% | | 3.0% |
| Michigan | 47.3% | 47.5% | -0.2% | | 50.5% | 47.9% | 2.6% | | 2.8% |
| Indiana | 37.9% | 56.8% | -18.9% | | 40.9% | 57.0% | -16.1% | | 2.8% |
| Tennessee | 34.7% | 60.7% | -26.0% | | 37.4% | 60.7% | -23.3% | | 2.7% |
| South Carolina | 40.7% | 54.9% | -14.3% | | 43.4% | 55.1% | -11.7% | | 2.6% |
| New Mexico | 48.3% | 40.0% | 8.2% | | 54.2% | 43.5% | 10.7% | | 2.5% |
| North Dakota | 27.2% | 63.0% | -35.7% | | 31.7% | 65.0% | -33.3% | | 2.4% |
| Wyoming | 21.6% | 67.4% | -45.8% | | 26.6% | 70.0% | -43.4% | | 2.4% |
| North Carolina | 46.2% | 49.8% | -3.7% | | 48.6% | 50.0% | -1.4% | | 2.3% |
| Alabama | 34.4% | 62.1% | -27.7% | | 36.5% | 62.1% | -25.6% | | 2.1% |
| California | 61.7% | 31.6% | 30.1% | | 65.1% | 33.0% | 32.1% | | 2.0% |
| Maryland | 60.3% | 33.9% | 26.4% | | 63.1% | 35.1% | 28.0% | | 1.6% |
| Wisconsin | 46.5% | 47.2% | -0.8% | | 49.5% | 48.8% | 0.7% | | 1.5% |
| Pennsylvania | 47.5% | 48.2% | -0.7% | | 49.6% | 49.1% | 0.5% | | 1.2% |
| Iowa | 41.7% | 51.2% | -9.4% | | 44.9% | 53.1% | -8.2% | | 1.2% |
| Idaho | 27.5% | 59.3% | -31.8% | | 33.1% | 63.8% | -30.7% | | 1.1% |
| D.C. | 90.5% | 4.1% | 86.4% | | 92.6% | 5.2% | 87.4% | | 1.0% |
| Louisiana | 38.5% | 58.1% | -19.6% | | 39.8% | 58.5% | -18.7% | | 0.9% |
| Ohio | 43.6% | 51.7% | -8.1% | | 45.2% | 53.3% | -8.1% | | 0.0% |
| Nevada | 47.9% | 45.5% | 2.4% | | 49.9% | 47.9% | 2.0% | | -0.4% |
| Arkansas | 33.7% | 60.6% | -26.9% | | 34.6% | 62.6% | -28.0% | | -1.1% |
| Florida | 47.8% | 49.0% | -1.2% | | 47.8% | 51.2% | -3.4% | | -2.2% |
| Hawaii | 62.2% | 30.0% | 32.2% | | 63.7% | 34.2% | 29.5% | | -2.7% |
| Mississippi | 40.1% | 57.9% | -17.8% | | 38.9% | 59.5% | -20.6% | | -2.8% |
| Utah | 27.5% | 45.5% | -18.1% | | 37.2% | 58.7% | -21.5% | | -3.4% |
| Illinois | 55.8% | 38.8% | 17.1% | | 55.3% | 42.7% | 12.6% | | -4.5% |
| New York | 59.0% | 36.5% | 22.5% | | 58.3% | 40.4% | 17.9% | | -4.6% |
| Alaska | 36.6% | 51.3% | -14.7% | | 33.0% | 62.9% | -29.9% | | -15.2% |
For example, in Colorado, Biden did better than Clinton by 8.3% because he carried the state by 13.2% instead of 4.9%. Biden also outperformed Clinton in Kansas by 8.0%: He lost it by only 12.6% instead of 20.6%. In every swing state except Nevada and Florida, Biden outperformed Clinton. The other states where Clinton did better are extremely partisan states, like Mississippi and Hawaii. In the table above, blue states are the ones where Biden did better than Clinton and red ones are where Clinton did better than Biden. In Ohio, both lost by 8.1%.
Still, Biden's performance has to be considered in the light of the Democrats netting only one U.S. Senate seat and losing seats in the House. Some of the Senate losses are very painful. In Maine, Biden did very well, carrying the state by 10 points, yet Sara Gideon lost to Susan Collins by nine points, despite Gideon being well known in the state and raising $68 million, a phenomenal amount for a cheap-to-advertise state like Maine. This means there were a substantial number of Biden/Collins voters. Similarly, the popular two-term governor of Montana, Steve Bullock, lost to a backbencher, Sen. Steve Daines (R-MT), despite Bullock's raising $43 million. One interpretation of the election is that the voters in those states prefer Republicans, just not Donald Trump. (V)
Although the polls were off in some ways (see below), one thing that they predicted actually did happen: Joe Biden won the suburbs. Across the country, in the Midwest and the Sun Belt, suburbs went Democratic. The Times has a graphic showing how 373 suburban counties shifted compared to 2016. Counties above the dashed line moved toward Biden. The orange ones are in swing states. The area of the circle is proportional to the county's population.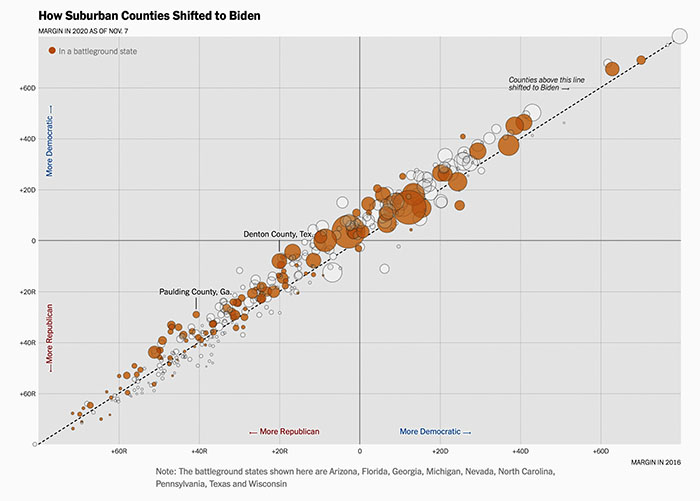 As you can see, in the majority of the suburban counties, Biden did better than Hillary Clinton. This holds for both very Republican counties and very Democratic counties, although some low-population Republican rural counties not in swing states became even more Republican (the small empty circles below the dashed line in the lower left-hand quadrant). On the whole, the average shift was about 4.6%, although in Georgia it was over 8%.
The trend is basically a continuation from the 2018 midterms. In Pennsylvania, especially in the Philadelphia and Pittsburgh suburbs, Biden did much better than Clinton. This is why Biden took Pennsylvania. Maricopa County in Arizona moved about 5 points toward the Democrats this year, which is why Biden won the Grand Canyon State.
The $64,000 question is: Are these shifts permanent? It could be that educated, affluent suburban voters are still fundamentally tax-hating Republicans, it's just that they hate Donald Trump even more than they hate taxes. In that case once he has departed the scene, they will go back to their home in the GOP. Or it could be that they have seen the light and have become Democrats and there is no turning back. Only time will tell. (V)
All power transitions bring changes in policy, but few will rival the transition that will happen on Jan. 20. To a considerable extent, Donald Trump governed by executive order, mostly repealing Barack Obama's executive orders. Joe Biden is going to spend his first few days in the Oval Office signing executive orders that rescind Trump's executive orders, thus returning the state of play to the way it was after Obama left office. Given that the Senate is likely to remain in Republican hands and the House majority is diminished, Biden, like Trump, is going to be forced to govern substantially by executive order. Here are some of the changes he will implement in the first few days:
He will rejoin the Paris climate accord
He will rejoin the World Health Organization
He will repeal the ban on travel from Muslim countries
He will stop trying to deport the Dreamers
There are hundreds of campaign officials preparing to get to work in federal agencies. Some of them will need Senate confirmation. Whether that will be forthcoming, and at what speed, is a big question. It wouldn't look good for Mitch McConnell to order the entire Republican caucus to vote down all of Biden's choices, but McConnell has long since given up caring about what looks good. Besides, he just won his own election handily and is not up again until 2026 so he knows no fear. In any event, the speed at which nominees are confirmed could be the slowest in history. Consequently, Biden is already looking at his options to appoint acting officials.
Even with an iron grip on power, McConnell's job won't be easy because his caucus will have three classes of senators, and we don't mean classes I, II, and III. They will be:
Senators up in 2022
Senators who plan to run for president in 2024
Everyone else
The interests of these three classes aren't always the same. The senators up in 2022, at least in swingy states, may have to project a veneer of bipartisanship and cooperation. The senators who look in the mirror and see a 2024 presidential candidate appear primarily to be folks in the Trump v2.0 lane, like Tom Cotton (R-AR), Ted Cruz (R-TX), and Josh Hawley (R-MO). Obstruction and parliamentary tricks may be the order of the day for them. As to the rest, they may decide to do some actual governance, and to wait until 2023 or so to worry about their next election. They may also do some careful examination of the tea leaves, trying to figure out where their party will be in six years.
Biden will name his coronavirus task force today. It will be co-chaired by former Surgeon General Vivek Murthy, former FDA Commissioner David Kessler, and Dr. Marcella Nunez-Smith of Yale. It is likely that it will pay more attention to science and less to politics than the current one, which is chaired by Mike Pence.
Biden's transition is being overseen by Ted Kaufman, one of his closest advisers and the person appointed to his Senate seat in 2009 after he became vice president. Once the election results are certified, the transition team is supposed to get access to funds and office space. If the General Services Administrator, Trump political appointee Emily Murphy, refuses to provide the assistance required by law, Biden is prepared to sue. This transition could be as nasty as the one in 1933, when Herbert Hoover did his best to stymie FDR. However, this time the Democrats are ready for it. (V)
For the second presidential election in a row, the polls were way off. In 2016, the national polls were spot on, but the state polls missed the narrow Trump victories in the three pierogi-Pabst-paczki-consuming "Midwest" states. This time, the RCP national average had Biden up by 7.2 points. That appears somewhat high, but until all the ballots are counted on the West Coast, we won't know for sure. It is possible that when California comes in, the national polls will be reasonably accurate.
However, many state polls and some key Senate polls were way off. There is no way to sugarcoat it. And it wasn't just the small universities no one has ever heard of who were running polls for the first time. Almost all the major players using sound methodology and live interviewers were off. What is going on? In 2016, the problem was an undersampling of noncollege voters. All pollsters have corrected for that, so the problem is something else, but what? Here are some initial thoughts, but clearly some research is going to be needed here or the polling industry is in trouble:
Response rates of under 10% make it very hard to get a good sample
The 2018 polls were pretty good, so something special is going on when Trump is on the ballot
The turnout models were way off, with far more Republicans voting than expected
Also, Democratic turnout was way down in Miami-Dade County and some other places
Trump has more allure to Black men than anyone expected
Some overconfident Democrats didn't bother to vote because they thought it was in the bag
Early voting messed it up when 100 Million votes were already cast before the final polls were taken
There were a lot of "shy" Trump voters who lied to the pollsters
Many Trump voters refused to be polled at all because they don't trust pollsters and were thus undersampled
The estimates of who would be a likely voter were way off
Latinos who don't speak English were underweighted
USPS "lost" or failed to deliver thousands of (Democratic) ballots in time to be counted
Trump's rallies in the final week energized Republicans who previously weren't planning to vote
Voter suppression (including calls to 800K swing state residents telling them to stay safe and not vote) worked
There are two general categories of explanations. First, for whatever reason, there were fewer Democrats and more Republicans in the electorate than pollsters expected. Second, the polls were right about how people wanted to vote, but many (Democratic) votes were rejected or not counted or the voters were turned away at the polls.
Bad polling can affect elections in serious ways. For example, polls showed Jaime Harrison tied with Lindsey Graham in South Carolina, so many Democrats who hate Graham showered money on Harrison. If they had known he had no chance, that money might have gone to Jon Ossoff in Georgia or Steve Bullock in Montana instead.
Maybe pollsters are asking the wrong questions. It could be that asking "Who are you going to vote for?" puts people on the spot too much. Possibly better questions (or additional questions) should be: "Who is the most popular candidate in your neighborhood?" and "Who do you think will win?" Certainly adding those questions next time and seeing if they have more predictive value would be a useful exercise.
The extremely low response rates to telephone polling (< 10%) are a huge problem. Maybe the solution is to collect responses using other means. Some pollsters have noticed that the response to polls sent as text messages gets a higher response rate. Maybe Internet polling is the way to go. The whole model behind telephone polling was that everyone has (one) telephone, they answer when called, and take part in the survey. That is simply not true any more. Going electronic will certainly get higher response rates but the problem is how to make polls representative and avoid excluding demographic groups that don't have smartphones or use the Internet (or do use them but don't trust them). (V)
The question a lot of people are asking these days is: "Will Donald Trump concede?" Sources in the White House say that Melania Trump and Jared Kushner see the writing on the wall and are urging Trump to concede. So far, he is resisting. But if his lawsuits fail, one after another, he could give up, even if he never formally concedes. Getting on television and saying: "I am a loser" is definitely not Trump's thing.
The next question is: "What will Trump do in the lame-duck period?" The executive orders may fly, but Joe Biden can rescind them all on Jan. 20. Pardons may come down like raindrops in a spring shower, and Biden can't rescind them. Trump can fire political appointees, but they would be gone in January anyway. He can stoke the fires of hatred and try to convince his 70 million voters that Biden stole the election, in order to make it difficult for Biden to govern.
He could also try to legislate. How about his passing a weak coronavirus relief bill to make it harder for Biden to pass a better one in January? Or if he really wants to make a lasting mark, what about asking Justice Clarence Thomas to retire immediately in return for Trump nominating Thomas' choice of a successor? Or maybe even making a deal with Vladimir Putin: Trump provides Putin with America's nuclear secrets and Putin grants Trump permission to build a 100-story Trump Tower in Moscow, provided that he makes the top floor a penthouse and gives it to Putin for free. The possibilities are endless.
And of course, there's this: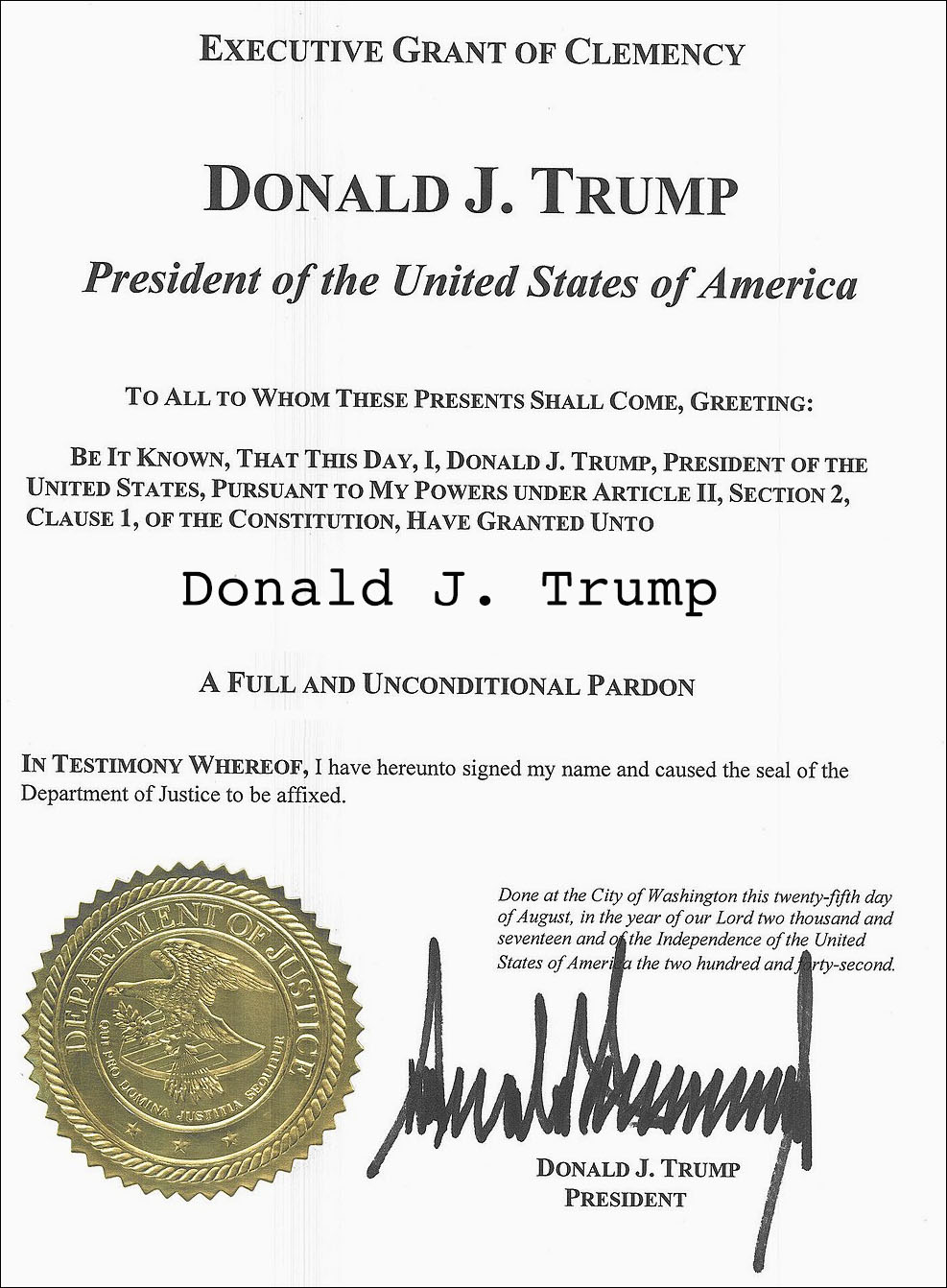 It's all but inevitable. After all, it could save him from going to federal prison. That said, some constitutional scholars believe that accepting a pardon implies an admission of guilt, something Trump is unlikely to want to do. And if he does self-pardon, how would it play out? What would happen if the Justice Dept. indicted Trump for obstruction of justice and more and he waved the pardon at them? Most likely, they would ignore it and say: "Sorry, self-pardons don't count unless the Supreme Court says they do." Asking the Supreme Court for a ruling right off the bat wouldn't work because it doesn't have original jurisdiction. Trump would have to go on trial, appeal his conviction if he lost, and then appeal again if he lost in the appeals courts. Only then would the Supreme Court take the case.
It would tie the originalists in knots. The text of the Constitution is clear: The president can issue pardons for crimes against the United States. There are no exceptions or footnotes. Just relying on the text, it is clear that self-pardons are allowed. However, at the time the Constitution was written, the framers had just fought a war with a king whose motto was: "The king can do no wrong." Clearly if the president could pardon himself, he could commit any federal crime he wanted to and then pardon himself. The president would then be a king. That is very clearly not what they had in mind. So the textualists on the Court will have to decide if what counts is the text or the obvious intention of the authors.
Sometimes something may have been so obvious to the framers that they didn't feel it necessary to write it down. For example, the Constitution requires a census every 10 years to count the inhabitants of each state. What if South Dakota decided to count buffaloes, since they inhabit South Dakota? The text doesn't say "enumerate only people, not animals" because they thought that was clear. Also, the Court has to deal with the possibility that if it rules that self-pardons are fine, what happens if a future president, armed with the knowledge that self-pardons are constitutional, knowingly and intentionally commits a very serious crime followed by a self-pardon? Do they want to go down that road?
Once Trump leaves office, he enters a new phase. Unlike George W. Bush, he will not go home quietly and take up painting. He could start a new television network, Trump News America (TNA), and compete with Fox News. The trouble with that is starting a network costs money, and Trump has $400 million in debt coming due soon, so how could he pay for it? He might join an existing network and work with a friend to start one. His friend, Chris Ruddy, is majority owner in Newsmax. They could make a deal: Ruddy supplies the money and Trump is the star. Then there are One America News Network and Sinclair Broadcasting. He could also team up with one of them.
Or how about starting his own political party, the Trumpists or Trumpocratic-Republicans or Trumpetarians? Ivanka, Eric, and Donald Jr. could spread out and run for the Senate in 2022 and Trump himself or one of the kids could run for president in 2024. According to Trump, Tiffany is too heavy, so she wouldn't be welcome in the party. And Barron, of course, is too young to run for office.
However, not all the flies are on Mike Pence's head. Some are in the ointment. In particular, Trump is going to have to deal with these people:
Cyrus Vance

: The Manhattan district attorney, Cyrus Vance, is almost certainly going to get Trump's tax returns in the next few weeks, or in a few months at the outside. Vance is looking into whether Trump deducted hush payments to Stormy Daniels and Karen McDougal as business expenses. That would be tax evasion. Vance is also looking at bank fraud and insurance fraud. He could indict Trump for these crimes.



Justice Department prosecutors

: Biden's attorney general could go read the Mueller report and start an investigation, or perhaps appoint a special counsel to handle the job. Trump could be prosecuted for obstruction of justice, violating the Constitution's emoluments clause, and federal tax evasion, among other items. Biden won't touch this with a barge pole, but if the AG did the dirty work or appointed someone to do it, it could happen, as the President-elect's base will demand it. On the other hand, Biden knows that creating a precedent that each new president gets to prosecute the previous one would not be good for democracy. That said, letting a president get away with breaking the law isn't great for democracy either. It will be a tough call for him.



Letitia James

: New York AG Letitia James is actively investigating the Trump Organization for tax fraud. She got started when Trump's former fixer, Michael Cohen, told Congress that Trump lied about the value of his property, moving the number up or down depending on which was better for him at the moment. This is a civil case and could result in a fine but not jail time.



E. Jean Carroll

: The former writer for Elle magazine claims that Trump raped her in the 1990s and then defamed her by calling her a liar in public. She still has the dress with evidence on it and wants the courts to force Trump to give a DNA sample to match against the dress.



Summer Zervos

: In a similar case, Zervos, a former contestant on Trump's television show, says that Trump kissed her against her will and later groped her. When Trump called her a liar, she sued him for defamation. Trump said that he is immune from the lawsuit because he is president. That is absolutely wrong, as Bill Clinton discovered in the Paula Jones case. Also, once Trump is no longer president, Zervos' case can definitely go forward. If Trump weren't such a cheapskate, he could probably pay off both women and make the cases go away. Bill Clinton settled with Jones for $800,000. If Trump is as rich as he says he is, surely he can come up with enough cash to cover settlements. On the other hand, if the women want their reputations restored, rather than just money, and are demanding that Trump admit what he did and say the women are not liars, that could be much more difficult.

These are some guesses for what may be next, but of course with Trump, things often go in a direction no one expected. (V)
If the Democrats win both Georgia runoffs in January, the Senate will be tied 50-50 and President-of-the-Senate-elect Kamala Harris will get to break ties and (eventually) make Sen. Chuck Schumer (D-NY) the majority leader, although committee chairmanships will probably be split over the parties. If the Republicans win one or both races, Majority Leader Mitch McConnell (R-KY) can keep his job. So can we start handicapping the runoffs?
Sure, but everything depends on turnout. Will the same people turn out on as voted in round 1? Typically, turnout is less in runoffs, but given that control of the Senate hinges on these elections, and the ability of President-elect Joe Biden to do anything other than name the occasional post office hinges on who controls the Senate, turnout could be high. Oh yeah, did we mention the $300 million or so that will be spent on (negative) ads in Georgia in the next 2 months? Let's start with the regular election, in which Sen. David Perdue (R-GA) was going for a second term. There were a mere three candidates on the ballot and their totals were as follows:
Georgia regular Senate election
| | | | |
| --- | --- | --- | --- |
| Candidate | Party | Votes | Percentage |
| David Perdue | Republican | 2,455,146 | 49.78% |
| Jon Ossoff | Democratic | 2,362,125 | 47.90% |
| Shane Hazel | Libertarian | 114,412 | 2.32% |
Perdue fell 0.22% under 50% and was thus forced into a runoff. Can he pick that up? In addition to who turns out on Jan. 5 (or who votes early, starting on Dec. 14), it depends on what the Libertarian voters do. On cultural issues (abortion, marijuana, prostitution, gay rights, forcing Christianity on everyone, etc.), Libertarians are with the Democrats. On economic issues (redistribution of income, government regulation of the economy, putting restrictions on corporate power, etc.), Libertarians are with the Republicans. On the whole, economic issues seem to be more important to Libertarians, such that they are with the Republicans more often than they are with the Democrats. There's a reason that both Ron Paul and Sen. Rand Paul (R-KY) ran for office as Republicans, even though both are Libertarian at heart.
Perdue doesn't need all the Libertarians. If he gets 10% of them or 0.23%, that does the job. Well, it does the job in theory. In practice, turnout is more important. Will Democrats or Republicans show up in greater numbers? Or vote by absentee ballot in greater numbers? Remember, the pandemic is still going to be around in January. While Georgia is definitely in the South in terms of Robert E. Lee, Dixie, and that kind of stuff, January temperatures in Atlanta range from 32F to 46F. It can even snow in Atlanta. Savannah is warmer, with temperatures in the 40s and 50s.
Now let's look at the special election, which had 20 candidates on the ballot. In the runoff, only Sen. Kelly Loeffler (R-GA) and Raphael Warnock (D) will be on the ballot. Here is how the vote broke in round 1:
Georgia special Senate election
| | | | |
| --- | --- | --- | --- |
| Candidate | Party | Votes | Percentage |
| Kelly Loeffler | Republican | 1,269,627 | 25.94% |
| Doug Collins | Republican | 977,704 | 19.98% |
| Derrick Grayson | Republican | 51,365 | 1.05% |
| Annette Jackson | Republican | 44,098 | 0.90% |
| Kandiss Taylor | Republican | 40,196 | 0.82% |
| Wayne Johnson | Republican | 36,027 | 0.74% |
| Republican total | | 2,419,017 | 49.43% |
| | | | |
| --- | --- | --- | --- |
| Candidate | Party | Votes | Percentage |
| Raphael Warnock | Democratic | 1,609,706 | 32.89% |
| Deborah Jackson | Democratic | 321,971 | 6.58% |
| Matt Lieberman | Democratic | 135,499 | 2.77% |
| Tamara Johnson-Shealey | Democratic | 106,018 | 2.17% |
| Jamesia James | Democratic | 93,680 | 1.91% |
| Joy Slade | Democratic | 44,730 | 0.91% |
| Richard Winfield | Democratic | 28,489 | 0.58% |
| Ed Tarver | Democratic | 26,202 | 0.54% |
| Democratic total | | 2,366,295 | 48.35% |
| | | | |
| --- | --- | --- | --- |
| Candidate | Party | Votes | Percentage |
| Brian Slowinski | Libertarian | 35,260 | 0.72% |
| | | | |
| --- | --- | --- | --- |
| Candidate | Party | Votes | Percentage |
| John Fortuin | Green | 15,171 | 0.31% |
| | | | |
| --- | --- | --- | --- |
| Candidate | Party | Votes | Percentage |
| Allen Buckley | Independent | 17,852 | 0.36% |
| Al Bartell | Independent | 14,566 | 0.30% |
| Michael Greene | Independent | 13,203 | 0.27% |
| Valencia Stovall | Independent | 13,221 | 0.27% |
| Independent total | | 58,842 | 1.20% |
The total for all the Republicans combined fell short of 50% by 0.57%. For the Democrats, it fell short by 1.65%. If the same folks show up to vote in January, everything will depend on how the remaining 2.23% of the voters break. Note that if 79% of the Libertarians vote for Sen. Kelly Loeffler (R-GA), she gets to keep her job, no matter what the independents do. But here, too, turnout will be crucial.
If Biden is smart, he will ask President of the Senate-Elect Kamala Harris to go rent an apartment in Atlanta and stay there until Jan 5 campaigning for Raphael Warnock and Jon Ossoff. Side trips to Augusta, Columbus, and Savannah are fine though. After all, she appeals to two critical constituencies: Black voters and women. Since one of the Republicans is a woman (Loeffler), having a high-profile woman campaigning for the Democrats might help with female voters.
Even more helpful than Harris, perhaps, will be Stacey Abrams. She appeals to the same demographics, of course. Abrams nearly got herself elected governor in 2018, and she's being given much credit for swinging the state to Biden this year, so she knows a thing or two about getting voters to the polls. Her campaigning would have a little extra oomph if, instead of being "Democratic activist and former officeholder Stacey Abrams," she was "Incoming HUD Secretary or Incoming AG Stacey Abrams." So, don't be too surprised if she gets announced for the Cabinet sometime soon. Either way, however, "Let's elect our state's first-ever Black senator" will be quite the rallying cry for Democrats, Black and non-Black alike, and may carry the day. And of course, if someone shows up specifically to vote for Raphael Warnock, they will presumably also check the box for Jon Ossoff while they're there.
What will be interesting to see is how Donald Trump treats the races. If he really thinks he will have a second term, they are important to him because a 50-50 Senate will be a headache. Yes, Mike Pence can break ties, but Sen. Mitt Romney (R-UT) would get a de facto veto on everything by siding with the Democrats whenever he so chooses. Ditto for Sen. Susan Collins (R-ME). Sen. Lisa Murkowski (R-AK) might just remember that bridge to nowhere and ask for $400 million to fund it before voting on the next tax-cut bill. In fact, all 47 of the other senators might have pet projects they want funded and tell Trump that unless they get it, they are not voting for his bills. Having 50 prima donnas with veto power over everything won't be any fun at all for Trump. If Trump ignores the two Georgia races, that suggests he doesn't think he will be president on Jan. 20 at 12:05 p.m., since he has no loyalty to the Republican party at all and cares only about himself. (V)
There will be seven new faces in the Senate come Jan. 3, 2021. On Jan. 3, 2017, only two new senators were seated. On Jan. 3, 2013, four new senators took the oath. So 2021 will be a bumper year for new senators. Who are they?
Bill Hagerty (R-TN)

: Hagerty was the founder and managing director of a private equity firm. He was also a big Republican donor, which bought him the position of U.S. Ambassador to Japan. When Sen. Lamar Alexander (R-TN) announced his retirement, Hagerty, a conservative Christian, jumped into the race. Donald Trump's endorsement helped him defeat 14 other Republicans in the primary. In the general election, he crushed Marquita Bradshaw (D), who had no chance. He is just as conservative as the other senator from Tennessee, Marsha Blackburn (R-TN), but slightly less nutty. Still, he is worried that Sharia law is a threat to national security, so he's not completely nuttiness-free.



John Hickenlooper (D-CO)

: Hickenlooper, a popular two-term governor of Colorado, thought that America wanted an experienced moderate Democrat as president. He was right, it was just that Hickenlooper wasn't the one they wanted. So, Minority Leader Chuck Schumer (D-NY) convinced him that being a senator is a good job. You get paid $174,000, it is indoor work with no heavy lifting, and all you have to do is talk a lot (and if your mouth gets tired or your teeth hurt, you can just watch Lindsey Graham to learn how to talk out of other parts of your body). Hickenlooper had to first dispatch a progressive, Andrew Romanoff, in the senatorial primary, but once that was done it was all clear sailing. Before running for mayor of Denver and winning, he was a petroleum geologist and later started a successful brewery. He and Joe Biden are ideologically very compatible and should get along just fine.



Mark Kelly (D-AZ)

: Kelly was handpicked by the DSCC to take on Martha McSally. He is a Navy veteran who fought in the Gulf War, an astronaut, the husband of popular former representative Gabrielle Giffords, and a cancer survivor. It was the perfect profile for a state full of veterans and people who feel sorry for Giffords, who was nearly assassinated. Not surprisingly, gun control, veterans, and health care are Kelly's big issues. He had the good fortune to have as an opponent someone who had already lost a Senate election in Arizona (and that was to an openly bisexual woman who had never served in the military). Kelly was ahead from Day 1 and never lost the lead. He and Hickenlooper are the only Democrats who knocked off incumbent Republicans. Joe Biden won Arizona and the state now has two Democratic senators. It is rapidly becoming purple.



Ben Ray Luján (D-NM)

: Luján, the Assistant Speaker of the House, is a rising star in the Democratic Party. Democrats know that Latinos are the fastest growing ethnic group in the country, so having another young (48) high-profile Latino in the Senate, along with Sens. Bob Menendez (D-NJ) and Catherine Cortez Masto (D-NV), is sure to help. Besides, Menendez is somewhat corrupt so they don't like to showcase him. And Luján is from a state that is between Arizona and Texas, two states that Democrats would love to turn blue. It wouldn't be hard to imagine him running for president some day.



Cynthia Lummis (R-WY)

: Lummis was previously a state representative, a state senator, the state treasurer, and a U.S. representative. Even with this resume, she could never have beaten Rep. Liz Cheney (R-WY), had Cheney decided to run for the seat being vacated by Sen. Mike Enzi (R-WY). But Cheney chose to stay in the House, so Lummis got a promotion. She won her election by 46 points, the biggest margin of any senator this year. She is a founding member of the Freedom Caucus and is as Trumpy as they come. She is close friends with the aforementioned Marsha Blackburn; when the two served in the House together, they (along with former Rep. Diane Black) insisted on being called "congressman" as opposed to "congressperson" or "congresswoman." Lummis is pro-gun, pro-wall, pro-conservative judges, and anti-abortion, anti-tax, anti-Green New Deal. What more could a conservative want?



Roger Marshall (R-KS)

: Marshall, currently the representative from very deep red KS-01 (PVI R+24), easily beat Barbara Bollier, a Republican-turned-Democrat. Democrats had high hopes for Bollier, but it wasn't even close (54-42). Marshall won 100 of Kansas' 105 counties (basically, all except those close to Topeka and Kansas City). He is about what you might expect from a Kansas senator. He wants to overturn Roe v Wade and the ACA, opposes medical marijuana, doesn't believe in climate change, and wants to ban Muslims from entering the U.S. Although he generally opposes big gubmint, he makes an exception for farm subsidies and federal crop insurance, which he likes very much.



Tommy Tuberville (R-AL)

: Tuberville was the head football coach at Auburn University from 1999 to 2008, in a state where football is king. Later, he was head coach at Texas Tech and the University of Cincinnati. He doesn't know beans about politics and is somewhat shady, having been involved in a ponzi scheme with a partner. But once he dispatched Jeff Sessions and Roy Moore in the Republican primary, he was in like Flynn. The hapless Sen. Doug Jones (D-AL) never had a chance. Tuberville is very Trumpy, and a strong defender of the Second Amendment, the border wall, and lower taxes. He opposes the ACA, abortion, and charter schools. For good measure, he also wants to investigate Robert Mueller for running a witch hunt and political stunt. Tuberville's from the Deep South. Did you expect something else?

In short, the senators-elect all are strong partisans who support their parties through and through. (V)
California has a lot of ambitious Democratic politicians who would love to be appointed senator as soon as Veep-elect Kamala Harris resigns from her seat. In addition, there are a lot of interest groups that think one of their members ought to get the nod. Latino groups think it is time for a Latino senator from California. Black groups think that since Harris is Black, the new senator should be Black. Women's groups want a woman. LGBTQ+ groups think it is time for a LGBTQer. The California Association of Used-Car Dealers probably wants a used-car dealer as senator. Everybody wants a piece of the action. Let the lobbying begin.
Gov. Gavin Newsom, who gets to make the appointment, isn't talking. Well, except that last month at the state capital's NBA arena, he said that the Sacramento Kings player Harrison Barnes might be a good candidate. But that was presumably just rhetoric, especially since the 28-year-old Barnes won't be legally eligible to serve until May 2022. Other than that, mum's the word.
Newsom, of course, is a consummate politician. You don't get to be governor of California if you aren't (unless you're a popular film or TV actor). He knows that whomever he picks will make some folks happy and other folks angry, so it is a balancing act. He also knows that the next time he is on the ballot (in 2022 for governor) and maybe the time after that (in 2024 for president), folks will remember whom he picked. He also knows that the candidate will have to stand for election in 2022 and appointed senators don't have a great track record, so he certainly wants someone capable of winning a statewide election in 2 years. That argues, in turn, for someone who has already won a statewide election. That said, some of the haven't-won-statewide folks have some very...enthusiastic boosters who will be hard for Newsom to ignore. Here are some of the leading candidates:
| | | | | |
| --- | --- | --- | --- | --- |
| Candidate | Age | Job | Identity | Notes |
| Toni Atkins | 58 | Pro tem of the CA Senate | Lesbian | Already two LGBTQ+ senators, so not a breakthrough |
| Karen Bass | 67 | U.S. Representative | Black woman | A bit old to start a Senate career |
| Xavier Becerra | 62 | CA Attorney General | Latino | He has sued Trump 100 times |
| Ro Khanna | 44 | U.S. Representative | Indian man | Would make the Bernie crowd swoon |
| Barbara Lee | 74 | U.S. Representative | Black woman | Would be a placeholder until 2022 |
| Alex Padilla | 47 | CA Secretary of State | Latino | Padilla is young and close to Newsom |
| Adam Schiff | 60 | U.S. Representative | White Jew | He ran the impeachment show |
Padilla would certainly seem to check the most boxes, in that he would please a key California constituency, has won statewide election, and is young enough to have a nice, long Senate career. Of course, it's entirely up to Newsom and he might pick someone completely off the board. (V)
---
If you wish to contact us, please use one of these addresses. For the first two, please include your initials and city.
To download a poster about the site to hang up, please click here.
---
Email a link to a friend
or share:
---The Votemaster and Zenger