TODAY'S HEADLINES (click to jump there; use your browser's "Back" button to return here)

•
Maine, Texas, and Alabama Vote
•
RBG Hospitalized Again
•
Trump Administration Resumes Federal Executions
•
Is There Any Rhyme or Reason Here at All?
•
Can You Believe What the Trumps Did?
•
Biden Says He's Open to Killing the Filibuster
•
Biden Airs First Ad in Texas
•
Today's Presidential Polls
•
Today's Senate Polls
Another Tuesday, another round of primaries. This week was rather more consequential than last week, as it involved three different competitive U.S. Senate contests—one on the Republican side, two on the Democratic side. Here are the major developments:
Alabama: In the day's marquee matchup, former AG and U.S. senator Jeff Sessions (R) came up way short in his effort to regain his old seat, losing the Republican U.S. Senate primary to former Auburn football coach Tommy Tuberville, 60.7% to 39.3%. That means that the last two times they were given the opportunity to nominate a U.S. Senate candidate, Alabama Republicans went with a credibly accused child molester (Roy Moore) and a credibly accused embezzler (Tuberville). The good news for the national party is that Donald Trump can campaign for Tuberville without reservation, since Tuberville had nothing to do with the Mueller investigation. The bad news is that Sen. Doug Jones (D-AL) is going to make sure every voter in Alabama is aware of the skeletons in the former coach's closet, and is now going to have at least a puncher's chance of keeping his job.

Maine: The Democratic primary here unfolded as expected, with Speaker of the Maine House of Representatives Sara Gideon easily outpolling her competition with 70.2% of the vote. Gideon now moves on to face Sen. Susan Collins (R); the handful of polls of the race that have been done have Gideon as a slight favorite. She's also got the money edge, and that's before we talk about the $4 million that has been waiting for Collins' opponent since the Brett Kavanaugh hearings.

The other race that people were watching in the Pine Tree State was the Republican primary in ME-02, as a trio of Republicans jostled for the right to take on Rep. Jared Golden (D), a first-term representative in the slightly Republican district (R+2). It looks like Dale Crafts, who was the favorite, is going to get the nod. However, Crafts' 12-point lead over Adrienne Bennett is not quite enough to seal the deal yet, and so the final victor won't be declared for a few days. Complicating things is that Maine is a ranked-choice state, but Republican voters there are angry about it because that system led to Golden's election. And so, many of them refused to rank their second and third choices. If the people who would otherwise have put Crafts #2 are more disdainful of RCV than the people who put Bennett #2, she might just mount a comeback.

Texas: The Lone Star State had the closest Senate primary of the evening but, in the end, that too went according to script. Former Air Force pilot Mary "MJ" Hegar (D), who ran an impressive House campaign in 2018 but came up short, has won the right to face off against Sen. John Cornyn (R-TX), outpacing state Sen. Royce West (D), 52.1% to 47.9%. The Democratic pooh-bahs will be pleased to see that while West and Hegar basically split the urban and suburban vote, Hegar was powered to victory by rural voters. Hegar lags Cornyn in the polls, but the gap (about 10 points) is not insurmountable.

Meanwhile, former Trump physician Ronny Jackson (R) has won the Republican primary in TX-13. Since that district is about as red as it gets (R+33), that means that Jackson will be heading to Washington in January to replace the retiring Rep. Mac Thornberry (R). And TX-17 proved that it's not impossible for a former member of Congress named Sessions to mount a comeback. Former senator Jeff's career is over in Alabama, but former representative Pete (R) defeated Renee Swann, 53.5% to 47.5%. TX-17 is also pretty red (R+12), so Pete Sessions is a good bet to join Ronny Jackson in Washington next year.

There is also interesting news to report in a pair of districts that are going to be more competitive in November. In TX-23, the Democratic candidate will be Gina Ortiz Jones, who won the nomination back in March. No Republican got 50% of the primary vote, necessitating last night's runoff, which featured the Donald Trump-backed Tony Gonzales and the Sen. Ted Cruz (R-TX)-backed Raul Reyes. With 100% of the in-person votes counted, it's 50% of the vote for Gonzales as compared to 50% for Reyes. They are separated by just over 100 votes, and so the winner obviously won't be known for several days (or maybe weeks). Whichever candidate wins, they've spent their last four months tacking hard to the right, and going through much of their campaign war chests. So, Jones is in a pretty good position to win and replace retiring Rep. Will Hurd (R-TX) in the R+1 district, the only one along the Mexican border that is currently represented by a Republican.

And then there is TX-24. That one is sort of the mirror of TX-23, in that the Republican (Beth Van Duyne) secured the nomination back in March, and the Democrats were left to duke it out last night. However, unlike TX-23, last night's contest in TX-24 produced a result, as Candace Valenzuela easily outpolled Kim Olson, 60.4% to 39.6%. TX-24 is fairly red (R+9), so Van Duyne is the favorite to replace retiring Rep. Kenny Marchant (R-TX). However, it's close enough that Valenzuela has at least some chance of pulling out the win. If she does, she will become the first Afro-Latina in Congress.
That's all for July; the next round of primaries is on Aug. 4, when folks in Arizona, Kansas, Michigan, Missouri, and Washington will all head to the polls. (Z)
Ruth Bader Ginsburg is 87 years old, and has a history of serious health issues, including multiple bouts with cancer. Given the presumption that a Supreme Court with 6 conservatives and 3 liberals would spend the next 30 years implementing a right-wing agenda, people take notice whenever she has (yet another) health scare. And so, it was breaking news for most outlets on Tuesday when it was reported that she is in the hospital with a "possible infection."
By all indications, this is a relatively routine matter. She has a bile duct stent, and that may well be the source of her current symptoms, namely a fever and chills. The physicians have cleaned out the stent, are giving the Justice intravenous antibiotics, and expect to keep her under observation for a couple of days. That said, when you're 87 and have a history of health problems, nothing is completely routine. So, the nation will undoubtedly be watching closely for the next few days, until she's discharged.
And since we get asked about this all the time (including multiple times on Tuesday), let us cut to the chase and talk about the timeline, should she vacate her seat on the Court for any reason. On numerous occasions in the past, mostly in the 19th and early 20th centuries, presidents sent SCOTUS nominations to the Senate in the morning and the justice was approved by the afternoon. That means there is no constitutional barrier to a very rapid confirmation. And you can bet that Senate Majority Leader Mitch McConnell (R-KY) would move heaven and earth to ram a justice through, even if he had only a day (or a few hours) left to do it. There are four key dates, as far as we can see, in the next six months:
November 4, 2020

: This, of course, is the day after the election, and by this time most statewide election results will be known. McConnell would need 50 votes to get a justice approved. If it appears that the voters punished some senators for their involvement in the Brett Kavanaugh affair—in other words, if Susan Collins loses badly—it is at least possible that some of the vulnerable 2022 senators (Lisa Murkowski, AK; Marco Rubio, FL; Rob Portman, OH; Pat Toomey, PA; Ron Johnson, WI) might not be willing to participate in an obvious abrogation of the usual process. It only takes a few defections.



January 3, 2021

: On this day, the new Congress will convene. If the Democrats reclaim a Senate majority on Nov. 3, then the opportunity to get a conservative justice through the Senate will expire on this day.



January 5, 2021

: If nobody gets 50% of the vote in the Nov. 3 jungle primary election for the seat currently occupied by Sen. Kelly Loeffler (R-GA), then this is the day a runoff will be held to determine Georgia's newest U.S. senator. There are permutations that could make this a very good day for McConnell, should he have an opportunity to get a new justice seated. For example, if the Senate is 50-49 for the Democrats, and then a Republican wins this election, it will leave 15 days where the GOP has the majority (with Mike Pence's tiebreaker vote) before a potential changeover in the White House. On the other hand, if it's 50-49 for the Democrats, and a Democrat wins in Georgia, then it's game over for McConnell, even with Pence's tiebreaker.



January 20, 2021

: If the Biden/[TBD] ticket is elected, then the privilege of nominating a new justice will devolve, of course, on Biden around noon on this day. Meanwhile, if the Senate is divided 50-50, the tiebreaker vote will be out of the hands of Republican VP Mike Pence, and in the hands of Democratic VP [TBD].
These are just days where the calculation might be expected to meaningfully change. But it's certainly possible, for example, that an imminent Susan Collins loss (as indicated by polls) could make the GOP caucus members skittish on Oct. 25, well before the loss becomes official. It's also possible that if we get to, say, Jan. 17, the Democrats will be able to run out the clock by doing a little quorum busting. In the end, the ultimate conclusion is this: The closer we get to the end of 2020, the harder it would be for Mitch McConnell to get a replacement through the Senate. However, Democrats can't truly breathe easy until the moment that a Democratic majority takes over the Senate on Jan. 3, or, failing that, the moment that a Democrat takes over the White House on Jan. 20. And if neither of those things happens, well, then it's all in RBG's hands (and those of her doctors). (Z)
Between 1960 and 2020, a period of 60 years, there were only four federal executions, with the last of those coming 17 years ago, during the George W. Bush administration. However, the Trump administration was eager to resume the practice. And so, earlier this year, it announced plans to begin putting some of the 62 folks on federal death row to death. First up, as it turns out, was white supremacist and convicted murderer Daniel Lewis Lee.
There was one problem, however. When the last federal executions took place, back in 2001 and 2003, they were accomplished via the lethal injection of three different anesthetic chemicals. Since then, the companies that make those chemicals have ceased selling them for use in executions. Meanwhile, the other nations where the chemicals might be produced have all forbidden their sale to the U.S. government (or to state governments).
And so, the folks who conduct federal executions decided to shift to a massive overdose of a single anesthetic, namely pentobarbital. Obviously, pentobarbital is not intended for this purpose, and there is much evidence that using it thusly is cruel and inhumane, suffocating victims to death rather than putting them to sleep. Two levels of the federal court system, in response to petitions filed by Lee's attorneys, decided that its use was not constitutional, and constitutes cruel and unusual punishment. Then, early Tuesday morning, in a short and unsigned 5-4 decision that Slate's Mark Joseph Stern describes as "legally indefensible," the Supreme Court allowed the execution to move forward. Lee was put to death around 4:00 a.m. ET, having spent the last few hours of his life strapped to a gurney, waiting for a final decision.
When asked why the Justice Dept. not only resumed executions, but was eager to move so quickly, AG William Barr explained that it was important that the family of Lee's victims be able to have closure. At this point, anyone who did not fall off the turnip truck in the last 24 hours should know that you cannot believe anything that comes out of Barr's mouth. But just in case, the truth is that the family of Lee's victims specifically asked for his life to be spared, and even filed legal briefs to that effect. In fact, they went so far as to plead this week that Lee not be killed in their name.
And so, it's another Barr lie. Quite clearly, what's going on here is that Donald Trump wants to run on a "law and order" platform, and this is a high-profile way to put that out there as the campaign heats up. If the election was on, say, Nov. 3, 2021, does anyone really think Lee would be dead right now? That means there will surely be more executions, using a method that many judges, including 4/9 of the Supreme Court, think is cruel. Federal executions are yet another way in which the President is willing to let people die, so that his presidency might live. All that is missing is for Trump to celebrate federal executions by proclaiming how "pro-life" he is. (Z)
When it comes to actually dealing with COVID-19, the Trump administration is doing...well, nothing. One would struggle to identify a single meaningful step that Team Trump has taken in the past two months to try to contain or cope with COVID-19 (efforts undertaken by the bureaucracy, with minimal White House input, don't count). When it comes to the PR angle, by contrast, Team Trump is very concerned indeed, and has invested a great deal of time and energy. However, their approach is so haphazard and slapdash, it makes one's head spin.
To start, despite denying that they are trying to demean or undermine Dr. Anthony Fauci, the White House continued to demean and undermine Fauci on Tuesday. White House social media guru Dan Scavino posted an anti-Fauci cartoon by Ben Garrison to his Facebook page. Here it is, if you must see it: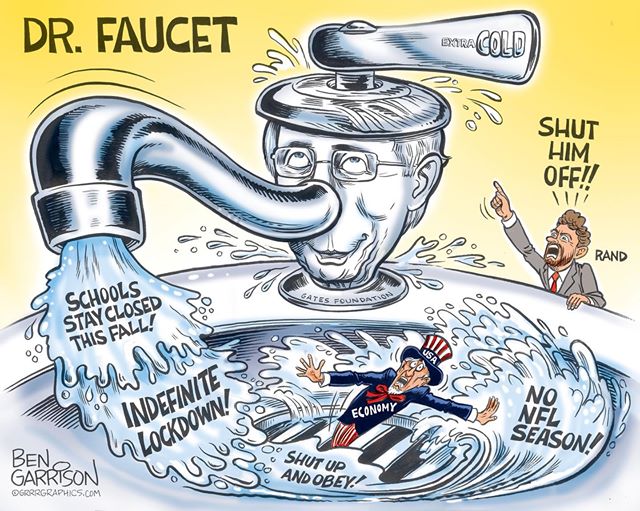 It is remarkable that Garrison makes a living from his "art," as he must surely be the worst political cartoonist of all time. It is true that, as a 19th century historian, (Z) is spoiled by virtue of extensive exposure to the work of Thomas Nast, who is the greatest political cartoonist of all time. Still, while Garrison's stuff certainly looks like a political cartoon, his messaging lacks any nuance or cleverness or even coherence. Oh, and if his lack of skill were not enough, he's also a bigot, and is banned from the White House due to the use of anti-Semitic imagery in some of his "works." For that matter, portraying an Italian American like Fauci with a giant nose is also trafficking in stereotypes, though nobody seems to be pointing it out.
Similarly, Trade Adviser Peter Navarro wrote an op-ed for USA Today on Tuesday in which he savaged Fauci. He must have really labored over it because it's 288 whole words. Navarro begins with the observation that "Dr. Anthony Fauci has a good bedside manner with the public, but he has been wrong about everything I have interacted with him on," and then proceeds to slur the good doctor as a flip-flopper who is barely competent, and whose advice should be treated with "skepticism and caution." The Trade Adviser, as one of his (few) examples, points out how very wrong Fauci was when he said hydroxychloroquine is not a proven treatment for COVID-19. That despite the fact that Fauci was not, in fact, wrong (a note that USA Today felt compelled to append to the op-ed). Navarro also takes time to remind everyone how "courageous" the President was in restricting flights from China, a decision that "might well have saved hundreds of thousands of American lives." For those not keeping count, that's a 194-word summary of a 288-word op-ed that we've just given you. Efficiency!
Meanwhile, Trump himself weighed in, not on Fauci, but on the decision made in Los Angeles not to immediately reopen schools in September. Speaking to CBS News during a rare excursion outside the Fox bubble, the President characterized it as a "terrible decision" and a "mistake." He further explained:
I would tell parents and teachers that you should find yourself a new person—whoever's in charge of that decision because it's a terrible decision. Because children and parents are dying from that trauma, too. They're dying because they can't do what they're doing. Mothers can't go to work because all of a sudden they have to stay home and watch their child—and fathers.
If you understand what that means, then you are cleverer than we are. In particular, we have tried a dozen times to parse "They're dying because they can't do what they're doing" and have failed each time.
Anyhow, we are clearly unimpressed with Garrison's cartoon, Navarro's op-ed, and Trump's interview, but at least they are all pointing in the same basic direction: "All is well, everything is normal, don't believe those who say otherwise." However, in the same CBS interview, Trump also encouraged people, especially the 50 state governors, to abide by CDC recommendations, and urged Americans to make sure to wear their masks. Huh? So the administration's position is "trust the CDC, but not the NIH (who Fauci works for)"? Are we understanding? Oh, well, even if we don't get it, it doesn't matter. Undoubtedly the administration will have an entirely different tack by noon ET today. Maybe two or three of them. (Z)
When it comes to the Trump family, there is a spectrum of bad behaviors that unfurls on a pretty much daily basis. Some of those, like a misspelled tweet or yet another round of bitching and moaning about the deep state, can be ignored. Others, like the commutation of Roger Stone's sentence, or the execution of Daniel Lewis Lee (see above), or the war on Anthony Fauci (see above again), clearly demand comment. It's the things in between those two extremes that are a real headache for us, and presumably for anyone else who writes about current politics. On one hand, not covering things that would have been scandalous for any other president helps to normalize those specific behaviors in particular, and to normalize bad behavior in general. Plus, what happens if the entire country is talking about, say, covfefe or the church photo-op, and we haven't even mentioned it? It looks bad. On the other hand, these things aren't particularly interesting or engaging to write about, because there generally isn't that much for us to add. Further, "Can you believe what the Trumps did?" items can come off as cheap shots or as partisan editorializing.
Anyhow, we've already had two items pretty critical of the President today, and there were a whole bunch of things from him and from his family in the last few days that we should probably mention, but that we don't particularly want to write whole items about. So, we're going to do a "Can you believe it?" roundup. Here goes:
The executive summary here is that the Trump family is out-of-touch, rather dishonest, and does not include the sharpest knives in the drawer, if you know what we mean. And now, we can wash our hands of all this, and move on to more interesting stuff.
Returning to the topic of machinations in the U.S. Senate, presumptive Democratic nominee Joe Biden had a chat on Tuesday with reporters for The New York Times. And during that chat, he said that he has a wide-ranging legislative agenda he wants to make progress on, and if Republican obstreperousness makes it necessary, he's open to abolishing the filibuster.
On one hand, it doesn't actually matter what Biden thinks, since he has no official input on this issue. The filibuster does not have a basis in the Constitution or the U.S. Code; it exists due to Senate rules, and is thus the province of the 100 senators and nobody else. On the other hand, his opinion matters a lot, for two reasons. The first is that he was a member of the upper chamber for nearly four decades, and has previously been a supporter of keeping the filibuster intact. If Biden, someone who is about as institutionalist as it gets, has moved off that position, then the filibuster is surely headed the way of the dodo, sooner or later (and probably sooner). The second reason that Biden's opinion matters is that he wouldn't be saying this without having consulted with key party leaders, most importantly Senate Minority Leader Chuck Schumer (D-NY). If Biden is putting this out there, it suggests strongly that the Party is laying the groundwork for a change, and doing what they can to move the Overton window in advance of a possible Democratic takeover of the Senate.
Meanwhile, Senate Majority Leader Mitch McConnell (R-KY) surely must be hopping mad. Most things that the Senate can do on its own, without cooperation from the House (for example, approving judges), are already not subject to the filibuster. So, there is no opportunity here for him to read the writing on the wall, kill the filibuster himself, and ram through a bunch of bills cutting all taxes on people making $500,000 or more a year, outlawing gay marriage, making it legal to carry an AK-47 to school, overturning Obamacare, etc. All those things would also have to pass the lower chamber in order to become law. So, all McConnell can do is talk about how important the filibuster is, and lament how bad it would be if it were killed. He and anyone else, Democratic or Republican, who likes the filibuster perhaps should have thought carefully before they grossly abused the privilege, over and over, during the last 20 years or so. Here is a graph of the number of cloture votes taken during the past 50 sessions of the Senate, starting in 1917.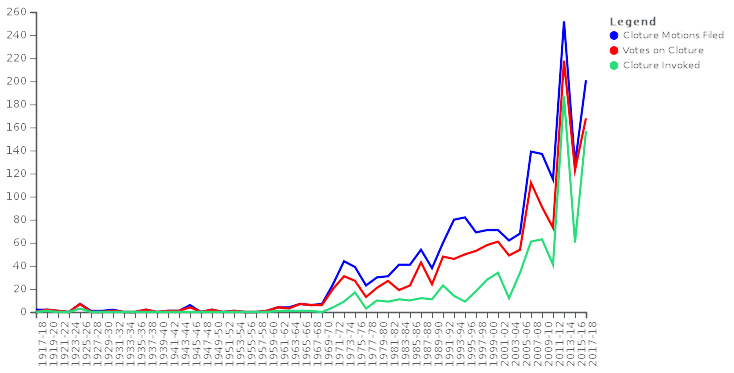 As you can see, prior to 1960, the filibuster was virtually nonexistent and there were no cloture votes. Then its use began to slowly increase. In 2013 it really spiked and hasn't come down since. It was originally intended as a courtesy to senators to prevent the chair from stopping them while they were making a case for or against a bill. It was never intended as a mechansim to put the Alabama phone book into the Congressional Record. As with so many government procedures (e.g., declaring emergencies, appointing acting officials) once they start to be abused, there will be pressure to abolish them altogether. (Z)
Joe Biden's campaign has just executed a large ad buy in four Southwestern states, including Texas. So, residents of the Lone Star State who turn on the tube are now seeing this 60-second spot:
If you don't care to watch, it's focused on COVID-19, and how Biden will work with Texans (who he says are very tough) to beat the disease. It makes no mention of the 800-pound gorilla in the room (with "the room" being the Oval Office), but the implied criticism is crystal clear, nonetheless.
So, does this mean that Team Biden has decided that Texas is up for grabs, and that they're going to make a serious play for it? It certainly could, and that's the conclusion that a lot of folks are drawing. A second possibility is that Biden 2020 is just dipping its toes into the Texas water, and seeing if there's potential to move the needle with some advertising and campaigning there. And a third possibility is that this is a version of Operation Fortitude, the World War II stratagem where the Allies made it look like they planned to invade Norway, Pas de Calais, and several other well-fortified locations so that the Germans would over-commit to those locales, and leave the much more vulnerable beaches of Normandy poorly defended.
The point is, one round of advertising in Texas does not exactly tip Team Biden's hand as to what their plans are. However, the situation certainly bears watching; if Biden 2020 really does make a play for Texas, that means they're swinging for a grand slam on Nov. 3. (Z)
Joe Biden is not likely to spend much time in Montana. However, he and his campaign will certainly hope that Gov. Steve Bullock's (D-MT) coattails somehow pull Biden across the finish line. (Z)
| | | | | | |
| --- | --- | --- | --- | --- | --- |
| State | Biden | Trump | Start | End | Pollster |
| Montana | 45% | 49% | Jul 11 | Jul 13 | Civiqs |
We thought the recent Arizona poll that had McSally within shouting distance of Kelly was probably an outlier, and this supports that assumption. As to Montana, that one's clearly going to be a nail-biter. (Z)
| | | | | | | | |
| --- | --- | --- | --- | --- | --- | --- | --- |
| State | Democrat | D % | Republican | R % | Start | End | Pollster |
| Arizona | Mark Kelly | 52% | Martha McSally* | 43% | Jul 06 | Jul 07 | OH Predictive Insights |
| Montana | Steve Bullock | 47% | Steve Daines* | 49% | Jul 11 | Jul 13 | Civiqs |
* Denotes incumbent
---
If you wish to contact us, please use one of these addresses. For the first two, please include your initials and city.
To download a poster about the site to hang up, please click here.
---
Email a link to a friend
or share:
---The Votemaster and Zenger