TODAY'S HEADLINES (click to jump there; use your browser's "Back" button to return here)

•
Murkowski is Not Concerned and Will Vote to Confirm Amy Coney Barrett
•
Nearly 60 Million Voters Have Already Cast Their Ballot
•
Could COVID-19 Affect the Election?
•
Could Trump Win the Midwest Again?
•
Did Biden Slip on a Oil Slick?
•
Pennsylvania Supreme Court Rejects Rejected Signatures
•
Biden's Campaign Has Spent More on TV Ads Than Any Campaign in History
•
Democratic Senate Candidates Outraise Incumbents Again
•
How Trump's Digital Voter Suppression Operation Works
•
A Voter's Guide to Worrying about the Election
•
What Else Is Up Next Week?
•
Today's Presidential Polls
•
Today's Senate Polls
Last month, Sen. Lisa Murkowksi (R-AK) said she would not vote to confirm Amy Coney Barrett to the Supreme Court because she opposed having any nominee being approved just before an election. But now the rubber has met the road and the vote is today. So while she didn't express her "concern," something Sen. Susan Collins (R-ME) always does when contentious issues are in the spotlight, Murkowski changed her mind and said she would vote for Barrett after all. Her argument is that Barrett will be a fine justice and the process doesn't matter.
Note the subtle difference with Murkowski's statement on March 16, 2016, just after Barack Obama nominated Merrick Garland to fill the seat of Antonin Scalia 8 months before the 2016 election: "Today the President exercised his constitutional authority to nominate an individual to fill the vacancy on the Supreme Court left by the passing of Justice Antonin Scalia. However, given the timing of this vacancy, in the middle of a Presidential election and in an increasingly toxic political environment, I had urged the President to refrain from naming a nominee. I believe he should have left that task to the next administration." Her statement concluded: "This is not good for the nominee, it is not good for the court, and it is not good for the American people."
If Collins goes down to defeat in a week, it will largely be due to her vote for Brett Kavanaugh. If that happens, Murkowski will be quaking in her Alaskan snow boots because she is up for reelection in 2022. After Collins' vote on Kavanaugh, a Democratic group raised almost $4 million to be held in escrow for whoever the 2020 Democratic nominee turned out to be. As it turns out, it wasn't needed because Sara Gideon raised an eye-popping $39 million herself in Q3, but that wasn't known in 2018. The same thing could now happen to Murkowski as Democrats and some independents have had enough of Republican senators talking like moderates but then voting a straight party line. She'll be doubly nervous if Al Gross, who is officially an independent, but who plans to caucus with the Democrats, knocks off Sen. Dan Sullivan (R-AK) this year.
Barrett moved a step closer to confirmation yesterday, as the Senate voted 51-48 to end debate and bring the nomination up for a final vote today. Murkowski voted against ending debate, but will vote in favor of the nominee. Curious contradiction there. Sen. Kamala Harris (D-CA) was out campaigning and didn't vote since she knew it wouldn't matter, and since Democrats are boycotting much of the proceedings.
Having a vote on a Supreme Court nominee just 8 days before Election Day has numerous potential consequences. First, it gives the Democrats political cover to expand the Supreme Court to any size they want if they win all the marbles. Joe Biden has said that if he wins, he will create a bipartisan commission to study the issue. He could easily populate the commission with one person named by each of the four congressional leaders and three law or history professors he knows who favor expanding the Court. If the commission recommends, say, 15 justices to account for the flood of appeals to SCOTUS in recent decades, Republicans will have no moral argument against it, given that their motto is "If it is legal, we can do it."
Second, there are already election cases before the Supreme Court, including one from Pennsylvania that came in on Saturday (see below). With another conservative on the Court, the Republicans may get a spate of rulings now that help them win various races. That is something too good to give up, as they see it.
Third, in the long run, as long as it has a 6-3 conservative majority, the Court will serve as a bulwark against future Democratic control of the other two branches. A conservative Court might not just shoot down a future Green New Deal, but might also go back and retroactively repeal the original New Deal, bit by bit. That said, such decisions are likely to anger Democrats, even if they make Republicans happy. And anger is a stronger motivator to vote than happiness, so for the GOP this could be a case of "be careful what you wish for..." (V)
The U.S. Election Project, run by Prof. Michael McDonald at the University of Florida, keeps track of early voting and posts updates many times a day. A complication is that different states report the data differently. Some of them give a partisan breakdown of early voting and some don't. This is what we have now for 10 states that are expected to be close (in millions of votes):
| | | | | | | |
| --- | --- | --- | --- | --- | --- | --- |
| State | Democrats | Republicans | Independents | Total | 2016 | Total/2016 |
| Arizona | | | | 1.3 | 2.6 | 50% |
| Florida | 2.4 | 2.1 | 1.1 | 5.7 | 9.4 | 61% |
| Georgia | | | | 2.7 | 4.1 | 66% |
| Iowa | 0.4 | 0.2 | 0.1 | 0.7 | 1.6 | 44% |
| Ohio | | | | 2.1 | 5.5 | 36% |
| Michigan | | | | 2.0 | 4.8 | 42% |
| North Carolina | 1.3 | 0.9 | 0.9 | 3.1 | 4.7 | 66% |
| Pennsylvania | 1.0 | 0.3 | 0.1 | 1.5 | 6.1 | 25% |
| Texas | | | | 7.2 | 9.0 | 79% |
| Wisconsin | | | | 1.3 | 3.0 | 43% |
Early voting, in this context, includes both absentee ballots that have been returned and early in-person voting. The last column is the 2020 vote so far as a percentage of the final 2016 vote in each state (including both early and Election Day votes). That percentage can be more than 100% since it is possible for more people to vote early this year than voted altogether in 2016. Texas is headed in that direction, with this year's early voting equal to 79% of the entire 2016 total. Almost 90% of Texas' total this year is in-person voting since only seniors and people who are very sick and can't physically get to the polls are allowed to vote by absentee ballot in the Lone Star State.
Early votes are coming in at about 4 million a day. If this continues until next Monday, there will be 90 million early votes this year. In 2016, the total vote was 137 million. Both in general, and in 2020, Democrats are more likely to vote by mail and Republicans are more likely to vote in person. At the moment, the former have a huge advantage in mail-in ballots (at least, in states that provide partisan breakdowns), 13.2 million to 7.5 million. That is close to 2 to 1, and if we imagine that the numbers are similar in the states that do not provide partisan breakdowns, and extend that ratio across all of the 40.1 million mail-in ballots that have been cast, then the Democratic advantage among major-party voters would be 19.2 million to 11.2 million.
Looking at the in-person votes so far, on the other hand, the Republicans have the upper hand (though by a much narrower margin) among major-party voters, 2.3 million votes to 2.2 million. If we extend that ratio across all the in-person votes that have been cast so far, then the GOP would have 7.8 million votes as compared to 7.3 million for the Democrats. And if we add up both estimated totals, it would put the Democrats up 26.5 million to 19 million. Take that with some grains of salt, though. Since the list of states that do provide partisan breakdowns for mail-in ballots includes California, that may be skewing the ratio in favor of the Democrats, and the non-reporting states that we're guessing about may not be quite so blue. Further, most of the remaining votes, and in particular those cast on Election Day, will be in-person. So while an estimated 7.5 million-vote lead is nothing to sneeze at, the GOP figures to cut into that a lot on Election Day.
On the other hand, there is yet another wildcard to be accounted for. In the states that track the party identification of ballots, there have been 6 million absentee ballots and 1.3 million in-person ballots cast by folks with no major-party affiliation. If we extend those totals across all the ballots cast so far, it suggests there are about 9 million absentee votes and 4.2 million in-person votes cast by people who are not registered as Democrats or Republicans. Polling independent voters is not easy. There is agreement that Biden leads among those voters; what's not clear is by how much. Some polls have the Democrat with a 1-2 point lead, others have him up as much as 20. If we split the difference, and have him up by 9, it suggests he might have another 1.2 million votes in the bank over and above Trump's total. When added to the 7.5-million-vote lead he could have among registered Democrats/Republicans, it means he could be on the cusp of a 9-million-vote lead.
On a related note, while most people sending in absentee ballots get it right, sometimes the envelopes contain surprises, as reported in this story about absentee ballots in Virginia. Some voters in Fairfax and Loudoun Counties enclosed notes thanking the election workers for the work they do, with messages like: "Thanks for making my vote count." Halloween stickers were included as presents in some. So were copies of drivers' licenses (which are not needed in Virginia). Some voters forgot the secrecy envelopes, but that does not invalidate the ballot in Virginia (unlike in Pennsylvania). Some people taped the outer envelope shut, which literally gums up the works. Other people forgot to sign the envelope. In Loudoun County, at least, election officials attempted to contact these voters to get them to "cure" the problem. Other counties are less forgiving and just discard unsigned envelopes. (V & Z)
On Friday, 83,010 new cases of COVID-19 were reported in the U.S. On Saturday there were another 82,668 cases. On Sunday, over 60,000 cases have already been reported, but reporting is not complete yet. The numbers vary slightly depending on the source, but no matter who is doing the counting, they are spiking. Here is a graph showing new cases/day since March. Note that during August and September there were about 45,000 new cases/day, but now that has jumped to over 80,000/day as indicated by the red circle: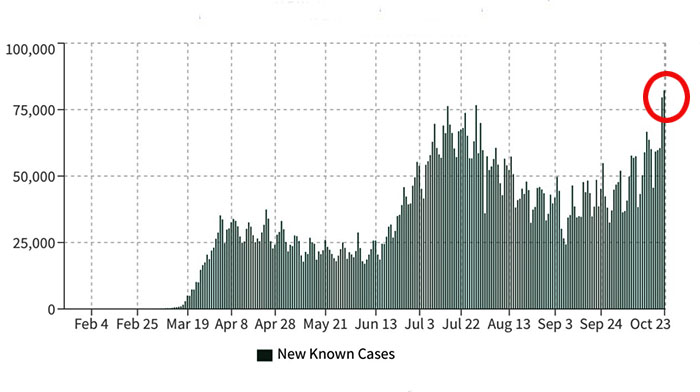 This increase in cases is bad news for Donald Trump. Broadly speaking, the news is full of discussions of the virus, which reflects poorly on his leadership and undermines his case that he's done a great job on COVID-19, the pandemic is almost over, etc. Stories in major newspapers in Arizona, Florida, Michigan, North Carolina, Pennsylvania, and Wisconsin, among other states don't help.
Speaking more specifically, the spike in cases complicates voting for those who have not already cast their ballots. It's probably too late, at this point, to vote absentee and be confident your vote will be counted. If someone is sick, they may (and probably should) decide it's irresponsible to head to the polls, or they may feel too ill to do so. If someone is not sick, but is at risk, they may not be comfortable taking a chance at exposure. The consequence is that turnout on Election Day may be depressed. And since large numbers of Democrats have already voted while many Republicans were planning to vote on Nov. 3 (see above), decreased turnout is likely to hit Trump harder than it will hit Joe Biden.
Given this unpleasant electoral scenario (not to mention nearly 1,000 Americans dying of COVID-19 every day), does the administration have a plan to deal with the situation? White House Chief of Staff Mark Meadows admitted to CNN's Jake Tapper yesterday: "We're not going to control the pandemic." Joe Biden pounced on that and said: "This wasn't a slip by Meadows. It was a candid acknowledgment of what President Trump's strategy has clearly been from the beginning of this crisis: to wave the white flag of defeat and hope that by ignoring it, the virus would simply go away." On the other hand, Sen. Lindsey Graham (R-SC) appeared to defend Meadows by saying: "It's all over the world, guys," as if to imply nothing can be done. Actually, some countries have done a pretty good job of beating the virus down. Others haven't. (V)
With Election Day a week from tomorrow, a lot of Democrats are nervous that Donald Trump could once again pull off upset victories in the "Midwest," while Republicans are hoping that since he did it once he can do it again. In the polls currently in our database, Biden is leading by 7% in Wisconsin, 9% in Michigan, and 7% in Pennsylvania. But this is just a snapshot. Another way of thinking about the races is looking at how stable these leads are and how they compare to 2016. Here are the graphs for the three states over the course of the entire 2020 and 2016 years for all three states, with 2020 on top and 2016 on bottom for each state, and presented in this order: Wisconsin, Michigan, Pennsylvania. The purple line is for Gary Johnson. Third parties are not as much of a factor this time:




Note that heavy polling of Trump vs. Clinton began much earlier than heavy polling of Trump vs. Biden. So, the 2016 graphs cover a longer timespan than the 2020 graphs do. Still, it is clear that Clinton-Trump was pretty tight throughout the process, and grew more so at the end, presumably as a result of then-FBI Director James Comey announcing that he had found more Clinton e-mails 11 days before the election. By contrast, Joe Biden has consistently enjoyed a much larger lead, on average, than Clinton ever did.
Also contributing to the shock in 2016 was that everyone assumed Clinton would win all three states easily and there was little polling of them in the final week. That's not going to happen this time. Trump could possibly win them, but there will probably be polls of them almost every day this week, so whatever happens is unlikely to be a surprise. In addition, Michigan and Wisconsin have been voting statewide for weeks already. In Pennsylvania, early voting varies by county. As you can see in the chart above, the two former states have banked a bit more than 40% of their 2016 already, while the latter has banked 25%. The fact that many votes are already in makes big changes less likely. (V)
Joe Biden's remark during the last debate that he expects to transition away from fossil fuels, has already been weaponized by the Trump campaign. Trump thinks this gives him new hope in Texas and in Pennsylvania: "He'll take away your job!" Will it work?
It's too early to say; we will have to wait for some more polls. However, we do have some thoughts on this. First, when Republicans are fighting for Texas, that is a bad sign. They are supposed to be fighting for Florida, not Texas. Second, were the oil workers who might be affected planning to vote for Biden to start with? Will they now switch horses? Remember, most blue-collar white men in the Midwest were already planning to vote for Trump. This new tidbit of information isn't going to change anything. Third, how will this affect those much-fought-over "suburban housewives"? Our guess is that many of them are concerned about the environment for the sake of their children and may applaud Biden for what he said rather than condemning him. Fourth, what about progressive young Democrats who worship Rep. Alexandria Ocasio-Cortez (D-NY) and love her Green New Deal and weren't planning to vote at all? Hearing Biden suggest we will one day get rid of oil is certainly not a deal breaker for them. In fact, it might motivate some of them to actually vote for him.
The bottom line is we are not yet convinced that Biden really hurt himself in Pennsylvania, where there is a lot of fracking. Texas is more dependent on oil than Pennsylvania and outside of Austin probably doesn't have lots of young progressives, so it could hurt Biden there. On the other hand, he doesn't need Texas, wasn't trying to win it, and probably is not going to get it, with or without the oil comment.
The NRSC managed to pick up the oily ball and is throwing it at Maine Senate candidate Sara Gideon (D). The ad they are running is that out-of-state liberal Green New Dealers like Biden want to raise the cost of your home heating oil. However, while people in Maine do use heating oil in the winter, a lot of Mainers are proud of how clean their state is and are pro-environment. The pitch could easily backfire there, too. (V)
While Oilgate (see above) might hurt Joe Biden in Pennsylvania, the state Supreme Court gave him a big win on Friday when it ruled that absentee ballots may not be rejected due to mismatched signatures. The decision was based on the fact that the election code does not have a specific provision authorizing counties to reject a ballot due to a mismatched signature. Maybe it should, but it doesn't. The Trump campaign argued before the Court that not matching signatures could lead to election fraud, but the Court said that if the state legislature wants such a provision, it is free to include one, and until it does, signatures don't have to match.
The Trump campaign has appealed the case to the U.S. Supreme Court. Last week, SCOTUS deadlocked 4-4 on another case involving the Pennsylvania Supreme Court. That one was about allowing ballots received a few days after Election Day to be counted. If Amy Coney Barrett shows up for work bright and early Tuesday morning, she could be the deciding vote on this case. The law is apparently clear, but the Court is so polarized that she could vote to uphold the Republican position and overturn the Pennsylvania Court because that's what Republican appointees are expected to do. If she does, all hell will break loose. Count on it. Democratic fundraising will go through the roof. If Chief Justice John Roberts puts on his political hat, he will delay the decision until Nov. 2 so that there will be no time for the Democrats to spend any of the money they raise the day of the decision.
As an aside, if the U.S. Supreme Court overturns the Pennsylvania Supreme Court and 100,000 Pennsylvania voters have their absentee ballots rejected because they forgot to put them in the secrecy envelope, we could have a situation in which Donald Trump wins Pennsylvania despite the polls showing Joe Biden with a big lead. The consequence is that the pollsters will be (incorrectly) blamed for getting it wrong, when actually they got it right in terms of who the voters preferred. It's just that many of their votes didn't count. (V)
Joe Biden's campaign has already spent $582 million on television ads, the most of any campaign in history. Last week alone it dropped $45 million on TV ads and it has another $57 million in time reserved up to Election Day. The previous record holder was...Michael Bloomberg's attempt at winning the Democratic primary. Donald Trump has put $342 million into TV ads this year. Pro-Biden and pro-Trump groups have also spent millions and will continue doing so until Nov. 3. But remember, Bloomberg got nowhere and Hillary Clinton outspent Trump on TV ads and still lost.
The number of ads shown is incredible. In the month of October, the total number of political ads on TV is more than 100,000. The lucky (?) top three cities with the most ads were Phoenix, Charlotte, and Des Moines. The expectation is that the total cost of the all the 2020 federal campaigns is going to clock in at about $11 billion, or about $75 per voter. This is a 50% increase over the 2016 expenditures. (V)
The Democratic Senate candidates swamped the Republican incumbents in Q3. Now they have done it again in the first 2 weeks of October. No wonder they can afford so many commercials. Here are the October numbers (in millions of dollars); incumbents are marked with an asterisk:
| | | | | |
| --- | --- | --- | --- | --- |
| State | Democrat | Dem $ | Republican | GOP $ |
| Alabama | Doug Jones* | $1.8 | Tommy Tuberville | $0.7 |
| Alaska | Al Gross | $3.0 | Dan Sullivan* | $0.5 |
| Arizona | Mark Kelly | $7.0 | Martha McSally* | $6.0 |
| Colorado | John Hickenlooper | $3.0 | Cory Gardner* | $1.5 |
| Georgia | Jon Ossoff | $4.2 | David Perdue* | $1.0 |
| Georgia special | Raphael Warnock | $4.7 | Kelly Loeffler* | $3.5 |
| Iowa | Theresa Greenfield | $7.2 | Joni Ernst* | $1.9 |
| Kansas | Barbara Bollier | $3.8 | Roger Marshall | $0.5 |
| Maine | Sara Gideon | $5.9 | Susan Collins* | $1.9 |
| Michigan | Gary Peters* | $7.4 | John James | $3.3 |
| Montana | Steve Bullock | $5.2 | Steve Daines* | $2.6 |
| North Carolina | Cal Cunningham | $4.1 | Thom Tillis* | $1.5 |
| South Carolina | Jaime Harrison | $22.1 | Lindsey Graham* | $14.8 |
Every Democrat raised more money in October than his or her Republican opponent. Probably the biggest surprise of the cycle is Jaime Harrison, a Black man who has never before run for public office, running against a three-term white Republican senator in South Carolina and raising $109 million for the cycle, including a stunning $22.1 million in the first 2 weeks of October. Graham has raised $68 million. (V)
Reporters for McClatchy have uncovered the operation that Donald Trump's campaign used in 2016 (and is undoubtedly using in 2020) to digitally suppress Democratic voters. It was a complex and sophisticated operation and it was under the radar until now. Here is an outline of how it worked.
To start with, Brad Parscale, who ran Trump's 2016 digital operation, understood that committed Hillary Clinton supporters could never be convinced to vote for Trump, so he didn't try. What he wanted to do was get unenthusiastic Black Clinton supporters so disenchanted that they stayed home and didn't vote at all. First he had to find them. In Florida, for example, he targeted 12.3 million unwitting participants along the I-95 corridor in Florida, which runs from Miami to the Georgia border and beyond. A computer algorithm absorbed a huge amount of information, starting with what people had posted to Facebook (illegally obtained by Cambridge Analytica, a British firm funded by right-wing Republican megadonor Robert Mercer, who is close to Steve Bannon). Then it looked at credit card purchases, charities the people had donated to, and up to 3,000 other data points from many sources. Voters were segmented into these eight categories:
Core Clinton (committed Clinton supporters)
Core Trump (committed Trump supporters)
Get Out the Vote (Trump supporters who needed to be rallied to the polls)
Persuasion (swing voters who could be convinced to vote for Trump)
Deterrence (Clinton supporters who could be demotivated from voting)
Disengaged Clinton (Clinton supporters unlikely to vote)
Disengaged Trump (Trump supporters unlikely to vote)
Deadbeats (apathetic voters with no clear candidate preference)
Once the voters were sorted, they were individually targeted with ads on Facebook (which makes microtargeting easy), with different ads for the different categories. The first two didn't get many ads because for group (1) it wouldn't work (although some got ads for Jill Stein) and for group (2) it wasn't needed. Group (3) got some encouragement about how great Trump was and group (4) were shown why Trump was better than Clinton.
But the interesting group is (5), the people who were targeted to keep them from voting. The computer selected 116,000 Black voters in Miami-Dade County, about half the total number of Black voters in the county. Non-Black citizens who lived in predominantly Black areas also made the cut as "volunteers" for Parscale's experiment. Dan Smith, a professor of political science at the University of Florida who reviewed the data, said: "The laser-like focus on suppressing Black turnout is clear."
The deterrence group was fed disinformation and outright lies. For example, one ad showed a Black actress apparently making an ad for Hillary Clinton. She says: "Hillary Clinton is honest and trustworthy." Then she says: "Cut!" The imaginary director off screen says: "What's the problem?" The actress then replies: "I can't say these words. I don't believe what I am saying. I'm not that good an actress."
Another ad showed Michelle Obama saying: "If you can't run your own house, you certainly can't run the White House." The ad made it look like she was talking about Bill and Monica Lewinsky, but the actual video was taken from a completely unrelated context. It also ran for 2 weeks on Florida television. Internal documents showed that it was very effective in getting Black women not to vote for Clinton.
Other ads were targeted at Black voters in Little Haiti, accusing the Clinton Foundation of being corrupt rather than helping Haiti. It worked. In the state House district that includes Little Haiti, Clinton got 6,000 fewer votes than Barack Obama did in 2012.
Frederica Wilson, a Democratic representative from South Florida, recalled an ad targeted at Black single mothers with children in voucher (charter) schools. It featured a Black boy with gold teeth and gold frontal grill walking down a school hallway shooting screaming children with an AK-47. The message was that if you vote Democratic, vouchers will be gone and your kids will have to go to public schools and be shot. Note that if this kind of ad had been done on television, the blowback would have been gigantic, but because Facebook made it possible to target it to only single mothers with children in voucher schools, it was way under the radar and only the intended audience saw it. Many of the other 2016 ads were "dark posts" like this one, designed to be seen by only a very small group of extremely carefully selected voters and then disappear forever.
Did it work? Yes. Turnout among Black voters targeted for deterrence dropped by 8.2 points compared to 2012, compared to a drop of 6.9 points for Black voters overall in Miami-Dade. But the latter figure also includes targeted voters, so the effect of deterrence was probably about 2½ points. Scaled statewide, that was clearly a factor in Clinton's defeat in Florida, since Black voters were about 13% of Florida voters in 2016 and Trump carried the state by only 1.2%. This operation didn't swing the state all by itself, but it did play a noticeable role. The scheme was also used in other states in 2016 and almost certainly is being used in 2020 as well. (V)
With so many people worrying about whether the election will be conducted fairly and whether democracy will survive in the United States, Politico has compiled a nice list to guide your worrying. If you are going to devote some energy to worrying, at least you should worry about things that could happen rather than worry about things that can't happen. It is a forward-looking guide, covering only the period starting on Nov. 3. So until Election Day, you are on your own.
One thing to keep in mind, though, is that unlike most other countries, the U.S. has very decentralized elections. For the most part, they are run by the 3,143 counties and county equivalents (e.g., independent cities). Problems in, say, Broward County, FL, are not likely to spill over to Maricopa County, AZ. Thus for something to go really wrong and affect multiple states, the problem has to be at the federal level. Only a few scenarios like that exist. Also keep in mind, the worst-case scenarios only play out when multiple swing states are very close. In a blowout, none of these really apply. It is not for nothing that the election administrator's prayer is: "Lord, let it be a landslide." Here is a short summary of Politico's article, but the full piece is much longer and worth reading given the stakes.
HOURS AFTER THE POLLS CLOSE
Will Voting Hours Have to Be Extended?

: Poll workers get sick. Voting machines get stuck. Internet connections go down. In short, Murphy's Law has a subclause for elections. When something goes wrong, the consequence is long lines and the likelihood that people will still be standing in line when the polls are scheduled to close. In most states, people who got in line to vote before the scheduled poll-closing time are allowed to vote, but no new people are allowed to join the line. As a consequence, people could still be voting at 9 or 10 or even 11 p.m. in some places. Some people or political parties might try to get the secretary of state or the courts to stop the voting promptly at 7 or 8 p.m., and others could try to get the hours officially extended on account of unforeseen circumstances (e.g., a 2-hour power failure in the middle of the day). If the networks are aware of the situation on the ground, they might refrain from calling a state before everyone has finished voting, even if that is at 11 p.m.



Premature or False Claims of Victory

: Few scenarios seem more likely than one or more candidates rushing to claim victory long before the votes have been counted. Donald Trump is the most likely one to do this (especially if he leads in North Carolina and Florida on election night), but it is also possible in Senate races or further downticket. Remember that the 2018 Senate race in Arizona had Sen. Martha McSally (R-AZ) way ahead on election night, but every day for a week later, as more votes were tallied, her lead dropped until she was behind. Although even Fox News does not want to call it wrong, it will be under massive pressure from Trump to declare him the winner long before anyone knows who won. As we pointed out on Sept. 30, the only person standing between us and chaos is the mild-mannered registered Democrat who runs the Fox News Decision Desk, Arnon Mishkin.



Armed Groups Mobilize

: Heavily-armed right-wing militias (a.k.a. domestic terrorist groups) could mobilize in Michigan, Arizona, or elsewhere and take to the streets or attack polling places or election offices. Left-wing groups are prepared to counter them. There could be major civil unrest and even if it doesn't affect the vote counting, Trump could egg them on and say (falsely) that left-wing groups are stealing Republican ballots so you can't trust the count. If half the country believes that, the democratic experiment in America could be in serious danger.



The Justice Department Intervenes

: Trump has been pushing AG William Barr to do something, anything, to help him, and Barr may have been keeping his powder dry until after Nov. 3. Barr could begin "investigations" of the election as early as Nov. 4, with the intention of discrediting it one way or another. Earlier this month, over 1,000 former Justice Dept. alumni, from both parties, wrote an open letter warning people that he might try this and advising people to view any of his pronouncements with skepticism. It is not clear, however, what he could do to actually interfere since it is the states that run elections. However, he could provide Trump with cover for claiming the election was "rigged."



Hackers Hack the Election

: Russia, Iran, and China all have hackers working on Project Election, although they may be working at cross purposes. One goal might be changing the results, but the enormous decentralization works against them. Breaking into a computer in Michigan doesn't help in North Carolina. For all its faults, the Electoral College does provide firewalls, and thus some protection here. Absent the Electoral College, a hacker who penetrated a single computer in the California secretary of state's office could change the vote totals and possibly the national outcome in 5 minutes.

What is more likely is a hack of major news organizations. Imagine that the GRU hacked the Websites of CNN, ABC, CBS, and NBC and put up a giant headline of "DEWEY DEFEATS TRUMAN." Oh, no, wait, Dewey and Truman are dead. Suppose the headline was "TRUMP DEFEATS BIDEN." Tens of millions of people would believe it and would be very skeptical when it was later corrected to "WE DON'T KNOW" and then the next day to "BIDEN DEFEATS TRUMP." The goal wouldn't be to install the wrong president, but to convince Americans that the election was rigged, that the president is illegitimate, and that democracy doesn't actually work.


DAYS AFTER THE POLLS CLOSE
Ballots Turn up Late

: Three dozen states prohibit ballots arriving after Election Day from being counted. The Trump megadonor currently running the U.S. Postal Service has said that mail (including ballots) that are normally delivered in 2 days might take 10 days this year, thus missing the deadline. It is an absolute certainty that thousands (and maybe hundreds of thousands or millions) of ballots will arrive too late. What happens if some secretary of state orders late-arriving ballots to be counted (in defiance of state law) and doesn't release separate totals for ballots that arrived on time, just the grand total? Will the legislature step in? Will Congress throw out that state's electoral votes? Will it matter which party controls Congress? Also, in every election, there are always a few precincts where someone put a bag of ballots under a table and forgot about them, only to have them turn up 4 days later. Will they be counted? Will there be court cases challenging them? What if missing ballots turn up under suspicious circumstances?



A Counting Collapse

: In South Carolina, a judge ruled that absentee ballots didn't have to be witnessed, then the Supreme Court overturned that decision but said that unwitnessed ballots already turned in would count. Carrying these orders out is likely to require the courts to get involved again. In addition, the instructions being sent out are still wrong. The state's electoral votes really aren't in doubt, but the South Carolina Senate race could hinge on a few thousand votes. In Pennsylvania, it is expected that as many as 100,000 absentee votes will be disqualified because the voter didn't enclose the ballot in the inner secrecy envelope (resulting in a so-called naked ballot), as required by law. Just because you don't care if anyone sees your vote doesn't make the ballot valid. More court fights are likely.

Experts are worried about counting in Wisconsin, Michigan, and Pennsylvania, none of which allow mail-in ballots to be processed until the day before Election Day at the earliest. Suppose that Trump wins all the other states he won in 2016 and it comes down to these states again. The counting of absentee ballots could go on for days, maybe even weeks, with hand-to-hand combat over the signatures on thousands of ballots. The most challenges would naturally come over batches from heavily Democratic or heavily Republican counties.

With many polling places likely to be moved at the last minute due to COVID-19, many voters are sure to show up at the wrong precinct and be forced to use a provisional ballot. It is expected that in states the Republicans control this will be weaponized. Precincts will be intentionally moved in order to cause confusion, resulting in voters going to the wrong precinct and thus being required to use a provisional ballot, something they may not even know exists. If you don't know it exists, you are not likely to request it. The expectation is that this tactic will be used to massively disenfranchise Black voters. All a county has to do to prevent this is to say voters can use any precinct in the county (as Texas does), but if the goal is to disenfranchise voters, obviously this will not happen. It is possible that the number of rejected ballots, provisional ballots, and disenfranchised voters will exceed the winner's margin.



Legitimate Fraud Is Uncovered

: Actual fraud is very, very rare (about 0.004% in Washington State, to take one example), but suppose some operatives intentionally do something to make it look like the other side is cheating. A North Carolina congressional race was recently thrown out because a Republican operative was caught cheating. A new election was called. Can you imagine what might happen if a small amount of actual fraud was detected and all of Pennsylvania had to vote again at the end of November?



Vote Counters Are Intimidated or Attacked

: Some election experts are worried about a repeat of the Brooks Brothers riot in Florida in 2000, when nicely dressed Republican operatives stormed into the offices of election administrators and tried to stop the vote counting. This was part of a three-pronged battle involving the count, the courts, and the PR. The then-novel idea of "working the refs" is now part of the standard playbook. Sherrilyn Ifill, president of the NAACP Legal Defense Fund, is worried that this year the protesters who try to stop the counting won't be wearing impeccably pressed khakis, but instead military-style uniforms and carrying AR-15s. She is also worried about week-long counts with election officials being intimidated at home during the process.



The Supreme Court Gets Involved

: Dozens, maybe hundreds, of court cases are inevitable, and some of them may go to the Supreme Court, which will have a 6-3 majority of Republican appointees as soon as the Senate votes on Amy Coney Barrett today. Three of the six are Trump appointees. Theoretically, that shouldn't matter. But as Yogi Berra (may or may not have) put it: "In theory, theory and practice are the same. In practice they aren't." The Court will probably be asked to stop certain counts, disqualify certain ballots, invalidate certain procedures, and more. Trump has already made it clear that he expects them on his team. If there are crucial 6-3 decisions for Trump, or even with 5-4 decisions for Trump with John Roberts siding with the Democratic appointees, many members of Congress and the public will question the legitimacy of a second Trump term. If the Democrats control Congress in January, there could be open warfare between the branches. No president has ever been impeached twice, let alone five times, each with an extensive trial and many witnesses with the goal of convincing the public that Trump is a criminal and an impostor.

It is also possible that Roberts and Justice Neil Gorsuch might decide that for the good of their long-term project to Make America Conservative Again (MACA), it is better to let Biden become president than have Trump win and have the legitimacy of the Supreme Court totally destroyed forever. On the other hand, they may get nervous that a Democratic win could not only result in 15 justices, but also a federal law specifically stating that the Court has no authority to declare laws to be unconstitutional, effectively reversing Marbury v. Madison by statute.



Trump (or Biden) Refuses to Accept the Election Results

: Trump has repeatedly attempted to throw sand in the gears of democracy, saying that if he wins, he might run for a third term in 2024 and if he loses, he won't allow a peaceful transition of power. He also supports QAnon and many conspiracy theories. What if he loses and won't accept it? His base would cheer. Hillary Clinton has urged Biden not to concede until every vote has been counted and not to give an inch until then. Senate Majority Leader Mitch McConnell (R-KY) has said "The winner of the November 3 election will be inaugurated on January 20." That's probably true. The only argument will be over who is the winner. What happens if both candidates say they won?


WEEKS AFTER THE POLLS CLOSE
State Officials Refuse to Certify the Results

: The secretary of state (or in a few cases a different official) has to certify the winner and then the governor has to sign a certificate of ascertainment naming the presidential electors. What if one of them refuses? For example, what if the results are the same as 2016 except that Biden wins North Carolina and Florida, but Gov. Ron DeSantis (R-FL) refuses to sign the certificate of ascertainment? Consequently, Florida would not cast its 29 EVs and it might send the election to the House, with each state having one vote. DeSantis would never do that in a vacuum, but if he could make some kind of case that Florida's vote had been botched so badly (e.g., due a "mysterious" fire that destroyed many ballots) that he didn't know who won, he might.



Presidential Electors Revolt or Are Replaced

: Enough electors could revolt and go faithless as to change the winner. The Supreme Court ruled in July that states could punish faithless electors, but suppose the electors were willing to accept the punishment (usually a small fine)? Or more extreme, suppose one or more state legislatures decided to replace the electors who the people chose with their own slate? The Constitution gives the state legislatures the power to choose the electors and every state has a law saying that the legislature has delegated that power to the people. But what if a legislature simply ignored the election and named its own slate and the governor signed the certificate of ascertainment? What if Congress and the Supreme Court each got involved and came to different conclusions?


MONTHS AFTER THE POLLS CLOSE
The Winner Is Incapacitated or Dies

: How that plays out depends on the timing. If a candidate dies or withdraws before Dec. 14, the DNC or RNC would announce a preferred replacement, most likely the running mate, and the electors would almost certainly vote for that person. If the candidate was in a coma, probably the electors would vote for him and let the process go forward. If they remained in a coma until Jan. 20, things might get a little hairy, since it would fall to Congress to declare the president incapacitated. Maybe the House and Senate could agree on that, and maybe they couldn't, although if there is no legally elected and inaugurated president or VP, then the job would devolve upon Acting President Nancy Pelosi.



Congress Chooses the President

: If there is a tie in the Electoral College, or possibly if there are significant disputes about the electoral votes, the House picks the president. The last time this happened was 1825. If it comes to this, the Alaska and Montana representatives would each have the same clout as the entire California delegation combined. Right now, Republicans control 26 state delegations, Democrats control 23—if Rep. Justin Amash (L-MI) votes for Biden—and Pennsylvania is split evenly. Of course, the decision would be made by the next (Amash-free) Congress. That makes the House races in Alaska and Montana, which could be close, potentially crucial. If the presidency comes down to how the seven at-large representatives vote, the possibilities for bribery become immense, because flipping any one of them might determine who became president. Could Charles Koch and Michael Bloomberg get into a bidding war for the Montana representative?



Trump Refuses to Leave Office

: This is the least worrisome of all, so we are ending on a positive note. The 20th Amendment says that the terms of the president and vice president end on Jan. 20 at noon. Period. No exceptions. Justice Barrett, if you are reading this, it is in the actual text. Check it out. There is no wiggle room here. If Biden wins the electoral vote, Congress certifies it, and Trump won't leave the White House, Biden will simply order the U.S. Marshals to arrest Trump for trespassing. If for some reason, it still isn't clear who won by Jan. 20, the Presidential Succession Act will kick in and the House speaker will become acting president.

So now you actually have something to worry about. If this isn't enough, read the original article, which has more details. And remember, these are only the known unknowns. There could be unknown unknowns. (V)
Every 4 years the presidential election blots out the sun. It is 24/7 everywhere. Political junkies can, with a bit of persistence, learn about half a dozen Senate races (although we have a rundown on all 35). Last Thursday, we looked at some top House races and even some state legislature chambers that might flip. But even that is not the whole story. There are local races from mayor to dog catcher, but also quite a few interesting ballot initiatives up next week. Here are a few of the more noteworthy ones. Voters in:
Alaska can change to super-jungle primaries with the top four finishers advancing to the general election
Arizona, New Jersey, and South Dakota can completely decriminalize the evil weed
California can undo a law that classifies gig workers (e.g., Uber drivers) as employees
California can establish the tax assessment for commercial real estate at full market value
Massachusetts and Alaska can move elections to ranked-choice voting (as Maine has done)
Colorado can (try to) ban abortion after the 22nd week of pregnancy
Colorado can establish a state-run paid family and medical leave program funded by a payroll tax
Colorado can reduce the state income tax (and state budget)
Florida can clone California's jungle primary system, potentially locking out one party from the GE
Mississippi can permit marijuana to be prescribed as a medication
Mississippi can pick a new state flag (the legislature got rid of the one with the Confederate battle flag)
Oregon can fully legalize magic mushrooms, thereby making the latter-day hippies in Vermont jealous
Rhode Island can rename the state "Rhode Island" from "Rhode Island and Providence Plantations"
And these are just a few of the statewide initiatives. There are about 120. And many counties and cities have their own initiatives. (V)
Joe Biden is maintaining his small leads in Florida and North Carolina, and even in Texas (!). Could Texas really turn blue? It is beginning to look like that could actually happen. Still, we remain skeptical since a 3-point lead is well within the margin of error. If there is a blue wave, it could cover the entire Southeast, though.
| | | | | | |
| --- | --- | --- | --- | --- | --- |
| State | Biden | Trump | Start | End | Pollster |
| Florida | 50% | 48% | Oct 20 | Oct 23 | YouGov |
| Georgia | 49% | 49% | Oct 20 | Oct 23 | YouGov |
| North Carolina | 51% | 47% | Oct 20 | Oct 23 | YouGov |
| South Dakota | 40% | 51% | Oct 19 | Oct 21 | Mason Dixon |
| Texas | 48% | 45% | Oct 13 | Oct 20 | U. of Texas |
Click on a state name for a graph of its polling history.
It is now clear that if Cal Cunningham can manage to go another week keeping in his pants that which belongs in his pants, he'll probably beat Sen. Thom Tillis (R-NC). What is a bit strange (but probably true) is that Biden has a small lead in Texas, but it is not rubbing off on MJ Hegar. It could be that Texans, especially Latinos, hate Trump but don't have a real problem with Sen. John Cornyn (R-TX), who is a fairly standard Republican senator and not especially Trumpish. (V)
| | | | | | | | |
| --- | --- | --- | --- | --- | --- | --- | --- |
| State | Democrat | D % | Republican | R % | Start | End | Pollster |
| Georgia | Jon Ossoff | 46% | David Perdue* | 47% | Oct 20 | Oct 23 | YouGov |
| North Carolina | Cal Cunningham | 49% | Thom Tillis* | 43% | Oct 20 | Oct 23 | YouGov |
| Texas | Mary Hegar | 34% | John Cornyn* | 42% | Oct 13 | Oct 20 | U. of Texas |
* Denotes incumbent
---
If you wish to contact us, please use one of these addresses. For the first two, please include your initials and city.
To download a poster about the site to hang up, please click here.
---
Email a link to a friend
or share:
---The Votemaster and Zenger