TODAY'S HEADLINES (click to jump there; use your browser's "Back" button to return here)

•
Congress Hits Trump With a One-Two Punch
•
Key Mueller Subordinate Departing
•
Trump Creates Some Turbulence for Himself
•
McConnell Will Bring Green New Deal Up for a Vote After Recess
•
Could Omar Face Primary Challenge?
•
Democratic Presidential Candidate of the Week: Stacey Abrams
•
Friday Q&A
Donald Trump may need to invest in a new pair of goggles after both houses of Congress poked him in the eye on Thursday. The Senate embarrassed him with a vote to cancel the national emergency, while the House did the same with a vote on Robert Mueller's upcoming report.
The Senate vote was expected, of course, as Majority Leader Mitch McConnell (R-KY) was essentially out of time. He had to bring the House-passed emergency-canceling measure up for a vote by Monday, and all efforts at finding a compromise or a workaround came up short. The final tally on Thursday was 59-41, with 12 Republicans joining all of the Senate's Democrats and Independents. The 12 were Sens. Roger Wicker (MS), Marco Rubio (FL), Rob Portman (OH), Susan Collins (ME), Lisa Murkowski (AK), Pat Toomey (PA), Roy Blunt (MO), Lamar Alexander (TN), Mitt Romney (UT), Rand Paul (KY), Jerry Moran (KS), and Mike Lee (UT).
There is a pretty clear pattern in the GOP votes. Of the 22 Republican senators up for reelection in 2020, only one of them—Susan Collins—voted to cancel the President's national emergency. That means that Sen. Thom Tillis (R-NC), who previously announced that he would vote against Trump, flipped positions at the last minute. Maybe he had some new insight. Maybe he re-read his copy of the Constitution and decided that the President gets to spend money however he wants. Or, just maybe, he was responding to the lambasting he was taking from Republican voters back home. Meanwhile, in a pretty sharp contrast, only 20 of the 31 GOP senators who are up in 2022 or 2024 voted with Trump. That means that the President got 95% of the 2020 senators but only 64% of the non-2020 senators. Clearly, the party will remain in Trump's hip pocket for two more years, though it certainly looks like a lot of senators foresee a Trump-free Washington by 2022.
On the other side of the Capitol building, at nearly the same time the senators were casting their votes, the House was voting on a resolution that calls for the Mueller report to be made public. The final total was staggering, and is probably not getting quite as much attention as it should. 420 members voted in favor of the resolution, while the total voting against was...zero (4 members voted 'present'). That kind of bipartisan agreement is virtually unheard of in Washington these days, particularly over something that might ruffle the feathers of Donald Trump. It's true that the GOP members and the Democratic members had different agendas when it came to their support, but the bottom line is that it's going to be nearly impossible for Trump to keep the report secret. If he tries, the House will just subpoena Mueller and ask him to reveal whatever it is that he found.
Trump, for his part, is clearly getting weary of the pesky folks at the other end of Pennsylvania Avenue, particularly now that they are falling out of lockstep with him. The members of the Senate were shocked at how little effort the White House put into influencing Thursday's vote. There was no willingness to compromise, and fairly little whipping of votes. The President's attitude, apparently, was that his veto power will ultimately decide the matter, and nothing else is significant. Of course, this overlooks the PR angle, which is substantial here. It also overlooks the fact that legal challenges are coming, and that the resolution that has now been passed by both chambers will become exhibit A for the plaintiffs, veto or no.
What Trump did do this week was indulge his penchant for bullying and threats. Sitting for an interview with Breitbart, he declared:
You know, the left plays a tougher game, it's very funny. I actually think that the people on the right are tougher, but they don't play it tougher. Okay? I can tell you I have the support of the police, the support of the military, the support of the Bikers for Trump—I have the tough people, but they don't play it tough—until they go to a certain point, and then it would be very bad, very bad.
In other words, "The people with guns are on my side, and if push comes to shove, they will use them." Time will tell if his predictions come to pass, but if they do, he will bear approximately 100% of the responsibility for any damage that is done, given the clear and unsubtle encouragement he's offered.
In the short term, Trump will undoubtedly wield his veto power to keep his national emergency alive. Since the votes are not present in either chamber for an override, it will then become a matter for the courts. However, the Democrats in Congress are also going to do what they can to keep their colleagues' feet to the fire. They are allowed to try and cancel the national emergency resolution every six months, and Senate Minority Leader Chuck Schumer said on Thursday that those votes will indeed be scheduled, like clockwork. So, this story is far from over. (Z)
Andrew Weissmann is Robert Mueller's top deputy, and—in particular—was responsible for overseeing the prosecution of Paul Manafort. With that latter task at its end, Weissmann is going to be leaving his position in the Special Counsel's office fairly soon, for a teaching post at New York University.
This will, of course, trigger yet another round of "Mueller's report is imminent" stories. Like, for example, this one. At this point, only two things are really clear:
Mueller needs to release the report before election season heats up, first because he doesn't want to exert undue influence over the election, and second because he may be reporting on issues that need to be addressed before people cast their ballots.


Only he and his staff know how close they are to finishing, and exactly when their work will be released. And none of them are talking.
So, it is safe to say the report is coming sometime this year. Beyond that, it's not worth trying to read the tea leaves, because they have already been wrong so many times. (Z)
Donald Trump has a version of the Midas touch, except that instead of being able to turn anything into gold, it's that he can turn anything into (at least) a moderate-level scandal. For example, it is a rare president whose job performance gets linked to the FAA (with Ronald Reagan, and his mass firing of air traffic controllers, being the obvious exception). In Trump's case, given his love for all praise, no matter how little it may actually be deserved, he tweeted this:
Since taking office I have been very strict on Commercial Aviation. Good news - it was just reported that there were Zero deaths in 2017, the best and safest year on record!

— Donald J. Trump (@realDonaldTrump) January 2, 2018
Trump refuses to accept that when you take credit for a thing that's going well, you also get the blame when that thing goes bad.
Of course, as everyone knows by now, the last few months have been pretty bad for airplane safety. In particular, two new Boeing 737 MAX airplanes have crashed, killing 350 people. Responding to this should have been a layup. Following the second crash this week, the various nations of Europe grounded all Boeing 737 MAXs until the underlying problem can be identified and solved (if it can be). If Trump had followed suit, then there would be no problem here. But instead, he decided to send out these strange tweets:
Airplanes are becoming far too complex to fly. Pilots are no longer needed, but rather computer scientists from MIT. I see it all the time in many products. Always seeking to go one unnecessary step further, when often old and simpler is far better. Split second decisions are....

— Donald J. Trump (@realDonaldTrump) March 12, 2019
....needed, and the complexity creates danger. All of this for great cost yet very little gain. I don't know about you, but I don't want Albert Einstein to be my pilot. I want great flying professionals that are allowed to easily and quickly take control of a plane!

— Donald J. Trump (@realDonaldTrump) March 12, 2019
Beyond the fact that there's no evidence these crashes happened because the planes were too difficult to pilot, along with the fact that Trump has no expertise whatsoever in airplane design and usage, it's an excellent point.
In any case, Trump finally did ground American Boeing 737 MAXs, but nearly two days after most other nations did so. And now, Congress wants to know what took so long. Thus, Trump has taken a part of his job that rarely generates headlines (the FAA), and a situation that should have been easy to respond to, and turned it into yet another scandal, and a possible House investigation. The President has such a "talent" for this, he's lucky that nothing ever sticks to him. (Z)
The Senate will be off next week, but it is likely that the first item of business when they return on March 25 will be a vote on Rep. Alexandria Ocasio-Cortez' Green New Deal proposal. Actually, it's not a vote on the proposal itself, it's a "test vote," so everyone in the Senate can make clear where they stand on the measure.
In other words, the man who recently denigrated "show votes" is going to hold a show vote. His purpose is to force Senate Democrats to choose sides. They can vote in favor of a proposal that has not yet been fleshed out and is basically a broad statement of goals, and then be lambasted by their GOP opponent for being a socialist and overreaching and yada yada. Or, they can vote against, and then be accused by their base and their primary opponent of not caring about the environment. Chuck Schumer has already made clear that his caucus will not play McConnell's game, and that most or all of them will vote "present."
Even if McConnell's ploy doesn't work, however, it is very clear that the GOP thinks that running against the Green New Deal is a winner in 2020. The party's members have already previewed some of the rhetoric they plan to deploy. Many of them, for example, have latched on to the alleged $93 trillion price tag of the proposal. That number, not surprisingly, comes from a right-wing think tank, and is basically sophistry, as much of Ocasio-Cortez' proposal is too broad at this point to plausibly calculate precise costs. Beyond the "it's too expensive" angle, we've also seen the "it's pure evil" angle being tested out. For example, Rep. Rob Bishop (R-UT) declared on Thursday that the plan is "tantamount to genocide." A very thoughtful assessment, and not at all a comically bad representation or a totally inappropriate use of that word. Nope, not at all.
It is clear that the Green New Deal, and more broadly the environment and global warming, will be a big part of the 2020 campaign. Thus far, the GOP has had a great deal of success selling their denialism and using it to rally rural voters and get them to the polls. Maybe it will work again in 2020, but polls make clear that the number of voters who take global warming seriously is rising almost as fast as temperatures are. Meanwhile, it may be instructive that no other major political party in the world denies the existence of global warming, or takes the staunchly anti-environment stance that the Republicans do. (Z)
Given her impolitic remarks about Israel, which some have interpreted as anti-Semitic dog whistles, Rep. Ilhan Omar (DFL-MN) has aggravated a number of her Democratic colleagues in the House. Some are genuinely angry about what she said, others are not happy that she's giving the Party a black eye. In view of this, there is an effort underway to find a viable Democratic challenger to primary her.
The frustrations are real, but the attempt to recruit a viable challenger is not far removed from tilting at windmills. The last time a sitting DFL House member lost a primary election in Minnesota was...well, never (and the last time it happened to a Republican was over a century ago). And once Omar survives the primary, she's a lock to win reelection in her D+26 district. This is a big part of the reason she can speak her mind without concern; she's effectively got a lifetime job if she wants it. (Z)
Now that she's hinting at a run, and is most certainly not giving the full Sherman, it's time to profile her, just in case.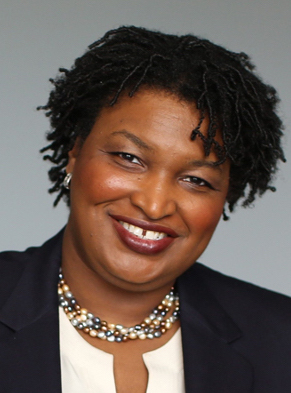 Full Name

: Stacey Yvonne Abrams



Age on January 20, 2021

: 47



Background

: The second of six children born to Methodist ministers, Abrams was born in Wisconsin, grew up in Mississippi, and attended high school in Atlanta. She took her bachelor's degree in Interdisciplinary Studies from Spelman College, graduating magna cum laude. She was then named a Harry S. Truman scholar, a prestigious honor that allowed her to attend the University of Texas at Austin's LBJ School of Public Affairs and earn a Master of Public Affairs degree. She rounded off her education with a law degree from a little school in Connecticut called Yale. After college, Abrams worked as a tax attorney, with most of her clients being tax-exempt organizations and charities. She also dabbled in entrepreneurialism, founding Nourish, Inc. (which makes drinks for young children) and the legal consulting firm Sage Works.



Political Experience

: During her high school and college years, Abrams volunteered for several congressional campaigns; her talents as a wordsmith had her working as a speechwriter before she was old enough to vote. The first political office Abrams held was as Deputy City Attorney for Atlanta. She remained there for five years, and then was elected to the Georgia House of Representatives, where she served for 10 years (2007-17), with the last 6 of those as minority leader. She left the Georgia House to wage the close, but ultimately unsuccessful, bid for the Georgia governor's mansion that brought her to national attention.



Signature Issue(s)

: Given that the Democrats in the House made an election reform bill HR-1, and that Abrams very possibly lost her gubernatorial election due to shady vote manipulation, then something like a new Voting Rights Act would be a natural focal point for a hypothetical campaign.



Instructive Quote

: "Admitting mistakes is a fundamental skill too few of us learn. In part, this is because we've been taught it's wrong to be wrong."



Completely Trivial Fact

: Abrams has, of course, written the standard campaign bio, entitled Minority Leader: How to Build Your Future and Make Real Change. Anyone who goes to amazon.com looking for more of her literary output could be disappointed, because that is the only book she's published under her own name. However, under the pen name Selena Montgomery, she has published eight novels in a genre that Abrams/Montgomery describes as "romantic suspense." According to critics, The Art of Desire was a winner, but Hidden Sins was a bit derivative. Altogether, the eight novels have sold over 100,000 copies.



Recent News

: Abrams met with Joe Biden this week. Since he's presumably not looking to make the Democratic field even more crowded, the speculation is that he was feeling her out as a possible running mate, when and if that time comes.



Three Biggest Pros

: (1) There aren't too many candidates out there that are more genuine and authentic than Abrams is; (2) If the blue team is going to make a play for North Carolina and other Southern states, Abrams is an ideal person to do it; and (3) As she showed with her response to the SOTU, she's a confident and dynamic public speaker.



Three Biggest Cons

: (1) Voters may be leery of someone who has zero experience at the federal level; (2) Between student loans and credit cards, Abrams is $200,000 in debt, which really shouldn't matter to voters, but it does; and (3) As you may have noticed in the past two years, racism is alive and well in the United States.



Is She Actually Running?

: She's certainly thinking about it. The odds are she concludes that 2024 or 2028 make more sense for her, and that she runs for the U.S. Senate instead. On the other hand, she's kind of in the Beto O'Rourke situation: One close loss in a tough race, and you're a rising star, but two and you're damaged goods. So, she might just decide that the time to shoot for the White House is now.



Betting Odds

: She's at 50-to-1 in the books that list her, which implies a 2% chance of landing the nomination.



The Bottom Line

: She's a very attractive VP candidate, especially if paired with an old, white centrist like Joe Biden. If she is a candidate for national office in 2020, that is likely the one it will be.
You can access the list of candidate profiles by clicking on the 2020 Dem candidates link in the menu to the left of the map. (Z)
An unusual Friday edition, prompted by a malfunctioning laptop yesterday. Fortunately, it's fixed now.
On the topic of the news about the university admissions scandal: How does Jared Kushner's parents paying Harvard $2.5 million prior to his admission not equate to bribery? Why isn't there more legislation to make the process "fair" (like, say, affirmative action)? Surely all universities receive some government money and therefore have some responsibility on this issue? Are universities open about the fact you can effectively buy your way in? Has anyone else of recent political prominence been a beneficiary of their university place being 'bought' for them? M.S., Helsinki, Finland
Lots of questions here. With our oft-repeated caveat that we are not lawyers, the crime of bribery tends to require two things: (1) Acquiring goods, services, or other benefits that would not otherwise have been proffered, and (2) fraudulent intent. Donating $2.5 million for a building meets the first requirement but probably not the second because, in answer to one of your other questions, it's not a secret that rich people can "assist" their kids' admissions into some universities (though that's much less true today than it once was). The fraud that was committed in the current situation was a result, for lack of a better word, of the rich parents trying to get a "discount." If these folks had just written a check to, say, USC for $1 million, the university would have found a space for their kids and there would be no trouble. However, they tried to do it on the cheap by buying off athletic coaches and SAT proctors for much less than $1 million, and then they doubled down by sending the money to a sham charity so they could claim a tax deduction. This is why they're in hot water.
As to the government stepping in, that's a tricky business. With something like affirmative action (or unlawful discrimination), it's a reasonably cut and dried question of measuring how many students are black, or Latino, or whatever. But deciding who should and should not be admitted is much more art than science. For example, imagine that two students have similar academic records, but one of them has a perfect SAT score (1600), while the other has a 1500 SAT and also happens to be a world-class concert pianist. Who is more worthy of admission? Does the answer change if the SAT gap is 200 points? 400? 600? The point is that if the government tried to ban admissions for fat-cat donors, or for legacy students (children of past graduates), it would be pretty easy for the universities to keep admitting such folks. They would just justify the admissions on some other basis, at least officially.
Former senator Ted Kennedy took a long look at this, and his favored solution was something he called "name and shame." The idea was to allow universities to retain whatever admissions policies and procedures they wanted, but to require them to provide statistics about exactly how many students were being given an advantage due to donations/being a legacy. This would presumably harm the universities' reputations (particularly if college ranking services like U.S. News began to factor those numbers into their rankings), and would encourage them to do it much more sparingly. It's true that universities could lie about and distort these numbers, but the Senator's thinking was that a bunch of academic administrators are only likely to commit outright fraud if it's the only available option (as it would be if donor/legacy admissions were banned entirely).
As to other high-profile assists besides Kushner, there is no way to be certain because people don't broadcast this about themselves. Some of them even go so far as to threaten schools and testing services with lawsuits if they leak anything. Still, Donald Trump Sr. and Jr., JFK Sr. and Jr., Al Gore, and George W. Bush are all folks who had questionable academic records but powerful/wealthy parents, and got into elite schools. You can reach your own conclusions. And we're only considering recent history here; there was a time when the entrance exam of Harvard (for example) was basically, "Are you rich enough to pay our tuition and fees?" So, for example, the Roosevelts did not get in on their merits, though that was also true of most of their classmates, too.
---
I know that Bill Clinton pardoned people after he was impeached, but I'm stuck wondering about the mention of impeachment in Article II, section 2 of the Constitution: "...he shall have Power to grant Reprieves and Pardons for Offenses against the United States, except in Cases of Impeachment." So, supposing that Congress impeaches Trump, what happens to the ability to Pardon between the impeachment and the trial, or during the trial? Moreover, can Congress simply impeach Trump's power to pardon? Might this void the Joe Arpaio pardon? N.H., Los Angeles
We think you might be misreading Article II. The limit that it establishes is on the president's power to pardon those who have been impeached (and convicted), not on the president's ability to use the pardon power while he himself is in the process of being impeached. In any event, Trump (or any other chief executive) retains the pardon power for as long as they are president. Congress cannot "suspend" it by initiating impeachment proceedings, nor take it away from them, except by removing them entirely from office. Also, even if someone is impeached and removed, their past pardons would stand.
---
The Democrats can't have a same state ticket of Castro/O'Rourke or Bloomberg/Gillibrand because the President and VP need to be from differing states, right? As I recall, Bush/Cheney required Cheney moving from TX to WY. Where is this requirement enumerated? What is its purpose and how did it come into existence? E.R., Wilmington, DE
Actually, there is no rule about the two candidates coming from the same state. The only rule, which is enumerated in the 12th Amendment to the Constitution, is that the electors cannot vote for two candidates from the same state that the elector comes from. In the case of Bush and Cheney, that would have meant that Texas electors could not have voted for both Bush and for Cheney. If Cheney had not "moved" back to Wyoming, then what would have happened is that the Texas electors would have voted for Bush for president, and then would have voted for someone who was not Cheney for VP. Consequently, Dick would not have claimed a majority. This, in turn, would have thrown the VP election to the Senate, with each senator having one vote. And things would have potentially gotten messy from there. 3 USC Ch. 1 specifies that the Senate must hold the meeting to count the electoral votes on January 6 of the next year. And by January 6, 2001, the Senate was split 50-50 between parties with Al Gore as the presiding officer (and tiebreaking vote) for another 14 days. They would have been limited to the top three VP finishers, and presumably would have chosen Joe Lieberman by a vote of 51-50. Thus, you would have had a split government (though maybe not all that split, given Lieberman's politics).
Oh, and the reason this rule was established was to discourage cronyism, and to encourage electors to take a look at candidates beyond the folks they know from their home state.
---
If a candidate really did fancy a warm bucket of...#$%!, could they theoretically run for vice president as an independent unaffiliated to a presidential candidate or party? M.S., San Diego, CA
Many things are theoretically possible, without being terribly plausible. This is among them.
As with presidential electors, vice presidential electors are pledged to a specific candidate. And so, if your hypothetical independent VP was to be elected, they would have to go faithless en masse, rebelling against the chosen candidate of their own party. There are two hypothetical ways this might happen that we can see. The first is that in between the election and the meeting of the Electoral College (about a month), something horrible comes out about the VP (like, they turn out to be a child molester). This scenario is pretty unlikely, though, since candidates are so thoroughly vetted before being nominated (although you never know; Dennis Hastert became Speaker of the House, and he turned out to be a child molester). The second, and more likely, possibility is that the Veep dies in between the election and the meeting of the Electoral College. Though if that were to happen, the president-elect and his/her party would probably identify their preferred replacement, and so that replacement would not be "independent."
There is at least one historical analogue to the situation you hypothesize. In 1896, the Democratic ticket was William Jennings Bryan and Arthur Sewall, while the People's Party (Populist) ticket was Bryan and Thomas E. Watson. Since there was no hope of the People's ticket winning anywhere, Watson was de facto running as an independent VP candidate.
---
Your site, and others, will sometimes refer to "name recognition" as a contributor to poll results. This was mentioned several times in connection to Joe Biden's name recognition contributing to his standing among the rest of the Democratic candidates (either declared or not) in current polls. Sen. Bernie Sanders (I-VT) is also often said to be benefiting from this potential influence.

I've always read this caveat with some skepticism. Some would say that I'm living in a political bubble in Washington, D.C., but I have roots far from this city and I find it difficult to imagine that there is any substantial group of the electorate out there that is participating in these polls and isn't also fully aware of the Kamala Harrises, Cory Bookers, and Elizabeth Warrens of the world. Who takes a poll and doesn't immediately recognize at least a handful of the names? Can you elaborate on what "name recognition" actually means for a candidate in these polls? To what extent does it have an impact on the results? M.D., Washington, D.C.
Truth be told, we think that the bubble is a big part of the answer. We'd like to direct your attention to this study by the Annenberg Public Policy Center at Penn. It makes clear that Americans aren't so great when it comes to civics. For example, more than a third of respondents could not name any of the rights guaranteed by the First Amendment. A staggering three-quarters could not identify the three branches of the U.S. government. Given that, is it all that hard to believe that a lot of folks don't know many (or any) sitting U.S. senators, particularly to the point of having a clear opinion about them and/or their policy positions?
Most pollsters, when they call people, force them to choose a specific candidate (no "I don't know" or "none of the above"). Under those circumstances, a Biden or a Sanders may be the only candidate they know enough to have an opinion about. Or, they may be the only name they recognize. In those polls, the two men each tend to poll at about 30% support. In the handful of polls conducted where respondents were allowed to answer "none of the above" or "I don't know," they lead the field still, but their support drops to about 10%. So, about two-thirds of their support right now appears to be based primarily on name recognition. Undoubtedly, they will retain much of that support as the other candidates become better-known, but they won't retain all of it.
---
On Monday, someone asked about YouTube comments and mentioned Andrew Yang, who you dismissed out of hand. I'd just submitted a question about him being profiled the previous day, because I'd not heard of him before. You said you've been getting lots of requests for him to be profiled, and were dismissive of them, because you're assuming it's astroturfing. I know I'm not an astroturfer.

Meanwhile, you've said that Howard Schultz should be covered because of the impact of third-party candidates. There seems to be a discrepancy here. My question: What's up with that? D.C., San Francisco, CA
Let us start by noting that astroturfing is a pejorative term, and one that implies significant dishonesty, usually the employees of a PR firm posing as grassroots supporters. We did not make this accusation, nor do we believe it. The e-mails we've gotten all seemed quite genuine; we would hope that after 50 years (V) and 25 years (Z) of writing as academics, we would be able to recognize a put-on from a PR company when we saw it. What we assumed, given the frequency of the e-mails and the pattern of their arrival (a dozen one day, 6 the next, then 3, then 1 or 2 a day thereafter) is that there is some sort of e-mail list or subreddit for Yang where one of his supporters suggested e-mailing us. That same dynamic could generate positive comments on a YouTube video. There is nothing illegitimate or dishonest about this, and our original answer posited that it's a valid way for someone without access to traditional outlets, and with some tech savvy, to generate some buzz. Similarly, we cannot know what percentage of the e-mails we've gotten about Yang were produced by the e-mail/reddit post that we assume exists, we only know that some of them must have been.
And as a sidebar, we suspected that something similar was going on with Rep. Tulsi Gabbard's YouTube comments. We are now advised by reader D.G. in Arlington, VA, that there is substantive evidence that she's become the favored candidate of the Russian propaganda machine. Note that we do not believe that this also applies to Yang—or, at very least, we do not believe it explains the various e-mails we've gotten. If we can recognize fake PR, then we should certainly be able to recognize fake Russian missives.
As to the "discrepancy," there is none. We choose all of our items based, first and foremost, on potential impact on the 2020 election. There is little precedent for a businessman with zero experience in elective office to make an impact on a presidential election. Donald Trump did it, of course, and Wendell Willkie did too, back in the 1940s, but that's about it. And Yang does not strike us as being much like Trump, while Willkie's approach to the GOP nomination (being buddies with everyone in the smoke-filled room) is no longer available. Meanwhile, there is a long history of outsider candidates (businessmen, entertainers, etc.) trying a presidential run and getting nowhere with it. So, the available evidence suggests overwhelmingly that Yang will not have an impact the 2020 election, and we have to proceed accordingly until given evidence to the contrary.
By contrast, there is overwhelming evidence that an independent presidential candidate, particularly one who can self-fund, can have a significant impact on a race. We pointed out the recent examples of 2016 and 2000, where a third party candidate may well have changed the outcome. Other significant examples include 1992 (Ross Perot), 1968 (George Wallace), 1948 (Strom Thurmond), and 1912 (Theodore Roosevelt). Until we are given evidence to the contrary, either in the form of Schultz dropping out or of polling data showing a lack of support in swing states, then we have to proceed with the assumption that he's a factor in the election. Not that he'll win, mind you, because he won't. Merely that there's a chance he could affect the outcome.
---
There have been many pixels spilled over the years on the inside baseball that goes into choosing the site for each major party's convention. In this cycle, it was the choice between Milwaukee and Miami that led Politico to write a story about Democratic Party bosses hyperventilating over which site would be the better choice, specifically regarding each city's appeal to various donors and voters. Now that we have a winner, is there any evidence that the site of a convention in Milwaukee, as opposed to anywhere else, really matters to voters? C.G., Washington, D.C.
The evidence suggests that the choice of convention location basically does not matter. Since World War II, there have been 34 conventions, 17 for each party. On 23 occasions, the state that hosted the convention voted the same that year as it had in the previous election. Six times (the Democrats in 1948, 1952, 1980, and 2012; the Republicans in 1960 and 1964), a party lost the state it held its convention in after having won the state in the previous election. And five times (the Democrats in 1976 and 2008; the Republicans in 1948, 1952, and 1968), the party won the state where it held its convention after having lost it in the previous election. Since most of those 11 "flips" were swing-state conventions, the shifts were likely due to the swingy nature of those states and the strength of the party's candidate in those years.
That said, the Democrats lost Wisconsin by a paper-thin margin (23,000 votes) in 2016, and part of the dynamic may have been that the folks there (and in the Midwest in general) felt like the Party was neglecting them and/or taking them for granted. So, this may be the rare situation where it matters.
There is also one other consideration that might be worth noting. When choosing a convention site, it is wise to remember the modern rendering of Hippocrates' admonition to doctors: "First, do no harm." Even if the choice of convention site does not "help," the pooh-bahs want to make damn sure it does not do them any damage. The Democratic Convention of 1968, in Chicago, would be the cautionary example here. It's unlikely there will be any sort of trouble in 2020, regardless of where the Democrats convene, but it's also true that Milwaukee is a little less challenging from a security (and a weather) perspective than Miami.
---
You wrote: "[Robert] Kraft was busted in an extensive police sting, and ever since that story broke, there have been rumors of a 'bigger fish' who was caught visiting the 'day spa,' and whose identity has not yet been revealed. If it were to be a certain fellow already known for his philandering ways, this could get quite salacious, indeed."

How can you write this and not provide a link? I have a job search to conduct and can't get distracted hunting this down in Google! If you can provide a clue or link, I would appreciate it as would your other readers. Maybe you could also comment on the "editorial license" taken in pushing rumors but not contributing to them (as you have in other Q&A). B.B., New York City, New York
Here you go. As to repeating rumors, this one got pretty wide circulation in the legitimate sports press, and is backed by someone (Adam Schefter) who has a good reputation. And we set it up as a minor point at the end of an item, and one that was definitely just a rumor. It is quite common, however, that we read something speculative or gossipy that is only being reported by one outlet, and we say to each other, "Interesting, but of course we can't use it."
---
If you have a question about politics, civics, history, etc. you would like us to answer, click here for submission instructions and previous Q & A's. If you spot any typos or other errors on the site that we should fix, please let us know at corrections@electoral-vote.com.
Email a link to a friend
or share:
---The Votemaster and Zenger