TODAY'S HEADLINES (click to jump there; use your browser's "Back" button to return here)

•
Democrats Release Climate Plans
•
Biden Is Doing Well in Wisconsin
•
Sanders Has the Best Ground Game in California
•
Trump Tries to Rescue Old Light Bulbs
•
The Ten Counties That Will Decide the Presidential Election
•
Republicans Are Worried about State Legislature Races
•
De Blasio May Drop Out
•
New Use for Thoughts and Prayers Discovered
•
Two More Republican Congressmen Bite the Dust
Note: Labor Day is the unofficial start of election season. Now that it is underway, it is time for a new map, focused on the primary calendar. By mousing over a state, you can see when its primary or caucus is, how many delegates it has, and how it went in 2016. The number of delegates is shown like this example: (272+144=416). That means there are 272 pledged delegates elected by district and 144 at-large (statewide) delegates, for a total of 416. See also the Explanation link under the map legend. When the elections actually start, we will display the candidate totals above the map. Currently they are all 0, of course, since no actual delegates have been chosen yet. We included the candidates we think have the greatest chance of still being in the race on Feb. 3, when Iowa caucuses, but will adjust it as needed. Sorry Marianne, but it's your own fault (see below).
In advance of CNN's climate-crisis town hall on Wednesday night, a number of Democratic presidential candidates released their plans to fight climate change. The plans are somewhat similar, but there are some distinct differences, especially regarding funding.
Joe Biden wants to spend $1.7 trillion to eliminate greenhouse gas emissions by 2050. He also wants to end fossil-fuel subsidies and ban drilling on federal land. However, he does not go as far as supporting the Green New Deal proposed by Rep. Alexandria Ocasio-Cortez (D-NY) and Sen. Ed Markey (D-MA).
Sen. Bernie Sanders (I-VT) has a massive plan. He wants to spend $16.3 trillion to mobilize the country against climate change, much as it mobilized during World War II. He wants 100% renewable energy for electricity and transportation by 2030. He said the plan would create 20 million jobs in the energy sector. He also wants to pursue criminal cases against companies that conceal knowledge about how their products are damaging the environment.
Sen. Elizabeth Warren (D-MA) has adopted a large piece of the climate plan designed by former presidential candidate Gov. Jay Inslee (D-WA). She wants to spend $2 trillion on green manufacturing and related areas. She also wants to reach zero-carbon emission for commercial and residential buildings by 2028 and for cars and trucks by 2035.
Sen. Kamala Harris (D-CA) is aiming for a carbon-neutral economy by 2045. To get there, she intends to spend $10 trillion in public and private funds. She wants to reverse many of Donald Trump's actions and end subsidies for the fossil-fuel industry. As a former prosecutor, she also wants to increase penalties on companies that pollute.
Pete Buttigieg wants the Dept. of Defense to take the lead in combating climate change. He wants to spend up to $2 trillion to do it. He also has a focus on research into better technologies that reduce pollution.
Most of the minor candidates also have plans, which we will be happy to summarize once they begin putting up consistent high-single-digit or double-digit results in polls.
Oh, and the reviews are in on the various candidates' performances during the town hall, and the general consensus is that Joe Biden didn't have the best of nights. Beyond answers that often seemed to be a bit unfocused or meandering, he also had a deer-in-the-headlights moment when asked how he could be pro-environment and yet allow fossil-fuel executive Andrew Goldman to hold fundraisers on his behalf. The former VP, who clearly did not foresee the question even though this particular revelation was published and widely circulated during the day yesterday, eventually said that he and his team would take another look at their donors' backgrounds and would not take any money from fossil-fuel pooh-bahs.
Later in the evening, host Anderson Cooper clarified that Goldman isn't exactly an executive, he's an investor, but that doesn't entirely let Team Biden off the hook. And overall, it seems that some damage was done. Indeed, Sanders' campaign jumped on it and posted several messages on Twitter accusing Biden of lying and/or of having a double standard. One can expect that this will also come up at the next Democratic debate; presumably Biden will have a stronger answer by then. (V & Z)
The respected Marquette Law School poll did a survey of Wisconsin voters near the end of August. Joe Biden came out on top, both in the primary and in the general election. First the primary. All the candidates who scored above 1% as either the first choice or second choice of the voters are listed below.
| | | |
| --- | --- | --- |
| Candidate | First Choice | Second Choice |
| Joe Biden | 28% | 18% |
| Bernie Sanders | 20% | 13% |
| Elizabeth Warren | 17% | 20% |
| Pete Buttigieg | 6% | 10% |
| Kamala Harris | 3% | 11% |
| Andrew Yang | 2% | 2% |
| Cory Booker | 1% | 3% |
| Amy Klobuchar | 1% | 2% |
| Tulsi Gabbard | 0% | 2% |
As we have seen recently, the top tier consists of Biden and the two progressive senators, Elizabeth Warren and Bernie Sanders. The others are far behind.
The poll also ran head-to-head general election matchups with Donald Trump.
| | | |
| --- | --- | --- |
| Candidate | Democrat | Trump |
| Joe Biden | 51% | 42% |
| Bernie Sanders | 48% | 44% |
| Elizabeth Warren | 45% | 45% |
| Kamala Harris | 44% | 44% |
Once again, Biden is the strongest, but Sanders also beats Trump. In poll after poll, Biden does seem to be the most electable, although there is still plenty of time for that to change. Marquette didn't ask about Buttigieg vs. Trump. (V)
With 416 pledged delegates, California is the biggest prize for the Democratic presidential candidates. Early on, many observers thought that they were all the private property of Kamala Harris. Now that appears far from certain, and other candidates are making a big play for the Golden State. In particular, Bernie Sanders has the biggest operation there, with 15 paid staffers on the ground who have already held over 2,000 events for Sanders. In contrast, Harris, who apparently thought she could coast to victory back home without breaking a sweat, just hired seven more staffers, bringing her total to only 10. Neither Joe Biden nor Elizabeth Warren have any paid staff in California yet, although Warren just announced her first hire, state director Nicole DeMont, who will be based in Los Angeles.
Despite her home-state advantage, Harris is far from a shoo-in to win California. The most recent poll there puts her in fourth place, behind Biden, Warren, and Sanders. If she were to come in fourth in the March 3 primary, California would do to her what Florida did to Sen. Marco Rubio (R-FL) in 2016, namely sound the death knell for her campaign. To a large extent, Harris' problems in her home state are due to the fact that although she is well known there, Biden is at least as well known due to his 8 years as vice president. And Sanders is well known from his 2016 run and the efforts of his large ground staff. Warren is doing well because her base, college-educated suburban women, pays attention to politics and has learned about her from the many news stories about her. (V)
Hardly a day goes by without Donald Trump doing something to harm the environment. It just comes naturally to him. Case in point: In 2007, during the administration of George W. Bush, Congress passed and Bush signed a law phasing out inefficient incandescent light bulbs in favor of modern LED light bulbs, which use far less energy to produce the same amount of light. The law is a huge success, with household energy use down 6% since 2010, in large part due to more efficient lighting. This means power plants don't need to burn as much coal and oil to produce electricity, which obviously helps the environment.
Clearly this is intolerable to Trump, so he had his administration issue new rules yesterday rolling back the mandate for efficient lighting. It wasn't that the light-bulb industry was demanding this. In fact, it strongly supported the regulation, since LED bulbs cost more than incandescent bulbs. Consumers were largely happy with the rules, too, because despite the higher initial cost, the total cost over the life of the bulb (purchase price + electricity) is far lower than for the conventional bulbs. Replacing a single incandescent bulb with an LED bulb can save the consumer $50 to $100 over its lifetime. In addition, LEDs last so long, in some cases over 30 years, that some new lamps don't have replaceable bulbs at all. In many cases, people will get rid of an old lamp after decades of use with the original bulb still burning brightly. Finally, hotels and businesses love LEDs because not having to change them for years on end saves on labor costs as well as electricity costs. What's not to love here?
About a third of all bulb sales are still the old incandescents. Industry groups have estimated that putting efficient bulbs in all 6 billion light sockets in the U.S. would eliminate the need for 25 large power plants by 2025. It's not clear why Trump wanted the Bush-era rule nixed. He isn't sticking it to Obama and there is no major industry demanding a return to incandescents. The only real beneficiary is the fossil-fuel industry, but even that industry didn't see this issue as a high priority. The most plausible explanation is that Trump knows his base will cheer him for "owning the libs." In fact, much of what he does seems to be designed to make liberals' blood boil, rather than achieving any policy goal that Trump cares about. (V)
While many pundits are looking at the three states in which a shift of 77,000 votes would have given Hillary Clinton the keys to the White House (Michigan, Wisconsin, and Pennsylvania), The Hill has taken a different approach and examined the 2020 race at the county level, rather than the state level. It found 10 counties that could decide who the next president will be. Here is a map showing where they are located.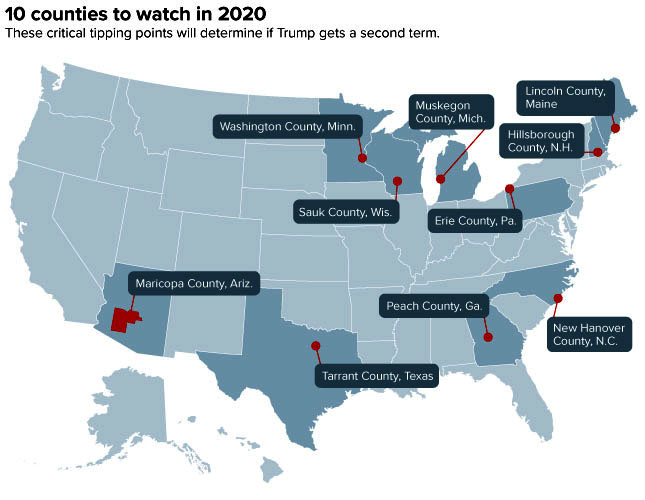 Erie County, PA

: Yankee immigrants from New England first settled here, so the county is more like Massachusetts than the rest of Pennsylvania. It is a working-class county that is nominally Democratic (50% to 36%) but socially conservative. However, many of the Democrats believe their party has deserted them to flirt with Alexandria Ocasio-Cortez. In 2008 and 2012, Barack Obama won the county by double digits, but in 2016, Donald Trump won by 1.6%, twice as much as his statewide margin.



Sauk County, WI

: Located west of Madison, Sauk County contains farmland, small towns, and a lot of urban sprawl from the state capital. The tension between the (red) rural parts of the county and the (blue) suburban parts is palpable. The county is an excellent bellwether, having predicted how Wisconsin's electoral votes would go in nine of the past 10 presidential elections. Trump carried the county by 109 votes (out of 30,000) in 2016, making it a huge battleground in 2020.



Muskegon County, MI

: The county was settled by French traders during the War of 1812. The name comes from a Native American word for swamp. Today it is home to a struggling manufacturing sector. It has voted for the Democrat in every presidential election since Bill Clinton's first term. In 2016, Hillary Clinton carried it by just 1,200 votes, the closest county in Michigan. This all but ensures that it will be a battleground next year. How it does will depend a lot on how the candidates propose to revive the rust belt.



Maricopa County, AZ

: The partisan divide in the country is largely urban vs. rural, and Arizona is the most urban red state. Maricopa, which contains Phoenix, is its most urban county. If the Democrats make a big push to flip Arizona, ground zero will be Maricopa County. The areas most at risk for the Republicans are the Phoenix suburbs, with their many college-educated voters. If these voters join the blue team en masse, which they started doing when they elected Sen. Kyrsten Sinema (D-AZ) in 2018, the state will be lost for the GOP.



Tarrant County, TX

: Tarrant County hasn't voted for a Democrat since Lyndon Johnson was on the ballot in 1964. Still, the growth of Fort Worth and its suburbs are changing matters. In 2004, George W. Bush got 62% of the vote. In 2016, Donald Trump got 52%. In 2018, Beto O'Rourke carried the county over Sen. Ted Cruz (R-TX) by 4,000 votes. As the population grows, Democrats are pouring in, and the urban areas are beginning to outweigh the rural areas, turning the county blue. Texas is not a purple state yet, but it is counties like Tarrant that are moving it in that direction.



New Hanover County, NC

: Since 1972, the only Democrat to carry the county was Southerner Jimmy Carter. But the Republican advantage here is shrinking. Donald Trump carried it, barely, with less than half the vote. The biggest city, Wilmington, is growing, with an influx of white liberals, making the city increasingly Democratic. However, retirees, who are generally Republican, are moving to the coastal beaches. That balance will determine who wins the county, and potentially the state.



Peach County, GA

: Yup, the Peach State has a Peach County. But things are not so peachy here. About 50% of the residents are white and 45% are black. Half the population lives in cities and half lives in rural areas. George Wallace took 42% of the vote in 1968. Obama won the county twice, but it went for Trump in 2016. Gov. Brian Kemp (R-GA) carried the county in 2018, but he beat Stacey Abrams by fewer than 500 votes. The county is struggling. It is losing manufacturing, health care providers, hospitals, and more, and nothing is replacing them. Whichever candidate can best come up with a solution to the problems of rural Americans will carry it.



Washington County, MN

: Trump has announced plans to carry Minnesota, a state he barely lost in 2016. To do so, Washington County is a must-win county for him. The county was settled by loggers, but nowadays, many residents work in the booming Twin Cities. A fifth of the residents have moved in since 2000, diluting the influence of the rural parts of the county. George W. Bush carried it twice, as did Obama. Clinton eked out a narrow victory here in 2016, but either party could win in 2020.



Hillsborough County, NH

: Another Trump Target is New Hampshire, although it has only four electoral votes. It is historically an old Republican county, but as more Bostonians move to it, it is becoming bluer. Trump barely won in 2016, but in 2018, Democrats picked off a number of Republican seats in the state legislature. About a quarter of New Hampshire's voters live in Hillsborough, so as Hillsborough goes, so goes New Hampshire.



Lincoln County, ME

: For two centuries, Lincoln has been a working-class hub, with shipbuilding and lobstering being key industries. Its picturesque islands have also brought in tourists, including some who stayed. The mix has made the county evenly balanced, which often pits newcomers against long-time residents. In 2016, Clinton won the county by 2 points. If traditional Yankee Republicans revolt against Trump, the Democrat could do well here, but if Trump can hang onto his blue-collar base, he might be able to win the state and both congressional districts.
Of course, these are just examples of the kinds of counties that could swing either way. There are certainly more. (V)
In 2010, Republicans were on the ball and Democrats were off napping somewhere. As a consequence, Republicans swept to power in state legislatures all over the country and were able to gerrymander congressional district maps after the 2010 census, which gave them a lock on the House of Representatives until the 2018 blue wave hit. Now senior Republicans are worried that the reverse could happen next year. Donald Trump's view of politics parallels that of Louis XIV: "Le parti Républicain, c'est moi." As a result, the GOP is focused like a laser on reelecting Trump and hardly concerned with state legislature races and redistricting at all.
In contrast, Democrats have well-funded groups working on taking back Republican-controlled state legislatures. One group, the National Democratic Redistricting Committee, the brainchild of former attorney general Eric Holder, is leading the charge. Democrats are expected to plow tens of millions of dollars into state legislative races next year.
Their test case will come in only 2 months. Virginia is holding elections for its state legislature this November. Currently Republicans hold the state senate 21 to 19 and the lower chamber 51 to 49. A net change of two seats in each body will give the Democrats complete control of the legislature, called the General Assembly. Finding suitable candidates could be an issue, though, since working in the Assembly is a part-time job and pays only $18,000 for senate and $17,640 for the lower chamber.
Since Gov. Ralph Northam (D-VA) survived his blackface scandal and will be in office until Jan. 2022, if the Democrats can pick up those four seats, they will have the trifecta and can gerrymander the state to their hearts' content. This is, of course, hypocritical, since Democrats oppose gerrymandering on principle, but the principle is much stronger when it's the other team doing the gerrymandering.
New York Mayor Bill de Blasio's short long-shot run may soon be put out of its misery. Yesterday, he said it is tough to conceive of continuing if he fails to qualify for the fourth debate. He didn't qualify for the third one, or even come particularly close, so there is little reason to expect him to make the fourth one.
In most polls, de Blasio is roughly at 0%. That is 2% lower than he needs to be if he wants to qualify. His run was pointless from the beginning. He is a progressive, but from the outset he had to compete with much-better-known progressives. Thinking his presence in the race would suddenly make Bernie Sanders fans drop Sanders like a hot potato and rush to him is nothing short of delusional. The whole de Blasio campaign has to be filed under "Does a tree make any noise if it falls in the forest and there is no one there to hear it?" (V)
Up until now, thoughts and prayers were the main weapon America has used in its not-terribly-successful battle against mass shootings. Now Marianne Williamson wants to repurpose the tool to fight off hurricanes. Yesterday she tweeted:


In her view, 2 minutes of prayer multiplied by, say, 100 million people, yields 200 million prayer-minutes, which is surely enough to stop a mere category 2 hurricane like Dorian (although it jumped back up to category 3 late Wednesday).
After a while of the hurricane not paying any attention, Williamson deleted the tweet. When a reporter posted a screenshot of the tweet, she responded by saying: "I'm neither crazy, irresponsible, nor dangerous." At least Richard Nixon was more succinct when he said: "I am not a crook." (V)
Yesterday Rep. Bill Flores (R-TX) announced that he will not seek reelection. He said that he had consulted God and his wife before making the decision. It is not really clear why he is quitting, given that his district, TX-17, is R+12, and he probably could have been reelected if he gave it his best shot, even in a blue wave.
Flores is the 14th Republican this cycle to call it quits at the end of the current session. One other Republican is resigning at the end of the year, triggering a special election. Flores isn't even the first Texas Republican to call it quits. Also hanging up their cowboy hats are Reps. Mike Conaway, Will Hurd, Kenny Marchant, and Pete Olson. Only three Democrats have announced their retirements so far. You can track House retirements using the House retirements link to the left of the map.
Part of the reason so many Texans are quitting now is that the filing date for running for Congress is Dec. 9, 2019 and the primary is March 3, 2020. Any loyal Republican who is thinking about calling it a day has to consider that an announcement in November won't give potential GOP candidates enough time to get organized and hunt for donors. So an early announcement prepares the way for another Republican to hold the seat.
The response to the Flores news hadn't even died down entirely when yet another Republican member of the House announced his retirement. This time it was Rep. Jim Sensenbrenner (R-WI), who is the second-most-senior member of the GOP House delegation. By the time Sensenbrenner wraps things up next year, he will be the longest-serving congressman in Wisconsin history, with 42 years under his belt. Presumably, at age 76 and with a very real possibility of a long stretch in the minority, Sensenbrenner decided he didn't need the headache anymore. Whatever the case may be, it makes him Republican number 15 to throw in the towel this cycle. His district, WI-05, is R+13, so it certainly shouldn't be in play in 2020. That said, stranger things have happened in the last couple of years, so you never know.
If Democrat Dan McCready beats Republican Dan Bishop in next week's special election in NC-09, undoubtedly other House Republicans are going to reassess their chances in 2020 and whether they want to even try. (V & Z)
Email a link to a friend
or share:
---The Votemaster and Zenger