TODAY'S HEADLINES (click to jump there; use your browser's "Back" button to return here)
•
Where Are We a Week Before the Election?
•
Races for Governor Are Not Following the Playbook
•
Rules for Absentee Voting Are All over the Map
•
Early Voting Is Well Underway
•
Poll: Economy and Inflation Are the Top Issues
•
Ossoff Will Help Warnock
•
Twitter Is Now Emitting a Musky Odor
•
What If the Certifiers Won't Certify?
•
Gavin Newsom Isn't Campaigning--and This is Bad News for Democrats
•
When Will Biden Announce?
•
Republican Concern for Workers Is Play Acting
•
It's Lula
•
Today's Senate Polls
It is hard to believe, but just 8 days before the election, a new Morning Consult poll shows 11% of voters nationwide still haven't decided which party to support for Congress. Have they missed a bazillion stories on every media outlet from The New York Times and Fox to the East Cupcake Middle School Reporter? Did the $10 billion or so worth of ads on television escape them? What revelations are they waiting for?
This news is not good for the Democrats. An overwhelming 83% of the undecided voters think the country is on the wrong track and 62% disapprove of the job Joe Biden is doing. That does not speak to a desire for "more of the same." Will they all vote Republican? Probably not. Many won't vote at all, but that is also a problem for the Democrats because Gen Z voters (18-25 year olds) are not at all enthusiastic about voting and Democrats desperately need their votes.
It is an old story, but Republican voters firmly believe that the worst Republican is better than the best Democrat. Young Democrats who are disappointed that Biden didn't carry out the program of Sen. Bernie Sanders (I-VT) often go off and sulk and don't vote. That the votes weren't there in the Senate doesn't impress them. As usual in midterms, it will probably come down to which party is better at getting its base to the polls, as well as not losing too many of the undecideds. But in politics, sometimes surprises happen. And keep in mind, the margin of error for the typical poll is 3-4 points, although an average of multiple polls reduces that somewhat.
Politico has a rundown of the key races as follows:
| | | | | | |
| --- | --- | --- | --- | --- | --- |
| State | Democrat | Republican | Politico | RCP average | 2020 |
| Arizona | Mark Kelly | Blake Masters | Toss up | Kelly +1.5 | Biden +0.3 |
| Colorado | Michael Bennet | Joe O'Dea | Lean Democratic | Bennet +7.5 | Biden +13.5 |
| Florida | Val Demings | Marco Rubio | Lean Republican | Rubio +7.4 | Trump +3.3 |
| Georgia | Raphael Warnock | Herschel Walker | Toss up | Walker + 1.6 | Biden +0.8 |
| Nevada | Catherine Cortez Masto | Adam Laxalt | Toss up | Laxalt +1.2 | Biden +2.7 |
| New Hampshire | Maggie Hassan | Don Bolduc | Lean Democratic | Hassan +3.4 | Biden +7.0 |
| North Carolina | Cheri Beasley | Ted Budd | Lean Republican | Budd +4.5 | Trump +1.3 |
| Ohio | Tim Ryan | J.D. Vance | Lean Republican | Vance +2.2 | Trump +8.2 |
| Pennsylvania | John Fetterman | Mehmet Oz | Toss up | Fetterman +0.3 | Biden +5.3 |
| Wisconsin | Mandela Barnes | Ron Johnson | Toss up | Johnson +3.3 | Biden +0.7 |
For the five toss-up states, here are the graphs for the whole year.



For a page with the graphs for all Senate races, click here.
If nothing else, these polls seem to indicate that tribalism rules. There are candidates who are out-and-out liars, world-class hypocrites, and despicable people who shouldn't be serious candidates for deputy assistant dogcatcher in any town in America and yet have a decent chance of being elected United States senator due to the little party ID after their name. Nothing else matters. As a consequence, the U.S. has drifted into a kind of semi-parliamentary system with the disadvantages of a parliamentary system (dumb people can be elected as a result of party ID) without the advantages of a parliamentary system (no checks and balances so the majority party can carry out its program unhindered).
Another way of looking at things is to compare the 2008 and 2020 presidential elections. In both years, the Democrat won, so they are somewhat comparable. Here are our maps:

What changed? For starters, Ohio, Iowa, Missouri, and Florida were swing states back in 2008. Now they are all effectively red states. Wisconsin, Michigan, and Pennsylvania were blue states, now they are swing states. All of them have moved noticeably to the right. The only swing state that became a blue state is Virginia, on account of a huge population influx in Fairfax, Loudoun, and Prince William counties in Northern Virginia. Meanwhile, Arizona and Georgia, which were reddish, have become swing states.
Our conclusion is that the country has moved to the right. Why? Maybe it is just a coincidence, but Ohio, Iowa, Missouri, Wisconsin, Michigan, and Pennsylvania are all heavily blue-collar, largely white states. Florida is the only real exception here and it has experienced heavy population growth due to retirees from these states moving to The Villages, northwest of Orlando.
In 20 years, demographers and political scientists will perhaps understand this shift better, but now all we can do is make some wild speculations. Here we go. First, in 2008, a Black man was elected president. He was a once-in-a-generation gifted politician, the best either party offered since Bill Clinton. He had a somewhat wishy-washy opponent who didn't run an inspiring campaign so he won. But a lot of people didn't like the idea of a Black man as president and this galvanized them. When Donald Trump came along in 2016 with a large dose of implicit racism (not to mention, xenophobia), it moved a fair number of voters who had been Democrats on economic grounds to become Republicans on race/culture/xenophobia grounds.
Second, the Democratic Party has been moving steadily to the left over the years. Talking about defunding the police was disastrous as it has given Republicans talking points for years. The recent letter from Rep. Pramila Jayapal (D-WA), essentially saying (in a slightly coded way): "Let's give Vladimir Putin whatever he wants in order to get peace in Ukraine" was also a disaster. And the Democrats are way, way out in front of public opinion on transgender rights. An awful lot of people do not want biological boys competing in girls' sports. We'll leave the ethical and moral issues to the ethicists and moralists, but politically, defending this is a loser and gives many voters the feeling that the Democrats don't have a clue what "ordinary people" think.
In the 2016 primaries, Bernie Sanders got 13 million votes, which energized many young Democrats who thought the country wanted Bernie. In the 2016 general election, Hillary Clinton got 66 million votes, which means there were 53 million Democrats who could have voted for Sanders and for whatever reason, didn't. And if the 63 million people who voted for Donald Trump wanted to, they could have changed their party registration to Democratic to vote for Sanders. So Sanders got 9.5% of the people who actually voted in 2016 and 5.7% of the voting eligible population. That's not a winning formula. He was an authentic, inspiring, and well-funded candidate, but the country simply did not and does not want what he is selling.
In 2020, Joe Biden ran as a centrist and won. Our (very tentative) conclusion is that the Democrats have moved too far to the left for many voters and this is hurting them badly in at least half a dozen medium-sized states where many people now just vote for anyone whose name is followed by (R). Again, we are not taking a moral position on this. We are merely stating the obvious: a political party that wants to win elections had better figure out what the voters want and pay a lot of attention to it. It does not help that the Republican Party has pulled off the trick of rarely saying what it's for, instead spending most of its time getting people angry about the radical things Democrats allegedly stand for.
The map data are incontrovertible. The country has moved to the right since 2008, even in good Democratic years. If you think there are better explanations than ours, let us know and we will publish some of them on Sunday.
To their credit, the Democrats are beginning to catch on. Their Senate candidates in Arizona, Ohio, and Georgia are moderates who are good matches for their respective states. In Pennsylvania, John Fetterman is maybe a bit left of the average Pennsylvania voter, but he makes up for it with his working-class background and ambiance. In Wisconsin, Mandela Barnes may well be too far left for the state, especially for a Black candidate. As a result, the much-loathed Sen. Ron Johnson (R-WI), may well get another term. If left-leaning young people want to show that lefties can win elections, they had better show up en masse there. (V)
The above observations about tribalism notwithstanding, the governor's races are different. There, tribalism is less important than for Congress. Blue Massachusetts and Maryland have Republican governors. Red Kentucky, Kansas and Louisiana have Democratic governors. Thus, for gubernatorial races, the usual partisan rules don't fully apply. That also appears to be true in this year's elections. For example, deep blue New York and Oregon have competitive races for governor, but so does deep red Oklahoma. What gives?
One explanation is that governors have a more direct influence on people's lives than senators or representatives. They have power over issues like abortion and crime, for example. Also, Joe Biden and Donald Trump don't play as big a role in state politics as they do in national politics. Be that as it may, last week Biden showed up to try to help Gov. Kathy Hochul (D-NY), who was not elected governor in the first place, but got the job when Andrew Cuomo was driven from office by his bad behavior. Hochul is facing serious competition from Rep. Lee Zeldin (R-NY). When he announced his run, everyone thought it was a joke. Not anymore. Polling puts Hochul ahead by about 7 points. That's nice, but nothing like Cuomo's 23-point margin over Marc Molinaro in 2018. Hochul is still a slight favorite, but in a red wave could bite the dust.
Oregon is a special case because two Democrats are running against one Republican and could split the vote. The official Democrat is former Oregon House Speaker Tina Kotek, a not-terribly inspiring candidate and an out lesbian. The Republican is Christine Drazan, the former Oregon House minority leader. If it were just these two, Kotek would win because Oregon is so blue and being a lesbian isn't an issue there (the current governor, Kate Brown, is also LGBTQ+). However, a third candidate, Betsy Johnson, is in the race as well. She was a Democrat in the state Senate until 2021 when she nominally became an independent. The only reason she is viable and could be a spoiler is that the richest man in the state, Nike co-founder Phil Knight, wants to defeat Kotek at all costs and decided that bankrolling a Democrat-turned-independent in order to split the Democratic vote would be cheaper and more effective than funding the Republican.
Oregon is a first-past-the-post state and polling shows Kotek and Drazan nearly tied. This is yet another example where ranked choice voting would really be a good idea. Any time more than two candidates are in a race, RCV is so much better than letting a candidate who has no chance of actually winning determine who wins. But Oregon doesn't have RCV and Knight's money may end up electing a Republican in a very blue state.
The Oklahoma gubernatorial race is quite surprising. Gov. Kevin Stitt (R-OK) is being challenged by the state's superintendent of public instruction, Joy Hofmeister. She has campaigned on crime. More specifically, she has repeatedly pointed out that the crime rate in Oklahoma under Stitt is higher than in California and New York. It seems to be working. The respected Sooner Poll has Hofmeister ahead 47% to 43%. That could be a fluke, but the race appears to be a toss up. Strange world. (V)
With Election Day nearly upon us, it is worth noting that many people don't want to vote on Election Day. They want to vote now and from the comfort of their own home. In most states other than in the South and part of the Midwest, this is possible without an excuse. Here is a cartogram showing the status of absentee voting around the country.

The eight states in light blue plus D.C. have all-mail-in elections. All registered voters get an absentee ballot in the mail to send (or bring) back. The 27 states in purple allow any registered voter to ask for an absentee ballot without giving a reason. You just fill out a form and a ballot arrives. Missouri, Arkansas, Louisiana, and Texas are the only states west of the Mississippi River where a voter has to have an excuse to get an absentee ballot. What is a valid excuse varies by state, but being physically unable to get to the polling place, being out of town on Election Day, or being a caretaker who can't leave home are typically accepted. Texas is particularly strict about excuses unless one is over 65.
New York, Connecticut, New Hampshire, and Delaware are blue states and really ought to get with the program. Maybe Joe Biden could ask the speaker of the Delaware House to get on the stick here. Biden voted in person on Saturday along with his granddaughter, a first-time voter. If these four get with it, then the only holdouts will be members of the old Confederacy and a couple of Midwestern/border states.
Republicans generally oppose absentee voting due to (nonexistent) voter fraud. In reality, they believe that many Democrats who vote by mail wouldn't vote at all if they had to stand in the hours-long lines that Republican-controlled election offices create by not having enough polling places in blue counties. But the battle has largely been lost since, with the exception of the four blue states in the Northeast, none of the remaining holdouts are swing states. Alabama can make voting as tough as it wants to, but doing so isn't going to affect any elections. (V)
Absentee voting isn't the only option for people who don't want to stand in line on Election Day. Quick Quiz: What do New Hampshire, Connecticut, Alabama, and Mississippi have in common? Quick Answer: None of them allow in-person early voting. All the other states have some form of it, averaging 23 days across the board. It is now well underway in the 46 states that allow it.
Almost 21 million Americans have already voted in the midterms. In three states (California, Florida, and Texas), over 2 million ballots have been cast. In Georgia and North Carolina, over 1 million people have voted already. Voter enthusiasm is high this year, with 64% saying they were planning to vote. That is more than the 58% who said that in 2018.
More Democrats than Republicans vote early in every election so it is hard to draw any conclusions from these data other than enthusiasm for voting appears to be high.
However, while early voting is beating 2018, it is less than at this point in 2020, when a record 33 million people had already voted. David Byler, The Washington Post's answer to all the Nates, warns that predictions based on early voting have a bad track record, so don't take them seriously. (V)
A new Ipsos poll shows that the economy is the top issue for 26% of the voters, with inflation coming in second at 23% However, there is a huge partisan split here, with three-quarters of Republicans citing these issues vs. only 29% of Democrats. Independents are in between, with 49% citing them.
Democrats see abortion, gun violence and climate change as the top issues. About 60% of the voters want to see abortion stay legal, but it isn't a top priority for many Republicans. And 20% of voters don't care about it at all. For most issues, there are no differences by race and ethnicity. One exception is gun violence, which is the top issue for only 4% of whites but the top issue for 17% of Blacks and 15% of Latinos.
Probably the strangest finding is that half the country doesn't care whether one party has the trifecta or there is divided government. This is like saying: "It doesn't matter to me whether the federal government functions or not." (V)
In 2020, Sen. Jon Ossoff (D-GA) built upon the work of Stacey Abrams and put together a large get-out-the-vote operation. It was especially targeted at getting marginal young voters to the polls. He has now decided to make a six-figure donation from his own leadership PAC to the campaign of fellow Georgia senator Raphael Warnock (D-GA) in the form of activating his ground network to get out the vote for Warnock.
A complication, however, is that Ossoff may have to do it twice, once for the general election and once for the runoff. This year, if no candidate hits 50% + 1 on Nov. 8, the Senate runoff will be on Dec. 6 instead of in January because the Republican-controlled state legislature thought moving the date up would help the GOP. It is not clear if that is really true. However, it is true that the smaller window between the general election and the runoff will give the Democrats less time to register new voters, and they need new voters more than the Republicans, who rely on old voters.
LaTosha Brown, co-founder of Black Lives Matter, is worried that Ossoff's donation is too small to do the job and there aren't enough additional resources available. However, Ossoff said his organization is the most battle-tested one in the entire country, having fought in two very high-profile elections in Nov. 2020 and Jan. 2021, respectively. Ossoff first ran in a special House election in 2017, which he has described as the "biggest U.S. House race of all time" and then in 2020 in what he has described as the "biggest Senate race of all time." So although he is very young by Senate standards (35), he has more experience than many much older politicians.
An analysis of Ossoff's Senate campaign showed that he was able to increase turnout by 3.8% among targeted voters. He used an unusual approach, hiring almost 3,000 Georgians with little or no voting history to become community mobilizers. His belief was they would be better plugged into networks of nonvoters than the usual volunteer field workers. It appeared to have worked last time, so he wants to use it again to help Warnock this time. On the other hand, asking the same people to go back into the field again only 2 years after two bruising elections is asking a lot. When they get out there and start talking to voters, some of them are going to say: "Wait a minute. I have to vote again? I just did that for you." It may well be that this David Horsey cartoon is as relevant now as when he drew it in 2014: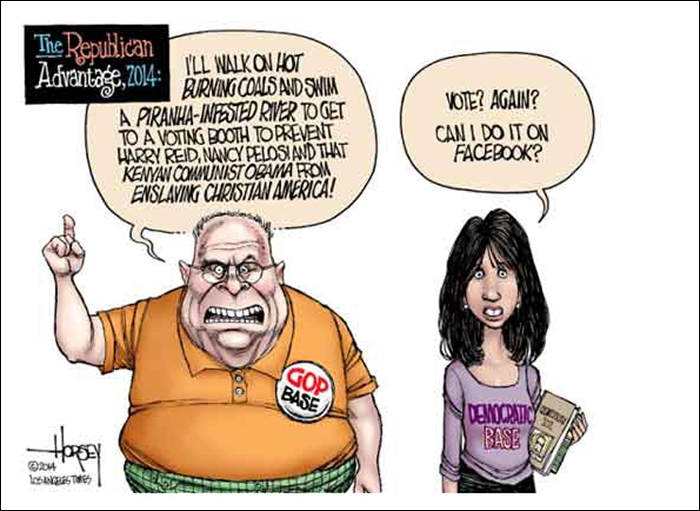 Ossoff and Warnock are hoping it is not.
Another person who is hoping Horsey is wrong is Barack Obama. on Friday, he campaigned in Atlanta for Warnock. He urged everyone in the audience to be sure to vote. Early voting in Georgia has been very heavy, with 1.25 votes already cast (compared to 731,000 at this point in 2018). However, the partisan breakdown of the early voting has not been released.
Obama knows Republicans hate him so he is being very careful about where he campaigns. Basically, he is showing up only in cities with large Black populations in Georgia, Michigan, Nevada, Pennsylvania, and Wisconsin. His focus is trying to hold the Senate. (V)
Last Friday, Elon Musk bought Twitter for $44 billion (not all of it his own money, though). He now owns it lock, stock, and barrel. He is a man of action, so Friday he fired the entire management team. From now on, it is his baby. This brings up a couple of interesting questions, like: (1) can he make it turn a profit?, (2) will it become a cesspool?, (3) will most of the key employees be fired or quit?, and (4) what are the political ramifications of his free-speech-for-all views?
A lot of these questions revolve around the issue of moderation. Will there be any limits to who can say what on the platform? Up until Friday, Twitter's now-former top lawyer, Vijaya Gadde, was the Twitter executive who made the calls about what was allowed and what was banned. She is the one who kicked Donald Trump off the platform. Now she is gone and Musk has said he will create a content moderation council to fulfill that role. He hasn't yet said who will be on the council. Needless to say, who's on it will be critical. Musk said that no major changes will be made until the council convenes.
One of its first decisions will surely be whether Donald Trump is welcomed back. On Friday, Trump said that he is happy with his own plaything, Truth Social, and doesn't plan to leave it. Of course, that could change in an instant if Twitter welcomes him back. But jumping to Twitter would probably bankrupt Truth Social and end a huge amount of grift, so Trump would have to choose between power and money, never an easy choice for him. But if he is going to run for president again, he'll probably choose power and look for other ways to grift. There are plenty. As we mentioned on Friday, he has entered into a joint fundraising deal with Blake Masters in Arizona, with 99% of the incoming funds going to Trump and 1% going to Masters. Trump likely has similar arrangements with other candidates.
If the moderation council decides to allow essentially all postings, the site could quickly become an open sewer, as many people do not like Twitter and would test the (lack of) moderation by posting child pornography, calls to assassinate Musk, pleas to repeal the Thirteenth Amendment (no slavery) and Nineteenth Amendment (women's suffrage), demands to abolish the Constitution and install Trump as dictator-for-life, and the most vile hate speech imaginable. If the council decides that is fine and dandy with no moderation, then advertisers are likely to leave and Musk (and others) will be left with an expensive white elephant.
Musk is going to have to get his council going fast because some banned folks are taking advantage of the change in ownership to try to get back on. Specifically, white supremacist and all-around bigot and hatemonger Nick Fuentes, who Twitter has banned, created a new account on Saturday. He was quickly banned again, but once the council is in place, there could be new rules allowing any and all hate speech and calls to action as long as they are not technically illegal.
The council will be probably forced to adopt some kind of moderation, but making rules is one thing. Enforcing them is something else. The Washington Post ran a story 2 weeks ago citing anonymous sources who claim that Musk plans to fire three-quarters of the employees. If he does that (to cut costs), who will write the software to enforce the new moderation rules? And who will make the endless case-by-case decisions about what is allowed and what is not? Having just enough people to run the servers and sell ads won't cut it. If the Post story is true, Musk will learn the hard way that you can't run a company without people. And the ones who escaped the axe may spend most of their time on the job looking for new positions, making the problem even worse.
Axios ran a story about the layoffs yesterday that said up to 50% of the employees (rather than 75%) could be laid off. That is still a lot and it would probably happen today because many of today's employees who are still employees tomorrow will have their stock options vested on Nov. 1. This will cost the company tens of millions of dollars. Consequently, Musk may opt to dump thousands of people today to avoid giving them stock options. Needless to say, firing half the company with about one day's warning is not going to result in carefully weeding out the weak performers, so key people may flushed down the toilet. Given all the turmoil, we can't imagine Musk being able to replace key people on a dime and certainly not without paying them huge amounts of money and giving them contracts with golden parachutes in case he changes his mind.
Another problem Musk will have to deal with is that Twitter is used worldwide and will have to obey multiple sets of laws. Allowing a tweet that is legal in the U.S. could possibly result in a big fine from the E.U. if that tweet violates European law. Making sure that content is legal everywhere won't be made any easier if half to three-quarters of the employees are gone.
Over at The Bulwark, Jonathan V. Last notes that in the end, the debt that Musk has taken on to finance his purchase of Twitter may be the driving force going forward. Musk needs to make Twitter profitable to pay down the debt. Firing half the people cuts costs, but he also has to get more revenue. Getting more ad revenue will be tough, especially if the quality of the content goes south. That may mean something like having a public section for everyone and a private section for paying customers. But then Musk will have to come up with content for the private section good enough to make a lot of people be willing to pay for it. Trump might be willing to be part of the members-only section—but only if he gets most of the subscriber revenue, something that wouldn't help Musk. Last is praying that Musk screws up badly and Twitter dies. He's not the only one. (V)
Election deniers are running for governor or secretary of state in multiple states. Some of them might win. What would happen if Donald Trump runs in 2024, loses some states, and the secretaries of state there just throw out all the votes from carefully selected precincts claiming "fraud" (without any proof) and these actions flip the states? Or what would happen if one or more governors refused to sign the certificate of ascertainment in states that Trump lost? That could potentially throw the election into the House, with each state getting one vote. These are no longer hypothetical questions. There would be lawsuits and the Supreme Court might again get to pick the president, just like in 2000, but in a much more polarized environment. It would be a crisis 100x worse than Florida in 2000.
Nathaniel Persily, an elections expert at Stanford University, said: "I hate to be apocalyptic, but the United States could be headed for the kind of electoral chaos that our system is incapable of handling." On medieval maps, unexplored territory was labeled: "Here be dragons." We could be visiting electoral dragons in 2024.
The biggest danger is probably Arizona, where Kari Lake (T) could be elected governor and state Sen. Mark Finchem (T) could be elected secretary of state. Both are Trumpier than Trump and both claim that Trump won the 2020 election. Lake was a local television anchor for 20 years and is smooth as silk. She can convince normal voters that she is normal and convince the crazies that she is crazy. Her opponent, Katie Hobbs (D), has run a terrible campaign and has refused to debate Lake. Not a smart move. Polls show Lake with a small (3-point) lead. There hasn't been any public polling for the secretary of state race. It is easy to imagine Lake simply refusing to sign the certificate of ascertainment if Trump loses Arizona in 2024, even if multiple courts orders her to do so. Then what?
A group sponsored by Rep. Liz Cheney (R-WY) has put $500,000 into running an ad opposing Lake and Finchem, but that might be too little, too late. In 2020, the guardrails in Arizona were Gov. Doug Ducey (R-AZ), Secretary of State Katie Hobbs (D), and Speaker of the House Rusty Bowers (R). All held. All will be gone in 2024, possibly replaced by Lake, Finchem, and a Trumpy speaker.
One mitigating factor in Arizona and elsewhere is a potential update to the 1887 Electoral Count Act that Congress might pass in a lame duck session after the midterms. Democrats are strongly for it. Republicans are less enthusiastic, but are aware that if they vote it down, President of the Senate Kamala Harris might take that as a suggestion that she the power to reject electoral votes on Jan. 6, 2025. They certainly don't want that.
Secretaries of state have a lot of power over elections. For example, some of them want to have all ballots hand counted. Experience shows that not only does this introduce more errors than machine counts, but it also introduces the possibility of partisan counters just happening to put ballots in the "wrong" pile as they go through them. Another power secretaries have is writing the manual that instructs county officers how to run elections. Among other topics these manuals could contain are the ways voters register to vote, the use of drop boxes, the role of polling place observers, and a lot of other nitty gritty stuff that could be manipulated to give Republicans an advantage. Elections expert Prof. Rick Hasen of UCLA, who just published a book entitled Election Meltdown, has said: "My hair is on fire to an even greater degree than it was in 2020." (V)
Gov. Gavin Newsom (D-CA) is so sure of crushing an underfunded Republican whose name we can't remember (and nor can anyone else), that he is not bothering to campaign at all. Even without campaigning, he will win in a landslide, but his not campaigning could hurt the Democrats nationally. Specifically, without a high-profile competitive race for governor, many marginal Democratic voters may not even be aware an election is taking place and may not turn out to vote in critical House races in Orange County and the Central Valley that Democrats must win to have any hope of holding the House. Newsom ought to know better. In 2014, another midterm year, then-governor Jerry Brown didn't bother campaigning for reelection either and it was the worst year for downballot Democrats in a decade.
Newsom isn't just sitting around doing nothing. He has inserted himself into elections—in Texas and Florida. This might be to test the waters for a potential presidential run in 2024. He has also been passionate about his support for a woman's right to an abortion if she wants one. But it would be better for his party if he would spend time holding rallies in hotly contested congressional districts in Orange County and talking about abortion, climate changes, and other Democratic priorities there, just to get publicity and help the Democrats running in those districts.
Newsom has answered these charges of being unhelpful to his party by saying that he has supported proposition 1, which would update the state Constitution to give residents of the state the right to make their own medical decisions—including about reproductive health—without interference from any politicians. Also, in a sense, he ran his campaign last year during the recall election. Besides, the Republicans haven't won any statewide office in California since 2006. Nevertheless, if Democrats lose a bunch of winnable House races in California and that results in loss of the House, Newsom is going to have some explaining to do if he runs for president in 2024. (V)
As soon as the midterms are over, win or lose, many Democrats will pressure Joe Biden to make public his decision about running again in 2024. If the Democrats lose the Senate as well as the House and lose some key governorships as well, many Democrats will feel Biden is to blame and time will have come for him to bow out and let younger Democrats start battling for the nomination. It doesn't help Biden that he will turn 80 on Nov. 20, 2022, less than 2 weeks after the election. Many voters, including many Democrats, think he is too old to serve another term since he would turn 86 near the end of a second term. According to actuarial tables, the life expectancy of an 80-year-old man is another 8.4 years, but that is cutting it very close. And can an 87 year old do the second toughest job in the world (after being Vladimir Putin's bodyguard)?
If the Democrats do well (which at this point means picking up a seat or two in the Senate while losing only 10 seats in the House), Biden will think he is doing a good job and be more inclined to run again. Also a big factor is when Donald Trump announces his almost-certain run, even if he is under federal and state indictment. Biden is known to believe that he is the only person who can beat Trump. That may not be true, but if he believes it and Trump announces his candidacy in the week after the midterms, Biden may feel he has to announce early as well to block any potential primary challengers.
On the other hand, if the Democrats are crushed (e.g., lose 3 seats in the Senate and 30+ seats in the House), Biden will be under massive pressure from Democrats who think their only chance in 2024 is new blood. Will Biden be able to resist the pressure, especially if some of it goes public? Biden is very slow to make decisions, but he knows enough about politics to know that taking months to make a decision and then decide to opt out will make it harder for other Democrats to prepare for the race while Trump is actively campaigning. He certainly doesn't want that, which will up the pressure for a quick decision.
As a former six-term senator, Biden can probably name all the Class I senators from memory. He knows that the 2024 Senate map is dreadful for the Democrats, with half a dozen vulnerable Democrats up and zero vulnerable Republicans up. That means if the Republicans capture the Senate and House on Nov. 8, the only thing blocking a Republican trifecta in Jan. 2025 is holding the White House. In contrast, if the Democrats were to have, say, 53 Senate seats in Jan. 2023, then the Republicans would have a much tougher job winning the trifecta in 2024, making control of the Executive Branch somewhat less crucial. All these factors are surely playing a role in Biden's mind. But sooner or later—probably sooner rather than later—Biden will have to make a decision and announce it. And Trump could force the issue by announcing his candidacy in November. (V)
Many Republican candidates for the Senate (and lower offices) are pretending that they care about working-class Americans. Their websites are full of statements about how they will defend workers. This is to get votes. The reality is that the Republican Party is doing everything it can to damage the economic prospects of ordinary Americans, because that is what its millionaire and billionaire donors want. The statements about how the Republicans will look out for the interests of working people is completely bogus and hypocritical
Republicans have blocked a $15/hr federal minimum wage, paid leave, workplace safety laws, the child tax credit, and the right to unionize. They have starved the National Labor Relations Board of funds. When they do support something that appears to help workers, it is for culture war reasons. For example, when companies were firing workers for not complying with company policies on COVID (masks, vaccinations, etc.), Republicans quickly expanded unemployment insurance to cover the fired workers. They did this not to help the workers, but to show them that standing up to liberals' demands for acting responsibly was laudable and to make the liberals cry.
During the Trump administration, the head of the Equal Employment Opportunities Commission (EEOC) sued Kroger for firing two workers for refusing to wear mandated company aprons. Was this pro-worker? Well, the apron had a heart-shaped logo that the workers interpreted as being pro-gay rights and the workers claimed the apron violated their religious rights. During pre-trial depositions, the workers were shown some corporate logos and asked if any of them violated their religion. They said several did. The logos they were shown were from NBC, Google, Southwest Airlines, Apple, and the Olympics. So the EEOC was willing to defend workers if the suit also supported the right of workers to refuse to do something that they felt might somehow indicate some kind of abstract support for gay people.
Have Mehmet Oz or J.D. Vance, who make a big deal about supporting workers on their websites, offered any support for the workers trying to unionize Starbucks and Amazon? Stupid question. But as long as the workers don't realize that if the Republicans win, they will never actually support anything that improves their lives at the expense of the companies they work for, the trick will continue to work. (V)
He drinks champagne, and it tastes just like Coca-Cola. C-O-L-A, Cola... No wait. That's Lola. This is about Lula, a.k.a. Luiz Inácio Lula da Silva, who was just returned to the presidency of Brazil, sending Jair Bolsonaro into retirement (at least for now).
The election was very close, with 50.9% of the ballots going for the winner and 49.1% going for the loser. At least, the ballots that were actually cast and counted were close. There are reports that the Federal Highway Police, who are very pro-Bolsonaro, tried to suppress working-class votes presumed to be for Lula. Hard to imagine a right-wing party trying to keep the opposition's supporters from exercising their right to vote. Must be a Brazilian thing.
In any case, the right-wing populist moment is over in Brazil, at least for now. One can only hope that if right-wing populists are fairly defeated in any other nations, their efforts to change the result, by hook or by crook, will be equally unsuccessful. (Z)
Arizona seems to be reverting to what it was in the summer, but Masters, Lake, and Finchem could go up or down as a group, depending on turnout. Georgia and Nevada are likely to be close. We are not sure who Wick is, but we do trust Siena College, so maybe Fetterman is ahead in Pennsylvania. It could be a long night Nov. 8 and a long day Nov. 9 as the absentee ballots are counted.
| | | | | | | | |
| --- | --- | --- | --- | --- | --- | --- | --- |
| State | Democrat | D % | Republican | R % | Start | End | Pollster |
| Arizona | Mark Kelly* | 51% | Blake Masters | 45% | Oct 24 | Oct 26 | Siena Coll. |
| Georgia | Raphael Warnock* | 49% | Herschel Walker | 46% | Oct 24 | Oct 27 | Siena Coll. |
| Nevada | Catherine Cortez Masto* | 47% | Adam Laxalt | 47% | Oct 19 | Oct 24 | Siena Coll. |
| Pennsylvania | John Fetterman | 46% | Mehmet Oz | 48% | Oct 26 | Oct 27 | Wick |
| Pennsylvania | John Fetterman | 50% | Mehmet Oz | 44% | Oct 24 | Oct 26 | Siena Coll. |
* Denotes incumbent
---
If you wish to contact us, please use one of these addresses. For the first two, please include your initials and city.
To download a poster about the site to hang up, please click here.
---
Email a link to a friend
or share:
---The Votemaster and Zenger