TODAY'S HEADLINES (click to jump there; use your browser's "Back" button to return here)

•
Debate Postmortem
•
Bettors Are Betting on Biden
•
More than Half of House Democrats Now Support Impeachment
•
Trump Will Impose New Tariffs on China
•
Trump Rallies in Cincinnati
•
Soros Creates a Democratic Super PAC
•
Kelly Craft Is Confirmed as Ambassador to the United Nations
•
Hearing Set in Fight over Trump's New York State Tax Returns
•
Lewandowski May Run for the Senate in New Hampshire
•
Hurd Joins the Herd Heading for the Doors
•
Friday Q&A
The past two days, we have given you our take on the Democratic debates. But what about some of the other media outlets? Here is a sample of the takeaways. We're going to skip the winners and losers because pundits give scores for getting in a good quip or failing to respond to an attack. The reality, however, is that someone like Rep. Tulsi Gabbard (D-HI) can throw out as many great quips as she wants, and she will still be gone by September. And that holds for at least half the candidates.
First Night:
The New York Times
Bernie Sanders, Elizabeth Warren, and Steve Bullock delivered their messages well
Democrats are fumbling health care by not talking about how Republicans are trying to take it away
The moderators are more interested in fomenting arguments than extracting information
Democrats want to criminalize private health care while decriminalizing unauthorized entry into the U.S.
It would have been more informative to have had Joe Biden, Sanders, and Warren all on stage together
Washington Post
Do Democrats want evolution or revolution?
Are Democrats playing into Trump's hands?
Medicare for all takes heat
On race, Democrats are all united against Trump
CNN
Warren and Sanders swat away their critics
No daylight between Warren and Sanders
Williamson tied the Flint water crisis to racism
Democrats disagree on health care
Reparations for slavery are back in the news
Minor candidates tried hard to get attention
Decriminalization of unauthorized entry into the U.S. is a hot topic
Politico
Sanders and Warren really do like each other
John Delaney exists
Beto and Pete get lost in the middle
Bullock and Biden win—in very different ways
Climate change has staying power
Axios
Sanders and Warren are tired of small ball
The debate structure favored the leading candidates, Sanders and Warren
Buttigieg got in some good lines
It was a tough night for moderates
Beto O'Rourke vanished
The Hill
Debate put Democratic divide on display
Sanders gets lots of time, but Warren gets the biggest moment
Bullock has a big night
Williamson's 'dark power' comment breaks the Internet and keeps her in the race
Beto sags; Buttigieg doesn't leave a big impression
Fox News
Warren was the winner
The Warren-Sanders non-aggression pact remains intact (for now)
It was a bad night for Bernie
Pete Buttigieg belongs in the top tier
None of the centrists had a moment
This ain't Barack Obama's Democratic Party
Not a word about Mueller or Russia
Second Night:
New York Times
Joe Biden clears a low bar
Kamala Harris felt the pressure of a leading candidate
Biden-Booker on criminal justice reform was one of the tensest exchanges
Gillibrand had a good line: "I'm going to Clorox the Oval Office"
Andrew Yang and Jay Inslee: Two different one-trick ponies
Washington Post
Biden/Obama 2020
Harris took incoming fire
Will there be a Booker bounce?
Bennet made Biden's points better than Biden
Climate change was shortchanged
CNN
Everyone piled onto Joe Biden
Especially about immigration and deportation
Harris had a much bigger target on her back than in debate 1
Biden and Harris clashed on health care
Booker breaks through
Politico
Biden, Harris spar over health care
Go easy on me, kid!
De Blasio comes out swinging
Biden bounces back on busing
Gillibrand vs. Biden on women in the workplace
Biden owns Iraq vote
Moscow Mitch
Booker interrupted
Dipping into the Kool-Aid
Biden puts on the gloves
Dems debate math
Gabbard deeply concerned by Harris' record
Gillibrand steps up on race
Axios
Booker surpassed Harris as Biden's main opponent
Harris discovered that being near the top also makes you a prime target
Inslee and Yang argued for their respective issue strongly
With everyone attacking Biden, probably none of them will gain from it
The Hill
No clear winner emerges after an ugly night
Candidates pile on Biden
Rivals chip away at Harris
Booker stands out with viral zingers
Democrats were united on health care in 2018; now they are terribly divided
Fox News
No one mentioned economic growth
No one discussed raising incomes or creating jobs
Everyone attacked Biden
De Blasio went after Biden on the TPP and deportations during the Obama administration
Biden fumbled his words often
Yang and Inslee stayed on message
The general conclusion seems to be that not a lot really changed, except Booker might get a small bump and Harris is going to have to get used to the heat or else leave the kitchen.
Another conclusion is that people (especially pundit people) jump to conclusions much too fast and put much too much faith in how important debates are. A goodly segment of the punditry all but wrote Biden off after the first debate because he didn't have a quick response to Harris accusing him of opposing forced busing decades ago, something the overwhelming majority of Americans also opposed. That's all forgotten now.
Now that the second debate has wrapped up, it is time to start thinking about the third one. So far, only Biden, Booker, Buttigieg, Harris, O'Rourke, Sanders, and Warren have qualified for the third debate. Three others (Castro, Yang, and Klobuchar) are within spitting distance of qualifying. None of the others are even close, so it's sayonara for them. (V)
We don't have any post-debate 2 polls on the Democratic field yet, although the first ones should be showing up within a day or two. As a proxy, though, we can use the odds the bookies are giving on the various candidates' chances of snagging the Democratic nomination. Here are the odds (and implied probabilites) from Irish bookie Paddy Power:
| | | |
| --- | --- | --- |
| Candidate | Odds | Chances |
| Joe Biden | 11/4 | 26.7% |
| Kamala Harris | 3/1 | 25.0% |
| Elizabeth Warren | 16/5 | 23.8% |
| Bernie Sanders | 8/1 | 11.1% |
| Pete Buttigieg | 9/1 | 10.0% |
| Andrew Yang | 14/1 | 6.7% |
| Cory Booker | 20/1 | 4.8% |
| Beto O'Rourke | 20/1 | 4.8% |
| Amy Klobuchar | 25/1 | 3.8% |
| Tulsi Gabbard | 25/1 | 3.8% |
| Julián Castro | 25/1 | 3.8% |
| Marianne Williamson | 100/1 | 1.0% |
| Jay Inslee | 100/1 | 1.0% |
| John Delaney | 100/1 | 1.0% |
| Michael Bennet | 100/1 | 1.0% |
| John Hickenlooper | 100/1 | 1.0% |
| Steve Bullock | 100/1 | 1.0% |
| Bill De Blasio | 100/1 | 1.0% |
Apparently no one outside of northern Ohio has ever heard of Tim Ryan, so the bookies didn't bother to lay odds on him. Also, the bookies don't seem to know any numbers bigger than 100 because to put Jay Inslee, a sitting governor with a record of accomplishment and a theme (the environment) that resonates with many Democrats, in the same basket of impossibles as Marianne Williamson, is, er, being optimistic about Williamson's chances. How about 10,000 to 1?
The numbers keep creeping up. 118 of the 235 House Democrats now want to open an inquiry into impeaching Donald Trump. However, one of the Democrats who does not want to open an inquiry quite yet is Speaker Nancy Pelosi (D-CA). The members who want to impeach Trump talk about how he has obstructed justice and abused his power. Pelosi knows that very well and doesn't disagree. She just realizes that the result of impeachment now would be an acquittal in the Senate, with at least 53 senators voting "not guilty." She wants to avoid that at all costs, but as more and more of her members want to pull the trigger, it will be harder and harder to resist them.
Two members to watch are Assistant Speaker Ben Ray Luján (D-NM) and civil rights icon John Lewis (D-GA). Both currently oppose starting an inquiry now, but if they flip, it could bring many new members onto the impeachment train. The former carries a lot of weight with the first-term representatives he helped elect in 2018 and the latter has huge sway with the Congressional Black Caucus. (V)
Yesterday, Donald Trump announced that he will impose a 10% tariff on $300 billion worth of goods imported from China. That means that Americans will be paying a tax on virtually everything they buy from China. The tariffs already imposed were 25%, so the new ones have room to grow if need be.
Or maybe to shrink, as Trump is hugely inconsistent on his tariff policy. One day his administration is making great progress in the negotiations with China and the next day it is not. Just on Wednesday, Trump was bragging about how he had convinced China to buy boatloads of American agricultural goods. Twice cooked (American) pork with (American) soy sauce. Yum yum. Now the whole deal is off.
Trump's trade adviser, Peter Navarro, told Fox Business yesterday: "We love tariffs. Tariffs are a wonderful thing." The stock market doesn't agree, however, as the Dow Jones index dropped 300 points within minutes of the announcement, despite the Fed rate cut a day earlier. The former director of the National Economic Council, Gary Cohn, is siding with the stock market, noting that constant uncertainty is keeping companies from investing. (V)
In Cincinnati last night, Donald Trump held his first rally since the now-infamous one in Greenville, NC, where the crowd chanted "Send them back!" while he looked on approvingly. These days, his rallies don't get all that much coverage, since they're usually carbon copies of one another, but this one was of interest because of the question of whether the chant would happen again.
It didn't. The crowd did chant "Lock her up," but that was it. Maybe Cincinnati is a little different from Greenville, or maybe the crowd was aware that Trump said he "preferred" that they not chant "Send them back!". He did dip his toe into the race-baiting pond a little, but not nearly as overtly as he's been doing on Twitter. He also tore into the Democrats' debaters, affirming that he was definitely watching. His next rally is in two weeks in New Hampshire; we will see if that one is as toned down (by Trumpian standards) as last night's was. (Z)
Billionaire Democratic megadonor George Soros has created a super PAC for the 2020 election. He seeded it with $5.1 million, which is so far the largest check anyone has cut for the 2020 elections. That is more than double what he had contributed to the Democrats at this point in 2016, and that cycle he ultimately donated over $20 million to the blue team. Soros is getting a bit long in the tooth (he is 88), but his son, Alexander Soros, is also a Democratic megadonor and may continue the tradition after George is gone.
Soros does not intend to build his own political group (as the Koch brothers did). He will use the super PAC as a conduit to give money to existing Democratic groups. In the past, he funded the Senate Majority PAC, Priorities USA, Emily's List, and Planned Parenthood and expects to continue doing so. In addition, he has given millions of dollars to downballot races, including local prosecutors' races. (V)
Ambassador to Canada Kelly Craft was confirmed by the Senate to be the top U.S. envoy to the United Nations yesterday. The vote was 56-34, with all Republicans and five Democrats voting for her. The five Democrats are: Maggie Hassen (NH), Jeanne Shaheen (NH), Chris Murphy (CT), Kyrsten Sinema (AZ), and Joe Manchin (WV).
Craft is a controversial figure because, before being appointed ambassador to Canada, she had no diplomatic experience at all. Furthermore, she was absent from Canada more than she was present, so she didn't pick up a lot of experience there.
So why did Trump appoint her? It might have something to do with the fact that her husband, Joe Craft, is a billionaire coal baron who has played an active role in U.S. energy policy, often attending key meetings with energy officials. He is also a megadonor to the Republican Party. In addition, Trump has no respect for the U.N., so he probably doesn't care what she says or does there. (V)
When New York State passed a law authorizing the chairman of the House Ways and Means Committee and two other members of Congress to access the tax returns of any New York state resident, Donald Trump was not pleased, and when he is not pleased, his first reaction is to sue. Actually, his first reaction is to tweet, but suing is often not far behind. So, he sued to prevent the state from carrying out its new law. The judge in the case, U.S. District Judge Carl Nichols, has set Aug. 29 as the date for the first hearing. The judge also ruled that New York state cannot release anyone's tax returns until he rules. Nichols was appointed to the bench by Trump. (V)
Reuters is reporting that Donald Trump's former campaign manager, Corey Lewandowski, is thinking of challenging Sen. Jeanne Shaheen (D-NH) in 2020. On the whole, this is good news for Shaheen. Lewandowski is from Massachusetts and went to high school and college in the Bay State. His ties to New Hampshire are weak, and if there is anything that people in New Hampshire don't like, it is carpetbaggers from Massachusetts. Shaheen is not originally from New Hampshire, either, but she has been elected governor there three times and senator twice, so it will be hard for Lewandowski to say she is also a carpetbagger.
Another problem Lewandowski has is that he is closely associated with Trump, who is not especially popular in New Hampshire (37% approve, 60% disapprove). Finally, during the 2016 campaign, Lewandowski forcefully grabbed a female reporter for Breitbart News in Florida and was charged with battery. The local prosecutor decided not to prosecute him, but if he runs, the incident is bound to come up. (V)
Another day, another Republican House retirement. Thursday, it was Rep. Will Hurd (R-TX), who has decided three terms are enough. He has been something of a square peg in a round hole during his time in Washington, particularly since 2016. To start, Hurd is the only black member of the GOP's House delegation (which does have the advantage of making it really easy to schedule meetings of the House Republican Black Caucus). On top of that, Hurd's brand of Republicanism is about 20 years out of date; he's much more in the mold of a George H. W. Bush than the folks the Party is electing these days. Consistent with that, he's been critical of Donald Trump more consistently than any other GOP member of the House.
Hurd's district (TX-23) is very, very large, and is the epitome of a battleground district, as it is R+1. Indeed, he is one of only three Republicans elected in 2018 in a district that Donald Trump lost. He is also the only Republican representing a district that borders Mexico. In Hurd's last campaign, he defeated Democrat Gina Ortiz Jones by just 0.5%, so close that the result was not final for weeks after the election. Jones has already announced she's running again, and Hurd was undoubtedly not enthused about his chances. Now that he's out, Jones is the clear favorite to claim the seat. This is the sixth GOP retirement in two weeks, and the tenth this cycle, and is definitely the seat among those 10 most likely to be flipped by the blue team in 2020. (Z)
We shall start with some debate-related questions, as promised.
Am I the only one who notices that Joe Biden just gives up as soon as his time is up? He did it once, very noticeably, in the first debate, but in the second it was routine. Can you imagine Donald Trump ever stopping when a moderator asks him to? I am very much anti-Trump, but I think he would crush Biden in a debate. Personally, I don't expect Biden to win the nomination as he is too old and has too long of a record, but is anyone looking at debate performance through the lens of Candidate vs. Trump? A.G., Santa Clarita, CA
We certainly noticed that as well. In fact, we wrote about it in our recap of the first debate. We suspected back then, and still suspect, that he has memorized canned answers, and that when the script runs out, that's all he's got. It could also be some sort of cognitive issue; he may have trouble focusing for that long, or retaining enough information on various subjects. Certainly, some of his answers lost cohesion long before he stopped speaking.
Trump has focus issues of his own but, unlike Biden, he's happy to fill in the gaps by shifting to another subject (and another, and another), or by blustering in a general fashion. You're right that the iteration of Joe Biden that we've seen in the first two debates would be at high risk of getting trounced by the President, particularly since candidates have to speak a lot more when there are only two people on stage.
Which Democrats would match up best against Trump? We'll go with three: Sen. Elizabeth Warren (D-MA), Sen. Cory Booker (D-NJ), and Mayor Pete Buttigieg (D-South Bend). All of them are excellent public speakers and debaters, and all of them would be able to get under his skin, in various ways—Warren by virtue of being Elizabeth Warren, Booker with his zingers, and Buttigieg by virtue of being the anti-Trump (one can imagine the Mayor working in his military service vs. Trump's avoidance, over and over and over). It's tempting to put Sen. Bernie Sanders (I-VT) on this list too, except it's likely that he and Trump would just end up yelling at each other.
That said, winning the debates isn't everything. Hillary Clinton wiped the floor with Trump three times, and we know how that turned out.
---
Do you think that the occupant of the White House will agree to debate against the eventual Democratic nominee? I can't see any upside for him in doing so, when he is so easily able to put forth his opinions and criticisms via Twitter with no mediation. It seems unlikely that he would win over any new supporters in any debates. T.W., San Francisco, CA
As chance would have it, (V) and (Z) were discussing this very issue when your e-mail arrived. We agree that Trump could decide to forgo the debates. He hates the preparation (to the extent that he does any), he doesn't like facing tough questions, he would be at serious risk of making an embarrassing or damaging error, and he doesn't appear to have much to gain.
That said, there are at least three things that might compel him to debate. First, nobody loves free publicity more than he does. Second, if he doesn't show up, then his opponent will likely be given two hours on national TV to make their pitch, meaning that they would be getting all of the free publicity. Third, he may not have much to gain with the base, but he could have something to lose. Skipping the debates would look a little (or a lot) cowardly, and thus weak. He hates to project weakness, and it would be a turnoff for his supporters.
All of this is to say: We have no idea what he would actually do, but skipping out would not be a big surprise.
---
It seems to me there should be some kind of official, non-partisan Presidential Debate Committee that should handle these debates properly; even for the primaries. Why do we let media outlets choose the questions and formats? V.F., Paris, France
Both of you (and many others) have highlighted problems with how the Republican and Democratic parties conduct debates—everything from the nature of the questions to handling a large number of candidates without appearing to exclude lesser-known voices. As evident from both the 2015-16 GOP debates and this year's Democratic debates, both parties are still struggling with the latter issue. What other kinds of candidate forums have been considered to address these problems (e.g., small unmoderated discussion groups, no audience, focus on a single issue, etc.). Perhaps more importantly, how might we get the parties to seriously consider these? S.H., Phoenix, AZ
Two questions that were similar enough to present together, but different enough that we wanted to address them both.
Anyhow, there actually is an official bipartisan commission that manages presidential debates. It's called the Commission on Presidential Debates, and it was formed in 1987 as a joint partnership between the two major parties. Before that, the process was managed by the League of Women Voters (LWV), but when it was discovered that George H. W. Bush and Michael Dukakis were working together to game the rules, LWV quit, and it was decided that the parties themselves would take ownership, since they were the only ones who could stop the parties from sneaking around behind the scenes again. In other words, it was like hiring the fox to manage the henhouse. Note that all of this applies only to the presidential (and vice-presidential) matchups; primary debates are staged by the parties themselves.
In any case, regardless of who organizes the debates and sets the rules, someone has to moderate and ask the questions, and journalists of various stripes have always had that responsibility. Why is that? Well, in part, because the moderators should be knowledgeable and unbiased, and the fourth estate is a large and convenient pool of folks who theoretically check both of those boxes. And, in part, because of inertia—that is the way it's always been done. The moderator of the very first presidential debate, John F. Kennedy vs. Richard Nixon in 1960, was Howard K. Smith of CBS News, and debate organizers have followed the same basic template ever since.
Of course, in the age of cable news/social media/talk radio, many journalists have been trained to instinctively seek out conflict, controversy, scandal, and so forth. Also, a fair number of them are not so unbiased anymore. So, there's a pretty strong argument to be made that journalists (particularly those who work for cable stations) shouldn't be given the job anymore. One possibility, that would represent only a small change, would be to choose only journalists from outlets that are not ratings-driven. For example, PBS' Gwen Ifill did an excellent job back in 2008. Dave Faris, writing for The Week, published a piece yesterday with some other alternatives. Among his suggestions: experts in various fields (for example, climate scientists could handle the "climate" segment of the debates), or people who work for think tanks, or representatives of political activist groups (like Emily's List), or college professors. For our part, we like the idea of finding a way to allow voters to submit and vote on the questions they would like to see. Heck, even taking 10 questions from random at Twitter would be preferable to what we saw from Jake Tapper & Co.
As to alternate formats, they've certainly been tried quite a bit. For example, CNN and Fox News both host a lot of town halls, MSNBC and the four broadcast networks have candidates sit down for long-form one-on-one interviews. However, those things don't get a fraction of the ratings that debates get, primarily because American political culture has embraced the idea that debates are "an event." Further, political parties are by nature cautious, and would be leery of throwing the baby out with the bath water. So, if one is rooting for a better setup, one should probably hope for a better approach to the debates, as opposed to the adoption of an alternate format. The DNC does pay attention to what voters have to say; you can call them at (202) 863-8000 or you can send them a message here if you would like to register your views.
---
I'm seeing quite a bit being made of the nine GOP retirements from the House. How much does this actually deviate from the norm? Could this be confirmation bias, at least to some extent? Given that the average length of service is 9.1 years, we should expect to see about 43 Republicans' terms end this year, right? I would still think 10 to 20 "retirements" would not be too unusual, then. M.W., St. Paul, MN
Note that with Will Hurd bowing out (see above), it's now 10. Note also than when we started writing these items, we specifically noted that we're not outside of historical norms...yet.
So what are historical norms? It's true that we should expect 40 or so Republicans to exit this year, mathematically speaking, but that also includes those who are defeated in their reelection bids. Fortunately, it's easy enough to find the typical retirement rate: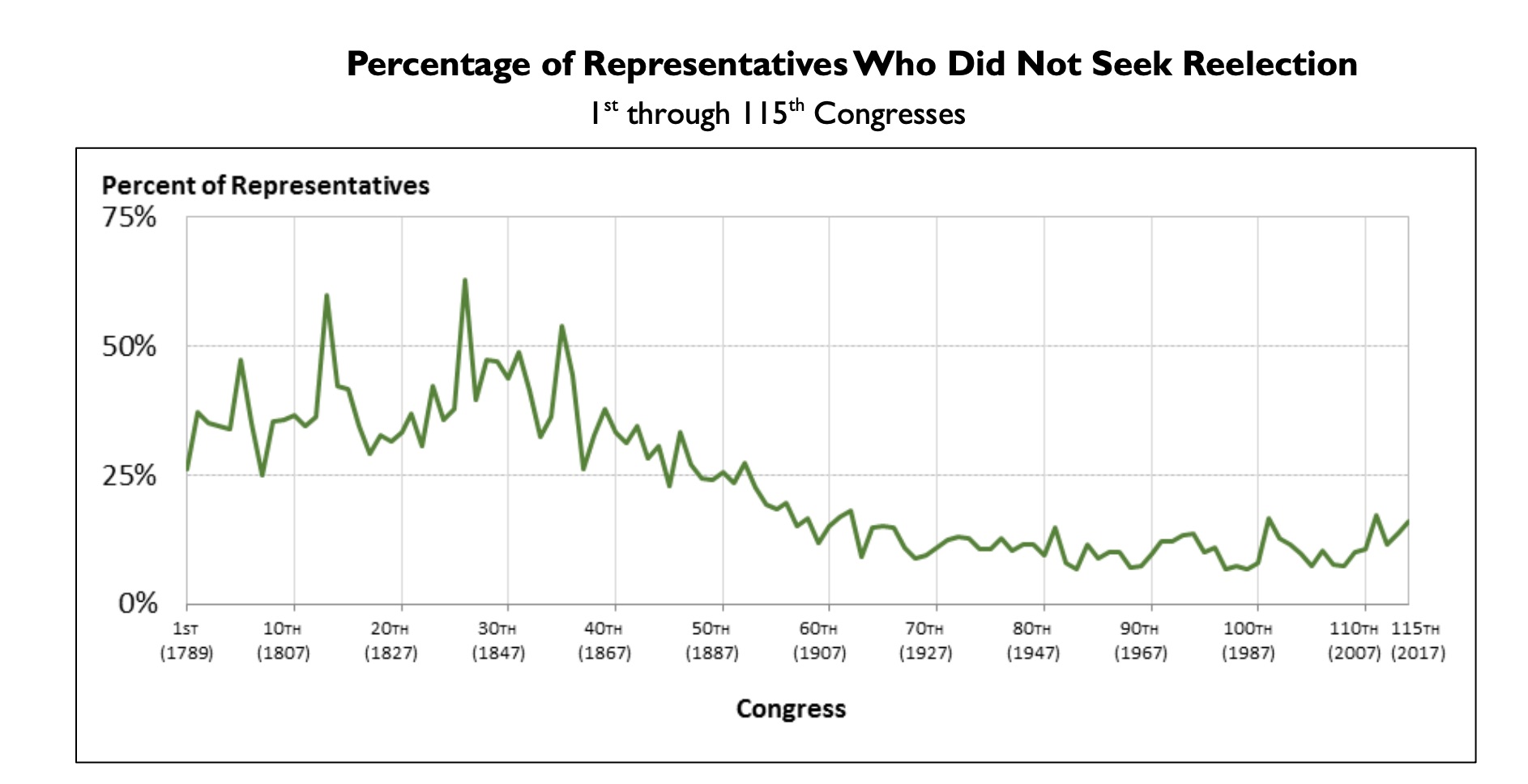 As you can see, back in the days when salaries were meager, the trip to Washington was often long and dangerous, and other sorts of political jobs were often far more desirable, representatives voluntarily quit all the time. Another significant factor is that the parties worked out rotations, where they would choose someone to serve a term, then someone new, and so forth, so everyone got a chance. This is how Abraham Lincoln "won" his single term (1847-49), though when his time was up, he was pretty happy to yield to his replacement, as he didn't enjoy serving in the House and his wife hated Washington.
Since the 1920s, the retirement rate has stabilized at around 12.5% (with occasional upticks, like last year's). Assuming that, then we should be expecting about 25 Republican retirements. We're obviously far short of that right now, but there's still a lot of time, and the current trendline certainly looks bad for the GOP.
If you want another way to look at this, our House Retirements tracker, which is also linked at the top left of this page, notes how many members of each party retired prior to each of the last seven cycles. 18 (2006) is the low for the GOP in that time, 36 (2018) is the high, and the figure usually ends up in the mid-20s. Generally, fewer Democrats have retired, at least in part because they were the minority party for most of that time, and so there were fewer of them.
---
A number of GOP congressmen have retired, at least in part, due to the fact that they are rotating out of their committee leadership positions. Is this a situation where they wanted to retire and were simply waiting for those terms to end, or are these congressmen who would run again if they could keep their committee chairmanships? If the latter, isn't this policy counterproductive for the GOP? D.W., Jackson, MS
This is what at least two of the retirees, Mike Conaway (R-TX) and Rob Bishop (R-UT) have said, and we see no reason not to take them at their word. Specifically, they've said they are not interested in being a backbencher (to borrow a British term), which strongly implies they would stick with it if they could continue in a committee leadership role.
Obviously, every rule like this has its pros and cons. Clearly, being forced to rotate out of a position of power has triggered at least a couple of retirements. On the other hand, spending years toiling as a peon in a party caucus, due to being blocked from advancement by all the old guys and gals who linger on for decades, has also prompted more than a few retirements.
---
It's common in the U.S. to refer to the president as the Commander-in-chief of the armed forces, even in situations unrelated to the defense or national security. While it's true that the president leads the military, the phrase that makes me somewhat uncomfortable when used that way. It's as if the country somehow exists primarily to support the military, as opposed to the military existing to protect the country. Is this a common turn of phrase in other democratic countries? V.P., New York, NY
We can find no evidence that this is commonly done in other democracies (at least in part because not all democracies make their president/prime minister the Commander-in-chief). Certainly, all of the exemplars in the Oxford English Dictionary are American. We have a fair number of readers who reside (or have resided) in foreign countries; if any of them would like to correct our impression, we are happy to hear it, and will publish a follow-up if we are in error.
Even if this is done in other countries, it is certainly most common in the United States. We can think of at least three reasons that is the case. First, the United States military is the world's most expensive and most powerful, so the U.S. president's responsibilities as Commander-in-chief are particularly noticeable. Second, it's easiest for writers and speakers to have a selection of metonyms to use when referring to an important officeholder like the president. But whereas someone like Elizabeth II has four or five or six metonyms available (the Queen, Her Majesty, Her Highness, the monarch, the throne, Windsor Castle), there aren't quite as many for Barack Obama/Donald Trump/etc. (the president, the White House, the administration). Commander-in-Chief broadens the list (although many outlets, including us, rarely use it). And third, and finally, the official Presidential Anthem of the United States, which is played at presidential appearances all the time, is "Hail to the Chief."
---
Of the six states home to the highest percentage of Latinos, Donald Trump carried three in 2016: #2 TX (39.1% Latino), #4 AZ (30.9%), and #6 FL (24.9%). Depending, of course, on who secures the 2020 Democratic nomination, do you think that tabbing Julián Castro as running mate would have a significant impact in those states, especially Arizona and Florida? T.C., Portland, OR
It's interesting that you excluded Texas from your "especially" list, because that is where Castro is from, and that is the state among the three with the highest proportion of Latinos who are Mexican. If he gets the VP slot, the Lone Star State is the one he's most likely to help with, we think. On the other hand, Florida is the one where he's least likely to move the needle. Most of the Latino voters there are Cuban, Puerto Rican, or Dominican, and despite the tendency to lump all those groups together as one homogeneous political bloc, it really ain't so. Cubans are no more likely to flock to a Mexican candidate than Polish Americans are to flock to an Irish Catholic candidate, or Chinese Americans are to flock to a candidate from India.
In fact, political scientists Christopher J. Devine and Kyle C. Kopko wrote an entire book on this subject a couple of years ago entitled The VP Advantage: How Running Mates Influence Home State Voting in Presidential Elections. Their conclusion was that a VP nominee can help a little (maybe 0.5%) in his or her home state if two conditions are met: (1) the state has a relatively small population, and (2) the VP nominee has served in statewide offices (governor, secretary of state, U.S. Senate) for many years. Castro meets neither of these conditions, meaning that his odds of helping with Texas are pretty small. But his odds of helping in other states are even smaller; the two authors also looked at nationwide numbers and concluded that VP candidates do not attract additional votes from citizens of the same ethnic group, or gender, or religion. And Castro, at least at the moment, is not generating much excitement among Latinos. So, add it all up, and the answer to your question is: No, he probably won't have a significant impact in those states if he is chosen as VP (but if he does, it would be in Texas).
---
If you have a question about politics, civics, history, etc. you would like us to answer, click here for submission instructions and previous Q & A's. If you spot any typos or other errors on the site that we should fix, please let us know at corrections@electoral-vote.com.
Email a link to a friend
or share:
---The Votemaster and Zenger