TODAY'S HEADLINES (click to jump there; use your browser's "Back" button to return here)

•
Judiciary Committee Issues Report Describing the Impeachment Process
•
How to Fix the Impeachment Process
•
Trump Appeals Tax Return Case to the Supreme Court
•
Warren and Buttigieg Are Fighting with Each Other
•
Booker Rakes in Big Bucks
•
Maine Group Launches Massive Campaign against Collins
•
North Carolina Congressman Won't Run in 2020
•
Duncan Hunter to Resign from Congress
•
Dixville Notch May Not Go First
The Democratic staff of the House Judiciary Committee has issued a 55-page report describing the background for impeaching a president. It is entitled: "Constitutional Grounds for Presidential Impeachment." The report was written by the staff and not by the Committee itself, but you can bet that both Chairman Jerrold Nadler (D-NY) and Speaker Nancy Pelosi (D-CA) read and approved it before it went out the door. Nadler even wrote the foreword. The Republican staff was left out of the process, presumably because Nadler believed all they would do is try to obstruct and obfuscate.
The report starts with a lot of background material on why the Founding Parents included impeachment in the Constitution and what they meant by "treason, bribery, or other high crimes and misdemeanors." Then it discusses some common myths concerning impeachment, such as the belief that impeachment requires that the president committed a statutory felony. These misconceptions are discussed at length and then dispensed with. The document is full of historical references and contains 255 footnotes to sources. It might make a nice masters thesis in a history department or law school.
What the report does is set the stage. It doesn't contain any articles of impeachment. That is up to the Committee, not the staff. What it does is provide detailed information on the process, its history, and the legal issues associated with it, to bring the Committee members up to speed as they start debating the articles of impeachment this week. Although many members of the Committee are lawyers, the report has been written with a more general audience in mind. If you are interested in the complete back story on the impeachment process in general, it's worth reading. It is here.
Yesterday on CNN, Nadler said that he is waiting for a hearing today to consider evidence collected by the House Intelligence Committee before going further. The White House was invited to send a lawyer to the hearing to defend Donald Trump but has decided to boycott the entire proceeding and claim that it is not legitimate. Only then will Nadler decide on how many articles of impeachment he wants and what the charges will be. He expects that the articles will be drawn up this week and possibly also voted on by the Judiciary Committee this week. The big question is whether the incidents of obstruction outlined in the Mueller report will be included. So far, Nadler is not tipping his hand. (V)
The current impeachment process is extremely partisan and bitter, just as the impeachment of Bill Clinton was. In contrast, the process that led to the Judiciary Committee approving three articles of impeachment against Richard Nixon had substantial Republican support, including six yes votes on Art. 1 (obstruction of justice), seven yes votes on Art. 2 (abuse of power), and two yes votes on Art. 3 (contempt of Congress). Democrats were unanimously for the first two, but two of them rejected the third one. All three passed but two others (usurping the powers of Congress and tax fraud) were rejected.
Politico asked nine experts to opine on the impeachment process and suggest fixes if it is broken. Here are brief summaries of their responses:
Kim Wehle (former Whitewater prosecutor)

: The problem with impeachment is not the Constitution, but the unwillingness of the Republicans in Congress to examine the facts and act accordingly. She pointed out that if asking a foreign leader for help impugning a political opponent isn't impeachable, then what is?



Philip Bobbitt (Professor of Law at Columbia University)

: The Republicans are playing what in basketball is called "stall ball." What we need is a "shot clock," which fast tracks cases in the courts to get decisions quickly. We cannot have a situation in which the White House prevents Congress from getting evidence it needs to make a determination whether impeachment is in order.



Frank Bowman (Professor of Law at the University of Missouri)

: If Congress does not function, we cannot expect impeachment to work, either. The Founding Parents had expected that Congress would jealously guard its powers, but now it has ceded most of them to the executive. A first step would be to take them back.



Mary Frances Berry (Professor of History at the University of Pennsylvania)

: Congress should put uncooperative witnesses in jail. That will make them more cooperative. Also, both chambers should bend over backwards to act nonpartisan. When first-hand witnesses are compelled to testify, hearsay evidence should be banned.



Brenda Wineapple (author of a book on Andrew Johnson's impeachment)

: The only thing that is broken in the current process is people calling it a hoax, a coup, a usurpation, or a witch hunt. If everyone involved would do their job properly, the process would work.



Corey Brettschneider (Professor of Law at Brown University)

: House and Senate members who are involved in the case at hand should recuse themselves. This would apply to Rep. Devin Nunes (R-CA), who repeatedly talked to Rudy Giuliani, and Sen. Ron Johnson (R-WI), who met with Ukrainian officials.



Allan Lichtman (Professor of History at American University)

: Impeachment is not the cancellation of an election. It is in the Constitution, just as the election of the president is. What is broken is not the impeachment process, but the Republican Party, which has abandoned its historic principles of limited government and respect for the judiciary and become a cult of personality devoted to Donald Trump.



Alan Baron (former special impeachment counsel to the House)

: The impeachment process is not broken. At its core, it is political and partisan and no amendment to the Constitution will change that.



Julian Epstein (Chief Democratic counsel at the impeachment of Bill Clinton)

: Impeachment is broken because our politics are broken. We need updated rules granting Congress access to documents it requests within a maximum of 30-45 days and expedited access to the Supreme Court for acts of obstruction. This should be the top agenda item for the next Congress.
In short, there is no magic bullet, but if Congress would take back some of its power, pass laws giving it legal access to documents and witnesses it needs, and have the ability to put people in jail for noncompliance, things might go more smoothly next time. (V)
After the U.S. Court of Appeals for the Second Circuit ruled that Deutsche Bank and Capital One had to obey a House subpoena and turn over certain documents related to Donald Trump's finances, Trump had a choice to make. He could have requested an en banc ruling from the entire Second Circuit Court or gone directly to the Supreme Court. Surprisingly, he appealed directly to the Supreme Court, which will actually speed up the process. Justice Ruth Bader Ginsburg, who handles cases in the Second Circuit, issued a stay so the banks don't have to turn over anything until the Supreme Court takes up the case. She has been attacked on social media for "letting Trump get away with it," but her decision is completely routine. It makes no sense to force the banks to turn over everything now and then have the Court rule on whether they have to in a few months.
The Court is scheduled to meet on Friday behind closed doors to discuss a separate case about whether Trump's accountant has to turn his tax returns over to a New York grand jury investigating him for potential tax fraud relating to his paying hush money to porn star Stormy Daniels and Playmate Karen McDougal and claiming it as a tax deduction. The Court understands there is a lot of interest in these cases, so the next month could bring some clarity to what it intends to do. (V)
As Pete Buttigieg moves up in the polls, overtaking Sen. Elizabeth Warren (D-MA) in some of them, the relationship between them is getting more tense. Warren has criticized Buttigieg for not releasing the names of his top fundraisers and the names of the clients he had at McKinsey & Co. when he worked there. Buttigieg shot back, calling Warren a "corporate lawyer," and demanding that she release even more tax returns. She has released more than 10 years of recent returns, but Buttigieg wants to see even earlier ones. Warren has released the names of the corporate clients she had before 2008, but not the tax returns for those years.
The two of them are fighting for the top slot in Iowa, whose Democratic electorate is fairly liberal. Buttigieg appears to be at 25%, whereas Warren is at 23%. Each of them thinks that by painting the other one as too close to Big Bad Corporations, that will be deadly. So far, neither of them is budging on releasing the requested information, but if enough pressure is applied, that could change. (V)
The end of the campaign of Sen. Kamala Harris (D-CA) has produced a treasure trove of eulogies, many of them by people who didn't support her when she was a candidate. And the end of her campaign has produced at least one concrete result: An outpouring of money for Sen. Cory Booker (D-NJ), the only serious black candidate left in the Democratic presidential primary. Her departure led him to say that the race now had more billionaires than black people. In the days after Harris' withdrawal, Booker raised $1 million. The money came from 33,000 donors, of whom 17,000 were new donors. The average donation was $25.
Technically, there is another black candidate. That would be former Massachusetts governor Deval Patrick, but he jumped in late, is barely known, has no network outside of Massachusetts, and is the longest of longshots. Well, given that Marianne Williamson is still trying to grab the brass ring, maybe Patrick isn't the longest shot, but he's pretty close to it. (V)
After expressing her concern about Brett Kavanaugh and then voting for his confirmation to the Supreme Court, a lot of Democrats have had it with Sen. Susan Collins (R-ME), once seen as a moderate. One group, Maine Momentum, is going to spend $540,000 on ads in December trying to take her down. In the ads, a Maine lobsterman says that Collins took $5 million from corporate donors and then voted to give them a $100 billion tax break.
A couple of things are worth noting here. First, it is fairly early in the cycle and already Collins is being hit hard. This is going to be her toughest race ever. Second, $540,000 is a lot of money in a state like Maine, which has no expensive media markets. Third, she is not being attacked for voting for Kavanaugh, something many Mainers probably approve. She is being attacked as being corrupt, something that many fewer Mainers approve.
Finally, this is only the beginning. After Collins' vote on Kavanaugh, an appeal was made on Crowdpac to provide instant funding to whoever her Democratic opponent might be. That appeal has already raised $3.8 million of its $4 million goal. Most likely it will go to state House Speaker Sara Gideon, but Gideon first has to win a primary. In a recent PPP poll, a generic Democrat is leading Collins 44% to 41%. While immigrants are not uncommon in Maine, they are mostly from Canada. Gideon's parents are both immigrants: Her father is from India and her mother is from Armenia, so Sara can claim to be an Armenian-American or an Indian-American if she wants to, but most likely she will just claim to be a well-funded American if she is the nominee. (V)
They are dropping like flies. Rep. George Holding (R-NC) has announced that he will not run for another term. It's not that he dislikes Congress. In fact, he likes it very much, since he sits on the powerful Ways and Means Committee. The problem is that the courts keep striking down North Carolina's gerrymandered maps and the new one puts him in a district that is not solidly Republican, like his old one. In fact, it is somewhat Democratic, and he fears he would lose.
However, he may not leave politics altogether. There is going to be a bloody Senate race this year in North Carolina, though Holding is skipping that one. Instead, he may sign up for an even bloodier race in 2022, which will be an open-seat election because Sen. Richard Burr (R-NC) has said he will not run for a fourth term then. (V)
It's tough to sit in Congress after you have just admitted that you committed a crime and are headed to prison. Consequently, Rep. Duncan Hunter (R-CA) is going to resign from the House at the end of the month. Hunter has pleaded guilty to misusing $250,000 in campaign funds for purposes including vacations in Europe, dental work, and flying his pet rabbit across the country.
Lots of people like rabbits, so that's not so bad. But using campaign funds to cover up his five extra-marital affairs is something else. None were with Playboy playmates; they were with staffers and lobbyists. Many members of Congress are millionaires, but Hunter wasn't one of them. His reportable assets from 2009 to 2016 were under $1,000 and he overdrew his bank accounts more than 1,000 times in that period, resulting in over $37,000 in overdraft fees.
Early next year, there will be a special election to fill the R+11 seat east of San Diego. It runs from Chula Vista in the southwest to Temecula in the northwest, and east to the Salton Sea. The western boundary is extremely gerrymandered, but the northern and eastern boundaries are mostly straight lines. This is what it looks like: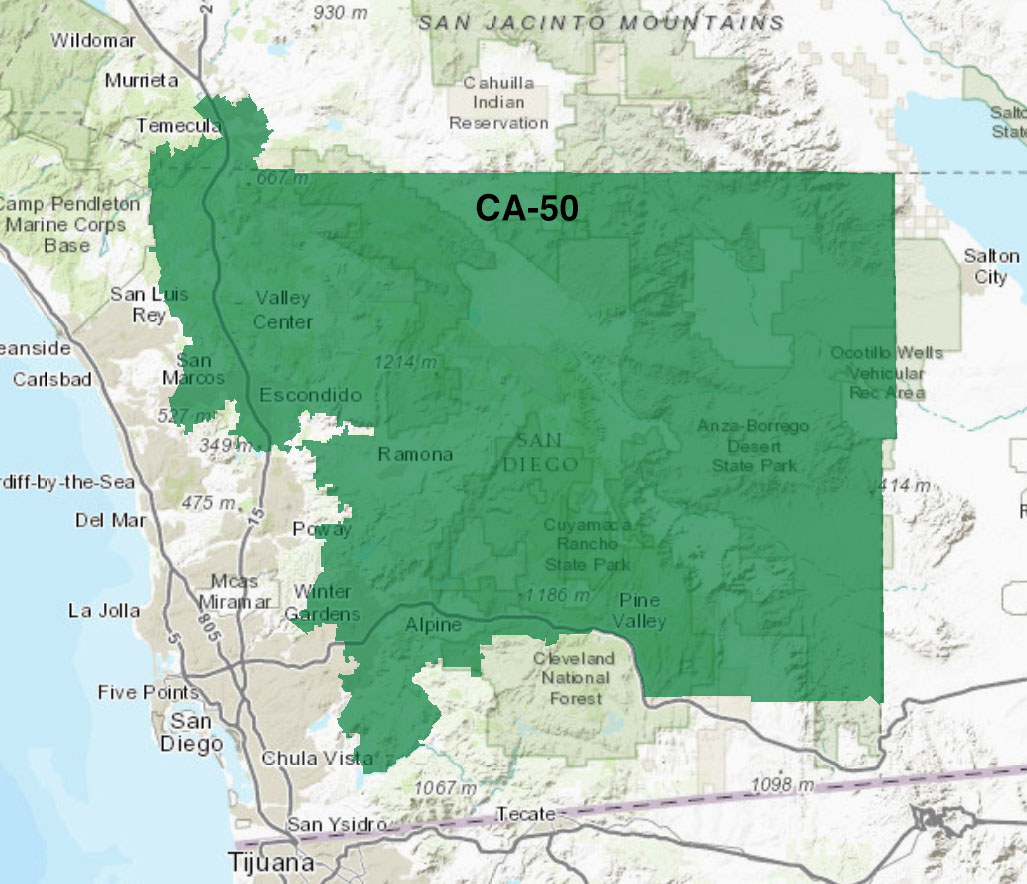 Given the PVI of the district, there is a fairly good chance the GOP can hold the seat. Carpetbaggers Darrell Issa, a former representative from a different district, and Carl DeMaio, a former San Diego city councilman, are running. Democrat Ammar Campa-Najjar, who lost to Hunter in 2018 by 3 points, is also running. Donald Trump carried the district by 15 points in 2016, but he will not be on the special-election ballot. Gov. Gavin Newsom (D-CA) has control of the date for the election, and is likely to have the primary be on March 3, coinciding with the state's presidential primary. However, while every Democrat in the state is likely to show up at the polls to vote in the contested Democratic presidential primary, many fewer Republicans may show up, giving an advantage to the Republican House candidate with the greatest name recognition, and that is probably Issa. Of course, given California's jungle primary, it's at least possible that two Democrats will advance from the primary. Not likely, but it would certainly be interesting if the election to represent an R+11 district pitted a Democrat against a Democrat. (V)
A 60-year tradition of midnight voting in Dixville Notch may be at the end of its run. Since 1960, the (dozen or so) voters of the tiny hamlet of Dixville Notch, NH, have gathered at a local hotel/polling place to cast their ballots at midnight on Election Day. Since the polling place conveniently has as many polling booths as there are voters, at 12:01 a.m. everyone has voted. Under state law, once every registered voter in a precinct has voted, the votes can be tallied and announced. It has become a tradition to announce the first results of any election at about 12:05 a.m. on Election Day to the assembled national and international media.
Those days may be gone, as state law requires a minimum of five registered voters for a hamlet to have its own voting precinct. Currently, Dixville Notch has four registered voters. Unless someone moves there soon, Dixville is not going to make the cut, and the...Dixies (?)...Notchees (?)...Dix Notchers (?)...are going to have to go 5 minutes down the road to vote in the big city of Millsfield, which has about 20 voters. Millsfield may also hold a midnight vote, however, so people won't have to wait another nine hours to find out which way the Granite State is leaning.
On the other hand, Dixville Notch's strength was speed, not accuracy. In the 2016 primaries, Sen. Bernie Sanders (I-VT) swept the Democratic field with four votes. Nobody else got any. On the Republican side, John Kasich won with three votes. Donald Trump came in last with two votes. Sanders did win the primary statewide but Kasich didn't, so Dixville batted .500. In baseball that is pretty good. In politics, getting it right half the time isn't. (V)
---
If you have a question about politics, civics, history, etc. you would like us to answer on the site, please send it to
questions@electoral-vote.com
, and include your initials and city of residence. If you have a comment about the site or one of the items therein, please send it to
comments@electoral-vote.com
and include your initials and city of residence in case we decide to publish it. If you spot any typos or other errors on the site that we should fix, please let us know at
corrections@electoral-vote.com
.
---
Email a link to a friend
or share:
---The Votemaster and Zenger