TODAY'S HEADLINES (click to jump there; use your browser's "Back" button to return here)

•
Donald Trump Blames Everyone but Donald Trump for His Controversial Remarks
•
Kellyanne Conway Should Go
•
Sarah Huckabee Sanders Will Go
•
Joe Manchin Might Go
•
Tillis Has to Worry about Being Forced to Go
•
DNC Debate Lineup Is Set
•
Democratic Presidential Candidate Update: Sen. Elizabeth Warren (D-MA)
Donald Trump famously has no use for exercise, but he may have gotten some against his will on Friday, given all the backpedaling he did. In an interview on Wednesday, he conceded that he might accept dirt on his 2020 rivals from a foreign power, and that he might not tell the FBI about it. On Thursday, he realized that may not have been the wisest thing to admit (or someone realized it for him), and so he and select allies tried to clean up the mess he made.
To start, here's the transcript of the President's actual remarks:
George Stephanopoulos: Your campaign this time around, if foreigners, if Russia, if China, if someone else offers you information on opponents, should they accept it or should they call the FBI?

Trump: I think maybe you do both. I think you might want to listen, there's nothing wrong with listening. If somebody called from a country, Norway, "we have information on your opponent." Oh, I think I'd want to hear it.

Stephanopoulos: You want that kind of interference in our elections?

President Trump: It's not an interference, they have information. I think I'd take it. If I thought there was something wrong, I'd go maybe to the FBI. If I thought there was something wrong. But when somebody comes up with oppo research, right, they come up with oppo research. Oh, let's call the FBI. The FBI doesn't have enough agents to take care of it, but you go and talk honestly to congressmen, they all do it, they always have. And that's the way it is. It's called oppo research.
Trump's defense, at least on Thursday morning, was that he talks to foreign leaders all the time (like the Prince of Whales, for example), and that he can't possibly talk to the FBI about those discussions, since the FBI is very busy, and since other foreign leaders wouldn't trust him if he blabbed. When that excuse didn't quite get it done, Trump turned to a veritable smorgasbord of his favorite nemeses:
When Senator @MarkWarnerVA spoke at length, and in great detail, about extremely negative information on me, with a talented entertainer purporting to be a Russian Operative, did he immediately call the FBI? NO, in fact he didn't even tell the Senate Intelligence Committee of....

— Donald J. Trump (@realDonaldTrump) June 13, 2019
....which he is a member. When @RepAdamSchiff took calls from another person, also very successfully purporting to be a Russian Operative, did he call the FBI, or even think to call the FBI? NO! The fact is that the phony Witch Hunt is a giant scam where Democrats,...

— Donald J. Trump (@realDonaldTrump) June 13, 2019
....and other really bad people, SPIED ON MY CAMPAIGN! They even had an "insurance policy" just in case Crooked Hillary Clinton and the Democrats lost their race for the Presidency! This is the biggest & worst political scandal in the history of the United States of America. Sad!

— Donald J. Trump (@realDonaldTrump) June 13, 2019
They've been wrong all along! pic.twitter.com/z5tSV2JLEf

— Donald J. Trump (@realDonaldTrump) June 13, 2019
For those keeping score at home, then, the real evil-doers here are Sen. Mark Warner (D-VA), Rep. Adam Schiff (D-CA), the Democrats in general, the deep state, Hillary Clinton, the media, and Rachel Maddow. Trump's allies in the House (a.k.a. every Republican whose name does not rhyme with "Hustin Jamash") also engaged in a lusty round of whataboutism, pointing fingers at the same basic list of culprits.
On the other hand, many Republicans in the Senate—including Trump allies like Sen. Lindsey Graham (R-SC)—made clear that they are unhappy with his remarks, and that the FBI damn well better be informed if such a scenario comes to pass. Many other Trump supporters and allies in the GOP expressed their chagrin, as well. "It's really bad. It's really, really bad. He shouldn't say it, and if he were to do it, it would be impeachable. If a President took information from a foreign government that would be impeachable," said one of them, speaking under condition of anonymity.
It goes without saying, of course, that Democrats were unanimous in noting their disgust with the President's words. Also, FEC Chair Ellen Weintraub posted a message to her agency's website on Thursday: "Let me make something 100% clear to the American public and anyone running for public office: It is illegal for any person to solicit, accept, or receive anything of value from a foreign national in connection with a U.S. election." She didn't mention anyone by name, however, so we can't be 100% certain who the message was meant for. Possibly Mike Gravel, or Wayne Messam.
Most significant, though, is the opinion of the FBI and other top law enforcement officials. Over a dozen of them spoke to reporters off the record on Thursday, said they had been working for many months to secure the 2020 election against interference from outsiders, and declared that Trump "smashed" all the work they've done in a matter of seconds. Frank Figliuzzi, who served as the Bureau's assistant director for counterintelligence until 2012, but is now retired and so has no need for anonymity, explained that foreign operatives will "come out of the woodwork like never before to try to influence the president [and] it's going to be more difficult to defend against because they'll try harder than ever to mask their attempts."
In the end, Trump cares about none of this. He doesn't want to "lose" the current news cycle, hence the spin and the finger pointing. But if foreign powers want to help him in 2020, he will obviously be happy to accept their assistance, as he has no moral or ethical qualms about such things, and he knows he is unlikely to get caught and/or held accountable, given that AG William Barr lives in his right pocket, while Senate Majority Leader Mitch McConnell (R-KY) resides in the left one. (Z)
At least, that is the opinion of the U.S. Office of Special Counsel, which formally recommended on Thursday that Kellyanne Conway be fired for her regular violations of the Hatch Act. That act, passed in 1939, prohibits most federal employees (with the president and vice president as the main exceptions) from electioneering while on the job. Inasmuch as Conway often does so, both on Twitter and during her appearances on talk shows, despite having been warned repeatedly, it's basically an open and shut case.
Or not, according to White House counsel Pat Cipollone, because...reasons. Since the Hatch Act is toothless, and relies on voluntary compliance from the White House, Conway's job is 100% safe. Coupled with the story about Donald Trump's willingness to accept foreign dirt, it means that Thursday was a day full of reminders that this administration has very little use for rules, particularly ones they know cannot, or will not, be enforced. (Z)
Kellyanne Conway figures to linger for many more months or years, but not her colleague, White House Press Secretary Sarah Huckabee Sanders. Sanders has been rumored to be a short-timer for quite a while now, and on Thursday it became official, with Donald Trump announcing via tweet that she will leave by the end of the month, and suggesting that she strongly consider running for governor of Arkansas.
Could Sanders really claim the Arkansas governor's mansion? Maybe so; she's a member of the state's second most famous political dynasty, and she did attend Ouachita Baptist University, a.k.a. "the Harvard of Arkansas Baptist Universities." As to the White House, it's hard to imagine her departure will make much of a difference. Sanders' press briefings had become so infrequent (less than one a month) that members of the White House press corps started tweeting out photos of all the dust that had gathered on the podium in the briefing room:
The White House hasn't held press briefing in so long that the lectern in the briefing room is quite literally gathering dust.
Here's a picture: pic.twitter.com/4rGiTXZTO4

— Maegan Vazquez (@maeganvaz) May 15, 2019
And even when Sanders did talk to the press, she regularly lied through her teeth (as she admitted during her chat with former special counsel Robert Mueller), so much so that her words could no longer be regarded as even remotely reliable. The administration did not bother to replace Bill Shine as White House Communications Director when he resigned back in March, and they have named no replacement for Sanders. It would not be surprising if they left her job vacant. (Z)
Sen. Joe Manchin (D-WV) got into public service to make a difference. And, as one of the most centrist members of the Senate, he's exactly the kind of fellow who is open to compromises and dealmaking. He would have been right at home, for example, under Majority Leader Lyndon B. Johnson. However, with the Senate committed to ignoring the Democratic-led House, and to spending most of its time approving right-wing judges, Manchin feels like he's just spinning his wheels. Consequently, he is very unhappy, and although he was just reelected, he is thinking seriously about quitting the Senate.
This is, of course, good news for the GOP, since Manchin has won six statewide elections in deep-red West Virginia, a feat that not many other Democrats could pull off. Exactly how good the news is, however, depends on whether Manchin actually does depart and, if so, exactly how he departs. He has suggested that he might like to return to the West Virginia governor's mansion, where he served for five years before being elected to the Senate in 2010. If that is his plan, then he would run for that office next year. If he won, he would resign his Senate seat shortly before his inauguration, and then—per West Virginia law—his replacement would be chosen by...newly-inaugurated Gov. Joe Manchin.
Presumably, if Manchin was naming his own replacement, he would go with a Democrat. If current state law holds, that person would serve for two years, until voters got to weigh in during the midterm elections of 2022. That said, the last time a WV Senate seat came open (upon the death of Robert Byrd), the legislature passed a special law calling for an immediate special election, which is how Manchin got sent to Washington in the first place. The upshot is that the Democrats' hold on a key Senate seat just got a little less certain, but it's not lost yet. (Z)
The National Republican Senatorial Committee got some good news from the direction of West Virginia on Thursday (see above), and they also got some news from a little further south, in North Carolina. Whether it is good or bad is debatable. Rep. Mark Walker (R-NC) was thinking about challenging unpopular Sen. Thom Tillis (R-NC) next year, but he says he talked to God and to Donald Trump and has decided not to run. Walker did not say whether those were separate conversations or a conference call.
However, Walker's departure doesn't get Tillis off the hook because he has another, and stronger, primary opponent in Garland Tucker III, a wealthy banker and businessman. Now wealthy businessmen who want to be a senator are a dime a dozen, but this one is a bit different. He is something of an intellectual, having written articles for conservative publications like the National Review after graduating from the Harvard Business School. He even wrote a book: Conservative Heroes: Fourteen Leaders Who Changed America—Jefferson to Reagan. He is a "limited-government" conservative and not a big fan of Donald Trump.
The battle between Tillis, who is only lukewarm on Trump, and Tucker will be interesting. Trump will probably chime in to help Tillis (even though he doesn't like the guy) because Mitch McConnell will tell him that a sitting senator has a better chance of holding the seat than an unknown conservative intellectual. The net result of Walker dropping out is that now Tillis has to fight a one-on-one primary battle against a traditional conservative who can self-fund. He would have been better off in a multiway primary in which the anti-Tillis vote was split.
Tillis will need all the help he can get because his approval rating is just 36%. Even if he wins the primary against someone who can pour millions of dollars of his own money into it, Tillis will still have to confront the fact that North Carolina is getting pretty purple, so he's in for the fight of his life in the general election, probably against State Sen. Erica D. Smith (D-NC). Suddenly, North Carolina has become one of the top Senate races, along with Colorado, Arizona, and Maine. (Z & V)
The deadline to qualify for the first round of the Democratic debates arrived on Thursday, and—fortunately for DNC chair Tom Perez—exactly 20 people made the cut, which spares him from having to make and justify any tough decisions about whom to exclude. Here is the lucky group that scored an invite:
| | |
| --- | --- |
| Sen. Michael Bennet (D-CO) | Joe Biden |
| Sen. Cory Booker (D-NJ) | Mayor Pete Buttigieg (D-South Bend) |
| Julián Castro | Mayor Bill de Blasio (D-New York City) |
| John Delaney | Rep. Tulsi Gabbard (D-HI) |
| Sen. Kirsten Gillibrand (D-NY) | Sen. Kamala Harris (D-CA) |
| John Hickenlooper | Gov. Jay Inslee (D-WA) |
| Sen. Amy Klobuchar (DFL-MN) | Beto O'Rourke |
| Rep. Tim Ryan (D-OH) | Sen. Bernie Sanders (I-VT) |
| Rep. Eric Swalwell (D-CA) | Sen. Elizabeth Warren (D-MA) |
| Marianne Williamson | Andrew Yang |
That leaves Gov. Steve Bullock (D-MT), Rep. Seth Moulton (D-MA), Mike Gravel, and Mayor Wayne Messam (D-Miramar) on the outside looking in. Of that quartet, the only one who is squawking about it is Bullock, who believes he actually did qualify, and is demanding to be let in. That's not going to do him any good; the DNC gets to make the decisions, and their decision is that he's out. He might be able to qualify for the next round of debates, and if so, then Perez will have to start making tough choices. Of course, Perez is hoping that Bullock drops out and decides to challenge Sen. Steve Daines (R-MT), a race he might be able to win.
The DNC has not yet announced which candidates will be scheduled for which night, nor what positions they will be given on the stage. In fact, it hasn't even said when those decisions will be made. The two debates are two weeks away, on June 26 and 27, so it's definitely sometime between now...and then. (Z)
Today, we revisit a candidate who is definitely surging at the moment. Here is our original profile of her.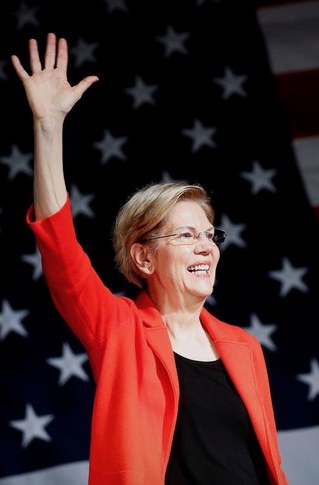 Where Has She Been Recently?

: Of all the Democratic candidates, she is running the most "national" campaign. Here are the states she's held at least one event in since May 1 (despite the fact that she's also busy holding down her day job): California, Indiana, Iowa, Massachusetts, Michigan, New Hampshire, Ohio, and Virginia. That said, she's particularly focused on Iowa, having held an average of two events per week there over that period.



Recent News

: The biggest news about Warren is...how much news there is about Warren. That is to say, she seems to have figured out (as has Pete Buttigieg) how to keep herself in the headlines, between her public statements, and her use of Instagram, and her very well attended campaign appearances. As Donald Trump showed us in 2016, all that free publicity is worth its weight in gold.



Offbeat News

: Most of the candidates have, at this point, settled on the song that they would like to be identified with their campaigns, and that they want played when they walk on stage. Bernie Sanders is going with John Lennon's "Power to the People," for example, while Kamala Harris has chosen "Work That" by Mary J. Blige, and Joe Biden is going with Bruce Springsteen's "We Take Care of Our Own," presumably on the theory that a song by a sexagenarian will bring some youth to the campaign. Anyhow, Warren's pick is Dolly Parton's "9 to 5," a song about how hard-working people, particularly hard-working women, often don't get the credit they deserve.



Finances

: There are some downsides to running for president as a senator, most obviously that votes on complicated bills can come back to haunt you. One of the upsides, however, is that you can tap into your (usually pretty large) senatorial war chest. Warren reported $16 million in receipts for Q1, of which $6 million was new money, and $10 million was transfers from her Senate funds.



Polls

: Everything's coming up roses at the moment. On Thursday, she pulled ahead of Bernie Sanders in three different polls. A UC Berkeley/LA Times poll of California has her ahead of the Vermont Senator 18% and 17% (and with the homegrown Kamala Harris in the rearview mirror, at 13%). A Monmouth poll of Nevada has her leading Sanders 19% to 13%. And a national Economist/YouGov poll has her up on the Bern 16% to 12%. Joe Biden leads them both, of course, but Warren has to like her current trajectory. Her average across all polls of the Democratic field is 11%, incidentally, while that Economist/YouGov number is the best she has recorded in a national poll thus far.



What Did We Guess Her Signature Issue Would Be?

: Regulating Wall Street



What Appears to Be Her Signature Issue Now?

: Wall Street is still at the top of the list, but the focus of recent coverage (as we've noted previously) is the breadth of her platform. Not only have there been dozens of stories about how she has proposals on every issue under the sun, they're even selling "Warren Has A Plan For That" buttons and hats and t-shirts. This did not help Hillary Clinton all that much, but perhaps voters' experience with a president who basically always wings it has primed the pump for a wonk like Warren.



Strengths for the Democratic Primaries

: (1) It is surely a good thing that so many people are impressed with the breadth and depth of Warren's proposals; (2) If it comes down to her vs. Joe Biden, she's going to claim the lion's share of the progressive, women's, and young people's votes, and (3) The early debates likely won't play to her strengths, because she's not flashy or particularly prone to saying provocative things, but once the field narrows and the debates become more substantive, she will likely impress.



Weaknesses for the Democratic Primaries

: (1) There are some segments of the Democratic base (i.e., blue-collar workers) that aren't going to be enthusiastic about a pointy-headed academic from Massachusetts; (2) As her recent appearance with radio host Charlamagne tha God demonstrated, some non-white voters may hold her shaky claims to Native American heritage against her (Charlamagne slammed her as the "original Rachel Dolezal," referencing the woman who famously pretended to be black, but wasn't); and (3) If Donald Trump continues to take potshots at her (and he will if she keeps rising in the polls), she will be less able to counterpunch than Joe Biden. Sexism being what it is, studies have made quite clear that assertive/aggressive men tend to be perceived as "strong" or "powerful," while assertive/aggressive women tend to be perceived as "pushy" or "bitchy."



Warren on Trump

: "Donald Trump is a loud, nasty, thin-skinned fraud who has never risked anything for anyone and who serves no one but himself." (9/6/2016)



Trump on Warren

: "Now that her claims of being of Indian heritage have turned out to be a scam and a lie, Elizabeth Warren should apologize for perpetrating this fraud against the American Public." (10/16/2018)



The Bottom Line

: Warren has cemented her status as one of the frontrunners, and is in an excellent position to supplant Bernie Sanders as the progressive standard-bearer in 2020.
You can access the list of candidate profiles by clicking on the 2020 Dem candidates link in the menu to the left of the map. (Z)
---
If you have a question about politics, civics, history, etc. you would like us to answer, click here for submission instructions and previous Q & A's. If you spot any typos or other errors on the site that we should fix, please let us know at corrections@electoral-vote.com.
Email a link to a friend
or share:
---The Votemaster and Zenger